DIY Chalkboard Napkin Rings are an excellent means to beautify and make your dining table a wonderful place. You can add a touch of sophistication to your holiday table. Beautifully handcrafted, these napkin rings ideas will make you and your guests feel happy after eating and also enhance the gratification of your hospitality. . Our list has tremendous DIY Chalkboard Napkin Rings for you to try with those you can write any initials or writing or make any desired modification you want. Whether you want a modern, farmhouse, or Rustic look, these napkin rings will always be perfect for organizing any get-together with friends or family. So what are you waiting for? Just add a personal touch to the settings with these attractive chalkboard napkins rings from us.
Chalkboard Napkin Rings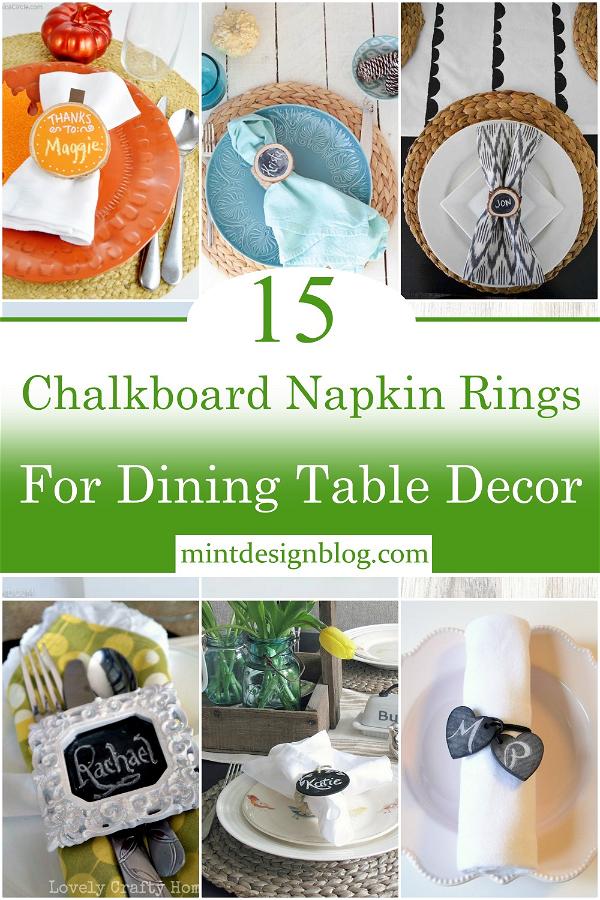 These DIY Chalkboard Napkin Rings are a great way to add a little homemade touch to any dinner! In less than half an hour, you will have a set of napkin rings to impress your family and friends with our endless ideas given below! The limit for these napkin rings will be up to your imagination. Without wasting any time, put your hands on these projects and add some impressive stylization pieces to your dining table's beauty and express your sense of creativity effortlessly and easily. Add a little joy to your dining table with DIY chalkboard napkin rings! Use these creative craft ideas to liven up your next get-together.
DIY Wood Slice Napkin Rings & Name Cards: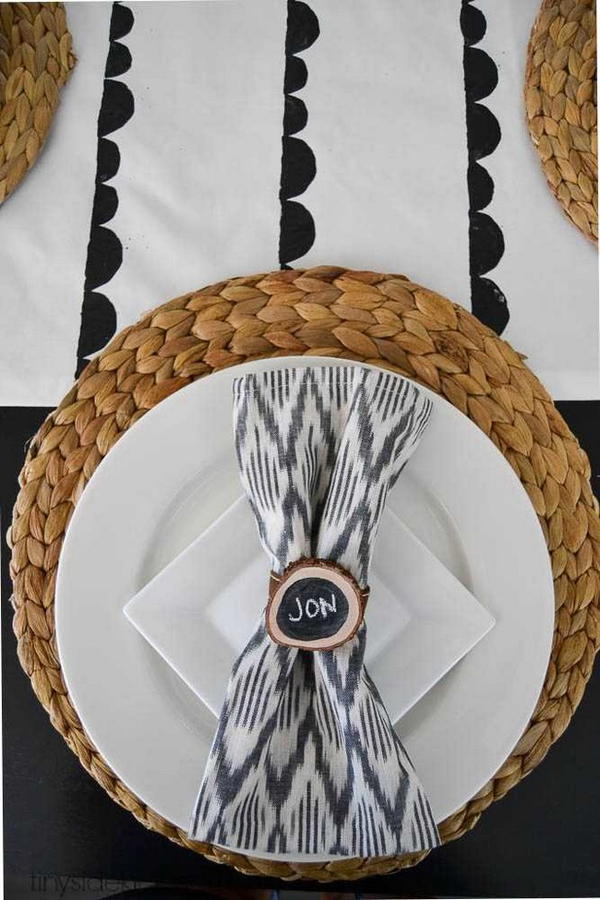 Our DIY Wood Slice Napkin Rings and Name cards are the most adorable little rustic modern napkin rings that will also act as place cards so you can place them on your place settings. Perfect for not-so-fancy fall entertaining. Anyone can do it, and these would be perfect for Bridal Showers, baby showers, even birthday parties! Perfect for not-so-fancy fall entertaining, these cute things are so easy to make, no real craftiness is needed. They would also make great wedding shower favors! These DIY Wood Slice Napkin Rings & Name Cards not only look pretty on any table, but they also turn into place cards so you can easily name where your guests should be sitting at your rustic fall party!
DIY Chalkboard Wood Slice Napkin Ring Place Cards: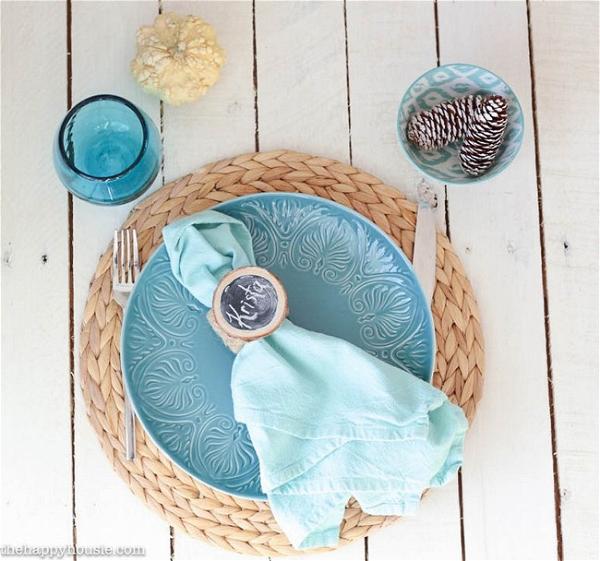 DIY Chalkboard Wood Slice Napkin Ring Place Card. Doesn't nobody have time for that! These place card holders are exactly what you need to keep your Thanksgiving table free from notes and fuss–write out guests' names on the wood slices with chalk, and put one at each setting. They're a DIY project that can be customized and personalized any way you'd like. Plus, they're so easy to make! I fell in love with these plastic place card holders at the craft store and knew they would be perfect for my home store! While you can use them for Christmas, I'm sure they would look great for gatherings year-round.
DIY Chalkboard Napkin Rings:
Our DIY Chalkboard Napkin Rings are simple and inexpensive to create and can be used for any holiday or special occasion. A fun way to decorate your table, these chalkboard napkin rings are also useful by letting you label food for guests who may have food allergies or need a diet-conscious dish. The best part about DIY chalkboard napkin rings is that they can be used for any occasion. Using plain cotton napkins, some black chalkboard paint, and some liquid glue, you can create a wonderfully unique ring for your guests to use at the dinner table.
Chalkboard Bunny Ear Napkin Rings:
Felt bunny ears become napkin rings! With just a little bit of sewing, you can make these cute felt bunny ear napkin rings in no time at all. With so many Easter brunch events and gatherings to attend, it helps to have an arsenal of reusable place cards. These Chalkboard Bunny Ear Napkin Rings make it easy to dress up place settings and mark guests' names. They're an attractive alternative to store-bought napkin rings and place cards, perfect for celebrating Easter brunch or springtime parties.
Chalkboard Napkin Rings: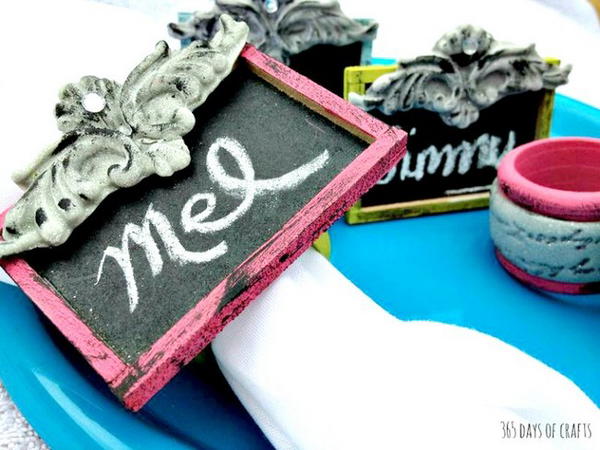 Make DIY Chalkboard napkin rings. These are fun and easy to make and a great way to personalize your DIY table setting. This is perfect for a picnic in the park, an outdoor wedding, a primitive country setting, or just a simple meal at home. The possibilities are endless when you use the chalkboard as your decorating medium. These attractive, DIY Chalkboard napkin rings will provide your guests with tabletop decor and functionality. A crafty little time can yield plenty of napkin rings to suit any occasion or palette.
DIY Chalkboard Pumpkin Napkin Rings: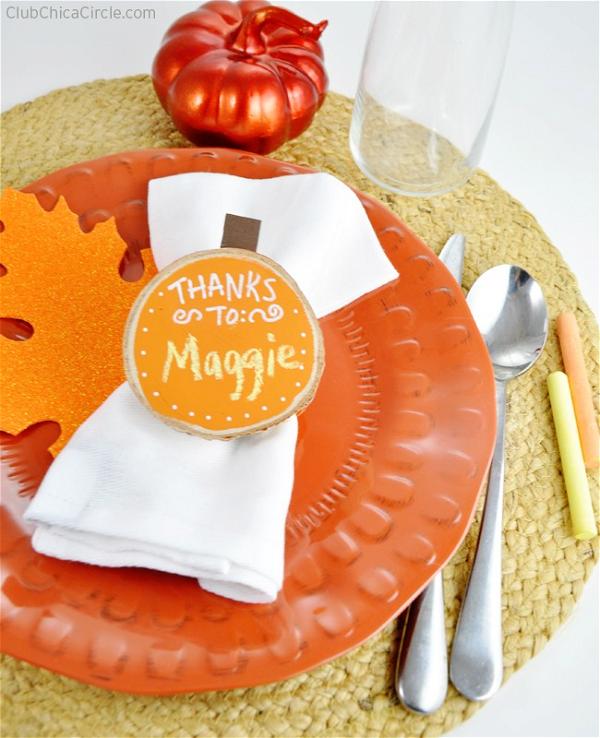 These DIY napkin rings are perfect for creating a cute, cozy fall decorating theme. If you want to keep it simple and not cover the napkin rings with paper, skip that step and start painting white pumpkin rings. The pumpkin piece is even nice enough to leave out all year round. These upcycled napkin rings were really easy to make, and you'll heartedly admire making them. You can go with any of your desired colors to make these fabulous napkin rings also.
Mini Chalkboard Napkin Rings: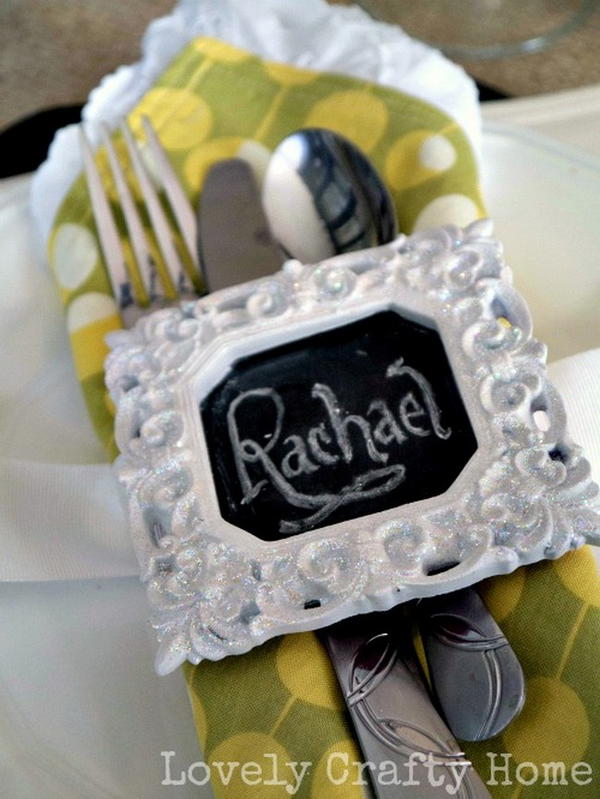 We've taken our mini black chalkboard and given it a bigger purpose: to act as a napkin ring, of course! The rings are the perfect size for holding dinner napkins or wrapping silverware—whatever your party needs. Use them as coasters for drinks, or hang them on the Christmas tree for decoration. Let your imagination run wild! With this tiny little board, you can leave notes for your loved ones without making a big mess. Use it for reminders, birthdays, anniversaries, or match it with our other sets to make your table look great!
Chalkboard Napkin Rings & Place Cards: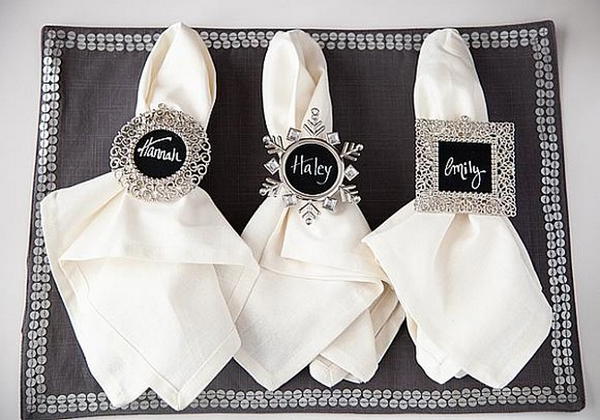 Make a set of 50 table-ready Chalkboard Napkin Rings and Place Cards for your next event. They're easy and fun to make - perfect for decorating your holiday table for Thanksgiving, Christmas, or any other special occasion. They're made with wooden rings and black chalkboard inserts to label them and reuse them later. The chalkboard insert can also be removed to transform the place card into a photo holder or used without the insert as a recipe holder. These Chalkboard Napkin Rings and Place Cards are so easy to make, and they'll be a great hit with the party-goers.
Chalkboard Hearts Napkin Tie: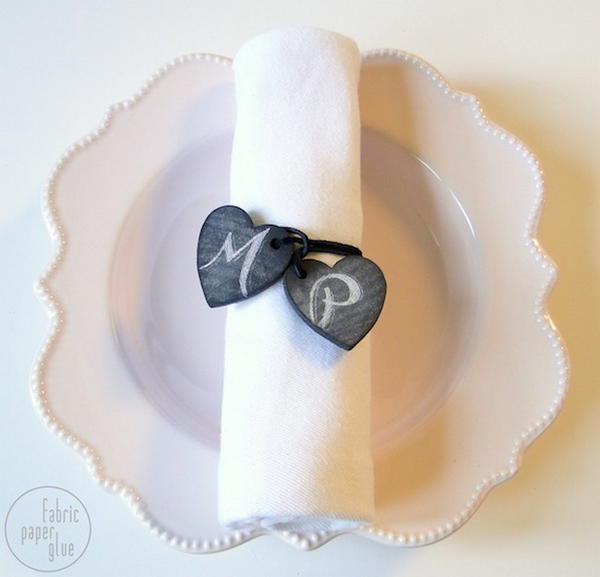 Recycle a paper bag with wooden hearts from your local craft store to make these three super cute and tummy-warming projects perfect for the changing weather. The secret behind the design is simple—chalkboard heart images are cut out of coordinating fabrics with pinking shears and mounted onto a strip of sturdy interfacing. Then, the interfacing is sewn onto a strip of neutral fabric, which gets wrapped around a bundle of napkins. A holiday guest will be reminded that you thought of them all year long.
DIY Gold Wire Napkin Rings: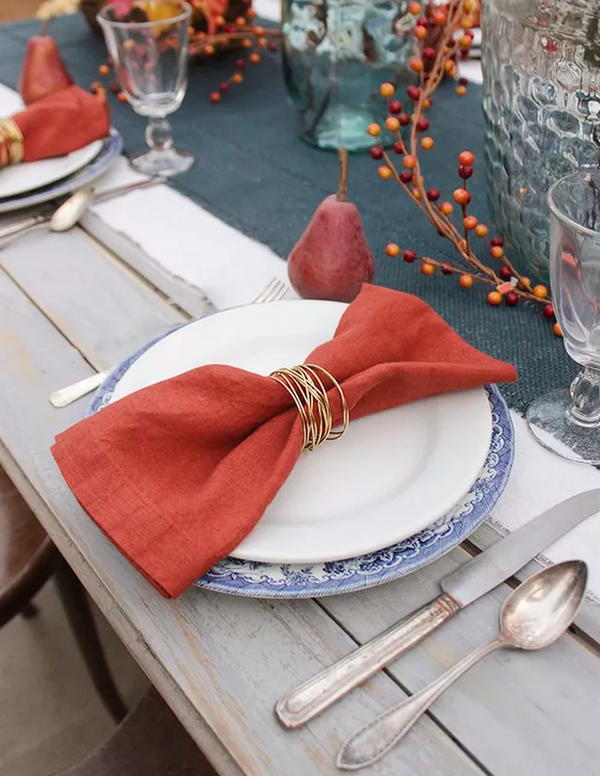 Gold napkin rings add a touch of elegance to any place setting but are expensive and may be tricky to source. These DIY napkin rings are affordable and completely customizable. This idea will provide you with step-by-step instructions for making your own set of 6 gold wire napkin rings using 1 yard of 18-22 gauge gold coated wire in about 15 minutes. By cutting your own gold wire napkin rings with brass cutters, you can create a set that matches your table setting perfect for less than $5. If you already have some basic crafting supplies on hand, you likely already have everything that it takes to make these napkin rings yourself.
DIY Faux Ceramic Napkin Rings: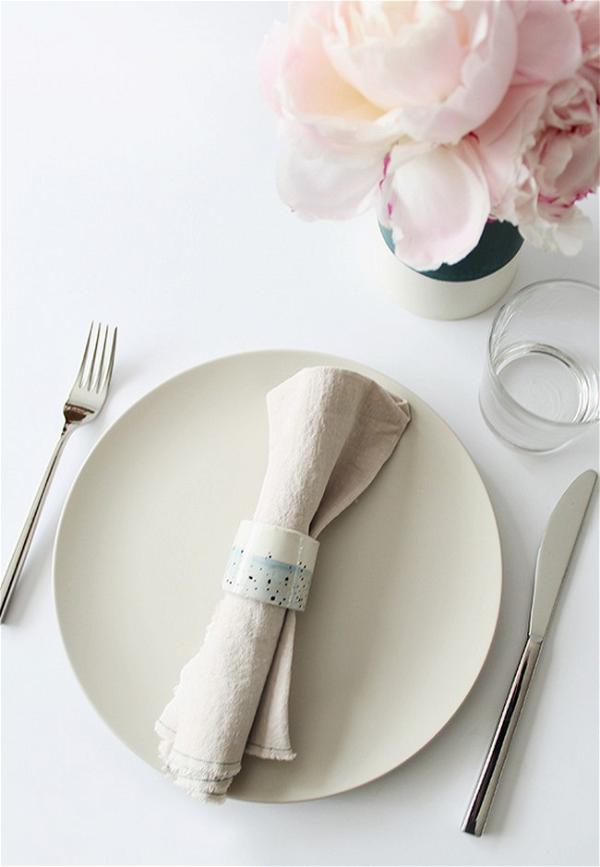 DIY Faux Ceramic Napkin Rings is an easy tutorial for polymer clay to achieve a faux ceramic look. These DIY Faux Ceramic Napkin Rings are easy to make and add cute decor to any table. This is a very simple project, but you can make it fancy if you like. These rings make cute gifts or little favors. I don't think napkin rings are "out of style," but you could use these for a variety of things--just about any occasion that would call for a little prettiness on the table.
Jeweled Fall Napkin Ring:

Add some festive sparkle to your Thanksgiving table with a set of jeweled fall napkin rings. These rhinestone napkin rings are easy and inexpensive to make and add a nice touch of fall color to your Thanksgiving table setting. They're easy to make, and they only take an hour to complete. This project is excellent for novice crafters who would like to try their hand at a new craft, no matter what time of year it might be. . I prefer using a Dremel, but you can easily make these without one. Great way to add a little sparkle to the dining table.
Easy Bow Napkin Rings: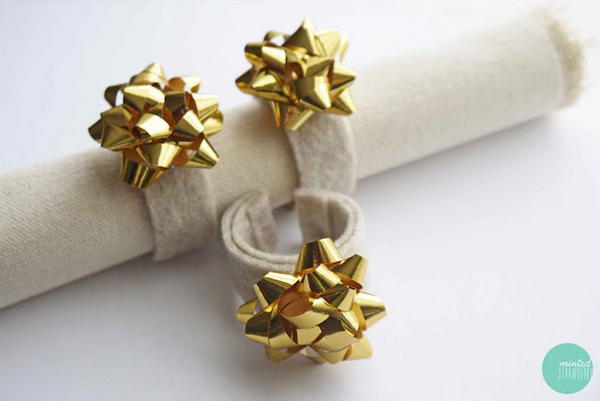 Now's the time! In about 5 minutes, you can have a set of these easy-to-make Napkin Rings. You just cut an aluminum foil tube in half lengthwise, attach a scrap of decorative foam/felt to each half, and attach a ribbon ring. The unfinished ends are then tucked into your rolled napkins. An easy DIY project with only a few supplies necessary. They're still super cute and easy! I used our Dollar Tree decorative bows as napkin rings at Thanksgiving, but you could use any bows if you find prettier ones in other stores.
Painted Pvc Pipe Napkin Rings: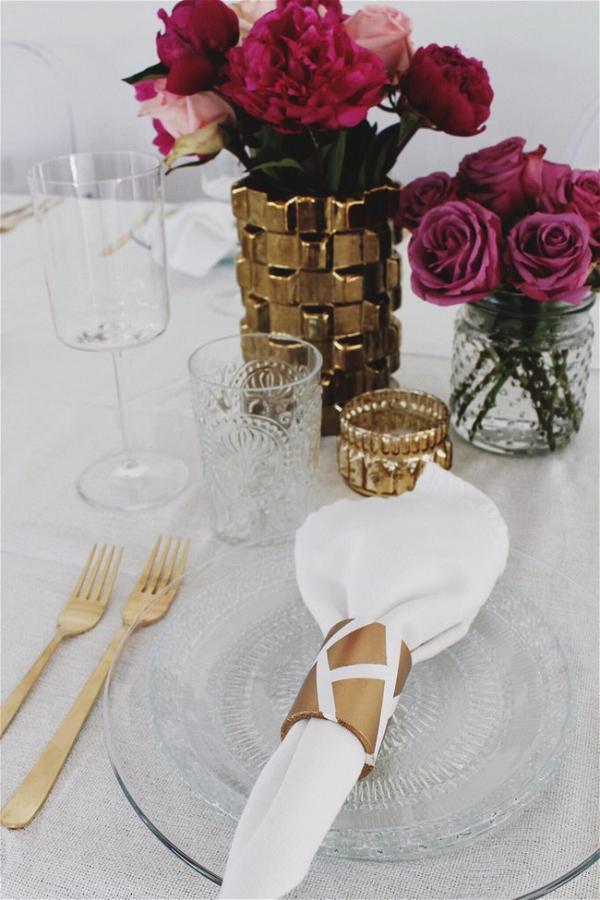 These painted pipe napkin rings are easy to make with simple materials from your local hardware store. Perfect for a shabby chic setting, or even a rustic wedding; they add a whimsical touch and compliment any rustic decor. These superb napkin rings are so easy and fun to make. All you need is a trip to the hardware store, a little craft paint and gold spray paint, two paper fasteners, and decorative tape, and you'll easily finish in some admirable additions to your dining table.