These DIY Fall decor projects make great fall crafts for adults and give your home a natural autumn touch with pumpkins, gourds, and fall leaves. This is a beautiful season and gives you something to look forward to every year. Plus, it's free! It's easy to make these decorations with a little help from your friends or neighbors. You don't have to know anything about making crafts, just a willingness to try something new and have fun. With cooler weather, it's time to get outside and enjoy the leaves, trees, and nature around you.
This time of year is also when most people start thinking of decorating their homes for fall. Fall is a great time of year for decorating because it leaves room for creativity, easily sees where you are spending your money, and easily changes when things don't go the way you want.
15 Inexpensive And Fun Fall decor projects: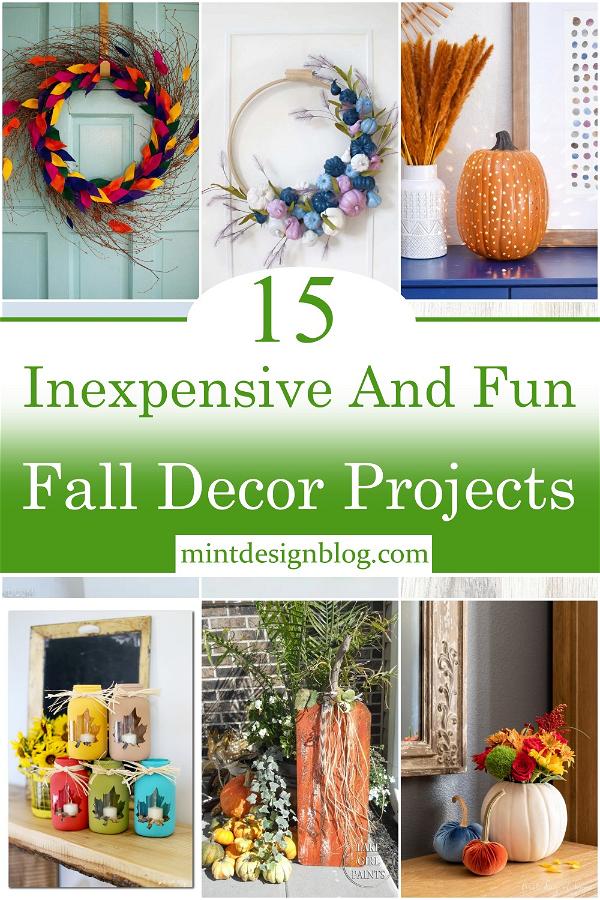 Whether you're looking for ideas for outdoor displays or just something to add a bit of flair to your kitchen or bedroom, I have a number of cheap and easy DIY fall decor projects for you. Some of these ideas will add a bit of color to your home, while others involve simple decorations that will add a touch of elegance to any room. Fall decor doesn't have to break the bank. There are tons of inexpensive, easy fall decorations that you can put together for your own home. Some of these projects can be done by yourself, while others may require help from a friend or family member.
Fall is one of the most popular seasons of the year, and for a good reason. The colors, smells, and sights of fall are breathtakingly beautiful. There's something warm and inviting about embracing nature's bounty. There's nothing more satisfying than coming home after a hard day's work to find that all your homemade decorations are perfectly in place.
How do you make autumn decorations?
Fall is in the air. And it's bringing with it several new and fun fall-themed crafts. There are plenty of ways to decorate your home and celebrate the season from fall leaves to acorns to pumpkins. If you're looking for a way to decorate your home on a budget, but don't want to spend a lot of money on things you don't need, then these fall decor projects will definitely come in handy. From painting pumpkins to building an outdoor fireplace, there are many ways you can make your home look cozy and ready for fall. Fall is my favorite time of year. It's warm, fun, and full of beautiful colors and smells. It's also the perfect time to get outside and decorate in ways that reflect your own style.
DIY Pumpkin Fall Wreath: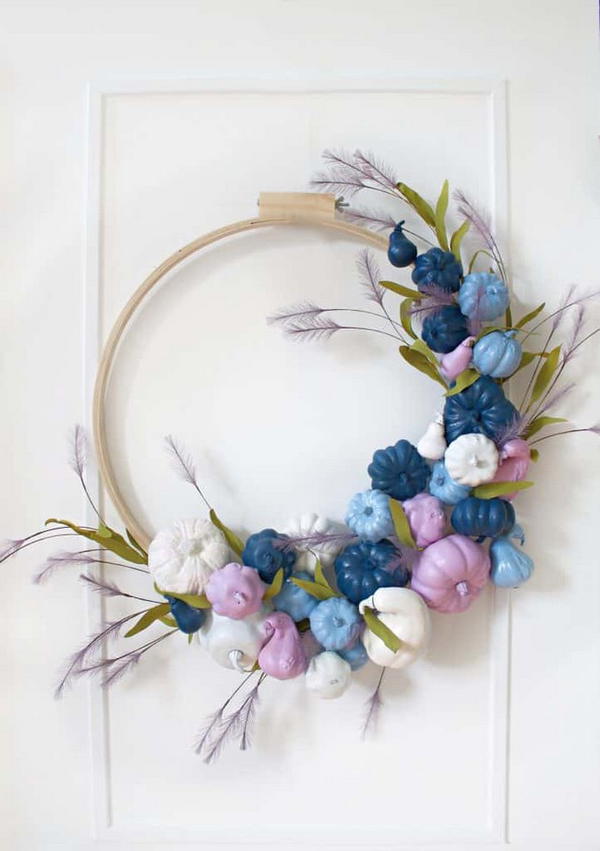 The beauty of this fall wreath DIY is that YOU decide what you want to do. You could hang three pumpkins on a wreath and call it done, or you can use this concept to turn it into your unique fall craft. This isn't a typical fall wreath. You can't find this tutorial anywhere else because we designed it to be a fun, unique addition to your home décor this fall. This easy-to-follow tutorial will guide you through making a pumpkin fall wreath using items you probably already have around the house.
DIY Felt Leaf Fall Wreath: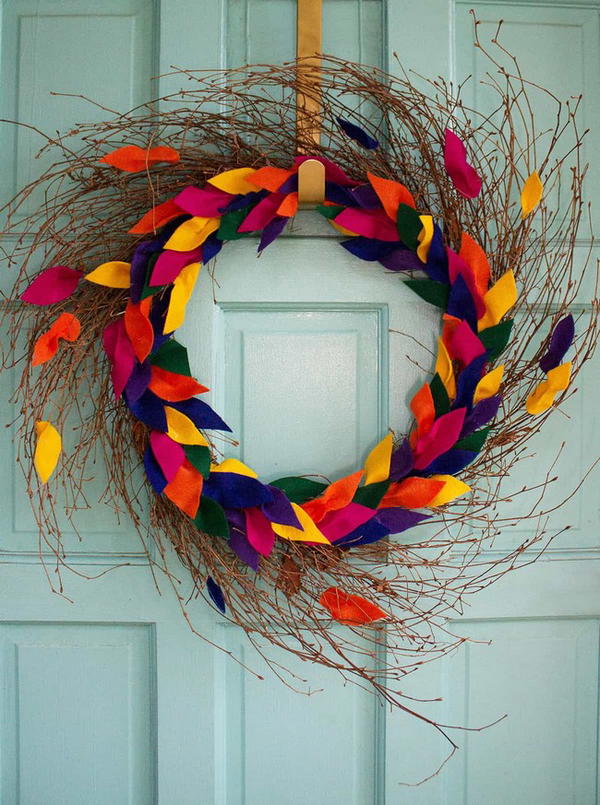 This DIY Felt Leaf Fall Wreath has become the perfect highlight of my front porch, and I am excited to share with you how I made it! The wreath is made from inexpensive wool felt bought at the craft store. I'll show you the simple steps to cutting out each leaf, then attaching them on a wire wreath using hot glue. You can use your favorite colored fleece for this wreath; it will surely be your favorite, and you'll love it. A quick little handmade touch adds the right look to your autumn decor!
You can also see: Best Felt Animal Patterns
Rustic Autumn Wood Plank Pumpkins: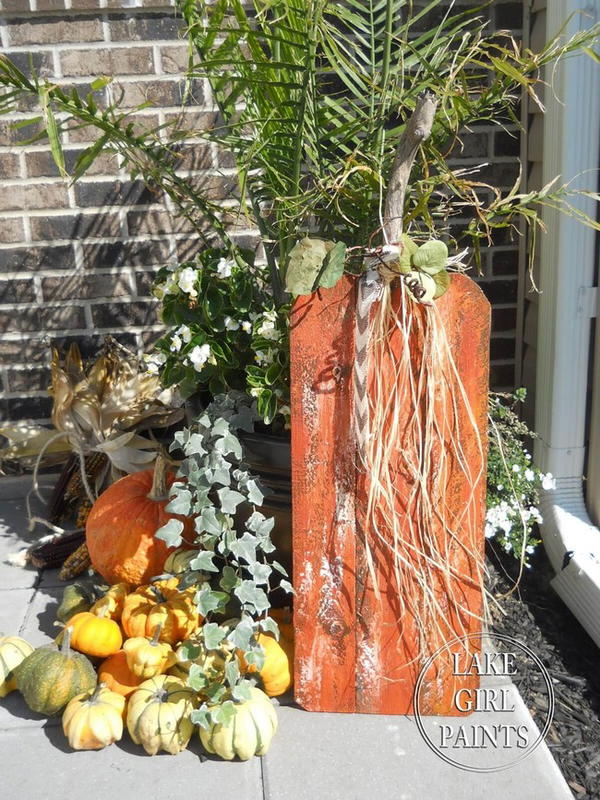 These Rustic Autumn Wood Plank Pumpkins are just the touch to dress up your home for Fall. Surprise your guests with carved pumpkins on your front door this year! We made the pumpkins so they could either hang or stand on our doors. Please note that each pumpkin is handcrafted, so there are texture variations, keeping them rustic-looking. Trimmed in burlap, these seven pumpkins measure seven inches long by 4 inches wide by 8 inches tall. They range from four pounds to five pounds each, depending on their bulkiness.
Fall Mason Jar Craft: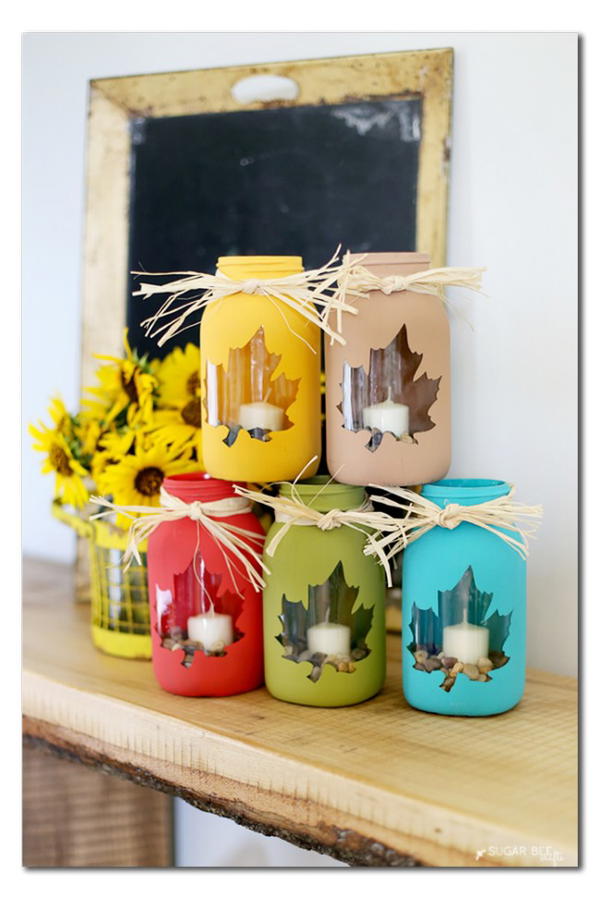 Add a superb DIY fall mason jar craft to your home decor for the season with this unique idea. Mason Jars are commonly used containers that people put their homemade goods into. This particular item features a leaf and includes a wide range of fall colors to add a cozy vibe to your home decor this season. These unique crafts would look fabulous in any room of the house. He's easy to make--check it out!
Easy Wooden Bowl Fall Table Centerpiece:
Our Easy Wooden Bowl Fall Table Centerpiece is the easiest centerpiece you'll ever make. S rim your table with our classic Oatmeal Linen pumpkins, mix in some seasonal picks, and you're good to go. This easy centerpiece is ideal for fall weddings or Thanksgiving tables. No matter your style, this centerpiece will fit right in on your Thanksgiving table or your fall décor throughout the home. Plus, our colorful Oatmeal Linen pumpkins pop on a wood surface! It will bring a smile to all of the faces around the table as they reminisce about times spent carving jack-o-lanterns as kids.
Wooden Fall Sign: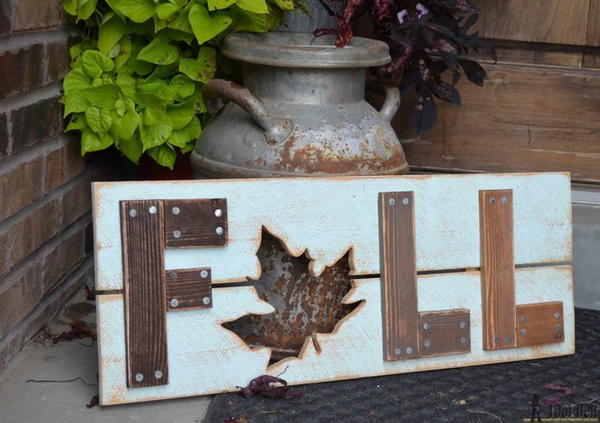 Make a beautiful signboard or your home entrance following this easiest idea. You need a wooden plaque, a string and fabric. Let the children be involved in creating this plait, where they will learn how to play with colors and express their feelings. Shake on some nail polish on your signboard, or use acrylic paint to create different effects. Put the board over the brick wall to get the best results of the two materials together. It is especially perfect for welcoming the fall season with its wording 'WELCOME FALL' written just below the wood carving of the leaf.
How To Make A Wine Cork Pumpkin: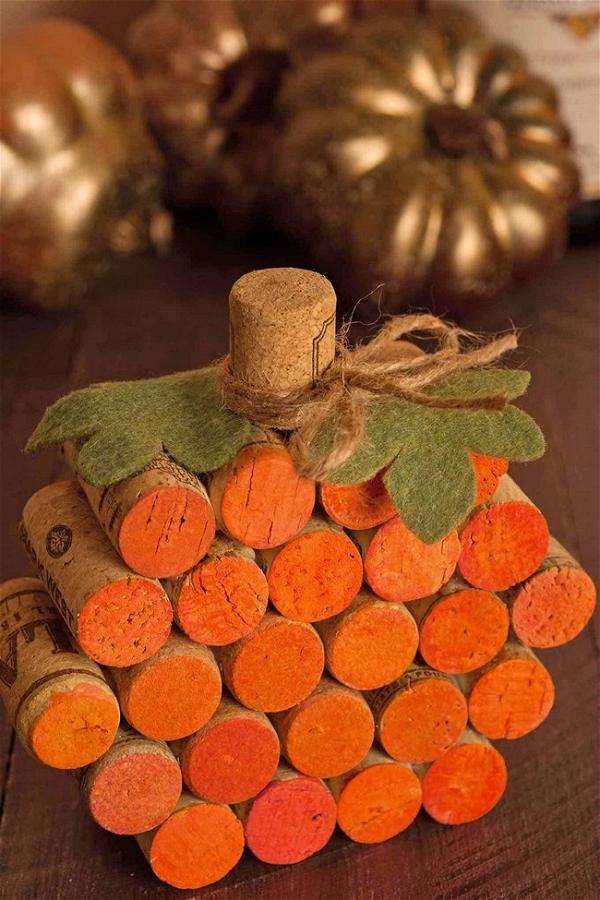 Let's get crafty! You can recycle some old wine corks or use your kids' crayons to draw on the cork. As simple as it sounds, they are pretty cute once you make them. Use some paint, hot glue felt, and twine to recycle some old wine corks. If you want to make them easy on yourself, go to the store and buy some pre-cut pumpkins that are already in the shape of a wine cork. We're sharing this easy and inexpensive fall craft project that you can make in minutes with simple materials you already have on hand.
Drilled Pumpkin Light: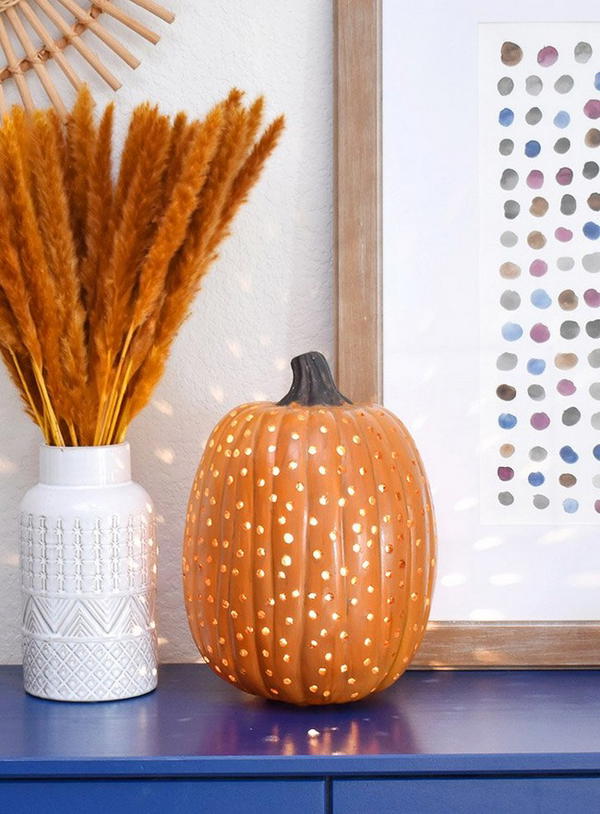 Brightly lit pumpkins make a cheerful addition to your autumn decor, but it's hard to find attractive, natural-looking seasonal lights that don't require electrical outlets. You can make a fabulous drilled pumpkin light by following a few simple steps, and you're on your way to enjoying a glowing, decorative accent for your home all fall long. All you need is a freshly-picked pumpkin and this drilled pumpkin light to complete your home decor. Using a small hand drill, carve holes ½ inch apart around the perimeter of the pumpkin to allow light from within to shine through and liven up your home décor. Just paint it and let everyone know that you're a DIY artist!
How To Make Gorgeous Pumpkin Flower Arrangements: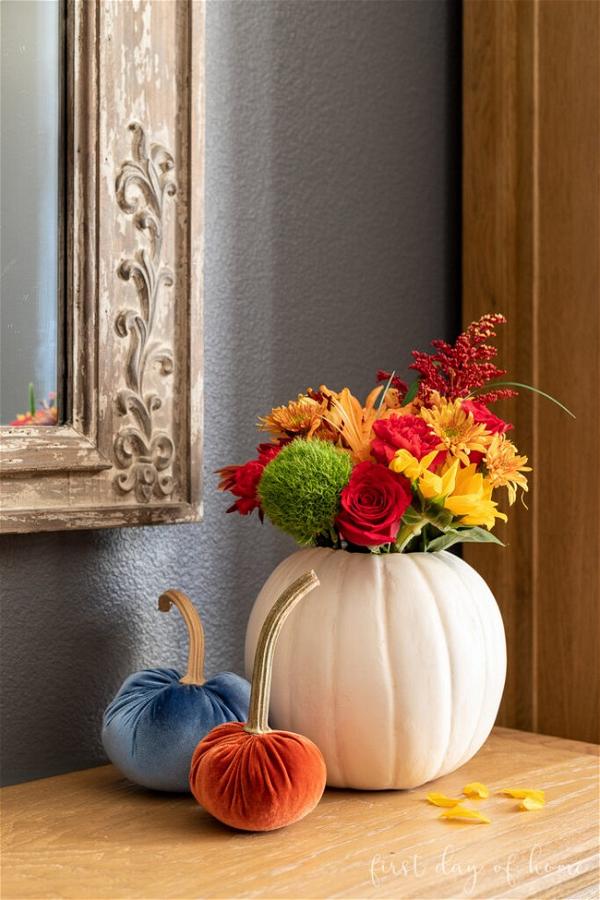 Liven up the autumn table with these gorgeous Pumpkins that blossom into flower arrangements. It's ridiculously easy to do and makes for a festive centerpiece that you can reuse every year. Don't be afraid to experiment! Pick your favorite colors and mix things up. This project works best with small pumpkins, but big pumpkins also work if you don't mind cutting them open. They're much lighter than ceramic or glass vases, especially if you use a lightweight stoneware pumpkin. The soft orange hue helps create a warm, inviting atmosphere for any room in your home. And if you're serving fall-themed dishes at your next party, your custom-made pumpkin vase, whether big or small, will be the hit of the table.
How To Make A Stenciled Wreath For Fall In 3 Easy Steps: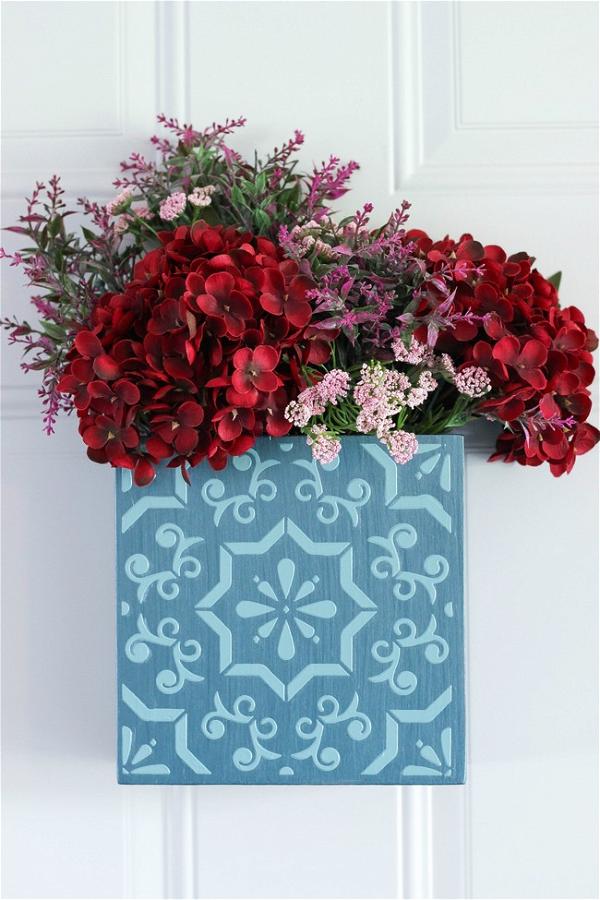 There is something about fall that we love and can't get enough of. Maybe it's the crisp air and gorgeous leaves, or the excitement of the holiday season; whether you leave it up all year or pack it away in the spring, the planter box makes a perfect container for your favorite faux flowers. To make one of your own, follow these easy steps to stencil and paint your way to the perfect fall wreath! To make one of your own, follow these easy steps to stencil and paint your way to the perfect fall wreath!
DIY Hanging Pumpkin Planter For Fall Decor: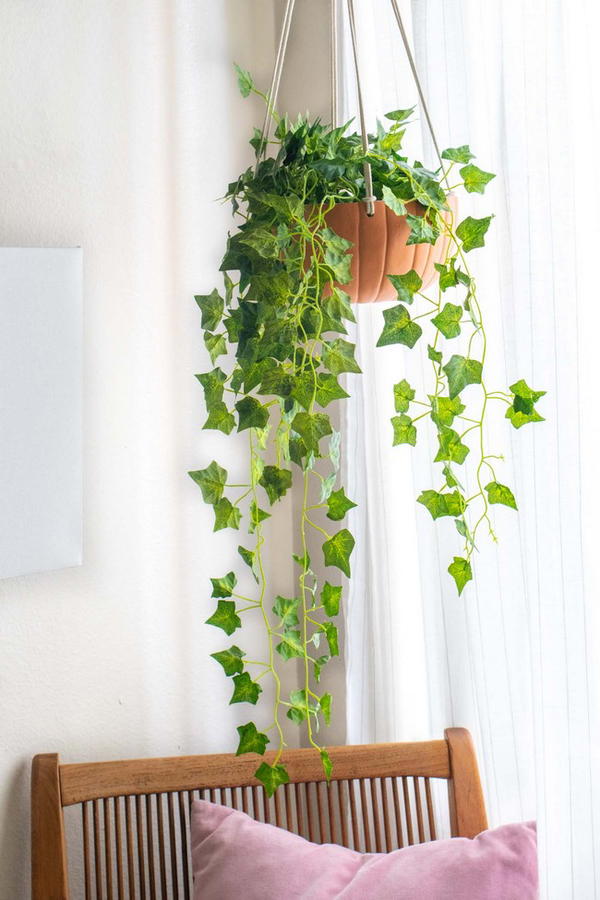 This easy DIY hanging pumpkin planter takes just five minutes to make and is filled with a faux plant for an adorable fall decor update. It's carved from a craft pumpkin, so I'm able to store it away for next year and move the faux plant to another space or swap it out to a holiday-themed plant like holly berries or poinsettias. This hanging pumpkin planter is easy, inexpensive, and looks great! I love the look of a white pumpkin with a faux plant. I will continue to change this up as the season's change. Hello, fall!
Affordable Fall Acorn Centerpiece:
Learn how to create this affordable Fall acorn centerpiece with the help of decorative elements such as natural fibers, seasonal flowers, and fall leaves. A simple seasonal accent that will transform your dining room or mantel into the perfect fall space. The Affordable Fall Acorn Centerpiece is pretty and cost-effective. Made with acorns purchased at a craft store, it's an easy decorating project that doesn't require any expensive materials or sewing, nor does it take years of practice to master.
How To Paint Brushstroke Candles: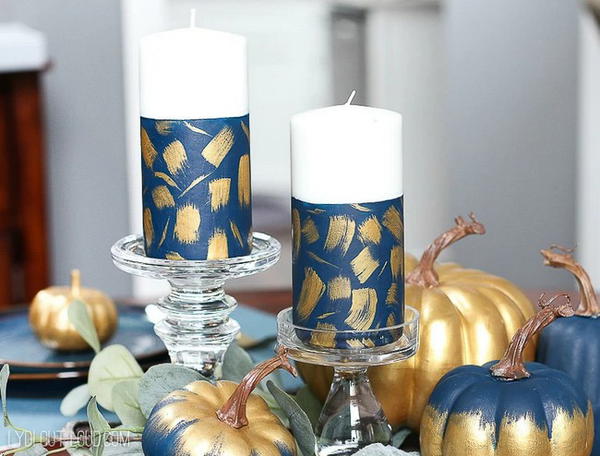 Every year around the holidays, I like to create a few decorative candles as gifts and decor around the house. Paint brushstroke candles are one of my favorites- they look simple and elegant, and everyone loves them. Paint Brushstroke Candles are so easy to make. This video tutorial will walk you through the entire process of making this gorgeous candle. From start to finish, you'll see everything you need to know to make your own. It will be a superb DIY piece for your home decor, especially for the fall season.
Chalky Fall Leaf Garland: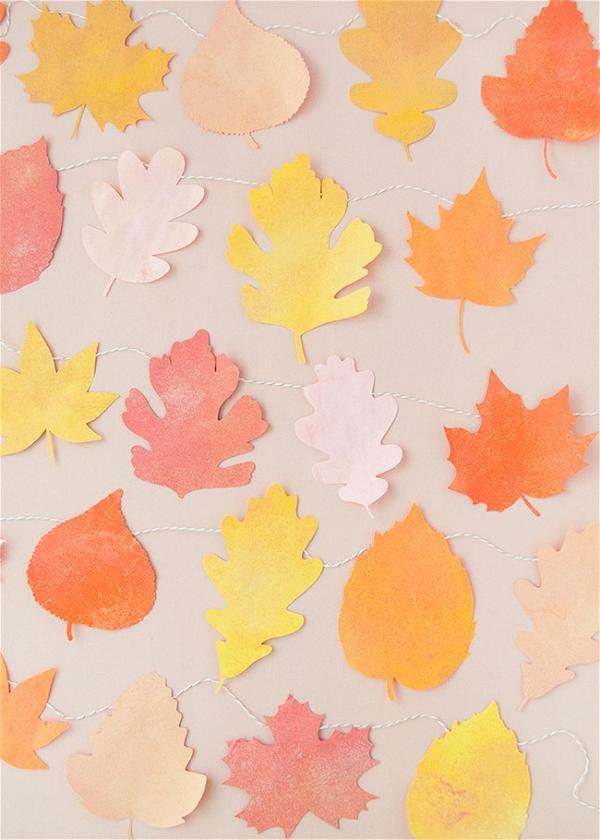 The leaves are starting to change colors, and we couldn't be more excited! Today we're celebrating with this fun DIY garland inspired by the bright colors of fall. The orange, red, and yellow fall leaves add a pop of color when wrapped around the white twine, and the whole thing is finished off with a cute bow. Perfect for hanging in an entryway or above a doorway, it will be a superb DIY piece for our home decor to add a sense of creativity to your home decor.
Simple Leaf Display: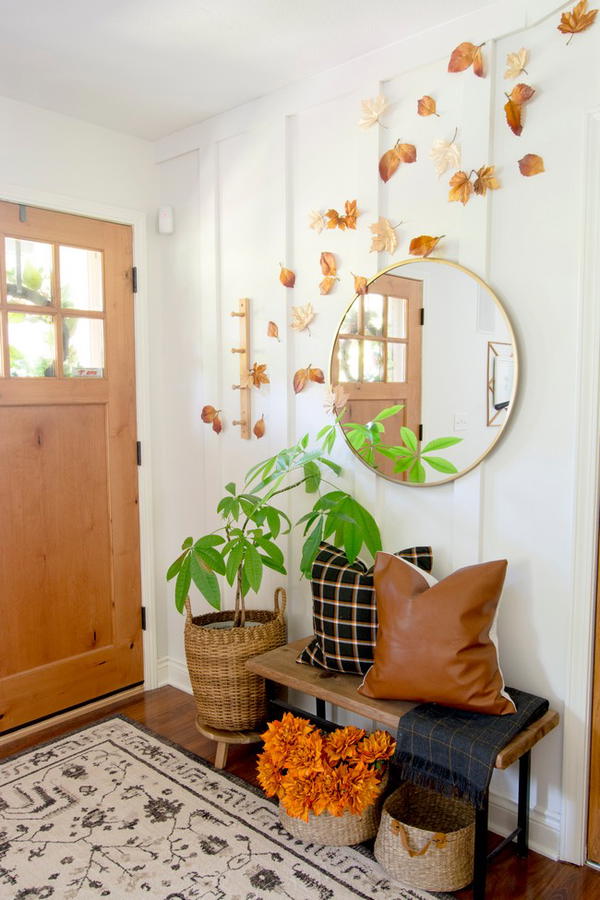 Fall is my favorite time of year, so I have been busy creating festive DIY fall decor for my home. Today I am sharing how to create a simple leaf display for your entryway. This flower wreath is so easy to make and looks so pretty with the addition of some greenery. The leaves are beautiful, and we have had nice weather. It's almost time to put away the summer decor and dust off our home fall decorations. I decided to go with a simple leaf display this year, as opposed to something more elaborate.