Felt animal patterns are great for making felt crafts and toys. These 21 free felt animal patterns would help add some felt animal cuteness to your home. Each pattern includes step-by-step instructions with photos, pattern templates, and more. These are great for beginners just starting sewing projects and for more advanced crafters looking for new ideas! These fun and easy-felt animal patterns include a variety of traditional and modern designs that are sure to delight children of all ages. These free felt animal patterns are perfect for beginning crafters and are great for classroom projects, scout crafts, homemade cards, and more!
Unique Felt Animal Patterns

Felt animals are a special kind of DIY toy. With their soft fabrics and big, cuddly eyes that beg you to love them, they're just begging for children to pick them up and play with them—but making your own felt animal toys can be much more fun than buying them in the store. Plus, if you start making your own felt animals, your children will have a beloved keepsake to fall back on when they're adults. They'll look back fondly on all the hours spent playing with their mom—and all the cute animals she made for them. Whether making felt animal-themed crafts or adding details to an existing project, these free-felt animal patterns will inspire you.
What Is Felt Animal
Felt animals are a fun way to add color and interest to any room or event! Felt animal kits have everything you need to make your own felt animal. The kits come with pre-cut pieces of felt and full instructions on sealing each piece together.
How to Make Felt Animal Patterns
There are several different kinds of animals that can be made from felt. The most popular choices are dogs, cats, and horses, but many other options exist. You can even make your own unique animal by combining parts from different kits.
Tips For DIY Felt Animal Patterns
Use the right tools for the job: The most important thing you need to make your own felt animals is a good pair of crafting scissors. They don't have to be expensive — look for ones that feel comfortable in your hand and make a clean cut. You'll also need a cutting mat (or another surface) to protect your work surface and a self-healing mat if you're cutting on fabric rather than paper (this creates less friction and allows you more control).
Have some patience: Felt takes longer than most materials to cut out because it's so thick and dense; it can take up to 20 minutes for your scissors to get through one layer of felt at times!
Work slowly and carefully: When cutting out an animal shape, take care not to cut too close or too far away from the line — it might seem overkill at first, but it's better to be safe than sorry later on when you're stitching up your creation!
DIY Gnome Plush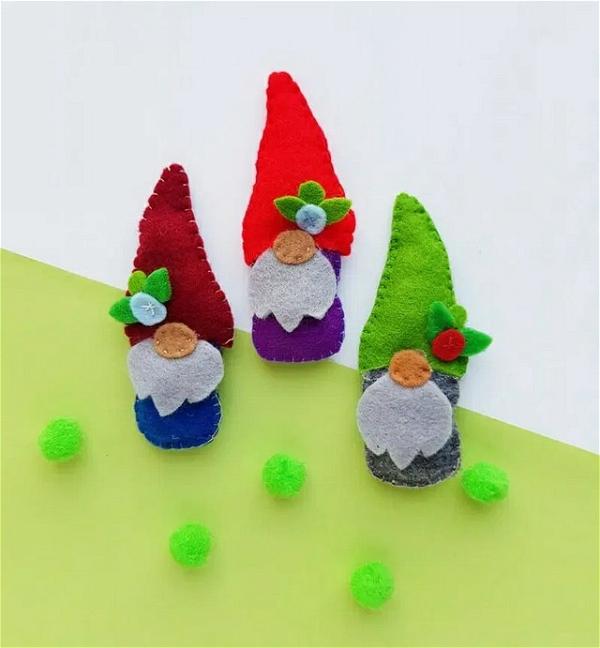 This sweet DIY Gnome Plush craft is the perfect way to celebrate spring. It's quick, easy, and makes a great gift. DIY Gnome plush is the best fun gift for everyone. You can make a gnome plush for yourself, siblings, friends, parents, and boyfriends/girlfriends. Everyone likes the idea of personalizing their gifts, so making your own personalized gnome plush is one of the best ways to do this. These felted gnomes are super cute and friendly. They are made of high-quality material, which makes them soft and huggable.
Felt Finger Puppets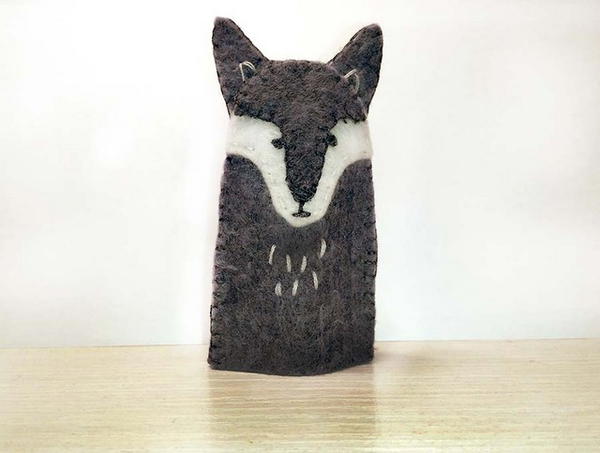 Felt Finger Puppets are a great activity for preschoolers. This is the perfect first project if you've never made a finger puppet before. Felt Finger Puppets are quick and easy to make, but they look adorable and are fun to play with. Sew up the finger sleeve, add some details, and your puppets will be ready in around fifteen minutes. They work well as props for dramatic play or as a hands-on approach to learning letter formation. Use these finger puppets to encourage your child to create their own stories or bring a smile to the faces of friends and family by creating your customized characters.
Source: hellosewing
Flamingo Felt Pillow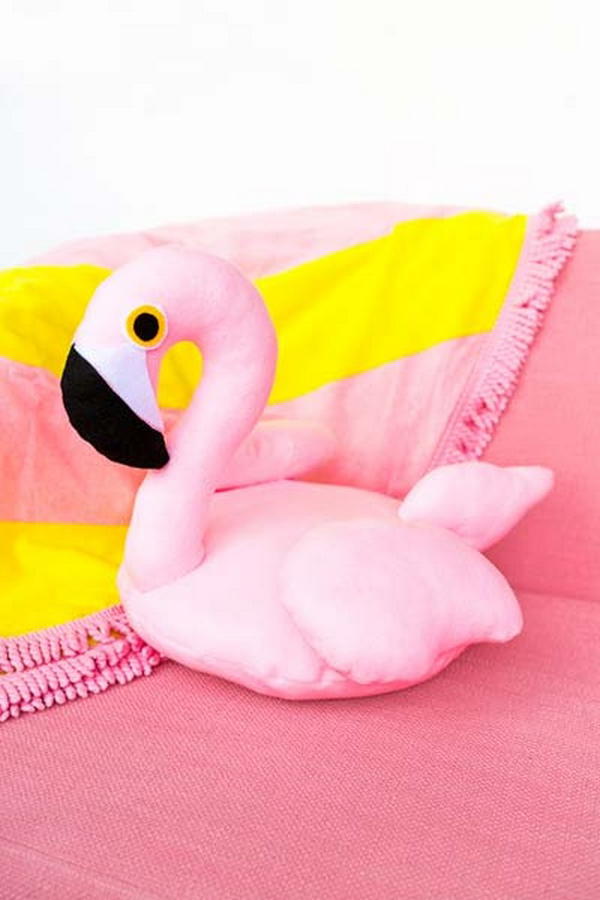 Your kids will love this cute flamingo pillow. You can use the pillow case pattern to make felt or use any fabric you like. After sewing the pieces together, fill it with stuffing, and your flamingo is ready to take off! This would be a fun project for anyone learning how to sew, especially younger children! This is a fun and easy pattern to sew up. Use it as a kid's pillow, put it on their bed, or throw it in the corner of their room as decoration. Kids love this cute flamingo, who will become your child's favorite companion during nap time and playtime.
Source: awwsam
Felt Elephant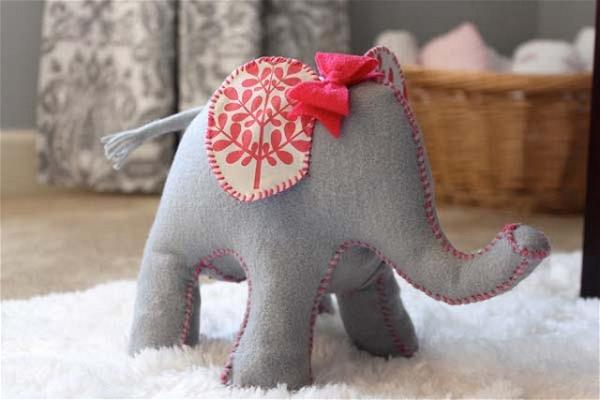 With this felt elephant doorstop, you can sew up a cute toy that your kids will love. Use it as a doorstop or as decoration for their room. This felt elephant is a bit different from the others. This is the perfect project if you're looking for a cool-looking doorstop to keep your little one entertained. You can follow the instructions provided and make your own cozy elephant toy. Your child will love this cute and original project! It's made with no-sew techniques - cutting fabric, sewing, and putting a doe. A great way to learn how to sew!
Source: CreateStufio
Felt Koala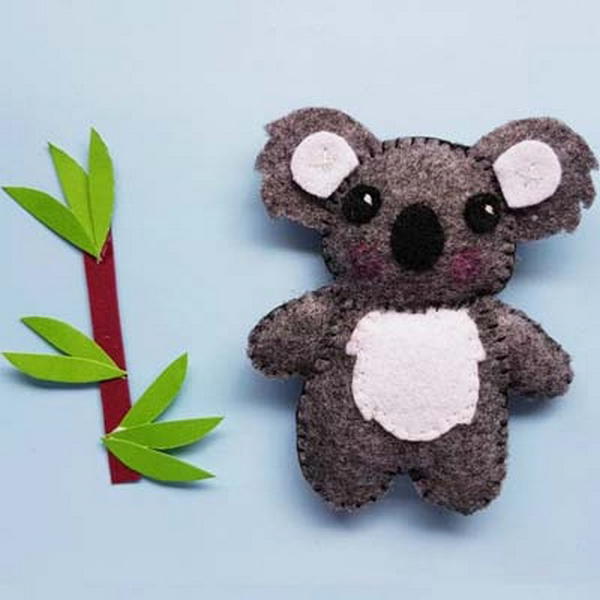 Experience the cuteness and adorable nature of koalas with our simple felt koala. It's easy to make that even your child can sew this cute little stuffed fellow! Please create your own felt koala and hang him on a tree! This is a very easy project that your kids can do too. It will be a good start to their sewing journey, perfect for those first projects you want them to try out. It is made of felt which is washable and can be used in a child-friendly environment without causing any damage.
Source: frugalmomeh
Felt Seahorse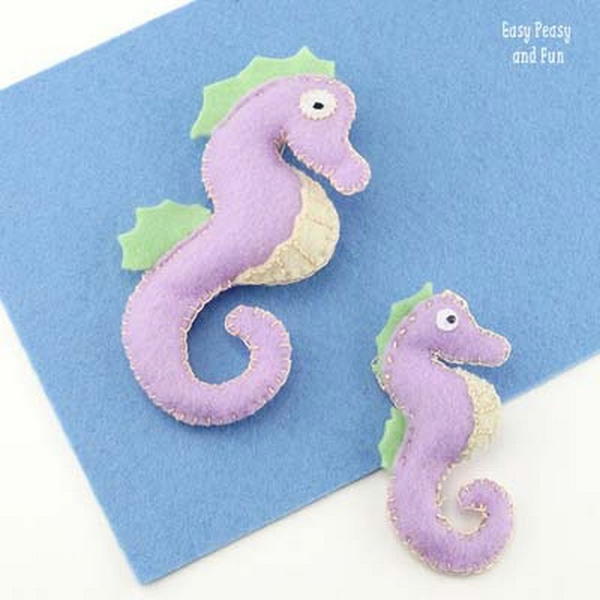 This felt seahorse is the perfect gift for kids who have everything. It's easy to make, doesn't require any sewing machine, and won't take more than one hour to complete. Once you know how to make this cute sea creature, you could consider making another one in different colors. For your little one, this felt seahorse is the perfect gift. It's so easy to make and so much fun too! No need to use a sewing machine; use a needle and thread. The seahorse has a clippable tail which makes it that much more adorable!
Source: Easypeasyandfun
Felt Mouse Pattern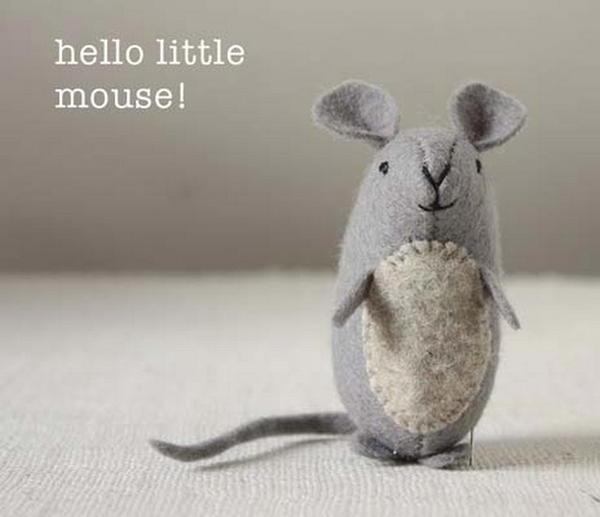 What a fun and sweet pattern! This tiny felt mouse is ready to be carried and held in your pocket or bag. Best made by hand, so you can put your love into making it as small or large as you want. This small design is great for any child who likes to play with felt toys! It's a perfect project for practicing the art of needlework. This cute little mouse is just the cutest thing! As a small gift for someone or yourself, this would be perfect for making ornaments and stocking fillers.
Source: AnnWood Handmade
Felt Ladybug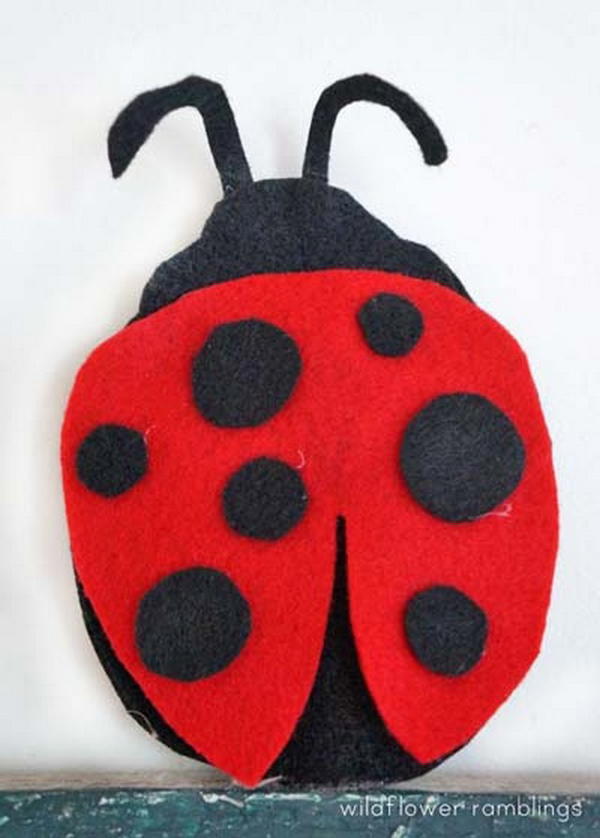 This little felt ladybug is so adorable you can't help but want to make one. The project is easy to sew and should take less than ten minutes to finish. With this easy project, your child can pretend to be a ladybug when playing in the yard or their room. You don't need a sewing machine for this simple project. And the craft is sure to make your little one smile! To make this project even easier, we've done most of the hard work for you. All you need to do is print off the pattern, cut out the felt pieces, and sew them together. Finish it with a button in the center; you're good!
Source: wildflowerramblings
Felt Mermaid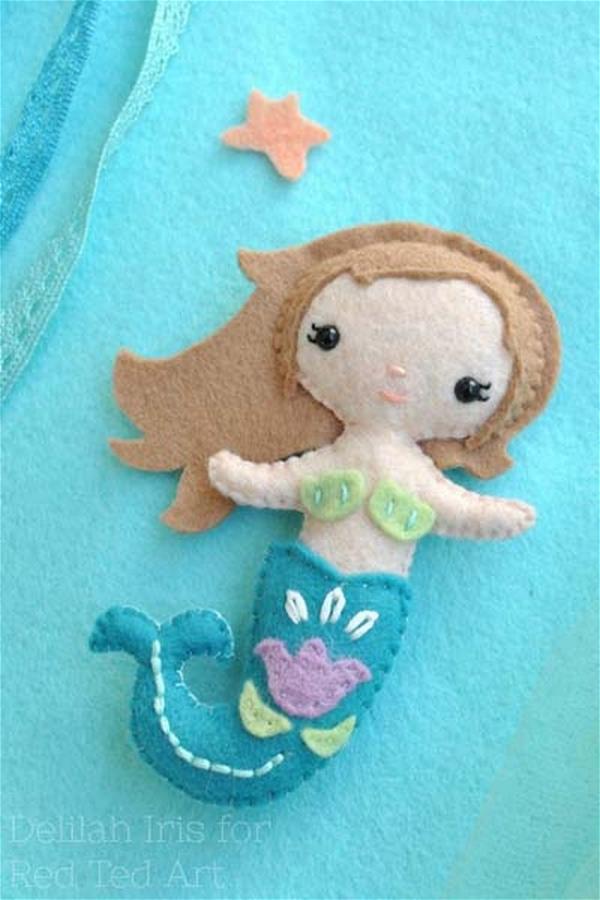 How adorable is this felt mermaid? The pattern is easy to follow, but you'll be surprised by how much personality your little felt mermaid can have. This little felt mermaid is sure to bring a smile to your face. She's lovely, with pretty pink felt and colorful detail. And she loves all the cute animals in the seas, including fish and lobsters! This adorable mermaid design is the perfect beginner-felt project. It only takes one shape and is created with a fun and easy embroidery stitch. Once you've mastered it, you'll be able to create a whole underwater scene of cute sea creatures!
Source: redtedart
Felt Flying Squirrel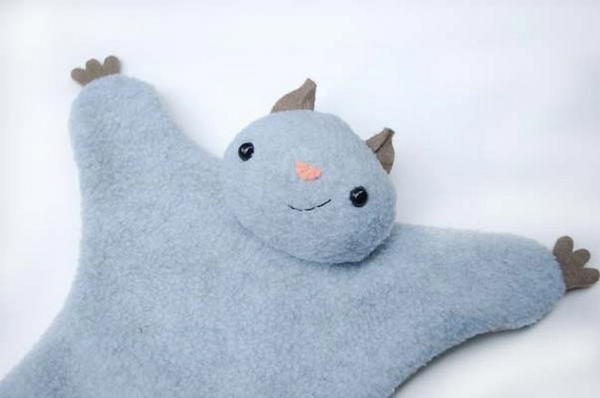 Your kids will love the delight of this Felt Flying Squirrel. It's so easy to make that even they could make one too! You don't need any special equipment; no sewing machine is needed, just a needle and some thread. This pattern is perfect for beginners or advanced crafters interested in learning new stitches. Make your kids happy with a flying squirrel! This little furball will have them joining forces to make it fly around the house and earn hours' worth of hugs. Feel free to sew this felt animal with any color pattern you like.
Source: WildOlive 
Felt Sloth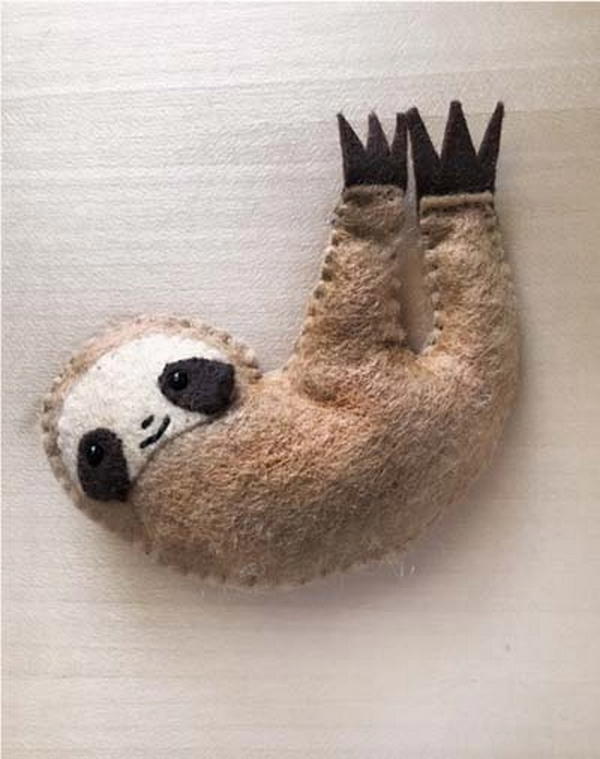 Adorable little felt sloths are the perfect gift for kids. Build this furry creature with your child, and they'll have a lifelong friend! This chunky felt sloth is the perfect gift for kids and adults alike! It's small, cuddly, and can be sewn by hand in about an hour. This little felt sloth proves that sloths are pretty cute. It's small and cuddly, so it's perfect for kids. It also makes a great gift for anyone who loves stuffed animals.
Source: Americanfeltandcraft.
Felt Llama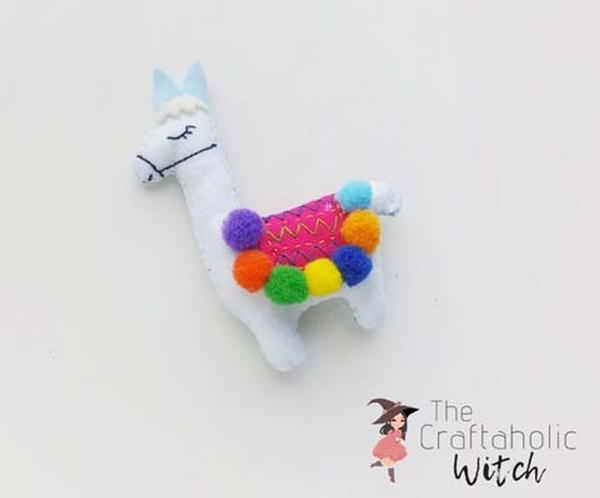 This cute little Llama is the perfect project for any beginner. With detailed instructions, all pieces are outlined, and they can be stitched entirely with a needle and thread in about 10-15 minutes. These lovable, furry fluff balls are a perfect little project for beginners. Sew the Llama in about ten to fifteen minutes with a needle and thread of any color or embroidery floss. It has short legs, a long neck, and a black and white wool coat. The Llama's hair is soft, but don't try to pet it. It might spit on you if you do! You could probably make the Llama out of felt at home if you know how to sew.
Source: Thecraftaholicwitch
Felt Among Us Plushie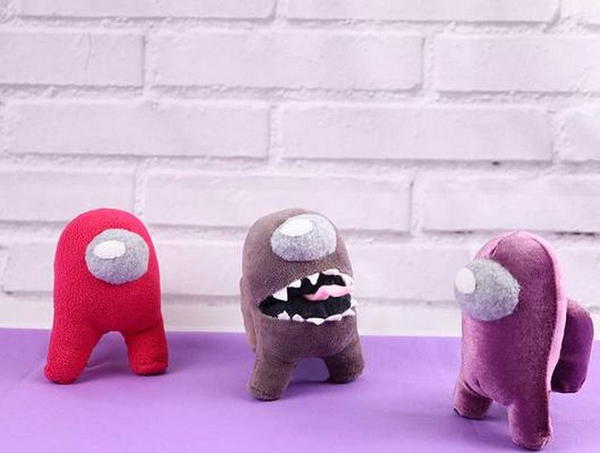 Do your teens love playing video games? Give them hugs and smiles when killing zombies, exploring dungeons, and blasting away obstacles in the latest fantasy game. This plushie series will surely be a hit because you can design it how you want! A great gift for any teen gamer, this Among Us felt plushie is the perfect size for cuddling and is easy to make with a few embellishments. Whether gamers, cosplayers, or like to collect plushies, these felt make a great gift. Your teen can personalize it to their own liking by picking the eye color and hairstyle.
Source: HelloSewing
Felt Turtles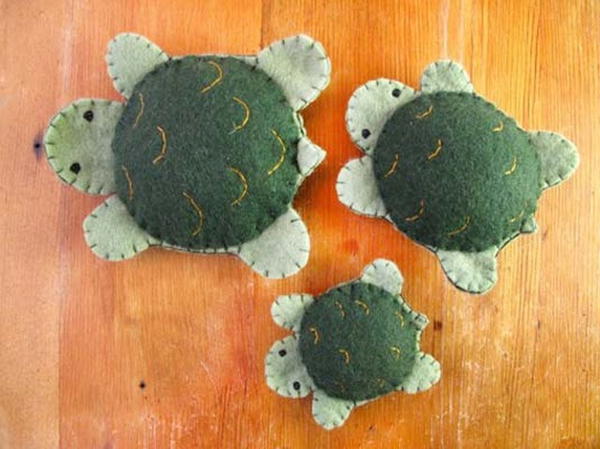 Felt turtles in various colors are a perfect project for children. You can whip up a batch of these felt toys with a needle and thread in about ten minutes or so… These sleepy little turtles are so cute and perfect for your kid's playtime. They will love their new friends, who can be made with a needle and thread in a few minutes. Your kid will be delighted by these little turtles once you're done making them; they are a great exercise for all those boring school days!
Source: Yourdiyfamily
Felt Penguins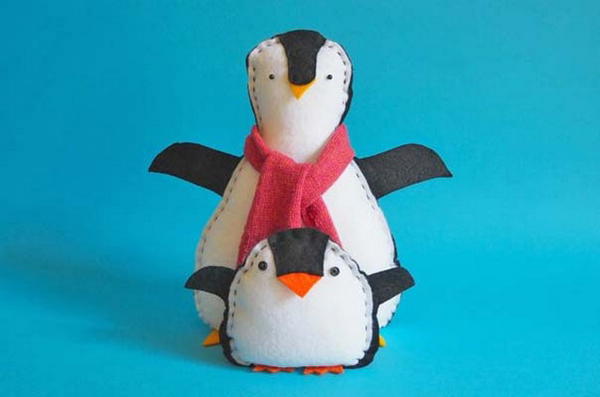 These little felt penguins are ready to join your family! Sewing them is easy, and they make a fast gift. Show your love for the cold with these felt penguin toys. This project is a bit different than the rest of our list, as it comes in two sizes! You can make both momma penguin and baby penguin at once! These cute little characters would make wonderful gifts for anyone who loves Antarctica or just penguins. These stuffed toys also make a fun activity for kids, whether crafting or playing house."
Source: sewasoftie.com
Felt Teddy Bear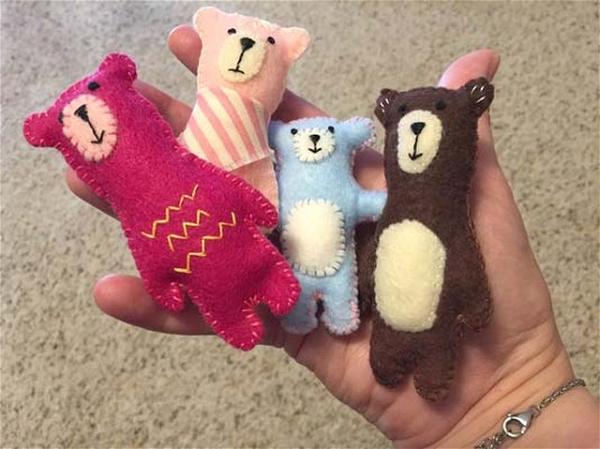 This felt teddy bear is the perfect toy for your kids. It is easy to make, so you don't have to be an expert crafter to create it. Cut out the fabric pieces according to the pattern and decorate them in any way you like! Miniature teddy bears are a popular choice of kids' toys, so it's no surprise that many people enjoy making them. Felt teddy bears are cute and simple, making them a perfect introduction to felt crafting. Cut out the fabric pieces according to the pattern, join them together, stuff the bear, and decorate it in the way you like.
Source: allmomdoes
Other cute diy felt animals (PAID patterns):
Felt Sea Otter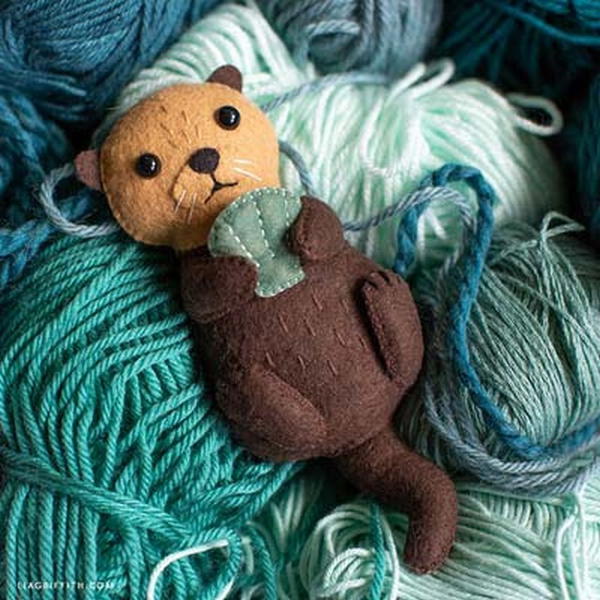 This little sea otter is a smart cookie. It even carries a rock with it for opening clams! Surely this little guy deserves a place in your bag of sewing supplies. This sea otter wears a patch over one eye in case of emergencies. It likes to make fun of and find new things. Sew carefully, as this sea otter is small and will fall apart if not done correctly. This little otter is a fun, cute felt project you can achieve in an hour or so. It's perfect for any needlework enthusiast looking for a new challenge.
Source: Lia Griffith
You can also see: DIY Fall Decor Projects
Felt Giraffe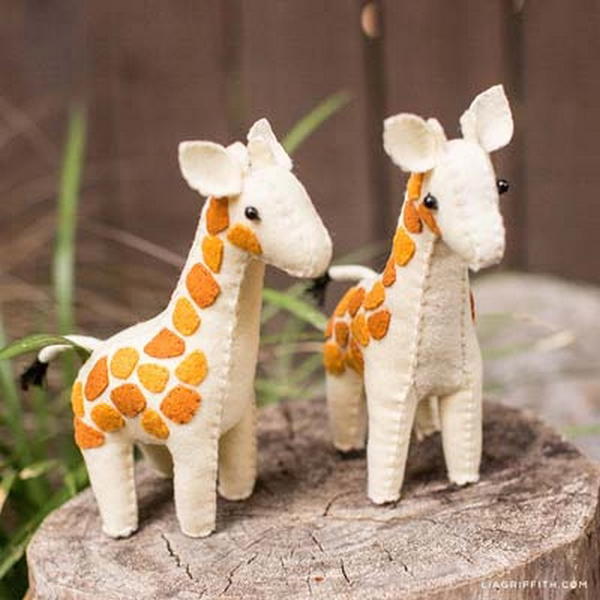 This felt giraffe pattern is part of our animal collection and makes a great gift for kids. Easy to sew, this small toy will provide hours of fun for your child or grandchild. This sweet and simple felt giraffe is perfect for your child. It's a great pattern for beginners and doesn't require a sewing machine. This unique felt giraffe pattern is a perfect choice for handmade gifts for children. It's easy to make and will also be a great addition to your kid's collection of hand-sewn toys. The perfect toy with which the little ones can play, sleep and cuddle.
Source: liagriffith
Felt Cat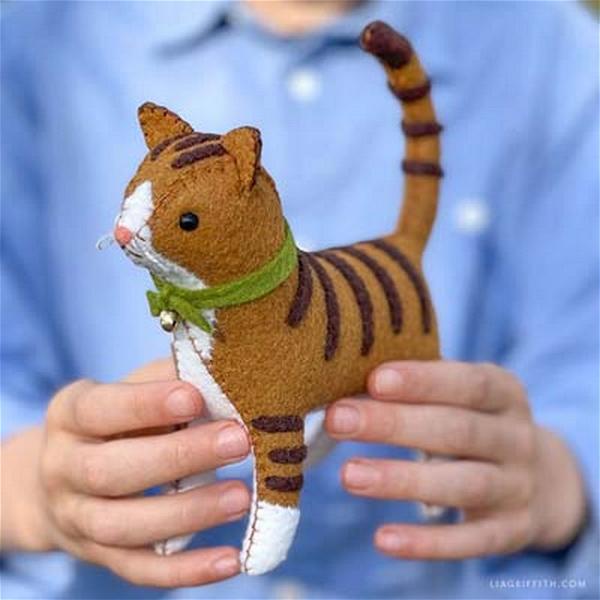 If you and your kid like cats but don't like cleaning up after them, here's your answer. You will not believe how easy it is to make a cute little felt cat toy that is perfect for young children. Kids love this little felt friend because it is soft to the touch and looks just like a real kitty. The Felt Cat is a quick and easy project for all cat lovers to keep your kids busy and entertained. You can make this little guy in under twenty minutes with just a few simple craft materials. He'll be a perfect companion for your child and also makes a great gift!
Source: liagriffith
Felt Dolphins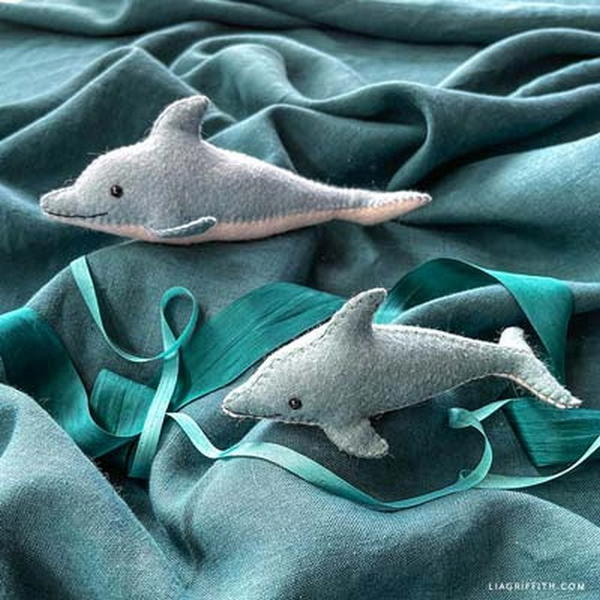 Give your kids a chance to play with dolphins by making them. You'll need needle and thread for this one-off project, and you can use any colors of felt you like for the dolphin bottoms! Turn a corner of your kid's room into an ocean and let them play with dolphins. This Felt Dolphin will be the best companion in their pool games. You can even gift him to your friends. Making these felt dolphins is a fun and easy project. You can make them in any color combination you like, so let your kids loose and create their own dolphin friends!
Source: liagriffith
Felt Wolf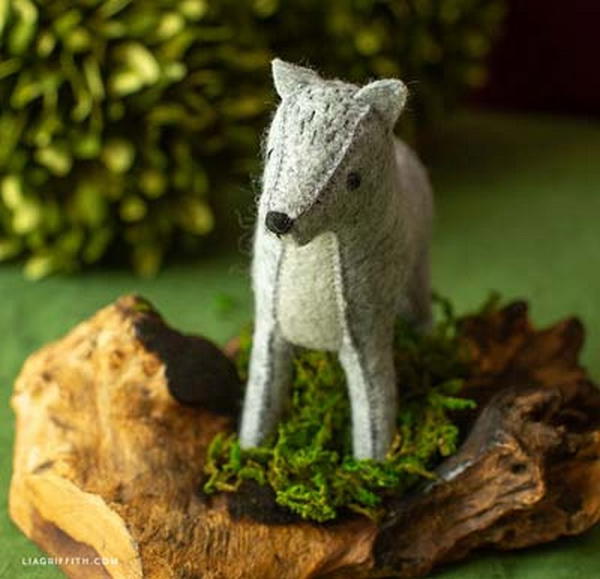 While wolves can be pretty scary, this little guy is not. He's so cute that you might even want to cuddle with him. And since this pattern is free and easy to follow, you can make him in no time. This soft, cuddly version of the fearsome wolf is the perfect animal for young children and anyone who loves to create their own felt toys. The pattern is quick and easy to follow, making it a great gift for any wolf lover.
Source: Liagriffith