Scissors are one of the most used tools in your craft kit, but they often remain loose in your bag or box. Make a home for your scissors with one of these DIY cases. You can easily make these with just a few materials and many possibilities to customize the case you need today! These DIY scissors cases will give your desk a colorful and practical touch. Made of felt and fabrics, these DIY quilting scissors cases will keep your scissors organized, accessible, and looking great! These scissors cases are the best way to store your scissors.
DIY Scissors Case Patterns

For anyone that sews, it's important to have a spot to store your scissors. A DIY case can be a great way to protect them and add some personal touches to your sewing studio. Scissors and other cutting tools are a staple in every office, craft room, and garage, but storing them can be challenging. Some people store their scissors in a toolbox, but that usually results in the blades getting dull and rusting over time. Organizing them by size is another way to go, but it still doesn't solve the problem of how to protect the sharp tips from touching surfaces or each other. With these 13 DIY projects, you can make your own scissors cases so you can keep scissors together, organized, and protected.
Pros Of DIY Scissors Case Sewing Patterns
DIY scissors cases are something that you can do at home. You can use your creativity to create a unique case for your scissors.
They are inexpensive.
You can make them as unique as you want them to be.
They are easy to make, and anyone can do them.
You can choose what material to use in making your DIY scissor case.
Scissors Case Tutorial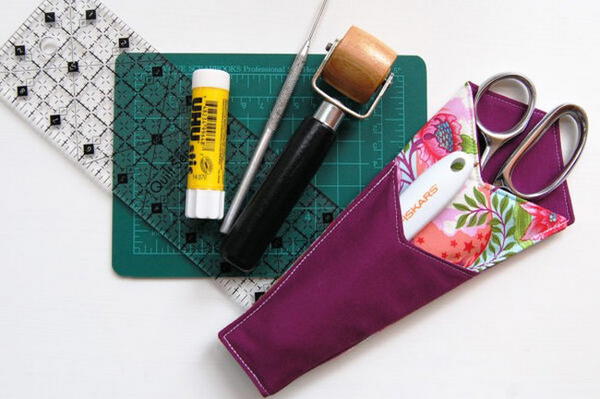 Finally! A stylish, decorative way to keep your scissors in order.Tired of searching for your scissors all the time? Create a cute and functional case for your scissors! This DIY Scissors Case Tutorial will help you create a custom sewing needle holder. You can use materials or buy new materials from the craft store. This super easy DIY case is made of felt and cute hot glue. You'll be able to add a personal touch of personality and style to your space and make it look stylish while keeping your scissors handy.
How To Make A Scissor Keeper Sewing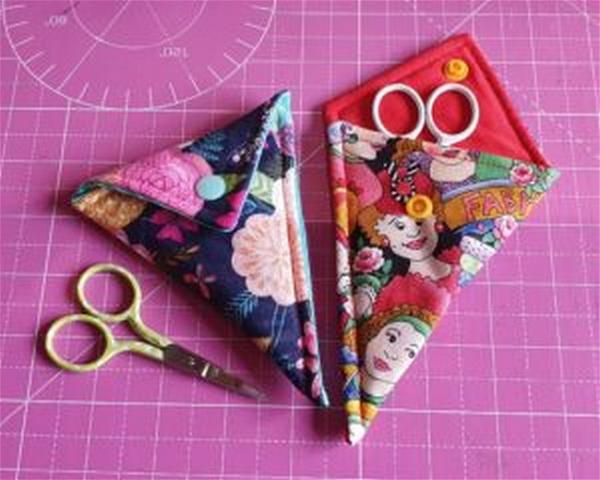 Scissor keepers are a great way to organize your sewing scissors. What more could you ask for than a pair of little scissors that keep you from misplacing your favorite pair? These sweet little scissor keepers are quick and simple to make. It only takes about five minutes to make one, but it will save you so much time in the long run! They're easy to make, and you can use them to store other small sewing items as well. The fact that they're cute is just a bonus! These sweet little scissor keepers are made with fabric scraps, so they're perfect for using up any extra scraps you might have lying around!
Quilted Scissors Holder Tutorial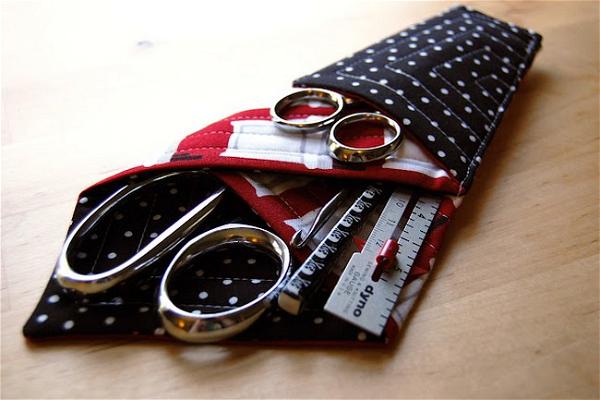 You'll love having this customized quilted scissors holder in your sewing room. Because it's lightweight and easy to make, you can jazz up your scissors with a new look whenever possible. Plus, with this design, there's no need to buy anything special — all you need is some fabric and batting! This quilted scissors holder is the answer to your scissor storage needs! The two layers of fabric and thin batting make it sturdy and soft to protect your sewing or embroidery scissors. With room for maybe 4-5 pairs, this holder is a great size that fits nicely on any work surface.
DIY Scissors Holder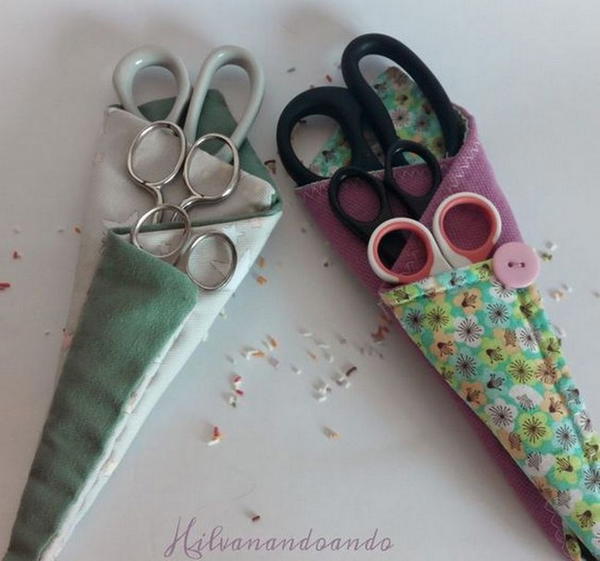 It's never been easier to grab your scissors. The Elastic Wrist Holder ensures you always have access to your most-used tools, and the security strap keeps them within reach. Keep your scissors together and keep them safe when not in use with this DIY Scissors Holder. Wrap your fingers around the wrist strap and pull out your scissors. The elastic strap keeps them safely within reach, so you are always ready for any project or task. This is a great gift for all crafty people, especially those who need to access their scissors easily!
Scissors Case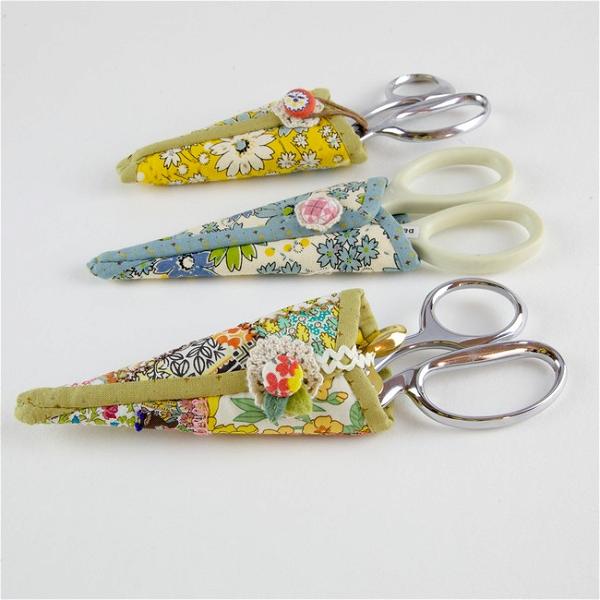 This DIY Scissors Case is a fun and easy craft for kids or anyone who likes to make things by hand. The case fits most standard-size pairs of scissors and has several pockets for additional storage. You can use recycled materials like soda bottles, plastic bags, or placemats to make one yourself! This DIY Scissors Case is a great way to keep your scissors, coloring pencils, and other odds and ends organized. Its mini size means you can take it with you in your bag or purse. This case makes for a great gift for the crafter in your life!
Simple Embroidery Scissor Case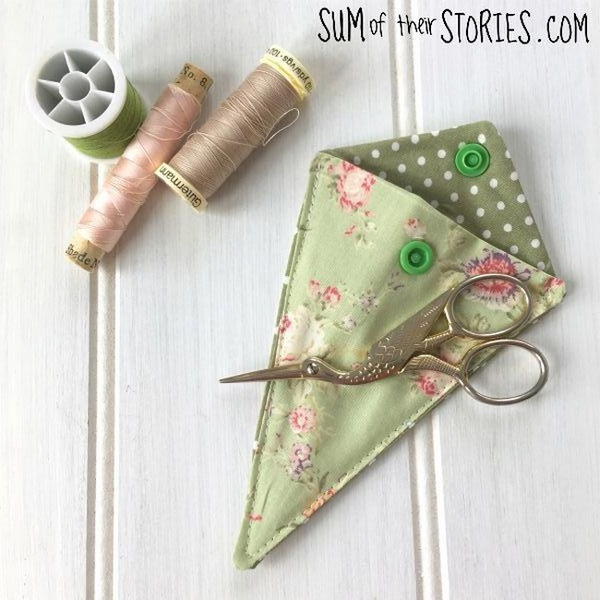 Use this simple embroidery scissor case to protect and transport your favorite embroidery scissors. As a fun, quick project, turn it into a unique and thoughtful gift for any occasion. Love yourself enough to take care of your favorite sewing tools with this simple DIY scissor case. Perfect for beginners and advanced sewers, this project is a great way to practice machine embroidery and an easy weekend project for anyone who wants a little more organization in their workspace.
DIY Fabric Scissors Holder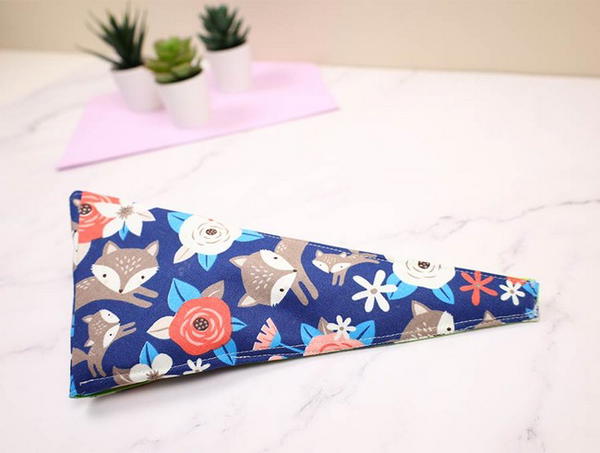 Create a stylish, colorful, and fun Fabric Scissors holder using a wooden embroidery hoop. This project is easy to make and makes a great gift for yourself or someone special. A sewing kit essential, this DIY Fabric Scissors Holder is easy to make and a great gift. This tutorial uses a no-sew fabric cutter case that folds into a dispenser for your scissors and adds convenient storage for your pins or needle nose pliers. The finished holder can be used in your sewing room or as a travel sewing kit.
DIY Quilt Scissor Case Free Sewing Pattern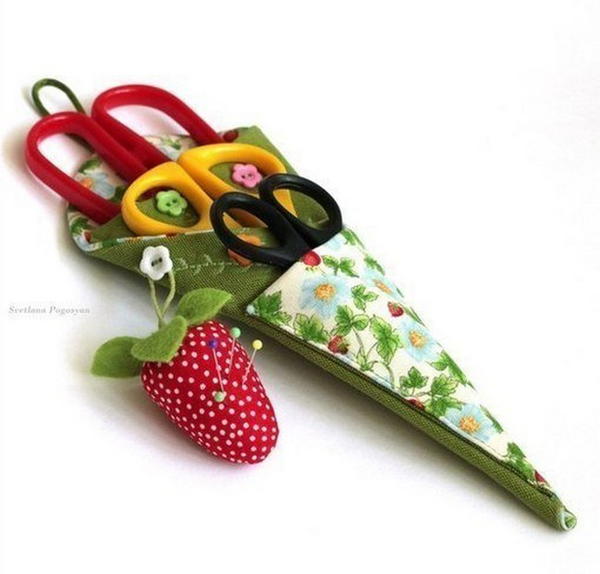 Love your fabric collection? Organize it with this free sewing pattern for a DIY quilt scissor case. This easy pattern makes a handy storage accessory to protect your fabric from dust, dirt, and pet hair. Create something unique for yourself or as a gift for the seamstress in your life! This quilt scissor case is a great option for keeping your sewing scissors and other essentials in one handy case. Perfect for the beginner or experienced seamstress, this design features a durable slip-and-slide zipper closure, along with a soft interior lining to protect your delicate tools from minor mishaps.
DIY Scissors Case
This DIY Scissors Case is for the crafty and creative type who loves to make things by hand. The scissors case keeps your tools handy and can be personalized by selecting a fabric or felt that expresses your personality. Keep your scissors safe and organized in this DIY Scissors Case. The duct tape is pre-cut for you, so you'll need to adhere it to the cardboard forms. Each case fits just about scissors and stays closed with a ring seal.
Make A Scissors Case Tidy Craft Fair
This delightful craft fair project is great for a kid's craft table, a home office, or a classroom. This simple sewing project is quick to make and will hold all of your scissors, rulers, and more in one tidy place on your desk. . Keep your craft scissors safe, clean, and close to hand with this easy DIY craft fair idea. Make two or three as door prizes for your event or Christmas gifts for your family, friends, or teachers! It is perfect for every crafter!
DIY Super Easy Scissors Holder
Simple, easy, and fast to make. You can find the materials in your home. This scissor holder lets you organize scissors, pencil cases, and rulers in one place. Made from metal, it has a vintage look that blends with your decor. The slots are just the right size to fit children's scissors, making them perfect for school offices and teachers' classrooms. The wall hanger is removable, so you can use this organizer at school or home. Easy to attach to any wall using sticky hooks
Crepe Case For Scissors
This is a DIY Crepe Paper Case For Scissors. Its design is simple and practical; if you have scissors, you can make it at home. It's made of thick paper, cardboard, and durable materials. When you put them in it, they will not fall off your hands or cut the table. A crepe case is an instrument used to house your scissors. Traditional cases are leather, but this modern version utilizes a nicely textured brown paper bag! This case is easy to make and will fit any size pair of scissors. No sewing is required!
Protect Your Scissors With This DIY Case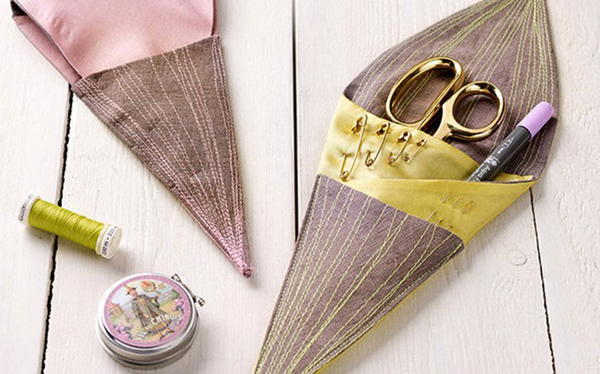 Need a way to keep your sewing scissors with you while on the go? Make this DIY case with an old T-shirt to protect them. Scissors are a must-have for crafting. Protect your pair of scissors by making a DIY case for them. Simple materials and a few minutes of your time will give you an attractive, protective case that will keep your scissors safe from damage. It's a quick sewing project that keeps your scissors safe and organized, plus it gives you something to do when the power goes out.