Sew yourself a wardrobe of scarves, from chic to cozy, with these 20 Free Scarf Sewing Patterns for knitting, crocheting, and sewing. From a classic garter stitch scarf to a modern double-knit one to a knit & crochet combo. With the chilly weather creeping in, you can start preparing for the season by making some new scarves. This is a fun project with friends if you want to get together and spend time sewing. Whether you're planning on knitting scarves, crocheting scarves, or sewing scarves, there are some great patterns to try out. If you don't already have a sewing machine, now's the time to ask for one for Christmas!
Scarf Sewing Patterns For Beginners
It doesn't matter what season you're in because these scarf-sewing patterns are perfect for every occasion. From simple scarves to infinity scarves and everything in between, there is something for everyone – even those who have never sewn before! A scarf is also a great way to give your wardrobe some variety, especially if you've got more than one piece of outerwear and more than one pair of shoes—it's a change of pace if you're always wearing the same thing with it. There are tons of great scarf patterns to sew for fall, winter, and early spring, but if you're unsure where to start with pattern selection, here are 20 great ones!
Tips For Sewing Scarf Patterns For Adults And Kids
The best way to learn how to sew is to practice a lot. But it's also good to have some tips and tricks in your back pocket when working on a project. Here are 10 things you should know before sewing scarves:
Find a great pattern
Choose a fabric that works for the pattern and your wardrobe
Use enough fabric for the size of scarf you want
Cut out your pieces carefully
Iron all your seams and edges flat before sewing them up
Press all folded edges open before sewing them down
Sew slowly! Don't try to rush through this step.
Double-check all of your seam allowances (if any) after sewing each one down
Use pins sparingly, only when necessary (i.e., when sewing curved edges together)
(Optional) Use an overlock machine or serger if available, but not required
Cute Infinity Scarf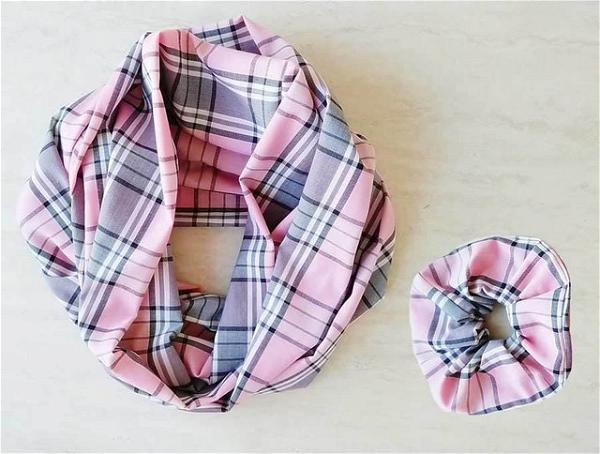 This infinity scarf is an excellent choice if you're looking for a unique and warm scarf. With its easy knitting pattern, you can make one in no time. This is a great project if you want something to keep your neck warm but don't necessarily need something very large or heavy. The infinity scarf combines the best of both worlds for winter fashion. You get to wrap your head nice and warm, but you can easily take it on or off without worrying about messing up your hair. This simple project will provide you with many years of warmth at night or while walking in the cold outdoors.
by HelloSewing
Felt Rainbow Scarf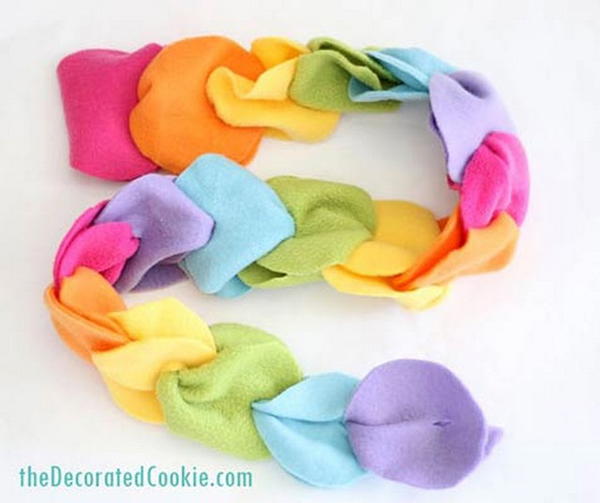 This beautiful rainbow scarf is a great way to show off your personality and individual style. Made of colorful felt strips, it's both soft and warm. The vibrant rainbow design will make you stand out from the crowd while on your travels around the world. Make a bold statement with this rainbow-colored scarf! Multiple pieces of colorful felt are stitched together to make a wonderful accessory that brings joy to all who see it. Made from soft, lovely felt, it's both fun and functional. Wear it while you're out on the town, or wrap it around your neck while relaxing at home.
DIY Neck Warmer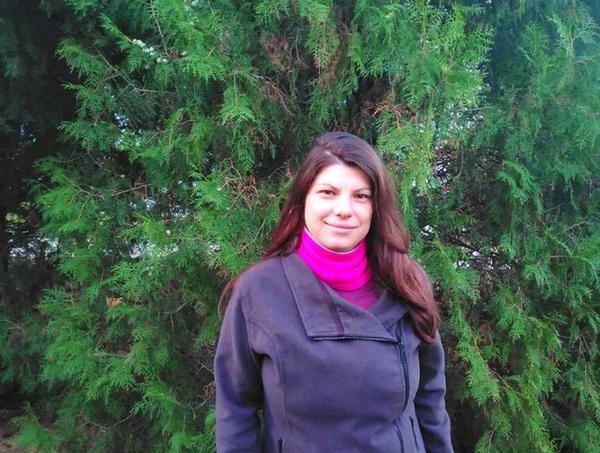 This DIY Neck Warmer is a great project for the winter season! It's easy to make and doesn't take much time, so what are you waiting for? Get your hands on some felt, sew it up, and keep warm with this scarf-like accessory. You can add a cute button decoration to it if you like making it look a bit fancier! This DIY Neck Warmer is a great addition to your winter wardrobe. It's perfect for keeping your head warm or just a cute seasonal accessory. The velcro strap ensures it stays in place whether you're working, playing, or just sitting on your couch.
by HelloSewing
Snap Scarf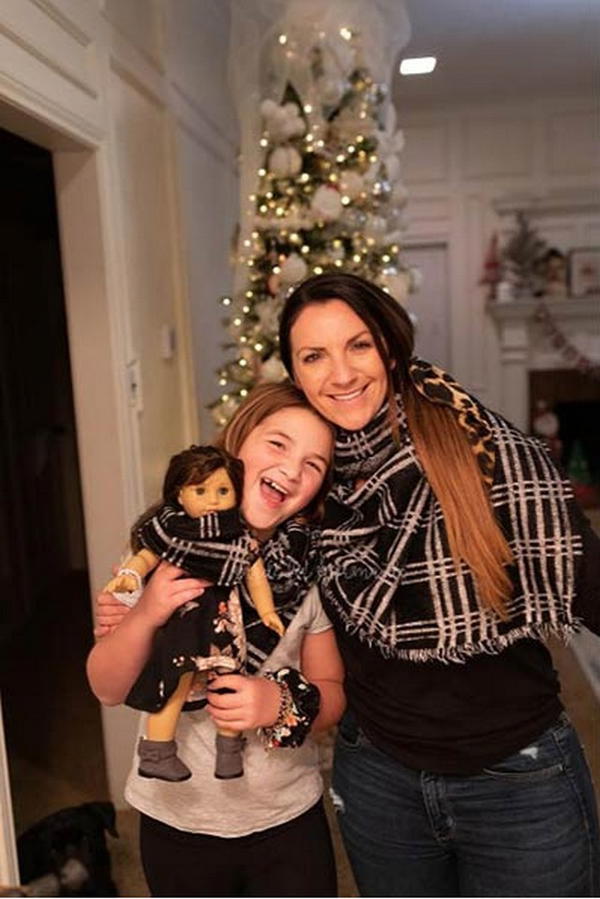 Snap-on scarves are easy to wear, as they don't need tying or wrapping. If you have already tried making one, this project will sound like a walk in the park. This Snap-On Scarf is a quick and easy project that lets you make scarves for your entire family. It's an adult and kids-size scarf with snaps on the ends that allow it to be worn differently, so there's no more fighting over who gets to wear the regular scarf!
Hooded Scarf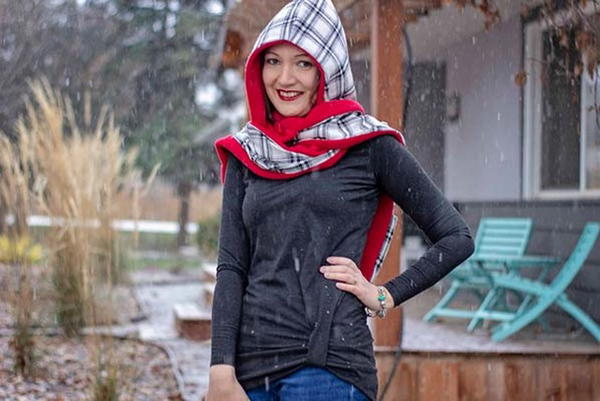 Keep your whole head warm with a hooded scarf with two pockets for your hands. It will keep you warm and even look great with a beanie. This scarf comes in both kid's and adult sizes. The hooded scarf is a great way to keep your face, neck, and head warm. It can also help you stay nice and toasty on those cold days. This scarf comes in kid and adult sizes, so you're sure to find one that fits you perfectly. Like a hooded sweatshirt but for your head and neck, this scarf is perfect for keeping your head warm but also allows you to keep your hands in its pockets while they're freezing.
Leather And Flannel Scarf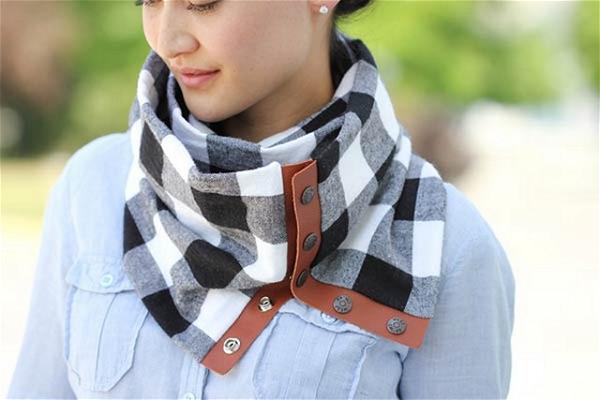 Want to make your outfit stand out? Check out this leather and flannel scarf. It's a snap-on piece with a leather section where the snaps come and a flannel main body. This scarf is a snap-on accessory that will look sharp with any outfit. It has a leather section where the snaps come and a flannel main body. Made of high-quality flannel fabric, this scarf will keep you warm and looking great. It's also easy to make and only costs a few dollars in materials. So what are you waiting for? Make yourself one today!
by Deliacreates
No Sew Blanket Scarf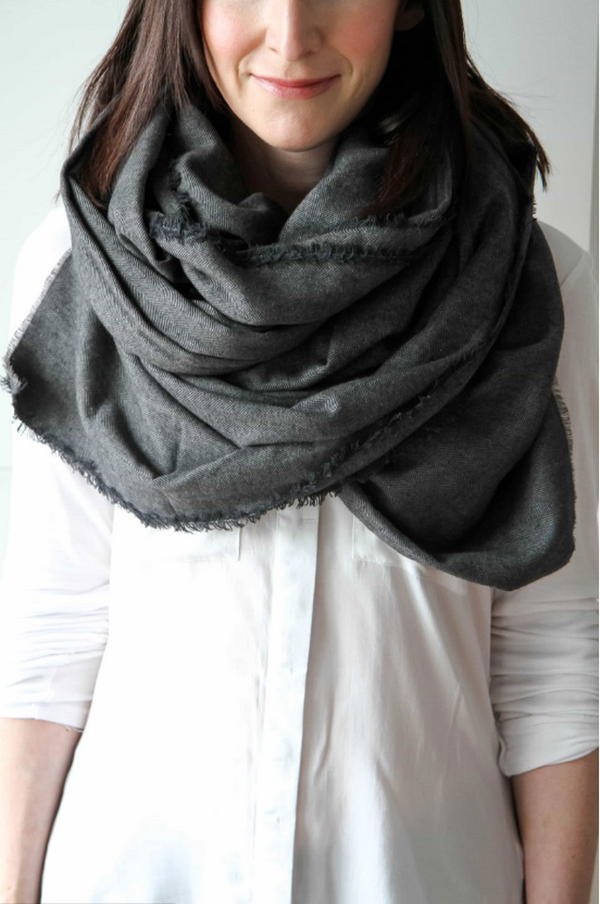 Get cozy on the slopes with this no-sew blanket scarf. Just turn a large blanket into a soft, slouchy, stylish scarf that's perfect for any winter trek. So what do you do when stranded in a cabin without your sewing kit? You turn your blanket into a scarf, of course! This no-sew blanket scarf project is perfect when you're on a skiing vacation and forget to pack your scarf. It's also great if you have children or pets around the house who might destroy a blanket scarf made with sewing (which they will try to eat).
by Momadvice
Scarf Face Mask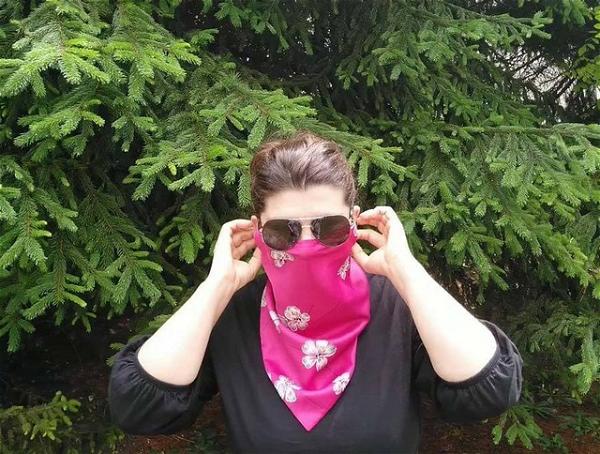 The Scarf Face Mask is perfect for those who are always on the go and tend to forget their face mask at home. The best part? It combines a scarf and face mask, so you can keep yourself warm while protecting your skin from the sun or wind! You no longer have to choose between your scarf and face mask. The scarf mask combo is lightweight, comfortable, and keeps you warm, so you will look stylish while still being able to protect yourself from the harsh cold.
by HelloSewing
A Gaiter Scarf
This scarf is made from super soft, durable, and breathable material. The scarf can be used in several different ways – from a headband to a bandana; you get 14 accessories for the workload of one! This accessory is for all of you who love multifunctional accessories! Wear it like a bandana or tie your ponytail. Use it as a headband or around your head like a gaiter. Wear them over your face like a scarf, around your head like a bandana, or tie them on your hair to create a new look. You can also use it as a belt for your jeans and even use it in multiple ways. Many functional uses for one versatile accessory!
by HelloSewing
Braided Scarf Out Of Tshirts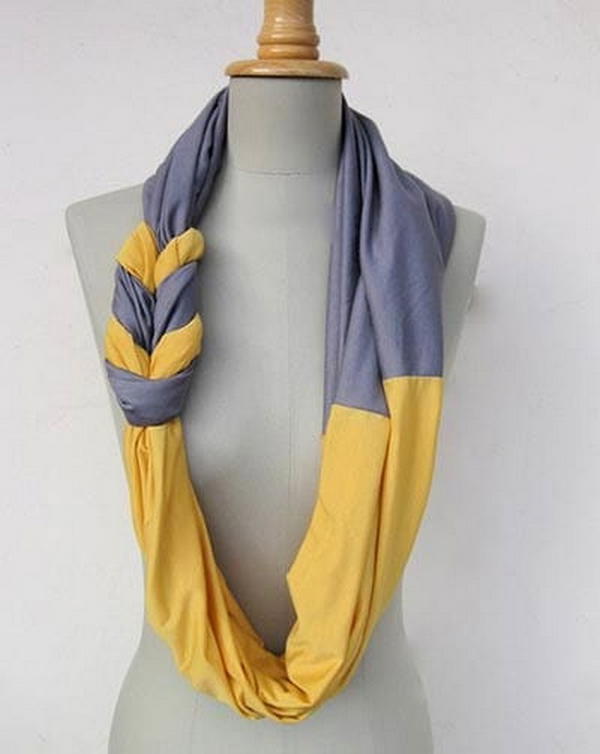 The Fast & Easy Braided Scarf is the perfect cold-weather accessory! Knit from two t-shirts, this scarf has a braided design on one side, making it easy to recognize as a thrift store project. You can create your unique scarf with this easy-to-follow pattern. You'll need two t-shirts with contrasting sizes and colors, ¼ inch seam allowances, a sewing machine, and the thread color of your choice. This scarf is perfect for those who want to make something new out of old clothing they can wear or gift repeatedly.
by Alldaychic
Antropologie Inspired Scarf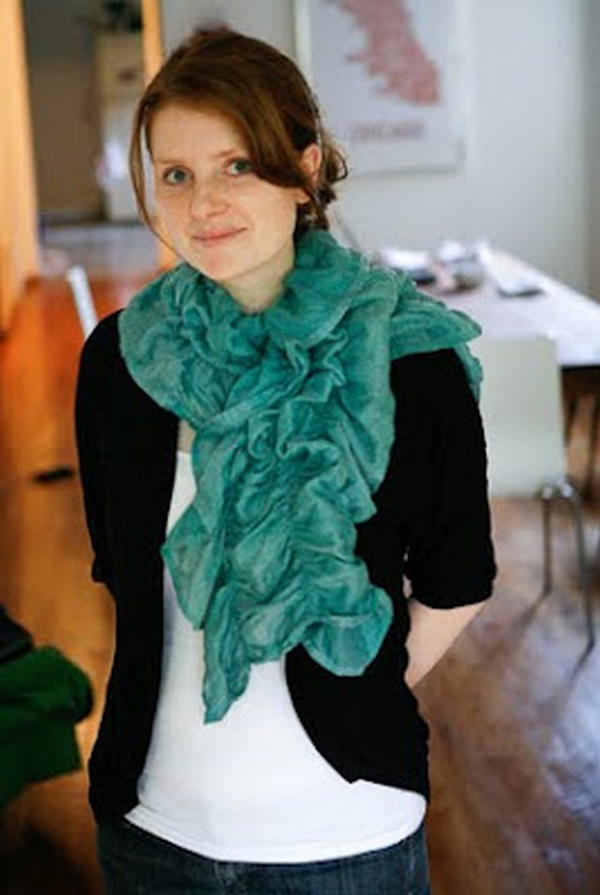 If you love the look of Anthropologie scarves but can't always pay their high prices, then make this scarf. It's lightweight and thin, so it's perfect for those transitional periods between seasons. This is a beautifully crafted scarf inspired by Anthropologie. It features a lovely ruffle edge and is made from a lightweight and thin fabric, so it's perfect for those transitional periods between seasons. This is a bulky scarf with lots of ruffles that looks beautiful in any color - choose the one you like most and start crocheting!
Turn A Sweatshirt Into A Cowl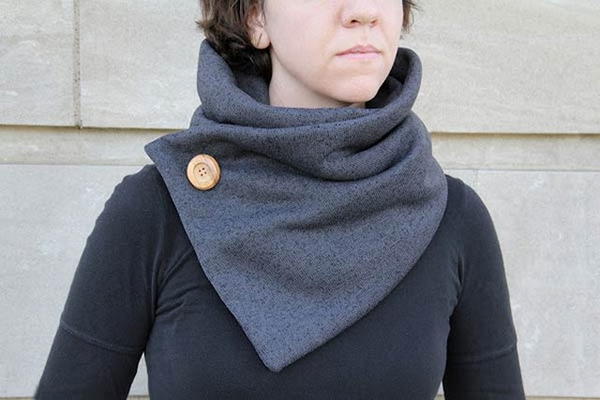 Sometimes, you don't need a brand-new cowl. Instead, you've got an old sweater that needs to be used. This is a perfect pattern for those of us who have random knitted fabric pieces but no desire to knit more just yet. The Turn A Sweatshirt Into A Cowl pattern will turn your old sweater into an elegant cowl in no time! Use an old sweater as a base for this dramatic cowl and turn it into something new. This is a great project to upcycle your old clothes, especially when stained or torn. Quick, easy, and fun!
Fringe Scarf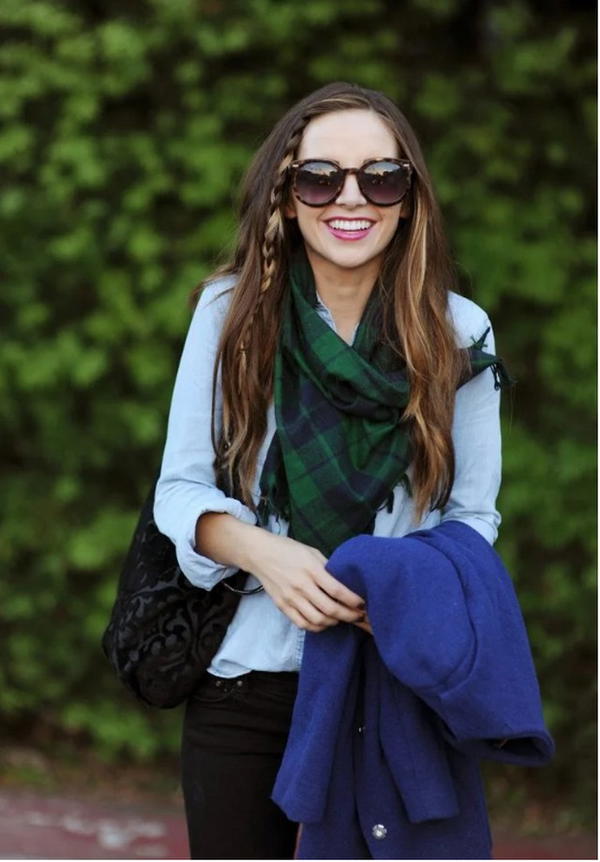 This scarf is the perfect addition to your wardrobe. The fringed edges give it that youthful charm and look, while the simple construction means it's fast to make. A cute and flattering fringe scarf that's a stylish accessory for any season. The fringe on this scarf is the perfect way to dress up any outfit. So while it's not cold outside, dress in style with this fringe scarf! This fringe scarf is a fast and easy way to elevate your wardrobe. You can complete this project in the afternoon while listening to your favorite podcast with a few simple stitches!
by Merricksart
Reversible Keyhole Scarf
It's still cold outside, but here is a scarf that will keep you warm on those chilly days. Designed and made to fit any neck size and body shape, it doesn't require tying using a keyhole opening to pull through its ends. This reversible scarf can be worn in multiple ways depending on your mood or outfit. You'll need to add one of these scarves to your collection! You get two for the price of one when you make this reversible keyhole scarf. Other than that, it's warm, soft, and comfortable — just like a scarf should be!
Shirred Scarf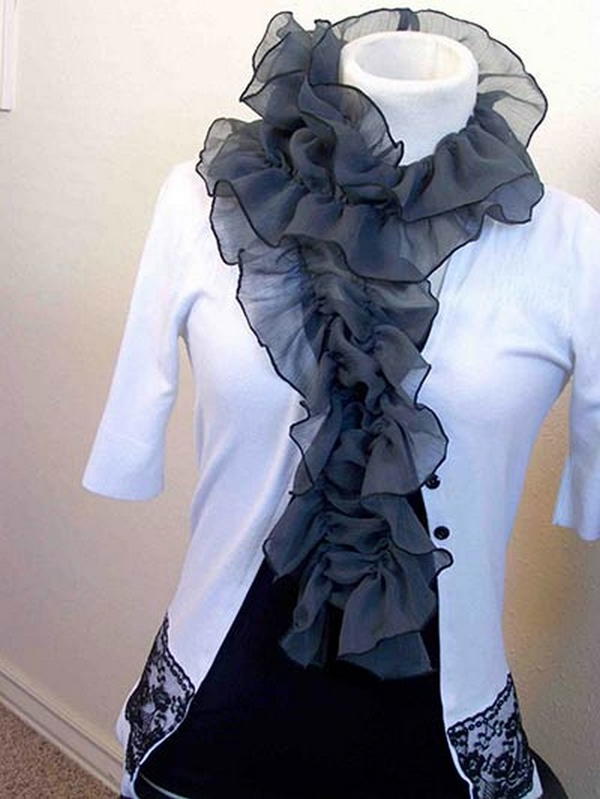 A shirred scarf is a great way to add texture to your look. This scarf has an interesting jellyfish shape due to its long ruffles. It goes great with elegant outfits and can be tied in many different ways. This shirred scarf is a great accessory for your outfits. Its unique shape and ruffles give it an elegant appearance that works with many clothes, and its thinness makes it perfect for warmer days! This scarf is super soft and fluffy, making it perfect for a breezy Spring day or even a cooler Summer evening. You'll love this unique jellyfish-like look that's so fun to wear and coordinate with your outfits!
You can also see: Summer Sewing Dress Patterns 
Kitchen Towel Scarf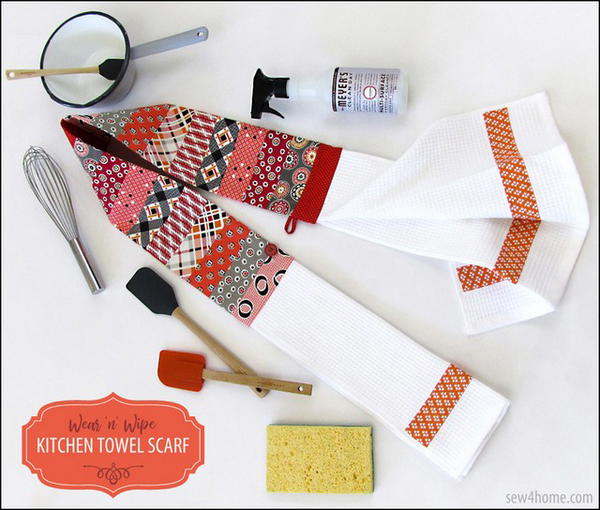 Meet your new kitchen best friend. It's a scarf that looks like a simple square of fabric and acts as a kitchen towel—but it has two ends so you can slip it over your head and get cooking. The woven cotton middle section is perfect for absorbing spills, keeping towels off the counter, and drying your hands. The soft edges have just enough give, so you don't need to worry about snagging them on anything in the kitchen when you're grabbing for another pot. They also look great paired with your other napkins and dishcloths.
by Sew4home
Fox Scarf Pattern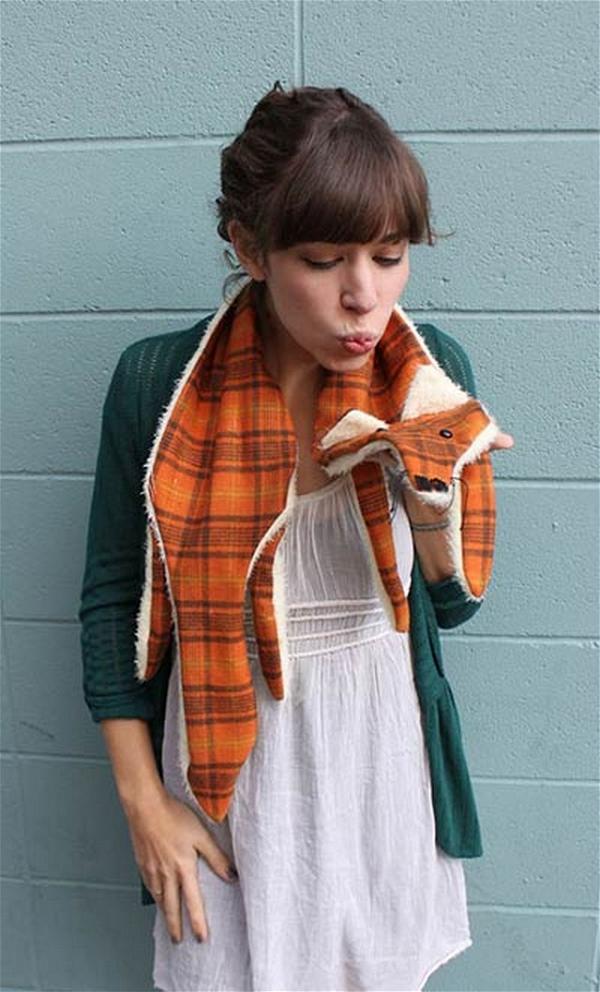 Who needs real fox fur when you can wear this adorable scarf? The little eyes and ears wear sunglasses to keep them from sunburn, and the tail is stylishly wrapped around her shoulders. This cute scarf is made from 100% cotton fabric and faux fur, giving you a warm and fuzzy feeling like real fox fur. The braid at the tail's end brings out a small animal's fluffy vibe! You can wear it on any occasion and make yourself look cute by wearing a fox scarf. It is suitable for beginners since it only takes about two hours to make!
Cat Scarf Pattern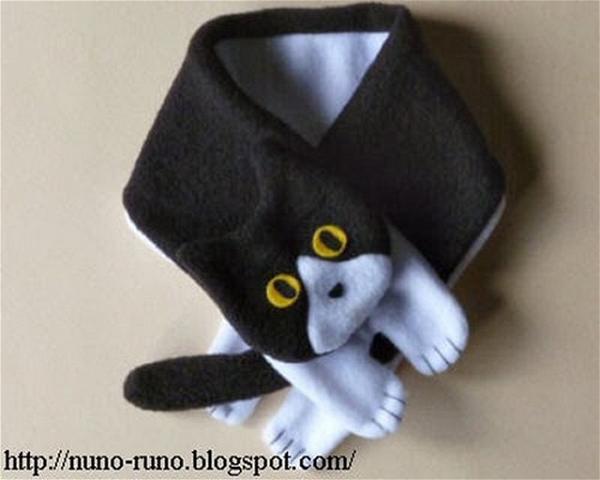 How cute is this cat scarf? It will keep your neck warm and make you smile whenever you put it on. This pattern is perfect for anyone who loves cats. This scarf will keep you warm and cozy while looking adorable and being something nobody else has! You can choose to make your cat with open or closed eyes or even no eyes at all. You can also choose whether or not you want whiskers on your cat masking tape.
by Nuno-runo
Easy pet over the collar bandana
Warm your dog or cat during the winter with this easy-to-make scarf. Your furry friend will look cute and stay warm, so what more could you want? This Pet Over the Collar Bandana is an easy way to add a layer of warmth to your precious pet. These stylish scarves will make your pets look adorable and protect them from the cold with a soft fabric. They are also machine washable for convenient washing. Keep your furry friend warm during the winter with this pet bandana scarf! Made just for cats and dogs, this adorable pet accessory comes with a drawstring that allows the triangle to be adjusted for any sized neck.
Bandana with ties
Tie this Bandana with ties around your pet's neck; it instantly looks like a tiny scout. It is a great accessory for little dogs and puppies, especially in the winter when you can help keep their coats nice and warm. This Bandana with ties is made from soft yet durable linen, which makes it comfy while even being able to keep the temperature cool during the warm months. This Bandana is lined and has a long end that you can tie together when wrapping it around your pet's neck. It's perfect for keeping your lovable companion happy and comfortable!