Who doesn't love a table runner? They're the perfect accent to any table and can be used year-round. Here are 21 free table runner patterns you can whip out and get going on this weekend! This collection of free table runners will help you decorate your home with some warmth, whimsy, and color! Whether you're putting together a formal dining room ensemble or creating a casual kitchen setting, one of these adorable runners is sure to add some flair to your space. Makeover your table with these runner patterns! No Matter If you're looking for something modern and geometric or a simple pattern that is easy on the eyes and budget, we have you covered.
Quilted Table Runner Patterns
Table runners are a quick and easy way to spice up your table d'hôte. They look great, can be made in no time, and make your table come to life. You can start making your own runners and creating new ones with different fabrics and materials. There is nothing better than crafting with your favorite fabrics and creating items for your home that are practical and beautiful. These table runners are the perfect addition to any breakfast or dining room, kitchen counter, or coffee shop. The patterns in this collection range from very simple to more complex piecing patterns, so there is something for everyone.
Benefits Of Table Runner Patterns
Table runners are an excellent way to liven up your table and add a splash of color. They can also be a decorative element for other things like gift wrapping, clothing, etc.
Here are some benefits of table runner patterns:
They are easy to make and look great on any table setting.
You can use them as a decoration for any event or occasion (birthday parties, baby showers, wedding receptions, and more).
They're easy to store and transport because they don't take up much space!
Easy Christmas Table Runner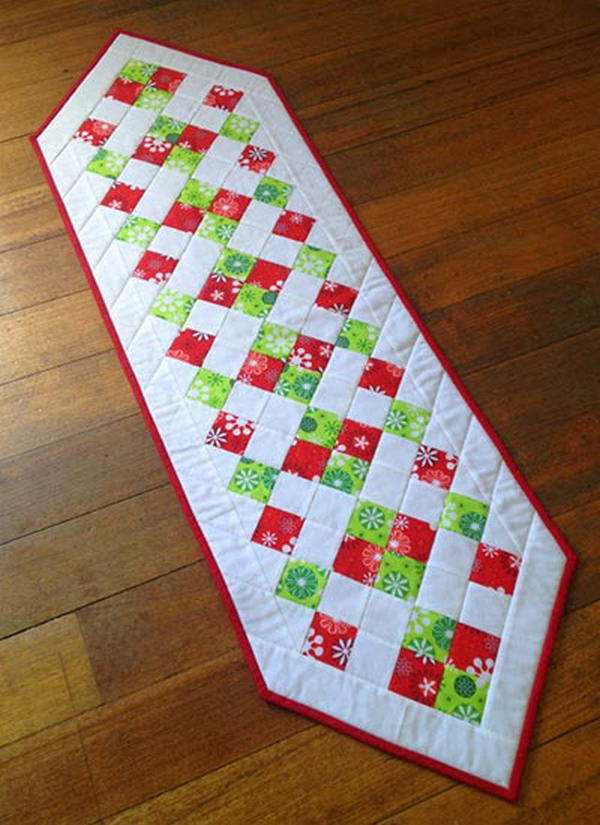 This table runner is perfect for any occasion! The beautiful hexagon shape and bright colors will freshen up your table instantly. You can use it for Christmas parties, birthdays, family gatherings, or to add a little life to the start of your day! This table runner is perfect for your dining room or living room. It will bring vibrant colors and life to your home as you welcome guests, family, and friends over the holiday season. The easy-to-clean fabric is ideal for dinner parties.
Merry Cheer Christmas Table Runner Pattern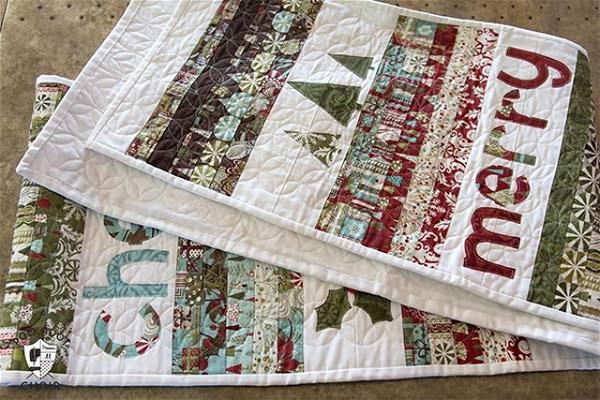 This Christmas-themed runner is perfect for any table setting to set the mood for the festive holiday season. With various motifs, this runner will bring holiday cheer wherever you use it! A rectangular table runner for those who love the holidays! This runner is perfect for the season and can be used throughout the holiday season. It's extremely versatile, so you can use it on almost any table anytime. Make two with Merry and Cheer, and pair them together!
via Polkadotchair
Easy 1 Yd, 5 Minute Table Runner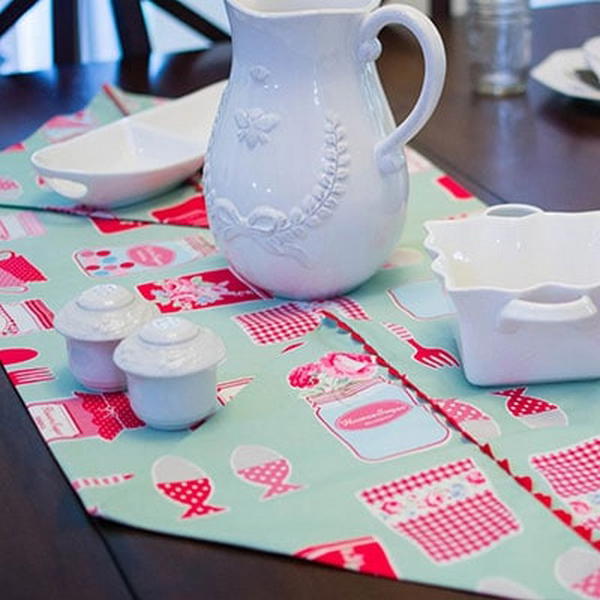 Want to decorate your table creatively and colorfully? This elegant table runner is easy to make and can be done in less than five minutes! Just use 1 yard of fine fabric, add a little bit of sewing, and you're done! The corners are made using origami techniques, while the central seam is finished off with a zig-zag stitch. With just a yard of fabric and about five minutes of your time, you can make this visually interesting table runner for your next get-together. The hexagon shape with simple corners will dress up your dining table in no time.
via Sewcanshe
Burlap Table Runner With Tassels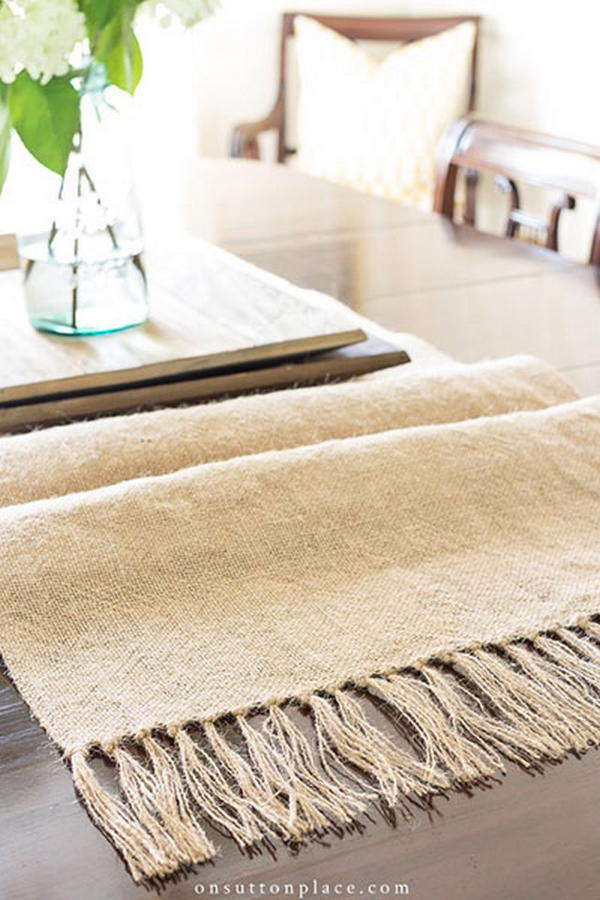 Nothing adds more charm to a country-style home than beautifully decorated tables, and this burlap table runner is just what you need to make your dining room look great! This project is super simple but looks very appealing in a farmhouse style. Burlap is a versatile material that can make all sorts of products, from table runners to rugs, pillows, and even home decorations. Plus, it's rustic and pretty easy to work with since you'll only be needed to cut the burlap into the desired shape and then tie it together using the tassels.
via Onsuttonplace
Valentine's Day Table Runner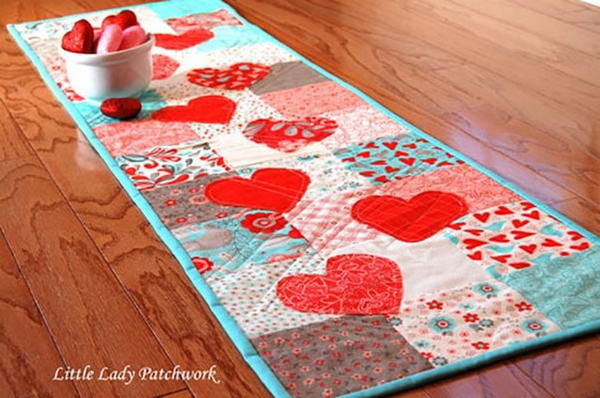 Nothing says Valentine's Day like flowers, hearts, and a romantic candlelit dinner. Surround your special someone with the ultimate love letter by decorating the dining room table with this runner. Great for any occasion and perfect for a date night! Show your partner how much you care with this Valentine's Day table runner. This beautiful rectangular runner is the perfect decoration for an unforgettable romantic dinner for two, and the cute hearts on it will make you fall in love again!
You can also see: DIY Valentine Day Crafts 
Jelly Roll Table Runner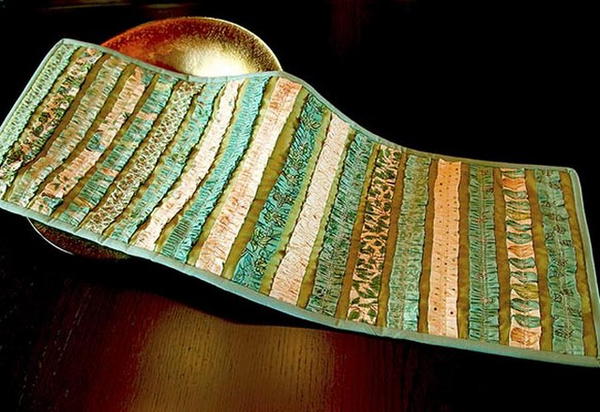 A great addition to your table, this flour sack towel table runner is another creative way to use a jelly roll. The finished runner will have a fun and unique look with the ruffles running down its entire length. This table runner is sure to impress. Use a special fabric like a jelly roll piece in a fun and unique way. Create your custom table runners by adding ruffles for shine but leaving out ruffles for a more sleek look. The size of these runners allows them to be used on both sides of the table, so you can get creative on one side while keeping the other clean and neutral with no frills!
via Sew4home
Shamrock Table Runner For St.patrik's Day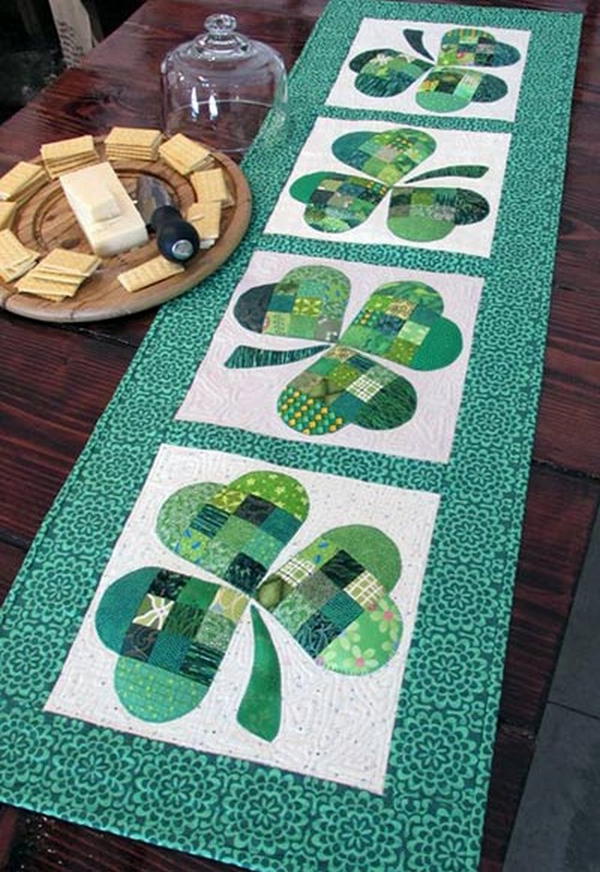 St. Pat's day is celebrated with green, the color of Ireland, and this runner will bring the luck of the Irish straight to your table! This rectangular table runner features an all-over shamrock pattern in various shades of green. The design also includes a repeated triple motif interpreted as clovers or shamrock leaves. Bring Ireland to your home and dining table with this shamrock table runner. This rectangular green runner is decorated with three shamrocks and will deliver the luck of the Irish straight to your dinner table!
via WeAllSew
Candy Stripes Table Runner For Christmas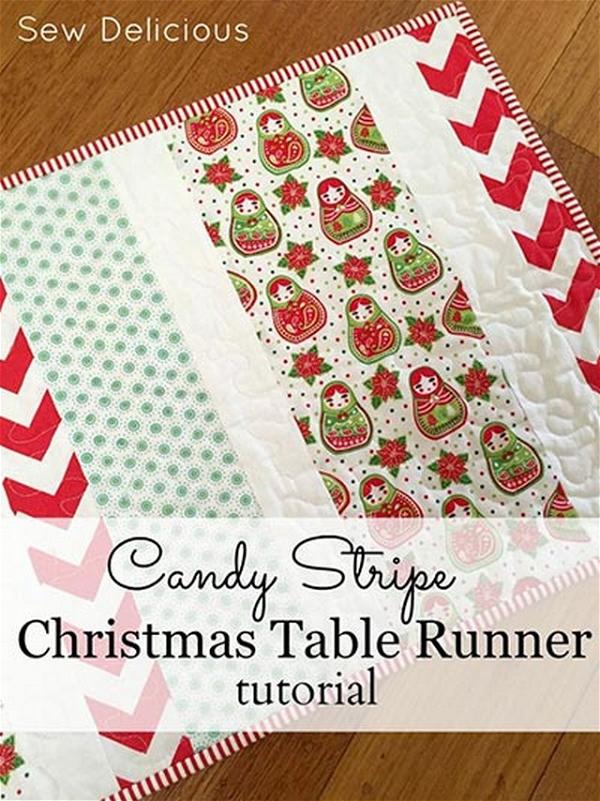 Get into the holiday spirit with this Candy Stripes Table Runner, which combines festive stripes and winter motifs. Made from polyester microfiber, it's soft to the touch and easy to clean. This table runner will complement any Christmas table setting! This candy-inspired table runner is the perfect accessory for your holiday gatherings. It features classic stripes and is decorated with whimsical candy cane figures and popular Christmas symbols like snowflakes and Santas. The soft red rug adds cheerful color to your home decor while also showing off your love of the season. Fold it up and store it away after the holidays are over!
via SewDelicious
Jingle Jolly Table Runner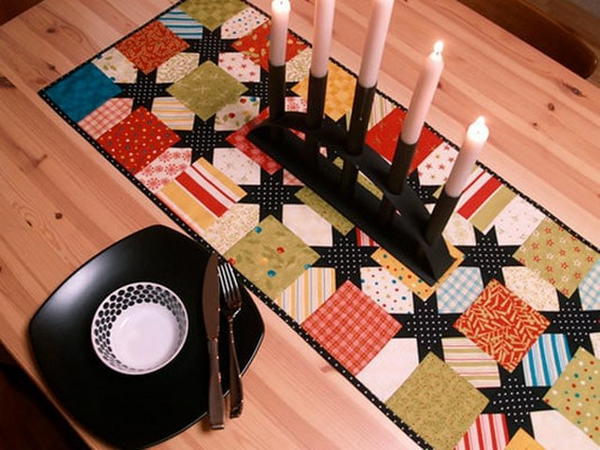 This Jingle Jolly Table Runner is a cheerful addition to your holiday décor. This soft, quilted rectangular table runner features vivid colors and patterns, giving it a fun and celebratory vibe. Its size makes it great for use on all sorts of tables, from casual to fancy. This cheerful table runner is a great way to set a festive mood for your holiday dinner or any other meal. The cheerful colors and festive shapes of this quilted runner make it perfect for the holiday season, but it can also be used all year round for every occasion.
via TheHappyZombie
Easy Strips Quilt Table Runner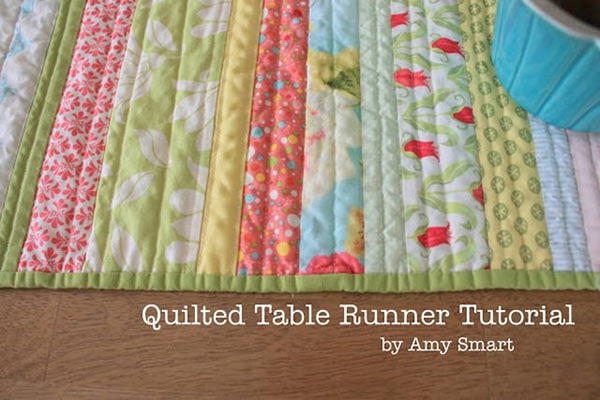 Sometimes you want just a little something to give your table decor a pop of color and character. Maybe you're hosting a party or want to add some flare to the coffee bar at the office. It gives you that option in an easy, fun way. This Easy Strips Quilt Table Runner is a beautiful, handcrafted quilt table runner made with fabric straps in various colors that are sewn over the base fabric one after the other. It's a perfect addition to any table used indoors or out, restaurant or picnic. Add this coordinating napkin for a complete look.
Summertime Table Runner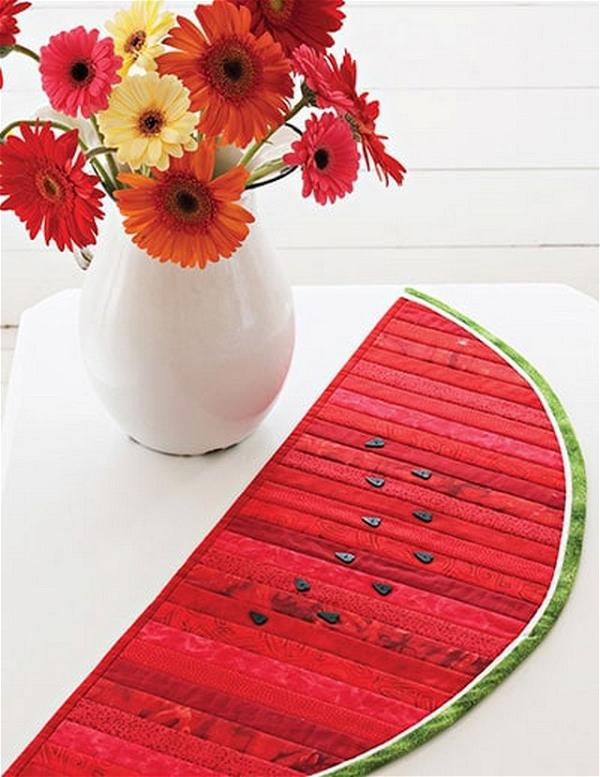 Here's an adorable table runner that will bring summer into your dining room, even if you use it during winter! Surprise your guests with this Summertime Watermelon Table Runner. This whimsical runner looks like a watermelon slice, complete with seeds. It's even sweeter—it'll bring summer into your dining room, even if it's winter! Made of durable and slip-resistant polyester, this watermelon slice table runner is perfect for setting the mood for a casual get-together with friends or family. This table runner is made to look like a watermelon slice! Complete with seeds, even. It will bring summer into your dining room, even if you use it during winter!
via AllPeopleQuilt
Go Bloom Spring Table Runner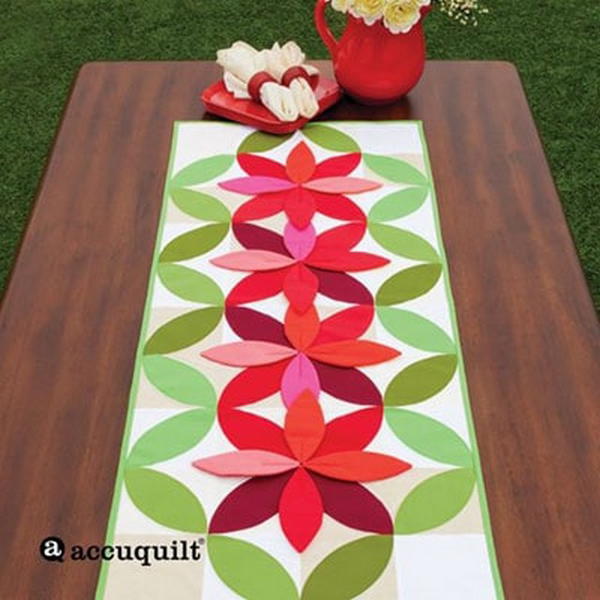 Simulate that spring vibe in your dining room with this table runner. It's a rectangular runner with beautiful flower petals, and stem leaves sewn on creatively by combining short, elliptical-shaped fabric bits to form the final design. Bring a little spring to your dining room with the Go Bloom Spring Table Runner. This runner is made of unique fabric, so each one is unique. The striking pattern of flower petals, stems, and leaves will bring a breath of fresh air to any space.
via Accuquilt
Mr.frosty Table Runner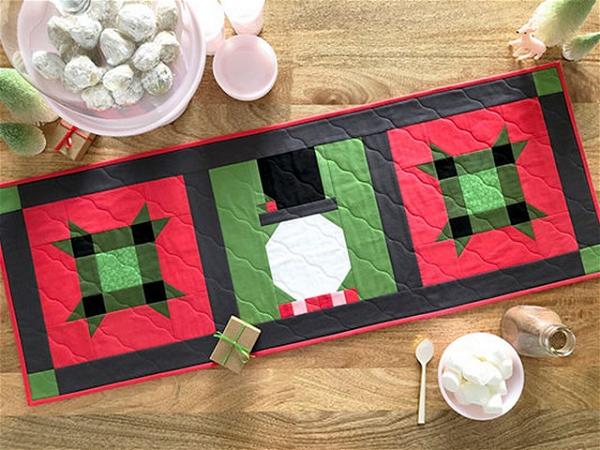 Get into the holiday spirit with our Mr. Frosty Table Runner. This runner is made of green and red squares on a black background and features a fun, Mr. Frosty. It's sure to add a festive touch to your holiday table setting! Mr. Frosty is a great design, perfect for a Christmas party in any house. It's made of green and red squares on a black background with frosty white trimming and a cute little snowman in its center, which will keep you smiling even on the harshest winter day! Please note that this rectangular runner is 21 inches long and 5 inches wide.
Tree Trunk Christmas table runner
Wrap up your table with a Christmas Tree. This table runner is the perfect addition to your holiday decorations or a great gift for any quilter. This tree trunk runner brings the Christmas spirit to the table. Combining the natural beauty of gingham fabric and Christmas trees in a striking contrasting color is a simple but effective way to introduce your holiday background. This beautiful table runner is a cheerful decoration for your Christmas table. The white base with Christmas trees will bring your winter idylls to life.
via MissouriStarQuiltingCompany
Bullseye Tumbling Table Runner Pattern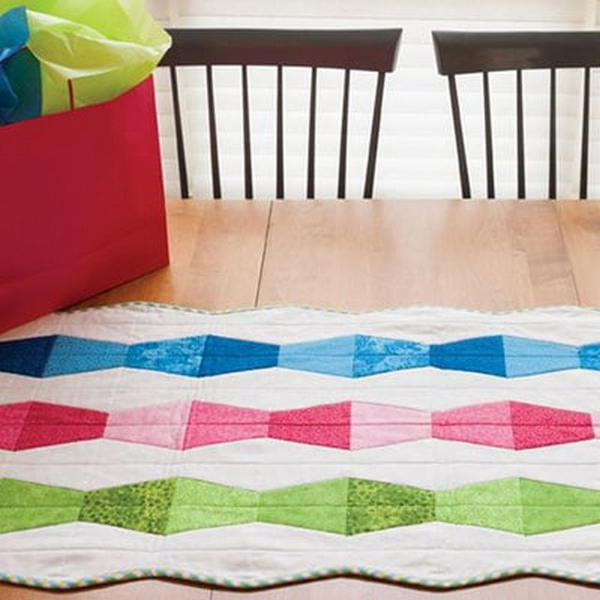 The Bullseye Table Runner is a fun, easy quilting project. Each quilt block is pieced in a two-color variation, resulting in a unique table runner that showcases your favorite fabrics. Use scraps of fabric or yardage to do this project as you please. This table runner is rectangular, but the long edges are wavy, making it very different from a regular one. The base color is white, with three irregular lines of different colors going across from one short edge to the other. This makes your table runner look unique and interesting.
via AccuQuilt
Friendship Braid Table Runner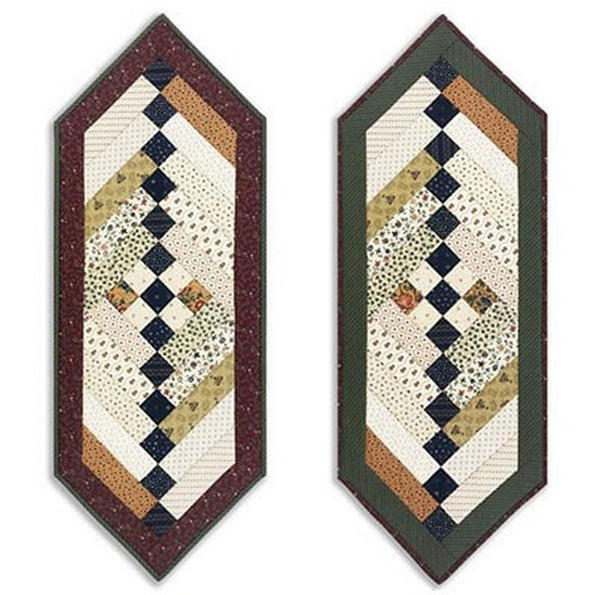 Here's a table runner that is as useful as it is beautiful. It features braiding from the center outward to form an elongated hexagon shape. The green or brown border forms a quilted border around the braids, setting off a friendly color palette of both shades of brown and green, with a neutral base that allows you to use this table runner in any season. This thick-pile table runner is perfect for your kitchen or dining room. A friendship braid design is stitched onto an extra-long hexagon-shaped tablecloth in colors green, brown, and cream. Add a decorative edge to define the shapes further and keep the fabric from quilting right up to it, adding visual interest with no fuss!
via JordanFabrics
Hexagon Table Runner(advanced)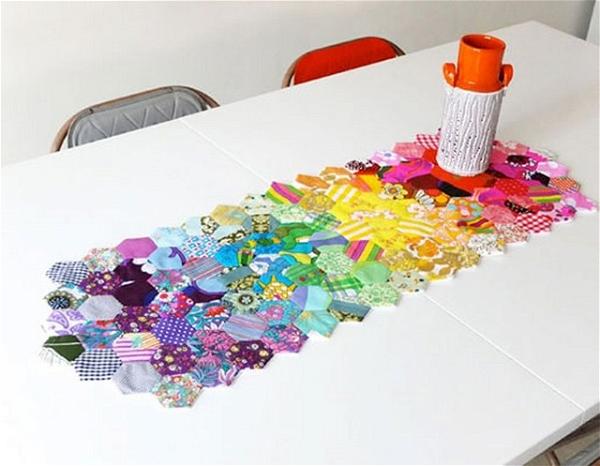 Looking for a hexagon project that's a little more complex and enjoyable? This Hexagon Table Runner is made up of small hexagon pieces sewn together! It looks beautiful with different color shades, so stitch together your favorite shades to achieve the rainbow effect. This is a hexagon table runner tutorial for those who are up for a challenge! It's also perfect to showcase scrap fabrics from your stash. So what are you waiting for? Get down to business and start stitching some hexagons!
via MyPoppet
Easter Quilted Table Runner (advanced)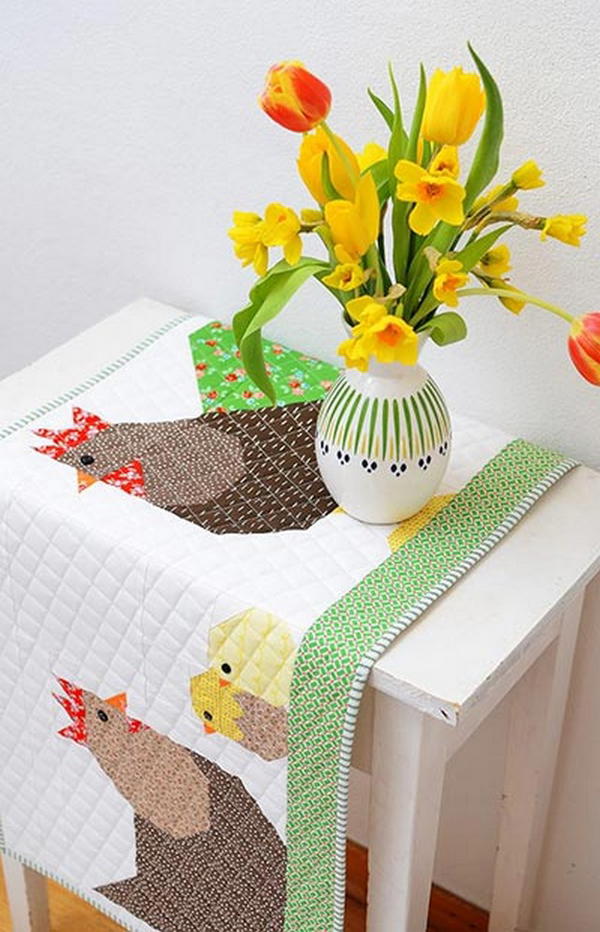 The Easter Quilted Table Runner looks perfect on the dining table during special occasions, especially in spring! As this runner is rectangular and has a beautiful design with a flock of cute chickens standing on a grass field, it's a great choice for this special season. Make your table look extra special with this quilted Easter table runner. It features a happy chicken family that looks ready to celebrate the holiday with their eyes beaming and bodies standing on a pink grass field.
Pumpkin Table Runner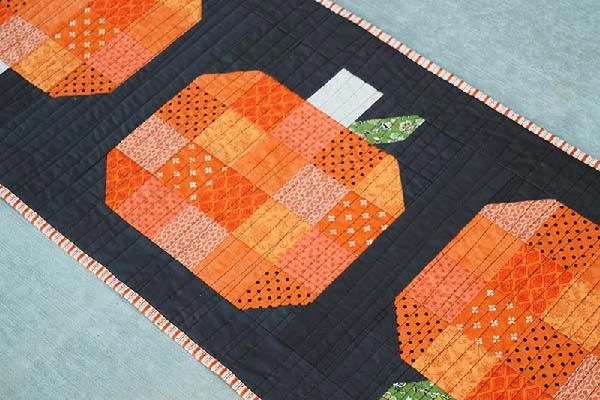 How fun is this pumpkin table runner? With three adorable pumpkins across its length, it's perfect for a Thanksgiving table. Or throw it on your table during the fall season! This decorative table runner will surely bring out your inner autumn spirit, whether that is an appreciation for pumpkins or some other fall or Halloween-themed design. Three adorable pumpkins will be a happy sight across a black background at any party or family get-together.
No Sew Geometric Table Runner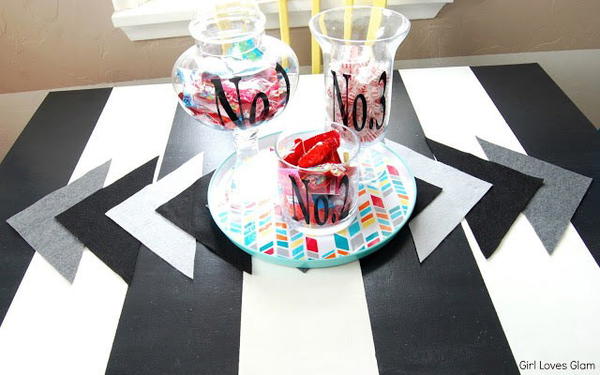 This minimalist-style table runner is made by combining different geometric shapes and colors. This can be a wonderful addition to your dinner table or any party. They are made with high-quality materials; no need to worry about them being broken by heat or water. This runner is the perfect addition to your dining table. The geometric pattern is simple and modern, but something about the overlapping triangles makes it classy! Add this to your living room or dining room table to bring in some good vibes and modern touch!
via GirlLovesGlam
Holiday Moments Table Runner And Placemats Pattern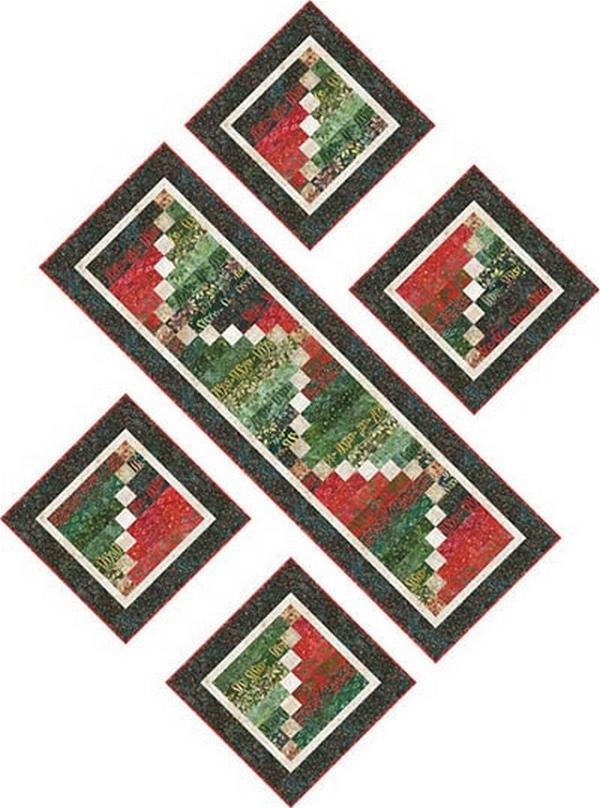 This pattern is a great way to use fabric scraps and make useful holiday decorating crafts. Use it as a table runner for Christmas, Halloween, and other holidays. This table runner and placemat set will be part of your family holiday decorating list. Sure to impress and certainly not to miss at your next holiday dinner party! This set of placemats and table runners is perfect for all your holiday parties, thanksgiving, Christmas, reunions, and get-togethers with friends or family.