If you're a knitter or crocheter wanting to make your own stuffed animal, you've come to the right place! This collection features 25 free stuffed animal patterns that will help you turn your favorite furry friend into a squishy work of art. Everyone has something here, from cats and dogs to pandas, koalas, and elephants. If you're new to knitting or crocheting, this is a great way to try out your skills. Making a stuffed animal is simple, and everyone loves getting presents! Check out these free patterns today and give them a go!
Weighted Stuffed Animal Patterns

There are plenty of reasons to make things yourself, whether you want to save money or have more control over the finished product. And then there's the fun of making things just because they're fun. That's the case with stuffed animals since they're soft and huggable! This roundup includes 25 free stuffed animal patterns, many of which can be customized in various ways to make something even more unique for your friend or child. Now all you need is some fabric for stuffing, but that's a problem for another day. After all, that's what this other roundup is for!
Tips For Stuffed Animal Sewing Patterns
Making stuffed animals is a great way to practice and hone your skills if you love to sew. One of the best ways to learn is by doing, so we've put together some tips for DIY stuffed animal patterns.
Take Your Time: Rushing through it is one of people's biggest mistakes when sewing stuffed animals. Making stuffed animals takes time and patience, so don't rush through it. Sewing with felt can be tricky because it's so thick, so slow down and take your time with each process step. If you need help with stitching, check out our embroidery thread guide here.
Use a Sewing Machine: Suppose you're interested in making stuffed animals as gifts for friends or family members. In that case, a sewing machine is essential for completing the job quickly and easily without hassle or frustration! A sewing machine will also make it much easier to keep your seams straight and even, giving your doll a more professional overall look once completed.
Using Felt Is Easy: Felt is one of the easiest materials to work with when making stuffed animals because it doesn't fray when cut (unlike fabric) and has a nice stretchy quality.
Sock Monkeys Pattern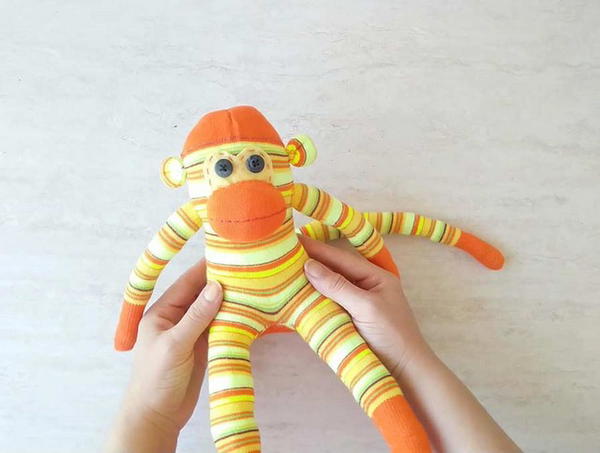 Get ready to have some fun with this quirky sock monkey pattern. These furry monkeys are the ultimate playmates for kids of all ages. To avoid choking hazards, you can swap button eyes for embroidered ones. These sock monkeys are so simple and sweet; you'll enjoy making a whole family of them. This easy-to-follow pattern creates an adorable monkey with a basic sock monkey body and contrasting arms and legs in your choice of colors. Great for any occasion!
Sock monkey pattern via HelloSewing
Unicorn Plush Pattern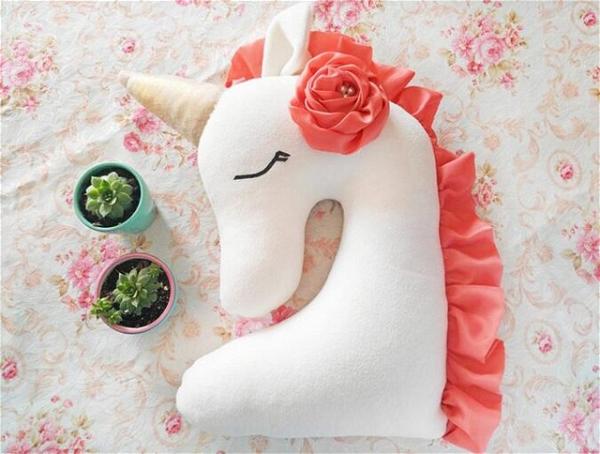 Do you love patterns that are fun and simple to follow? Then this unicorn plush pattern is just the thing for you. This is a fun and easy toy that could be made in a few hours. It's an appropriate quick project for your little ones as they will have great fun helping as they cut out the pieces and sew them together. Or perhaps you are a beginner sewer hoping to make something quick, easy and inexpensive – this is ideal! It is also a unique gift idea for the young at heart.
Dragon Pattern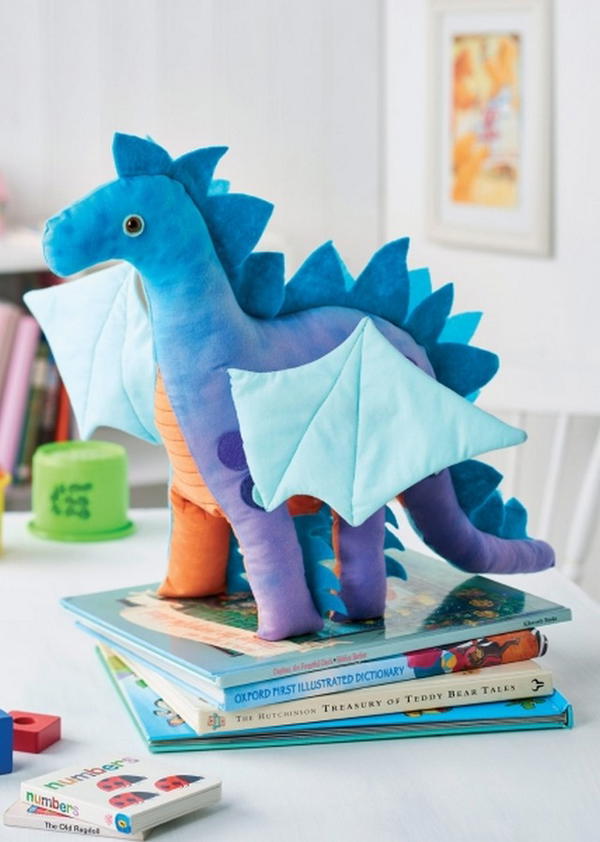 Let your child's imagination run wild with this Blue Dragon Soft Toy. This soft toy is a great way to encourage your child to interact with others and create stories, and it can be enjoyed by both girls and boys of all ages. The Blue Dragon Soft Toy comes with felt spots stuck on the eyes and wings, a felt spine along its back, and blue-green colors that make for an interesting design on a plush dragon toy. Add your touch to a felt toy – make the dragon pattern more than just a pattern. This felt toy is easy to make and requires only a small amount of felt scraps but will last for years, adding a splash of color to any room. Make it for boys or girls!
via SewMag
Fabric Turtles Pattern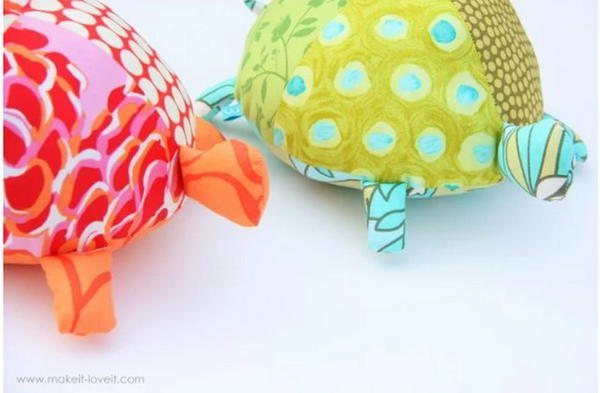 Send babies off to dreamland with these sweet, little fabric turtles. With nothing toddlers can choke on and machine-washable stuffing, they are the perfect size for little hands. Make a small group of turtles to give as baby gifts, or use tiny leftover pieces of flannel to make one turtle at a time – there's no wrong way to do it! This is a great project for kids to make and play with. Sew the fabric turtles with scraps of fabrics lying around and use machine-washable stuffing. Toddlers will love to toss them around, squeeze their feet or draw on their bodies.
via MakeitLoveit
Sock Panda Pattern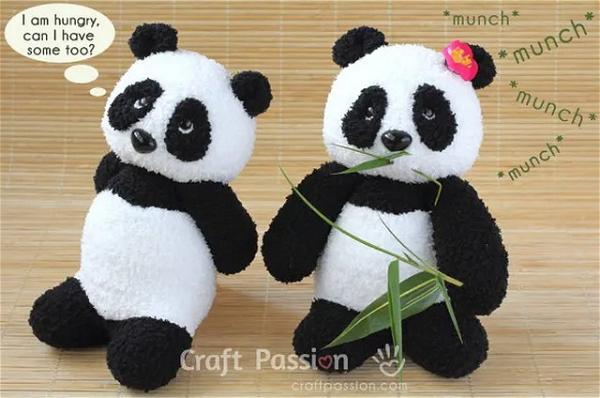 The Sock Panda is a great way to use up your unmatched socks, give yourself a special treat, and knit yourself for two adorable friends who like to cuddle! This pattern makes two pandas from two different pairs of socks, which you can add to your collection of animal friends. Make them all and line them up, or keep them in pairs so they can cuddle together at night. These adorable knit panda bears are made using two old pairs of socks. They make the perfect gift, or you can give them yourself and save money on washing!
via Craftpassion
Nessie The Loch Ness Monster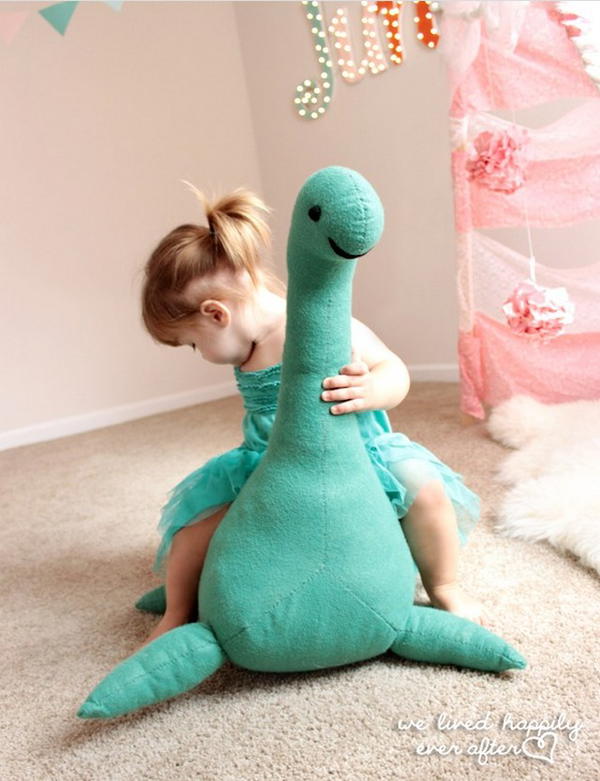 Nessie the monster is perfect for keeping little ones entertained and happy. This is an easy pattern to make, and the kids love 'riding' it. Plus, they can jump on it and play in it! Be sure to stuff it with a couple of pieces of carpet to ensure Nessa stands up straight and that there isn't any solid stuffing in the pouch at its front end. This large kid-friendly toy will be a hit with your youngsters and all their friends. Although it is rather large so best suited for children who can climb on it easily and ride around on the back legs, for giggle's sake.
Among Us Crewmate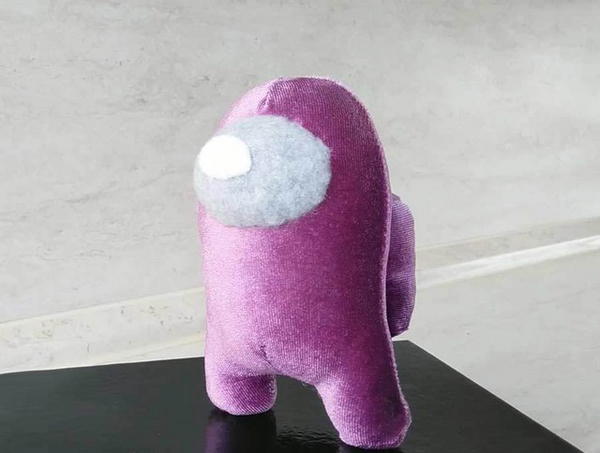 Bring a taste of the Caribbean to your next adventure with this refreshing, tropical scent that combines elements of yuzu, guava, and freesia. Play together and learn more about the game absorbing your teen's interest. It's a cool way to connect with them and start saving those plushie bits. This is a pattern for your teen's favorite Among Us crewmate. Every game has its own set of crewmates. Keep up with the newest characters by crocheting these players' friends and learn all about the story through their adventures, battles, and more!
via HelloSewing
Wallace The Whale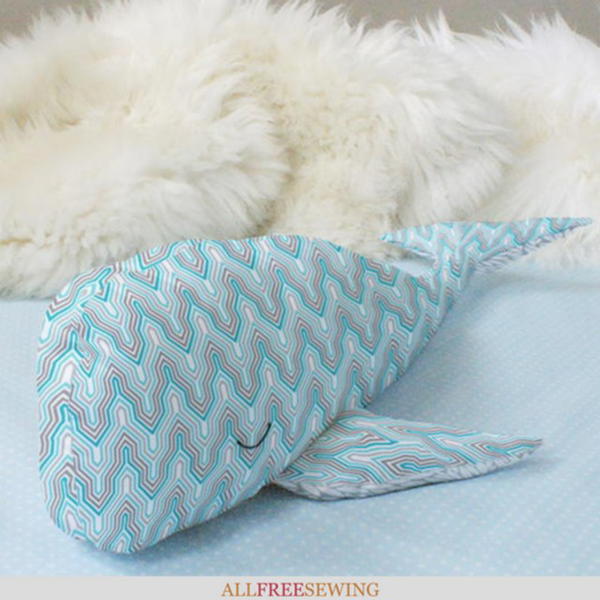 This sweet whale is great for children who will love taking him to bed. Use up leftover fabric and add some embroidery to the eye. Meet Wallace, a unique whale character, and this little guy is a really simple project that even more advanced sewers will love. He makes the perfect play toy for your little ones, and we love that he can double as a favorite pillow and cuddly companion for when your child needs their own little bit of comfort during the day.
via AllFreeSewing
Squeakers The Otter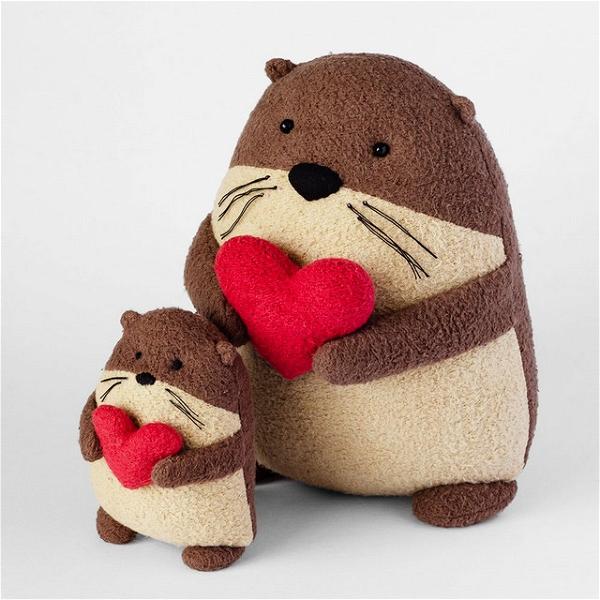 This cute otter will make the perfect gift for any baby or toddler. He's soft and cuddly, with a heart inside so he can squeak! The pattern comes in full and miniature sizes, so you can make more than one if you like. Or use the shape as a pattern to make your personalized version of squeaks! It will make a sweet addition to your stash, and the part where he is lying on his back on the blue fabric body with the heart floating above him makes this pattern so much fun.
via Fluffmonger
Night Fury Plush Toy Pattern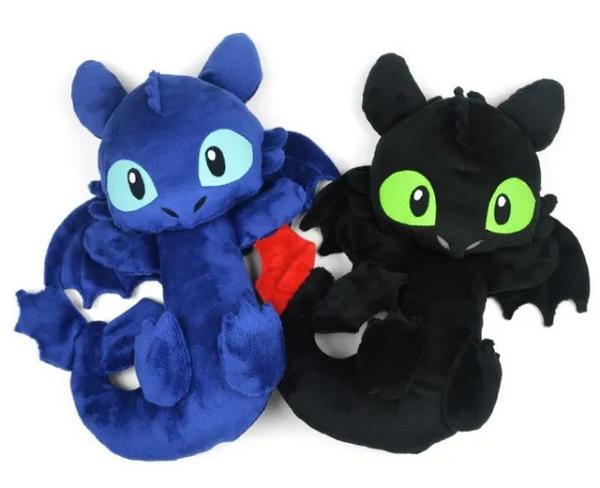 This fun little Night Fury plush toy pattern takes a bite out of the night. In addition to being an adorable plushie, it's also got a skill level that is fairly easy for kids and adults alike. This is the Night Fury pattern from How to Train Your Dragon. It's not as cute as Toothless, but it has more character and makes a wonderful addition to any plushie collection. This beautiful and detailed plushie pattern is perfect for the dragon lover in your life. It has a bit of a build time, but the result is worth it!
via CholyNight
Mer Kitty Plush Pattern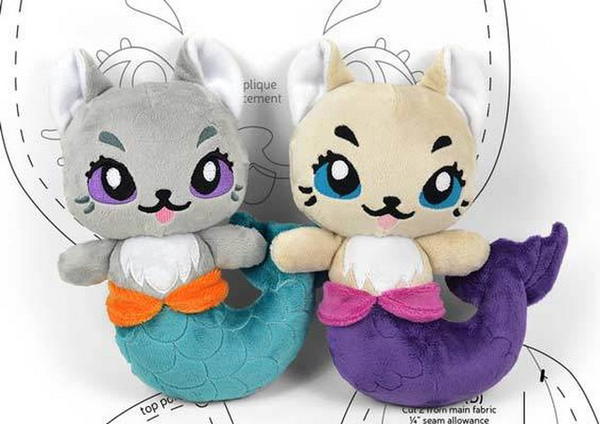 This adorable mermaid kitten is the perfect gift for cat lovers and anyone who loves geeky stuff. The pattern comes with free embroidery files for the face and the tail scales, but you can use felt pieces instead. This may take some effort, but it is a total winner. This pattern can make a soft toy, craft item, or any other creation you like. The free embroidery files make this a perfect project for beginners but you can use felt pieces instead if you don't have a machine that does embroidery.
via CholyNight
Alpaca With Embroidered Saddle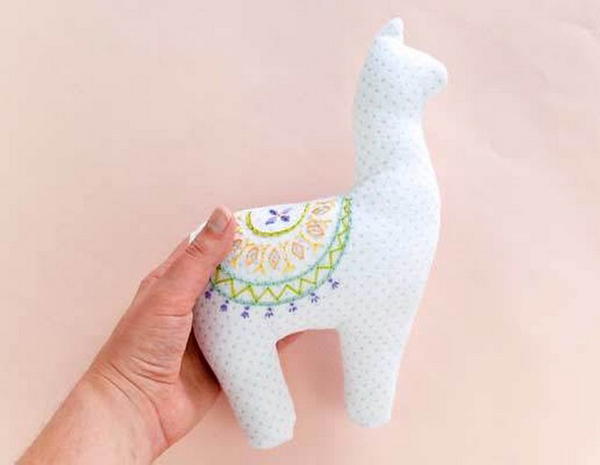 Alpacas are small, llama-like animals that keep their hair soft and fluffy by wearing it in a tight fleece that grows down the back. They are very gentle and calm, making them the perfect animal for children's toys. This pattern makes it easy to crochet alpaca, embellished with an embroidered saddle. The pattern is suitable for beginners - even if you haven't crocheted before, have a go at embroidering on felt for the saddle, as this doesn't need any previous experience!
via WildOlive
Bunny Pillow With The Longest Softest Fur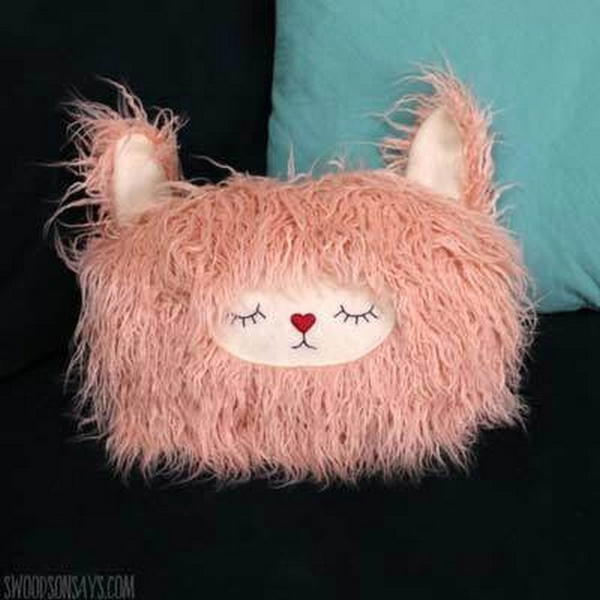 Lovingly stitched with the softest faux fur, this bunny pillow is guaranteed to be adored by all. This Flopsy Bunny is so soft and cuddly you won't be able to stop stroking him. He's got super long, floppy ears, and his fur is so soft it'll make you want to snuggle up with him! The Supa Soft Bunny Pillow is the perfect soft toy for kids of all ages. This long-eared, furry friend can be used as a pillow or a toy. It is just the right length and color to feel like your new furry bed buddy!
via SwoodsonSays
Reversible Octopus
Reversible Octopus Fabric is the perfect fabric to make this sweet little octopus. One side of the fabric has deep purple, grassy green, and dusty blue sea creatures on a white background, while the other has light blue seashells on a white background. This kit includes an octopus pattern, all fabrics needed to create one octopus in either pink or blue. You will also receive pattern pieces if you want to make a hat for your little friend easily!
via Issas World
Mama Kangaroo And Joey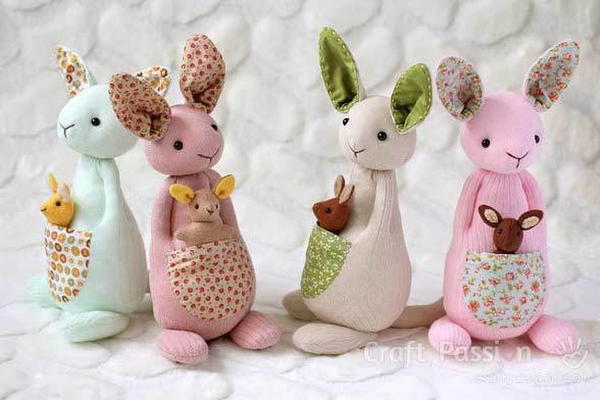 There is nothing quite like the mother-child bond between a kangaroo and her joey; this pair will make wonderful companions. In addition to being a fun sewing project, this kangaroo is perfect for kids. It can be a soft play toy and a great companion to any toddler. It also makes an adorable baby shower gift if you have a baby soon. They are perfect for the beginner or experienced sewists to make as gifts or increase knowledge and skill.
via Craftpassion
Sloth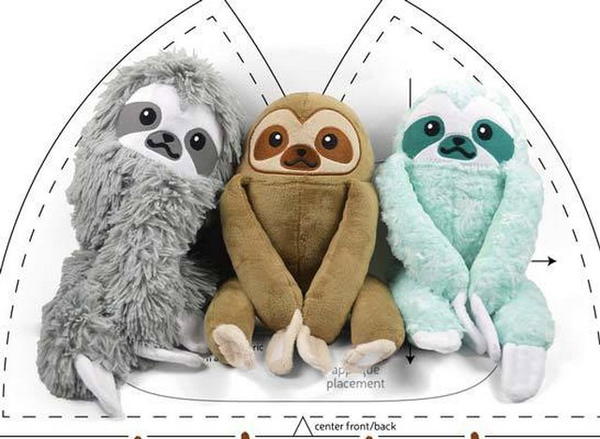 A lovely gift for any age, this cuddly sloth is an instant hit with children and adults alike. The cuddly sloth can be made in various fabrics or with a fleece backing. Introduce your little one to the sloth. This so-cute Lazybones is made from soft faux fur and features adorable (and easy to clean) eyes, whiskers, and a smile. Hang it on your child's wall or windowsill to encourage a love of nature while they snuggle up with their new buddy.
via CholyNight
Cuddly Sheep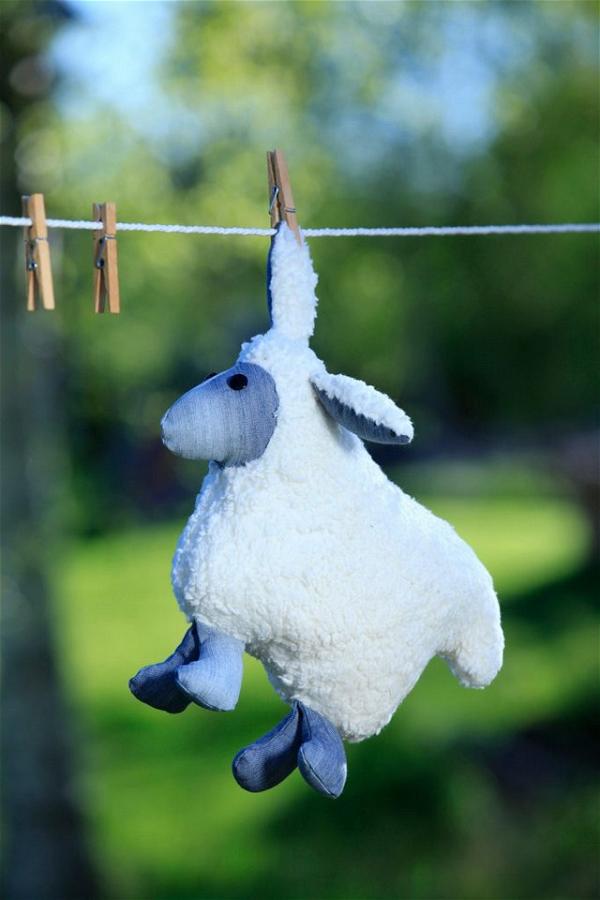 This cuddly sheep is bound to become a favorite bedtime companion, the ultimate in snuggly softness. Made from a soft white fur fabric body, with denim offcuts for the feet and nose, this easy-to-sew project is sure to become a coveted keepsake in everyone's home. The pattern comes in two sizes, is fully washable, and can also serve as a travel pillow for little ones. This project is great for play dates, birthday parties, and sleepovers. With a soft white fur fabric body, denim feet, and nose, this sheep is an easy project to complete in an hour or so.
via BerninaBlog
Plushie Sheep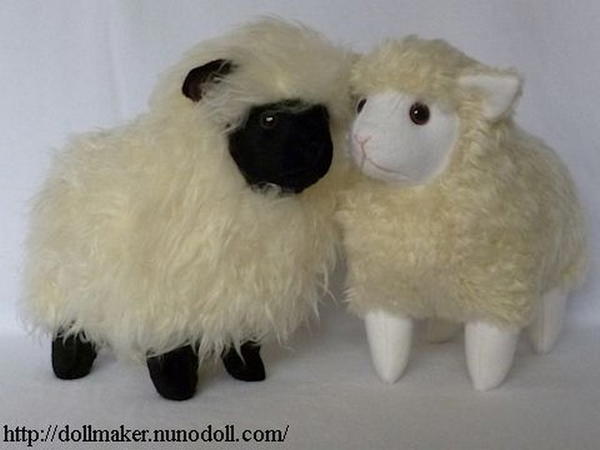 A staple art toy, the Plushie Sheep, stands on sturdy legs. You can make one sheep or both and customize them depending on your preferences. These are easy to make and will give you lots of options on how their faces look. This simple and classic plushie sheep pattern is the perfect stash buster! This project uses chunky yarn and super bulky weight yarn. You can crochet it in an evening or two, making just one sheep to give as a gift or for your collection.
Teddy Bear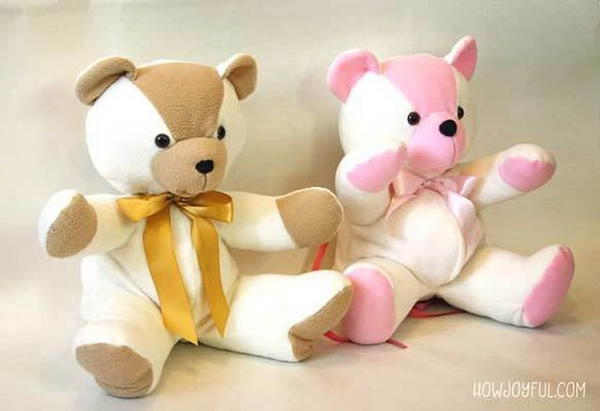 Teddy Bear is the perfect soft toy to cuddle up with on a cold night or take a trip to help you get over those long waits at the airport. The pattern comes in three sizes and can be made with any yarn or fabric your heart desires. Once you weave in all those ends, it will look like he's been well-loved for years. This Teddy Bear is the perfect gift to show someone how much you care. It comes in various sizes, making it easy to find one that's just right for your gift recipient. This toy is easy for kids to make but has enough complexity to challenge older crafters.
via HowJoyful
Swamp Fun Bean Bag Frog
This fun-loving frog bean bag will be a great addition to any children's room and will be easy to clean! Just take off the cover, stuff it separately, and then wash it by hand or machine. The frog design helps kids learn how to toss around objects, which is important as they develop their coordination skills. This durable game can be played anywhere, and it's easy to clean up afterward. Perfect for homes, classrooms, or parties, the frog bean bag toss game will surely be a hit for everyone!
via PurlSoho
Squirrel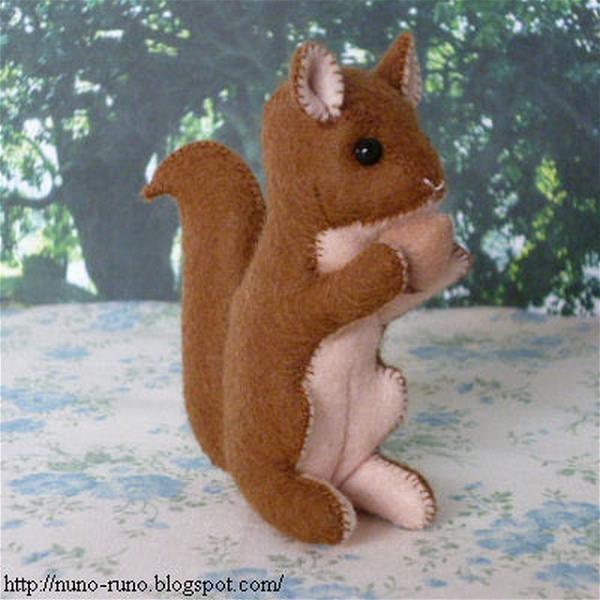 This adorable furry squirrel is the right size for a tree house or a special friend. Made from felt and finished with a long pile of fur fabric, it can be hand sewn on the right side, so there's no need to turn. Add seam allowances, machine stitch, turn if you prefer, and use fur fabric. This squirrel is great for making greeting cards or as an adorable decoration. You could knit it bigger and customize the colors of the fur to match your décor.
via NunoRuno
Fox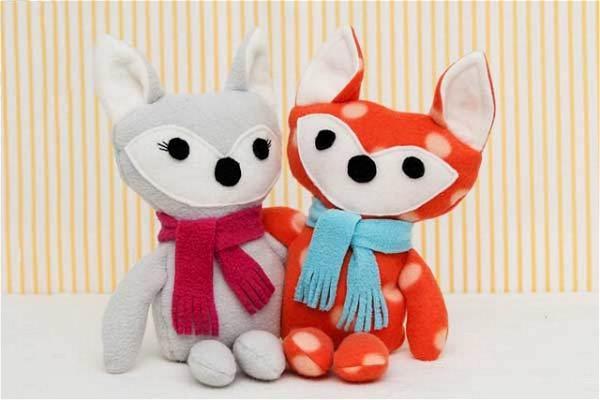 This fun fox pattern is quick, easy, and fun to make. He has a lovely pose and is made from snuggly fleece fabric with a white-felt face. You could use other colors for the face or body, perhaps shades of blue on a dark background or black on a cream background to create a colored pencil drawing look! This 15-inch fox made from snuggly fleece fabric has so much character, and some people have experienced problems downloading the pattern. Luckily there is an alternative way to download the pattern as suggested!
Seahorse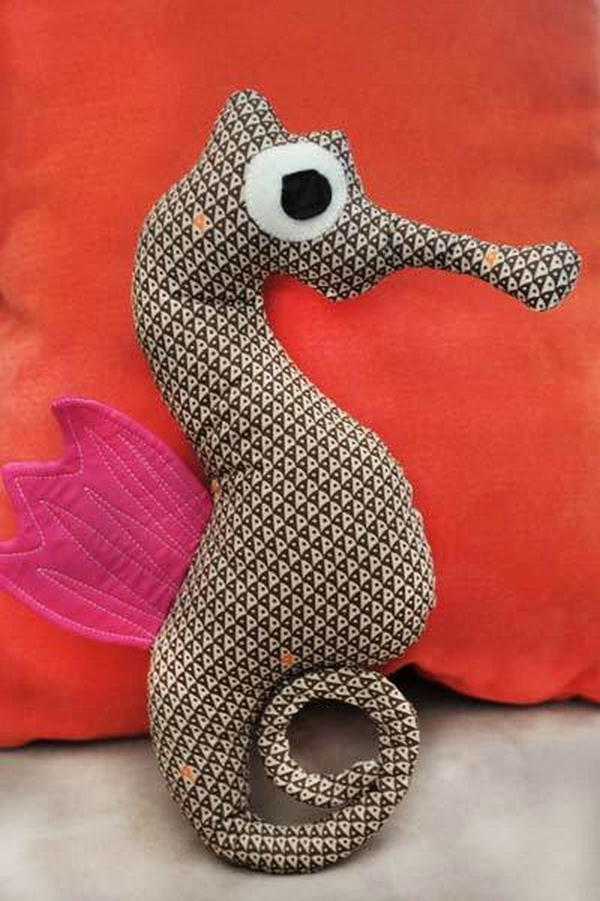 An adorable little seahorse that would be perfect on your little one's bedside.A perfect first sewing project for kids. With its curly tail and large eyes, the seahorse is a charming toy that would make a great baby shower gift, birthday present, or Christmas present. It could also be fun as a decoration in your child's room. This little toy is just the right size for holding in your hand and squeezing it gently or maybe hugging it to make a wish.
via LiaSpace
Scotty Dog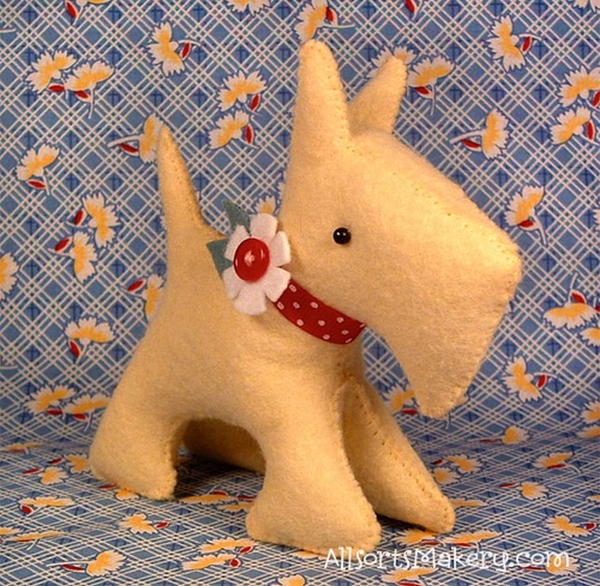 He's the perfect cuddle companion, and this pattern is so simple to make. You might find yourself making lots of these dogs! Scotty Dog is a stocky little fellow made from felt and lovely soft fabric that brings out the face. He's patterned to make him even smaller than his original size by using less fabric, but you could adjust the pattern dimensions and make him bigger if you prefer. This cute little dog is not only fun to make but also makes a great gift. Make Scotty as decoration at your next Highland games, or keep him on your mantlepiece. These toys can be made bigger or smaller by adjusting the pattern and making more or fewer body pieces.
via AllSorts
Shiba Cube Plush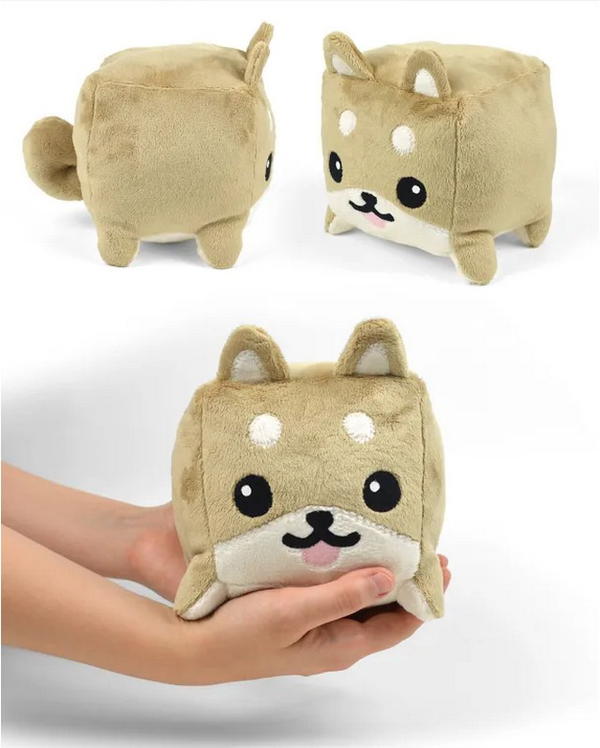 A cube-shaped plush toy with a big smiley face, cute little ears, and paws. This pattern is easy to make, with just a few pieces of fabric, stuffing, and an embroidery file. It's soft to the touch and just perfect for little fingers to hold. This is by far the cutest, bestest plush toy ever?! It's a square with tiny ears, paws, and a big smiley face. So easy to make and so soft in a plush fabric. You're making good use of your sewing machine by making squares. But don't despair if you don't have one – no-sew options are included.
via CholyKnight
Dolphin Plushie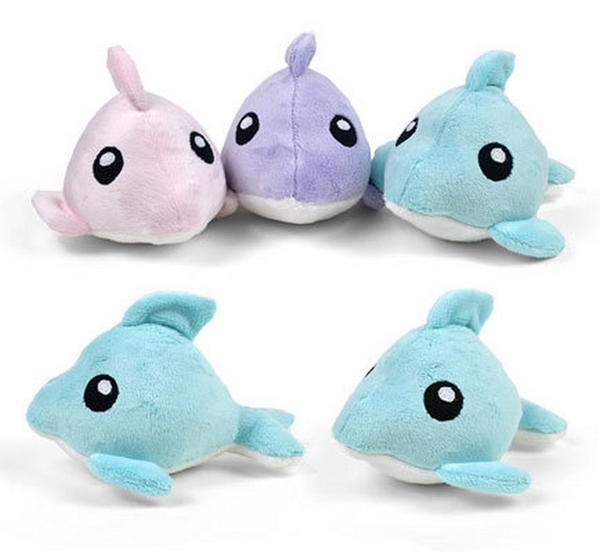 Giving this dolphin plushie to a sea-loving youngster will make their day. This super cute dolphin is a great way for your baby to get to know its wildlife. Designed especially for newborns and young babies, they can use this as a toy or play with in the bath. It is as soft and cuddly as can be and makes a great gift for any little ocean lover. They will love the softness and feel and the bright colors and lovely pastel shades that combine to make this dolphin special.
via CholyKnight