Valentine's Day is right around the corner, and if you're like me, you're probably still trying to figure out how to plan out the perfect celebration. From buying flowers and baking cookies to taking the kids on a special outing, there are endless possibilities for how to spend the holiday. However, did you know that there are quite a few ways to celebrate Valentine's Day without spending a lot of money? In fact, there are even some free Valentine's Day crafts projects out there that will make for great activities for the whole family! Valentine's Day is a time when people show their love and what better way to do it than by crafting? There are tons of crafts you can make for your loved one on Valentine's Day.
You could make something for just about anybody from simple cards to elaborate decorations. Even if you cannot craft something yourself, you can still show how much you care by putting some effort into choosing the perfect handmade gift for everyone. This post contains 15 of the best DIY Valentine's day crafts for kids. Each of these is easy to make and fun for people of all ages. Valentine's Day is the perfect opportunity for kids to spend quality time with their family and friends.
15 Cheap And Easy To Make Valentine's Day Crafts: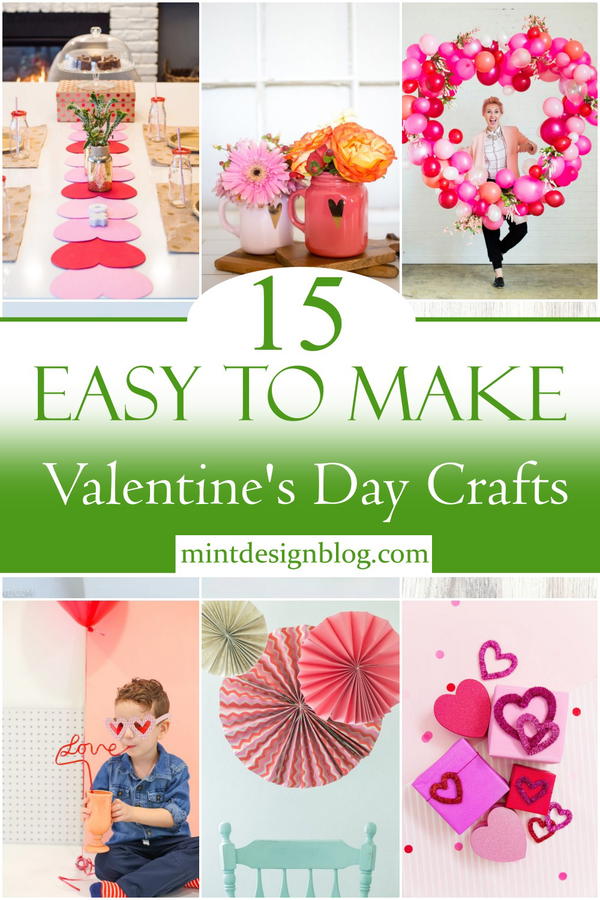 It's the perfect opportunity for your little ones to express their creativity and put forth their best effort. I've put together a collection of fun ideas for Cheap And Easy Make Valentine's Day Crafts with your kiddos that will show them how much you care. Whether you're looking for goodies to share with friends or just want to have some fun, this list will help you make sure your kids are well entertained on Valentine's Day.
Valentine's Day is all about love. Love in itself is not a bad thing. But love isn't always easy to come by. Sometimes it takes a lot of patience, research, and effort to find someone who shares your values and desires. The fun thing about Valentine's day is that there are many ways to celebrate it! Whether you want to make something special for someone special or just want to make something fun for yourself, there are plenty of ideas out there to keep you busy.
Valentine's Day Crafts For Kids
Valentine's Day Crafts are a fun way to celebrate love. Make them for yourself, friends, or even loved ones. They are easy to make and will brighten up any space. With a little creativity, you can find many different ways to use them. Use them to decorate your home, office, or party space. You can even put them to good use at an upcoming party or holiday.
Most of us have heard about crafting for Valentine's Day, but not everyone is familiar with the wide variety of materials that can be used to make beautiful handmade gifts. Many different materials can be used to create unique items and decorations for Valentine's Day. Check out these Valentine's Day crafts and make gorgeous handmade gifts for your partner, friends, and family to explore their creative spirit.
Cut Paper Flower Card:
Make a construction paper flower Valentine's Day card with candy hearts as the center. Begin with some colorful construction paper or cardstock, some scissors, and glue. First, cut out some petals, then glue them to a large circular piece of cardboard that complements your flowers. Cut a slit in the middle of the circle and poke a hole on each side of the slit. Thread on a piece of string, and you'll have a lovely valentine's card for someone special.
Valentines DIY Table Runner: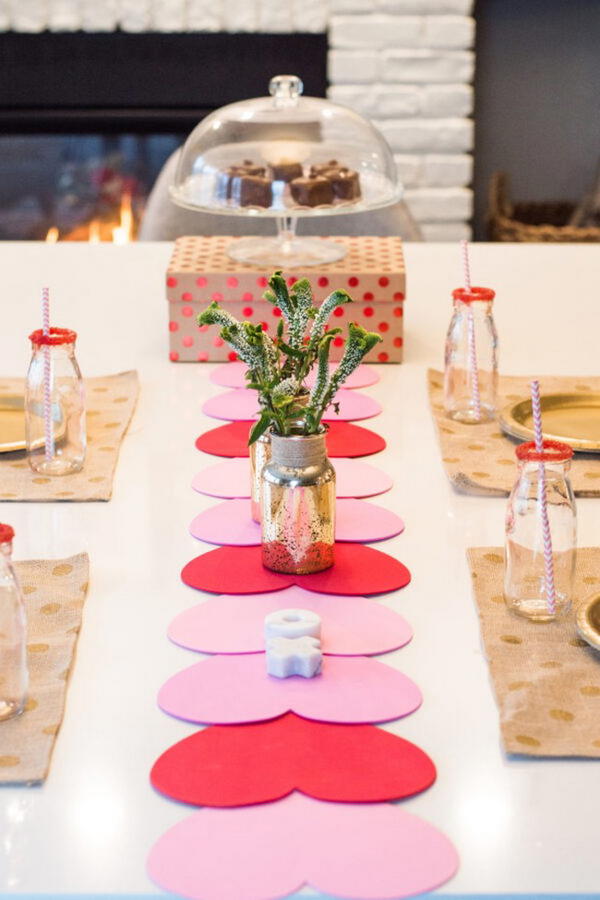 Bring Valentine's Day home with this super-easy table runner. This kit features all the supplies you need to make this Valentine's DIY table runner, including textured papers, stickers, font stickers, sequins, lace, and so much more. A DIY Valentine table runner is the perfect project for kids and adults alike. After you've created it, you can use it to decorate numerous areas of your house, not just at Valentine's. The possibilities are endless with this wonderful project.
DIY Giant Party Fans: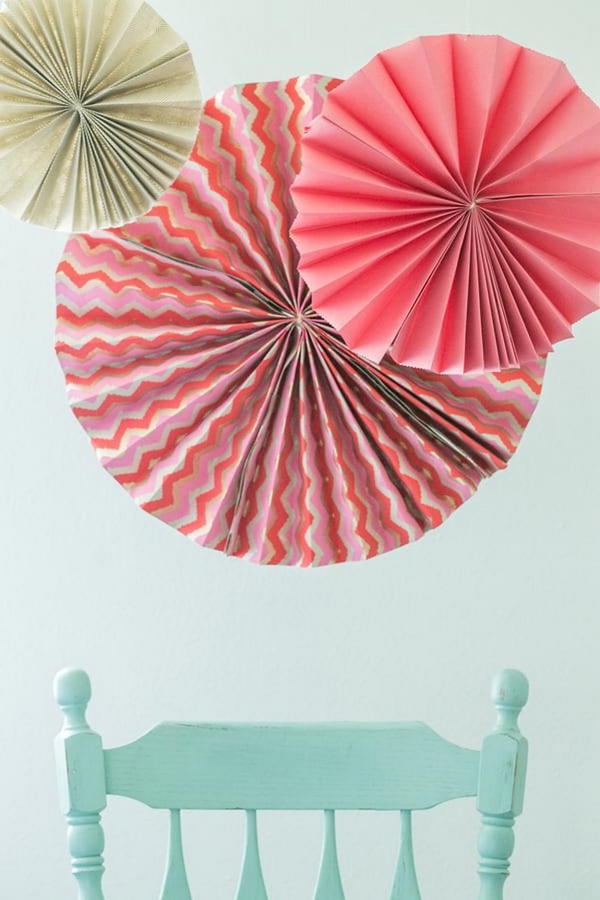 These fans are super easy to make and can be made in all kinds of colors and patterns. The best part about these fans is that you can get creative with the colors, change them according to YOUR personality, and use whatever colors you like! It can be hung from the ceiling on a string for a festive effect indoors or taped together and arranged on a table for a magical effect outdoors. These fans are super easy to make! You can also do the DIY project on the smaller version. I made these fans, and I added all kinds of colors and patterns on top of them.
Printable Valentine For Kids Heart Glasses: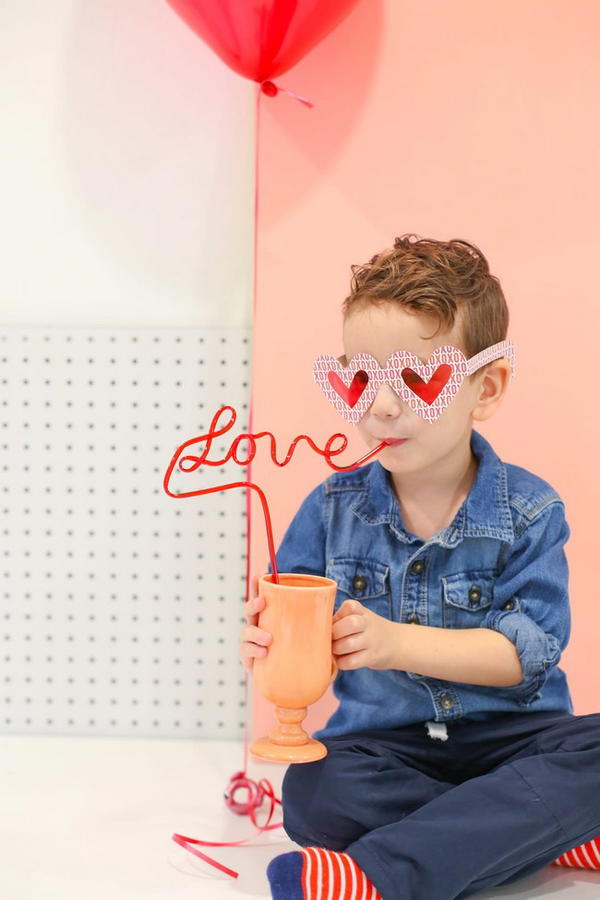 Kids can now be part of the family's home improvement project with their very own Printable Valentine for Kids Heart Glasses. They're just the thing on a cold winter day to keep little noses running red. And because it never hurts to add some pink to the toolshed, we've even included a free printable Home Improvement Pal and Pickax design so that little one can get in on the "diggin' action," too! These glasses aren't just for the holidays, but functional to enjoy quality time all year around.
Valentine's Day Balloon Heart: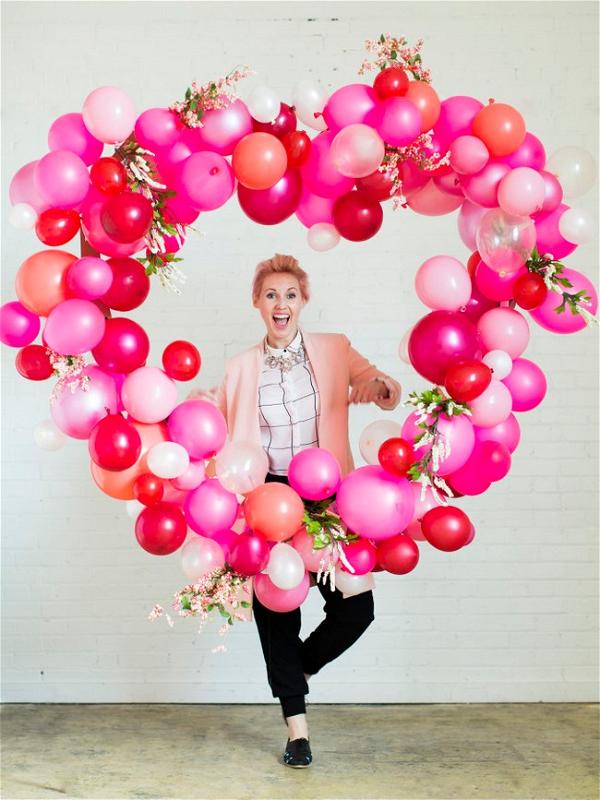 This totally balloon-filled heart is a fantastic backdrop for a Galentine's party, a Valentine's Day brunch, the wedding of your dreams, or any other time you need a little more love in your life. This balloon heart stands 5 feet tall and is great for large parties or events like Galentine's Day or something similar. Made of premium material, the family present balloon heart is durable enough to make it through even the most rambunctious celebrations, while still maintaining its cool and festive look. Perfectly placed on a white tray, this round ball will draw everyone's attention and be placed perfectly on a white tablecloth or background.
Valentine's Day Mason Jar Bouquets: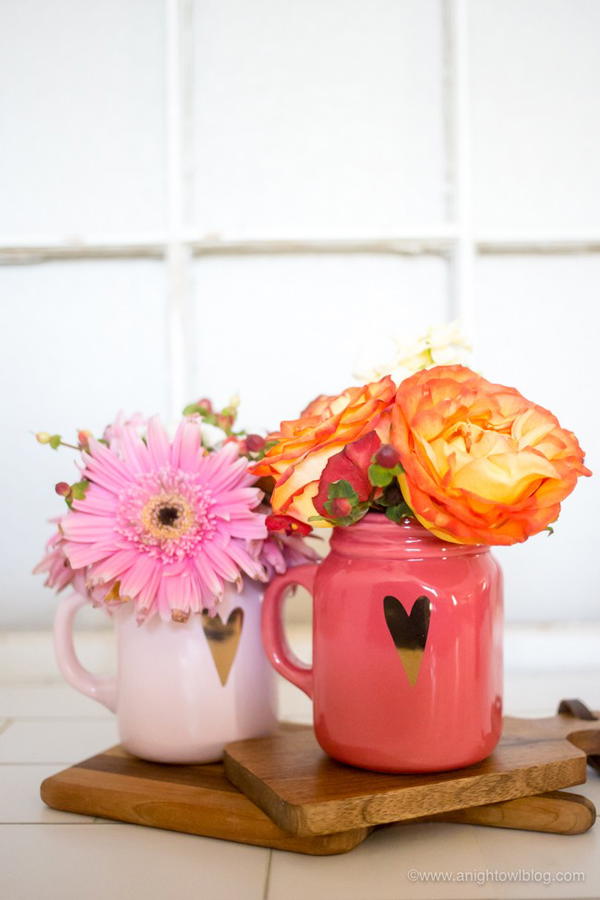 These adorable mason jar bouquets are the perfect Valentine's Day gift, crafted from Debi Lilly design mugs. Whether you're bringing flowers to your sweetie or creating one-of-a-kind mementos for every guest at your wedding, these adorable Mason Jar Mugs are sure to brighten up any occasion. The mugs feature Debi Lilly designs that are sure to be a hit! Whether you fill it with fresh flowers or simple grasses, they're the perfect addition to any event. Plus, they're reusable afterward—fill them with pens, pencils, cocoa mix, or whatever you please!
DIY Pipe Cleaner Hearts: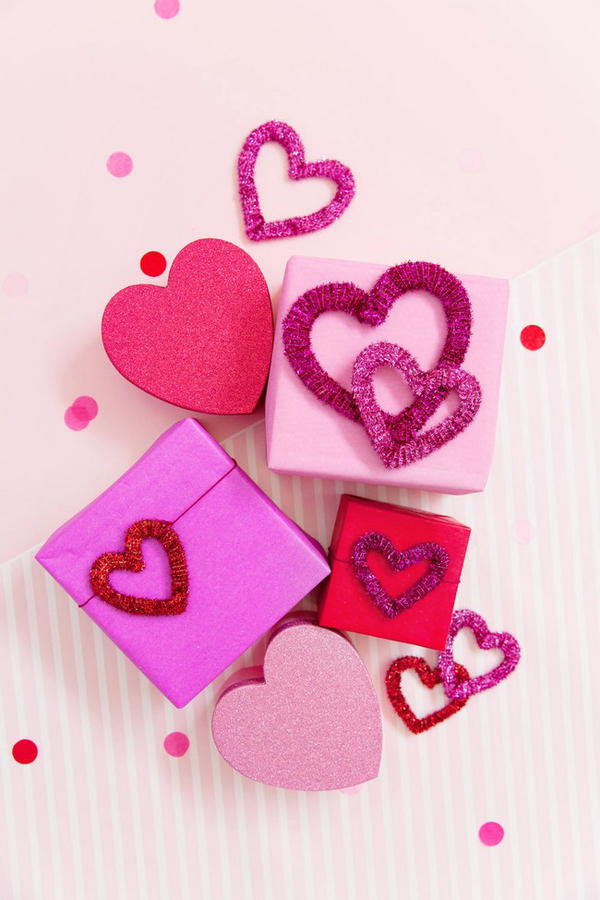 Pipe cleaners and some creative snipping and bending, and you've got some super cute, sparkly pipe cleaner hearts! They're perfect for topping your Valentine's gifts this year or for hanging as a garland. And they aren't just for Valentine's Day! You can use them to top birthday gifts or add them to some bunting in any house room. Anything goes with these little guys! Toggle the pipe cleaner ends with a pretty ribbon or wool or even another pipe cleaner to make a fluffy heart.
DIY Valentine Wreath: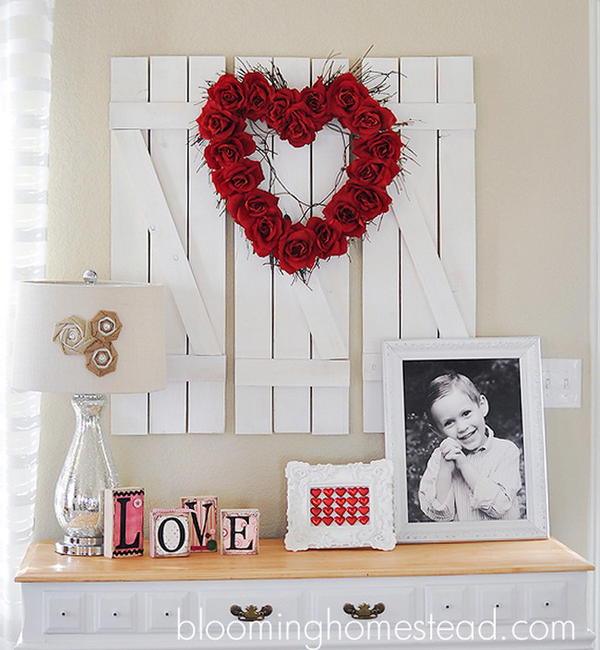 Looking for a way to add a touch of romance to your holiday decor? Check out this fun and easy DIY Valentine wreath! I designed this cute wreath for Cupid's Corner, located in the nursery section of my local Walmart. You can make this wreath in no time using items I found at my local craft supply store, and it's inexpensive to make. Our DIY Valentine Wreath adds a fun touch to your holiday decor. Create this holiday wreath yourself using our easy DIY tutorial, then use it as the focal point of your dining table or your front door for instant holiday appeal.
Crazy Hearts Cake Topper: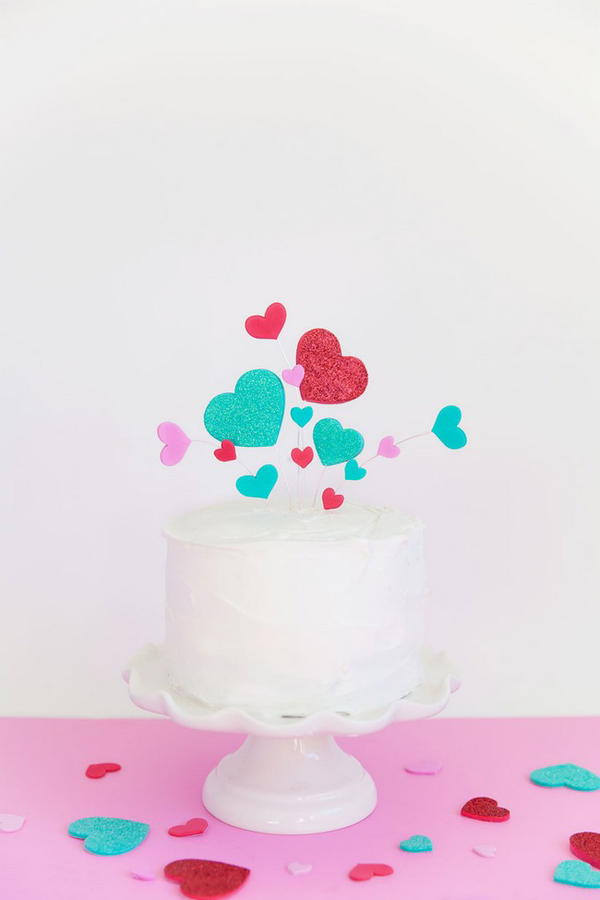 This makes a FANTASTIC cake topper for Valentine's Day, Weddings, Anniversaries, Sweet Sixteen parties...anything you can think of! Also great for making your small cakes TALLER! Simply place the topper on the top edge of the cake pan and spread with frosting. It only takes 5 min to make and is very easy. This is an easy and inexpensive cake topper that I made as a wedding cake topper for my friends.
Valentine's Day DIY Canvas Heart Art: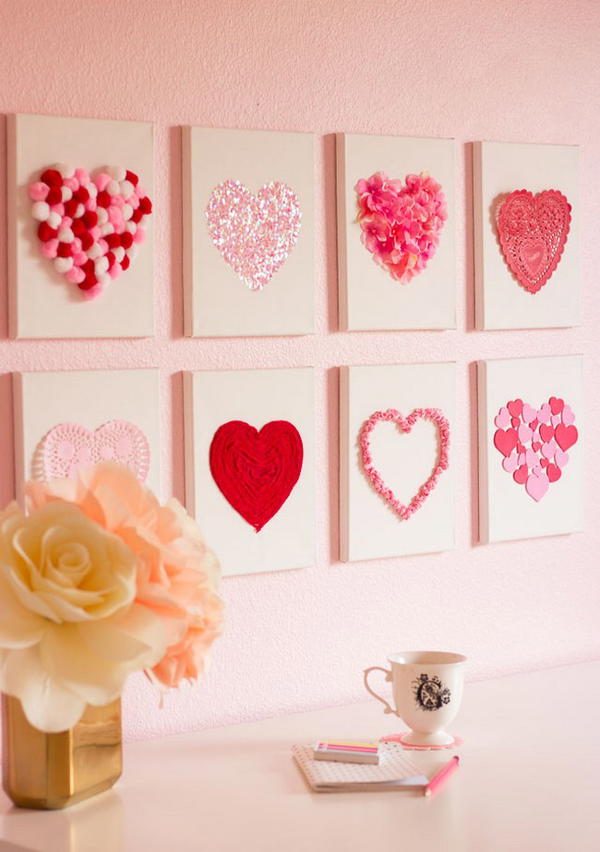 The number one rule of engagement for Valentine's Day crafts is to use items you already have on hand. You can make almost anything look like a heart this way! With our DIY Canvas Heart Art, we even can use paint…with zero heart-shaped canvases needed. The result? An art piece perfect for your living room wall (or even the outside of your home)! This project is super versatile and easy to change up by changing your color combinations.
DIY Hanging Flower Heart:
I'm sharing another sweet little project today. Super easy and quick to finish and made with scraps! Just a few paper-pieced heart blocks and some frayed thread make the sweetest little hanging flower. Perfect red accent Valentine's Day decoration for your kid's room, front door, or just put it in your handbag as a cute little accessory. It also makes a great gift for your friends and family. It's a little bit time-consuming (depending on how fast you work, but it doesn't take much!), and there are some quick, simple steps to get through, but once you get started, it's easy to create.
DIY Valentine Heart Bouquet:
This DIY Valentine Heart Bouquet is the perfect way to get your flower fix for Valentine's Day. We all know that flowers die. So why not make your bouquet that will live on forever in your memories? And what's better than cute plush hearts? This project is easy to make and will make you grin ear-to-ear at how adorable it is! The heart shapes are made from felt, using several different shapes. The hearts are attached with embroidery floss after they've been attached to wire stems (made from wire hangers). An embroidery floss loop is added at the "top." I used ¼″ thick wooden rounds as the base for stability.
Paper Lanterns For Valentine's Day: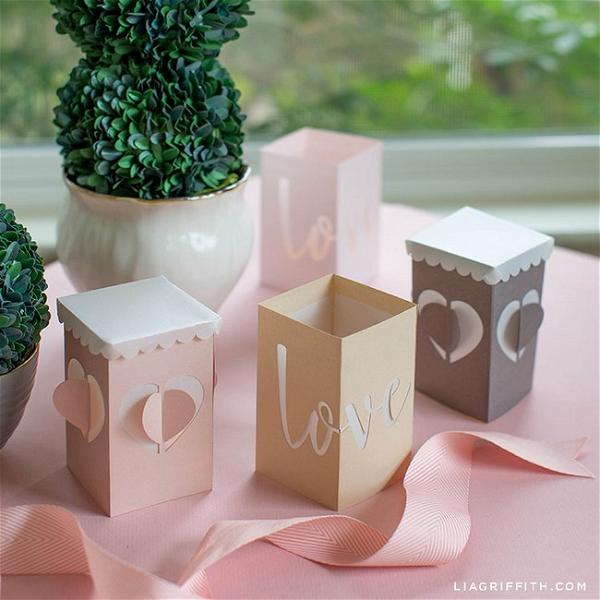 These vintage-inspired paper lanterns are the perfect addition to your outdoor decorating for Valentine's Day! Crafted from high-quality tissue paper, they illuminate easily with a string of Christmas lights. Available in 3 different sizes. They're made of sturdy paper and include a string for easy hanging. And because they come in a set of 10, you can use them in multiple ways. Their retro style features red-and-pinkish-purple wispy hearts, making these chic paper lanterns ideal for decorating your Valentine's Day holiday party.
DIY Branch Heart Wall Art: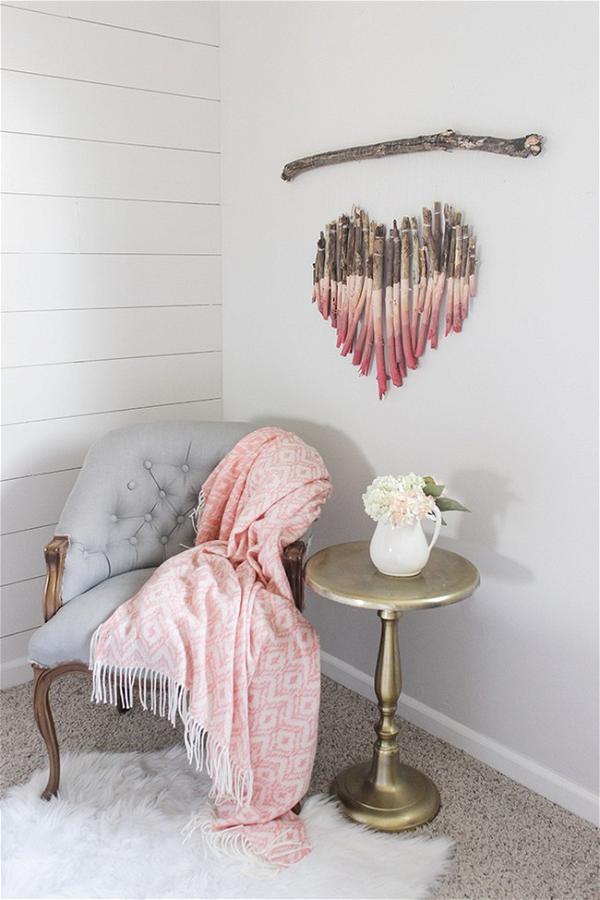 Branch Heart is a mixed media painting on wood inspired by the image of a branch heart. I love how it looks and think it would look great in any room or kids' space. Hang it on the wall horizontally, vertically, or diagonally to add that pop of color and texture to your home. This DIY is about creating a shape for your heart out of branches. Then you would texture paint the branch with acrylics. You could use any color or pattern for this, though I went with white/pink/reds for Valentine's Day. That shape could be any shape, though obviously, hearts are more common in decoration.
Heart Doily Valentine Balloons Craft:
We've got you covered with balloon heart décor! Use mini heart doilies to turn plain balloons into a Valentine's Day balloon bouquet. The way they float down will make for the sweetest surprise. This Valentine's Day decorating idea is easy to make, and you can use your imagination to create your heart-filled balloon bouquet. The best part? Those who receive these adorable balloons will know it was YOU who made them.