After a long winter, there's nothing quite like the beginning of summer. A fresh start, a new wardrobe, and a fresh breeze are just some of the things that come with it! These 20 Free Summer Dress Patterns for women will help you replenish your closet with something refreshing and trendy. These are perfect for mixing and matching until you get that perfect summer day look! They're also light enough for airy days when temperatures rise so that you won't feel weighed down in the heat. From super fun prints to all-occasion styles, these dresses will make you look and feel great!
Summer Dress Patterns Free
Who doesn't love good summer dress patterns simplicity? They're easy to throw on, comfortable, and can update your outfit. These 20 free dress patterns for women are perfect for any occasion or season. Dress it up for the office with heels, or dress it down for somewhere casual with flip-flops―either way, you'll look fabulous! Dress up in style this summer with one of our free sewing patterns for dresses. We have a pattern for you, whether you're making it for work, a special occasion, or to wear around the house as a part of your new pajama look.
Benefits Of Summer Dress Patterns
Summer dress patterns are one of the women's most popular clothing types. These patterns range from casual to formal and can be worn in any season. Summer dress patterns are a great choice for women who want to look fashionable without spending too much money on their wardrobe. Summer dress patterns are available in many different styles and colors, so you have plenty of options when choosing what Dress to wear. You can choose from long, short, fitted, or strapless dresses.
The following are some benefits of summer dress patterns that women should know about:
Easy To Wash And Iron - Summer dress patterns are easy to wash because they usually do not wrinkle easily. They also iron well because they do not require much ironing at all!
Great For All Body Types - Women with all body types can wear summer dress patterns because there are many different styles available for them! The different cuts will allow everyone to find something that fits perfectly!
Affordable - One reason why women love summer dress patterns is that they're affordable! You can find many styles for as little as $20 or less! This makes them perfect for anyone who wants an affordable wardrobe without sacrificing style!
Little Black Dress Pattern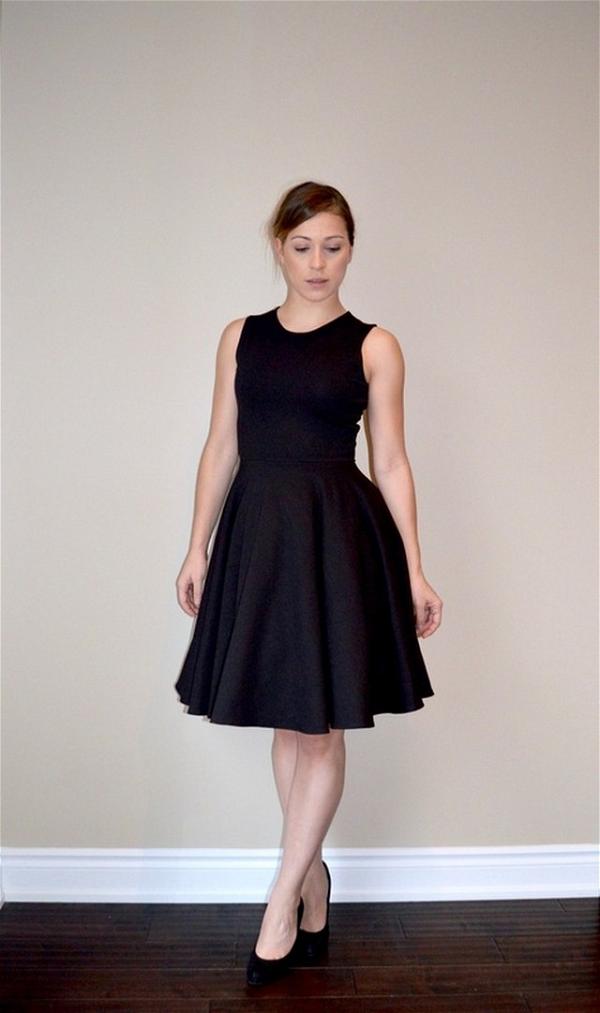 Get ready for your next big event or night out with this classic little black Dress from the Little Black Dress Pattern Collection. This pattern comes with full-length sleeve and neckline options, so you can customize it however you like. The Little Black Dress Pattern includes pattern pieces for sleeveless and short sleeves, and long sleeves. The sleeveless and long-sleeve versions are easy to create in your size. This is one of those pieces of clothing that looks great on every woman, and this simple design makes it easy for anyone to sew it!
The Perfect Summer Swing Dress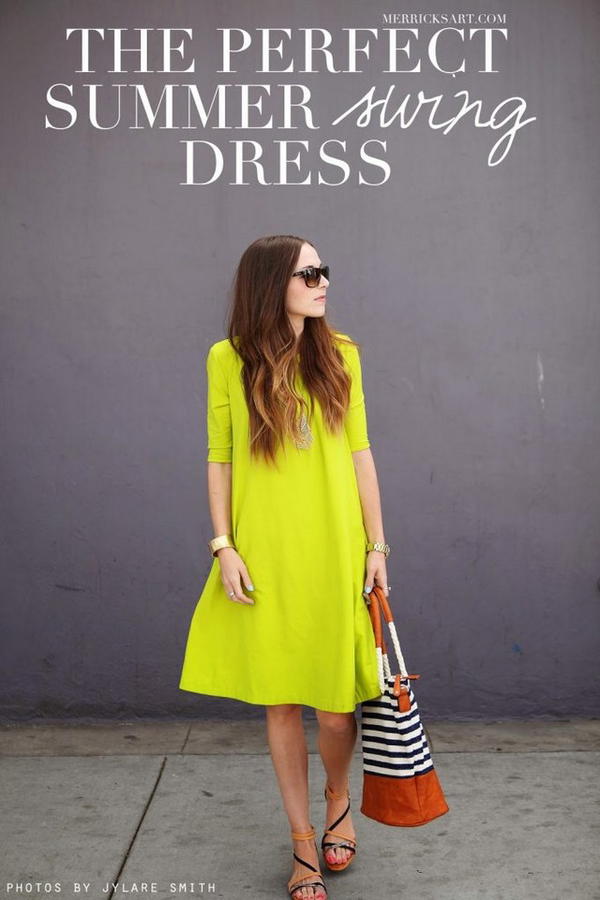 The Perfect Summer Swing Dress is fun and flattering while still covering all your bases regarding summer fashion. This sun-ray jersey dress features cap sleeves and a high, round neckline with a slight peekaboo cutout that provides just the right amount of sass in the back. The swing shape is a flattering silhouette for all figures, and the elastic waist provides that extra bit of comfort so you can wear this Dress again and again! Make it in the classic or modern version with box pleats. This is a pattern you will use again and again all summer long!
Faux wrap dress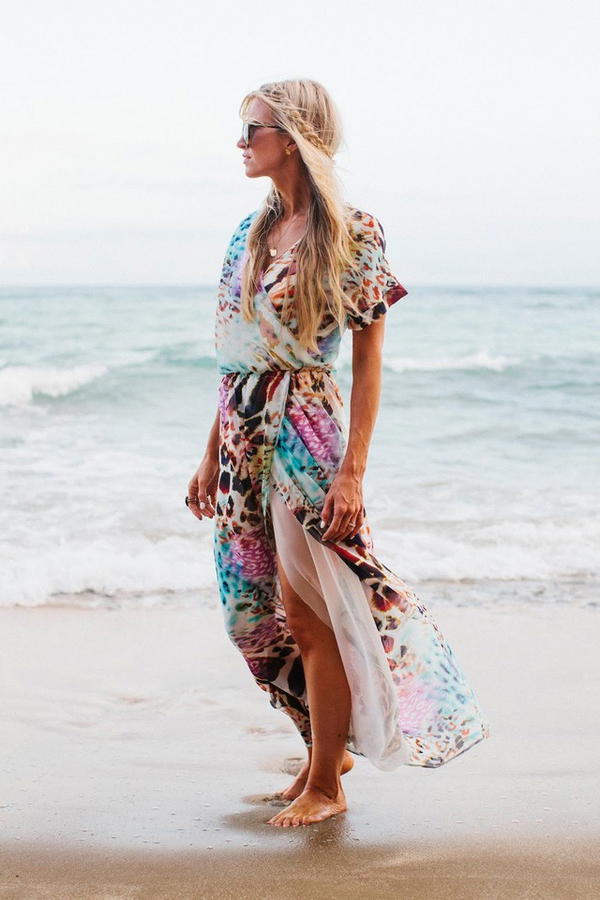 Love the look of a wrap dress but am unsure how to sew one. This faux wrap dress sewing pattern is the perfect solution. It features a wide, open front that can be wrapped around and secured by a series of buttons and ties. This wardrobe staple will provide endless opportunities for style and fit, so it's never outdated with its timeless silhouette! This is a simple and easy to sew Dress that can be worn anywhere. It's a must-have in your wardrobe!
by Leannebarlow
Frayed Denim Sundress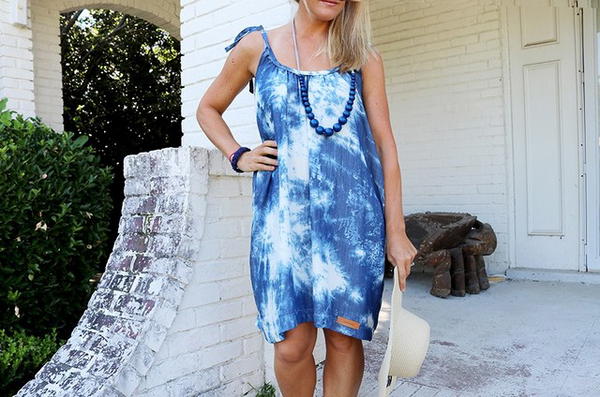 A frayed denim sundress sewing pattern is easy to sew, and because it's made from denim, it will be a lightweight summer dress that's also perfect for layering. You will look stylish in this frayed denim sundress pattern. A classic silhouette features a sheath dress with wide strap detailing and an open back. Dress in heels and sparkly accessories, or dress down with boots and a statement necklace! A great pattern for fall and winter, this versatile Dress can be made in denim and out of other textiles to suit your style!
by Mesewcrazy
Tie Dye Cap Sleeve Tiered Dress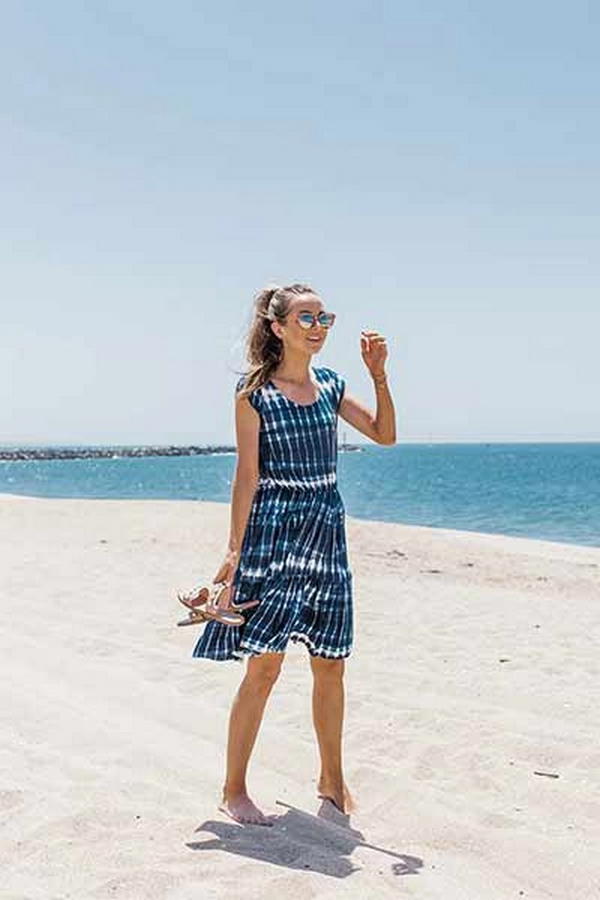 If you've never made a tiered skirt, here's what you do: take a piece of fabric, fold it in half, and iron it. Then, cut out your skirt pattern as normal. When you sew everything together and turn the dress right side out, the extra layer will form the ruffle. Pretty simple! Sew this cap sleeve-tiered Dress for yourself or a friend. The Dress features full-length sleeves and a colorful tiered skirt. This pattern is a great way to use up some of your fabric stashes and create something unique and original that you'll be proud to wear.
by Merricksart
Off Shoulder Dress With Ruffles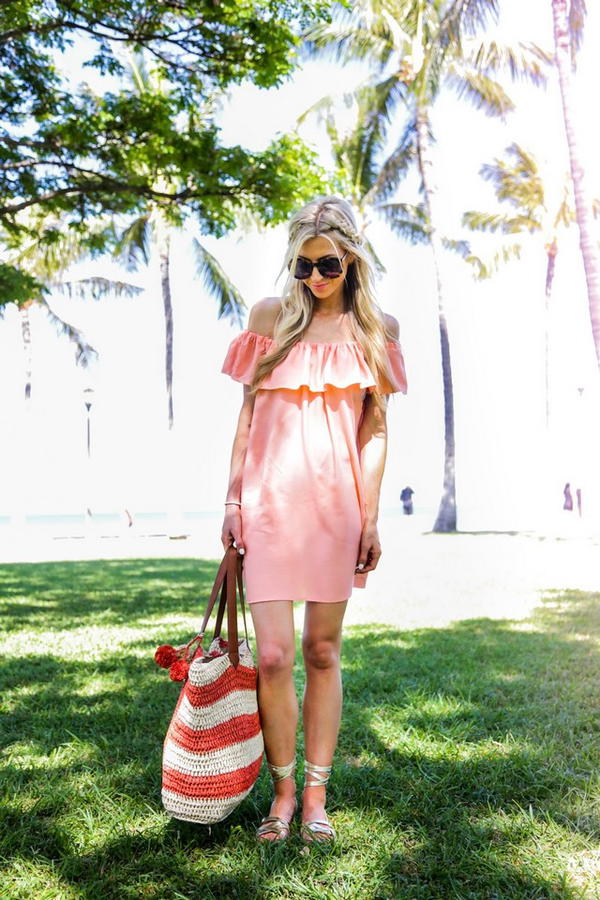 This simple off-shoulder Dress is perfect for the warm weather. It features a sweetheart neckline and a softly gathered waistline with ruffles. Make this pattern in various fabrics to fit your style and wardrobe needs. The Off Shoulder Dress With Ruffles Sewing Pattern can be completed in an afternoon and requires only basic sewing skills - perfect for the beginning sewist! This beautiful Dress is perfect for the summer. It features a flattering empire waist with ruffles on the bodice and skirt. The length can be adjusted to your height by adding or removing the seam allowance from the bottom.
by Leannebarlow
Make a t-shirt dress
Make this easy t-shirt dress sewing pattern to complete your wardrobe. Throw a denim jacket and sandals for an effortless look, or dress it up with heels and jewelry. You'll be ready for any occasion! Make a simple yet stylish t-shirt dress in a few hours. This simple sewing pattern is the perfect beginner project for someone new to sewing. The step-by-step instructions will help anyone who sews, even if you're learning to sew or are looking for a quick project for beginners.
Trapeze Tank Dress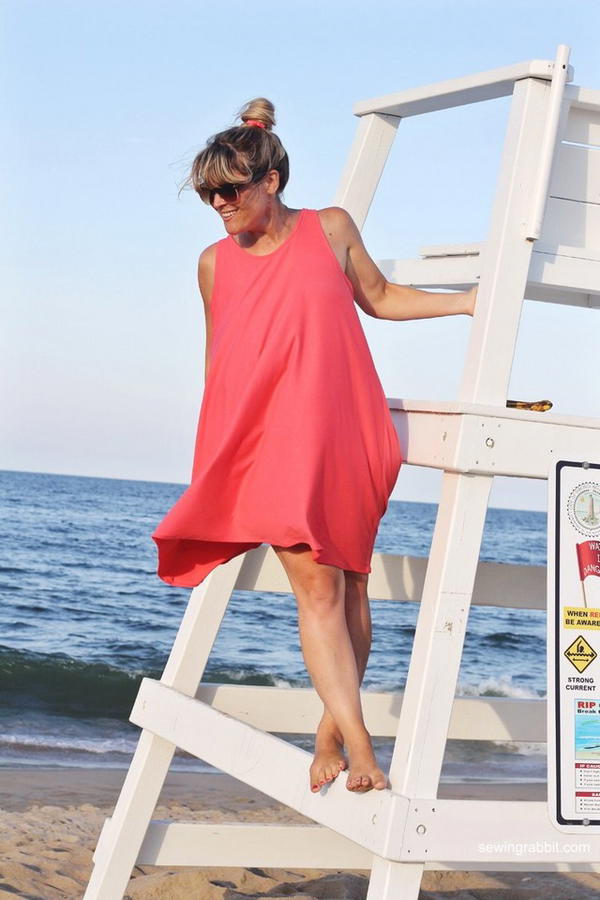 Sizes: XS – XXL
Pattern: PDF downloadable pattern
The Trapeze Tank Dress is a semi-fitted top that is quick to sew, with simple shaping and just two seams! Extend the design to make it longer for a tunic or cap sleeve top. It's perfect for summer sewing and has plenty of options for personalization. Create a dress that's versatile and comfortable to wear with the Trapeze Tank Dress sewing pattern. This easy-to-sew pattern has an A-line shape and is designed to flatter. The shorts version can be customized with your choice of sleeve lengths, hoodie or not!
by Mesewcrazy
Pleated Beach Dress Pattern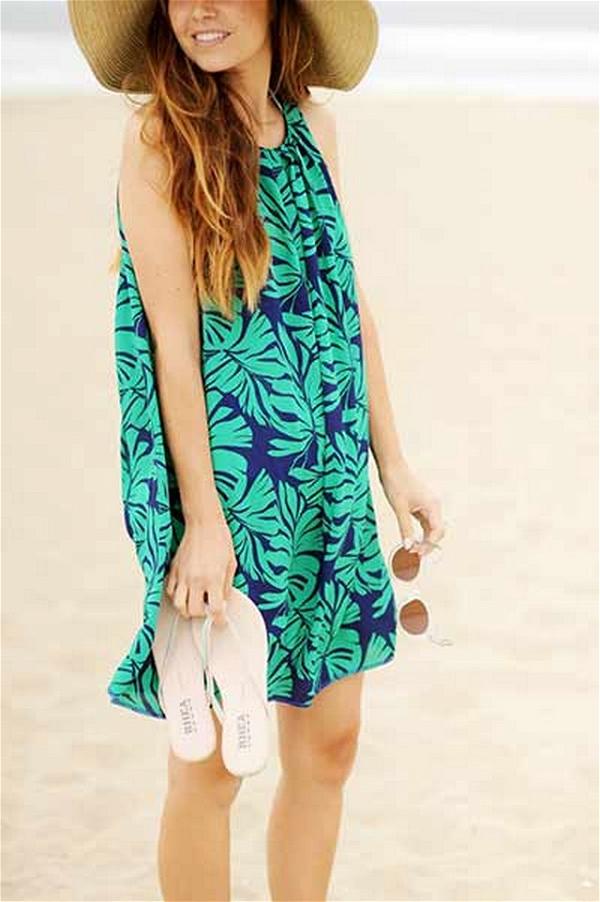 We are excited to add to our selection of craft patterns with The Pleated Beach Dress Pattern. This pattern makes a simple, everyday sundress appear more elegant with the pleated front bodice and fitted waist. For the fashion-forward look, pair it with your favorite statement necklace. There is no shortage of ways to wear this pleated pattern! Create a stunning beach look with this easy-to-sew pleated beach dress pattern. The perfect Dress for any occasion features an asymmetrical pleat in front and back. It's sure to turn heads by the pool or on the street!
by Merricksart
Pleated Summer Dress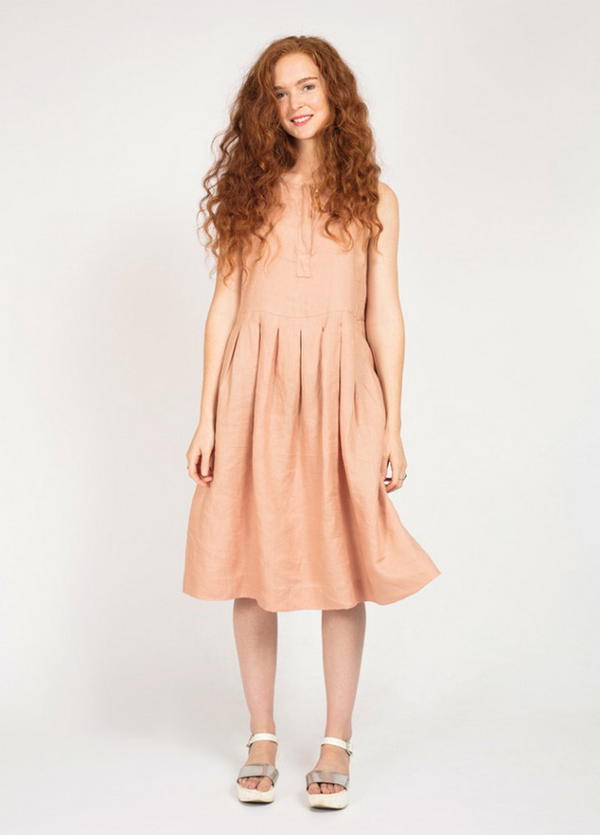 This pleated summer dress will make you comfortable, cool, and stylish. The lightweight fabric will keep you cool, and you'll love the light pleats that are so feminine for this season! This sewing pattern is for a pleated summer dress that ties on the shoulders. The Dress has an elastic waistband and can be made in woven or knitted fabric. Instructions are given for a short-sleeved version, but you can easily lengthen or shorten the sleeve length according to your preference. This sewing pattern comes with full-size pieces, so you can adjust it to fit your measurements perfectly!
Sleeveless Summer Dress Pattern Bardon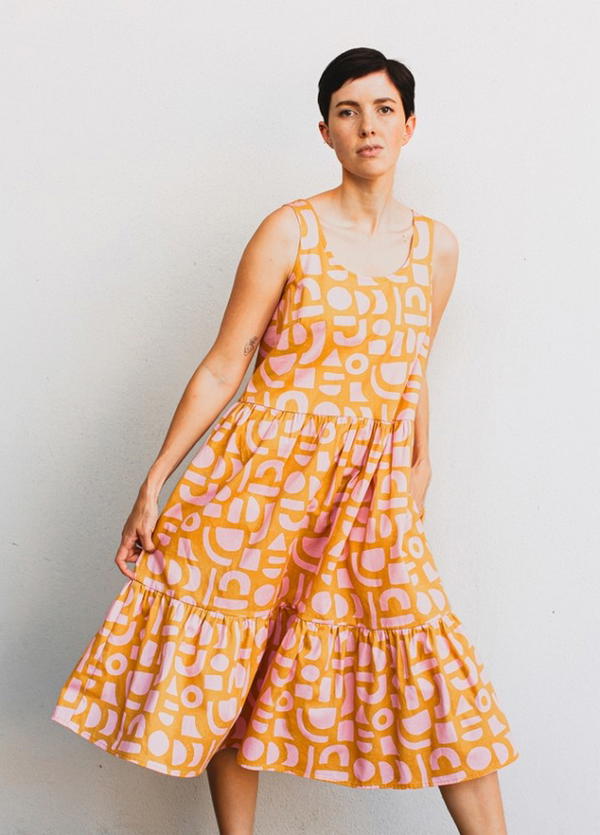 The Bardon Sleeveless Dress is a great pattern to make for all seasons, from cool summer nights to lovely spring evenings. This easy-to-sew sleeveless summer dress is perfect for any party or special occasion. It features a scooped neck, fitted bodice, and straight skirt. The pattern also includes a sleeve variation in the bodice that can be added to create the sleeves if wanted. It's a great pattern for beginners looking for a simple design with beautiful embellishments that experience sewists would seek out.
Hi-low Summer Dress Pattern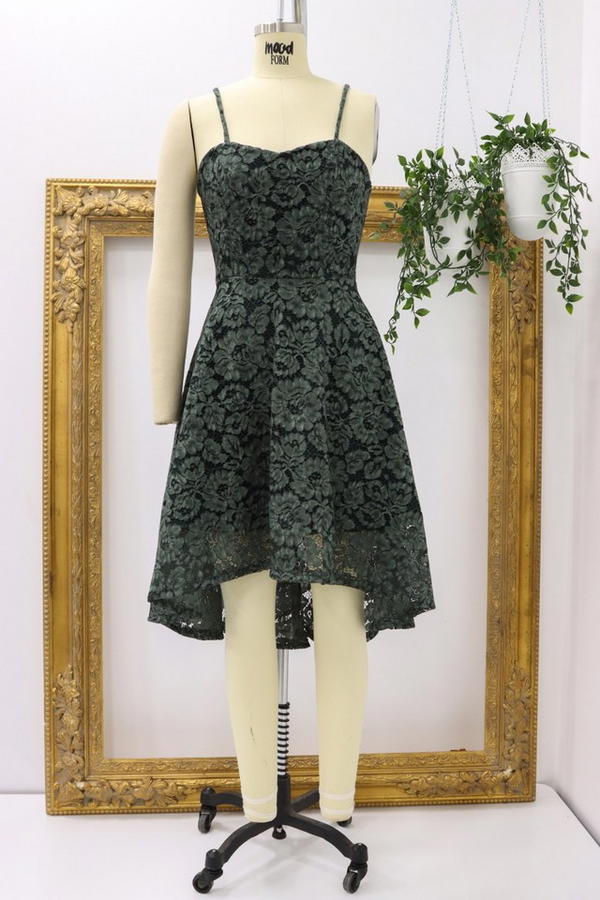 Back zippers are not for everyone, especially when you're wearing a dress that should be as easy and unfussy as this one. For a more casual vibe, skip the closure! This free pattern is a must-have for your next summer party. This garment has the perfect amount of stretch to be comfortable and the right amount of ease to stay put. You can elevate this Dress with a woven fabric or skip the closure altogether. Make it in any color you want! They're all equally comfy, stylish, and easy to make.
by Moodfabrics
Free Sundress Pattern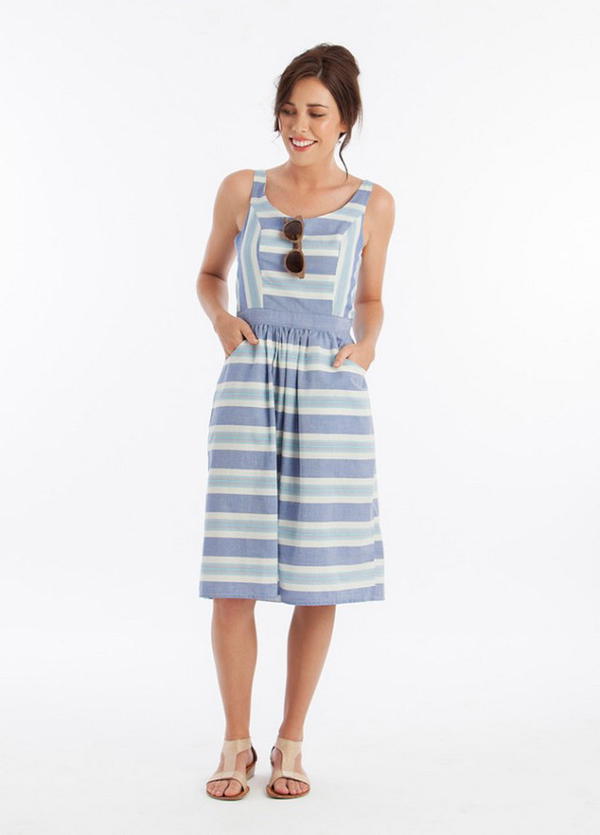 This free sundress sewing pattern is one of our favorite patterns because it's versatile, easy to wear, and can be dressed up or down in seconds. The gathered collar and pleat-front skirt are classic features that give you plenty of pattern options. This silhouette looks lovely with an A-line silhouette that comes with a drop waist or empire waist. The gathered hem is without bulk, whereas a ruffled hem adds even more drama to this Dress's bottom. You will create a dress that fits you perfectly with our easy-to-follow instructions and helpful tips to improve your sewing skills.
Flirty Paper Pieced Dress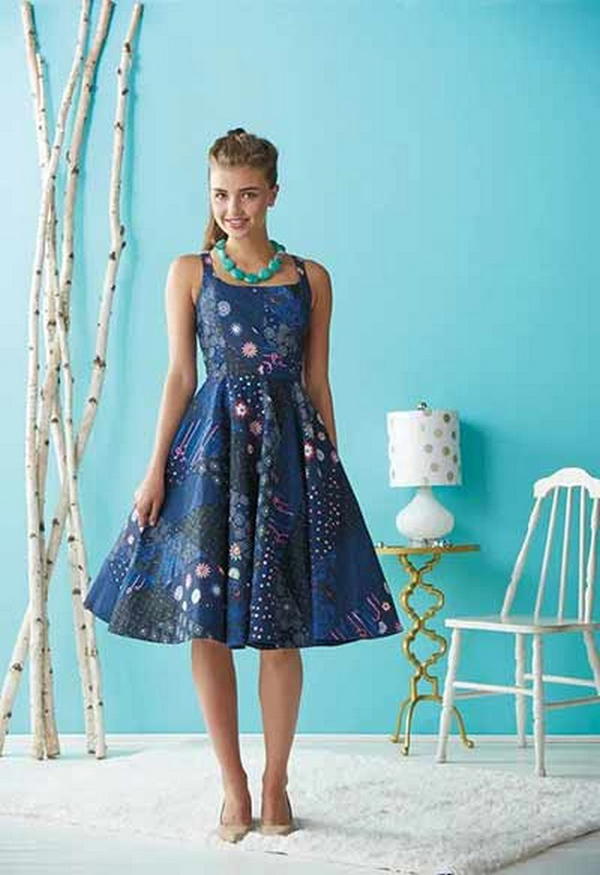 Sew a flirty paper pieced Dress for your little girl! This Dress is not only easy to put together, but it is also comfortable-- perfect for summer days. This is a simple and fun paper-pieced dress pattern perfect for beginners. The Dress comes together super quickly and can be made in any color scheme you like. This dress sewing pattern is perfect for beginners. It is quick to sew, looks stylish, and can be made in various fabrics.
by Sewdaily
Patriotic Sundress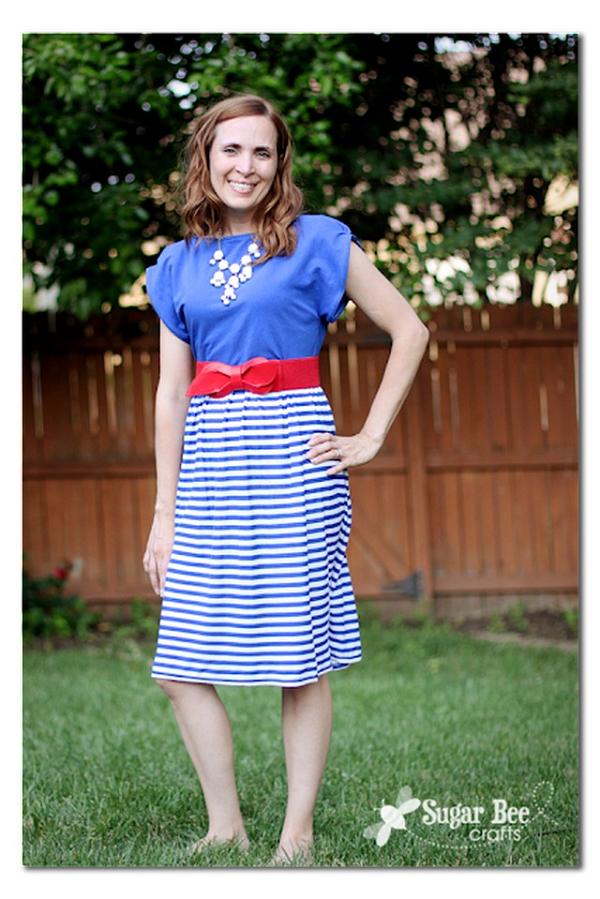 This is the perfect sundress for your little ones for the Fourth of July or any other patriotic day. Once you try this Patriotic Sundress, it will quickly become your go-to Dress for summer! The classic silhouette made from easy-care fabric is comfortable and easy to wear. You can make this pattern as shown in one of three styles; please see the photos for a better idea of each style. They all have a separate sash that can be altered in length according to your preference. The gathered skirt adds fullness and flare, while the A-line bodice creates a flattering silhouette. This pattern features a full circle skirt with elastic at the top to flatter your curves and a back zipper closed by a hidden buttonhole.
Scarves To Maxi Dress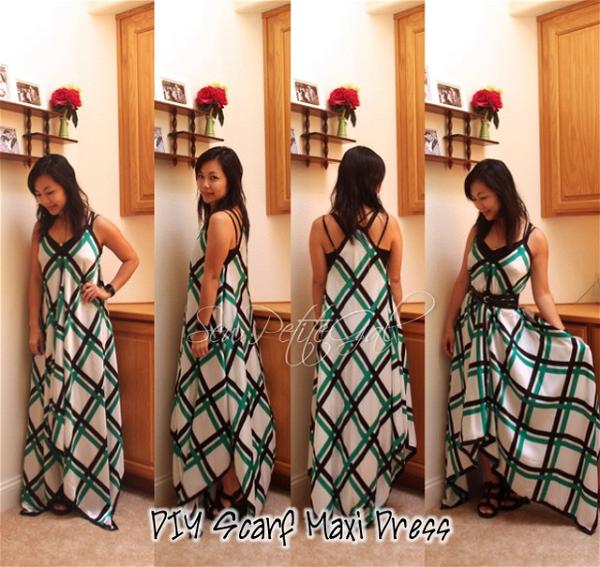 The Scarves to Maxi Dress sewing pattern makes a fabulous one-of-a-kind project, perfect for the novice and seasoned seamstress alike. A unique design with optional sleeves, you can create it as a sleeveless dress or add sleeves for a more tailored look. This versatile piece can be worn over jeans or with a skirt, and with or without leggings. Whether you choose a solid color or one of our gorgeous prints, this is one pattern you won't want to miss out on!
by Sewpetitegal
Easy T-shirt Summer Dress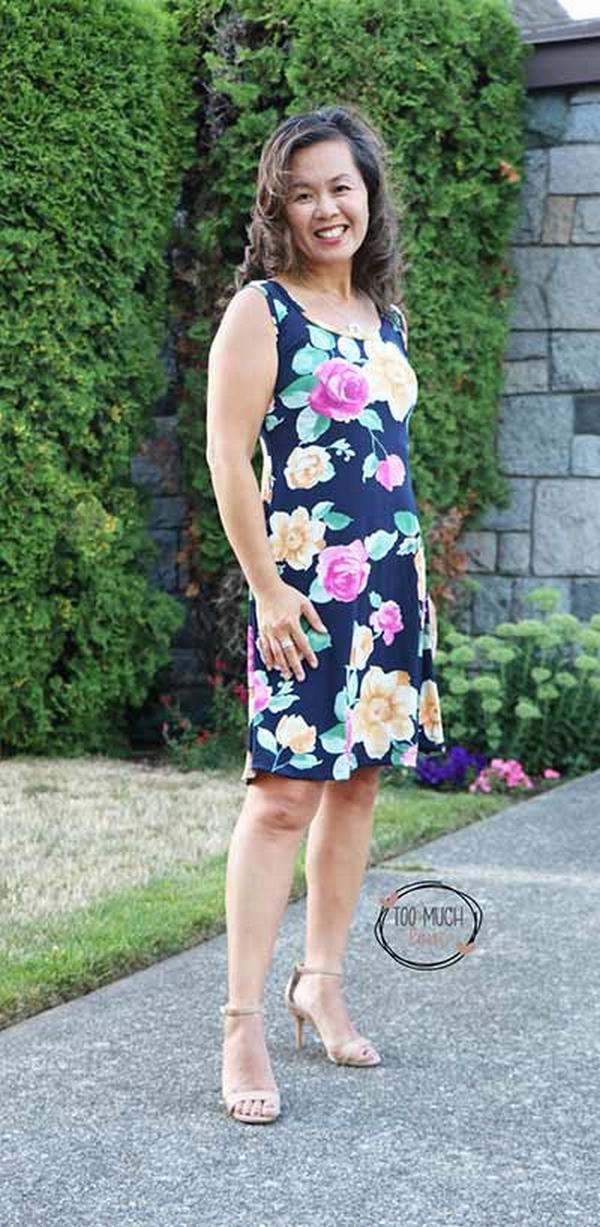 Want to make a cute, breezy summer dress with no fuss? This Easy T-shirt Dress Pattern is perfect for you. It's easy, fun, and comfy! You will love how quick it is to sew and wear. It is the perfect pattern for all your summer activities. This Dress is perfect for those hot days, and it's incredibly easy to make! You'll fall in love with the simplicity of this style. This simple and easy summer dress goes together with no problems. The gathered skirt is a nice addition to the t-shirt dress.
by Toomuchlove
Vintage Gathered Bust Slip Dress
A vintage sewing pattern for a loose-fitting slip dress with a gathered yoke and fitted bodice. The yoke will be best to gather the bodice neckline, and the long sleeves are open at the top to create an easy fit across the bust. This VENUE pattern makes a vintage slip dress with a gathered bust, contrast collar, and cuffs. Two length options of the skirt are available in each size range, with top stitching details to add visual interest. The sleeves can be added at home too! This pattern is easy enough for beginners looking for a basic summer project with a little more challenge.
Pillowcase Dress For Kids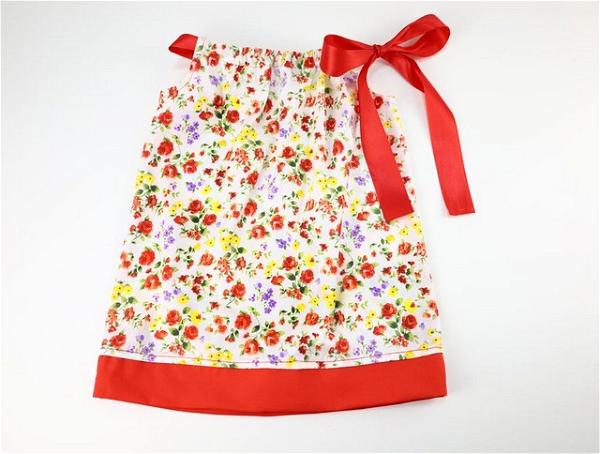 Sizes: 2-12 y
This sewing pattern is for a Pillowcase Dress, basically a pillowcase with no pillow inside. There are many variations of this kind of Dress, some sewn with corsets and others with buttons and buttonholes. This version is a great project to make as gifts because it is simple to sew and works well for multiple ages. This would be a nice addition to any little girl's wardrobe! This project is perfect for beginner sewers. It's also great for kids who love to play "dress up." You can also make it with no fabric! Try making your child's own pillowcase dress with this easy sewing pattern. The instructions are explanatory and easy to follow, using ordinary sewing skills.
Girls pillowcase dress pattern by Hellosewing
Tropish Dress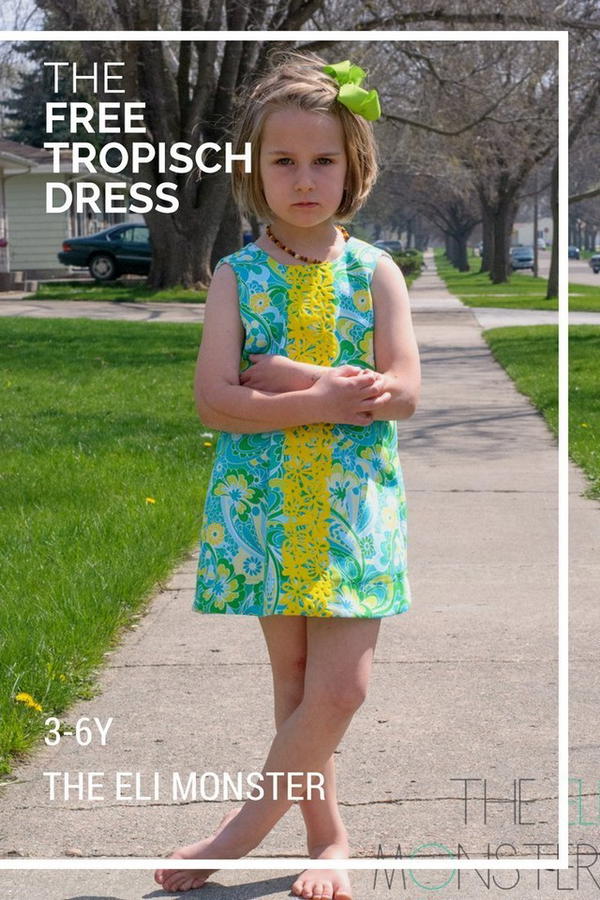 size: 3-6y
The Tropish Dress is a stylish, versatile dress pattern for girls. A removable waistband allows you to create an elastic-free waistline, while the full skirt and knee-length options offer styling flexibility that's perfect for all seasons. This pattern is easy to sew and features a tropical print and three different colloquial designs on colored fabric, each with a different type of flowers. The Tropish Dress can use multiple times during summer as a Dress or as a spring/fall tunic. Sew it in a solid color for added style.
Rainbow Dress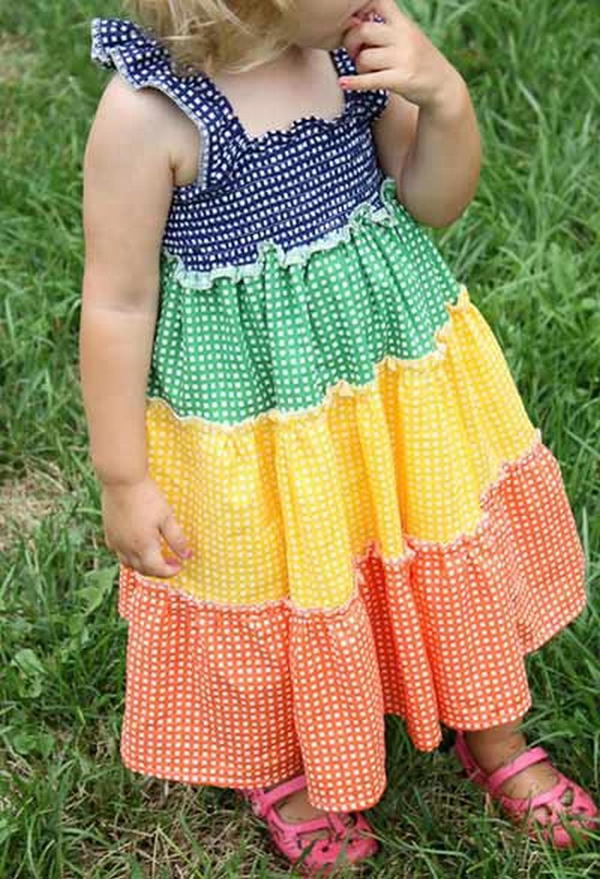 by Made-by-rae
This pattern features the most popular kids' dress design, perfect for summer and spring or even a hot day in winter: A gathered skirt with a stunning rainbow of color-changing stripes. Have your little girl's eyes sparkling in this beautiful Rainbow Dress. Sewn up or quilted, this Dress is a great beginner project for a confident beginner. This is a simple-to-sew tropical-themed Dress, perfect for little explorers. The Dress has side pockets in the arm and back, which give your little adventurers lots of room to store their treasures!