DIY Ribbon crafts are mostly used as decoration for your home. Most of the time, they are used during Christmas and other holidays. But there are also those that you can use for everyday purposes. So, if you want to unleash your creative side, why not try these ribbon crafts? They will be fun and easy to do. Here's a collection of DIY ribbon craft projects that you can make at home with the kids or on your own. Some of them are made using old clothes and other materials that you have around the house. You can even use them as gifts or giveaways on birthdays, weddings, and other special occasions!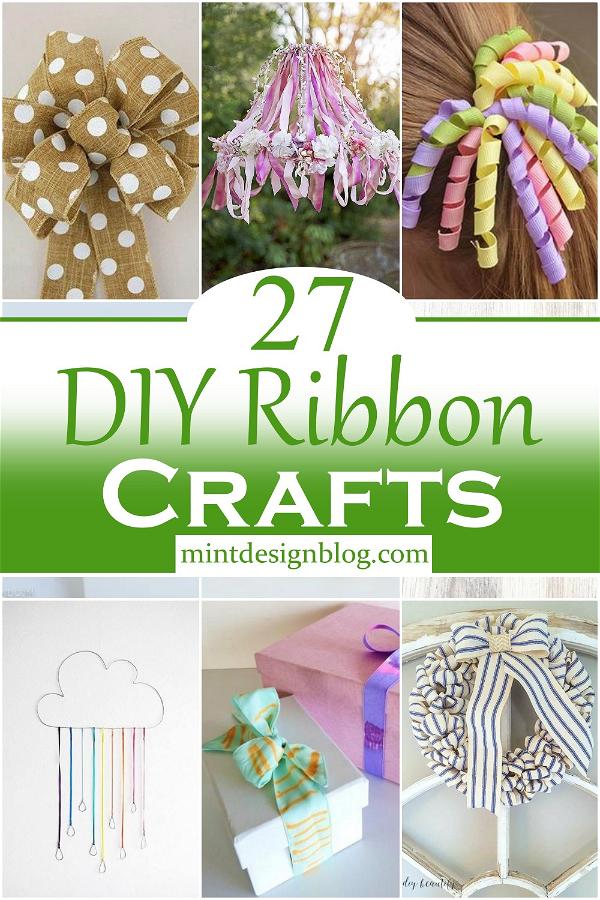 Ribbon DIY crafts are so easy to make and perfect for gifts as well. It will definitely be loved by the people you give it to. Ribbons are very colorful and can be used for a lot of things. They may look too small but they can be used for a whole lot of creative things. In this post, you will see 27 DIY ribbon crafts, and in addition to the picture of the item, it includes its instructions and materials used. DIY Ribbon Crafts gives you ideas and inspiration on making crafts with ribbon, whether it's for a gift or your use.
Tips To DIY Ribbon Crafts
Make sure your ribbon is all the same size.
Consider using a wire-edged ribbon for more structure and versatility in the way it can hold its shape.
Use a hot glue gun instead of tape or regular glue; it will be easier to use and last longer!
Use double-sided tape if there is no space between two pieces of paper for gluing them down; this will make it, so both sides stay stuck together without worrying about any gaps.
Benefits Of DIY Ribbon Crafts
DIY ribbon crafts are a great way to decorate your house and give gifts.
DIY ribbon crafts are fun and easy.
Fun craft ideas for the whole family.
You can decorate your home or gift friends.
Birthday presents, Christmas presents, and more.
DIY ribbon crafts help you say thank you, cheer up a friend, or get ready for your next holiday party.
DIY ribbon crafts are cost-efficient.
They make great gifts for so many holidays and occasions.
Try making a cute miniature bow to use on your cards or other craft projects.
Everything is reusable and cheap, which means more time and money to spend.
How To Make A Rainbow Cloud Using Ribbon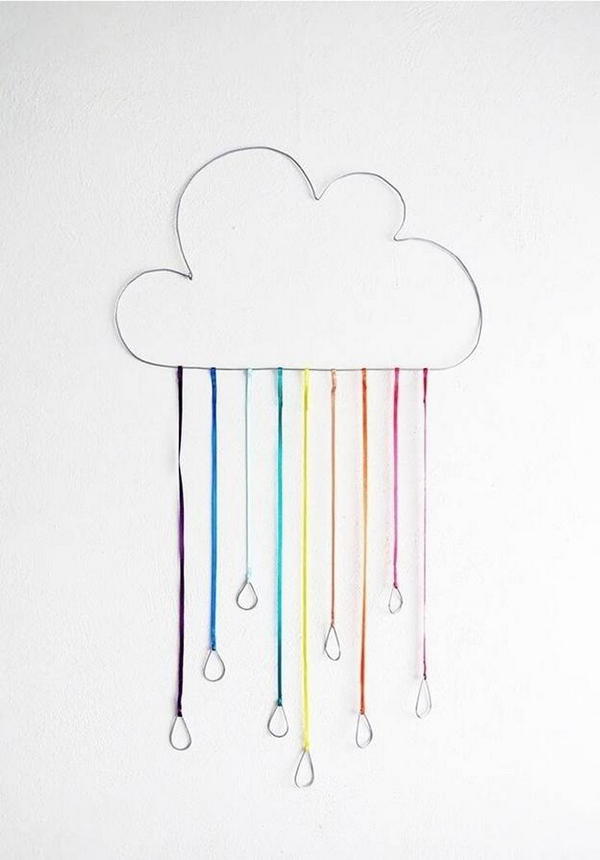 Do you know how do you make a real rainbow cloud at home using ribbons? This DIY craft can be done by using the color ribbons and wire if you have simple home supplies. The wire is only a little difficult to work with, just be patient and also take your time. With just a few basic craft materials and a little bit of patience, you can make this awesome rainbow cloud to hang in your bedroom, or use the same process to create any shape you like – it's up to you!
How To Make Curly Ribbon Hair Bows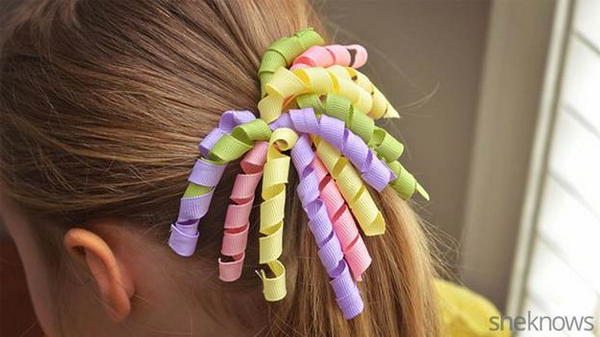 Learn how to make beautiful curly ribbon hair bows. . You will need a grosgrain ribbon, scissors, and a lighter. Cut your ribbon. Heat up the ribbon edge using a lighter to prevent frayed edges. Curl your ribbons by rolling them over your curved scissors. Make a perfect curly hair bow for your little girl now! Choose your favorite colored ribbon to match your outfit and impress your friends with these lovely bows. This is one of your favorite accessories to wear during the holiday season and it's super easy to make.
How To Tie A Loopy Bow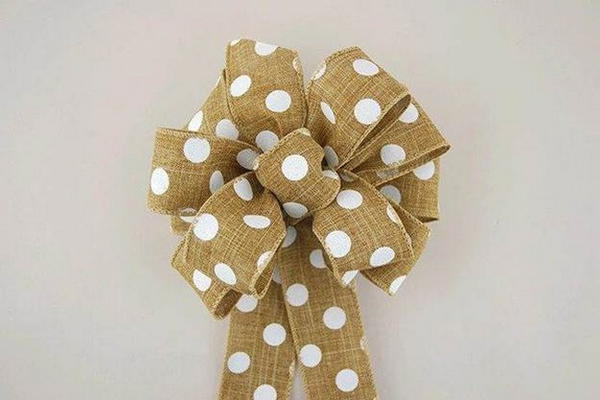 Make a gorgeous bow with extra ribbons and some wire. Creating a big loopy bow can be the crown jewel that tops off your stunning gift wrapping. There are always cases of having extra rows of ribbons in the house. A good number of people have these. Instead of trashing them out, you can create something wonderful out of all of them which will be extra appealing and last a long while. All you need is a ribbon, wire, scissors, and wire cutters.
DIY Beetle From Satin Ribbon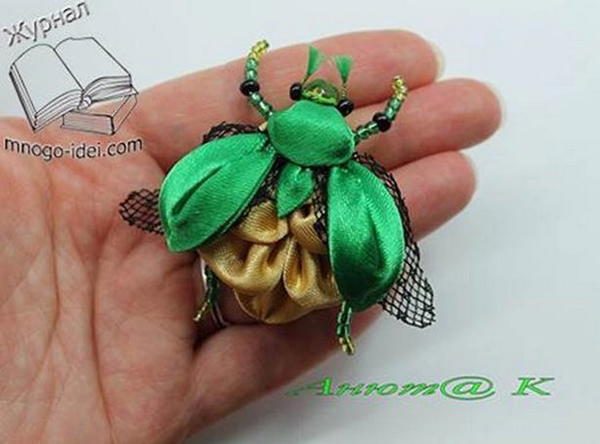 This DIY Beetle From Satin Ribbon pattern will help you make a beautiful handcrafted accessory. The only thing to keep in mind is that, as with all crafts, the better the materials you use and the more attention to detail you give, the more outstanding your final result will be. The design and color of your ribbon will depend on the location in which you are going to wear or put it. If you are using a certain type of design, you might want to match it with the color of your clothing.
How To Recycle An Old Lampshade Into A Chandelier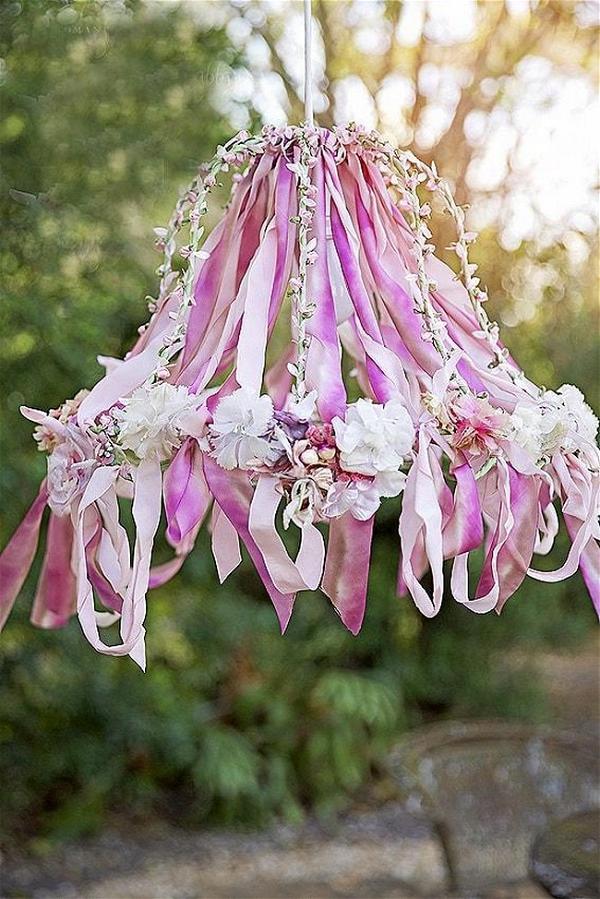 As the old adage goes, there are so many ways to reuse your leftover things and you can create something that is of great use and will last for a long time. With a creative mind and plan, you can design your lampshade to become a gorgeous chandelier. And you can add more ribbons and gems to make it more colorful. All you need is a glue gun, scissors, and ribbons to start off. You'll get some old lampshade at home that you want to create something new out of it like recycling into a chandelier.
DIY 30-Minute Farmhouse Wreath Under $10
Step up your wreath game with one of these beautiful, easy-to-make farmhouse wreaths. You will be on-trend in any season, and all of these options ring in at under $10! This is definitely one of the favorite trends right now. The best part about these DIYs? You don't have to be a professional crafter to make them happen. These projects are perfect for anyone who wants to display their style in a unique and fun way. These wreaths are perfect for your door year-round. In fact, once you see how fun and easy this is, you will start to find ribbon wreaths everywhere.
DIY Simple Ribbon Hair Bow
This do-it-yourself simple ribbon hair bow will make you want to take out all your leftover pieces and start working to create a masterpiece. With some ribbons, glue, and cutting tools you can create this beautiful ribbon crown. It is affordable and easy to make that you don't need any extra cost. You will love this easy DIY craft idea and these are perfect for baby girls and mommies too! Another thing that your little girl must love about this hair bow is its big size and simple style, Enjoy!
How To Make A Fork Bow
A quick and easy DIY project that requires very little money or time. You will be amazed at what you can create with a piece of metal, some twine, and a little imagination. It's always fun to add a customized touch when wrapping gifts, and a fork bow is a perfect way to do it. These adorable bows are simple to make and can be used on everything from gift bags to your own handmade cards. With just a few minutes and a fork, you can give any package that added surprise when it is lifted off of the gift table.
Realistic Ribbon Roses
Decorate your home or use in crafts however you see fit with these Realistic Ribbon Roses. The natural feel of roses and the soft fabric creates a more realistic appearance, while the simple design can be enhanced and decorated to suit your needs making it a versatile decorating option. To create a fuller look, incorporate these roses into wreaths or add to floral garlands on your mantle This realistic ribbon rose is perfect for home decor and other decorative projects. These roses are known for their beauty, softness, and durability. These ribbon roses are made of genuine silk, so your flower will always look fresh and elegant.
DIY Gift Wrap Ribbon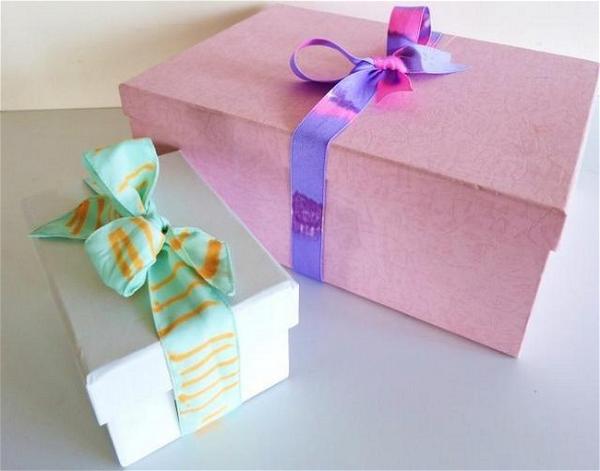 With DIY Gift Wrap Ribbon, you are free to twist, loop, fold into different shapes, or simply write on them with a felt pen. OR It is easy to get creative in using the ribbon by twisting, folding, or marking with a pen. This ribbon is great for Gift Decorating. The handy spool has a pull-out cutter, so you can use every last inch. The ribbon is great for wrapping gifts, wine bottles, vases, and baskets.
You can also see: Easy Felt Animal Patterns 
DIY Ribbon Lampshade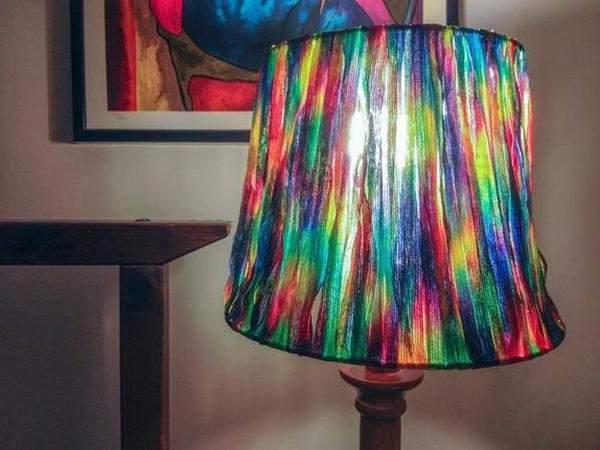 Transform your favorite lamp with the ribbon lampshade. It is an easy project to update your space and can transform any room into an inviting and comfortable environment with the flick of a switch. You choose the color and design, so you know it will coordinate with your existing home decor. The structure of your shade is really important. You can decide to make it even or even go for contrast shades. If you are working on contrast shades, ensure that you carefully mix the colors well so that the blend comes out beautiful.
DIY Ribbon Rings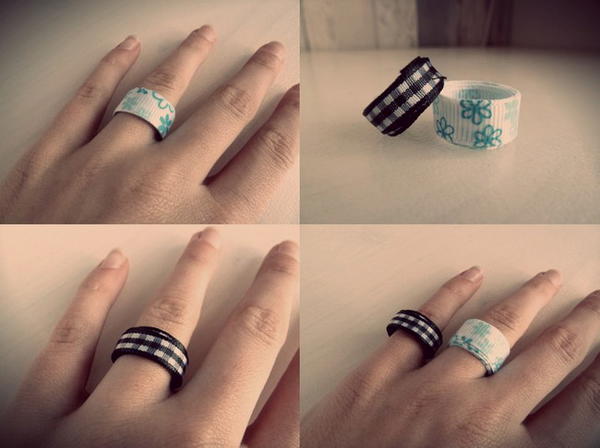 In this ribbon ring tutorial, you will learn how to turn leftover ribbons from old projects or even a new piece of fabric into something sweet. Add a vibrant pop of color to your outfit with this simple DIY ribbon ring idea. You can even try adding some bling to the center for some sparkle or experiment with different patterned ribbons and sizes to create a unique look that's all yours. There is no need to throw away the ribbons you do not find useful. You can use your old ribbon to make a DIY ribbon ring. This is such a great way to use leftover scraps.
DIY Ribbon Embroidery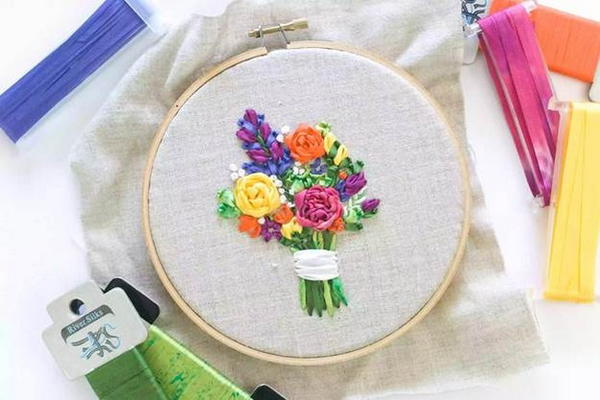 Are you looking for a fun and engaging craft activity? Do you want to add something personal to the dress or cloth of your choice? With DIY Ribbon Embroidery, you can do both, easily. This easy-to-learn technique uses colorful silk ribbons to create wonderful designs, which look great on clothing or as unique wall decorations. Ribbon embroidery is done on a base of fabric using silk ribbons. Threads or yarn are used to do stitches in the form of loops, braids, and flowers. Ribbon embellishments like bows can be used as well.
DIY Sunflower Ribbon Rose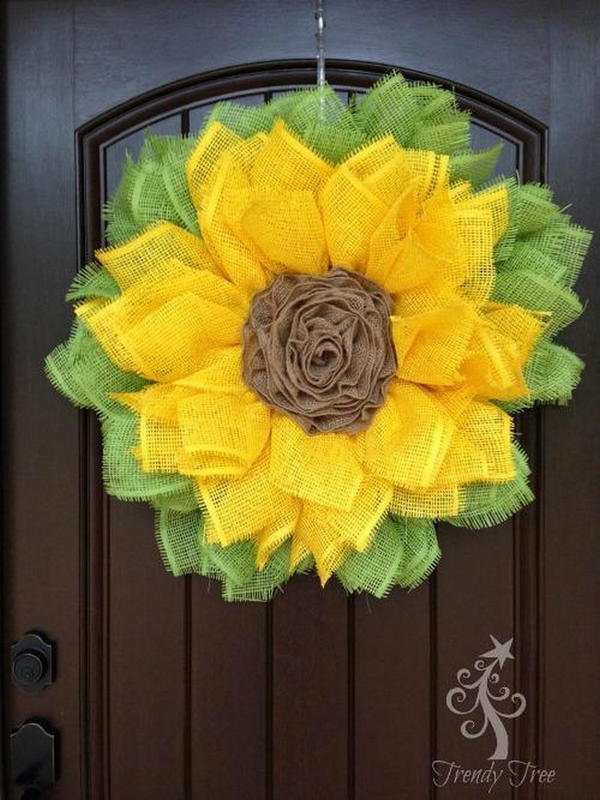 DIY Sunflower Ribbon Rose is perfect to creatively design your home landscape. A DIY project helps you connect with your creativity and decorate your space. You can use flowers to create wreaths or door décor. The bright yellow flower and green leaves are perfect for adding a touch of sunshine on even the cloudiest of days. It's also a fun craft project that can be used to create a stunning seasonal decoration. This design can be used as a wreath, centerpiece, painting...let your imagination run wild!
DIY Ribbon Cushions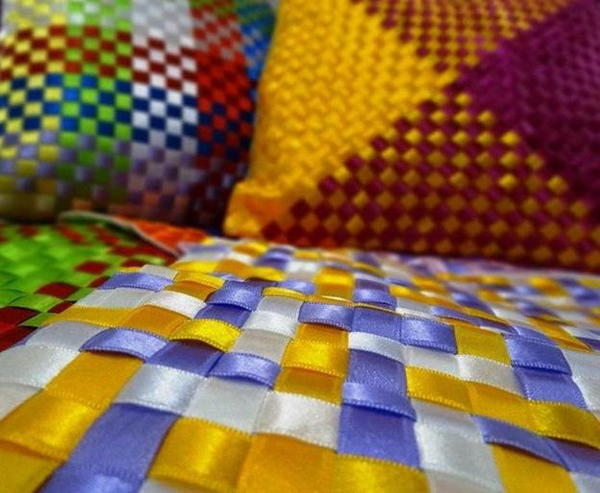 These are great cushions made from recycled ribbon you have at home. It is a great idea for this time of the year to re-use things for different purposes. The use of different colors is just the spice for this awesome beauty. Add a touch of elegance to your home décor with these DIY Ribbon Cushions. This easy and elegant project is a great way to add subtle color and texture to your furniture. Using your favorite patterns and colors, you can customize these cushions for every room in your home. Choose a few ribbons and begin sewing!
DIY Easy Ribbon Hair Bow
Add style and flair to any of your hairstyles with these easy ribbon hair bows. Using a simple butterfly knot, you can learn to make your own hair accessories at home, in no time! The DIY ribbon hair bow is a very simple project that anyone can make with the slightest skill of crafting. It's really easy to make, using a hair clip or an elastic band. You just need to choose your favorite colors and simply sew on them. In short, it's fun having colorful hair accessories for your hair.
How To Make A Ribbon Cockade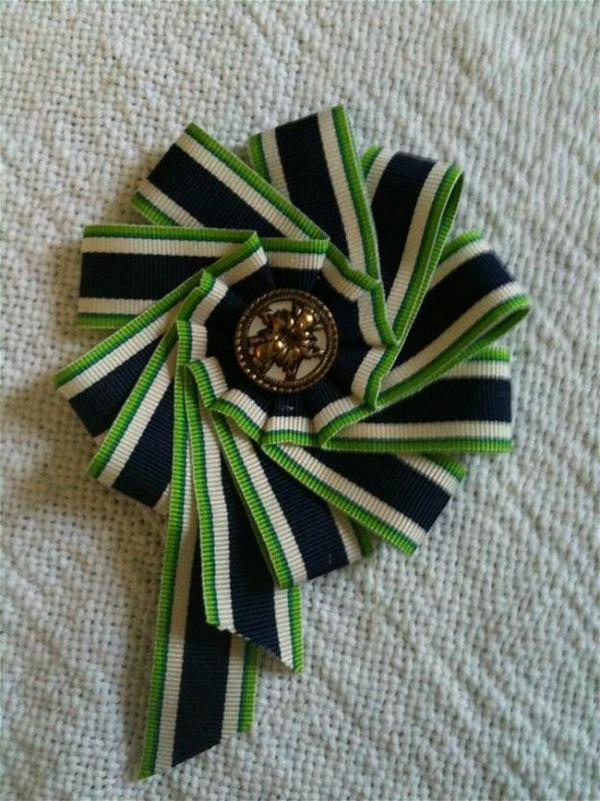 You can always create something new out of the old with the DIY ribbons. Your children can all have this beautifully handcrafted for them for school purposes. They will be the talk of the whole school. You can try waxing the thread to reduce twisting as it is being sewn, or else you will have to stop and cut it every thirty seconds! If a flower is too difficult, try making a bow, a butterfly, or an animal figure. The basic ribbon knot and ringlets are relatively easy to master but can make any little girl's hair stand out from all the rest.
Christmas Ribbon Star
Christmas Ribbon Star is a fun and easy way to add some flair to your seasonal decorations. This star-shaped piece of Christmas art features a fabric, ribbon, and glitter base that can be hung in a few different ways due to the yarn loop at the top. You bake it in the oven and then sew edges so it never falls apart. You can also use the Christmas Ribbon Star to decorate Christmas trees in your home or office. The star is made of ribbon and has an attractive shimmering silver finish that adds a wonderful look to the decoration. This shiny Christmas ornament will be an excellent addition to your decoration collection.
DIY Ribbon Textile Bracelet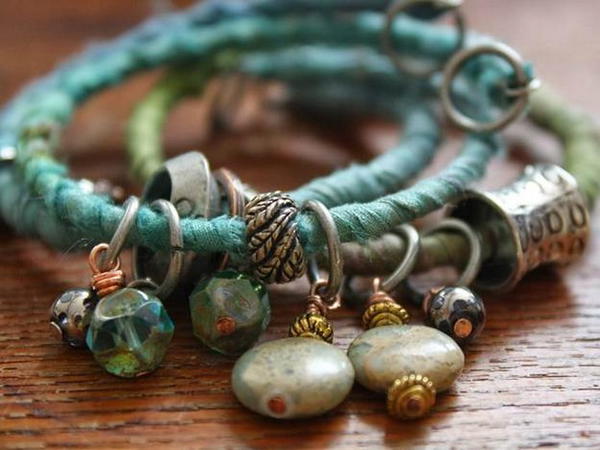 you can make a DIY bracelet at home by just using your creativeness and your love for different things. With DIY Ribbon Textile Bracelet, you can make your wrist adornment with the most beautiful and colorful ribbons. Choose from a variety of colorful ribbons that match your attire and get them adorned around your wrist. It is a great way to style up those attires by having the best-suited ribbon around your wrist. It is very comfortable to wear and gives a ravishing look. The best part is when you find yourself wearing a DIY bracelet you made all by yourself!
How To Easily DIY Ribbon Hair Bows
Making a bow from the ribbon is always a beautiful accent to your Christmas presents, hair, and even fashion accessories. Making a bow out of ribbon is actually simple. You only need to grasp the concept and you are good to go… To add some style, wear it on your favorite jacket or dress. You can never imagine how much you can achieve with ribbon until you try making a bow. Now you will be able to delve into the wonderful world of making your own party supplies.
DIY Friday Ribbon Curtain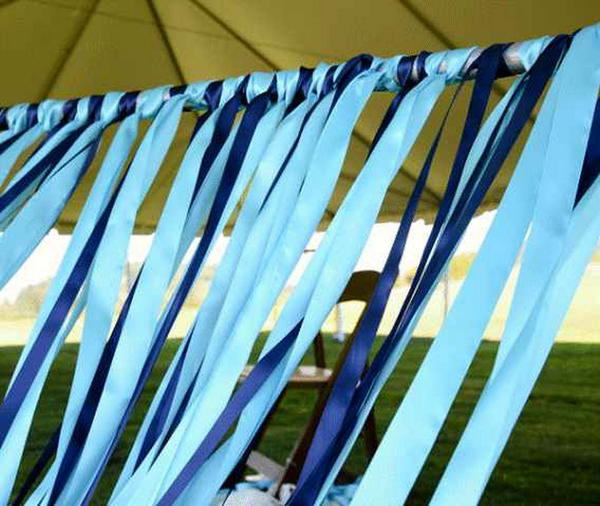 Are you looking for a cool and cheap way to add some privacy to your home? Well, they don't come much cheaper than this ribbon curtain. And the best part is, you can make it yourself if you have those pretty pieces of ribbon lying around at home. This is a simple craft that can be fun for the whole family and may be best in various ways to personalize your space. This is one of the simplest DIY ribbon crafts that you can come up with. Just wrap pieces of ribbons around a firm rope and design the tips to be creative. If you have an unused curtain rod at home, use it for the curtain and give your room an upgrade.
DIY Ribbon Art
Give your crafts a dimension you may have not thought was possible to achieve. Easily make beautiful bows, embellishments, and other ribbon craft projects. With a little creativity, you'll be able to use this do-it-yourself kit to customize your own unique ribbon designs! Ribbon art seems to be the latest style trend in home decor. People are increasingly adding these colorful and eye-catching arts to their home interiors. Let's try this DIY ribbon art today! This can also serve as a perfect gift to your friends on special occasions.
DIY Paper Award Ribbon Father's Day Craft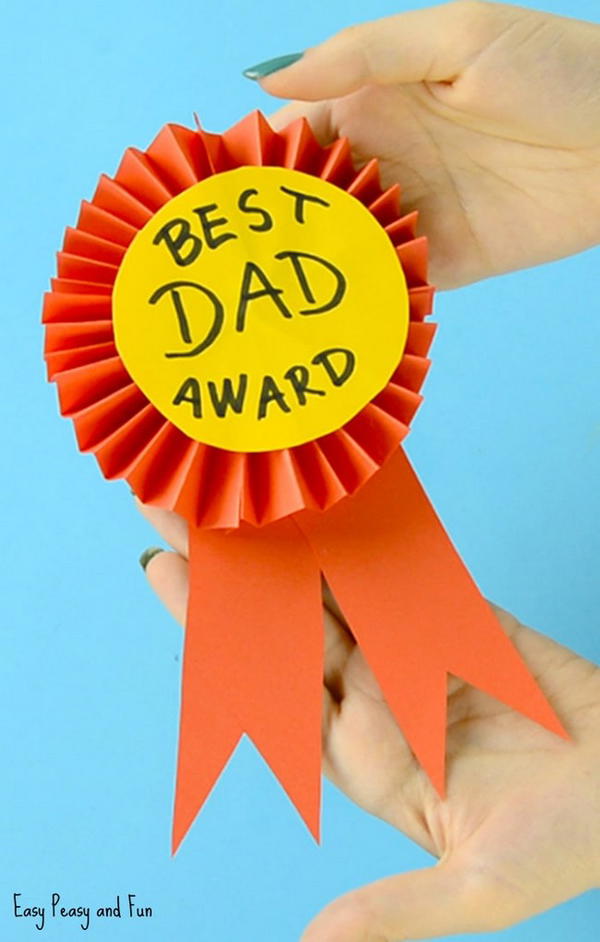 If your Dad is the best and you want to let him know, check out this cool craft from kids' handprint artists. This is a fool-proof, easy-to-make DIY paper award ribbon craft for kids. All you need is a printed certificate of appreciation, scissors, and glue and you'll have a special certificate for Dad that he can display with pride! Show dad how much you appreciate all he does by making him this fun award ribbon craft. Hang it up in his office, bedroom or give him a special homemade gift. This easy-to-make paper ribbon is perfect for the whole family to make together.
How To Make Trendy Upcycled Planters With Velvet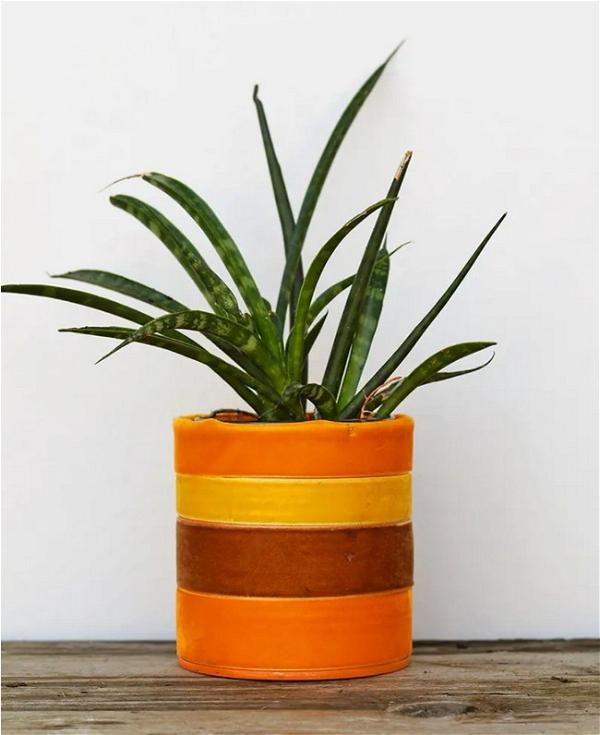 Plant lovers love a good upcycled planter. Add a touch of trend to your plants with this DIY upcycled velvet planter. Start by adding coral spray paint to the inside of your planter and let it dry thoroughly. They just feel so personal—and they speak to our creative side, too. These velvet-covered pots may be the chicest ones we've ever seen, and even better, they're super easy to make at home. Best of all, with just two items (and a plant, of course), you can remake your entire plant collection or find new homes for the houseplants that never found their way into your current collection.
Ribbon Chandelier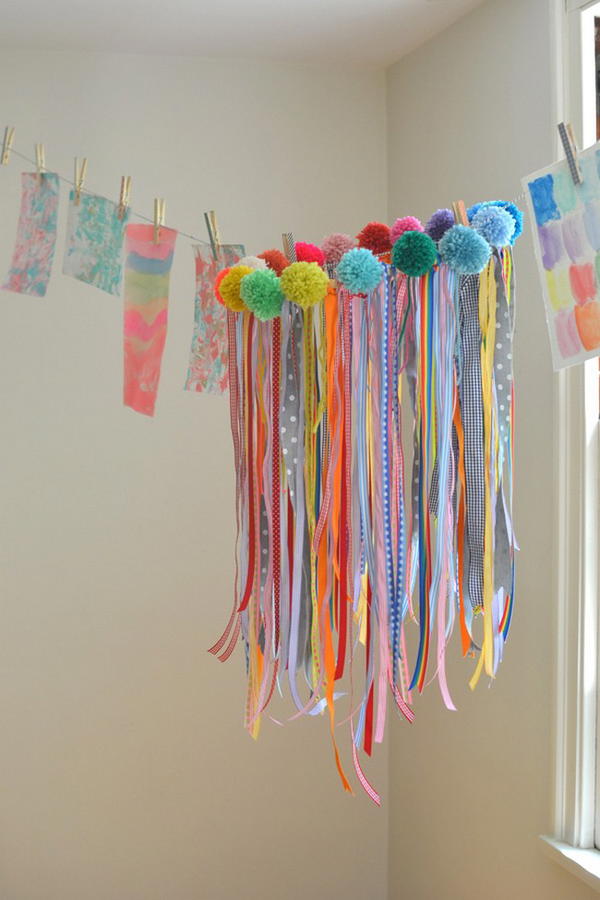 Brighten the room with this chandelier, shaped to look like a ribbon. The sparkling fixtures arranged in a spiral design can take any room from drab to fab. The Ribbon Chandelier is a breath of fresh air. Its sculptural shape is buildings and sounds of a lively city street. Made of hand-shaped iron ribbon, it creates a geometry of light and shadow when illuminated. The Ribbon Chandelier is the perfect addition to a range of spaces, whether it be a dining room, entryway, home office, or bedroom.
DIY Ribbon Vases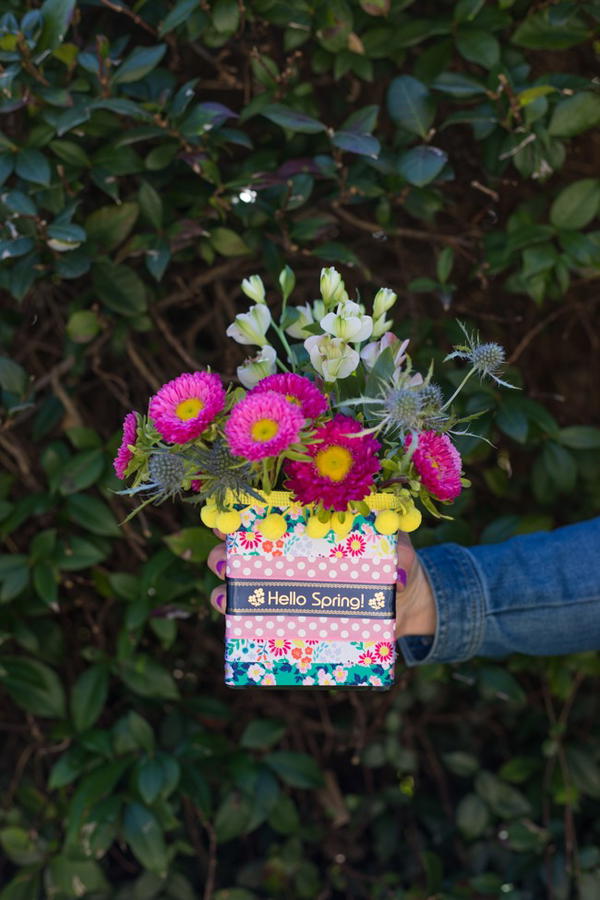 After some spring cleaning, it's a good idea to throw open the windows, strip the bedsheets and start fresh! Streamline your bedroom with these simple ideas. This guide shows you how to design your dream bedroom with DIY projects for updated bedding, new furniture, and modern wall art. Blooming with style and creativity, this DIY ribbon vase is the perfect spring home decor piece. Customize your DIY ribbon vase with a cheerful spring saying to display in any room of your house. All you need is a glass jar, some colorful ribbon and spray paint, and a Brother P-touch Embellish ELITE Ribbon & Tape Printer!
DIY Doily Dream Catcher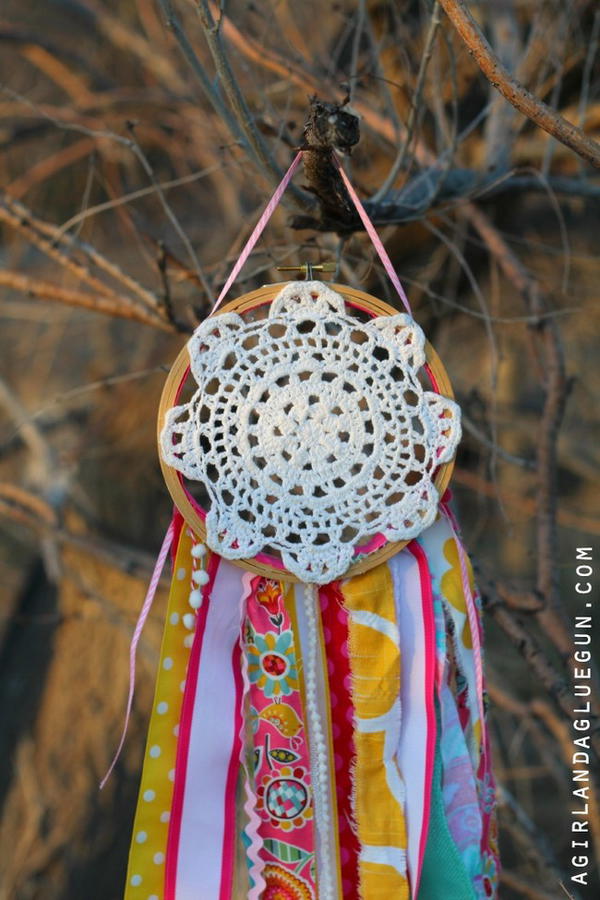 A fun project to do with the kiddos! This DIY Doily Dream Catcher includes everything you need to create your own dream catcher. Create a vision of tranquility in your bedroom with this handcrafted dream catcher. Embellished with a vintage-inspired lace doily, this hanging adornment is meant to catch good dreams and keep out the bad ones. Perfect as a gift or hang it in your home for a unique, crafty decoration. Make your own trendy dream catcher with this fun DIY kit. Includes everything you need to create a beautiful handmade home decor piece and make some lovely memories with your friends.