Umbrellas are the perfect accessory for any rainy day, but most of the time, we're stuck purchasing one off the shelf. However, it's possible to turn your umbrella into a stained-glass lampshade or even convert it into a tote bag. DIY umbrella ideas have never been so popular! If you need to turn an old sunshade into something new and exciting, plenty of DIY tutorials are available. But if you want to DIY an umbrella with raw supplies, we will get you covered with our decent list of ideas.
DIY Umbrella Ideas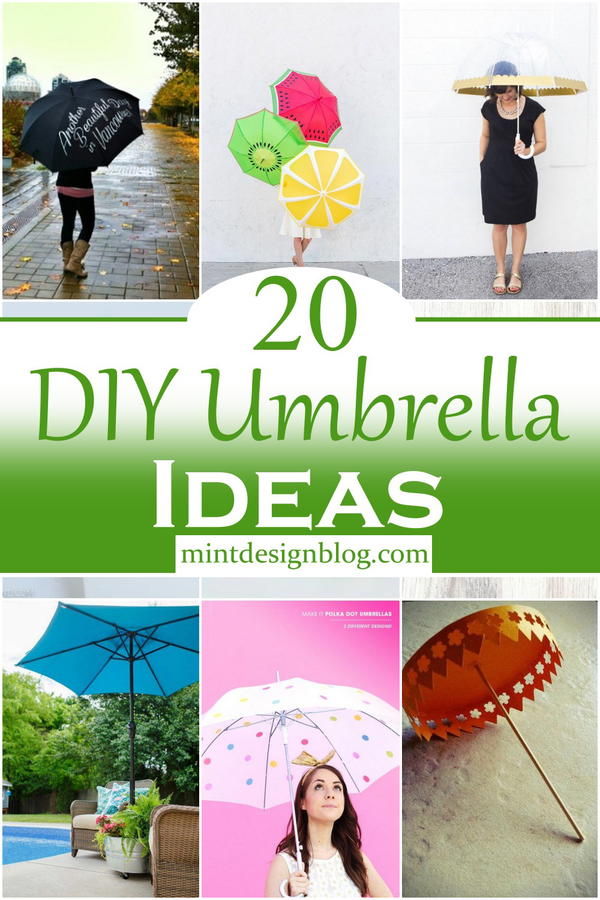 You can make your trendy umbrella at home. Yes! You have heard it right. Guys, all you need to buy is an old parasol in good working condition and a lovely piece of fabric. The rest is simple, but it requires some hard work from your side. There are some excellent DIY Umbrella Ideas that can provide a completely new look to your sunshade and make it worthy of use in any weather condition. This will not only save your money but also make you happy by creating a stylish umbrella of your own choice.
How To DIY Umbrella
You've got your umbrella, and you're ready to brave the rain, but you want something a little different. You want to make it your own, to express your personality and style. Here are some great ideas for DIY umbrellas:
Paint your umbrella using acrylic paint.
Draw on your umbrella using markers or crayons.
sew patches onto your umbrella using embroidery thread and a needle.
Create a pattern by cutting out shapes from construction paper and gluing them onto the umbrella's canopy.
Benefits Of DIY Umbrellas
Protect yourself against the sun and rain while on the go
DIY umbrellas are cheap and they are easy to make
DIY umbrellas provide more comfort and style in bad weather conditions
Umbrella features are specific to your needs
Be prepared for any kind of weather with a DIY umbrella
DIY umbrellas cost less than retail styles and they can really save you money.
Brand it with your logo for an extra touch
Customize your color and print options to appeal to different markets
They will always be better than factory-made umbrellas
DIY makes it easy to stand out from the crowd
Rolling Umbrella Planter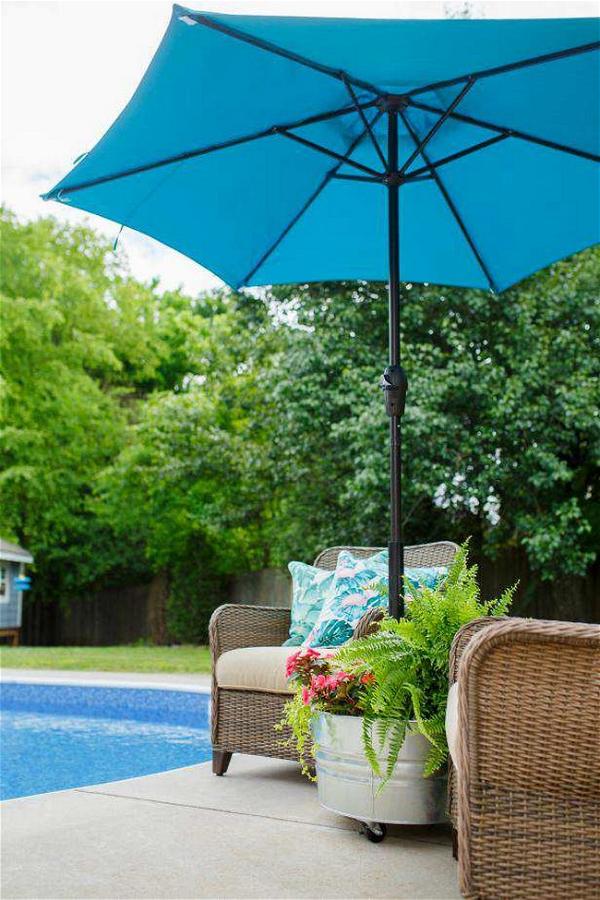 Having a shady spot to relax in your garden or patio can be a real treat when the sun is shining. But, digging a large hole and installing an umbrella base can be messy, so why not use a handy planter instead! It's more stable, and you can plant flowers or herbs once you've finished. This versatile product will blend perfectly with your garden furniture, making it the ideal addition to any outdoor space. This Rolling Umbrella Planter eliminates the hassle of finding a sturdy base for an umbrella in your yard or patio. The planter can also be filled with soil to grow flowers or plants if you prefer.
Decorative Paper Umbrella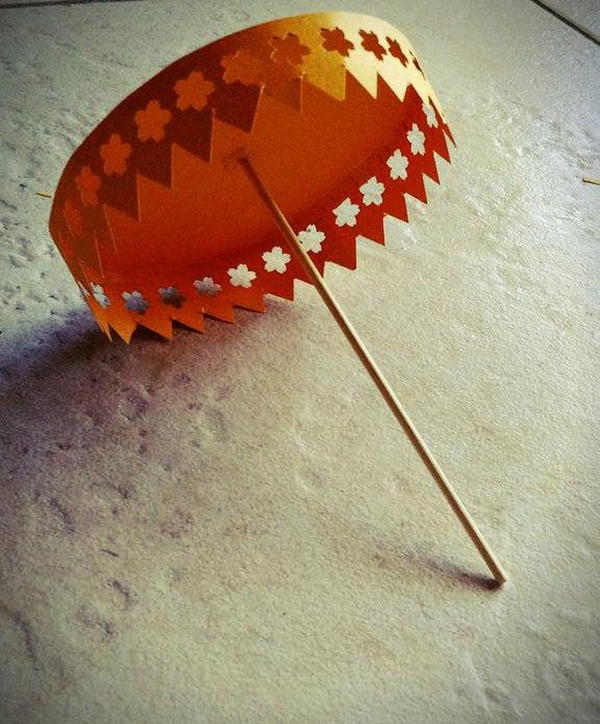 Even though a cocktail doesn't require a parasol, this decorative paper umbrella is too cute not to include! For those who love the look, but don't drink the drink, this adorable Asian craft project is the perfect way to jazz up some pretty party favors. With some basic materials, you could even whip up a bunch to decorate your party area. And you're to craft a cute design using everyday supplies. All you need is your favorite washi tape, scissors, robe hook, and stretcher bar for secondary ribs with plastic cover.
Polka Dotted Umbrella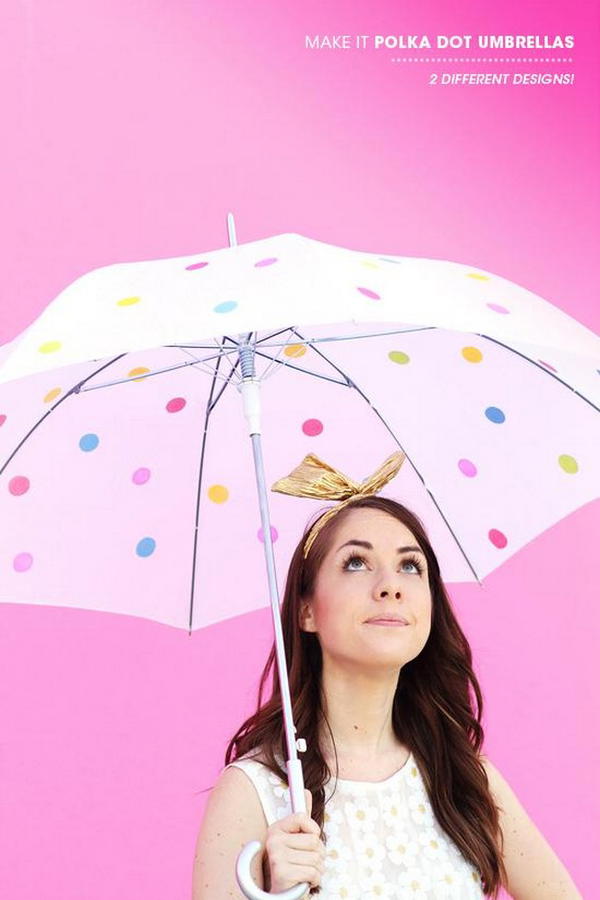 Funny and cute with polka dots, this is the best way to show your personality on rainy days. Polka dotted umbrella, adding a little white polka dots to a plain old umbrella can transform its entire look. Polka dots are so easy to do & instantly update your look! Your fantasy umbrella is just an idea away. Build your own umbrella by selecting the elements according to your wish and making sure your project looks unique. It is cute, colorful, and well constructed. Due to the bold design of this umbrella, it is easy to spot in crowded areas or on rainy days.
Multi-Color Paper Umbrella
If you like to spend your free time in nature, the smart idea is to have a paper umbrella. Actually, it's meant to be a decorative umbrella for your home, which can be put on the table as well. It's more than an umbrella because it also helps you spend a holiday with friends and family. It can not only decorate your life but also is a perfect gift for your friends. This umbrella uses environmentally friendly paper as the leading material, so it is healthy and pollution-free. With a unique and beautiful design, it will make you stand out from the crowd and become more elegant and charming.
Simple Cocktail Umbrella
Gift yourself a product that renders your experience with umbrellas to be engaging and delightful. From dinner parties to summer barbecues, bring festive cheer to your cocktails and mocktails with these colorful cocktail umbrellas. Made of paper and wood, they're packed in a reusable metallic tin. Enjoy fun-filled parties with the cocktail umbrellas around! This can fit into any pocket size and is comfortable to carry anywhere. This is a bright and colorful cocktail umbrella. It looks great and is nice to have in your drink. Great for entertaining.
Giftable Umbrella Card
Give the gift of a rainy day with a super cute card that reveals an umbrella once unfolded. Give the gift of a rainy day with a super cute card that reveals an umbrella once unfolded. This would be perfect for weddings, baby showers, and more! It has an attachment of folded paper to an interior surface of a card thanks to the design with a slot and tab on the border of the paper, which causes it to hold onto the card. You don't have to use a fixed pattern or color, it's all up to you!
Painted Galaxy Umbrella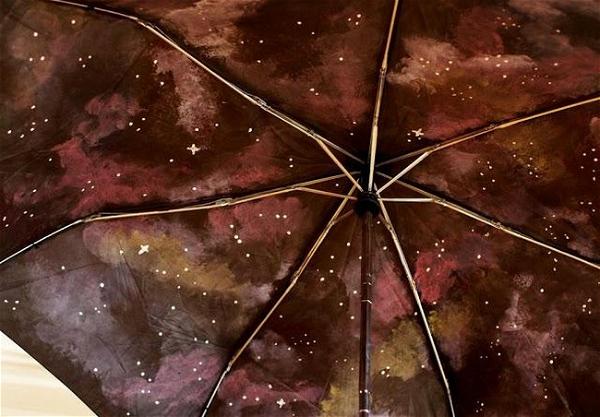 It is a wise decision to have an umbrella even during the sunniest days. Still, you can never be too prepared. And having one as eccentric and lovely as this will do nothing but add joy to every raindrop showering over your umbrella. Rainy days are not all gloomy when you have our hand-painted Galaxy Umbrella to brighten up the gloom. It's simple. You will be able to see your Umbrella transform from black to a beautifully painted galaxy in no time. This umbrella has been designed by our expert crafters and is sure to keep you dry and entertained.
Homemade Origami Umbrella
Make one of your favorite rainy weather survivors – an origami umbrella. Paper umbrellas are used as decorations, so it's no surprise to see homemade ones made of paper. This tutorial shows you how to make a cute umbrella using origami paper and a popsicle stick. It perfectly fits into the springtime atmosphere while giving your room some extra decoration. This umbrella toy is simple but so much fun to play with. Use a variety of colors and materials to make your own DIY miniature paper umbrella, the use is only limited by your imagination!
Umbrella with Cricut Design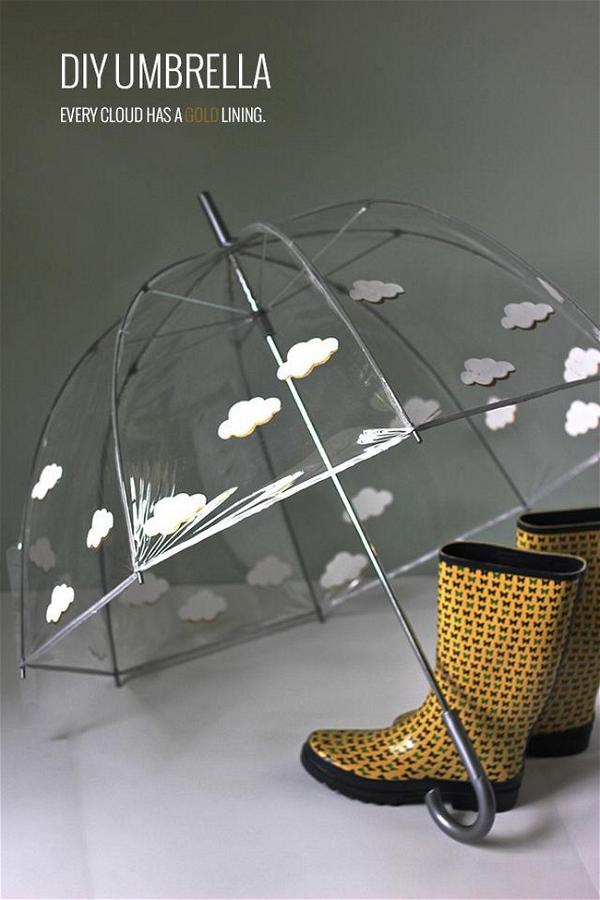 You can shape this transparent umbrella into any pattern. The lightweight material and matte finish do not reflect light, so you can stand out easily. Get a design from Cricut's images and patterns, then transfer your choice onto the umbrella for forecasting. This chic umbrella with a design makes your rainy days exciting. Turn your umbrella into a viable shelter to present distinct patterns easily. Allowing you to customize your umbrella to perfectly match your style, the cutting machine software lets you create any shape you can imagine.
Gold Scalloped Umbrella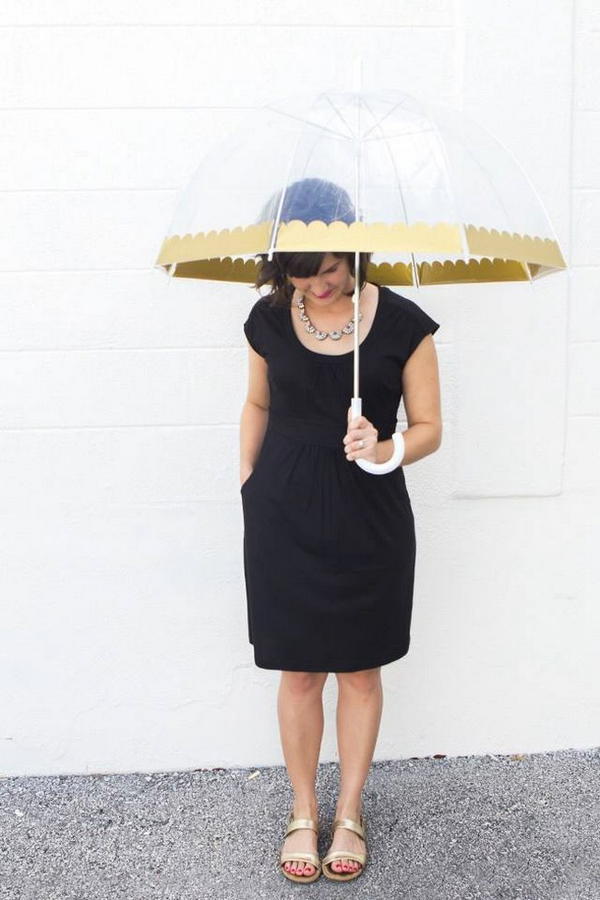 Need a rain shield that can resist the heavy wind? A gold scalloped umbrella is what you are looking for. Transform a simple umbrella into this beautiful gold-rimmed beauty. This scalloped umbrella will bring a dreamy feel to even the dreariest of days. Imagine having this beautiful gold umbrella as your accessory on a rainy day, what a look! It features a trendy golden color, so it will never be out of fashion. The free cutting files provided make it possible to create such an umbrella for your own.
Personalized Umbrella Twist
Add a dash of personality to a rainy day with this super fun and customizable umbrella. Get creative and spray paint the removable tape along the inner part of the umbrella. Remove the tape once you're satisfied with your design and there it is your one-of-a-kind umbrella! Customize your umbrella to match your style with this personalized twist umbrella. These custom umbrellas are easy to design, lightweight, and wind-resistant, with a steel shaft, comfortable handle, and matching sheath. Whether you are looking for traditional street-quality umbrellas or golf & arc style umbrellas, we have got something for every occasion.
Tiki Umbrella Décor
This tree-like umbrella is cheery and cute, but at the same time, it is a unique and sophisticated project. The decorative Tiki Umbrella is a surprising piece of art that is eco-friendly as well. The tree-like umbrella will surely cheer up any indoor celebration or party and can be used anytime and anywhere you want. And making it isn't difficult at all. So get those things needed and follow the tutorial to make your own Tiki Umbrella.
Painted Patio Umbrella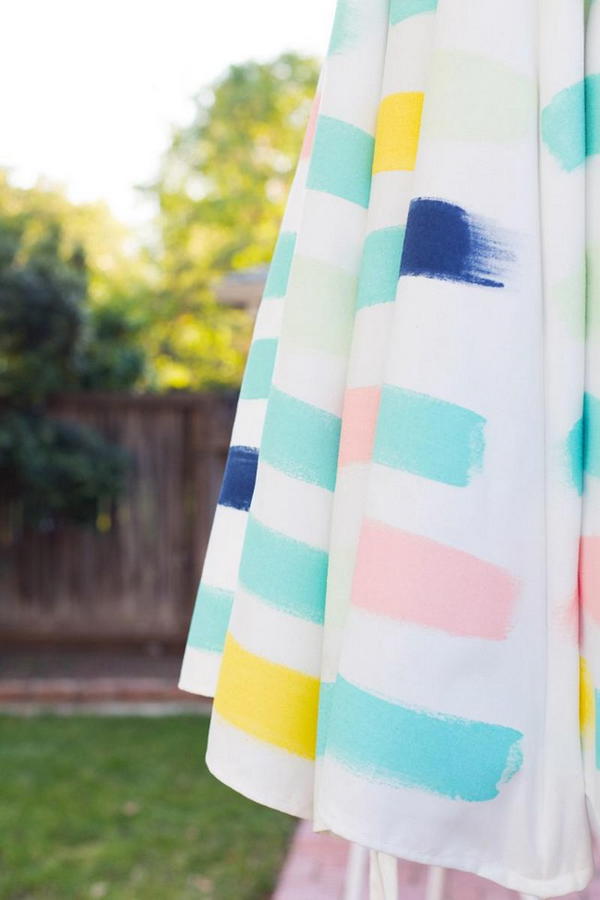 Spruce up an outdoor umbrella with an easy-to-achieve faux design that will complement your summertime soirees. The Painted Patio Umbrella steps up the design of your patio with some gorgeous color. Add it to your garden parties and gatherings to make the barbecue nights more delightful. This beautiful umbrella can come in handy while going outside on sunny days. For a quicker refresh, apply a new coat of paint to your existing umbrella. Painted stripes and eye-catching patterns transform drab shades into looks that stand out from the crowd. All it takes is some painter's tape and exterior latex paint in your preferred hues to complete.
DIY Painted Umbrella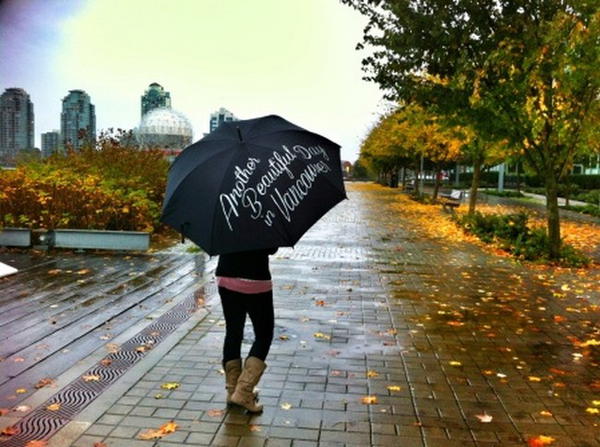 Looking for a hands-on project? The DIY Painted Umbrella allows you to create your own work of art on an umbrella. The included black umbrella makes a dramatic background to whatever art you want to create. Don't be afraid to express yourself with DIY Umbrella. You can write or draw anything you want on the smooth black surface. It's the perfect project for your creative side. DIY Umbrella is the perfect way to create your own unique artwork. Use any paint, pen, or ink to turn a blank canvas into a work of art. It will be a DIY accessory to give as a hostess gift or make your own as a rainy day project.
Standard Self-Made Umbrella
Are you looking to decorate an umbrella and turn it into a delightful indoor decoration? Now you can! This DIY umbrella-making kit is the perfect addition to your crafting tools, supplies, and accessories. It's ideal for sewing fans, crafters, dressmakers, and makers of all ages and experience levels. Use your imagination to create a unique combination or follow one of our ideas.
Those who have nothing on hand at the moment, especially on a dull afternoon, are urged to find time to make a simple black umbrella. With the help of a cloth, scissors, and other materials on hand, they will be able to complete the handmade project easily.
Fruit Slice Umbrella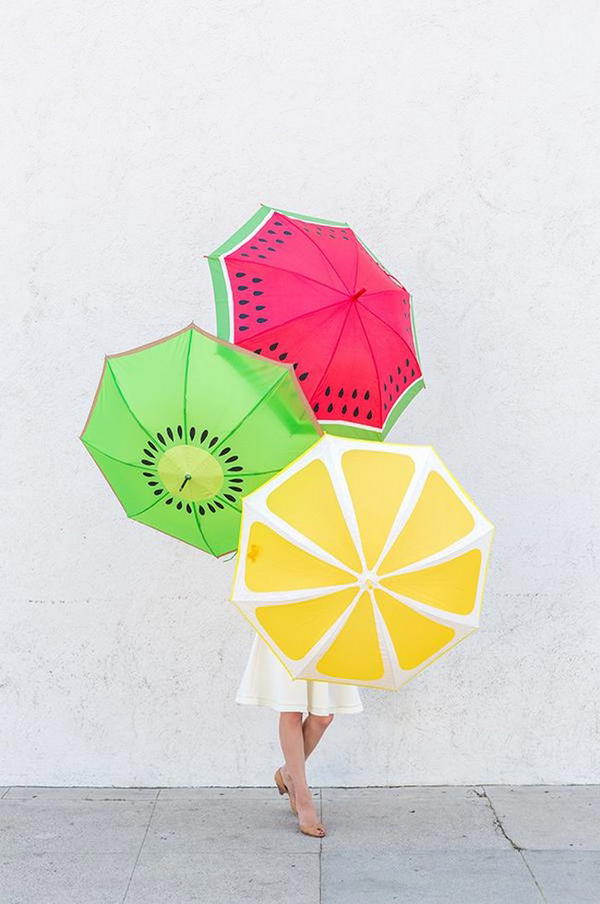 A phenomenon that is much in vogue these days, the Fruit Slice Umbrella comes ready to turn your umbrella into a giant sliced fruit. You'll have to use particular painter's tapes to establish the basic pattern. Great for kids or as a fun gift, show off your unique personality with this fruit-inspired accessory. The main benefit of the umbrella is to protect you from rain, snow, and sun. The Fruit Slice Umbrella adds a new dimension by turning your umbrella into a giant sliced fruit. It's designed to be made with painter's tapes in three different fruits – lemon, watermelon & kiwi.
DIY Hanging Witch Umbrellas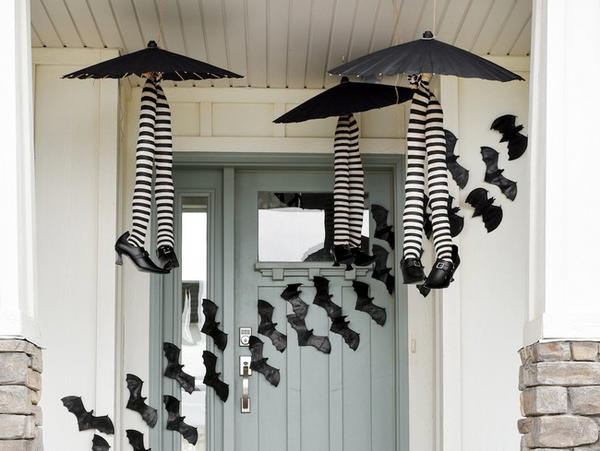 Create your own hanging witch for Halloween. Everything you need to decorate these adorable, witchy umbrellas comes in the kit. Use the Halloween-themed tapes and stickers to create your witches' hair, head, and features. Then, hang them from a tree or on your porch to greet trick-or-treaters as they pass. This DIY Hanging Witch Umbrellas Kit comes with everything you need to make a witch umbrella to hang from the ceiling or on a door and stand at the bottom. It contains a sturdy plastic base, umbrella handle, umbrellas canopy, and clear fishing line for hanging.
Kid Painted Umbrella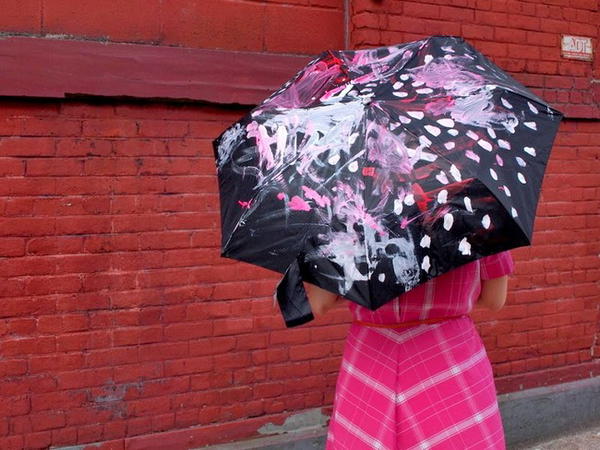 Every kid will want to go for a rainy-day stroll with this umbrella. The colorful design on the canopy is created by one of our children's artists. It'll look especially charming poking out of a raincoat sleeve! This generously sized umbrella has hand-painted, age-appropriate patterns. Safe for children to use, the canopy has no sharp points and makes it a great gift for ages 4 and up. It looks beautiful in the finest of homes, becomes an even more treasured keepsake when given, and offers kids a chance to express their creativity.
DIY Drink Umbrella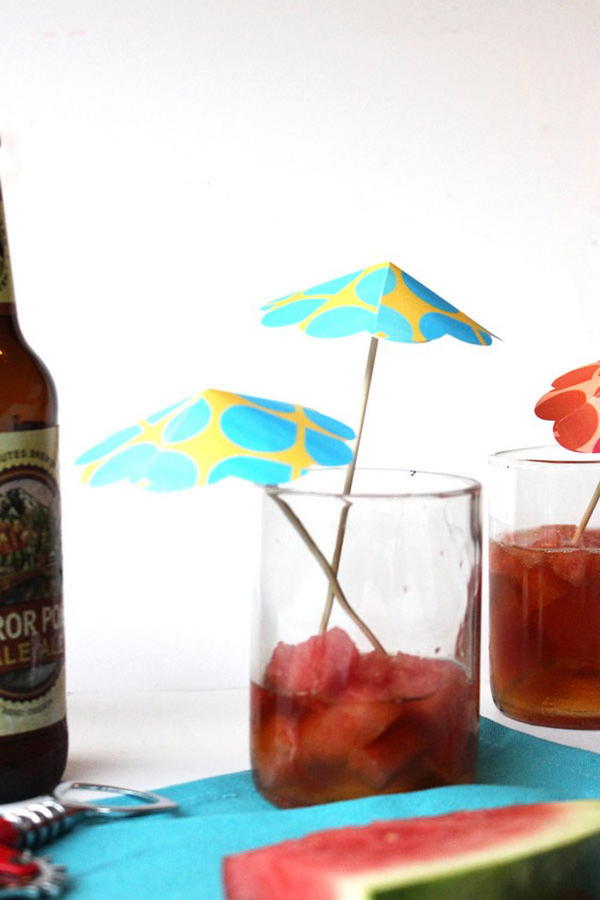 With this fun DIY Drink Umbrella kit, you can create colorful decorative paper umbrellas for your favorite drinks. This all-inclusive kit comes with everything you need to make ten cocktail or mocktail umbrellas. The easy-to-assemble paper umbrella makes ordinary cocktails into extraordinary ones, and their bright colors add an island flair to any drink. Add excitement to your favorite drinks with whimsical DIY Drink Umbrellas. The kit contains everything you need to create your own colorful tropical paper umbrellas. Display them in your tiki bar or add them to your favorite tropical drink for a fun, festive effect.
Three Simple Umbrellas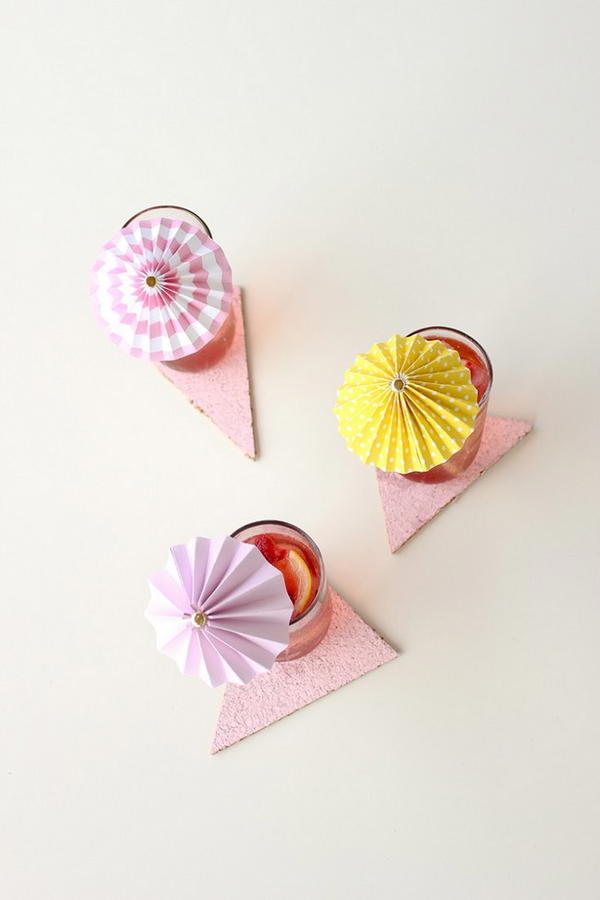 This umbrella's clip art is easy to brighten up your next set of DIY projects, gift tags, or even add a cute watercolor style dimension to your summer party invites. There's nothing better than iced tea on a hot afternoon. So why not create some outdoor refreshment stations to make it easier, then gather up your friends and family for a little porch party? Just hang two or three umbrellas above a table or picnic bench, then fill mason jars with colorful straws, napkins, and serving utensils. Now all you need is some sweet tea, and the weather will be just right!