What is a tiki torch? A tiki torch is a pole-mounted device that uses a fuel source (such as kerosene) to hold a flame at one end. The flame itself is often protected by wicker or metal to keep it from burning the user or surrounding objects. Tiki torches are usually placed on tables near outdoor seating areas, such as patios and decks, to create an intimate atmosphere and light the area for nighttime entertaining. They can also be placed along pathways or in gardens to help light the way when it gets dark outside.
When it comes to home decor and general aesthetics, Tiki torches are a great way to add a little spice. All in all, the right style of Tiki torches is a great addition to themed parties, outdoor sit-outs, and a nice way to light up the yard. The best part is how you're free to customize your torches however you deem fit without worrying about money spent!
DIY Tiki Torch Ideas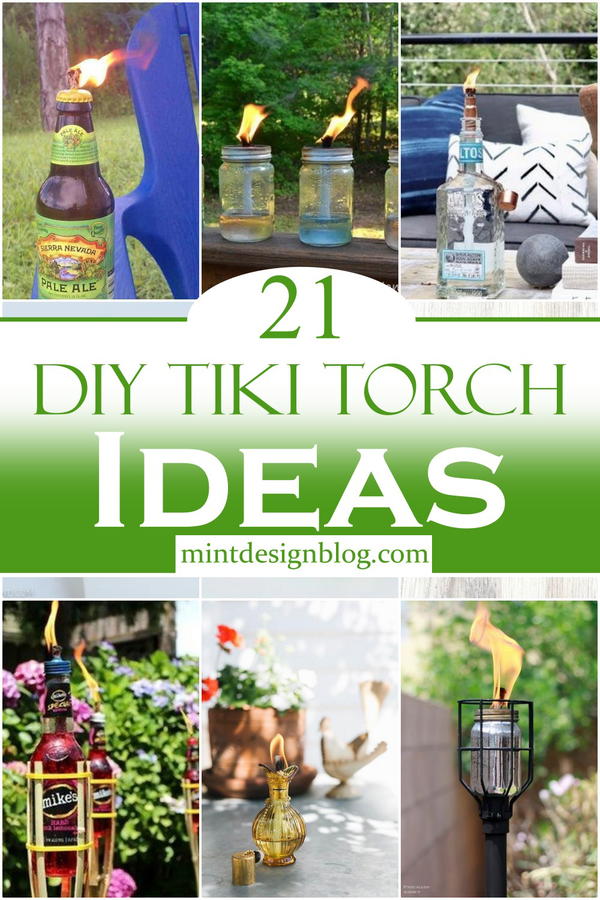 Transform your backyard into a paradise with one of these 21 DIY Tiki torch ideas. They are perfect for lighting up any outdoor space and they are also purported to dispel mosquitoes and other insects when paired with citronella as fuel. Not only do they add a tropical theme to your backyard, but they are low-cost and easy to make. A tiki torch is a wonderful way to light up your patio or backyard. They are also a great addition to any themed party. If you are planning on making this a regular feature in your home, then investing in some beautiful metal tiki torches is a good idea. However, if you only need them for the occasional party, then the DIY version will be perfect for you.
This collection of ideas will help you do great things with lighting, these 21 DIY Tiki Torch Ideas will brighten up your life and make you look like a crafty genius.
Uses Of DIY Tiki Torches
-Decorate your wall, deck, or yard
-Use it for special occasions
-DIY tiki torches are the perfect mood setters for outdoor parties
-Affordable and convenient because you don't have to spend money on hiring people to set up lighting
-DIY tiki torches are great for parties and get-togethers
-You can easily make your own using sticks and oil bottles
-DIY tiki torches are effective, safe, and decorative
-DIY tiki torches are a fun way to get together with friends
-They can be used for a variety of things
-DIY Tiki Torches can reduce your cooling bill
-DIY Tiki Torches are economical
-Tiki Torches are easy to make
Importance Of DIY Tiki Torches
-It's crucial to have good lighting and ambiance at your party
-DIY Tiki torches are inexpensive, easy, and not flammable
-Tiki Torches are not just for the beach
-Artisanal Tiki Torches can be made from things most people already have lying around
-Diy Tiki Torches are a unique and fun way to bring a rustic
-DIY Tiki Torches will give you and your friends more light, comfort, and warmth
-Get creative with lighting during your next backyard party
-Add more life to the decor of your home's exterior by using Tiki Torches
-Tiki torches are a great way to spice up your backyard
-DIY tiki torches attract more attention than normal tiki torches
-Find some nice ways to use DIY tiki torches in your garden, sunroom, or patio.
DIY Tabletop Tiki Torch
It's time to create a DIY Tiki jar of your very own. Your friends will definitely be impressed with your creativity when you show up at your next beach party with this DIY tabletop Tiki torch in hand. And, for best results, consider picking up a few bags of our Extra Fine Blend wood pellets – the most popular blend for making Tiki torches. Make your deck, garden or patio awesome with the DIY tabletop Tiki torch. With 3 simple steps, you can create an ultimate Tiki table set-up in your home. All you need is a jar and a few everyday materials.
DIY Tiki Torch With Mason Jar
If you're looking to give your yard a warm and welcoming glow, this DIY Tiki torch with a Mason jar is the perfect project for you. The beauty of this project is that it can be customized in any way you want, even while following the basic steps in this tutorial. So what are you waiting for? Grab a Mason jar and go create your own backyard oasis! This tutorial shows you how to create a pole stand for your torch, but feel free to get creative and find a way that fits in with your backyard décor. Once you make your own, there will be no stopping you – they look great lined along your yard, patio, or garden!
DIY Wine Bottle Tiki Torch
The DIY Wine Bottle Tiki Torch is a great project for wine lovers who want to add a little flair to their outdoor spaces. It's easy and quick to make, and you can use your leftover wine bottles for it too! Your new Tiki torch will give off an amber glow, which is both beautiful and functional. The citronella in the torch oil will keep the bugs at bay while adding some ambiance to your patio or deck.
When you need to light up your backyard, patio, or campsite, the easiest way is with a tiki torch. And since everyone likes to put their own personal spin on things, try making it with a recycled wine bottle. We'll show you how to do just that and even paint it in any color you want.
DIY Copper Tiki Torch
Try this design for making your own DIY copper Tiki torches. This simple, modern design is much easier to assemble than the traditional bamboo torch, which may require soldering. The DIY copper torches can be fastened on fast-setting concrete, which further simplifies the process. Whether you want to spice up your outdoor BBQ. Following our step-by-step instructions and video tutorial, these torches are simple enough for beginners, while the results will appeal to experienced metalworkers.
Tiki Torch Bottle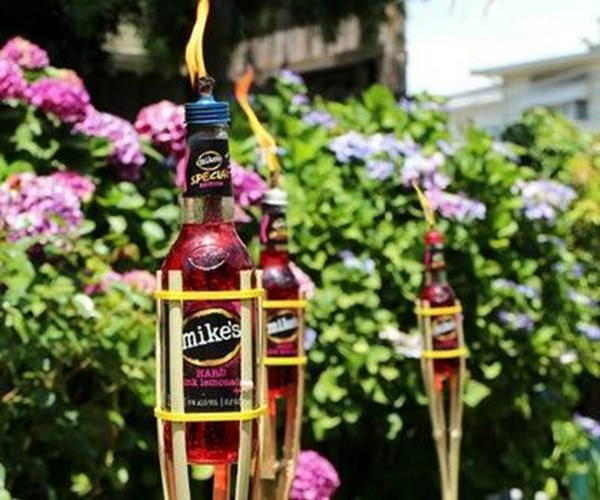 Take your camping trips to the next level with these DIY Tiki Torches made from beer and wine bottles. Not only will this keep the critters away in bear country, but it's also lightweight and easy to put together, making it perfect for impromptu picnics or camp nights. It's also easier to use kerosene lanterns that have the fuel built-in. DIY glass bottle Tiki torch works great as a last resort and is quite easy to make. Just fill up a glass bottle (typically a beer bottle) with kerosene and add some bits of steel wool. Light up the wool, let it burn for a few seconds and you're all set.
Glass Bottle Tiki Torch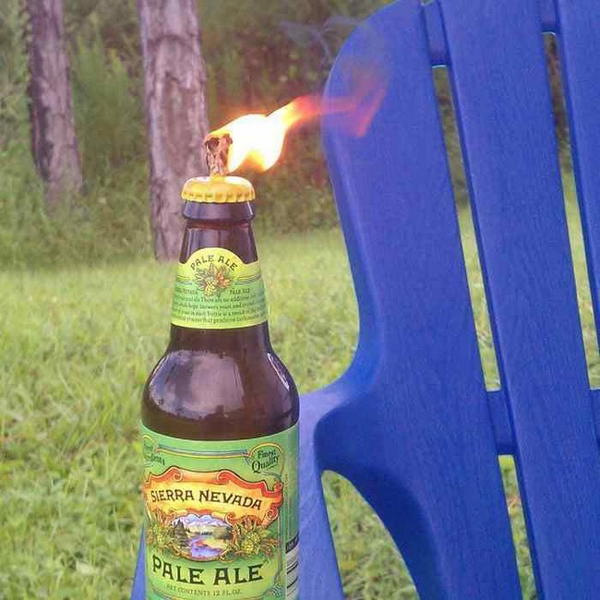 It's called the Wildcraft DIY Glass Bottle Tiki Torch. No batteries, no canisters, and absolutely ZERO waste. Instead of transporting an expensive, heavy torch you can use a 12 oz beer bottle you already have in your hand and a stick you find along the way. Genius! The glowing amber light is bound to add a little magic to any evening whether it's spent on your front porch or deep in the woods. And don't worry if the glass breaks, because it's all about the torch anyway. Just grab another bottle or leave it as an offering to the spirits.
DIY Wine Bottle Tiki Torch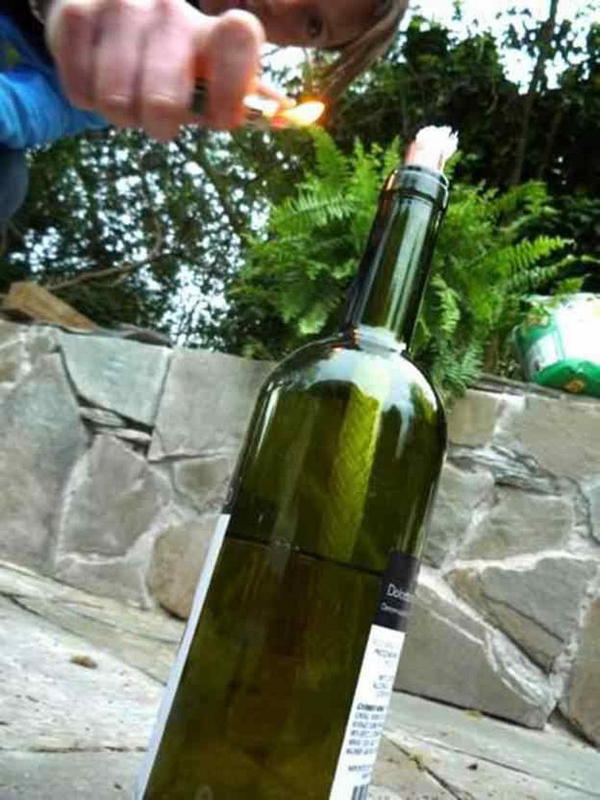 With this DIY Wine Bottle Tiki torch, entertaining outside doesn't have to end just because the sun goes down. It's easy to put together and helps keep pesky insects at bay. Simply fill an empty wine bottle with citronella, stick it in a wick and lighter, and you're ready to go! You can also use other oils if citronella is not available or if you dislike the smell of it. And for an added decorative touch, wrap the bottle in stylish paper.
DIY Mason Jar Tiki Torch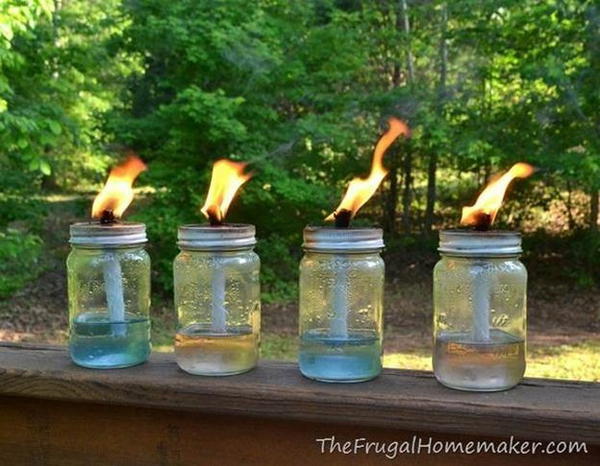 Mason jars are perfect for this project and can be picked up at a low price from your local department store. Mason jar torches are perfect for those who have the space to set these up because there is no need for a table for them to lean on. Just stick them into the ground, add citronella oil, and light them up! This tutorial will show you how to make a DIY Mason Jar Tiki torch in 5 minutes or less. All you need is a mason jar, citronella oil and a wick. Your tiki torches can look as cute or rugged as you wish - there are no rules!
DIY Tabletop Tiki Torch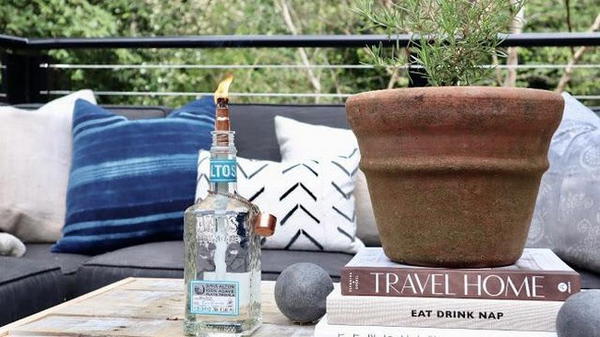 This is a fun project to do with your kids or even just by yourself. The tabletop Tiki torch can be created in minutes and will look great in any outdoor setting. All you need is the copper cap, coupling, pipe, chain and split ring, as well as a steel washer that can be attached to any propane tank you already own. With these simple instructions, you will learn how to make a homemade tiki torch that can be placed on any tabletop, shelf, or place you would like.
Easy DIY Tiki Torch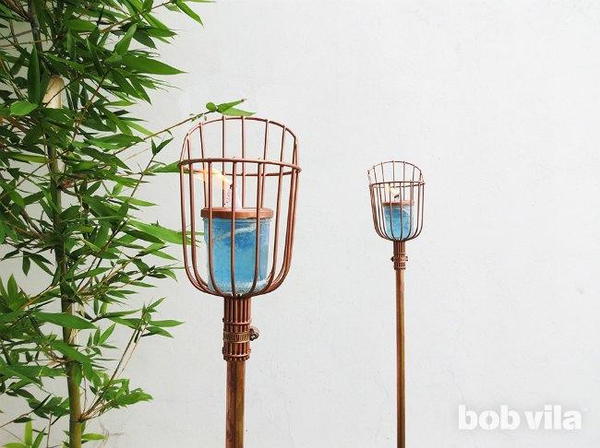 These DIY Tiki torches are the perfect solution if you want to add some backyard ambiance without breaking the bank. They are also useful to deter bugs while entertaining during the warmer months. Once you get to your outdoor party, set up these decorative oil lamps or tiki torches in the back yard or around a pool. You'll notice that an outdoor party isn't the same without them! The next time you host guests for dinner, take your outdoor table setting to the next level with this easy DIY Tiki torch. This tutorial will show you how to create a stylish and fun way to make an impact as part of your table decor.
Industrial Style Tiki Torch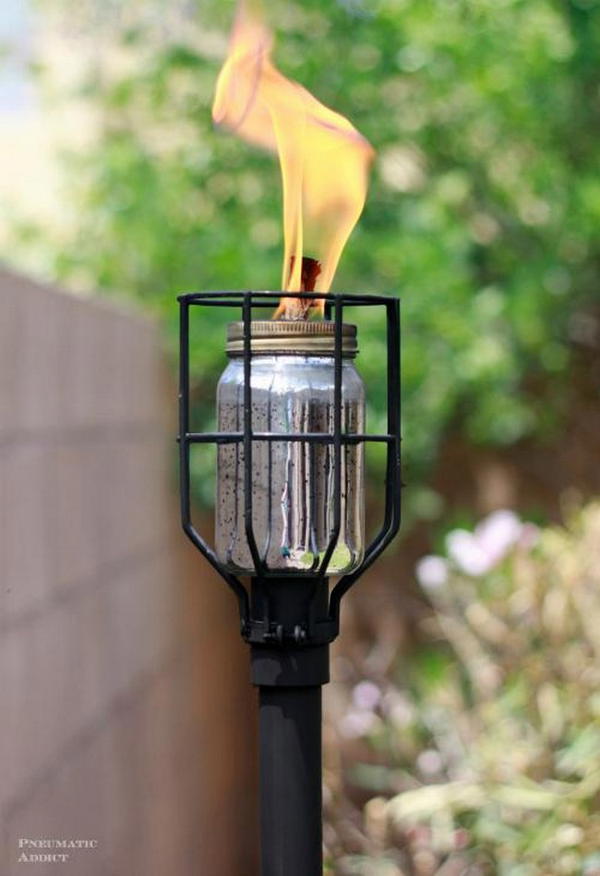 Looking for a Tiki torch that's made with style? Try this torch that has an industrial style. Made from fence poles and a steel light bulb cage, it's as easy to make as it is good-looking. Light up your patio or bistro set with this DIY set. This industrial-style DIY Tiki torch is perfect for outdoor party lover. It requires some basic materials and a little construction skill, but with minimal time and sense of pride in making something yourself, this project can make all the difference to your backyard get-together.
DIY Skull Tiki Torch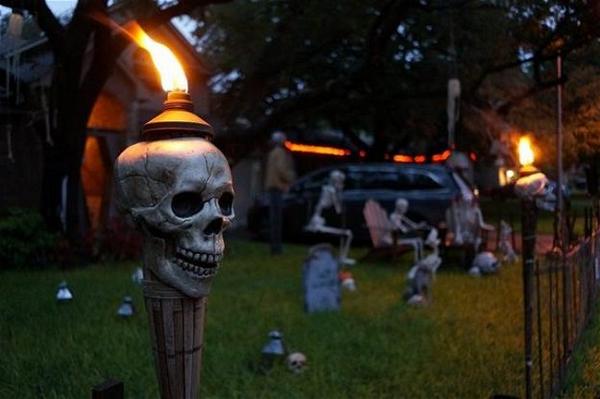 Whether you are looking to spruce up your outdoor décor or just want to impress For all the aspiring DIYers, these skull Tiki torches are a quick home project that will make an impact on any Halloween display. The items you will need are a plastic skull and citronella Tiki torch. These DIY skull Tiki torches are perfect for Halloween and make for a truly spooktacular night. With only a few supplies needed, the possibilities are endless when decorating with these fun treats.You will be able to complete them quickly and everyone will think you are super creative and crafty.
Mosquito Repellent Tiki Torch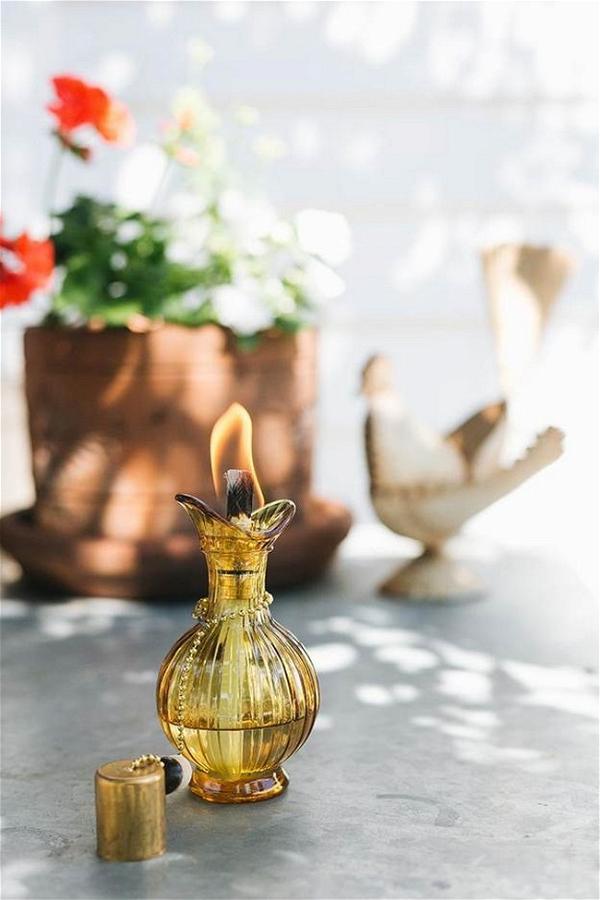 With the Citroen plant, wood and a simple steel can, you have all that you need to up your backyard comfort level with this Tiki torch. In order for this project to work, you need to drill a small hole in the middle of the old bottle cap so that the wick could stick out. The Tiki torch is filled with regular cellophane lamp oil and set on fire. Make a versatile outdoor mosquito repellent torch from an empty wine bottle, some rope and a few other household items. Light up your yard with these torches to keep the critters away!
Homemade Tiki Torch Out Of Can
Transform your backyard into a tropical oasis with a DIY Tiki torch made entirely from recycled materials. All you need is an empty can, some fabric or a wick, Tiki fuel and a few basic crafting tools to get started. This super quick and easy project will have your summer barbecue guests oohing and ahhing about the atmosphere you've created for them before they even take their first bite. This project is a fun thing to make with your friends, which you can then use to light your garden or yard. A fun and simple activity for the entire family.
Candlestick Tiki Torch
Your next dinner party isn't truly complete until you place these charming Tiki torches on your tabletop. They're the perfect size for a regular dining table, but perfectly capable of adding the ambiance you crave. Because they are easy to build and utilize everyday materials, this project can be completed quickly. The result is a lovely pair of candlestick-shaped Tiki torches that are perfect for outdoor dining without being cumbersome or awkward. This step-by-step DIY tutorial is easy to follow and will give you an end result of tiki torches that sit flat and won't fall over with the slightest breeze.
DIY Tiki Torch
Are you a beach or nautical obsessed? If so, why not have these on your patio! The best part of these torches is that you can customize them however you like! It's fun, easy and it'll make your backyard set-up extremely unique. You can customize them to fit any style you choose, from nautical blues to bright and bold tropical colors. We've given you some ideas to get started, but feel free to mix it up—you're the artist after all!
DIY Copper Tabletop Tiki Torch
Are you tired of those old, rusty oil lamps that come with cheap wicks and two tablespoons of fuel? Say goodbye to them and try a minimalistic yet more durable tabletop torch! The Do-It-Yourself (DIY) copper tabletop Tiki torches are sleek, sturdy, easy to make and offer endless possibilities in design. Not to mention they're super cheap to make – it's possible to make one for free with things you probably already have at home.
DIY Oberon Tiki Torch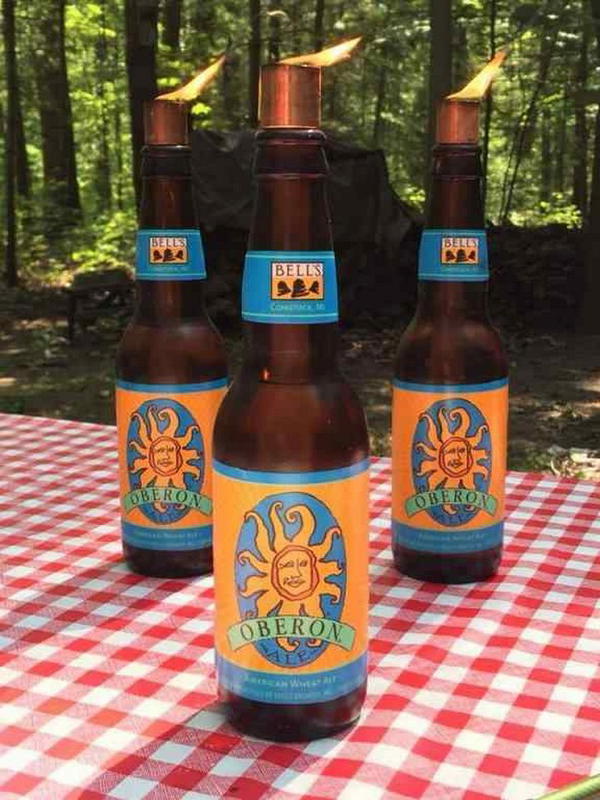 This DIY project is a unique and cost-effective way to add style, flair, and relaxation to your outdoor space. Follow these easy steps, using the materials and tools that come with all Oberon Tiki torches. You'll be able to make all of your favorite beer or soda brands into a Tiki torch for your outdoor space. Replace the Oberon Tiki torch in the tutorial with bottles of your favorite brand! This eco-friendly idea will keep the bottles out of a landfill, up-cycle them into something useful, and make you the talk of the party
Tiki Torch Tree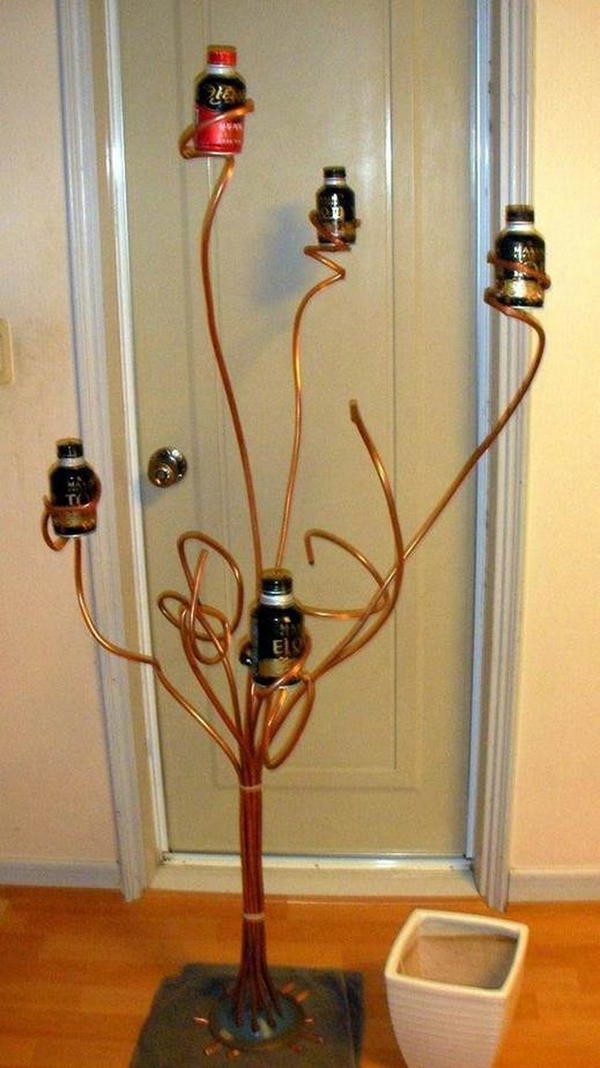 Give your garden a tropical feel with this simple and affordable DIY project. This will transform any backyard into an oasis. Perfect for nights basking around the campfire or entertaining in the backyard, tiki torches can be used to create a warm and inviting atmosphere. This project is a little more involved than the others, but it is totally worth the effort. With only a few materials and techniques, this Copper Tiki Torch Tree isn't just functional; it'll brighten up your home all year long. With spring around the corner, you won't want to miss out on this tutorial.
Tiki Torches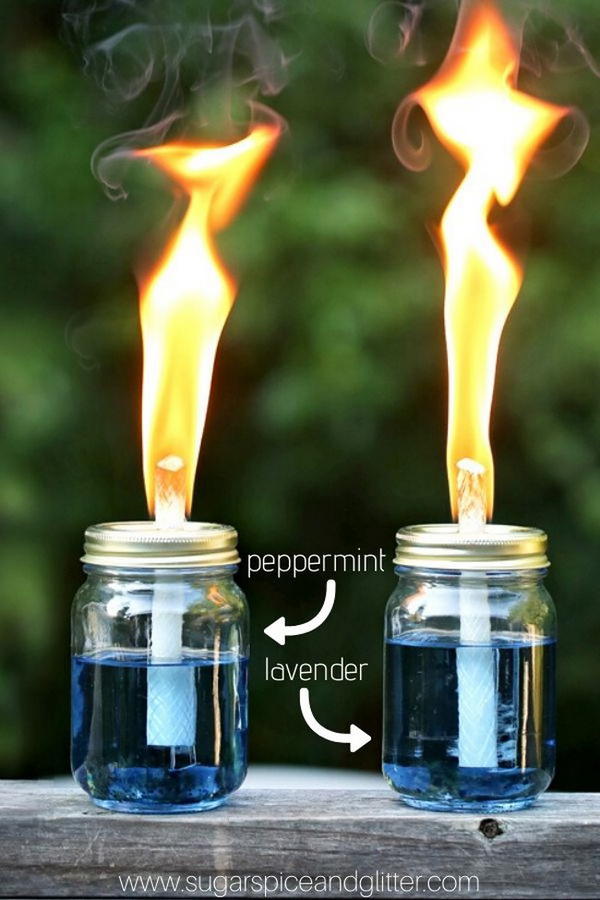 Keep those pesky mosquitoes away with these DIY Tiki Torches! With a few supplies from the hardware store and a few minutes, you'll have your torches ready to light. Once lit, these torches will illuminate your yard or patio, as well as provide beautiful decorations. Not only that, you'll enjoy the warmth of the flame and the wonderful aroma of citronella on a summer evening. Plus, mosquitos hate citronella! Keep you and your guests bug-free this season with these DIY outdoor torches that are sure to be a conversation starter.
Glass Bottle Tiki Torch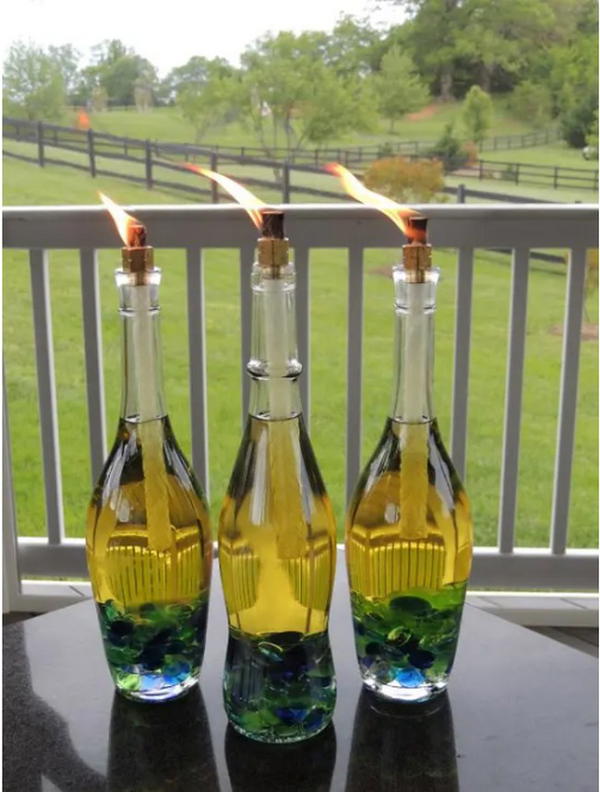 Take your outdoor entertaining to the next level with this Glass Bottle Tiki torch. Simply add a wine bottle and lamp oil (sold separately) and you've got a cozy outdoor area with a whimsical, makeshift feel. This piece is a great conversation starter, but can also be used to keep bugs away as well! Keep your space stylish and warm this season by adding this unique piece to your patio decor! It allows you to repurpose your favorite empty wine bottle and add some extra class to your outdoor space. This sleek design allows the wick holder to fit into the neck of most standard wine bottles, keeping those annoying pests away!