DIY Halloween Decorations are on-trend nowadays, We all get excited about Halloween, but it's easy to get caught up in the tricks and treats of the holiday. By spending time on your decor before Oct. 31, you can enjoy the holiday spirit all month long! We've gathered our favorite homemade Halloween Decorations here for you, from traditional cutout silhouettes to whimsical paper-mâché figures in various styles. Just select what you love and make it your own!
Halloween Decorations Ideas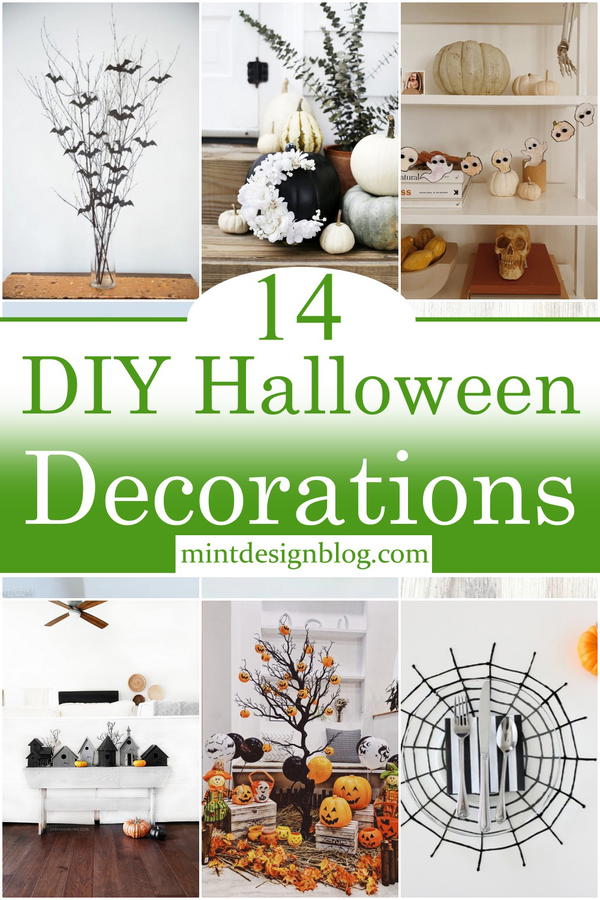 Decorate your home for Halloween with handmade crafts. Some are quick and easy, while others are more time-consuming. From creepy luminaries to monster garlands, check out some spookifying ideas you can make right in your own home. Whether you're haunting indoors or out, these Halloween decor ideas are easy to make and perfect for adding a little more fright to your holiday this year. We bring you 14 DIY Halloween Decorations that can easily be done at home with little cost and effort. Try these Ideas before Halloween and have fun! Some of the important steps to follow for the creation of these creepy creatures are:
We are mostly using darker shades like black, but try adding the touch of orange to your decor because it has been the primary color associated with Halloween Decor for decades cause of its resemblance to pumpkin.

Pumpkins are harvested nearer to Halloween, so they will be the best inexpensive option for making decorations for November 5th. 
Other Ideas
DIY Halloween Decor:
We're just around the corner from October 31st, which means Halloween is just around the corner! The stores will be packed with Halloween décor, but why pay crazy prices for items you can easily create at home? Below is some fun Halloween DIYs to create so you can decorate your apartment for the season! These DIY projects are all so easy, I promise you can do them too, and you'll surely admire making them.
How to Make Scary Witch Hat on Halloween :
Our simple craft idea can help you to create a Witch Hat for Halloween decoration. You need only a few things: paper, pencil, scissors, and glue. The advantage of this Scary Witch Hat is cheap and easy to make - no limits on creativity and your fantasy. I'm going to show you an easy way, how to make it. It's so pretty and looks lovely on any Halloween party table or near the front door. I hope you like this idea. And remember, if you like this project, share it with your friends.
Scary Halloween Decoration Ideas In 2021: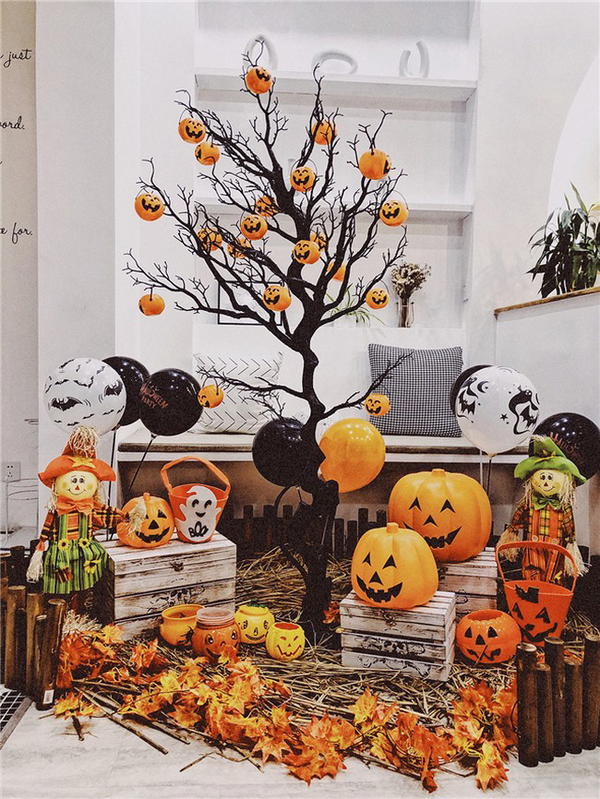 Halloween is coming soon, which means that the decoration needs to be prepared. Try to make the most creative way of decorating up your home's gate with these scary plastic pumpkins, feathers, and lanterns. This will be a fantastic display! Besides, there is one more thing that makes these pottery decorations unique: they are easily assembled without any help from others. Decorate your home for Halloween with this combination of creative and scary pumpkins; every visitor will surely admire it.
Halloween Spiderweb Place Mats: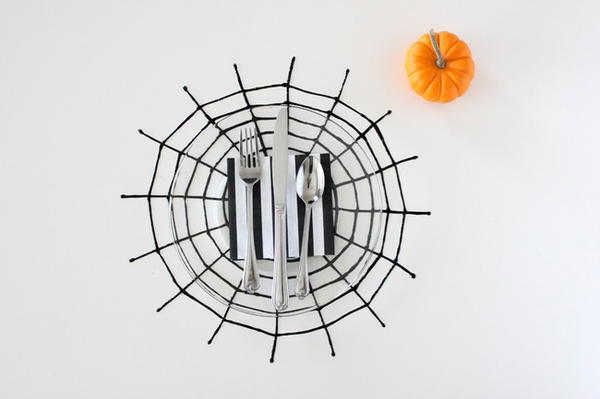 These super creepy spider web placemats are a part of my new design line. They have a wonderful texture and different variations with the spiderweb. These little gems are easy to use and will add a bit of spooky flair to your Halloween. I just cut out a spider from the spider web fabric, partly cutting it to leave a place for the legs to stick through. I then sewed it to the pre hemmed place mat section using my machine's zigzag stitch. Now you can't have a sweet dinner without a bit of evil around the dinner table, right? I think they turned out great, and you could easily use these 2 sided 2 ½″ x 12″ placemats or table runners in many other fun seasonal designs.
DIY Floral Pumpkin: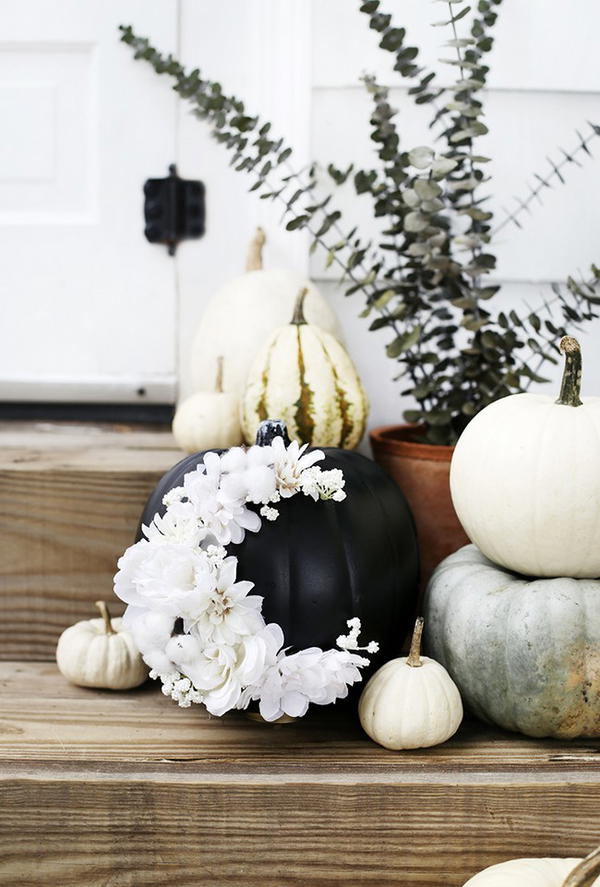 Fake flowers are all the rage right now. No, seriously, they are really popular. I like the idea of sprucing up my space with fake flowers because I'm lazy and can't be bothered to change decor much. And I also really like that these faux floral pumpkins can be reused every year without buying fresh flowers every time. It will be a stunning decoration piece for Halloween and great to inspire everybody, especially those with excellent DIY skills.
DIY Halloween Decor Garland: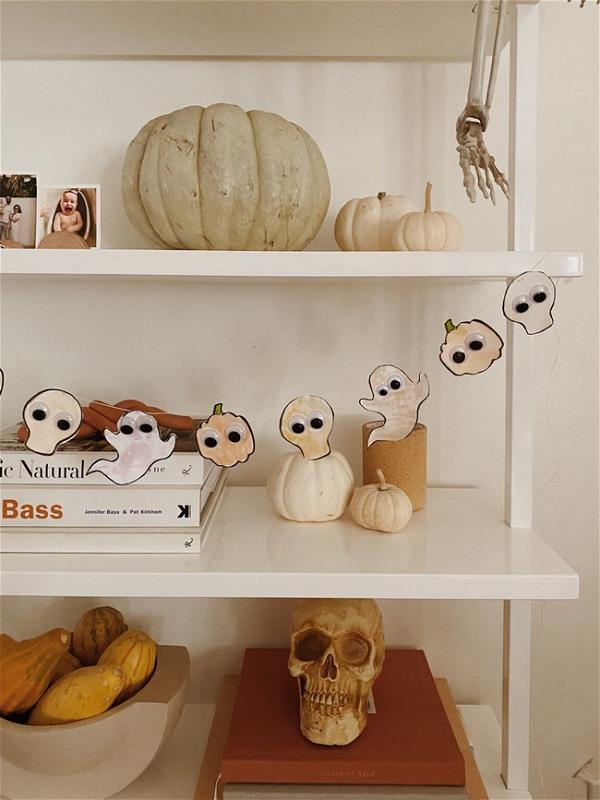 This DIY Halloween printable garland is ADORABLE. You can use it for fun decorations or hang it on the front door to welcome trick-or-treaters. Printable is 8.5x11, but you can always print at home, cut out the sheets and trim them down, or take them to a local office supply store to have them trimmed for you. No sewing, no glue, just a few printed-out pieces of paper and a couple of pieces of string to make a fun seasonal decoration.
Spooky Halloween Hand Soap: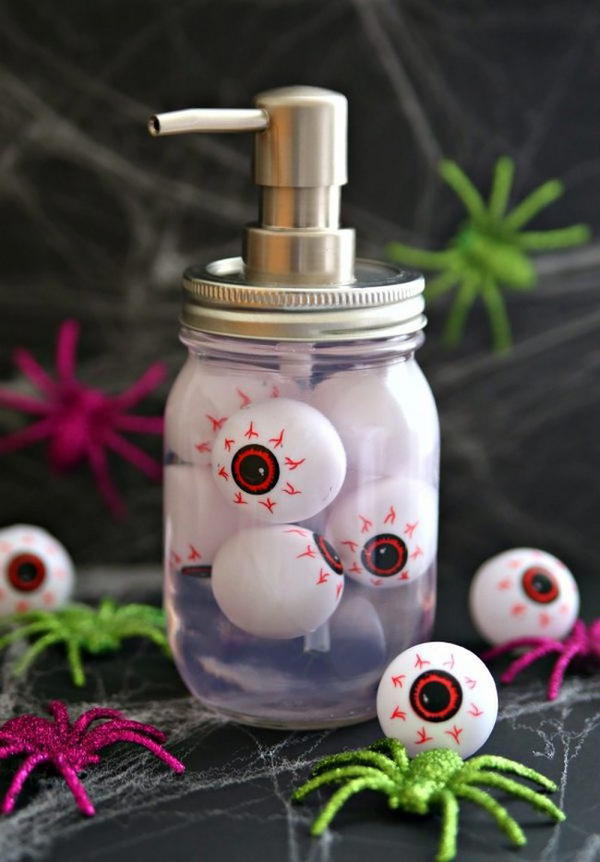 Open your door to the world of decorating with this 60-second craft project. The perfect combination of Halloween pumpkins and cute jack o'lanterns creates a unique fall effect. Turn a boring mason jar into a spooky Halloween soap dispenser with these four things - mason jar, decorative soap pump, hand soap, eyeball ping pop balls. This might be my favorite Halloween craft project ever, and you'll surely admire making it.
DIY Halloween Paper Bats: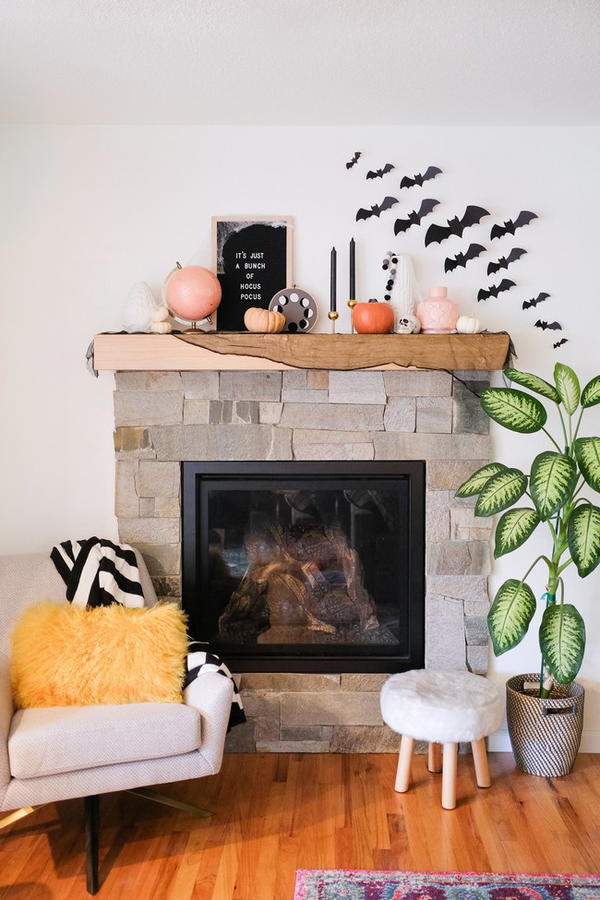 It's no surprise that Fall has quickly turned to Halloween around here. It's the only way I can get my kids to eat vegetables for dinner, making the novelty of eating squash far outweigh the fact that it is orange. I dressed up our fireplace mantel with paper bats and pumpkins as part of my decorating efforts. My recent obsession inspired this year's Halloween mantel with bats. I decided to take it a step further and use some big white bats as an accent. The real focal point of the mantel is the large gold letterboard, which holds a quote from my all-time favorite horror movie.
DIY Bat Branch Halloween Centerpiece: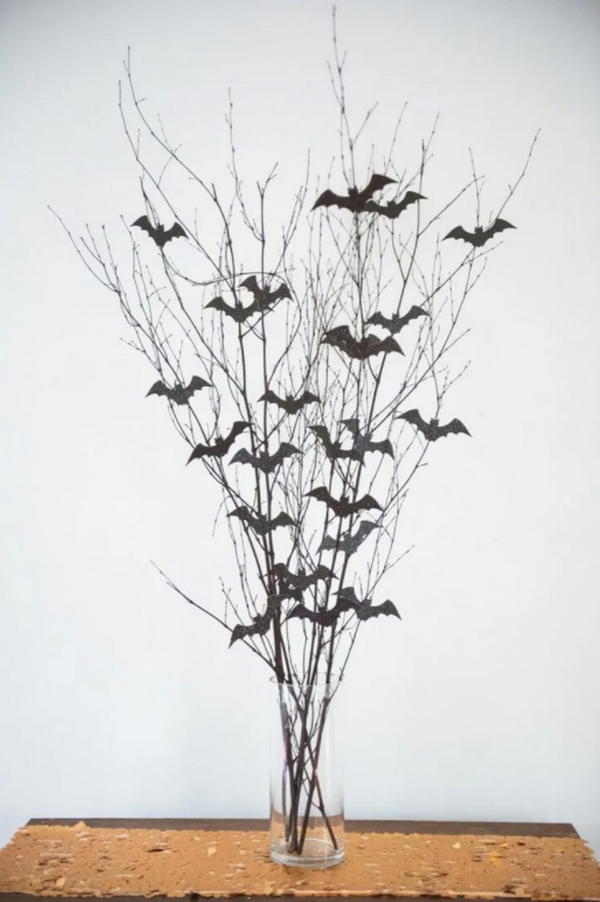 This DIY Bat branch Halloween centerpiece is a fun and easy decoration that will add a little spooky to your home for the Halloween season. It's perfect for tablescapes, mantles, and more. The centerpiece itself will set the tone of an entire table, whether you're hosting a themed dinner party with fellow witches and warlocks or want to add a little spookiness to your home for the Halloween season. It will be a stunning handmade piece, and you'll surely admire making it for your home decor for the Halloween season.
DIY Halloween Vignette Using Birdhouses: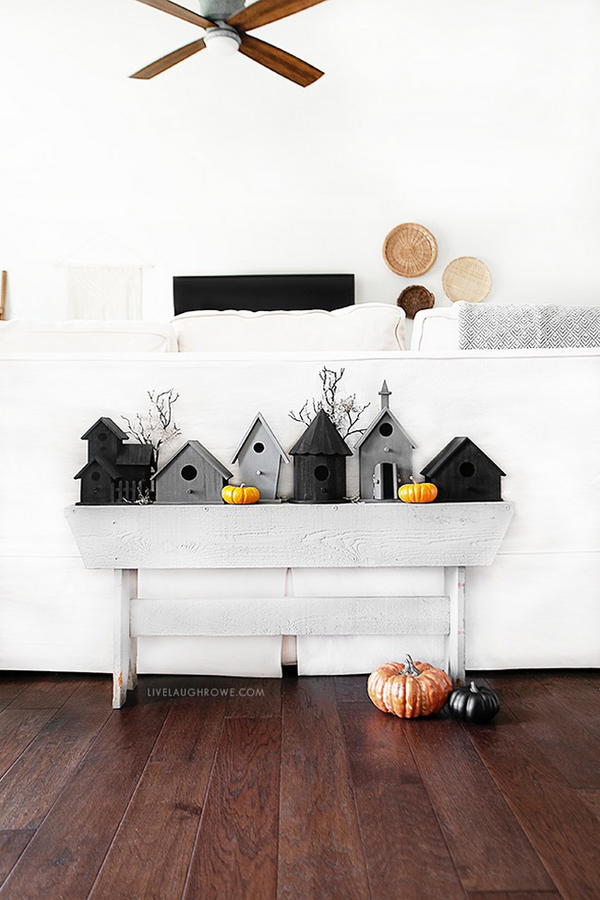 With all of the Halloween crafting projects you've seen on Pinterest, here's one that is quick and easy to make with stuff you probably already have or can get for cheap! This DIY Halloween vignette sets the mood for a dark little village. It's realistic, and you'll surely admire it. It has been made by A sweet little lamp post, hydrangea, rusty birdhouse, marble edge mirror, stone dark block porch steps, pumpkins, poppies, some greenery, some hay bales.
Halloween Skull Centerpiece: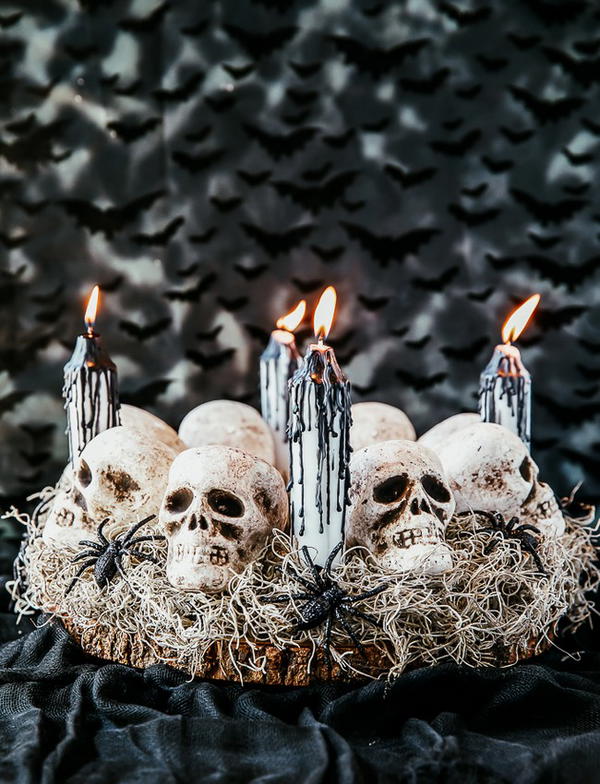 You don't need to be a professional to create this dramatic and spooky Skull centerpiece. It's fun, easy, and cheap to make—and the result is impressive. This adult-size centerpiece made from Spanish moss, skull heads, bleeding taper candles, and a candle wreath ring is the perfect addition to any Halloween party or buffet table. You'll find everything you need to make the ideal skull candle centerpiece right in the given link. Just pick your color scheme and mix it with Spanish moss, candle wreath rings, bleeding taper candles (safety-lighted is best), and skull heads.
Halloween Gold Plant Lady Skeleton: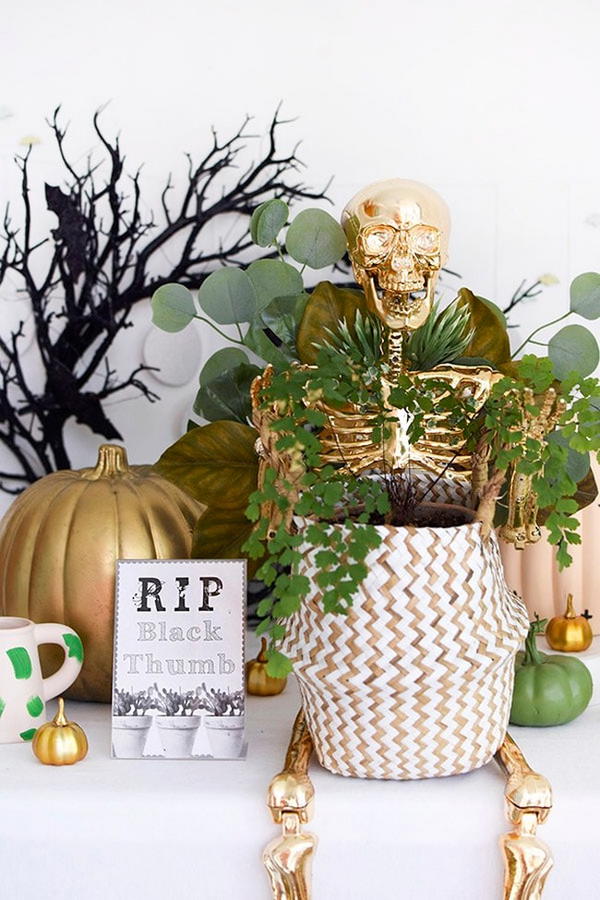 This step by step tutorial will lead you into making your very own Gold Plant Lady Skeleton! You'll be guided through the process of creating this one of a kind porch decoration as you learn to create easy clean ice cream cone pots. The Gold Plant Lady Skeleton is made out of simple household items and inexpensive supplies. This STEAM Halloween decor piece is perfect for all ages and makes for a great beginner's project.
How To Make Your Own Decorative Halloween Candles: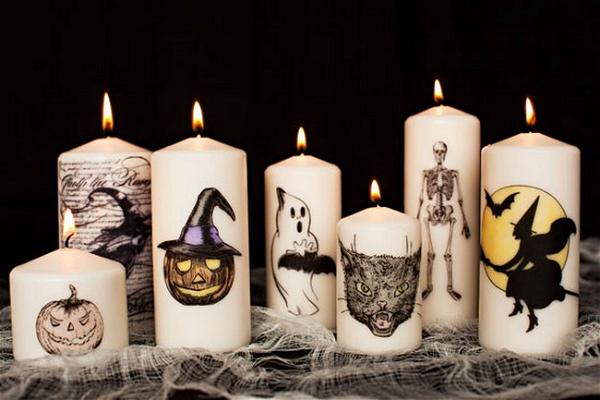 If you're a Halloween lover, then why not try making your decorative candles. The great thing about this craft is that you get to use regular ingredients from your kitchen. These may not be normal candles from your local candle shop, but they are the perfect addition to any festive get-together. Plus, they're so easy to make, and best of all, if you decorate them in a simple candy corn design, nobody will ever know that you made them yourself at home! Perfect for placing around the house on your other holiday decor, these orange candlesticks make up in style what they lack in size!
Halloween Monster Wreath: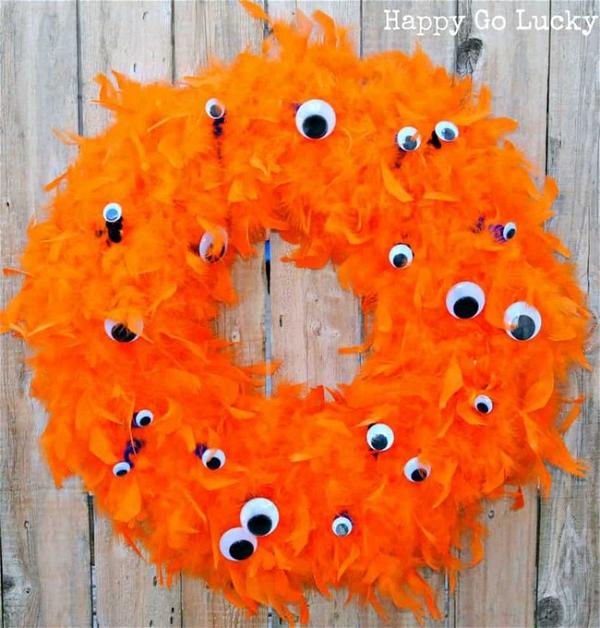 You'll be a hit at your Halloween party with your very own Halloween Monster Wreath. This fun and easy Halloween craft project will have you prepped and ready for home decorating, classroom art projects, or to give as a fun country-style gift. And, since the large-scale design allows you to fill it with whatever you'd like, your Halloween Monster Wreath can take on a whole new look year after year—fill it with fall flowers or pinecones for a fresh new look.
How To Make A Spider Web Decoration For Halloween: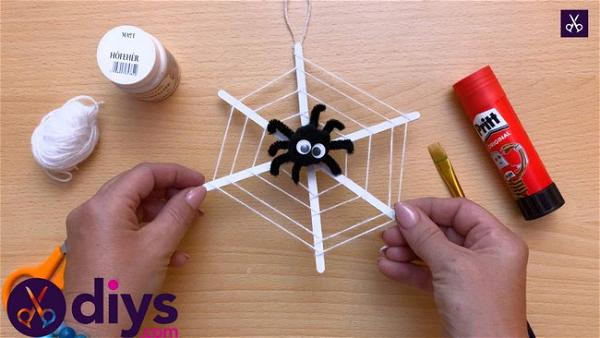 The holiday season can be a stressful time for many people, but one thing that always livens things up a little is Halloween decorations. This guide will help you turn your house into a truly spooky place for the holiday, with a spider web decoration that looks just like the ones you see in horror movies. This is a project that will help you transform a simple lantern. It's not only a decoration for Halloween, but a prop for your Halloween party or a fun way to add some spookiness to your home during the magical month of October.
DIY Mini Felt Halloween Trick Or Treat Bags Tote: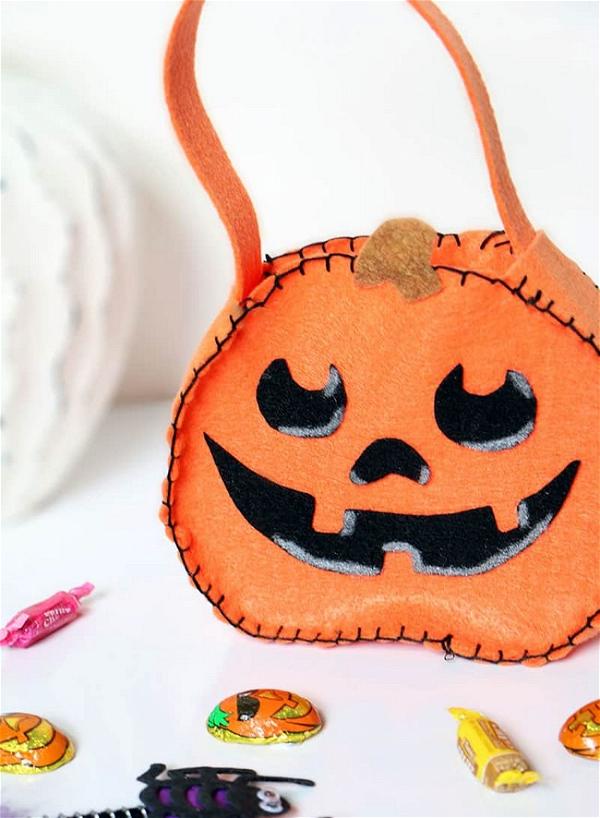 This mini felt Halloween Trick or Treat bag is just what your tot needs to store all of their candy on Halloween! Made from flexible wool felt makes it perfect for the plan on handmade DIY Halloween treats. It features a top that has a comfortable opening and closing snap closure to put your treat inside. It also comes with a single stitch holder to hang it up at night. This wonderful bag makes a great party favor for any kid celebrating and can use as Halloween Decor ideas for one having their first Halloween!