Feeling a little Halloween inspired? I think for Halloween, it's fun to add a little spookiness to the tables. Halloween is coming, and it's hard to think of anything more fun than potion bottles. They'll look frightfully good with some themed decorations. It is the perfect time of the year to come up with creative decorations, and these 10 Spooky Potion Bottle Labels are a fun, easy, and inexpensive way to add a touch of Halloween to your front door.
These labels are designed to fit Avery 5160, 5161, 5162, 5163, 5164, and 5165 round labels but should also fit other similar-sized round labels. These spooky potion bottle labels are great for handing out candy at Halloween parties. They also make excellent decorations around the house or for handing out treats to friends. Even the kids will get a kick out of these quick and easy Halloween labels! We've also provided instructions for printing them on adhesive labels for round containers. These free printable Halloween spooky potion bottle labels are a fun way to dress up your Halloween jars.
You can print these labels on: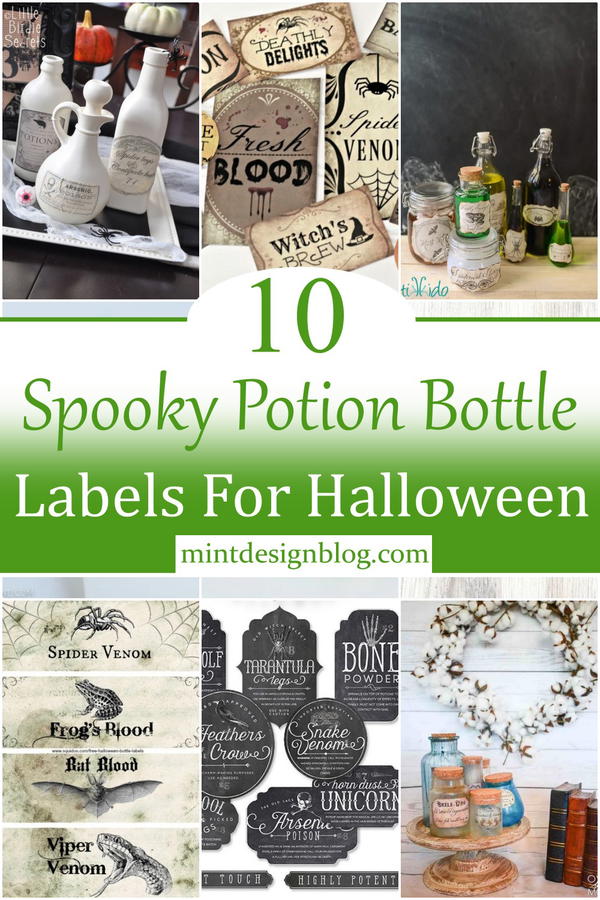 Print these Spooky Potion Bottle Labels on a regular letter or A4-sized paper, or you can cut them into smaller sizes. If you want the labels to fit on different-sized bottles, be sure to 1.) adjust the printer settings, 2.) adjust the paper size, and 3.) adjust the margins.
How to make your own Halloween potion bottle labels:
1.) Open the PDF file and print on white sticker paper.
2.) Cut out the potion bottle labels and tape them to an empty bottle or jar.
3.) Fill the bottles with water or Ale and top them off.
4.) Decorate the bottles with Halloween decorations.
Let's start by labeling the bottles. First, print the labels out on plain printer paper. The labels come with both a large and a small version, so you can choose whichever one you like best. Next, cut out your labels. If you're having trouble cutting the labels, you can use scissors to snip around the label. The labels are printed with outlines that are about 1⁄8 inch apart, so use a sharp pair of scissors to snip along with the outlines.
Once you've cut out your labels, decide where you'll put the labels on the bottle. You can stick them on the bottle with a bit of tape or glue, or you could write the contents onto the label with a Sharpie. Either way, apply the label to the bottle and decorate it!
Most of these stickers require no cutting, so you can just stick them on any size jar. Any jar or bottle will do. Use empty wine bottles, wine bottle labels, apothecary jars, or Mason jars. You could even use a glass bottle with some pebbles or rocks in the bottom, or even some soup cans! These are also simple, but you can easily glue them directly onto the bottles.
Enjoy!
Halloween Bottle Labels Free Printable: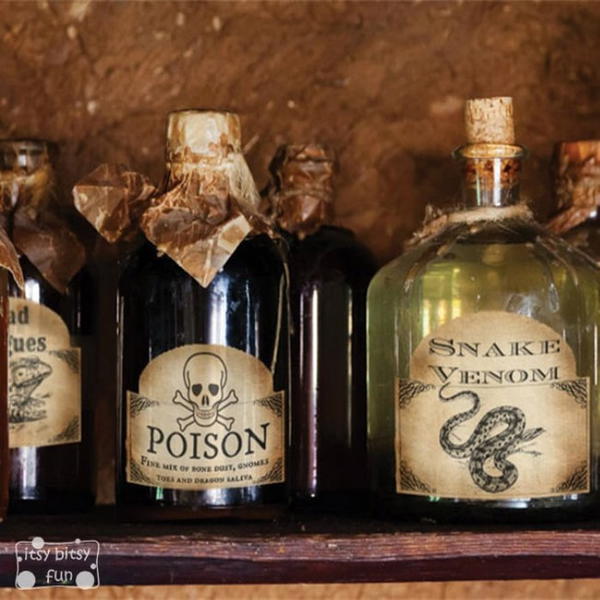 Halloween is the perfect time to scare your guests by weirdly serving your homemade pumpkin pie. If you are still looking for what you'll be for this year, take a look at these scary yet fun labels. These are free for personal use, so download them now. Feel, taste, and smell the holidays with our spooky bottle labels! Print out these free bottle labels and turn your jars into fairytale-style potions. It will be a superb option to make some spooky addition to your Halloween decorations.
Harry Potter Printable Potion Bottle Labels: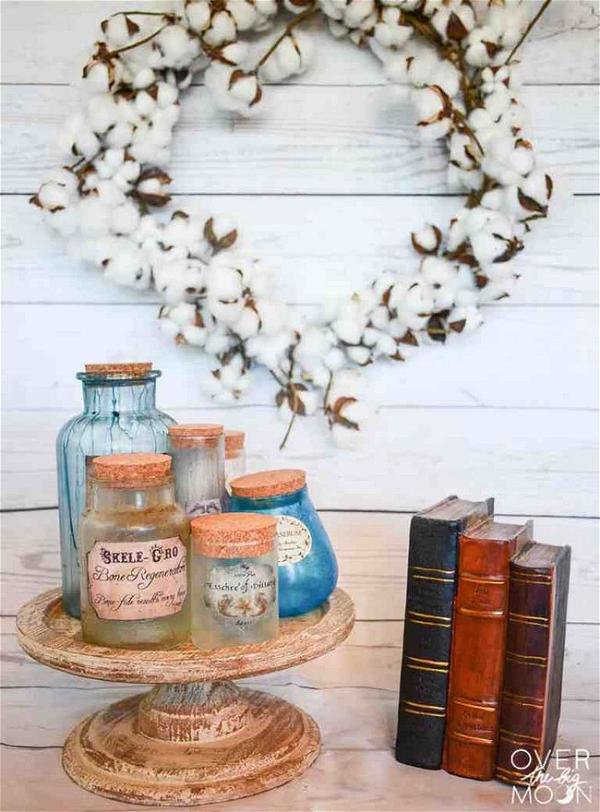 Whether you're dressing up as a Harry Potter Character or hosting a Harry Potter Halloween party, the Harry Potter Potion Bottle Labels will be a great decoration for all of your party supplies. Grab a sheet of these Free Printable Harry Potter Potion Bottle Labels to stick onto all of your glass bottles before your guests arrive. Power the presentation of your HP Potions with these matching labels! These Harry Potter Potion bottle labels are a quick and easy project that will give the perfect finishing touch to any HP party table. Perfect for Halloween treats too!
Creepy Halloween Potion Bottles With Free Printable Labels: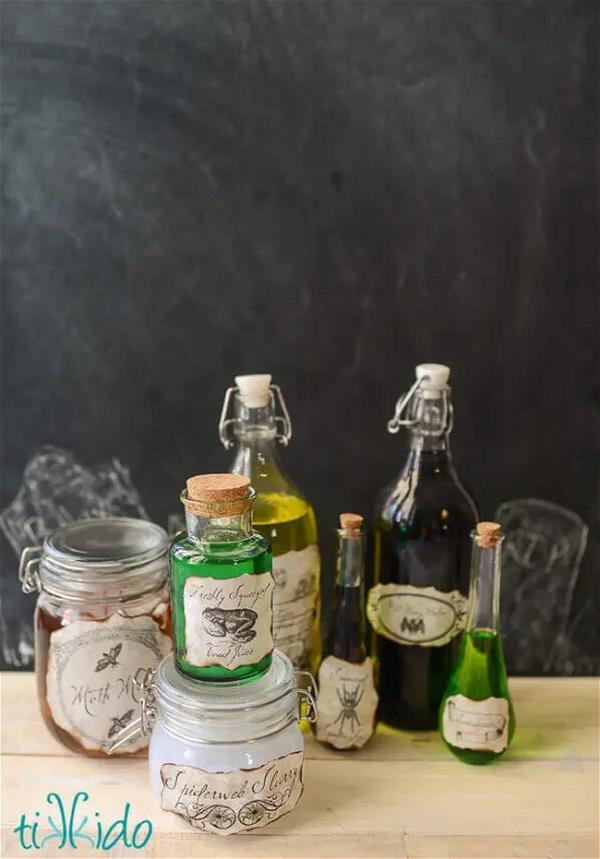 Our free printable Halloween potion bottle labels will instantly add a terrifying touch to your Halloween, Harry Potter, or movie costume party. Just print up the 12 labels, stick them on some wide-mouthed jars, and fill them with water for a terrific display that's easy to set up and cheaper than going out and buying decorations. Pick up some jars at the dollar store, print up these free, printable Halloween potion bottle labels, stick them on some jars, and fill them with candy or colored water for a fabulous, spooky, EASY Halloween display.
Free Printable Halloween Bottle Labels And Potion Labels: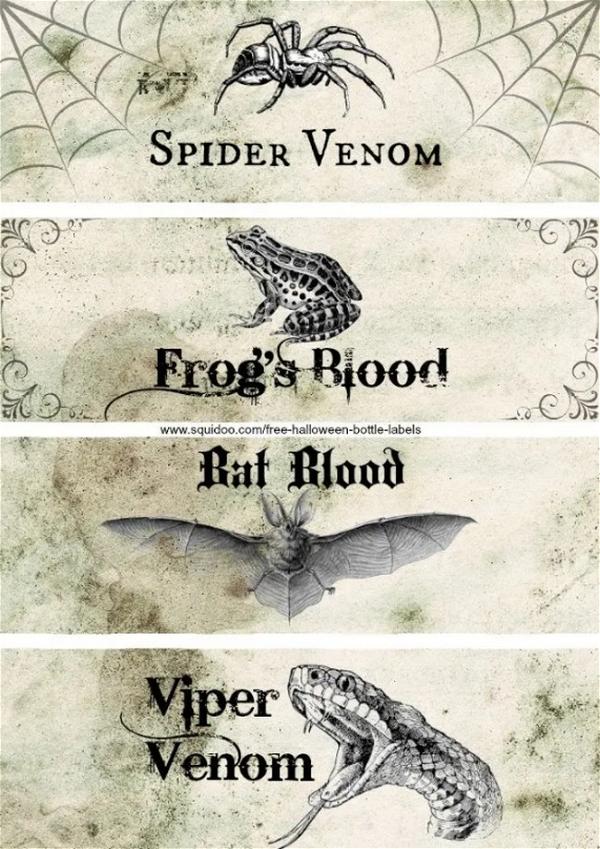 Let's get creepy! Grab your scariest recyclables and use them to make six different kinds of potions. These bottles look bubbly, gross, and downright frightening, especially when you print out the labels for them. Turn any two-liter soda bottle into a creepy Halloween potion or toxic tonic. The clear glass gives this project a spooky laboratory-like effect, and the printable labels make them look even more realistic. It doesn't take a crazy scientist to mix up these terrifying drinks, as you simply need household items like pool shock and vinegar.
Halloween Apothecary Jars And Free Printable Labels: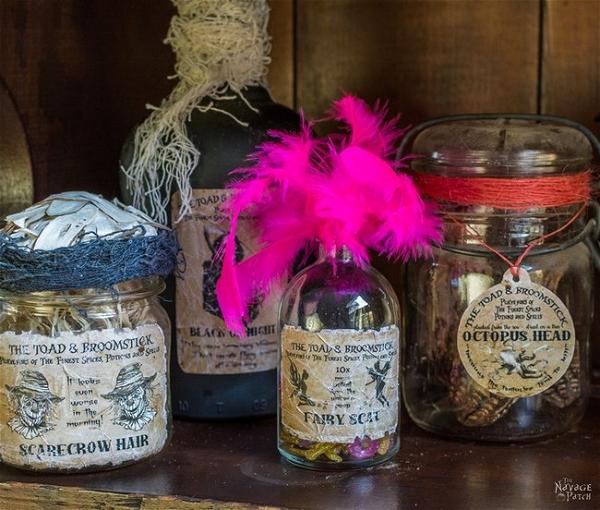 Got a little bit of Halloween fever? If you've wanted to craft your own Halloween apothecary jars, today is your lucky day! Our Haunted Apothecary Cabinet DIY is great for creating a scary Halloween display in your home, super simple with only a few basic supplies. We've created free printable labels along with instructions for creating homemade Halloween apothecary jars to make super creepy Halloween decorations this year! This makes a great Halloween party activity or classroom decorations for school!
Create Spooky Halloween Potion Bottles With Our 10 Free Printable Labels: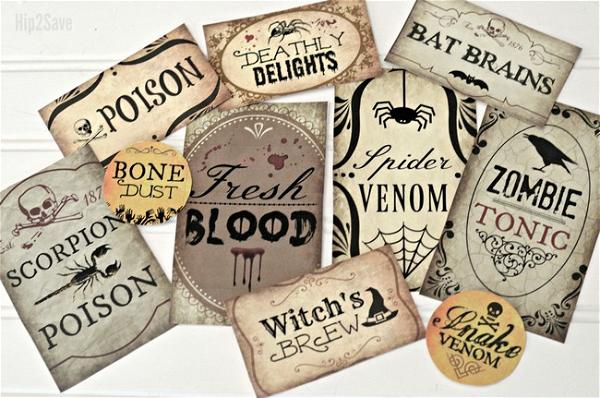 Perfect for trick-or-treaters, trick-or-treating yourself, or just decorating your home for Halloween – these vintage-looking potion bottles are easy to make, and each comes with a free printable label to use as you please. Plus, the labels include two separate designs – there's something for everyone! You will be amazed at how easy it is to transform ordinary mason jars into Halloween Potion Bottles for decoration and gift-giving. Make a set of these as part of your Halloween decorating or as a gift for your children's friends. You can even package some cookies or candies inside!
Printable Apothecary Labels For Halloween: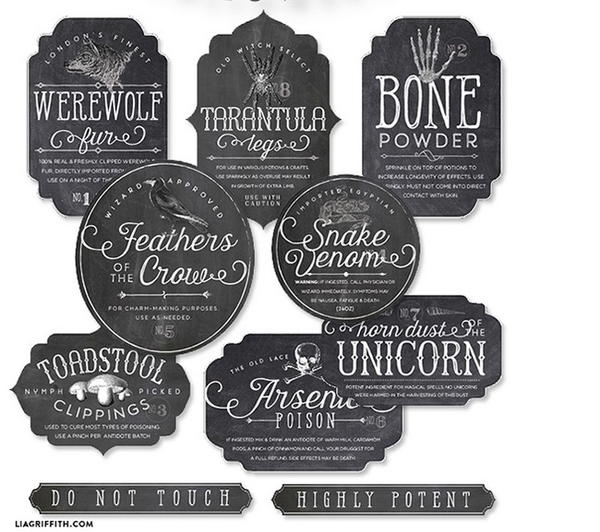 Looking for some fun and spooky decorations for your Halloween party? These printable Apothecary Labels are sure to add some creativity to your witch or wizard's shelf. These printable apothecary labels are a great way to spiff up your old Halloween decorations. Spook your guests with this fun, printable set of apothecary labels. They're creepy and kooky and first-class and spooky.
Aged Halloween Potion Bottle Labels: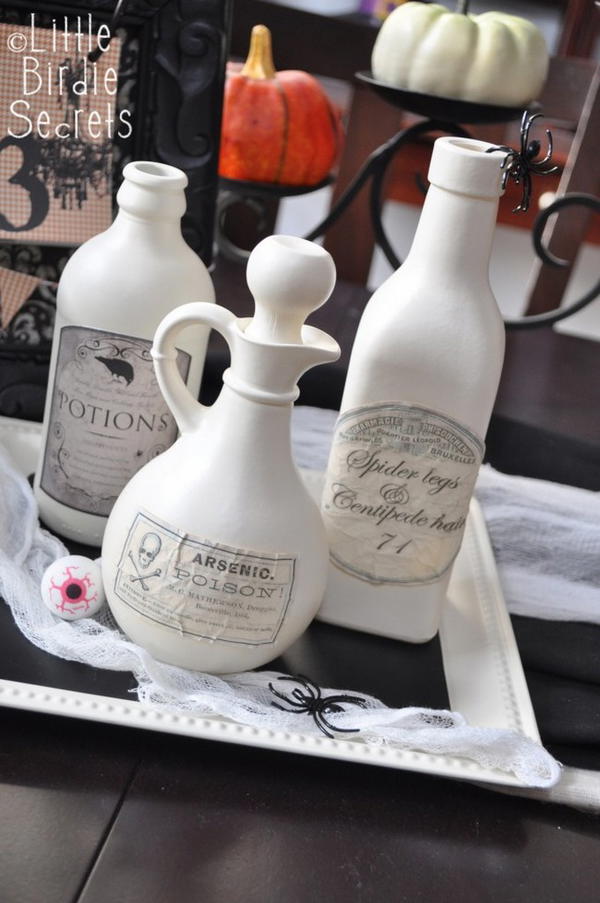 These labels are perfect for turning empty bottles into vintage Halloween potion bottles. The aged look doesn't require much effort, and with a few easy steps, you'll have bottles that scream creepy, creeptastic Halloween yard haunt. These Halloween potion bottles are easy to make with products you probably already have at home. They will look like the prettiest vintage Halloween potion bottles made with lovely bottles, twisted yarn, and various labels you can make yourself!
Halloween Bottle Labels: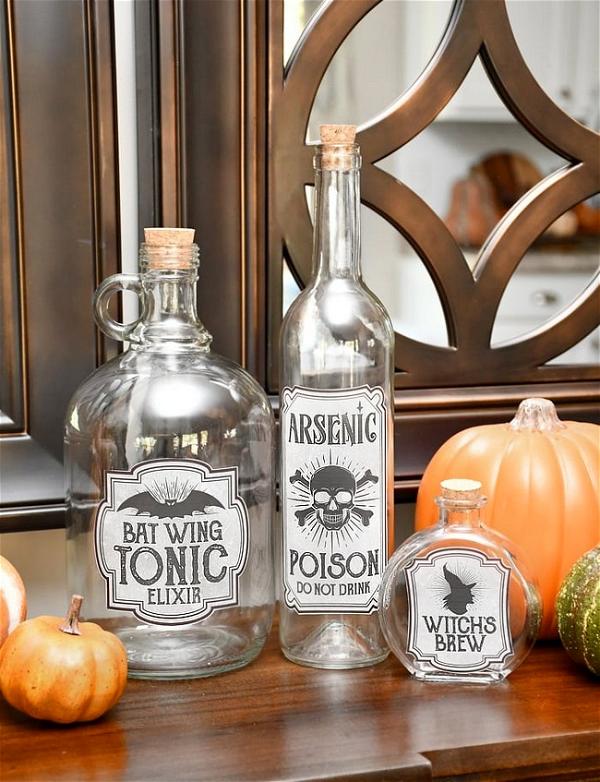 These bottle labels are so easy to make; you can get them ready in no time! These small 10 inch by 4-inch stickers come with a white background, just like most water bottles. Cut out each label and wrap them up in some fun Halloween paper. You don't want to miss out on this easy craft idea because you think it takes too much time or is too Hard. This is one you will love! Use the basic printer, a permanent marker, and a cork stopper for the Halloween labels. They would also look great on a bathroom mirror or your front door!
You can also see: DIY Door Stopper Ideas
Printable Halloween Potion And Witch's Brew Labels: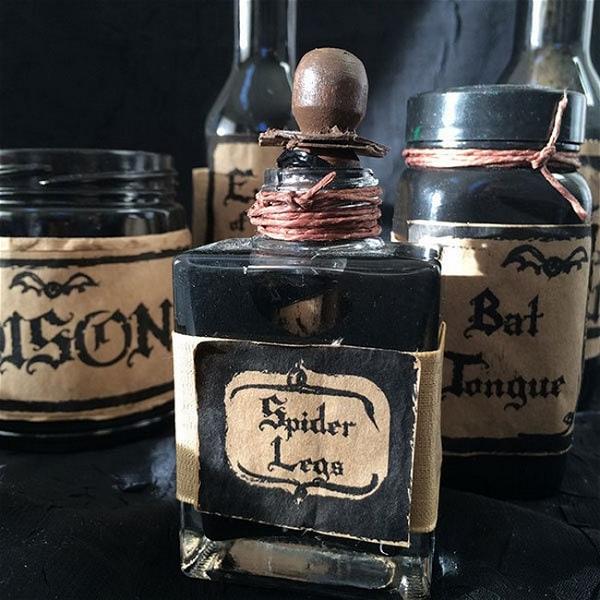 Looking for fun Halloween crafts to do with kids? You can use these printable labels to turn recycled glass jars and bottles into spooky potions and witch's brew containers. The labels come in three different colors, creating an elegant Halloween table setting. Whether you are hosting a Halloween Potions and Wizardry Party or want to add some spooky potion and potion bottle labels to the jars and bottles that you already have around the house, these printable Halloween potions and witch's brew labels for glass jars and bottles are the perfect solution! Great for displaying in your classroom creations for Halloween!