A door stopper is one of the most widely used and affordable do-it-yourself creations you can have for your home. Some of these door stoppers are easily crafted from household items like an ordinary sponge, a spray bottle, an eraser, and a rubber band. The entire list will show you how to make it for those who want the more high-tech type of door stopper. When looking for a DIY project, you will never be bored if your house has a door. DIY Door Stopper Projects is the ultimate guide to applying creativity, flair, and imagination. It has everything you need to create your doorstopper with decorating ideas.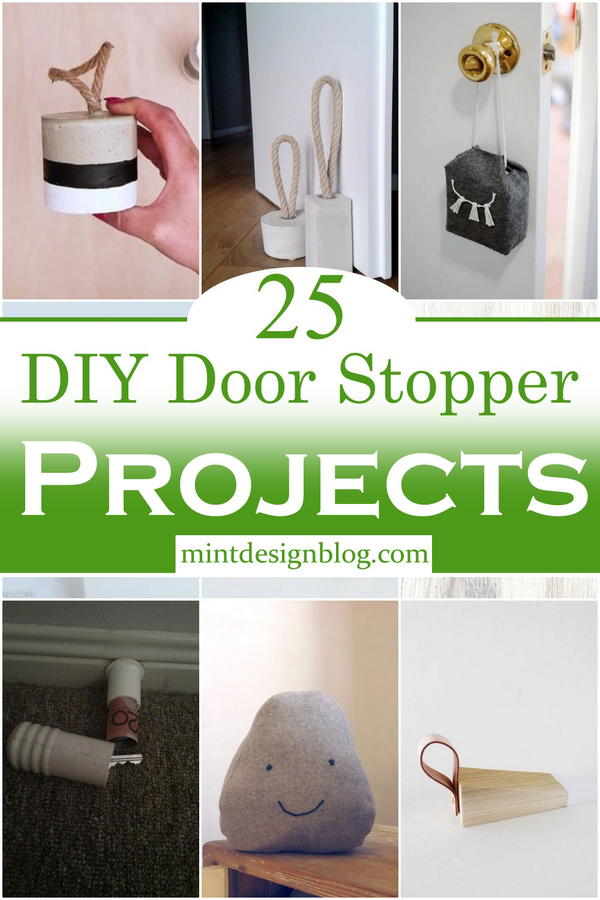 Do you want to try a simple and easy DIY project? Do you enjoy working on wooden stuff, and are you looking to do so without spending much money or wasting much time? If yes, then you've come to the right place! All of these 25 DIY door stopper projects can be made by an amateur in a short amount of time. This do-it-yourself tutorial will guide you to build DIY door stoppers using everyday household items. You won't need any advanced skills or tools to complete these projects, as most of them require nothing more than a hammer, screwdriver, and some nails. Enjoy!
Doorstop devices are among the most popular hacks for door problems; these 25 DIY door stopper ideas are perfect for the home and office and give you a solution in seconds.
Tools and Materials:
Foam or polystyrene balls
Fabric scraps
Coat hangers
Stones, sand, and gravel
Small buckets or containers
Cork pieces
How To Make An Upcycled Doorstop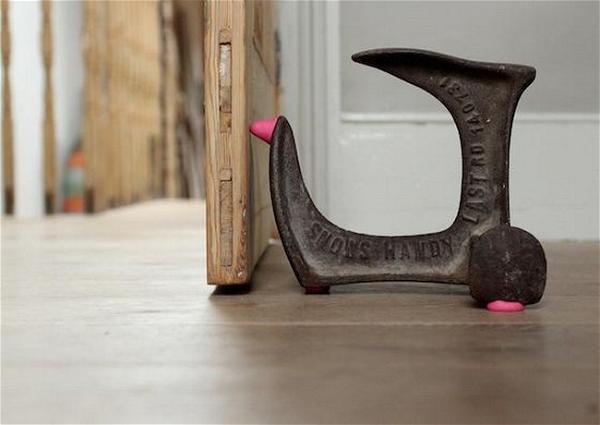 This tutorial will be beneficial for you to make a recycled door stop! This project is easy if you have a couple of old items that You can use in the process. You need to have an old usable doorstop and a craft item, like an acrylic painting or a plate, which you can reverse to something else. This tutorial is excellent for beginners and intermediate makers. If you don't know sugru yet, sugru is a self-setting rubber that molds itself to the surface that it's stuck on (usually most surfaces). And it's reusable, so you only have to buy it once, and then you can re-mold it repeatedly.
Skill Level: Experienced
Handmade Door Stopper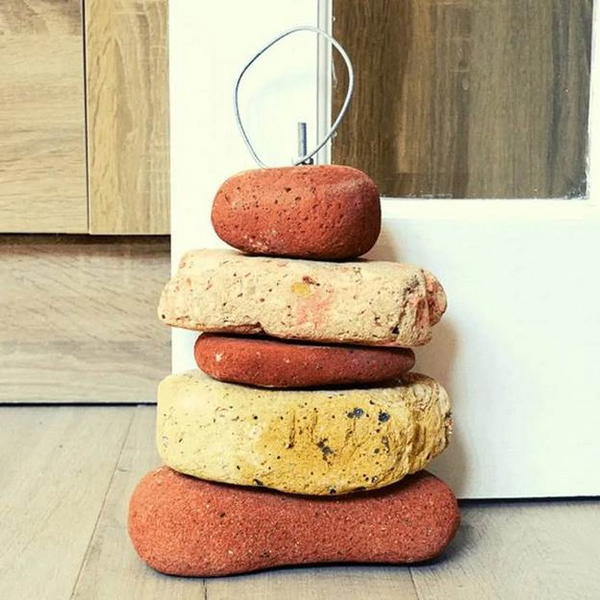 This door stop is made from different stones and concrete, perfect for anyone who loves unusual, eye-catching crafts. A drill and threaded rod are needed to make this attractive doorstop, which is made with old bricks and wire. The final result may vary even if you do it with the exact instructions. This is an excellent project if you are bored of the standard door stopper. With different stones of different sizes and colors, this door stopper can add style and class to your home and be very functional. This doorstop will bring rustic charm to your entryway, but you'll also avoid the hassle of having to pick up a new one each time the current one wears out or breaks.
Skill Level: Experienced
Easy DIY Door Stopper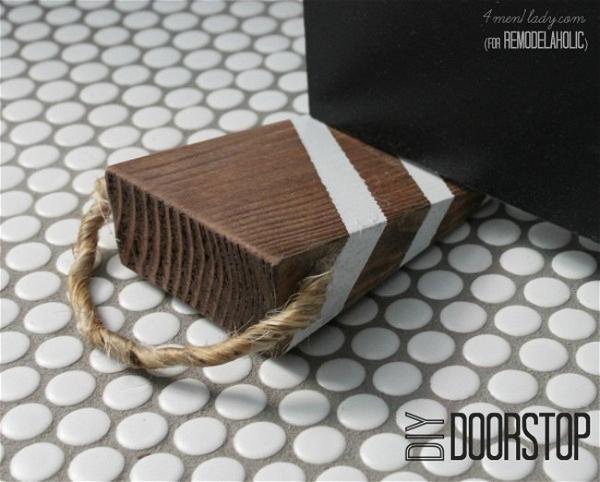 Woodworking is a hobby in which you can create unique creations and designs. This DIY door stopper is a perfect project for beginners or even experts. It doesn't require fancy tools, just some leftover wood, and a rope. You can make it in no time, so you have plenty of time to paint it with the color of your choice for a more sophisticated look that can match the other accessories in your home. It is an easy and cheap door stopper using leftover wood. You need to cut some slices in the wood and then insert it into your door. By doing this, you can also change the color of your door stopper as you want by coloring the wood with any paintbrush.
Skill Level: Intermediate
DIY Concrete Door Stoppers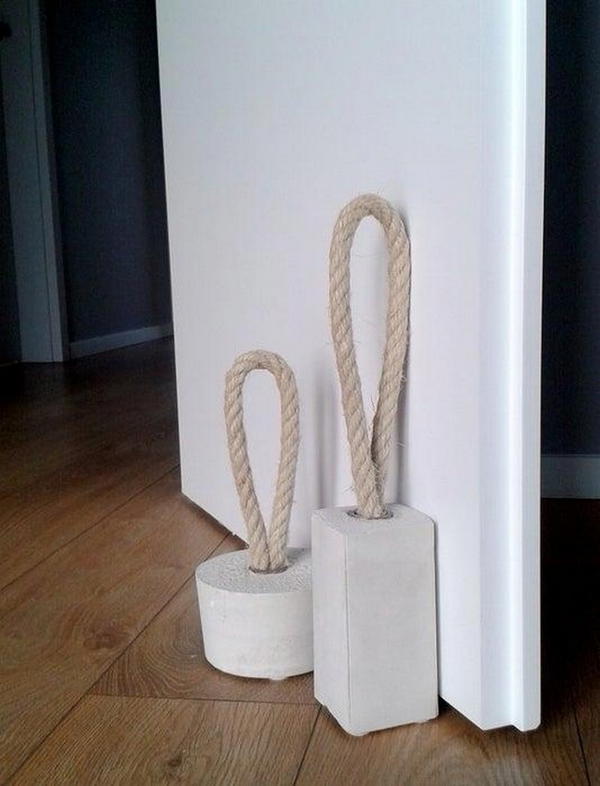 Want to make your door a bit more unique? Why not try these DIY concrete door stoppers? They are easy to make and look great. They are straightforward to make, and their supplies are very budget-friendly. You can make these concrete door stoppers yourself. These stoppers are a lot less expensive than the traditional doorstop you see in the market. You can make pretty concrete door stoppers with a few simple supplies and tools. These projects are best for the beauty of your home or for giving away as gifts. Whenever people come over, they will wonder what these eye-catching door stoppers are and where did you buy them because it looks imposing.
Skill Level: Intermediate
DIY Leather Door Stopper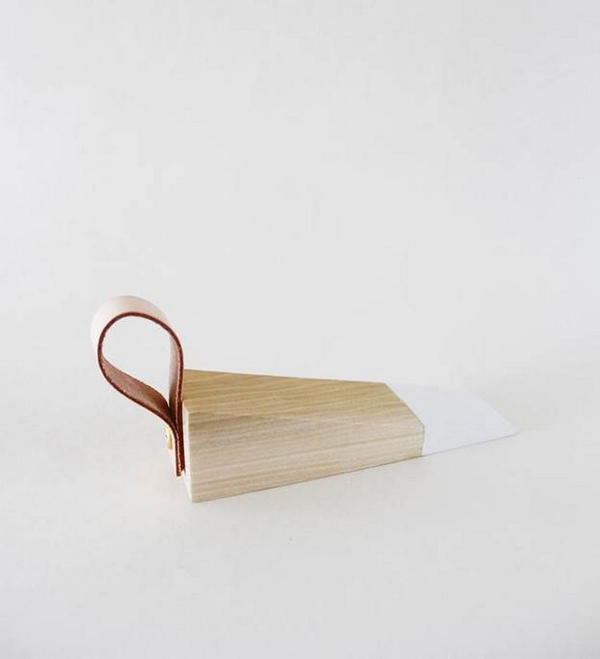 Do you notice that your door swings open frequently? Suppose you need a simple solution to prevent a door from swinging open aimlessly. In that case, this DIY leather door stopper is the ideal solution for an adorable and stylish addition to your home. This DIY leather door stopper is perfect for adding some character to your house. It might be hard to make, but making this door stopper is easier if you follow the instructions. The materials used will look amazing when finished, and this door stopper is the wall. This project would make your place look pretty stylish. It's also good to be an expert in making stuff as a home-based business.
Skill Level: Intermediate
DIY Concrete Door Stop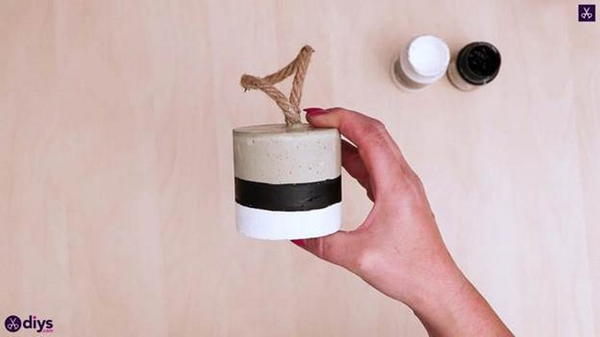 Suppose you're looking for an attractive yet functional DIY door stopper. This door stopper is made of concrete, painted with acrylic craft paint in black and white (your color choice). A jute rope is attached to the bottom so you can easily carry it from one place to another. It's an excellent idea for your home or as a unique gift. This DIY Concrete Door Stop is easier, faster, and cheaper to make than the one made from foam. You can carry this doorstop easily because of the jute rope. There are many colors you can choose from to match your décor.
Skill Level: Beginners
DIY Door Stopper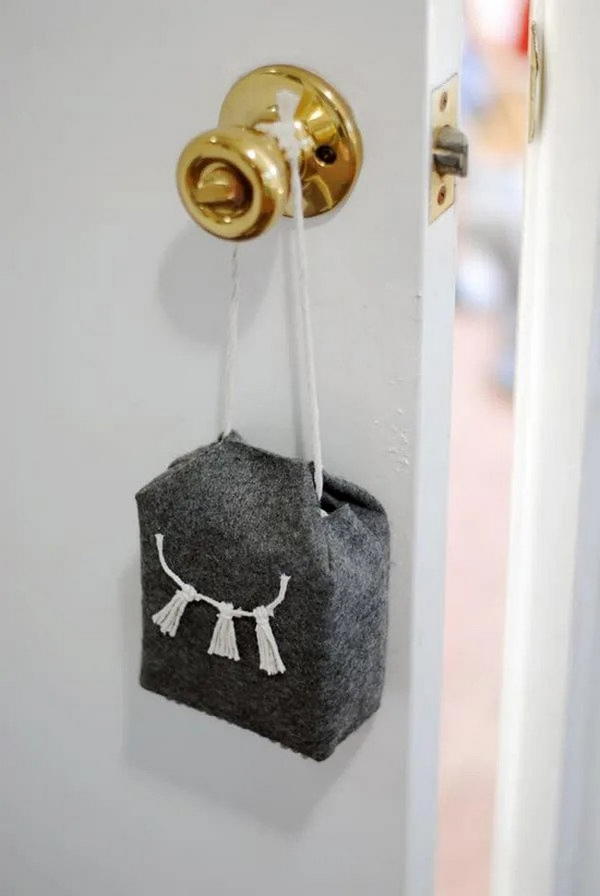 DIY Door Stopper, this decorative Door Stopper can be made easily at home (absorbent cotton and felt work great) to make door plumping easy, attractive, and tempting to doorknob dummies. Hang it up on the wall so guests or family members can't open the door without letting your know. You can tape or glue the stopper on the doorknob with the help of a glue stick. Also, you can use any wood to make it cheaper than the original item. This door stopper hung by threading a piece of string through the two loops at the top and threading another one through the bottom loop. This door stopper is beautifully constructed and designed to promote your home decor.
Skill Level: Intermediate
DIY Door Stopper With Secret Compartment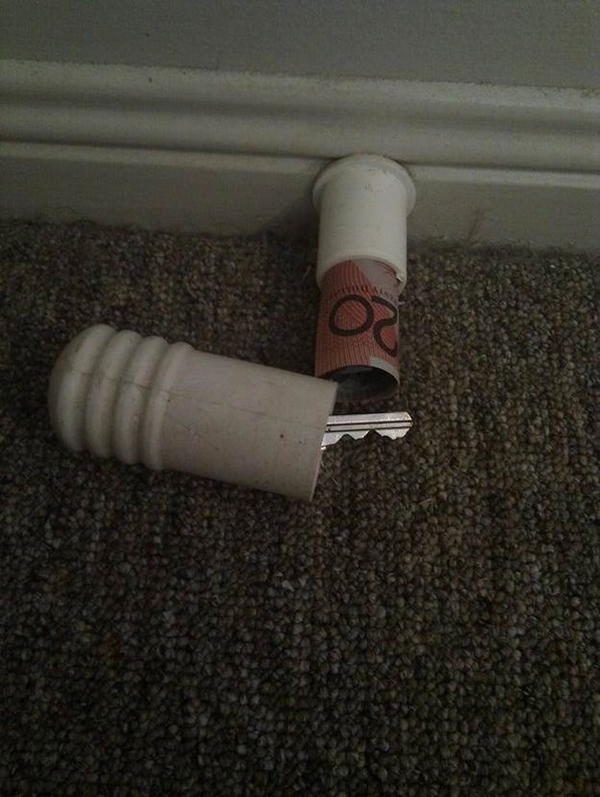 Building a DIY door stopper with a secret compartment is probably easy and cheap since minimal materials are required. What's fantastic about this project is you can hide even your littlest and most essential things in its hidden section. It is no surprise that this idea will help spice up your home and any parties with its unique doors. You might be wondering what to use for a DIY door stopper. Maybe you don't want the classic kind with the simple rubber base that keeps the door from closing on you. In this case, a DIY door stopper with a secret compartment is just what it's needed, a great solution.
Skill Level: Beginners
DIY Door Stopper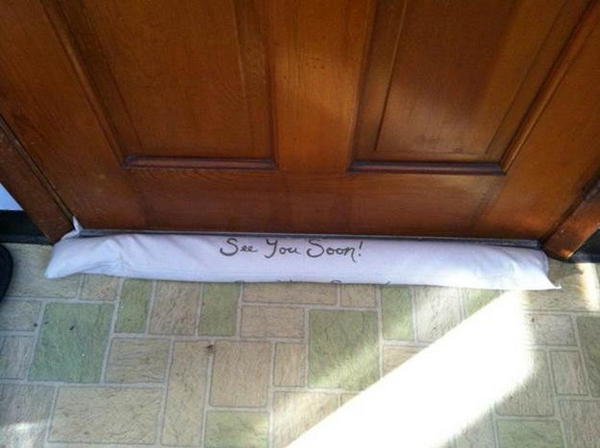 A door stopper is a must-have in your home if you have doors that don't stay in place when closed. The DIY door stopper is an ideal solution for such a problem. It is simple to use and to make. Moreover, it provides the two benefits of keeping your costs low and the environment safe since you can use rice or beans instead of sand. Here comes another DIY project. This door stopper is ideal for people whose door doesn't stay in place when the door is closed. You can use rice or beans to stuff the bag. Then, you can add a sewing machine to it, just like what we mentioned in the previous DIY post. It's pretty simple, isn't that great?
Skill Level: Beginners
Quick And Easy Door Stopper DIY
Are you a DIY enthusiast and love creating various crafts? Thinking of creating something different with your sewing skills? Make a door stopper with this simple tutorial, which doesn't require welding, gluing, or cutting. When you are done making this simple door stopper, you can use it as to gift to your friends and family, who will appreciate the beauty of such a creation. Here's a tutorial on how you can make a door stopper in just a few minutes. This stopper is perfect for people who need something to hold their door closed but want to do it in style. The process does require a sewing machine but is relatively simple to do.
Skill Level: Intermediate
DIY Concrete And Rope Door Stopper
Today, most people have heavy doors in their homes, making it hard to open their doors. A great way to make this process easy would be to get yourself a lightweight yet efficient door stopper. These are simple in shape and style but are very effective for their purpose. The design is unique, one of a kind, and would stand out in any room. This DIY project uses concrete and rope to make this door stopper. The concrete base has an attractive design, where the concrete and the rope have been used as decorative features. This rope with a bit of concrete has been applied to the door stopper's edges to make it look unique.
Skill Level: Intermediate
Sew DIY Door Stopper
This DIY door stopper has been designed to provide users with a simple way of preventing doors from opening. This door stopper requires basic sewing skills and uses iron to place together two pieces of fabric. If you love DIY projects, making one of your own will surely be a satisfying experience. This cute door stopper is something that you can easily make with an iron and a fabric. The result will leave you with a nice doorstop that will fit perfectly in the exterior of your office or home. The instructions mentioned in this article would be beneficial in making a door stopper by yourself. When you follow the instructions, you will learn about the easy steps you need to follow.
Skill Level: Beginners
DIY Faux Rock Door Stopper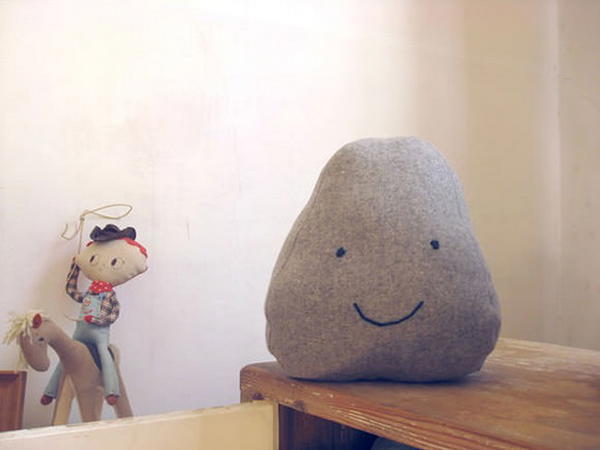 This DIY Faux Rock Door Stopper is a fun and whimsical project. The wooden door stopper is shaped like a faux rock with a cute smiley face. Use this as a doorstop to make your home feel comfier and inviting. This tutorial uses felted wool so that it won't hurt when kids wake up and run into the door as traditional doorstops do. Plus, it's easy to make with a few simple supplies. You could even use felt scraps from other projects or old sweaters in your stash. This project is easy for a beginner. It would make a cute doorstop. These little pieces of felt are mainly for decoration, and the pins may be safe; however, use your judgment when choosing materials for your children.
Skill Level: Experienced
How To Make A Decorative Door Stop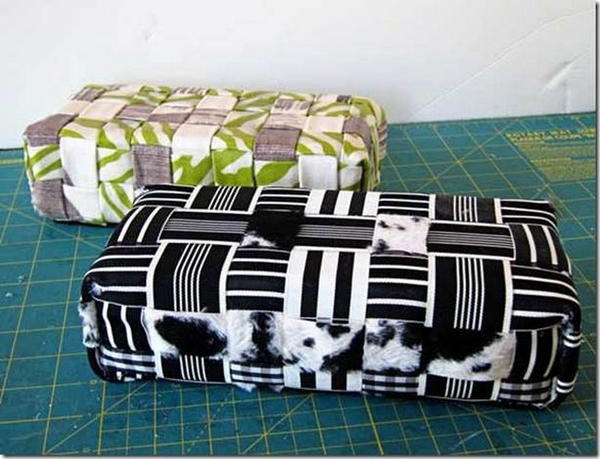 How to make a decorative doorstop with no sewing involved? It is the easiest way to make a cute doorstop of your design! A decorative doorstop can be one of the most unusual and attractive things in your home. It can also be beneficial when you need to stop your door from slamming shut. This tutorial will show how to make them. It is a pattern for a square doorstop, but adjusting it for a rectangular stopper would be straightforward. With a bit of time and a few supplies, you can easily make this door stopper. This door stopper is made from fabrics and embroidery thread.
Skill Level: Intermediate
DIY Door Stopper
This door stopper will delight you with its beauty and functionality, but it'll also help keep your home safe and damage-free. It may take a bit of effort to make, but the rest should be easy peasy once you get going with this project. Making a door stopper is not that difficult, and this one here is adorable. If you happen to have children, you could make their favorite cartoon character the door stopper, or if you're feeling more adventurous, why not try something abstract? These are very easy to make and can take many different shapes and forms, like flowers or animals, the choice is yours. They are great for blocking doors, furniture, or cupboards too.
Skill Level: Beginners
DIY Dinosaur Door Stop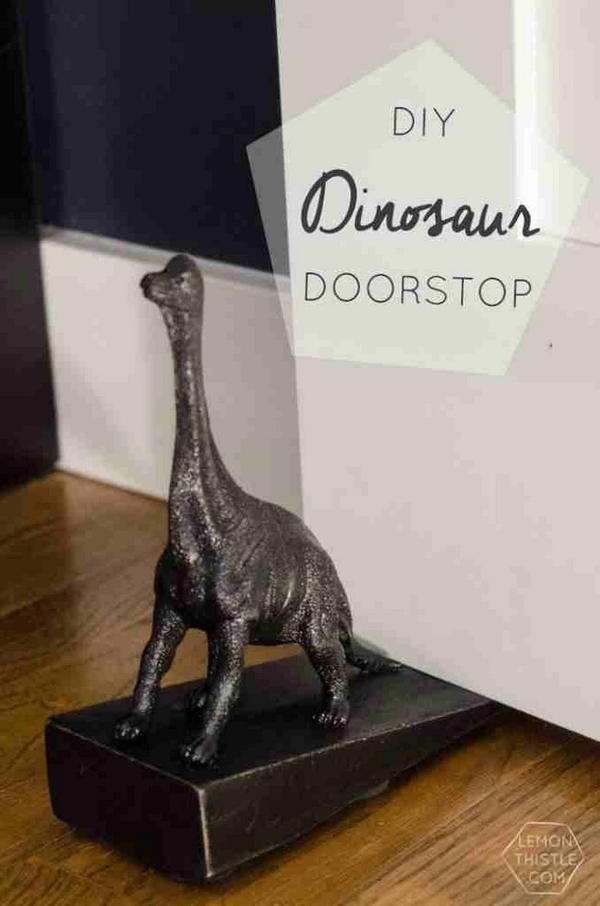 This DIY door stopper is ideal for people who do not want a primary door stopper in their homes. You can make this easy dinosaur doorstop by using plastic dinosaurs and wood. You can paint the dinosaur black or any color you want. This craft is perfect if you're looking for a cute and quirky doorstop! There's a character on this doorstop that makes it unique. The creator used wood and a plastic dinosaur, but you can make yours from any other material. This project is ideal for kids and adults who love to work with their hands. Your kids will enjoy making this door stopper, and you can use it in your home as a fun addition. You can place the dinosaur on the floor instead of hanging it on a door to make the best out of it.
Skill Level: Beginners
DIY Concrete Door Stopper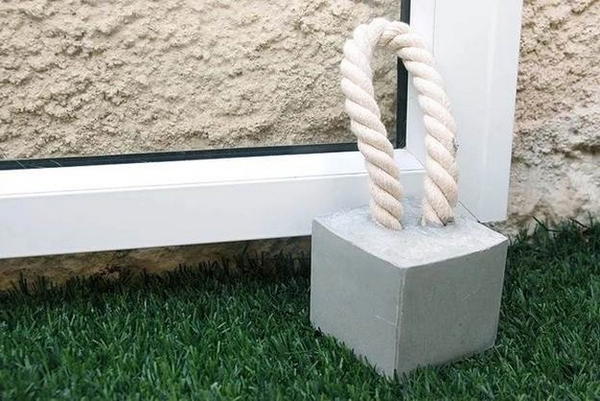 This DIY concrete door stopper is perfect for beginners and experts alike. The concrete mixture requires only water, and no admixtures are needed. Aside from the glue and jute rope, all other ingredients - sand and gravel - are inexpensive. And, you can make several of these in just a few hours. You could get a concrete door stopper, but most are expensive, hard to find, and of low quality. The best part of the stopper is the giant jute rope used! Imagine how much time you'll save by making your door stopper! No more paying for shipping to have a good door stopper.
Skill Level: Intermediate
You Killed Kenny" Door Stopper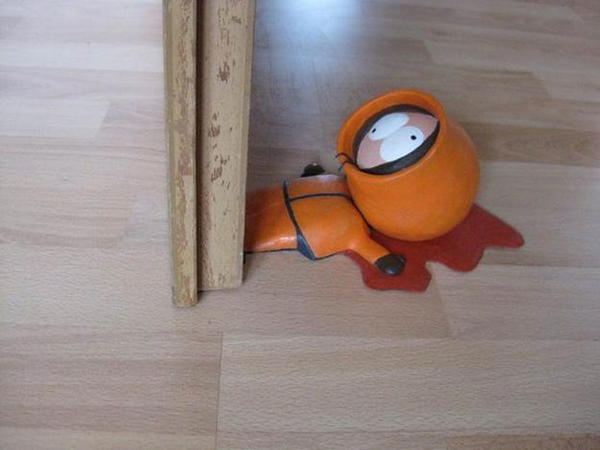 The hit show South Park shows this is a "You Killed Kenny Door Stopper." This model replicates the famous isometric angle of that memorable moment, where you can place it under any door and have a friendly reminder when your friends open it to come out and play. This fun "You Killed Kenny" door stopper requires only a couple of materials, glue, paint, and foam sheets, and can be made in under 1 hour. Follow these detailed step-by-step instructions to complete your killer Kenny. You have been warned! This project is straightforward, but if you have the basic skills and tools, this will be a great addition to your freezer or any other wooden door.
Skill Level: Experienced
DIY Tennis Ball Door Stopper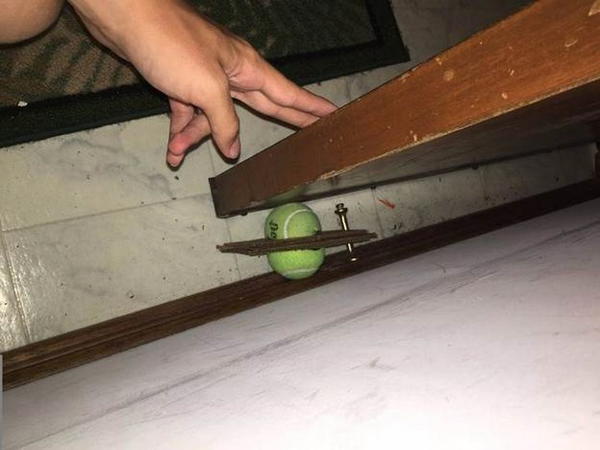 DIY Tennis Ball Door Stopper for all types of Doors. You can also use it for garage doors or even bathroom stall doors. Just follow the instructions provided on making this door stopper in a straightforward process and use some materials that are readily available at home. This door stopper does not damage the wall and can be easily stuffed into your pocket for future use. The materials needed to create this door stopper are a tennis ball, a piece of wood, and some glue that can hold the wood together with the tennis ball.
Skill Level: Beginners
DIY Dog Door Stopper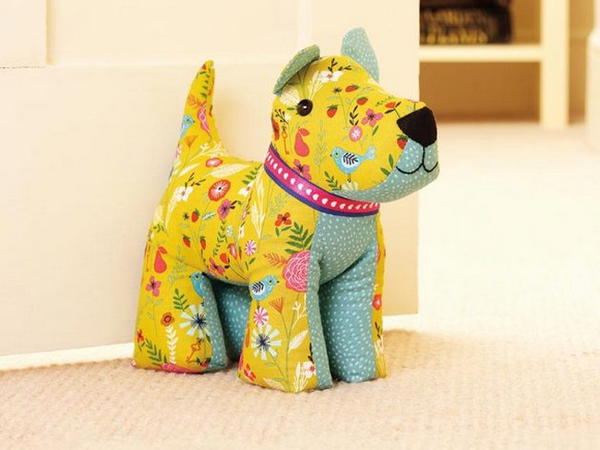 This great DIY Dog Door Stopper is a fun and easy dog-themed project. It can be made from simple craft store materials and caters to the "do it yourselfer." It's pretty easy to make, but remember that it is for your fun, not for your dog to tear apart. Make your funny dog stopper using clay and some other materials that you can find from any closest store. Make it as decoration as you want, or use it to keep your door closed when the dog is around. This dog-shaped door stopper is perfect for your home if you have a dog. In addition, you can also place this dog-shaped door stopper at the bedroom door to protect you from a possible midnight visit.
Skill Level: Intermediate
DIY Door Snake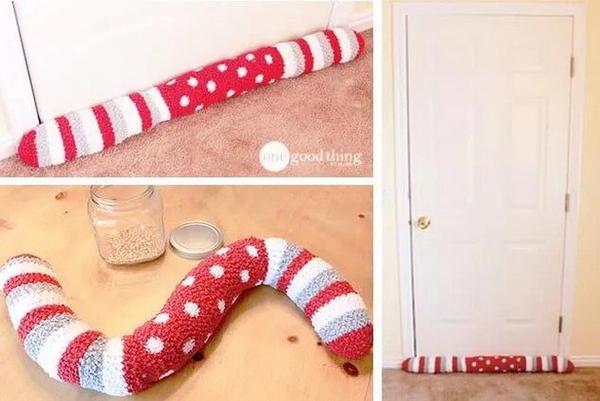 The door stopper is the best way to prevent your door from hitting your wall, especially if you have a tiny little space to deal with. DIY Door Snake is also referred to as the door snake; this door stopper can work in two ways, it can prevent your door from hitting your wall, and also, if your door doesn't shut thoroughly, it can help keep your door in place. DIY Door Snake is a perfect invention for people who have doors that can't seem to stay closed. It works like a charm, and surely you will love this product.
Skill Level: Experienced
DIY Doorstop With Handle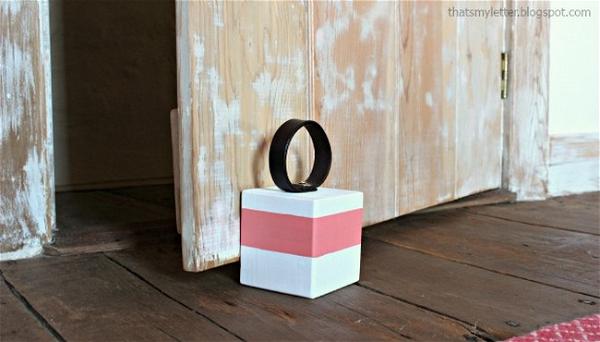 This super cool doormat will make your front entrance stand out. It can be used as a natural doormat or hung on a wall as art, in entryways, or just anywhere you want! What makes it unique is that it has been stained with concrete dye and sealed, then the handle is attached at the top to make it easy to carry. You can make your own, so you will not have to spend any money to buy one, and then it can be a nice decoration or a doorstop while being very classy if you want. Carve out the wood by doing what the picture shows; this is an example because you can make it look any way you want. You need to follow a straightforward step-by-step process to complete the project.
Skill Level: Beginners
DIY Jute Door Stop
DIY Projects are a great way to change your decor, and they're also a fantastic way to save money! It would look great in an exterior space of a home, with a subtle nautical vibe. The DIY jute door stop is the perfect way to add rustic charm to your home and is easy to make. You need a few things to get started, which are detailed in the video from Worthing Court, including a jute bag, F-clamps, and staples for hanging. The video also gives you a step-by-step help guide for how to make this doorway stopper right at home.
Skill Level: Beginners
DIY No Cost Door Stopper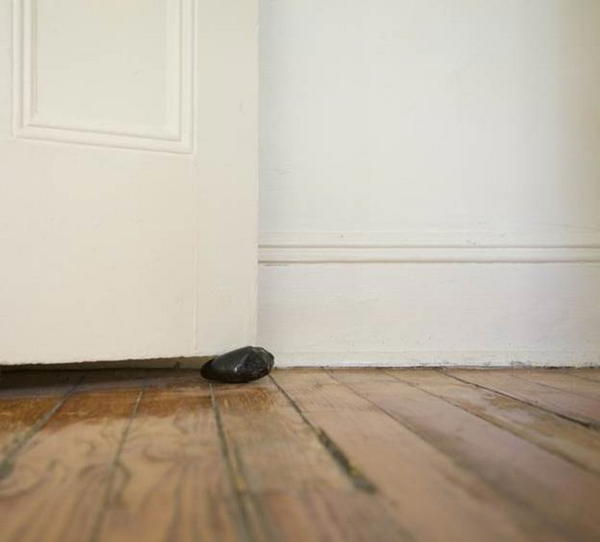 Do you hate it when the door opens by itself or slams itself in the wind? Do you want to protect yourself from possible injuries or prevent your little one from getting hurt? Try this excellent no-cost door stopper! It is made of a stone that is already a natural stopper. This DIY project is simple, and anyone can make it in minutes. Enjoy! DIY No Cost Door Stopper is a do-it-yourself project. The cost of this project is zero as you only need to borrow a stone from nature. It is cheap and easy to make. This stopper can be made bigger or smaller according to the size of your door. You can use a different color to make it more attractive.
Skill Level: Intermediate
DIY Washable Door Stopper
This DIY washable door stopper is made of 100% rubber, and it cleans very quickly after using it a few times. The best part about this door stopper is that you can reuse it for many years without worrying about staining or discoloration. By purchasing this Washable Door Stopper, you are doing yourself a favor. You won't have to worry about buying door stoppers every time you move or when your dog or cat goes for the door stopper, which is excellent and means you will spend less money on door stoppers in your lifetime. It is a simple product that will ensure that you can quickly and effectively stop your doors from opening if they come into contact with an object.
Skill Level: Experienced
Conclusion:
DIY door stoppers are extremely useful in keeping your doors open, especially when you are transporting a computer or other electronic item that needs to remain functional. But you have to carry around with you a variety of materials to fix the equipment inside any available space. Put your creativity to work in making your door stoppers. Here are 25 great ways to make them.