A lean-to shed is an excellent solution for small spaces! Easy and affordable, these sheds are a great addition to any property and suit various storage solutions. You can build sheds to fit any space, are easy on the wallet, and have many different uses. If you want a cheap and fast way to build your shed, check out the 23 DIY Lean To Shed Plans. These step-by-step plans are easy to follow and let you build everything from a place to store your patio furniture or a workshop. You can even convert the lean-to-shed into a tiny house.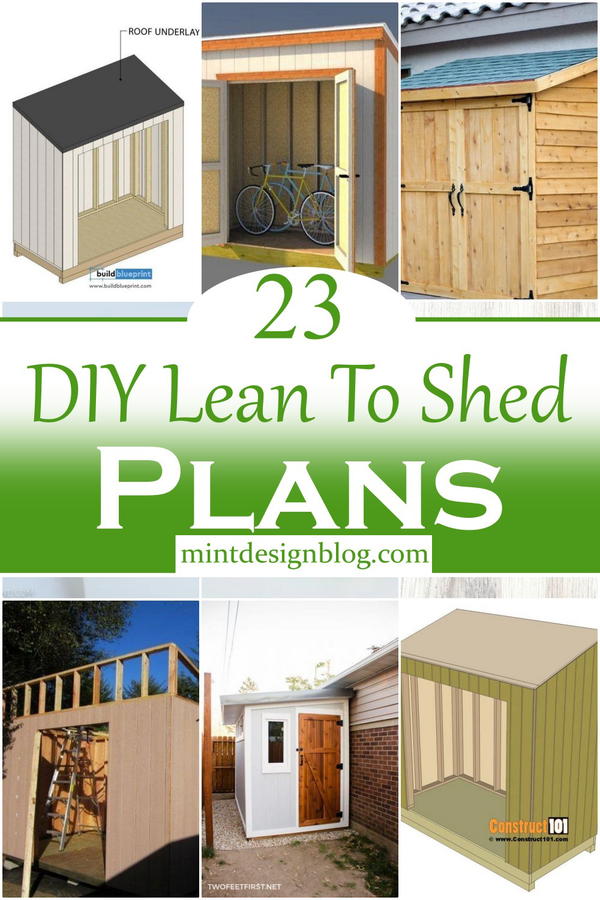 If you need a simple shed quickly, a lean-to shed will work perfectly. These plans are all straightforward and detailed. Building a lean-to-shed is a breeze if you have even the slightest amount of construction knowledge. Many of these can be built in an afternoon or even less. Some of them take just a few hours or so. You should not have any problem putting together one of these sheds. Let's get started! These shed plans are very detailed and include materials, cut lists, and illustrations. Take a look at a few of these easy-to-follow 23 DIY Lean To Shed Plans. Enjoy!
Using this step-by-step guide, these 23 DIY Lean To Shed Plans will help you learn how to build your lean-to shed, a barn shed, or even a tiny garage.
Materials and Tools:
Measuring Tape
Level
Hammer
Radial saw or circular saw
A lumber (depending on your design)
Plywood sheets or OSB boards
A drill bit set (including hex head bits)
Wood screws and nails
Metal braces (for wind/snow loads)
How To Build A Lean To Shed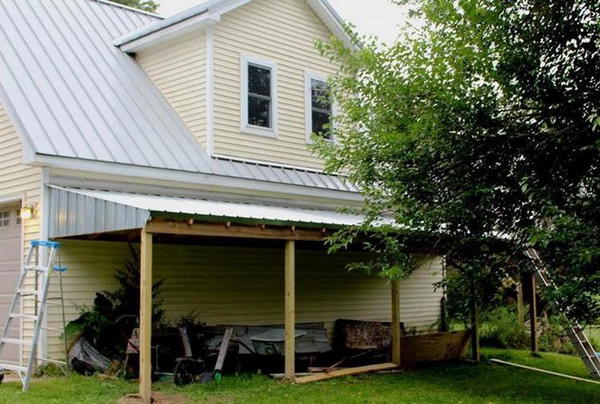 There are many ways how to build a shed. The design of the lean-to sheds makes it easy to work on them from the front or side. Whether you want a place to keep your firewood for the fireplace, small tools in the garage or garden supplies, this type of shed will do an excellent job for you! This woodshed is made from common foundation materials and some inexpensive siding, so you won't need to buy expensive wood. The lean-to will keep wood dry and safe from pests. This project started with a search for a simple way to build a small shed without making a lot of cuts or following complicated plans. It worked out pretty well, and the finished product is now being used.
Skill Level: Intermediate
How To Build A 4x8 Lean To Shed In 3 Minutes
A 4x8 lean to shed can be an excellent project for those just beginning their DIY journey. By the end of this article, you will clearly understand how to build a 4x8 lean-to shed in 3 minutes. Building a shed on your property is a great way to provide storage space, protect your tools, and spend quality time with family members. This project will be easy and doable when you have all the necessary materials ready beforehand. This DIY project will be a nice place to place all of your gardening supplies and work tools that you'll need outdoors.
Skill Level: Beginners
How To Build A Lean To Shed
A lean-to shed is an excellent way to have a handy storage unit to keep your stuff neat and clean. The building structure is simple: it has two sloping sides as roof, and two open spaces as windows, to allow for air circulation. The roof protects the inner space from weathering, which could damage items that you store inside. This step-by-step will look at how to build your lean-to-shed. Whether you're an experienced do-it-yourselfer or still getting started, there are a lot of tips from the video that can make your life easier.
Skill Level: Intermediate
Building A Lean To Shed
Every day, people come up with new ideas for DIY projects. Sometimes, those projects include a shed in the backyard. But if you're like most people, you won't just be building a shed because you want one. You'll build one to get something done: maybe you need shelter from the rain, or maybe you want to store your lawnmower, so it doesn't take up room in your garage or shed. You might even want to build a bonus space where you can relax or entertain friends and family. It's all possible to start with steel studs, screws, and the right tool! A few tools and a weekend are all it takes to create your lean-to in your backyard. Best luck to you, and good luck building!
Skill Level: Beginners
How To Build A 12x16 Lean To Shed
This building plan is for an efficient 12x16 feet lean-to shed with a steep roof slope. This design features a double doorway and one sliding window to offer sufficient lighting and optimum ventilation to each room. The pattern is robust and enduring, with simple, straight cuts and straightforward fixtures. This video will show you how to build a 12x16 lean-to shed that is slightly different from most sheds. The roof of this shed has a significant slope in the front rather than being flat in the front and steep in the back. It's not just sloped in the middle; and it's sloped all around. This roof makes for a sturdy, more rigid structure. The double door is another feature that sets it apart from other sheds.
Skill Level: Beginners
9. 12x16 Lean To Shed Plans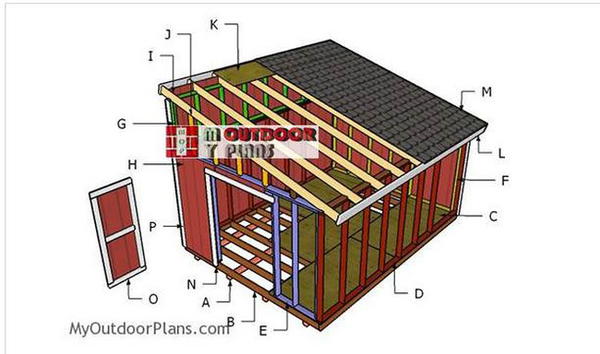 This building project guide is easy enough for anyone to follow without compromising looks or sturdiness. All you will need is wood (timber), a few essential tools, and time. This shed can be quickly built using the cut list and the plan drawings and instructions. Drawings and explanations for building a handy 12x16 lean-to shed from conventional construction lumber and plywood. The included cut list provides the dimensions for all major parts to customize the size for your needs. The popular 12x16 Lean To Shed Plans come with the cut list, blueprints, and material list. This building guide will help you build the shed with the cost of fewer materials than the in-store price.
Skill Level: Experienced
How To Build A Lean To Shed Easy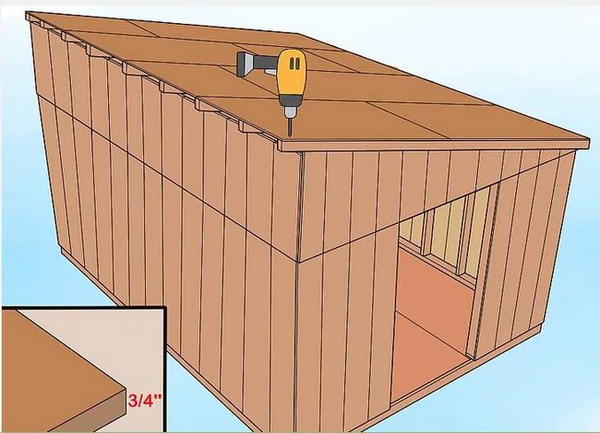 Building a lean-to-shed is an excellent project for beginners. It's pretty quick and straightforward to build, and once you complete it, you'll have a nice area where you can store your tools, potted plants, sports equipment, and other items. It could be used as an outdoor workshop or as a storage space. You can also pick a different angle and make this shed stand on its own by putting in some legs. If you need more space than your current space offers and don't want to spend too much money, this is the right solution. It is relatively easy to build since it only involves essential tools and materials.
Skill Level: Beginners
6x12 Lean To Shed Plans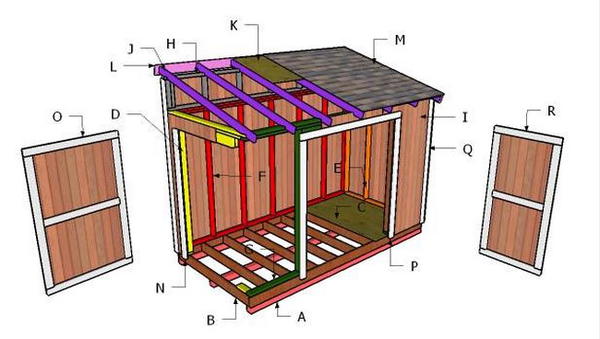 This 6x12 lean-to shed features double side doors and a front door, making it easy to access your belongings. A Lean-to roof makes it easy to build this shed from an exterior wall of your house. Follow the step-by-step instructions, and you should do this project in one week or less. This small workshop is ideal for the shed enthusiast that needs to add a small workshop to their existing backyard. It is also perfect for the do-it-yourself who has limited space in their yard. If you want to build your shed near a fence or house wall, it is!
Skill Level: Intermediate
DIY Lead To Shed Plans Free
DIY Woodworking Plans is professionally designed, which provides you with a step by step approach for the most innovative, creative, and simple techniques for building your shed and much more. Build the ultimate doghouse for your pet! Build the perfect vertical chicken coop! And build easy-to-follow woodworking plans to keep you saving money and getting better at your craft. Start building your peace of mind today. This project includes all the basic designs, dimensions, and plans that you need to build your shed. The DIY plans will allow you to construct your shed. It is helpful to have a few previous woodworking projects under your belt before starting this project. There are only a couple of essential things you'll need to do when building this shed, and the instructions in the guide should take you through it.
Skill Level: Intermediate
Lead To Shed Plans DIY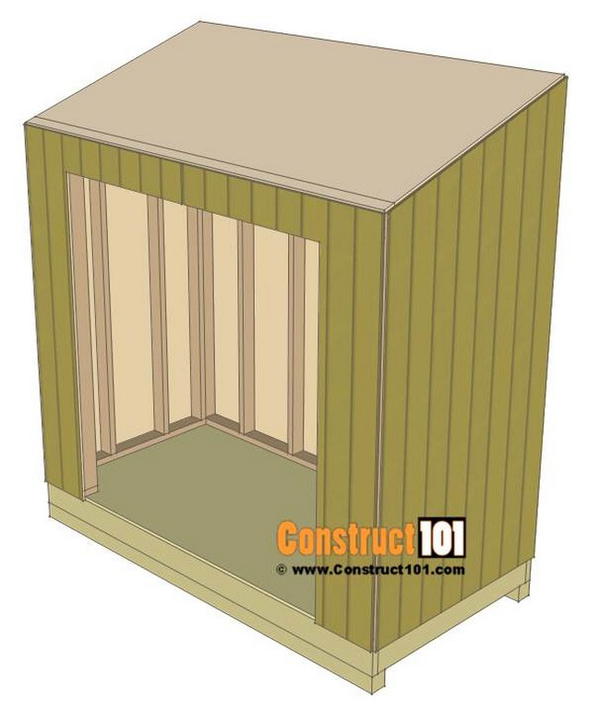 Do you want to build a lean-to-shed yourself? It looks like a complex project, but it's easier than you think. All you need is the right plans, the right plans that are detailed and will guide you through the whole process from start to end. The process of building this shed is quick and easy. The materials you can use for the project are readily available locally. This shed is a great tool to have around the home, and you can use it to store just about everything or even as a garage for your lawnmower and other tools. You will enjoy hours of fulfilling carpentry when you use step-by-step instruction to build your first shed.
Skill Level: Experienced
DIY 10x12 Lean To Shed Plans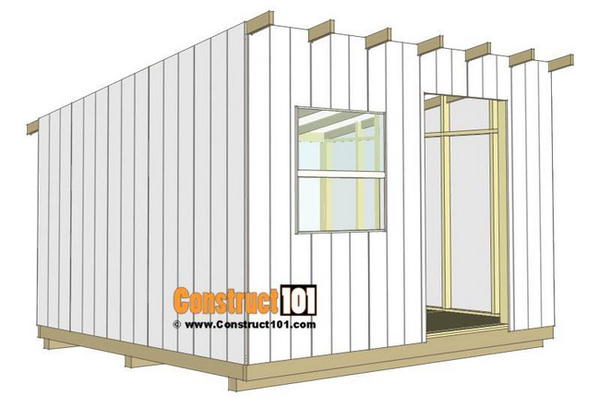 If you prefer to build this shed yourself and have woodworking experience, you can follow the step-by-step instructions to build a lean-to shed in your backyard. You will notice that you can purchase all the materials at your local home or garden store. The dimensions are given so you can choose to purchase or design your building plan. The lean-to shed is a small shed built against the house. You know how useful these can be, especially if there is a little more room you need to use up at the back of your home. This project is probably one of the most accessible sheds to build and take you through every step of the process with an exploded diagram and detailed descriptions.
Skill Level: Intermediate
How To Build A Lean To Shed
A lean-to is a simple and effective way to add usable space to your property. A nice lean-to can open up rooms in your home and provide extra outdoor storage or a place to sit outdoors. It can be beneficial when you don't have to heat or cool the entire house. Or maybe you are looking for a garage that overhangs the area beneath it. Check out this short video guide for tips on making the most of your yard's unused space! With these step-by-step instructions, you can build your Lean-To shed attached to the current structure at an affordable price.
Skill Level: Beginners
DIY Lean To Shed | Time Lapse
This DIY project is designed to be a discussion starter around your place of work or at home. You could even get together with your friends and make one. Building this lean-to-shed is not tricky. Anyone can do it. It is the fastest way to make a lean-to shed for your garden, farm, or home projects. It will save you money and time. A DIY enthusiast like you can do this project by following simple steps. A lean-to shed is the most accessible type of shed construction, and it doesn't require a floor or foundation. Almost anyone can make a lean shed with a few power tools and some wood.
Skill Level: Intermediate
How To Build A Lean To Shed
This project is an easy way to get a lean-to shed without making a complete building. It works great if you need a shed but doesn't have the money or tools to make one out of materials. You can also build it on top of your current deck or porch and still be able to reach everything in it with little effort. Make a simple lean-to shed by placing wood planks in the ground near an existing wall. Attach some wood planks on top to form a sloping roof. What could be easier? This shed doesn't have a door, but it is easy to get in and get out with what you need.
Skill Level: Intermediate
Lean To Shed Plans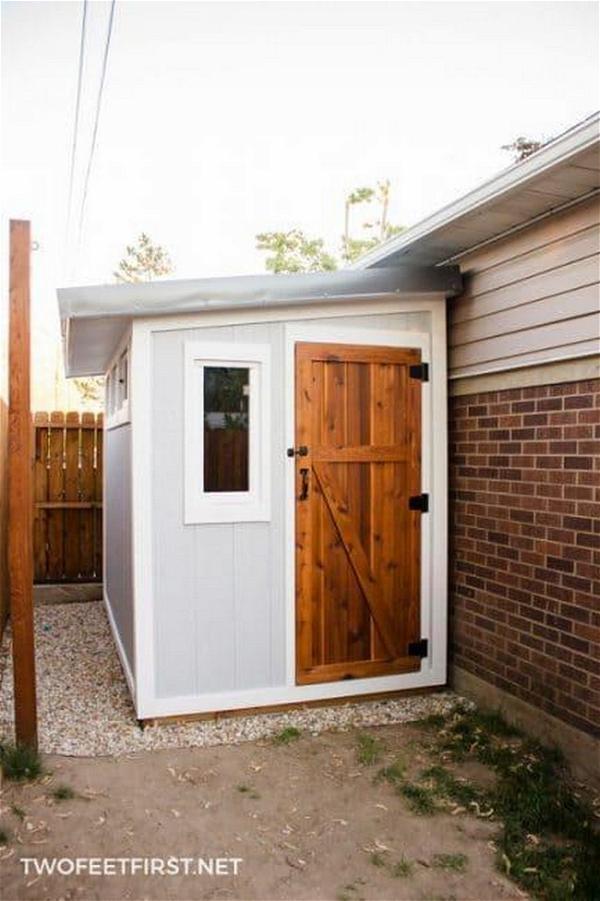 Your shed can be whatever you want it to be. Some people have wanted a lean-to-shed. This one is great because it has no door, leaving no space blocked by a door. If you already have a house with walls and a roof, there may be boards set in the ground forming a triangle. You could use those as support boards for your lean-to-shed. Just make sure they're sturdy enough! Gardeners love the open lean-to-shed. It is ideal for storing tools, potting soil, gloves, fertilizer, and more!. It seems to be sitting on top of some wooden planks in the ground for support, and it's on an angle by the outside wall of the house.
Skill Level: Experienced
8x12 Lean To Shed Plans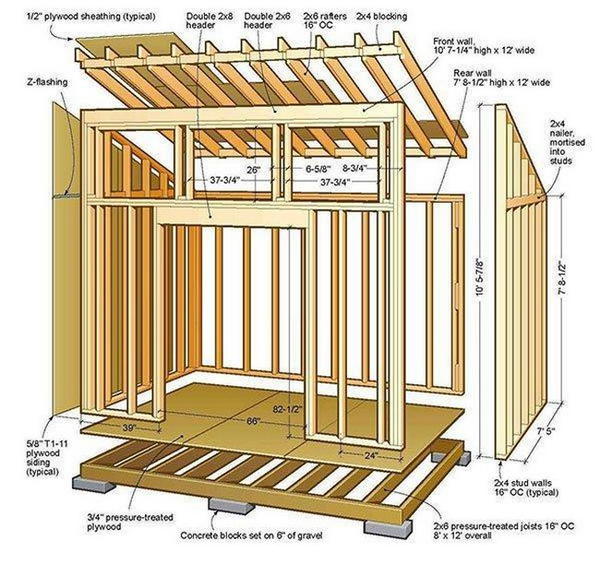 Are you looking for a shed that you can put up quickly, store your garden equipment and other odds and ends, and get rid of that messy clutter? This shed plan gives you a nice 8x12 tall lean-to shed. This shed is big enough for most needs, and it has unique attachment points on the wall with holes that are pre-drilled and threaded. To make it look clean and finished, you have to drill the screws into the wood framing and connect the soffit or fascia board. Follow step-by-step instructions to build a shed you'll be proud to show off! You'll never need to rent a storage unit again.
Skill Level: Beginners
4x8 Lean To Shed Plans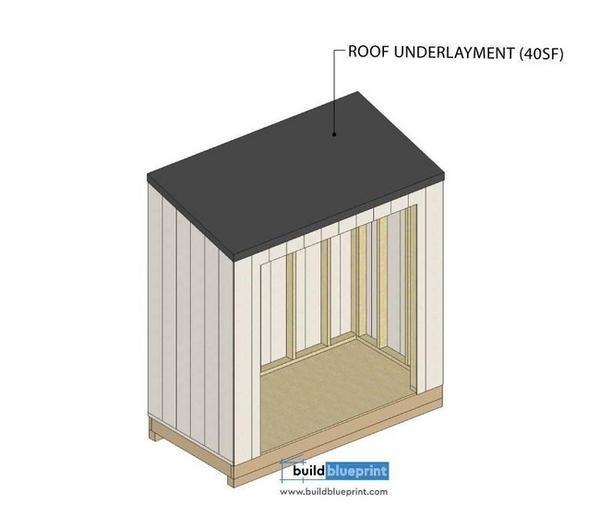 Building a shed is a fun project for homeowners and, at times, needed to store lawn equipment or provide extra storage space. The 4x8 Lean-to Shed Plan is an easy step-by-step guide that anyone can do with or without woodworking skills. It contains the instructions which will guide you through the whole process of building it. It's simple, inexpensive, and can be built in one day! This shed is effortless that can be built in about 3-4 hours, with no power tools required. It's an easy step-by-step project that anyone can do with or without woodworking skills.
Skill Level: Intermediate
4x8 Lean To Shed Plans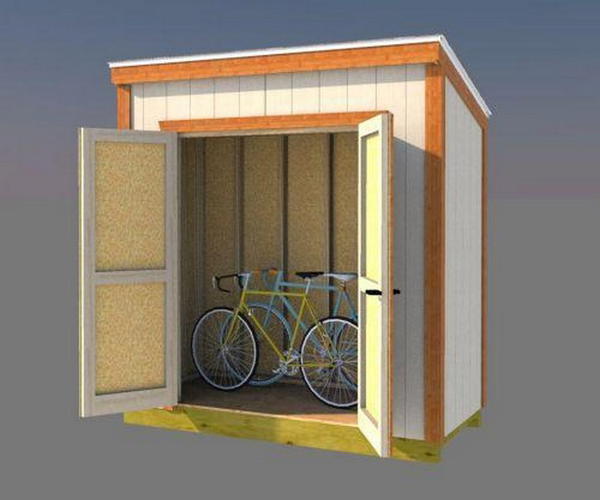 Finally, somebody made shed plans that are cheap, easy, and can be constructed with simple tools. This 4x8 Lean-to shed is perfect for those who want a small structure off to the side or anywhere you want because it's portable. This shed is even easier to build than the original lean-to shed. The 4x8 lean-to shed takes only 4 to 5 hours to build. It's an easy job because all you use is a circular saw, drill, and a staple gun. This plan also features instructions on making your portability kit so your shed can be moved around on flat surfaces or slopes without any problems.
Skill Level: Experienced
DIY Lean To Shed Plans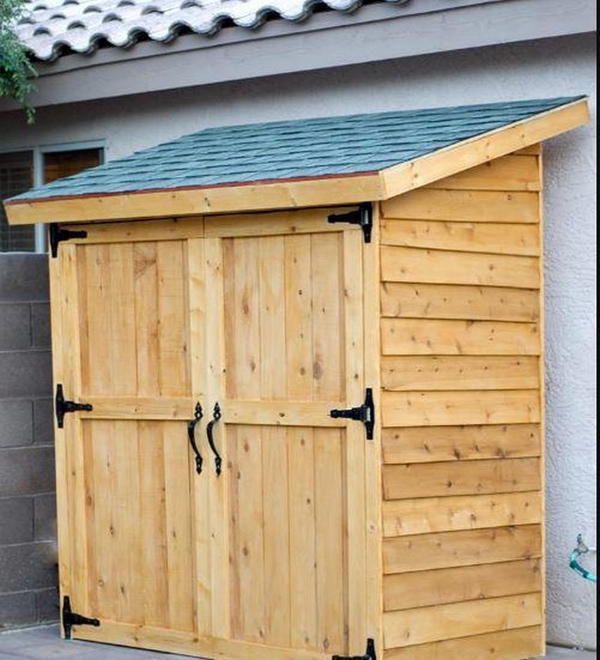 If you are looking for a way to save money on building a shed but still want a quality product, do it yourself! This DIY lean-to-shed plans guide can help you build a durable structure for storing all your tools that can last for years. Build Your Lean-To Shed provides you with a guide to constructing a lean-to shed. This guide includes all the information you will need, including where to go to initially purchase the materials, what tools you might need, and how much money it should take you to build this shed. Follow each step and read the tutorial thoroughly so that you make this shed easily.
Skill Level: Intermediate
10x12 Lean To Shed Plans
The 10x12 lean-to shed is one of the exciting small building plans. It is affordable, but it also requires very little time to build. This small lean-to hut would be an excellent place to stash your garden tools or store a few bicycles out of the way. A complete set of plans for this shed is available. Follow the instructions to learn how to build a lean-to shed to create a garage, storage unit, or workroom in your backyard. The tutorial contains detailed information, such as a comprehensive list of tools and materials you will need, the dimensions of lumber and plywood that you will require, and an estimated cost of building the shed.
Skill Level: Beginners
How To Build A Lean To Shed
You have come to the right place if you wonder how to build a lean-to-shed. This video guide will get you to step by step through the process of building a lean-to shed out of wood. The lean-to shed is an effortless way to create storage space in your backyard, and it takes no more than a few hours to put together if you use the suitable materials and tools. It would be great to have a few hours of free time and essential tools like drills, saws, screwdrivers, and hammers. You can find the materials to build this shed wherever there are wooden boards - try tearing apart old pallets or other wood crates used for shipping.
Skill Level: Experienced
10x12 Lean To Shed Plans
The lean-to shed is one of the most popular types of shed on the market. It has a low profile and slim design, but it's also relatively stable, easy to build, and offers many storage rooms. You would undoubtedly consider this shed if you have some space to spare in your yard. Only for the Do-It-Yourselfers, A quality-built DIY shed can be a fun and rewarding project for the whole family, and it can also save you money. The simple step-by-step video tutorials make it incredibly easy to build a shed that will last and can be passed down to your kids. You'll be able to plan on building a professional-looking shed with these plans in under 8 hours!
Skill Level: Intermediate
Free Lean To Shed Building Guide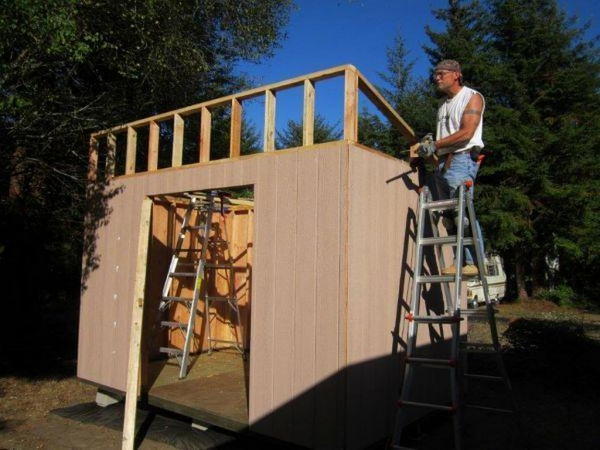 Are you looking for a project you can complete quickly? This plan will help. It is a small shed, but it is functional and meets most of your needs. A shed like this has ample space to store garden tools required for activities like gardening and landscaping. This one has a sloped roof, making it easier to build and giving the shed some style. This free printable plan guide will have you building your lean-to-shed in no time. There are instructions and a materials list on building this 4x6 shed with a sloped roof. It is a pretty easy project and does not require much knowledge in carpentry."
Skill Level: Experienced
Conclusion:
These 24 DIY lean-to-shed plans are the perfect solution for storing your excess yard items without taking over valuable space inside your home. Download these DIY plans and follow the step-by-step instructions to build a lean-to shed that perfectly fits your yard space. Included in this set of DIY plans, you will find outdoor storage sheds for all sizes of yards. These builds will allow you to build a lean-to shed in just a weekend. There are plans for every skill level, accommodating everyone from the beginner level to the master craftsman.