It's very normal for kids to be interested in what you are cooking. After all, the kitchen is the most important room in the house. However, it's not a safe place for your child to be in. There are a lot of things that could go wrong. Homemade play kitchens can help keep your child busy for hours on end, and it's an excellent way to keep them from entering your kitchen while cooking or cleaning. If you are looking for some DIY play kitchen ideas, here are 25 DIY Play Kitchen Ideas which will help you make this easy!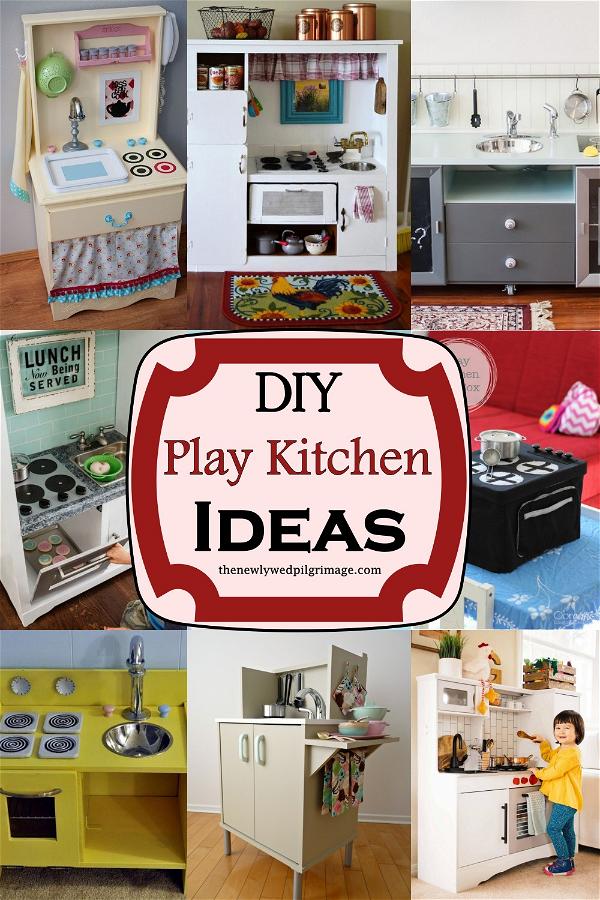 A homemade play kitchen is an excellent gift for your little one. Every parent's dream is to keep their kids busy, especially when cooking. You can't just leave your kids in the kitchen to play with knives and other things that could hurt them. For this reason, you need to take them out of the kitchen. Building a play kitchen for them is One of the best ways to keep them occupied. They'll rarely bother you afterwards.
Here are 25 DIY Play kitchen ideas that help you make play kitchens and settings more fun, interactive, and engaging!
Handmade Play Kitchen Idea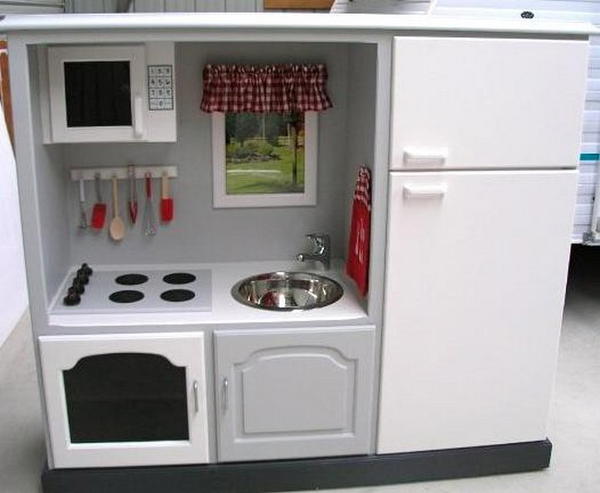 Your kids will love these awesome handmade play kitchen ideas. This old TV unit, fixed up and transformed into a fantastic play kitchen, is a great way to show your kids how everyday items can be used for other purposes. It's the perfect gift for any kid that loves pretend play, just imagine the hours of endless fun. All the doors and drawers are functional and can hold small toys and other necessities you might want to store. Let your kids create their own world; come in and envision it with them!
Large DIY Play Kitchen
DIY Play Kitchen is fun, easy, and a great way to surprise your kids. If you're lucky enough to have a kitchen cabinet or corner that can convert into a kitchen, all you need are some great ideas and the materials. This DIY play kitchen is functional and remains budget-friendly; you've found the right project. Here are the key features of this kitchen and how to convert a room into a play kitchen: The space was already there, so the only costs were collected in the materials used.
Play Kitchen Made From Cabinet
This is a play kitchen made from a cabinet; this beautiful kitchen is built from an existing cabinet to make it easier to transport into the house and have a good look. It's kind of gorgeous and would make a perfect Christmas gift for your child. The drawers open and close quickly, and the sink and taps work just like the real thing. With plenty of counter space and easy child-sized doors, it's perfect for imaginative play!
Low Budget DIY Play Kitchen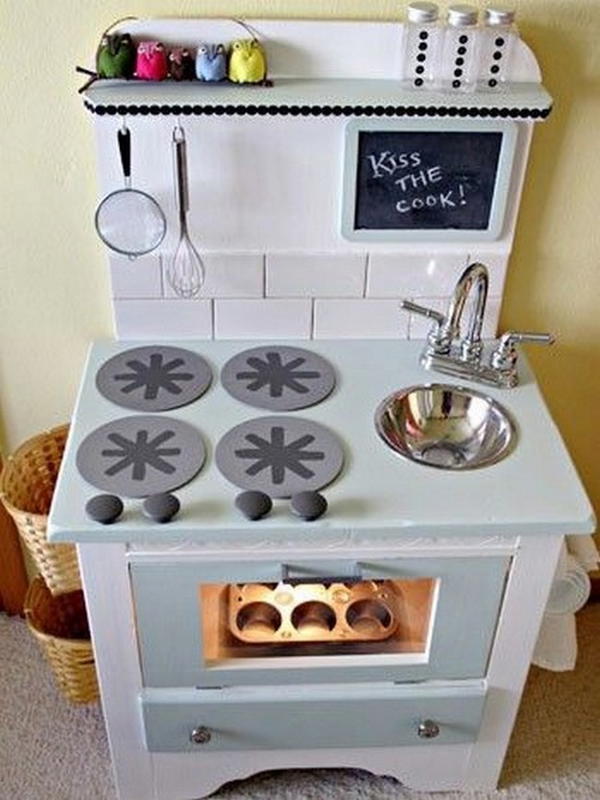 This $10 DIY kitchen is an easy weekend project and won't break the bank. There are no power tools used in this kitchen design, and everything is customized for your children's age (younger kids will find this especially easy to use). It uses supplies you probably already have on hand, including cabinets. Learning how to make a play kitchen is very easy and cheap. A more detailed step-by-step guide on how to build one will be given in this post. The design of this kitchen seems to be very simple and attractive. Your kids will love it.
DIY Play Kitchen Makeover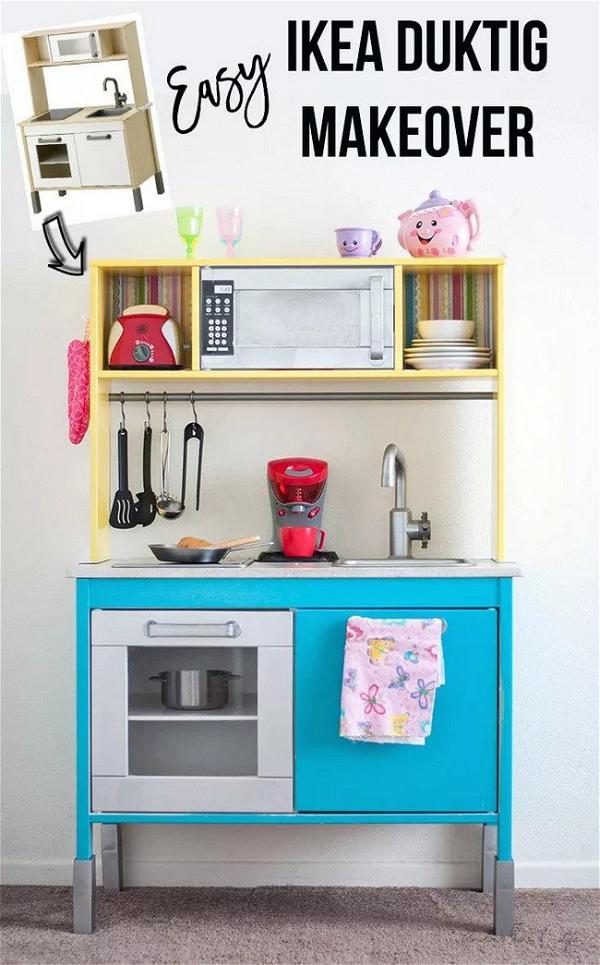 Bring your child's kitchen to life with a play kitchen makeover! This project is designed to help you transform any kitchen into a dream play space for kids. Whether you're giving a beloved toy kitchen a facelift or starting from scratch, this easy DIY Play Kitchen Makeover is easy to do and fun with older kids. They can help you choose your favorite paint color and help with painting. When it's all dry, they'll have their very own kitchen they can enjoy for years to come!
Decorated DIY Play Kitchen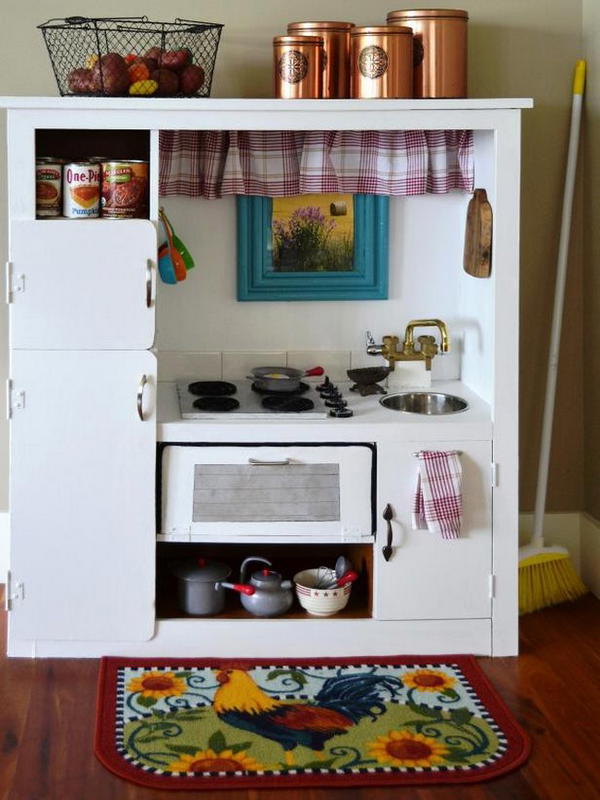 A play kitchen has endless possibilities for imagination and creativity. This one was created using an old entertainment center, but well-stocked kitchens can be purchased new or nearly new for a reasonable price. Wood glue, paint, and elbow grease were also needed to transform the entertainment center into this tiny toy kitchen for kids. Start the "play kitchen" making process; once you have your kitchen ready, it will be easy to decorate it with stickers, paint, and lots of fun elements that make the home much more fun!! This required only one or two days for completion. With a homemade play kitchen, kids will never get bored again! Your little princess is ready to start cooking!
DIY Play Kitchen With Cabinet
Here is a great way to recycle old cabinet doors and get this fantastic Kitchen with a lot of space. It will be an excellent addition to your kid's playroom. You can also choose to paint it and add some accessories. This Kitchen is a fully functioning play kitchen. It has an oven that lights up and an oven with a glass window to watch the play cooking. It also has a sink with running water and cupboards to store all your cooking utensils.
DIY Kids Play Kitchen
Have you been looking for a new way to get your kids to play inside the house? Why not make them this awesome DIY kid's play kitchen? It is effortless to make, and it looks fantastic. It will keep your kids entertained while you sneak in some time to read the newspaper without disturbance or prepare dinner without having your hands busy. This DIY project can be made from a few woodworking tools and some scrap lumber.
Transformed Cabinet Play Kitchen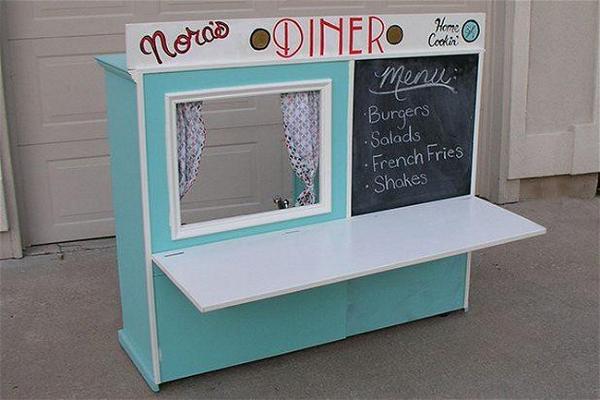 Transformed Cabinet Play Kitchen is a cute, fun, and cheap makeover project anybody can do. It will transform a boring cabinet into an outstanding play kitchen for your kids, and you won't even need to spend a fortune on it. It's amazing what you can do with paint and some other tools. You can make this play kitchen for your little one in less than 24 hours. The kitchen has working lights and sounds and lots of storage space.
Cute Play Kitchen Idea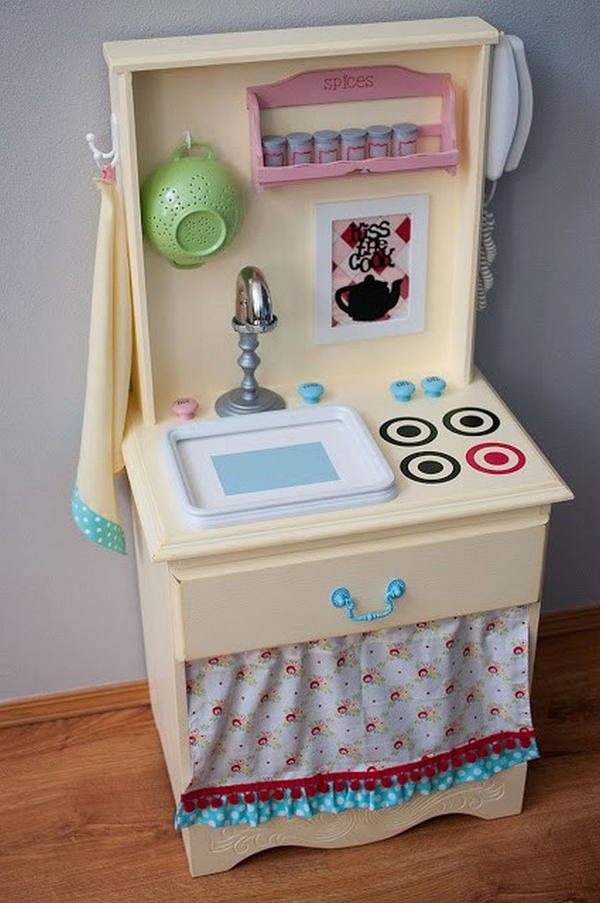 This is such a fun idea. Using old furniture and new kitchen accessories, this cute play kitchen idea is perfect for any little girl who loves cooking and pretends to play. So many little touches make this kid's kitchen unique and fun. Check out the detailed pictures of this cute play kitchen idea, and then get a few inspiration ideas to create one for your little ones. Your kids would love this. It has a fancy sink and also a spice shelf.
DIY Play Kitchen Makeover Idea
If you already have a play kitchen at home, you should know that it tends to get old, broken, and outdated over time. Since most kids don't have the patience to play with an old toy, they lose interest in it and leave it untouched. With crafty decorations, you can quickly transform your play kitchen from an ugly thing into the focal point of the entire room. The best part is that the whole process is easy, affordable, and can be done by anyone. You don't need an architect or professional painter to transform your old kitchen into one you can be proud of.
Deluxe Style Play Kitchen

If your kid has imagination and loves to cook up some trouble in the kitchen, they need this play kitchen. The tall storage center is the perfect place to stow all the cooking paraphernalia and food, while the chalkboard is a convenient way to chart out masterpieces. This toy cooker even comes with an oven and sink that spray water, rolling casters, and a detailed pantry that opens and closes. Help your child cook up something special with this deluxe-style play kitchen. With all the essentials to keep your little chef busy, she can create a menu all her own.
15. Simple Kid Play Kitchen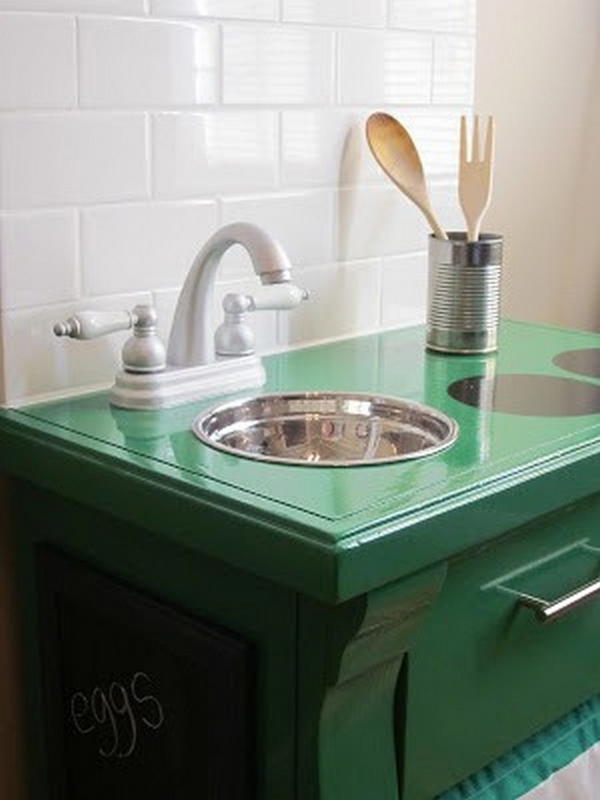 Simple Kid Play Kitchen is an excellent kids' room decor idea. It is conveniently designed to blend in with your child's environment. With a chalkboard on the side and a storage box at the bottom, you can make this play kitchen convenient by storing all the play food inside it. This way, you won't have to keep looking for them or keep them all in one place. You could also use it as a birthday present for your kids so they could write on the chalkboard what they want to cook in their playhouse.
DIY Realistic Play Kitchen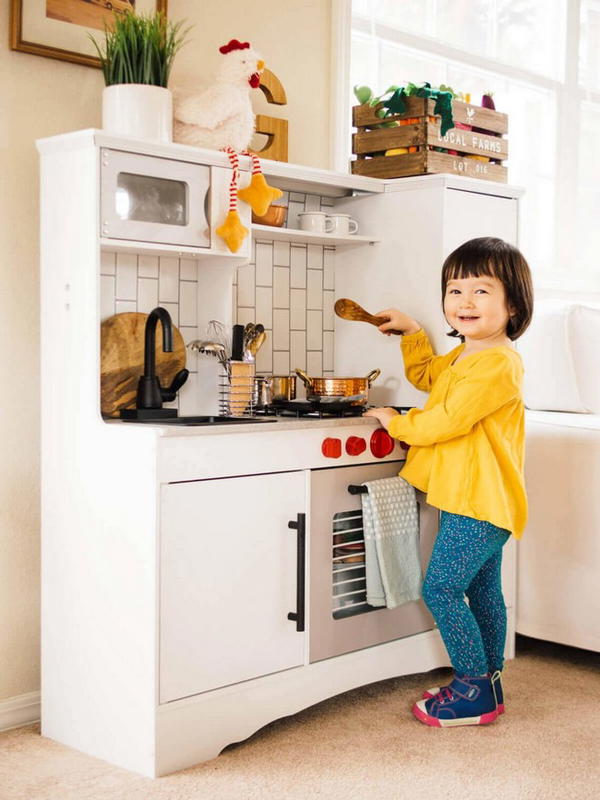 DIY Realistic Play Kitchen is an excellent set for any child that loves pretend play. This kitchen set from KidKraft features your child's favorite colors and has a lot of realistic details! The kitchen case comes apart and can be taken anywhere to become the perfect addition to your little one's playroom or basement. Your child will love this and find it an exciting experience for them to create all kinds of fun. You can go through this guide to learn how to make it easy.
Cheap DIY Play Kitchen
Play kitchens are fun, but we don't want to spend a fortune on one for our kids since they usually outgrow them within a year or two. You can turn an old TV stand into a kid's play kitchen with just a few simple tools and supplies, plus some imagination. Here's how to do it. This project takes about two hours, but you don't need to be super professional or experienced; anyone can do this! Watch this video tutorial to learn more.
DIY Low Budget Play Kitchen

This DIY Low Budget Play Kitchen might not have a lot of compartments, but all your kid needs are this. This play kitchen features a microwave stand turned into a stunning play kitchen and storage in the form of a cupboard and under the sink. The wooden shelves give a natural feel to the entire play kitchen and are much more comfortable for your kid to operate on. Your child will love this play kitchen because it can be handed over to them, and they can play with it right away without any trouble at all!
DIY Miniature Cardboard Kitchen
DIY miniature cardboard kitchen will help your kids to play by themselves. This one is a masterpiece with many details. You can use it as home decor or a pretend playhouse. This is a great playset for kids of all ages and provides hours of fun. All that is needed to build this adorable kitchen is cardboard and glue. This toy is fully assembled, versatile, and has various features for kids to eat, drink, do homework, and much more!
Modern DIY Miniature Play Kitchen
This DIY miniature play kitchen can be a perfect addition to your kids' childhood memories. All the mini-appliances are made with safe materials, so you don't have to worry about toxic or choking hazards for your little one. This DIY kitchen works well as both a toy and an essential cooking tool - though it's not exactly super practical. Check out the video above to see precisely how elaborate the set is!
DIY Kids Cooktop
This DIY Kids Cooktop is a relatively simple project to build and will provide hours of fun for your kids as they help you make dinner or cook on your own. The trim and sliding drawer can be painted to match your decor, adding a nice touch. The best way to learn how to cook is by doing all the cooking. With this DIY kitchen, you can take the first step into actual cooking for kids. The kid-friendly controls let you decide if your kid is ready for kitchen duty. The design features some of the weirdest-looking knobs that are even fun to operate.
DIY Kitchen Idea From Entertainment Center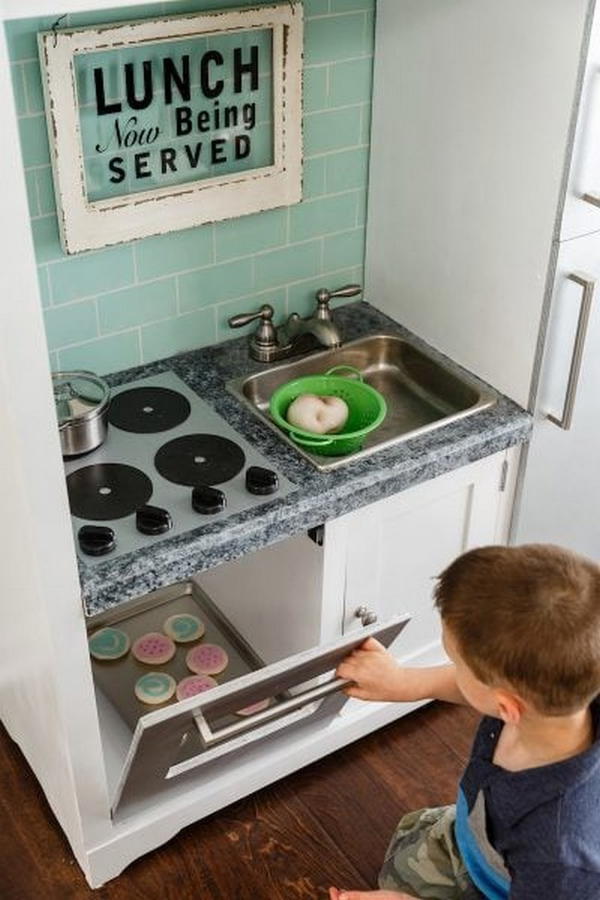 The entertainment center is the piece of furniture in your home that doesn't get much attention. It sits there, holding your TV and sometimes other appliances and more. However, if you have an extra piece of furniture with storage capacity that you're not using, you can quickly turn it into a play kitchen for your little ones to enjoy. This is an excellent basic kitchen idea that is pretty easy to build if you don't want to spend much money.
DIY Play Kitchen For Kids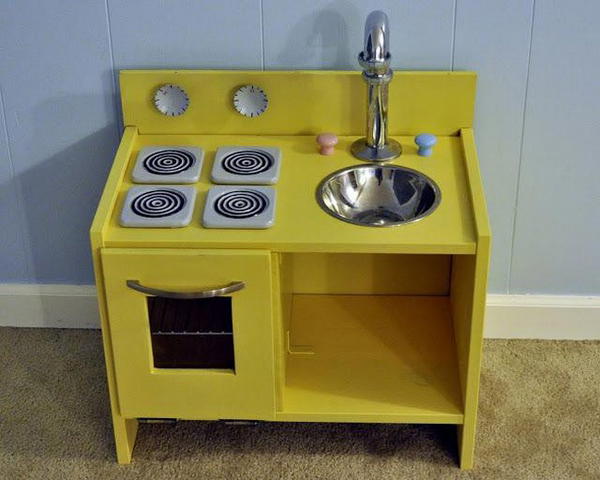 This is a DIY play kitchen for children using cardboard, paint, and wood coasters. The oven can be opened; the burners look real and are made from wood coasters (you could use any cardboard), and lights can be turned on and off. If your child loves playing with this, it is possible they will learn some cooking skills while they are developing their motor skills. It's not only relatively simple to make, but it can also serve as the perfect colour combination in your kid's room. Make your own DIY play kitchen for your kids using this guide.
DIY Play Kitchen In A Box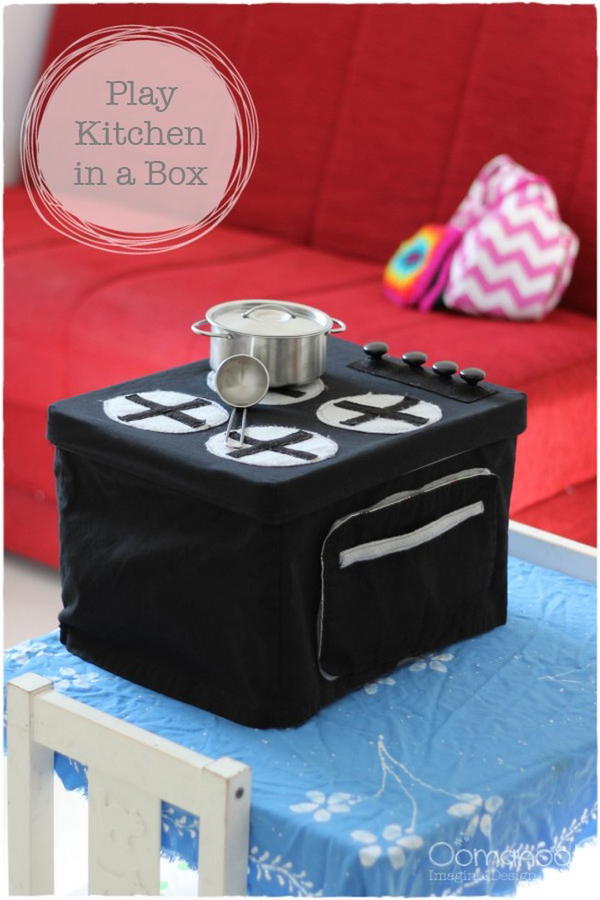 DIY play kitchen in a box is quite cute. It comes with everything you need to create a kitchen that little girls will love! The play kitchen in this box can be placed on the floor or a window ledge. The best part is that it comes with an easy-to-carry case to hold all the pieces. In addition, there are lots of ideas and instructions to aid the beginner builder. Make your own DIY play kitchen in a box by following the step-by-step instructions in this guide.
Play Kitchen DIY Woodworking Plan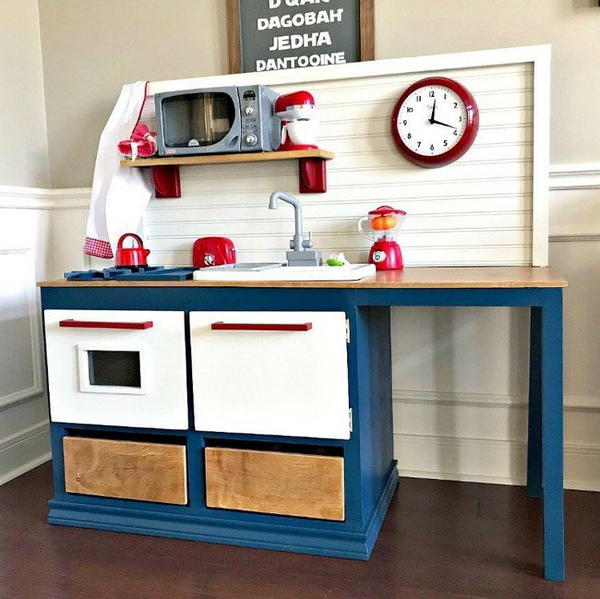 Play kitchens are great for kids because they let you practice cooking skills, create a place to have tea parties, and allow children to play with smaller items such as food. They also encourage role-playing. The kitchen is pretty simple to make and can cost you a very affordable manner; if you don't use wood as cheap as pine, the price will be higher. This is a step-by-step, easy-to-follow DIY woodworking plan for the ultimate kid's kitchen in this guide.
DIY Kitchen Playset

Building a DIY kitchen playset is easy; it's a great way to let your kids play at home with anything they could ever want or need to play with within their own house. This is a very simple DIY Kitchen playset that is easy to make and will fit almost any child's bedroom. This DIY project is lightweight and can be done with the supplies you probably already have around the house. The best thing about this kitchen is that it can be built for almost nothing quickly, with only about two hours of construction time and a few very essential tools.
Ultimate DIY Play Kitchen Idea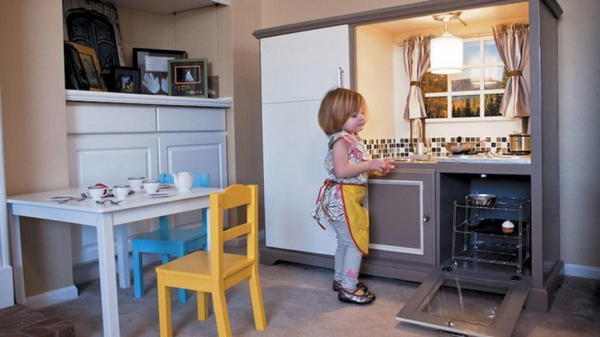 An old TV cabinet is a perfect item to transform into a play kitchen for your kids. This fantastic DIY project is kid-friendly and will save you money over other play kitchen models. This DIY kitchen is easy to make and easy to clean; this DIY kitchen shows how creativity and ingenuity can help turn an unwanted item into a child's dream play area. It's the perfect addition to your child's playtime in the house. This is very useful in saving space while providing a safe environment for the kids. It promotes imagination, and this will make your kid more active.