Kitchen knives are essential for preparing delicious meals, but they can also be one of the most dangerous weapons in your home. Use these DIY knife block ideas to store your blades and reduce the risk by keeping them out of reach. You can make your own knife block with items you already have in your home. Knife blocks are great for keeping your knives safe and out of the way, but they don't always do a great job of looking nice. If you're interested in creating a better-looking block (that's also more functional!), here are some ideas to help you on your way. The following are some DIY ideas to help you keep your knives organized and safe.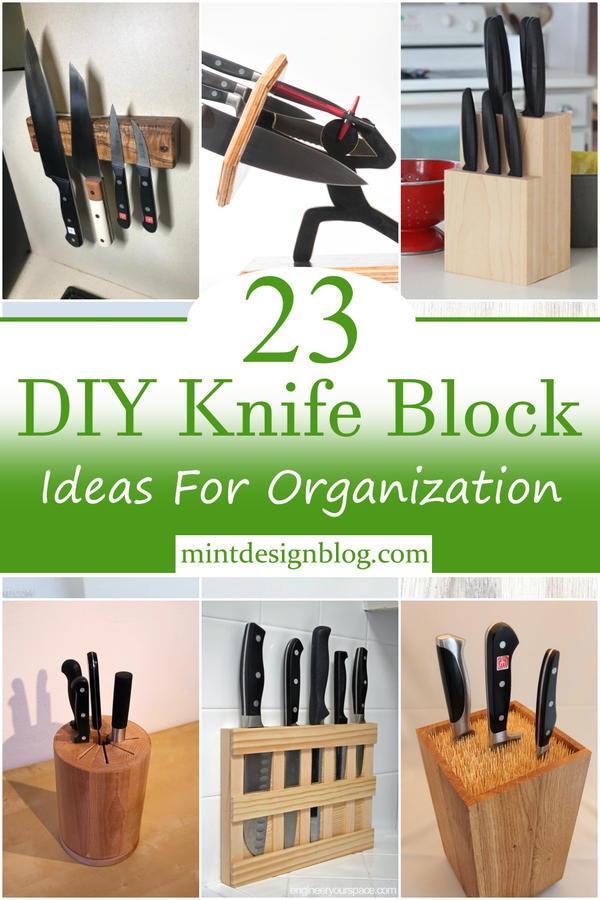 DIY Knife Block Ideas
You are one of the lucky ones if you have a knife block. A knife block is a kitchen tool that helps in storing knives safely. If you don't have a knife block, then worry not, as we have listed DIY knife block ideas that also include steps on how to make each of them. All you have to do is find an excellent DIY knife block idea and start working on it.
Advantages of DIY Knife Block
If you're looking to save money and still get the same quality results, then DIY knife blocks are the way to go. The following are some of the advantages of a DIY knife block:
You can make a custom knife block for your kitchen that fits your needs and style.
You can use whatever material you want so that it matches your decor or tastes.
You'll have a unique piece of art in your kitchen that shows off your personality.
DIY Knife Block
Save Money: You can save money by making your own knife block. The materials needed are easy to find and won't cost much.
Customize It: You can adjust the size of your knife block to fit your knives perfectly.
Save Space: You can use a small piece of wood to place your knives, and it will take up less space than a traditional knife block would.
Universal Knife Block Idea
A knife block is a perfect gift for any chef, especially if they have a lot of knives. This one is perfect because made from wood, so you won't have to worry about having rust on your knives. Not only that, but it also has this unique design that fits all of your knives and looks great on your counter. This DIY Universal Knife Block is easy to make and can be customized to fit any knife collection. It holds knives, from small paring to more oversized chef's knives. Look at this guide for the step-by-step instructions for creating this excellent block with your own two hands!
Chef Wooden Knife Block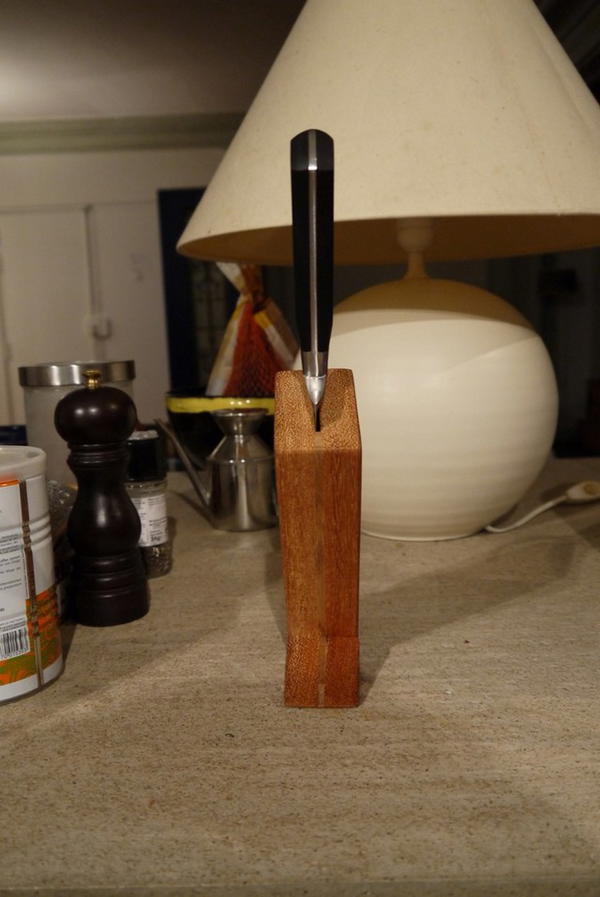 This simple DIY Chef Knife Block is perfect for storing your favorite knives. If you are looking for an easy solution to finding a way to keep your knives rather than throwing them in a drawer and risk damaging them, then this is what you need. It is a great way to save space on the kitchen bench and keep your knives organized and protected from damage. This handmade knife block is simple and practical. It's made from a standard size cutting board, making it easy to customize for your space and needs. Our selection of wood species provides you with many options to create any look you desire.
How To Cut Slots In Knife Block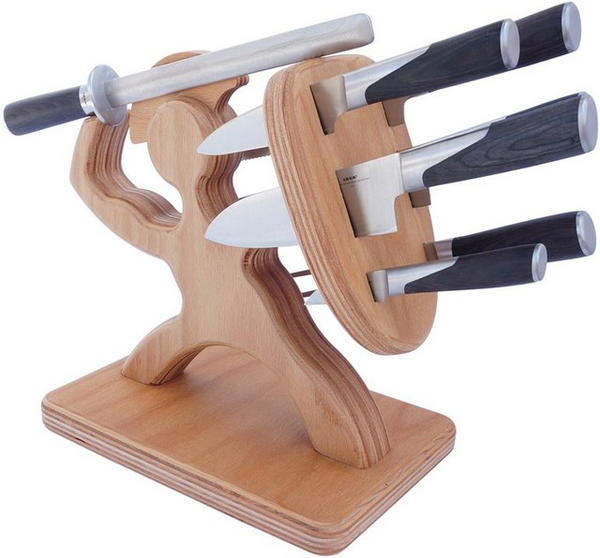 Knives are an essential part of any kitchen. They make cutting, slicing, and dicing food easier. However, not all knives' blocks are created equal. This one is simple to build and looks fantastic. The best thing about this DIY project is that you can easily make it by following the tutorial. Since we live in a world where materialism is essential, and people tend to be more impressed by things that cost less, this could be one more way to be exclusive and not spend too much money on something that comes for free. Learn how to make your striking knife block using an ordinary piece of wood. At the end of this project, your knives will be safe and ready for daily use.
DIY Deadpool Knife Block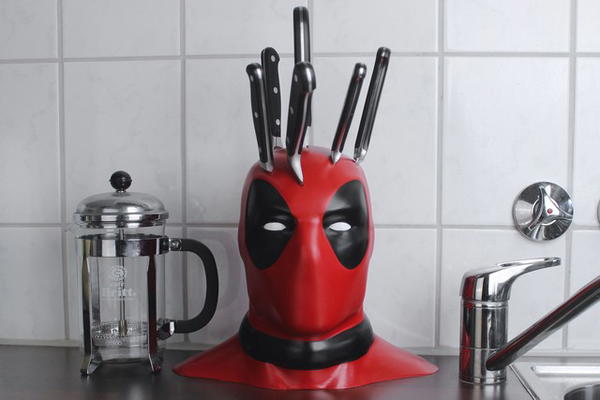 Get ready to be the coolest guy in your neighborhood with this Deadpool knife block idea. It is a great way to show off your love for Deadpool and impress all of your friends. Making this knife block will take some time, but once it's all finished, it will look beautiful on any countertop. You can use this DIY Deadpool Knife Block Idea to store up to six knives. It is gorgeous and matches any decor in your kitchen. It will help keep them organized and prevent them from getting damaged.
Magnetic Knife Block WIth Glass DIY
A knife Block is the essential piece of equipment every chef should have in their kitchen. An ideal solution for any kitchen, this Magnetic Knife Block is sure to hold your knives with ease. The magnetic bar ensures that each knife is safely stored and doesn't damage other items in your kitchen or get lost when removing knives. This magnetic wooden knife block is unique and would make a great addition to any modern kitchen. The glass base and wooden construction perfectly match the modern aesthetic and will help add an elegant touch to your kitchen countertop.
Magnetic Knife Block With Pallet Wood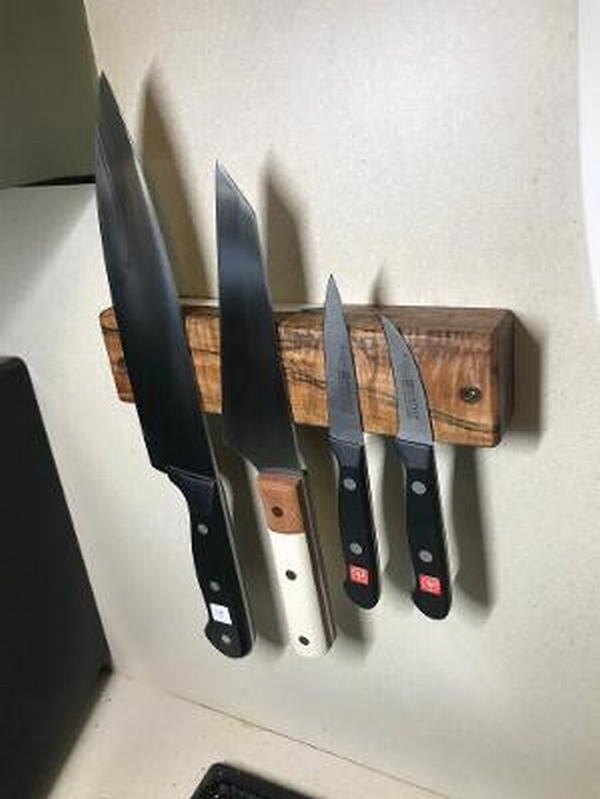 Whether you're looking for a fun do-it-yourself project for your home or a unique gift for friends, family, and coworkers, this magnetic knife block will be a hit. This modern magnetic knife block is an attractive addition to any kitchen. It helps keep your knives organized, readily accessible, and out of the way to reduce clutter in the kitchen. That is not all; this knife block also provides safety for children in your home by keeping the knives out of reach. You can make your own stylish magnetic wall mount in just minutes using things you probably have around the house. The entire process is simple and inexpensive—plus, the finished DIY will look amazing!
Wood Magnetic Knife Block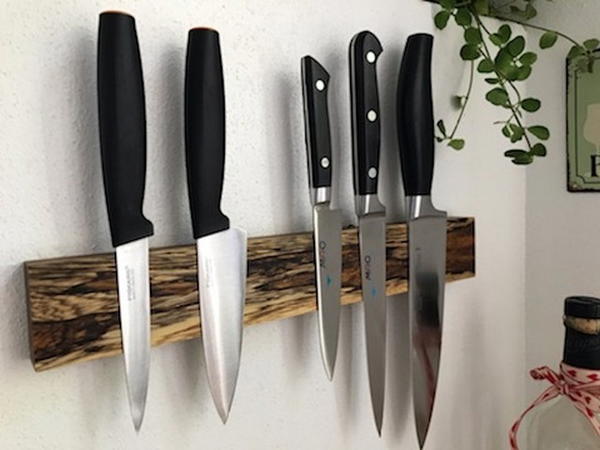 Don't chuck your knives in the drawer with your utensils. Create a custom magnetic knife block that perfectly fits your knives and a beautiful kitchen (wall-mounted or countertop). The best part is that you can use this technique to make a magnetic bowl rack. You can make your magnetic knife block by using a few items. It is straightforward to do and is also an inexpensive DIY project. A magnetic knife holder will keep your knives safe, handy, and in order. It rests on an attractive, solid wood base. You can make it with care and attention to detail; this magnetic knife block will please any chef in your family or kitchen!
Ultimate Knife Block to DIY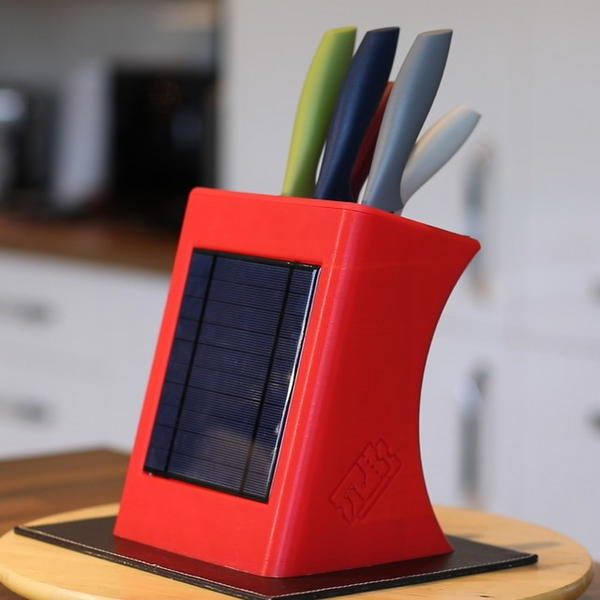 Knives that are not sharp enough to do their job well can make your cooking experience a nightmare. Thankfully, there is the Ultimate DIY Knife Block that allows you to sharpen your knives with ease. You can sharpen your knives in just a few seconds! The sharpener is built into the block, meaning you don't need to worry about bringing an additional tool while cooking. The Ultimate DIY Knife Block has many knives that are incredibly sharp and durable. Place the sharpener on the counter of the kitchen or garage as well as inside your kitchen. You can easily see when you need to reshape, clean, or sharpen your knives!
Best Knife Block Set Idea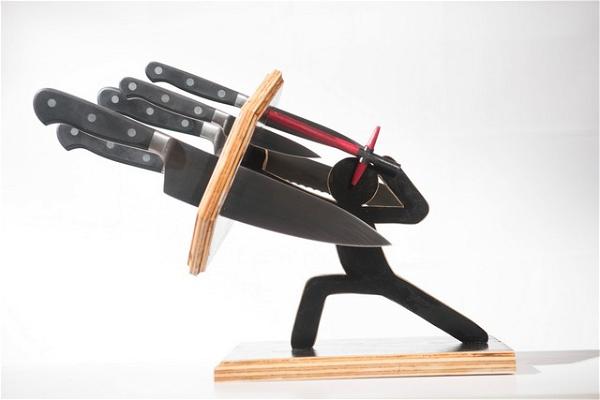 The knife block is an essential part of the kitchen countertop decorations. It can use to keep your cutlery safe and secure. A knife block can be more than just a block; it can be an object of art that adds class to the kitchen decor. It is why we have come up with this amazing Force Awakens Knife Block DIY for you so that you can make your countertop more beautiful and lavish than ever before. The process takes a lot of time, but once it completes, you've got a beautiful and valuable piece of kitchen decor. You can store your newly acquired knives in this magnificent block, and they'll stay sharp and shiny!
Wood Knife Block Set With Copper Frame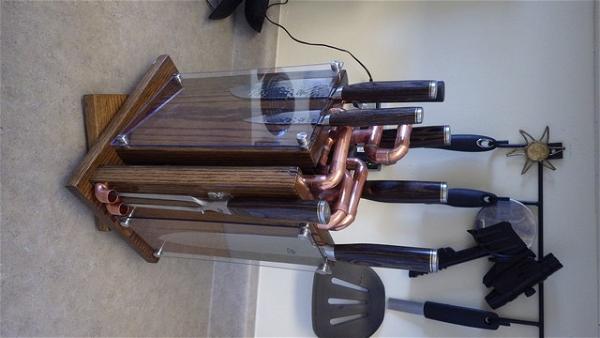 Knives are one the essential tools in any kitchen. But they need to be stored somewhere safe and accessible. This knife block, made out of copper, is beautiful and durable to last you a long time. It also has enough slots to store your favorite knives efficiently. A unique and beautiful way to display your knives, this copper kitchen knife block features a clear glass cover. The blade of each knife is exposed to allow for proper air circulation, protecting the edge from bacteria that can lead to corrosion. It has a magnificent look on your kitchen countertop, and its beautiful frame makes it even more appealing.
DIY Your Own Knife Block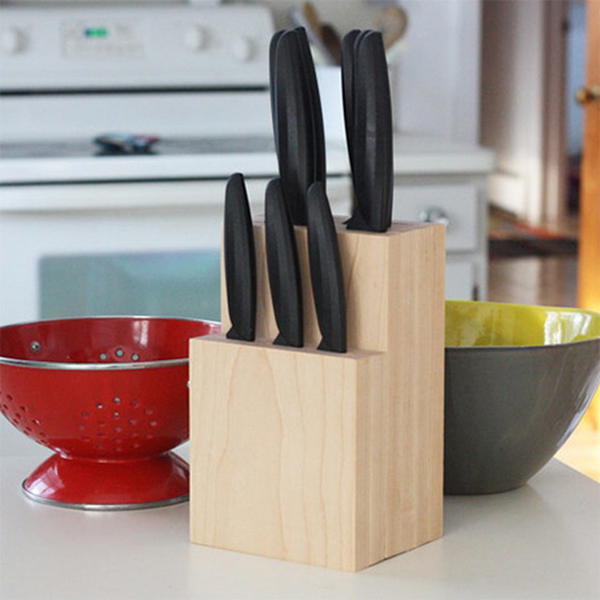 If you love a kitchen hack and don't wish to spend money on a new knife block, then this simple knife block idea is for you. You can use this block in two ways; either way, it looks beautiful. The first one is to use it as a single knife storage unit along with the cheese knife or another small knife. You may also place it on the countertop along with your other kitchen accessories, mainly when you only use it for one kind of cutlery, such as a carving fork or boning knife. This knife block is simple, elegant, and very effective. The wood used in this project is an ordinary pine board, making it easy on the wallet.
Rotating Knife Block Design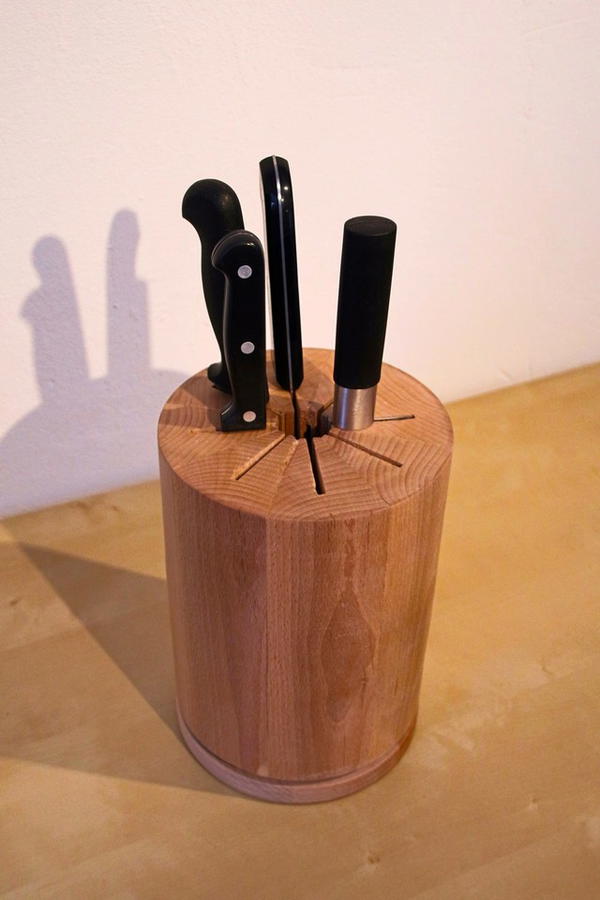 This DIY rotating knife block project is a must-have if you love to cook. The rotating base allows rapid access to the knives for fast and efficient cooking. In this tutorial, we will be making a rotating knife block. Itis is straightforward to make and also really cheap. It can hold up to seven knives, which is excellent for someone who only has two or three knives and doesn't want them out in the open. You will use this mainly for home use, so it would probably be suitable for people with countertops made of things like marble or wooden material that are generally not prone to staining and doesn't get dirty very quickly.
Rejuvenated Knife Block Set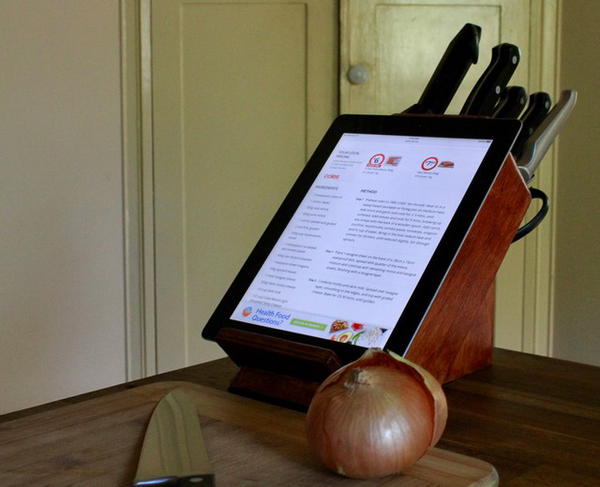 The Rejuvenated Knife Block Tablet Stand is a way to add countertop style to your kitchen without sacrificing valuable space. This clever piece of decor is a knife block, and an iPad stands in one, providing an elegant solution for storing blades and displaying recipes from an iPad or tablet. This beautiful and crafty knife block stand is for the home cook who loves simple and easy. This unique stand can store your knives or even your iPad. Whether you are looking for a beautiful multipurpose stand that is both functional, practical, and space efficient, this knife block is perfect.
Color Block Your Knife Block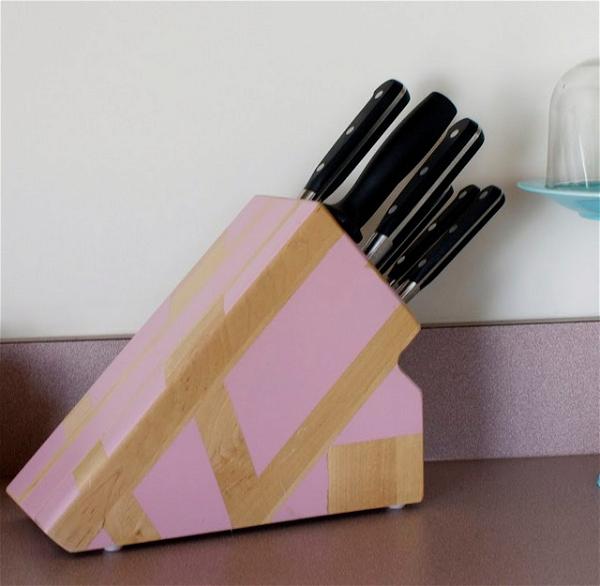 Decorate your kitchen with a DIY color-blocked knife block. This project shows how to add color to a classic wooden block by painting it with acrylic paints. Use different shades to create a fantastic color scheme. This DIY color knife block is an excellent project for anyone who loves to create things that add a touch of uniqueness and beauty to their home. It is also great for those who want to make something beautiful from one of the most practical objects in the kitchen. This color DIY knife block will inspire you to think outside of your original box when creating functional objects that serve their purpose and look fabulous doing it!
Quick And Easy To Make Knife Block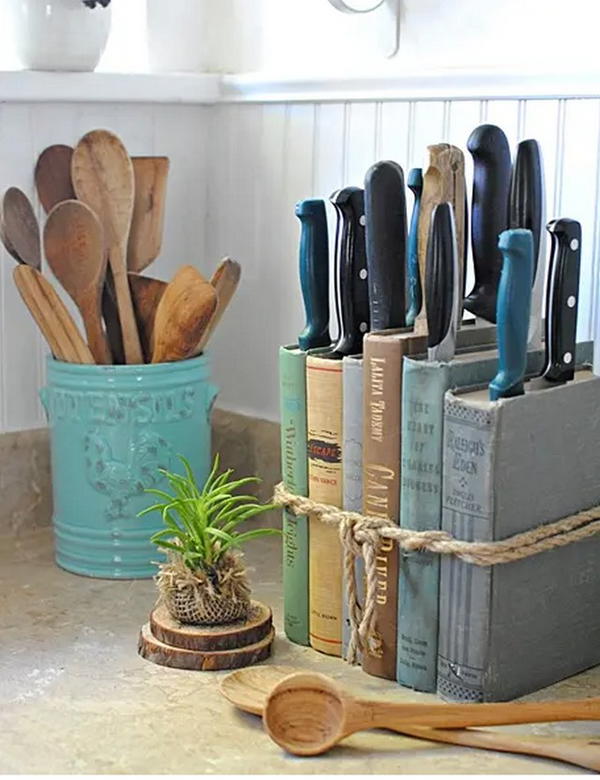 A knife block is a must-have in any kitchen. If you are looking for an affordable yet stylish knife block that doesn't require a lot of material or money to make, this one will serve the purpose. The materials needed for this project are very cheap, resulting in a great-looking and functional knife block. You can put the knife block anywhere in the kitchen area or even in your dining room. It uses the most common item used in the kitchen – the milk tin. You can store your knives safely; the lid is an attractive container to keep them while they are not in use. The milk-in knife block is an excellent idea for any home.
DIY Knife Block And Cookbook Holder
Using the same old knife block from the store can be tedious, especially if it doesn't fit your home decoration. This handmade wooden knife block is a beautiful way to store your kitchen knives and recipe books in style. This handmade knife block and cookbook holder is a stylish way to store your utensils and keep them safe. The wooden board is food-safe, so you can use it to store your favorite recipe book as well. It has two compartments: one large enough for an entire set of knives or individual slices and the other big enough for a recipe book.
In-Drawer Knife Block DIY
Having a knife block that you can use in your drawers means less space and less hassle. In this DIY project, you will learn how to make an in-drawer knife block for your kitchen. It is a safe place to store your knives so you can easily find what you need when cutting, chopping, and slicing vegetables. You can make an in-drawer knife block that is safer and more convenient than other options. You will protect your knives, and they will not take up any counter space. This project is fun and easy enough for anyone who likes to build things with their hands.
Kitchen Knife Holder Idea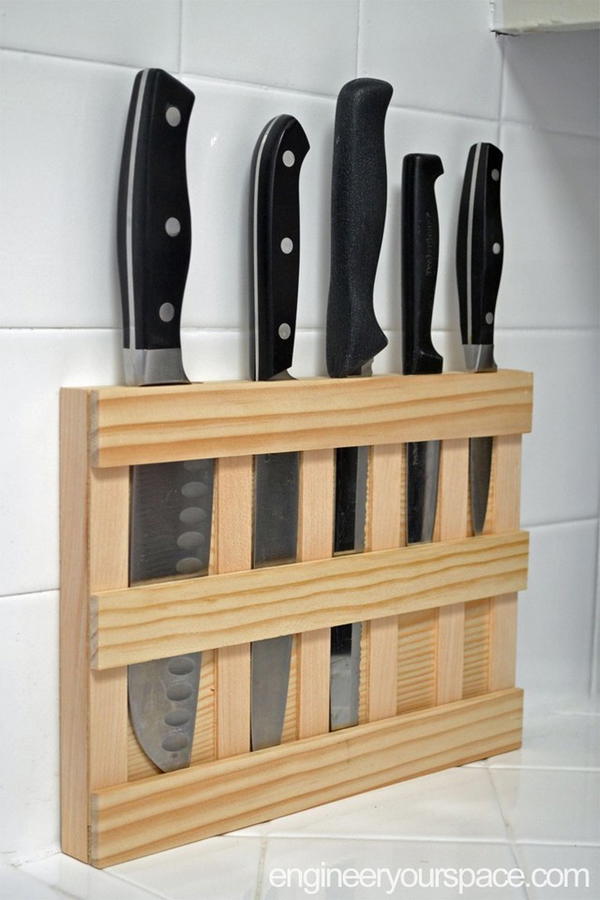 If you love displaying your blades and keeping them safe, this DIY knife block is for you. It will not only provide an excellent way to show your beautiful knives but also provide safety for your family. This idea is one of the best homemade knife block ideas you can implement in your house. The top part of this knife block creates a protective space for all your blades. But also showcases their beauty to every visitor in your kitchen. If you have kids and want them to see the edge of their knives, this is one of the best DIY projects you can do to protect them and make them more aware.
Repurposed Book To Knife Block Plan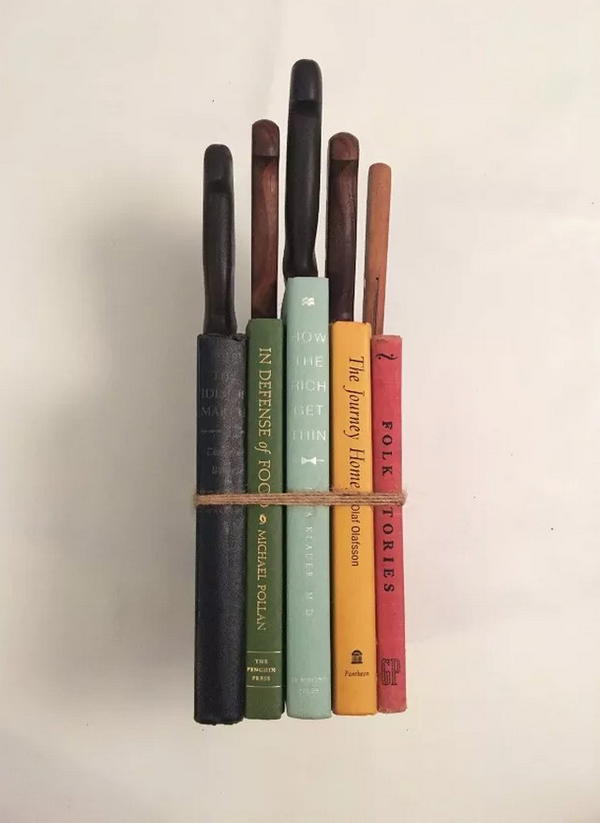 Knives are an essential part of kitchen work. While you can invest in a high-end stainless steel knife block, they are expensive and challenging to clean. If you have old books lying around at home, why not turn them into an elegant, sturdy knife block? This project is simple and easy to do. It is a great DIY project for the creative mind. If you love books, then this fun idea is for you. You can use books instead of knives and make a knife block. It is affordable to get more storage space on your kitchen countertop.
Low-Budget Knife Block DIY
A knife block is one of the most valuable and elegant items to be added to your kitchen. It will help you keep your knives organized and protect them from damage and dulling. This low-budget version is not only practical but also looks great. With a few simple tools and supplies, you can make a valuable and attractive knife block for your kitchen in just 15 minutes or less. This low-budget knife block DIY is great for the frugal crafter. It's quick and easy, but the result is beautiful. If you are looking for a very inexpensive way to store your knives, this is it!
Rustic Style Knife Block
This DIY Knife Block is an attractive accent for your kitchen and this DIY Knife Block helps you organize and store your knives safely. It's easy to make and requires basic skills for assembly. If you have carefully gone through the list of steps, you can make a wooden knife block. You will need to pick the block of wood suitable for this project and ensure that it is smooth enough to use as a knife holder. You'll need to pay close attention while following the tutorial, but it's simple enough to do on your own and save money by not buying a similar item.
Walnut DIY Knife Block Idea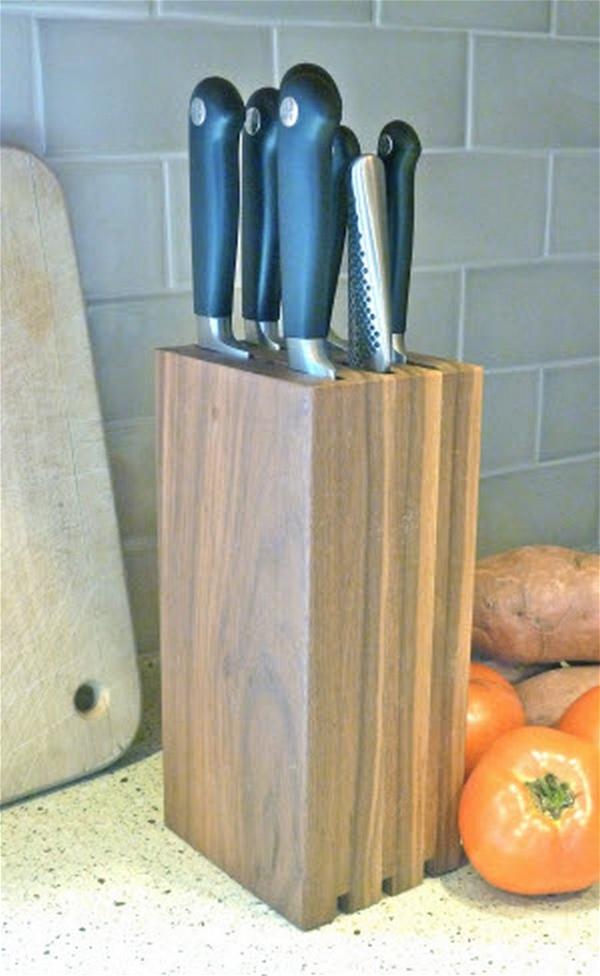 This DIY walnut knife block makes for an excellent project for any woodworker. It can also be made from any number of hardwoods and is a great way to use scrap wood. This project can be as simple or elaborate as you like, especially using different woods. The result will be the same quality block for your knives with fewer chances of injury because made out of quality materials that are durable and safe. This walnut knife block is perfect for your kitchen and is one of the safest that you can find. The making process of this box is fun and easy to do, which makes it a great DIY project for the weekend.
DIY Knife Block Holder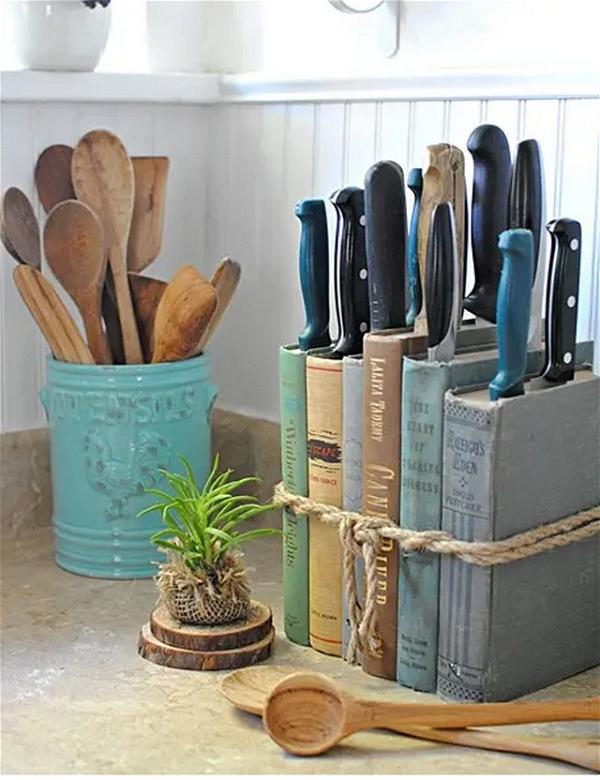 Cutlery can be one of the most cumbersome things to organize, especially if you like to chop veggies at home. But it doesn't have to be that hard. We are sharing some brilliant knife block ideas that will make your kitchen feel lighter, cleaner, and even more organized than before. Here's a quick and easy way to make an excellent knife storage solution. It only requires one book, wrapping tape, and a pair of scissors. You'll also need some strong scissors to cut into the paper (or you could use one of these!). The best part is that this simple DIY can fit in any home décor style — it looks fantastic, both modern and rustic!