Concrete planters provide a unique feel to your home, ranging from small to large, and will transform your drab and ordinary garden into a warm and welcoming environment for your favorite potted plants. If you're going on an extended vacation and cannot trust anyone else with your thriving succulents, these creative planters will keep them healthy. Similarly, if you want to utilize odd spaces in your house as extra storage space, these functional planters can surely give your home a new look. Create your garden decor at home! Using concrete is an excellent way to transform a boring container into a beautiful accent piece for your garden. These 20 DIY Concrete Planters projects are easy and fun to make!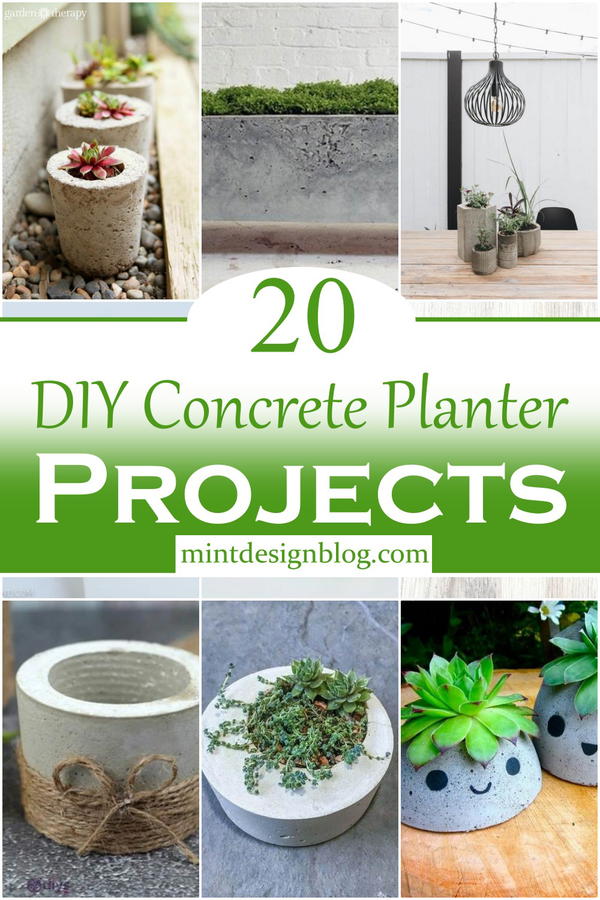 A concrete planter is ideal for bringing some greenery into your home. You can turn old containers like buckets or tires into functional planters. You will be able to brighten up your garden, patio, or windowsill with these inexpensive and straightforward concrete planter projects. These concrete planters are easy to make; almost anyone can do it! They look very stylish in any decor setting, and you can make them in various sizes, shapes, and colors. You can use them on your porch, garden, patio, or anywhere inside the house which needs a green touch. Here are 20 DIY concrete planter projects for outdoor and indoor spaces; you will find some simple and more advanced ones from this collection.
These 20 DIY Concrete planter projects are your one-stop guide to creating unique planters from recycled materials and items you have around the house.
Tools and Materials:
 plastic container
 PVC pipe
Duct tape
Plastic wrap
Scissors
Fine-grit sandpaper
  concrete resurfacer
Paintbrush
spray paint
How To Make A Concrete Planter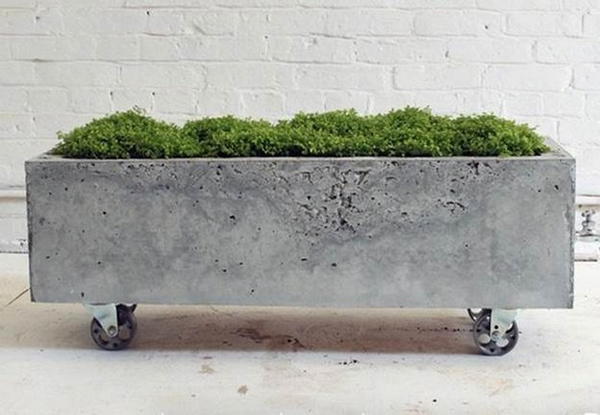 How To Make A Concrete Planter is a project that will show you how to make your own air-tight and waterproof concrete planter that you can move from one place to the other. You can make a very low-cost, durable, and functional planter that you can easily transport from one place to the other. This DIY concrete planter moves on wheels, making it easy to move around and maintain your plants. Concrete will not absorb water; it is porous and holds soil moisture. Some concrete planters drip water back into the soil through the sides. Whether you're a novice or an expert, this step-by-step guide will show you how to make a concrete planter that is functional, fun, and easy to build. What's more, this piece updates the classic garden urn.
Skill level: Easy
DIY Cute Concrete Planter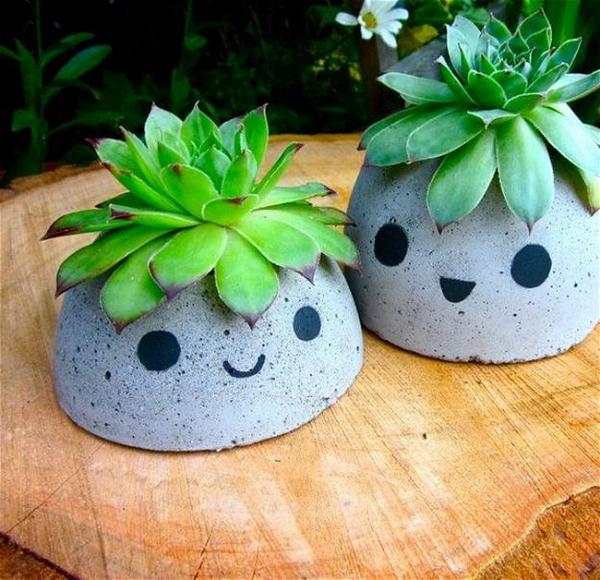 Wherever you are, you may want to beautify your house. You will know how to make the cutest concrete planter for DIY home decorating. It's simple, fun, and accessible using recyclable material. You'll love this project if you're looking for something fun, cheap, and easy to do without stressing yourself out. It's inexpensive, looks great, and will last as long as your Garden lasts. With this DIY project, you can make your deco concrete planter. These concrete planters can be placed anywhere in the house, like the Garden, bathroom, or your patio, and can also be used for any purpose, such as placing pot plants in your Garden or placing small vases of flowers in it. The best advantage of this project is that you'll make something yourself that will give a special touch to your home.
Skill level: Intermediaate
How To Make A Large Concrete Planter
This tutorial on concrete planters will show you how to make a large concrete planter. This DIY project is easy to add a new gardening project to your home. If you're looking for a way to make your own on a budget, this video tutorial will show you how to build an awesome DIY planter using a concrete mix, buckets, and wood. You will only need some solid wooden planks and some buckets too. The steps are straightforward to follow, and you'll be able to make your planter in no time. . Concrete isn't just for sidewalks and foundations. You can use it for any number of things, even furniture. It all depends on what you want to use it for, but there are a couple of concrete planter designs out there if you're interested in a traditional-looking planter made from Concrete.
Skill level: Simple
How To Make Cement Planters
If you looking for a way to grow your flowers or simply add something new to your home's garden? If you are, then this project is perfect for you. This How To Make Cement Planters will teach you how to create planters for your flowers and your home's garden. Hanging cement planters are an easy way to make your hanging flower pots. Using an old towel, you can create a clay pot holder wick that will absorb the mixture and act as a DIY hanging planter for your plants. There are many ways to decorate your home and garden with concrete planters. You could use paint to paint the design and make it beautiful, or you can use it to plant your flowers and add more life to your garden. It will be a fun activity that you could do with your children, family, friends, etc.
Skill level: Unique
DIY Simple Concrete Planter
This DIY concrete planter is perfect for small spaces and balconies. It'll last you a lifetime, and its small size means that it's more affordable than most garden decor pieces. You can make this planter out of something you have anyway, a milk carton. Homemade garden decor is always an exquisite choice that will delight onlookers. A DIY Simple Concrete Planter will be a great addition to your garden. The planter is small, decorative, and stylish and will help to keep your plant hydrated. It is easy to make, and you won't need any tools. This flower pot organizes your plants and makes them more attractive.
Skill level: Beginner
Homemade Concrete Planter
You will love how this concrete planter gives your garden a nice touch of variety that you can't find anywhere else. It is pretty simple to build one and very cost-effective, using two bags of Quikrete cement mix, a cabinet, foam in insulation, and other materials available at your home. This homemade concrete planter will take about a few days to set up. It will look great in your backyard, and it is also a nice gift for a friend or a relative. You are making a mold out of Quikrete for home use and then filling the mold with concrete. Once the concrete is dry, you can stack it in your yard anywhere that seems like a good idea at the time.
Skill level: Simple
DIY Modern Concrete Planter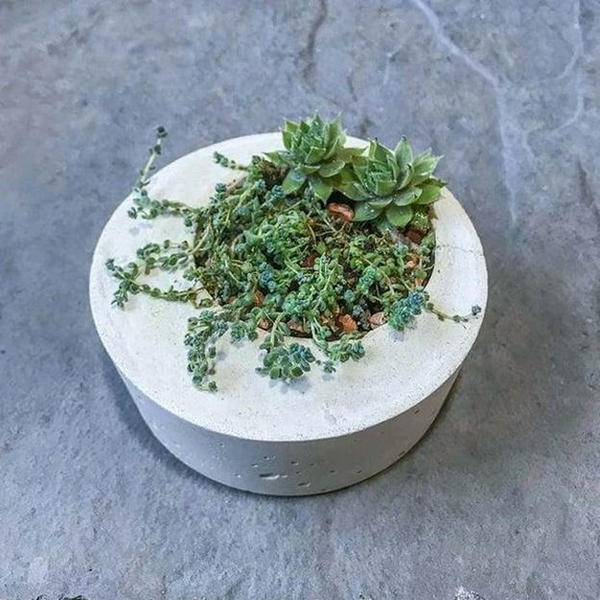 Build your modern concrete planter. Great for some succulents or small cactus plants. This DIY modern concrete planter project is easy to make, and you can create all the pieces needed for it. The look is elegant, rustic, and different. It can become a centerpiece of your house and will impress your friends. The DIY Planter is modern, modular, and very customizable. They work well in any location or style to serve a variety of uses ranging from decorative plant hydration to house plants. This DIY planter is simple and can be made in less time. All you need is your head, some tools, a concrete mixture, and a few other things for an everyday modern-looking planter. Put in your flowers and plants, add some cooking oil, and enjoy that modern touch.
Skill level: Easy
DIY Concrete Planters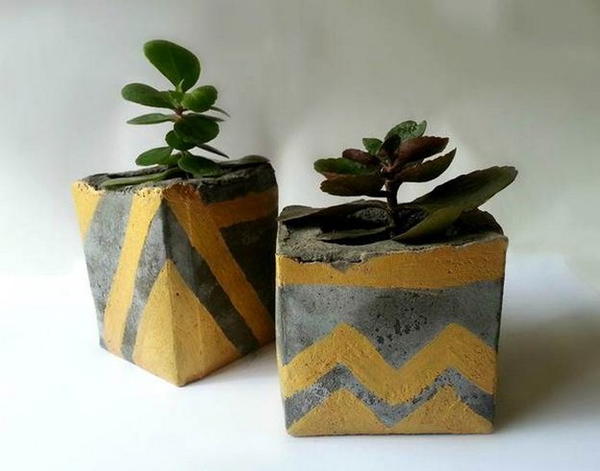 Do you know how to make concrete planters? If you do not, there is a DIY project for this. The project will give detailed instructions on building these planters, such as what materials, tools, and the cost of building these. You may also use it to decorate your house. Planters are for those looking for a way to build, organize, or beautify the area. These DIY concrete planters have been our most rated projects because of their uniqueness and usability. The concrete used to make these planters is strong and can hold heavyweights. They are also waterproof!
Skill level: Unique
Easy DIY Concrete Planters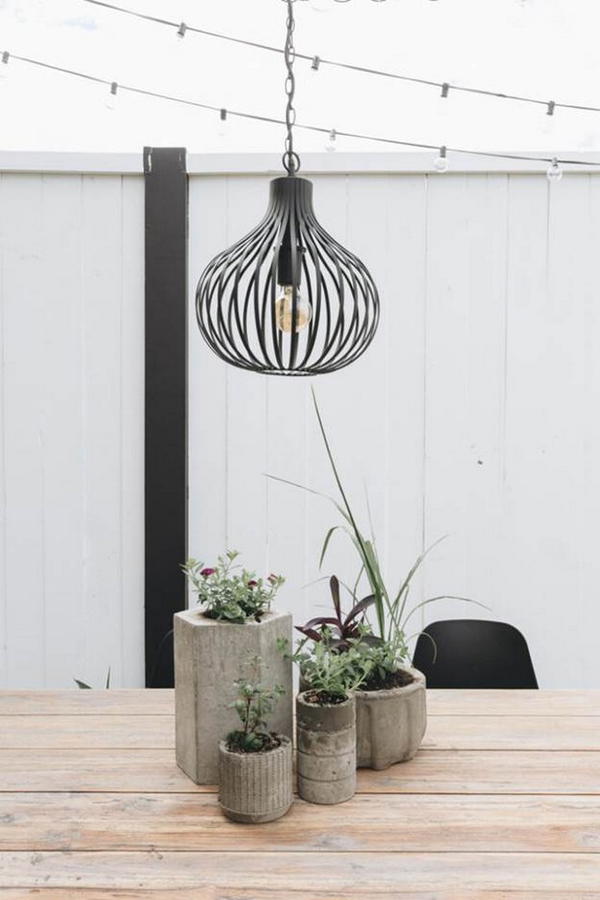 Using recycled plastic bottles to make concrete planters is a fun project for kids. It teaches the value of recycling and how one man's trash is another man's treasure. It also reminds them to be creative with their materials. Why not try building some outdoor garden furniture out of cement?  You can make your concrete planters. You only need a few things from the house to put it all together. There are many types of plants you can choose from for your garden, but whatever you choose to put in your planter, you're sure to enjoy how simple it is to fill up and watch as it grows.
Skill level: Intermediate
DIY Cement Planter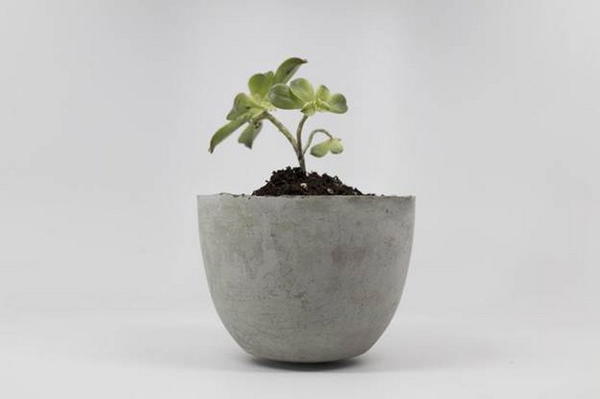 If you think that you can decorate your garden with something unique? If so, this DIY Cement planter will be a great idea. It's straightforward to build and inexpensive. Here is a DIY project that will allow you to build and create something that you can use to enhance your home's appeal. Cement planters are popular nowadays, and if you opt for this type of planter, you will have a unique decoration for your home. You have the opportunity to experience a straightforward DIY project which will be interesting for the whole family. You will build a cement planter that looks great and will grow some lovely flowers for your garden or patio.
Skill level: Simple
DIY Small Concrete Planter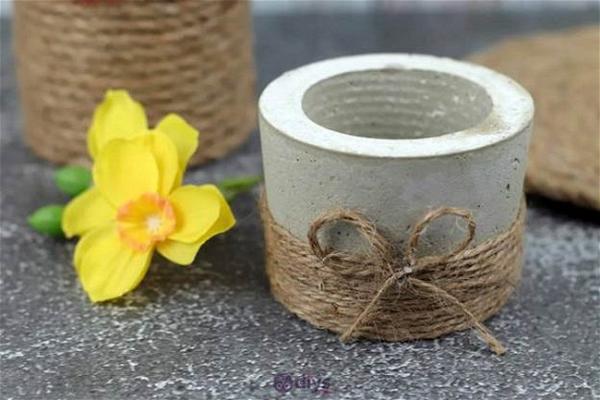 Planter comes in different designs and shapes, and they're primarily used in offices, homes, or gardens. They're great for adding style to any spot and are perfect for displaying plants. Planter boxes are also convenient because you can move them anywhere you want. Some planters have holes on the sides for a drainage system. Are you looking for a good DIY project? This stylish and straightforward small concrete planter is what you need to make your home décor stand out from the crowd. Doing it by yourself can help you save some money as you can use your old yogurt cup. You can make this beautiful planter in your home or garden. The great thing is that you won't need any special tools or skills for this project. This DIY concrete planter is perfect for small plants like herbs, hand-wash plants, or even mosses.
Skill level: Bigenners
DIY Concrete Planters
This step-by-step tutorial is all you need if you've ever wanted to make a concrete planter at home but didn't know how to. This particular DIY concrete planter is made with a bag of Quikrete. You don't need any special tools or hardware, just tape and a few other things to create the perfect planter that's cute enough for your patio or indoors. This project is an effortless DIY project for beginners. Anyone can make this! And this planter is so cheap, especially if you compare it with other concrete planters from DIY stores. You can do it for a fraction of the cost, but you'll also be able to make your very own planters just the way you want them. And don't forget to use paint, tile, and stencils to spruce it up.
Skill level: Simple
How To Make Concrete Planters
Concrete planters are an excellent way to add art, color, and creativity to your space. Find out how to add concrete planters to your front porch, backyard, or even inside your home! Learn how to make concrete planters using reusable PVC pipe and vinyl floor matting molds. Concrete planters are a great way to get the look of carved stone, marble, or other more expensive materials at a cost you can afford. They can be made using concrete moulds like these or baking bricks in your oven. Planters can be made in any shape or detail possible, depending on the tools and molds.
Skill level: Easy
DIY Concrete Planter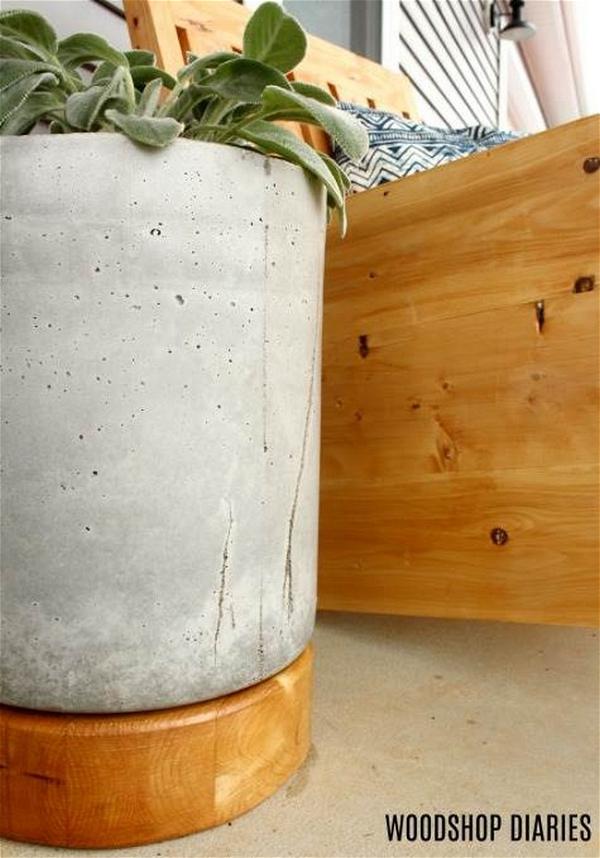 You might have heard that making a concrete cup is tricky. Yes, this is true in some cases as it depends on how experienced you are. You'll be surprised to know that making a concrete planter is easier. This DIY concrete planter is the perfect design for making that particular piece of artwork in your yard. Easily create this concrete planter that adds a modern touch to gardens while complementing its beauty with flowers. The process does not require much skill or tools; all you need are cement and a few other things readily available at the home center or local hardware store.
Skill level: Beginner
How To Make Concrete Planters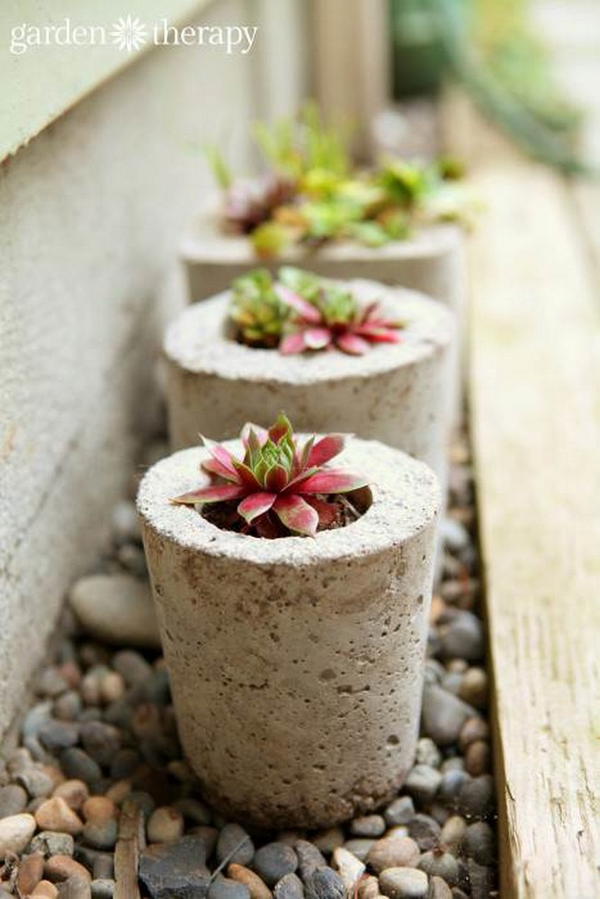 People worldwide like to use various planter boxes for decoration or more practical use. However, planter boxes are often very pricey and require a lot of effort to build. On the other hand, these DIY concrete planters can be constructed in less than a day and for less money. And as a beginner, you don't need any special skills to build them. It is a perfect project to do even if you think you can't make something simply because concrete is easy to work with, and you can use old pieces of plastic containers. So, follow the steps carefully, and you'll make a beautiful planter that will add elegance to your yard.
Skill level: Simple
Making A Concrete Planter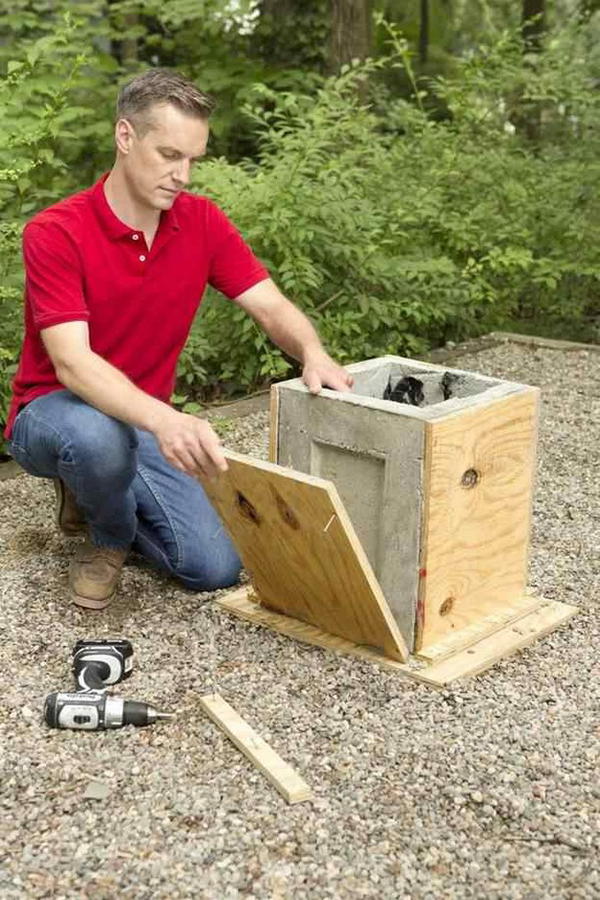 Are you looking for an easy gardening project but unsure where to start? You can create your own comprehensive and deep planters at home with a concrete planter. When shaping the sidewalls, please take note of the folds in the concrete planter so that they will be easier to remove after it sets up. If you like the modern style, you'd love a concrete planter. They are cheap, easy to make, and look very trendy in your home. This tutorial will give you step-by-step instructions to build a concrete plant yourself. This planter is guaranteed to last for many years and can be very heavy in weight. Remember that the plant's strength depends on the cement mixture you used.
Skill level: Easy
DIY Concrete Planter With An Ombre Finish
Have a large empty corner in your home that you're unsure what to do with? Make this DIY concrete planter! The process of making is super straightforward, and it's also incredibly affordable. Concrete planters are trending now, and it's a fun way to create pretty much any shape you want. In this time-lapse video tutorial, see how you can DIY with just a few materials and some Quikrete Countertop concrete mix in under a few minutes to make your concrete planter with an ombre finish. This DIY concrete planter project is the perfect pick to add some life to your indoor garden or outdoor patio.
Skill level: Simple
How To Make A Very Large Concrete Planter
It is an easy DIY project that you can build in a day. It's a vast concrete planter, and it can be used for your plants, to hold your garbage, or whatever you want to use it for. All the materials are easy to find at home depot if you don't already have them at home. It is a project that will make your garden look unique and attractive. This project is not your average planter; it's an all concrete DIY project. A good thing about it is that you can reuse the planter repeatedly. Cement planters are a great way to add color, style, and motion to your home. The best thing about cement planters is that you can paint them in any color. This DIY project is important because some plants need more sunlight than others.
Skill level: Unique
Geometric Concrete Planters DIY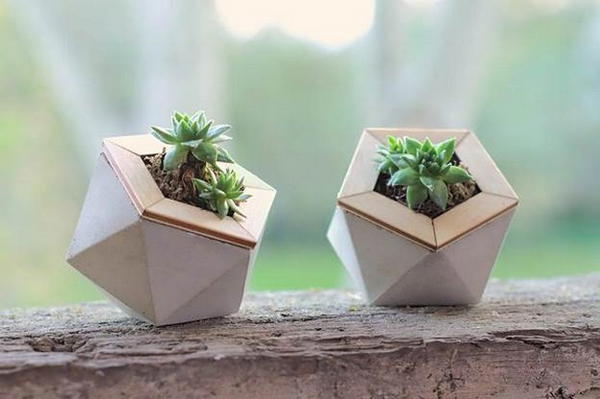 Cardstock paper is a super sturdy material, making it a perfect candidate when you need to make concrete geometric planters. Also, you must use plywood for the bottom of your planter and a small bag of sand or stones to add weight (it's essential to have it close to the planter to distribute the weight evenly on any surface). You will have a lovely geometric concrete planter that you can fill with soil, seeds, or even small succulents. You will need a few materials and tools to complete this project. All of the materials are available from your local hardware/concrete store.
Skill level: Simple
20. DIY Cupcake Concrete Planters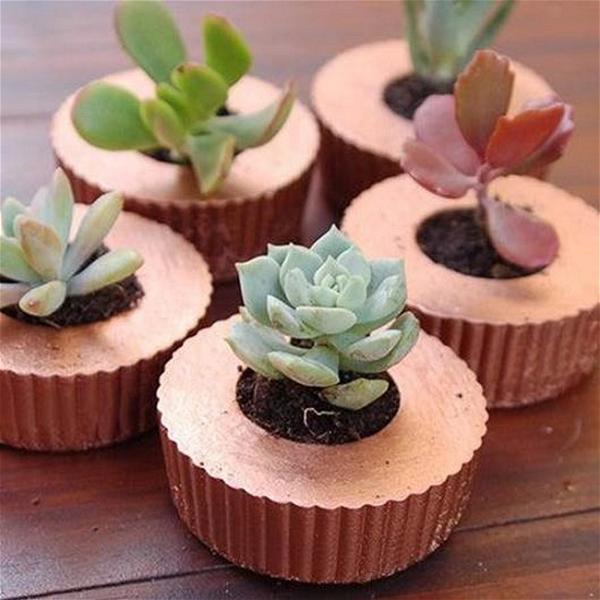 DIY Cupcake Concrete Planters are more than a way to decorate your home, office, or anywhere in your vicinity. This straightforward DIY task is quick and easy with step-by-step instruction that comes with meaningful images later in the guide. These DIY Cupcake Concrete Planters will amaze you with their adorable appearance and function and make a great display on your window sill or in the garden. The supplies required are pretty inexpensive and readily available regardless of whether you live in the city or suburbia. A fun project for any kids and adults, this DIY task is quick.
Skill level:Easy
Conclusion:
Concrete planters are a chic, durable, and cost-effective way to add greenery to your patio or balcony. In this straightforward tutorial, learn how to use a simple mixture of concrete and mixing sticks to mold and shape your planter's decorative details, quickly recreating the look of expensive imported planters for a fraction of the cost. All materials necessary to create an attractive planter come from your local hardware store. It is a lovely project that will bring life, warmth, and beauty to your indoor or outdoor space.
See Other Projects