Do you want to feel more convenient when doing work or studying? If you are looking for some DIY L-shaped desk plans and ideas to help you build your own desk, this article is a good place for you to start. In the market, you can find many kinds of desks, but most of them are expensive. You can build your own desk by yourself. Also, it can save you money. Today, we'll show you 40 amazing DIY L-shaped desk ideas that give you inspiration in designing your own desk.
DIY L Shaped Desk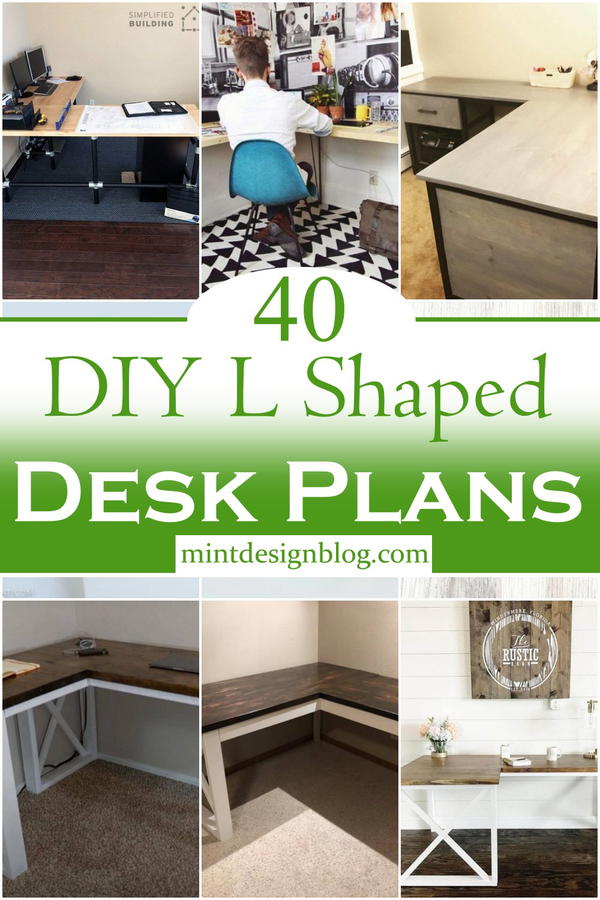 Making your own desk is a great way to save money and still get exactly what you want. With the right tools, you can build a simple but sturdy desk that will serve you well for years to come. Whether you're making a desk for yourself or your child, it's much more economical to build your own than to buy one. Tables are one of the most valuable things in any home and office, so why not make your own table? A DIY desk is also a creative way to recycle materials that would otherwise be thrown away in the trash bin.
This article will present to you 40 inspiring DIY L-shaped desks for workstations and corner desks that are absolutely worth trying out.
You can also see :
DIY L Shaped Computer Desk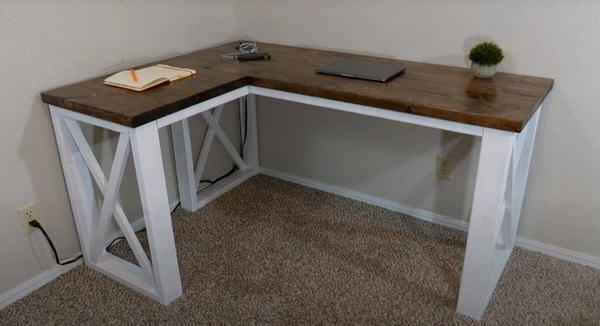 Make any room an office with a DIY L-shaped computer desk. Ideal for students, home office or simply to place as a piece of accent furniture in your room. Unique X-shaped legs offer stability and durability to the desk, while the glossy finish makes it a great piece of furniture both in function and design.
No matter where you place this desk in your home, it can be amazingly attractive. There are no drawers or shelves, meaning that you are able to provide more space for your daily necessities on your desk. The surface of the desk is shiny instead of dull and it won't crack easily. If you are looking for a fine furniture item to decorate your interior, you should not miss the chance to check out this design.
DIY Framing Wood L-Shaped Desk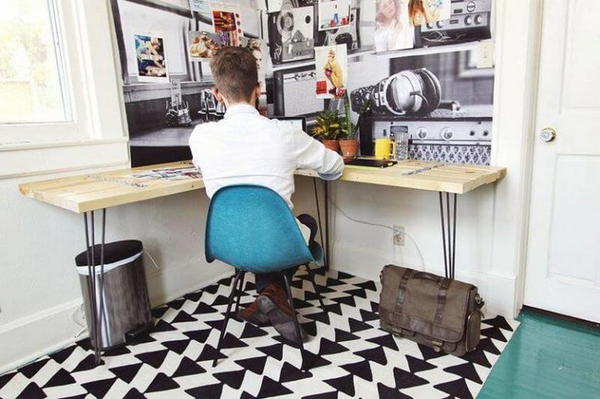 This DIY wood and glass desk is designed for small house space, which is fit for you who do not work with many papers. The hairpin legs will save more space and make it portable for arranging little stuff such as the dustbin, the bag, and the small plants. Moreover, the desk is very simple in assembly and all materials are pre-cut. This is an L-shaped desk with a small area to place the computer in a corner of your room. The desk is stable due to the stainless steel Phillips head round pan machine screws. The L-shaped desk can save more space for you and even it does not need much hardware, it can be assembled easily by yourself.
Project details: abeautifulmess.com
DIY Gorgeous Industrial Farmhouse Desk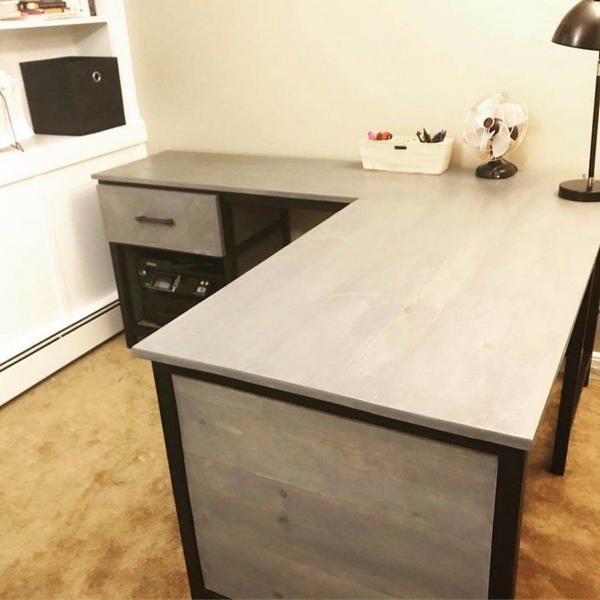 This DIY is not just about the gorgeous Herringbone pattern you can make. Yes, we focused on this pattern in our instruction. But it's also all about building this L-Shaped, industrial-looking desk with your own hands. Who doesn't love farmhouse decor? This DIY Gorgeous Industrial Farmhouse Desk Plan is just what you need to add a touch of farmhouse to your home. This DIY Industrial L-shaped desk will be an excellent addition to your home office and can be made by using some ordinary tools. Moreover, you can change the look of a desk or a vanity table
Project details: rockycanyonrustic.com
DIY L-Shaped Desk With Shelves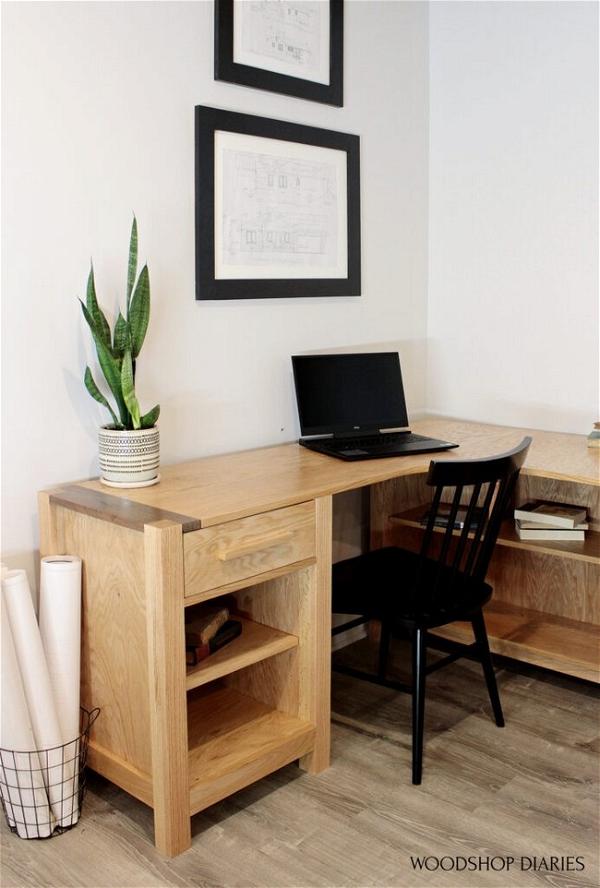 If you can measure, cut, and screw, then this is the project for you. And since most of the items needed for this project are already in your home, tear out your old dresser and build this DIY L-shaped desk for yourself! In a mere weekend's worth of time, you can have a desk that suits you perfectly. The L-shape desk is a great project for anyone looking to get their feet wet in the world of DIY furniture building. This type of home office desk works well in small spaces, and assembling it doesn't require any complicated tools—just high-quality plywood, adhesive wood glue, good saws like a miter saw, table saw and circular saw, and a jigsaw or coping saw, and other basic woodworking tools. With this guide and careful measurements, you'll have your new desk up and ready for work in no time.
Project details: woodshopdiaries.com
Space-Enhancing Office Desk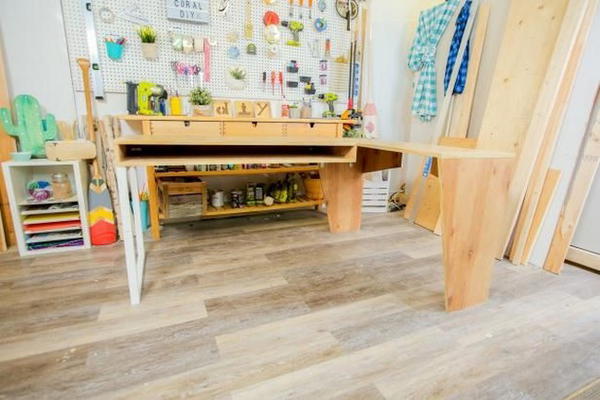 A Space-enhancing office desk is your best choice to create a neat and enticing space in the room. It is so frustrating when you find that you have no space to put things. This L-shaped desk can offer you a great solution. Its design is simple and convenient, so it's not difficult for DIY lovers to handle. Do you know why L-shape desks are considered the best and ideal for home offices? The reason is that they help you to make the most of your space. This DIY-approved L-Shape Desk will bring much more personality to your office room. With highly durable pine wood-built, this desk will last long enough to be one of your favorites. Its dark brown natural color fits perfectly with any style of room décor.
Project details: hgtv.com
Modified L Shaped Desk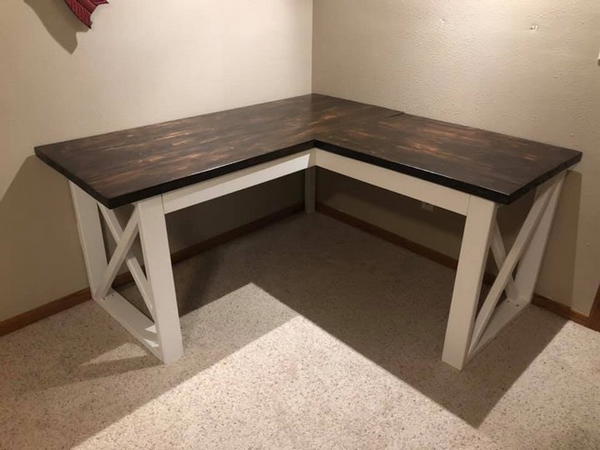 Modified L Shaped Desk, Adding an appropriate amount of storage and a comfortable place to perch your laptop is important to any office space. This desk is constructed with metal tubing, smooth chrome legs, and a thermally fused laminate top that offers durability and the look of real wood, complete with a chic image that brings contemporary style to your home office. A sliding keyboard tray, cable grommet, and legs that allow for height adjustment accommodate both function and comfort for everyday use.
L-Shaped Double X Desk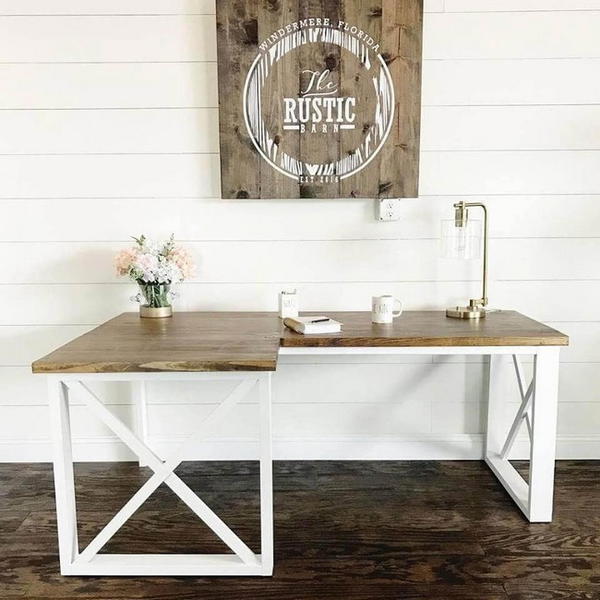 One more L-shaped desk design idea is here, which is not difficult in the building process. Make the most of your study space when you get this multiple configuration double X desk that lets you arrange it as a single or a long desk. It's made to accommodate your style of studying or working with its wooden finish, as well as a spacious writing surface that can also hold a laptop or monitor. . It's easy to clean with its smooth surface, which is also fingerprint-proof so you can keep it neat all the time.
You can use a pocket hole jig to build the leg frames with joint fasteners. Use those right angles to finish the leg frames' surfaces. Install corner blocks to settle X trim for covering the top of sides without referring to measure again. In the same way, collect desk sides and add the tabletop for finishing your masterpiece.
Project details: handmade-haven.com
DIY Butcher Block Desk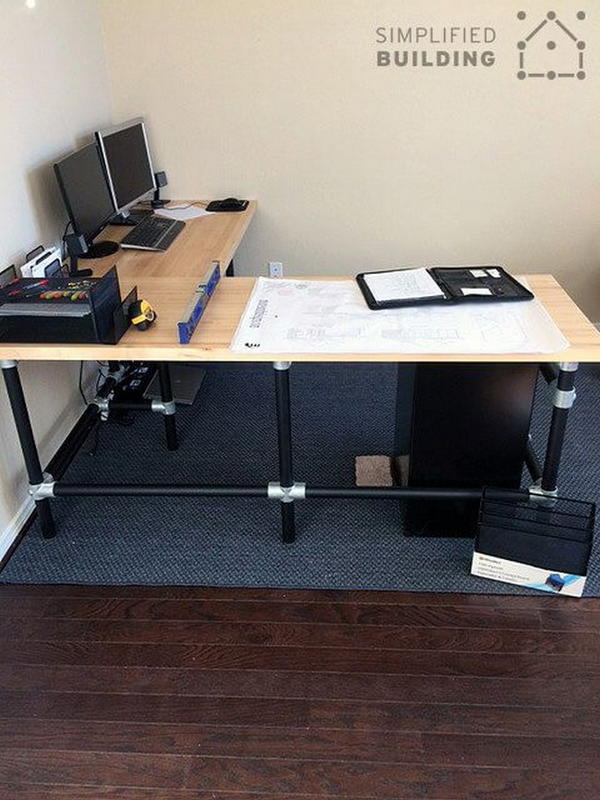 This homemade butcher block desk has all the beauty of a classic design. You can put your computer and papers in a smart arrangement on this DIY table. To build it, you only need to use some pipes as leg frames. Then, paint them with your favorite color and decorate them with some smaller icons, which can be made of wood or metal. And then buy a top-quality piece of wood for setting it as a tabletop. Basically, it is an awesome project to create the workspace of your dreams.
All these pipes are combined and assembled in an orderly arrangement as legs of the DIY Butcher Block Desk. When combined with a top-quality piece of wood, it will bring you the ultimate feeling of comfort by placing important documents and your computer on it. Also, it makes a great decoration item for either office or home due to the smart arrangement of the materials.
Project details: simplifiedbuilding.com
DIY L-Shaped Farmhouse Wood Desk And Office Makeover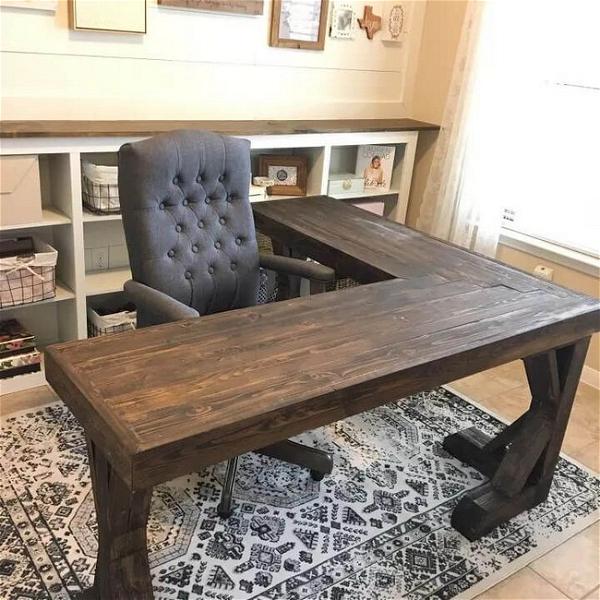 This DIY wood L-shaped desk will help you save money and time. or a happy and enthusiastic tone: Get ready to truly fall in love with your desk. Not only is it functional, but the space allows you to be creative as well! Make it as an alternative to invest in furniture and get the look you like. The desk offers a unique perspective on your room. It contains adequate space for you to take a seat and work productively, a room for your laptop, or even for palming if you use the couch!
This DIY L-shaped farmhouse wood desk is a great rustic home office style or craft area addition that you can easily build yourself! It's the perfect size for any room. This farmhouse desk with office makeover is so easy to put together, it may just be your newest DIY obsessions.
Project details: hometalk.com
L-Shaped Executive Desk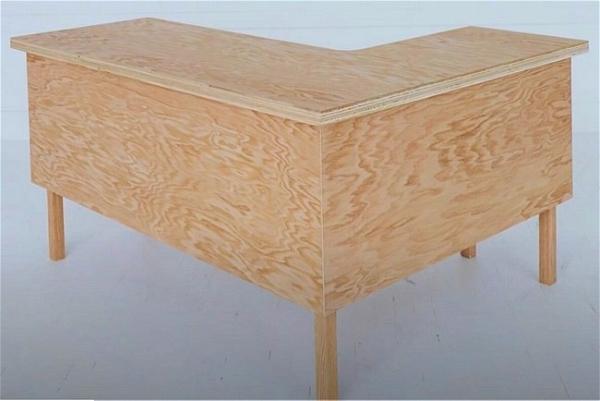 Whether you are an experienced DIYer, or new to the ideas of customized furniture, this desk is a perfect choice. It is made from high-quality materials that are carefully selected for a modern and practical furniture accessory for any room, for any season, and for every person looking for a simple, but still elegant solution. Organizing your work or home office can be tricky. You don't want to make the investment without being certain that you'll have a well-organized and functional space.
This L-Shaped executive desk is a timeless design that blends mid-century modern aspects with trendy DIY togetherness. it's easily customized to fit any room theme. The top surface is spacious, allowing for plenty of room to rest your tech, hold a laptop, or display favorite decor pieces. The bottom storage drawer may be used for additional work storage or even filing cabinets. If you're looking for the perfect organizing tool, this desk can provide reliable service for years to come!
DIY Corner Desk – Little Home Happiness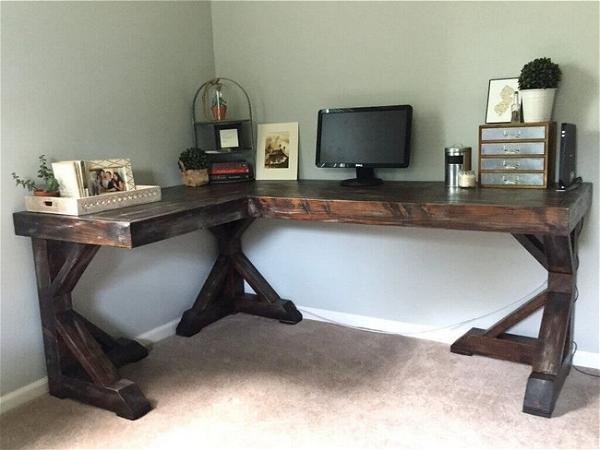 This is the most cost-effective corner desk because the desk doesn't need a big space for storage and doesn't have big space for working if you love being a bit crafty, building your own furniture will be so rewarding. This corner desk takes up little room and is fantastic for giving you a bit more space when you need it the most. It's super easy to make and will save you money in the long run!
The desk is designed in L-shape with 4 units which can fit into every corner no matter small or large your space is. And you can use this DIY desk in any room of your house to make it your space. This DIY Corner Desk is a fantastic and functional L-shaped desk constructed out of oak plywood. This desk was designed with an open space which will add beautiful storage and display features. You can easily paint the leg frames with dark colors to highlight your home office.
Project details: littlehomehappiness.com
Live Edge Desktop On Black Pipe Base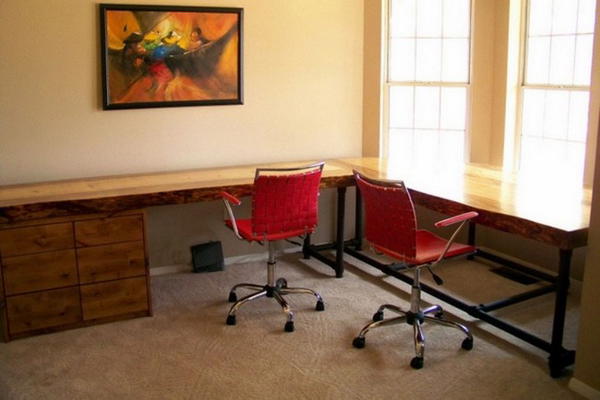 The Live Edge L-Desk is designed to be used against the wall as a complete office solution, with a convenient hutch for your in-home workspace and display. Pipes are the most fundamental features of your home The pipes on the desk are used to elevate it and make it stand taller. These pipes are durable and can support weight, and their smooth surface makes them easy to clean up from spills. It is eco-friendly furniture that can be easily assembled and disassembled for portability. Take some pipes and build them on a black pipe base to make a stand for your miniature-sized objects on your desk
.Project details: simplifiedbuilding.com
DIY Corner Desk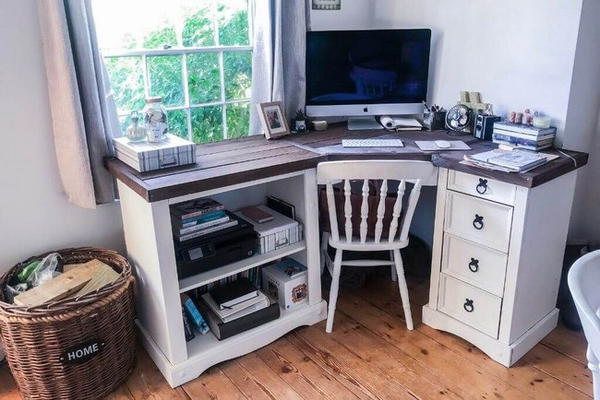 DIY Corner Desk - Youthful inspiration for your home office. This kid-friendly corner desk provides a space for electronics, homework, and more. Big enough to use with a laptop, tablet, and a lamp! Colorful options are ideal for working or playing while keeping the look simple with white woodgrain boards. Transform your space with the DIY corner workspace. The all-in-one design includes both a desk and bookshelf, creating an office space for one in any corner of the room. Thanks to its sawtooth legs, installation is fast and easy—no tools required. Engineered from manufactured wood (including at least 50% recycled materials), it's made to last a lifetime, and comes backed by a one-year manufacturer's warranty. Can be used as a standing desk or traditional desktop.
Project details: hsophiecallahanblog.com
Custom Made Office Desk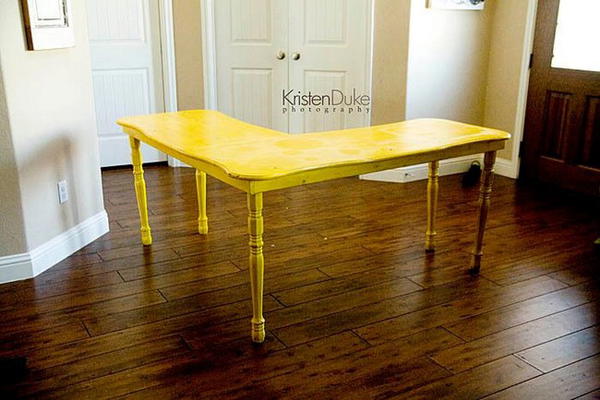 Do you have a dull working area but could not afford to buy a new office desk OR you haven't finished your project for your working place? Let's say no more about that. It is highly recommended to create custom-made furniture if the size, function, and price fit your home style. That gives you the freedom of creativity and the opportunity to make your own shaped desk based on your present space compatibility.
DIY your own office desk is simple with plywood and yellow paint. Plywood is a composite of thin layers of wood glued together on top of a thicker, stronger core. It is easy to cut, bend, or drill into it, making it an ideal material for a solid frame for your own working desk. Install leg frames carefully out of the plywood sheets to get a solid base for your new desk. Take another seat at its yellow surface and start working!
Project details: kristendukephotography.com
Massive L-Shaped Desk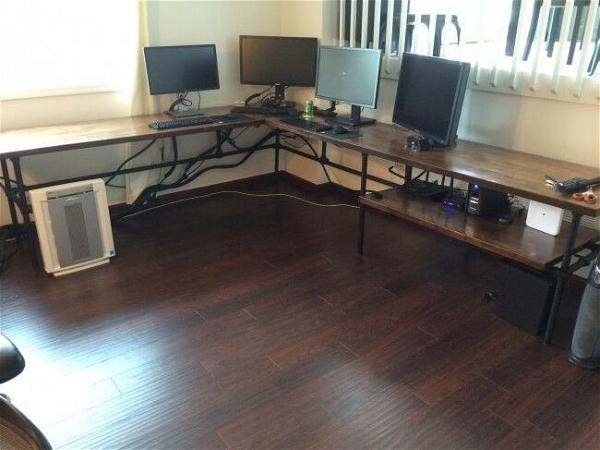 The Massive L-Shaped Desk is a modern desk built with durability and functionality in mind. The desk is so easy to put together that two people can set it up in fifteen minutes. Made to accommodate small teamwork, the desk includes a massive PC tower mount, which has enough space for a desktop computer and monitors. The best part is that this L-shaped beautiful sturdy desk is much cheaper than other desks out there in the market. Furnish your home or office with this massive L-shaped desk. It is great for a big room and especially useful for gamers who need more space to finish the task. The desk features heavy grooved legs, gas lift cylinders, writing desks, as well as many other functional elements.
Project details: phoronix.com
 DIY Corner Desk Elegant – Woodshop Diaries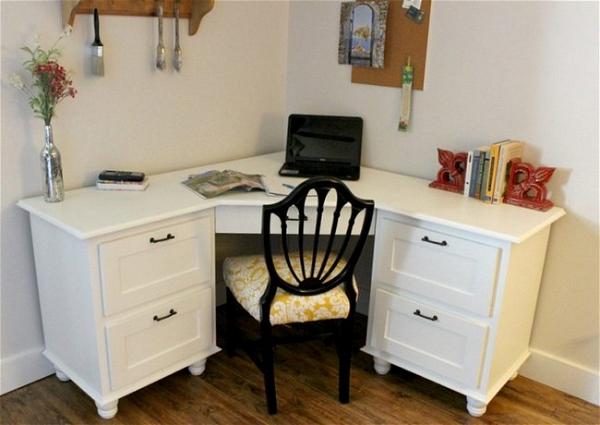 The all-in-one, versatile corner desk shown here is built for both beauty and functionality. With its gracious size, you can spread out your work or get together with friends. Create a space of your own within the comfort of your own home with this large corner desk. The spacious top is great for doing homework, working on projects, or even studying. This desk has four big drawers that make it easy to stash away and organize notebooks, pens, and pencils. On this corner desk, you have the ability to turn it into a computer station and also a writing table. The 4 big drawers will hold lots of office supplies and books. It is designed for placing in an office, home office, or other places.
Project details: woodshopdiaries.com
L-Shaped Standing Desk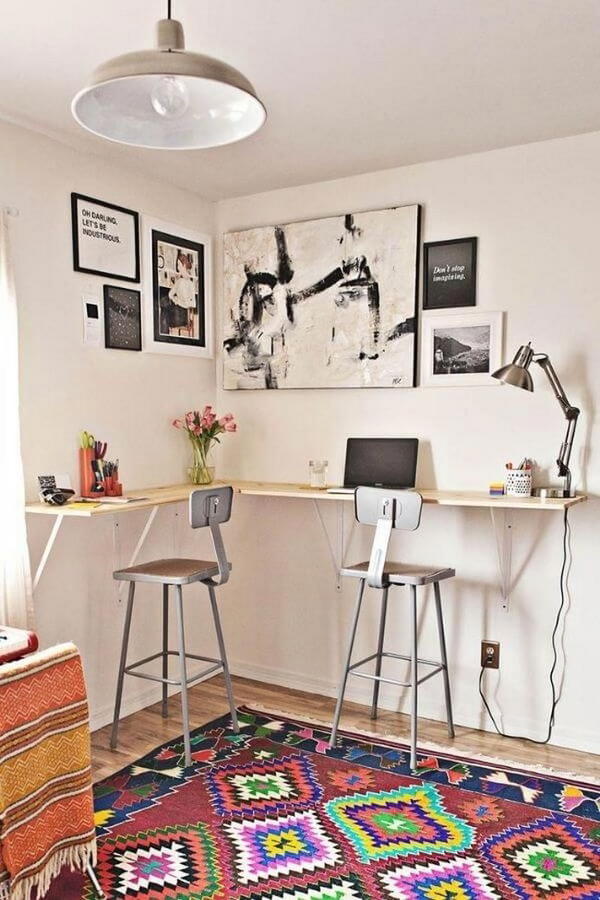 This standing desk is so simple to make, you'll save a ton on shipping costs when you buy the parts from your local hardware store. Let's say you have a corner in your bedroom and want to convert it into a working space. So, you can simply get this L-shaped standing desk by DIY. Just plan the place where to put this standing desk and start building it. Learning how to build an L-shaped standing desk doesn't have to be difficult. With Common Projects s Hafford desk and stand, you can transform your old, boring shelf into a stylish working space in no time. All you need is a shelf, two pieces, and two angle brackets. Screw everything together and you're done!
Project details: abeautifulmess.com
Modern DIY L-Shaped Desk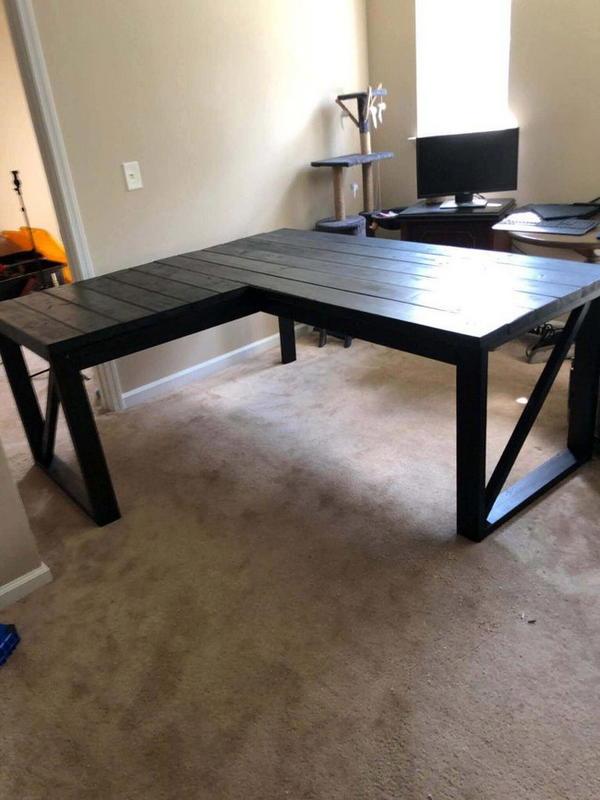 Fit for your modern home, this DIY L-shaped desk is something you don't want to miss picking up. With straightforward instructions, you can build it yourself in a few hours. The best thing is that its construction is solid, with a sturdy steel frame structure and a durable tabletop. This desk will get the job done right - day in and day out. Every angle on this desk is meant to ensure the maximum amount of space while keeping the desk well-maintained. Its dovetail design keeps everything looking sleek, and adds a splash of color to an otherwise bland workspace.
Project details: loveatfirsthousesc.com
Fashionable L-Shaped X Desk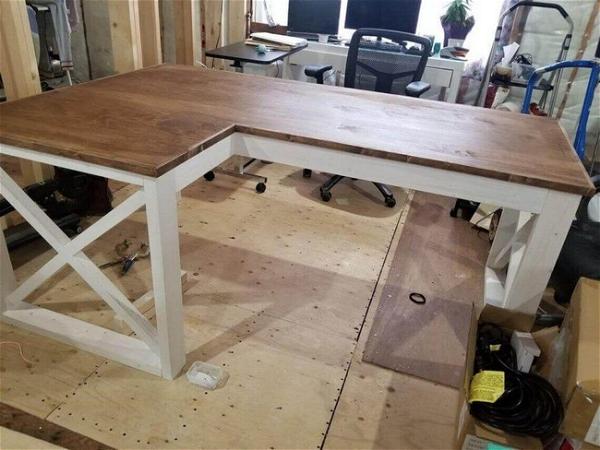 The Fashionable L-Shaped X legs Desk has the simplest design, but that does not mean it will not give you the maximum convenience. This home furniture is perfect to install this up-to-date X desk design in your living room. Instead of working, you may want to enjoy your films by putting your computer or smart TV on your table. The X-leg frames will make your deck more stable. If you are interested in this modern writing desk, you may need a carpenter square, a hammer, skill saw, a hand saw, and a drill. All the tools are available on our website. Buy this awesome L-shaped desk now!
"X-shaped desk legs" are the latest trend in your living room. Close your eyes and imagine L-shaped desk legs coming out of your favorite living style. It also can be your DYI project. Also, it can be matching to any corner style or sofa set.
Project details: heathermarryann.com
DIY L-Shaped Desk – Hammertime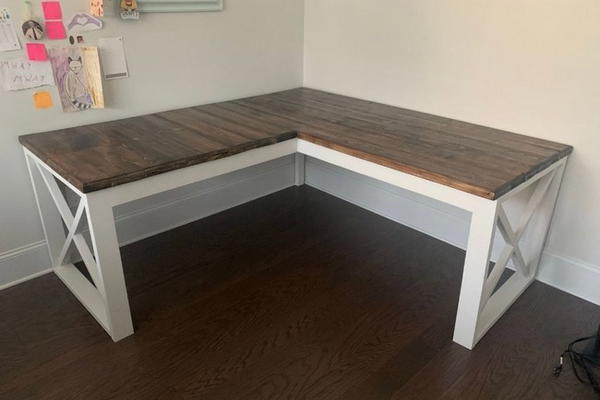 Looking for a needful and stylish home? Look no further—this DIY L-Shaped Desk project is a perfect choice! Is this Diy desk great? We think so. This desk is a perfect space-saver that can fit in tight corners, yet it still provides plenty of room to get work done. Plus, it's quite simple and easy to build! It's so easy to make and does not take up much of your money. Sometimes you need to have your space-separated, but you also need it to be an organized one. The DIY L-Shaped Desk Wood is a piece with much room for storage that adapts to projects of all sizes, from general studying and homework assignments to photo development and arts & crafts.
Project details: hammertime.blog
Simple And Easy L-Shaped Desk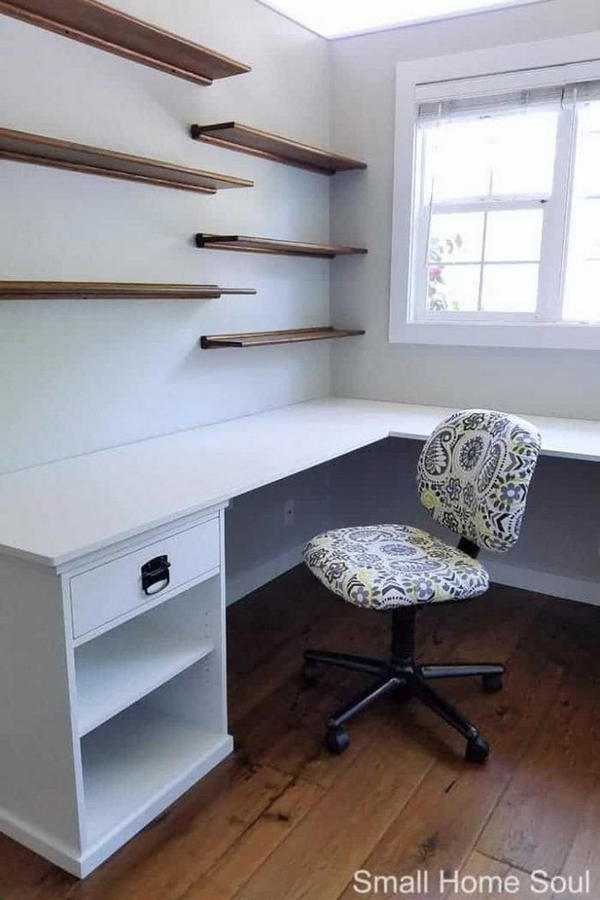 Have you ever dreamed of having a study room in your house? If you want to create another way in your house, just build an L-shaped desk.? This is a very simple idea to make your room looks bigger, create by using an L-shaped desk. It seems that we do not get other choices not only have a shelf under the desk. This L-shaped desk will help you to solve the problem, and even more than that: it saves your space. You only need to stick this desk firmly on the wall, and then you can place any document willingly on the top shelf. Have fun with your L-shaped Desk!!
Project details: thedestinyformula.com
Herringbone L-Shaped Corner Desk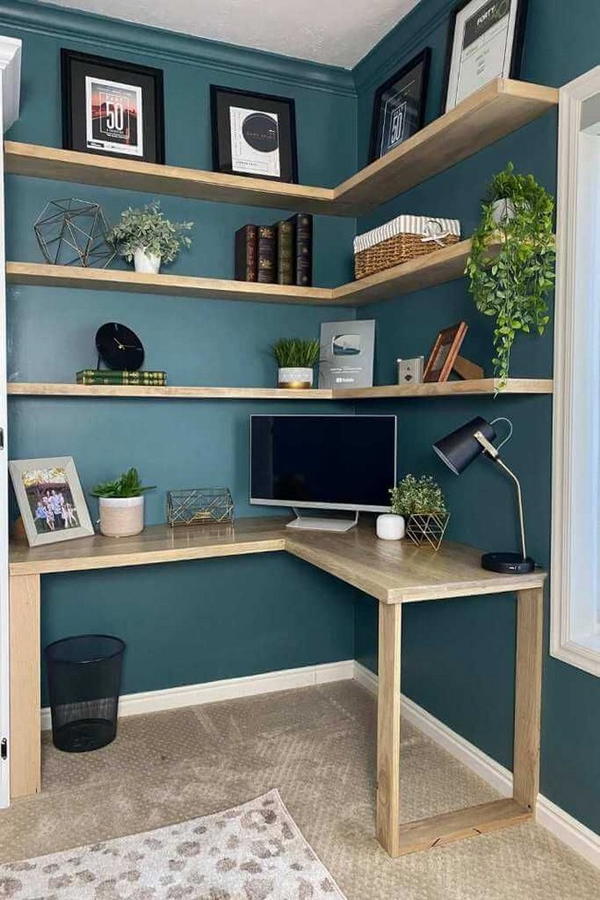 Want to enjoy both nature and comfort in your working zone? Set up this Herringbone L-Shaped Corner Desk at the corner of your room near the window. Organize your work right and see how the new view can stimulate your inspiration and help you work better. The desk is designed to save more space for your workspace and will add a touch of aesthetic design to any room. This L-shaped corner desk is a necessity in every room. The design of the desk offers a generous work surface This desk also works well in your home office as part of a go-to-office solution, or even in a kids' room. The possibilities are limitless!
Project details: honeybuilthome.com
DIY Farmhouse Desk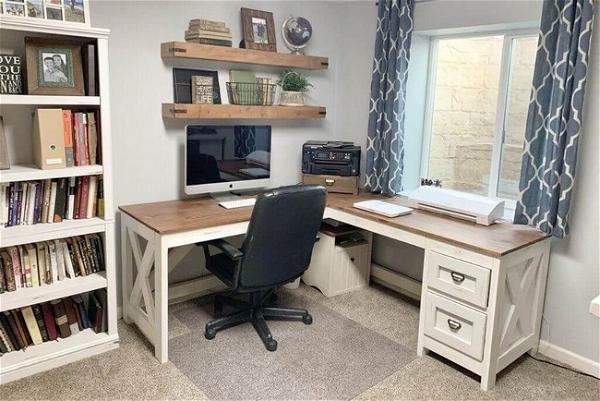 To have beautiful wood finishes, you need the right tools and accessories. At the end of this project, you can arrange your favorite desk and keep your favorite tablet or computer on it to read new books while sipping coffee and relaxing. Make a farmhouse desk with love and care. Next, try assembling it with your two hands. The overall look of the desk is elegant and charming. It can be used in various ways, whether on the wall as a room divider or random as tabletops. The DIY farmhouse desk is created out of reclaimed wood and is the ideal space for studies or a computer area with its large work surface, plenty of storage, and the X leg style.
Project details: ashleydianndesigns.com
Modular Office L-Shaped Desk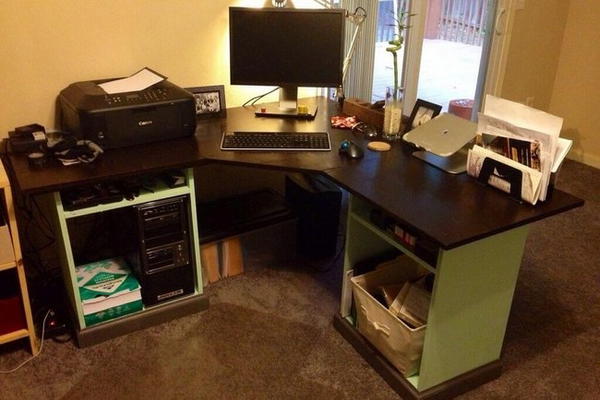 Would you like to have an original gothic appearance for your room? Or maybe you would love the style of a colonial American house the Modular Office L-Shaped Desk offers lots of flexibility so you will never feel that you are missing out on space. One side has a wide "office" area with a large keyboard tray and plenty of room to spread your paperwork across the entire surface. The other side grows into two different areas - to meet your storage needs, place a file cabinet, storage unit, or anything else. Due to its modular design, it will offer you more than three times larger work surfaces. . You will find everything about wood furniture at VIP Furniture Mall. All of our representatives are professional and experienced, which will bring you tremendous help from their suggestions on them.
Project details: ana-white.com
Huge L-Shaped Desk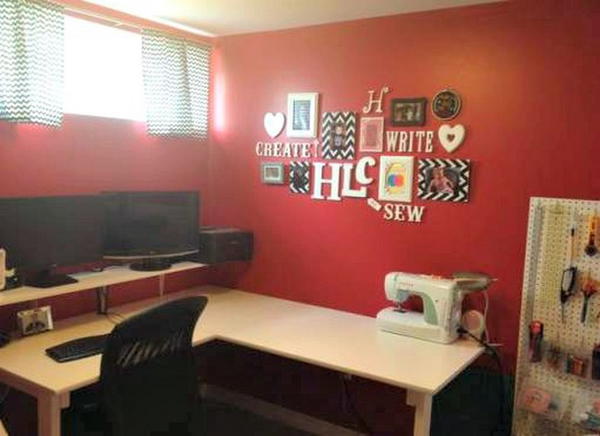 Finally, the right size and shape of your Computer Desk / Workstation have arrived! This big desk is made of high-quality material, which can be recycled as new and it is very safe for you. In a word, it has the characteristics of durability and environmental protection. This desk makes your working environment much better. It is easy to handle the material and to put it in its right place. This L-shaped desktop is made of high-quality materials, so you do not have to worry about destructive chemicals and residues. You will not have any problem with sharp edges as they are all covered with appropriate plastic pieces by adhesive glues. This desk is very big and spacious in its design. The overall material is a high-quality solid wood that is built to last.
Project details: heathershandmadelife.com
29. Custom DIY Pipe L Desk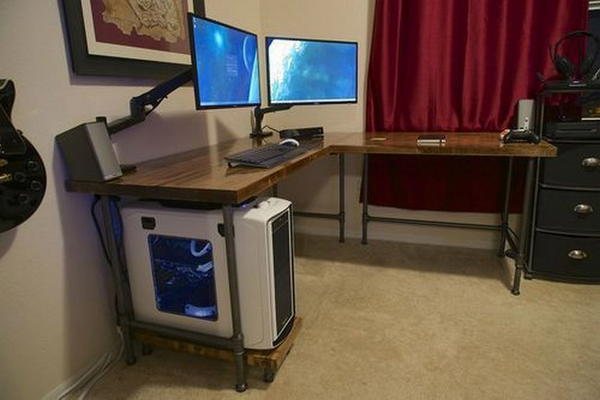 Be inspired to create your own personal-style desk. Made of steel pipes and high-quality wooden boards, it gives the feeling of freedom and comfortable use. That's why we call it "the pipe desk". It is industrialized and lightweight, but also very stable and durable. Overall, this piece of furniture can refresh your home office or study, especially when it is combined with some vintage lighting or stylish rugs.
Enjoy the fresh beauty of your house with this DIY pipe L desk. This DIY project to create a timeless appeal desk is more attractive than other materials like metal and wood due to its rustic touch. As a matter of fact, it is easy to decorate your home, you can use this desk as functional storage due to its open space underneath where anything like books or instruments can be stored.
Project details: tylergarner.com
DIY Wood Floating L-Shaped Desk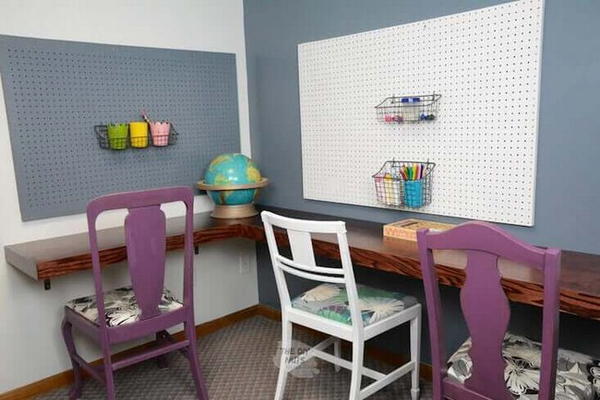 The DIY Wood Floating L-Shaped desk is a cost-effective desk solution. It's a great addition to any room, whether it be a child's bedroom, home office, or living room. Its lightweight and portable design make it easy to rearrange or clean around. This also would be a fantastic addition to a dorm room! The DIY wood floating L-shaped desk is suitable for younger students. These floating corner desks help their spare space and also can save money. Having the desk in the window area gives your favorite place where you feel relaxed and happy. The floating corner desk is easy to install.
Project details: thediynuts.com
File Cabinet L-Shaped Desk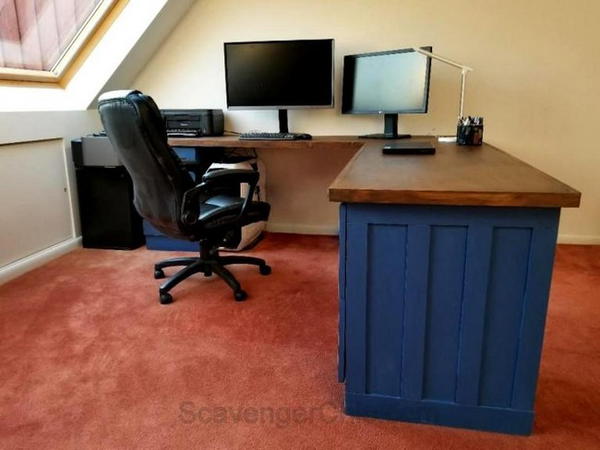 You can make your file cabinet like an adorable cabinet for your workspace. After that, you can decorate it with some old shutters. This way is to save your time and energy. When you are going to decorate the exterior too, it is helpful for those who want to make their desk like an adorable cabinet. You can take advantage of some old shutters to decorate them. There is no reason why you cannot open and close the drawers easily by hand when they don't have any lock. By keeping your documents in closed cabinets with transparent glasses, you will also be able to keep your documents away from your kids or pets. This way will save your time and energy as well!.
Project details: scavengerchic.com
Modern Plywood Desk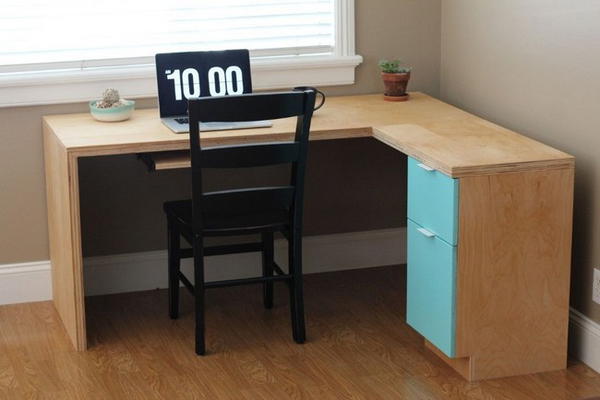 Give your space an instant re-do with our Modern plywood desk. Designed to showcase the natural beauty of wood, it's one shelf is just enough space to keep a lamp and computer or laptop charger, plus a small plant or two. Its quick assembly means that you'll be able to enjoy your new desk in no time. The Modern Plywood Desk is a versatile addition to your home office. This one-shelf desk is designed for holding your most important and frequently used items. Made from durable plywood, this desk will last you for many years. The case has been finished with scratch-resistant laminate and is complemented by brushed nickel hardware. There are two methods for fitting the pedestals, depending on the size of space available in your room.
Project details: .ana-white.com
Rustic L-Shaped Desk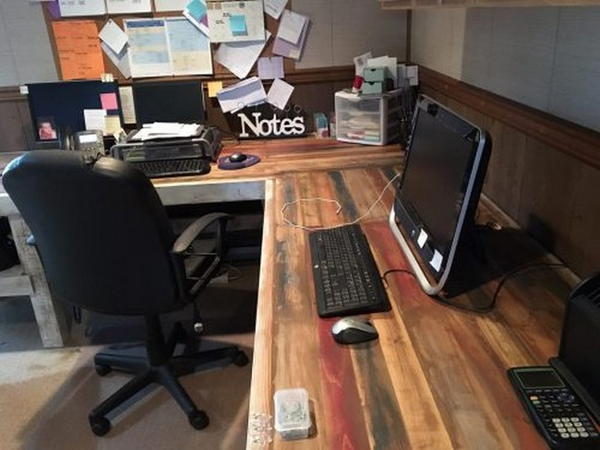 The rustic desk is the ultimate place to relax and breathe deep while surrounded by nature. Using salvaged materials, you can build a table that doubles as a workspace or even a place to put away your laptop and books at night.
An excellent idea to create an L-shaped desk is to use reclaimed wood pieces you can purchase at your local hardware store or woodworking shop. Make sure to sand the wood smooth and prepare it well before assembling. A simple project like this one will transform any space into a unique out-of-the-crowd spot.
Project details: shanty-2-chic.com
 Easy DIY Craft L Shape Desk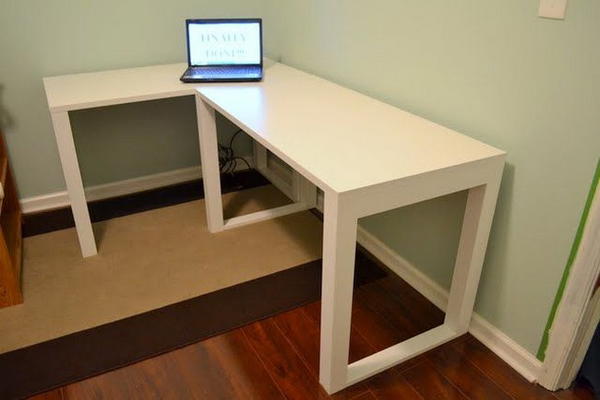 Cardboard L-shaped desk – is useful and functional furniture to create in your home. This free-standing furniture is very simple and cheap to make. The desk is this awesome DIY creation that you can't miss. The L-inspired desk has an economical building cost. Additionally, the pre-drilled holes can allow you to assemble everything quickly and easily. To add, the double pedestal legs will provide excellent sturdiness so that you can complete your work on the table easily. Moreover, it will be a perfect decoration for any corner of your room. Also, you can use this item to save space because it's lightweight to be easily moved when necessary.
Project details: uglyducklinghouse.com
Modern Office Or Computer L-Shaped Desk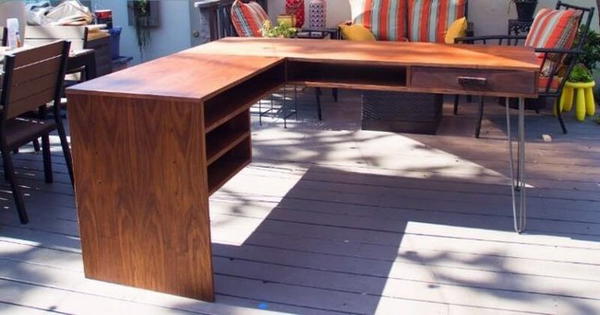 This L-shaped desk has a clean minimal design and will look great in any office from home to the studio. Best of all, it's made with walnut plywood and hairpin legs for the base. You can choose to use water-based paint for this very durable product, available in any color you wish. Let your imagination go wild (Just make sure not to paint on the hairpins) so you can express your own sense of style. Whether it's super clean or grungy and industrial, we've designed this project so you can finish it however you'd like.
Project details: siamagazin.com
Transformable Hairpin Leg Desktop DIY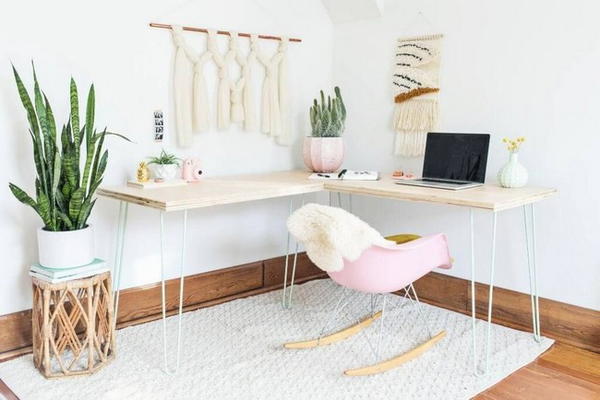 This DIY idea will save your floor space and help you to decorate more plants surrounding your working zone.The desktop DIY you see here is quite simple. We give you a hairpin leg desk and a lot of possibilities to decorate it. For example, you can add small plants with retro water cans on each side as adorable deskmates. Let's start this weekend project and make your working area personalized!
Transformable Hairpin Leg Desktop DIY is a simple and smart transformation, which makes the room more comfortable, convenient, and easier for us to keep clean.
Project details: abeautifulmess.com
DIY Custom Standing Desk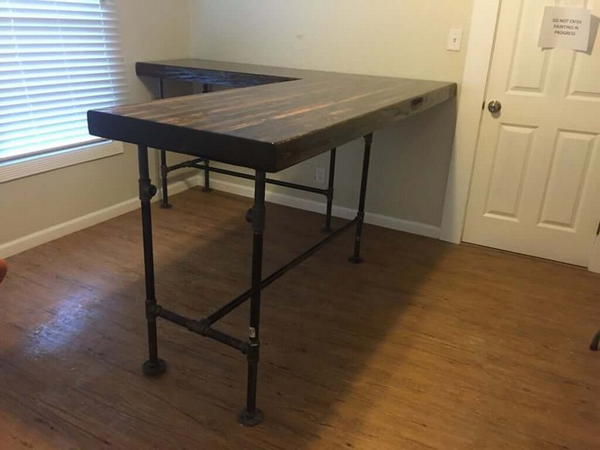 You can find this picture on the internet through a search. The details are that DIY Custom Standing Desk has solid wood for tabletop and four legs are used as pipes to form the leg frame. With a top-quality water-based wood stain and oil-based paint, this table was made to be working well with the homemade standing desk. The perfect mix of fun and functionality, this functional piece of furniture is a must-have for every dedicated student.
Project details: instructables.com
L-Shaped Office Desk Instruction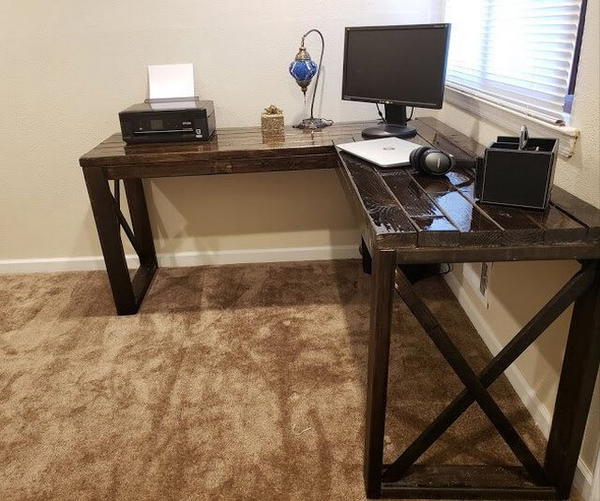 The L-shape office desk will be your ideal home furniture. Made of solid wood, the desk is not only sturdy and durable but also stylish. It has an X construction base which provides stronger support and prevents sagging. Its tabletop made of high-density polyethylene is smooth to touch, so no worries to make scratches on it. Two drawers are intended for keeping office essentials such as paper clips, rulers, etc. Overall, this desk is easy to assemble and won't take up much room in your home or office.
Project details: mandvisdiyblog.blogspot.com
Office Makeover L-Shaped Desk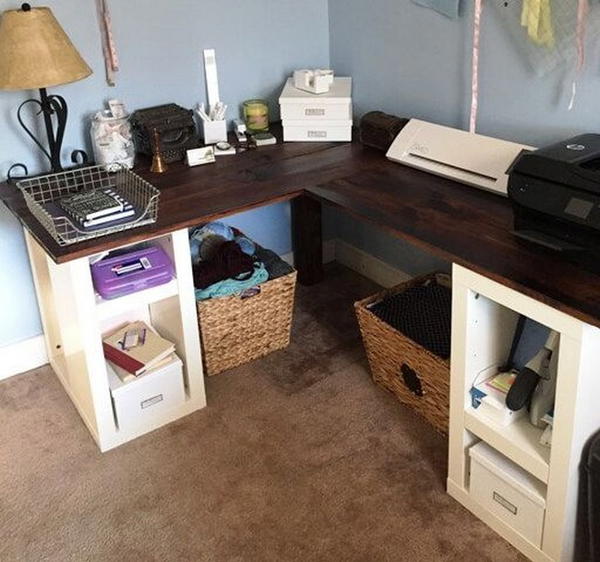 Are a lot of waste papers always annoying you? Want a small-sized desk but too much to put? Maybe an L-shaped desk can solve this problem. An L-shaped office desk is a good assistant for your study to keep everything in your reach. It can save space effectively and help you do more things at once. The software-assisted drawing will show you how to get two shelves and some legs made of acrylic applied to 4 plywoods.
Project details: tillthensmileoften.com
DIY L Shaped Desk – Home Office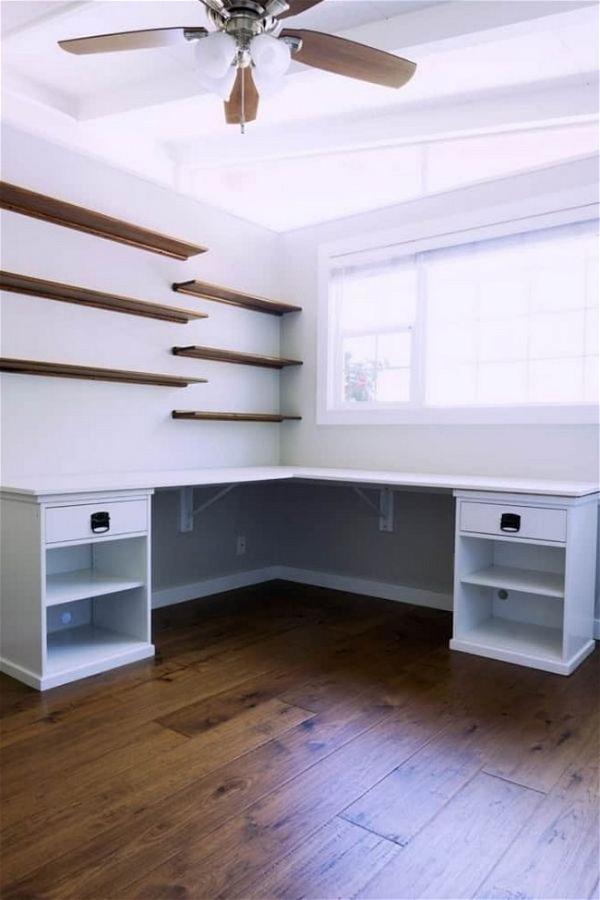 Are you looking for a DIY desk contemporary that can be used for household use and small business office? If so, then this woodworking project is the right choice. This work is referred to as an L Shaped Desk – Home Office. It looks simple but is equipped with all the necessary features that every office needs. The DIY L Shaped Desk – Home Office is a unique, inventive design that combines an L-shaped desk and a two-shelf wall unit. The modern desk and shelf combination is made up of all-white painted maple, oak, and MDF woods and features an oak-stained plywood backing. The creamy white shade on the walls creates a warm environment for this contemporary L-shaped office desk.
Project details: girljustdiy.com
Corner Desk Instruction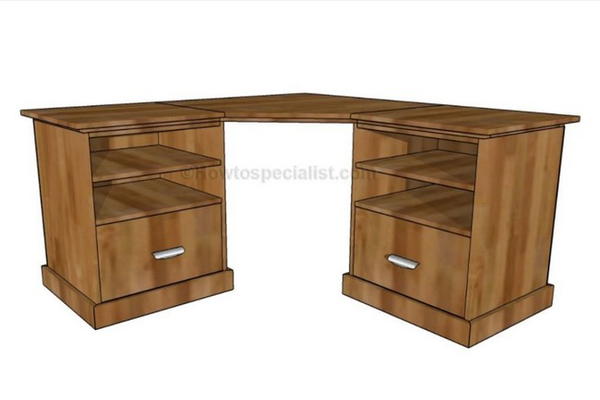 A DIY Corner Desk is an ideal choice for when you want to use the optimal space in your home. This Desk is very easy to be completed. You can do it at home easily and quickly, even if you don't have any expert knowledge of carpentry. Though this desk may take a few hours to finish, you can finish both the desk and drawing board by yourself with a small number of tools and materials. It's going to be a great product with high quality of work after making. Corner desks are excellent for adding additional space to a small room. This style is perfect for smaller living areas and bedrooms, helping you to make the most of your space.
Best defined by its unique space-saving design and available in a variety of finishes, the Corner Desk is an all-purpose solution for the home office. Its unique design makes it the perfect desk for dining spaces and conversational areas, taking advantage of the corner to add extra workspace. Available with either a tilt or lift top that reveals a keyboard drawer, and one shelf accommodates laptop computers or external hard drives.
Project details: howtospecialist.com
DIY Farmhouse X Desk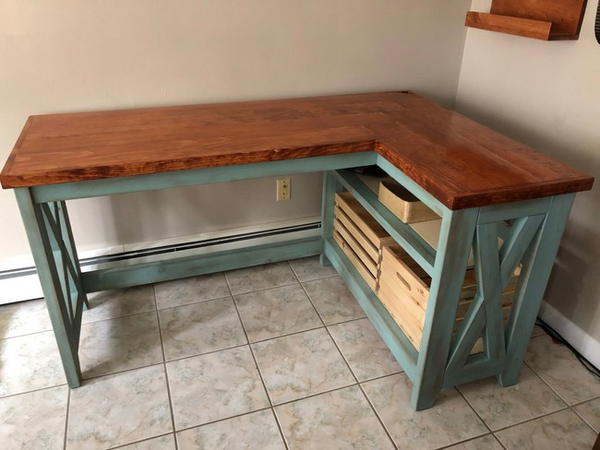 Do-It-Yourself is the way to go nowadays since furniture can be costly. The Farmhouse X Desk design will give you more space for your work items, whether you write, type, or paint. This DIY farmhouse L-shaped desk is easy to build This design is easily buildable and comfortable for your work stuff at the same time. One of the best ways to bring a touch of rustic to your home is by bringing in some wood and natural elements. There are many ways to do this, but perhaps one of the most versatile is a DIY farmhouse X desk. This desk has a rustic appeal with its worn, whitewashed hues, along with a worn, reclaimed wood appearance. By selecting the right materials, you and your family can create something that will enhance your home while still being a functional piece of furniture!
Project details: heatherstudios.com
DIY Corner Desk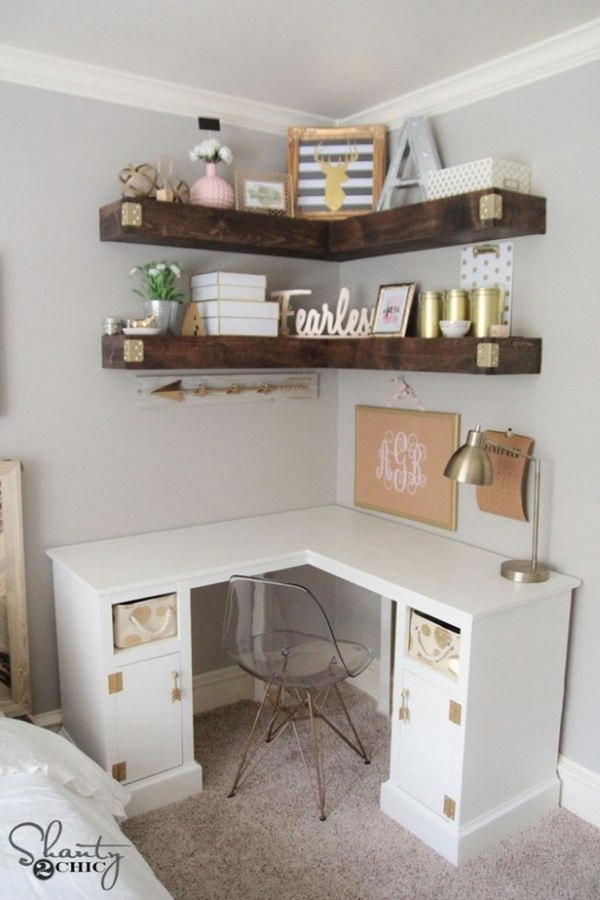 DIY Corner Desk is an elegant, sturdy and spacious desk. If you are a student who intends to spend some serious time studying then this desk is ideal for you. Perfect for your corner, this handy and versatile desk is smartly designed to help you stay organized and focused on your tasks. The corner desk is a set consisting of a workstation and storage. This gives you a convenient and comfortable space to work with abundant storage.
It has a shabby chic style and adds a unique sense of taste to your room. This desk is quite mini; however, it can hold many books and sheets in the storage drawer. Finally, a corner desk that is affordable and works for you! The DIY Corner desk design allows for a little bit of creativity. Set your desk in an empty corner or utilize the helpful assembly guide to create a workstation with ample storage.
Project details: shanty-2-chic.com