Privacy screens are a great focal point for your garden or patio. They give you privacy, but they can also give you light and colour by allowing through filtered light and flowering shrubs, even fruit-bearing bushes, if you wish. You can also use these Privacy screens to hide unsightly features such as meters, air conditioning units, air vents, a pump, pool filters, etc. We have compiled 35 DIY privacy screen ideas to inspire you and create a beautiful enclosure to hide those unsightly things in your space.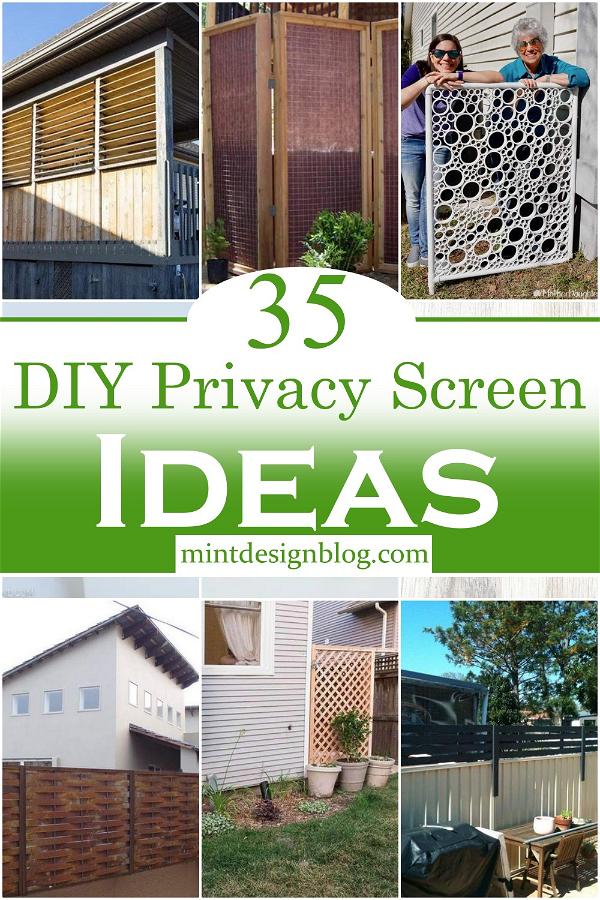 Privacy screens make great additions to any home. They can help screen off certain areas of the garden, backyard or other parts of the property that you want to be more private. They come in a variety of options to suit your tastes and needs. Refresh your patio or deck by adding a privacy screen, or add some art to your yard with a beautiful handmade pole-like creation. If you love your yard but want a little more privacy, this article highlights 35 DIY privacy screen ideas to add beauty while keeping unwanted eyes out. These screens are relatively easy to make and cost much less than store-bought options.
Tools and Materials:
Paint stir stick
Wooden fence panel
Power drill
Tape measure
Saw
Screws
Paint/stain
Brush for paint/stain
DIY Wooden Gate Window Screens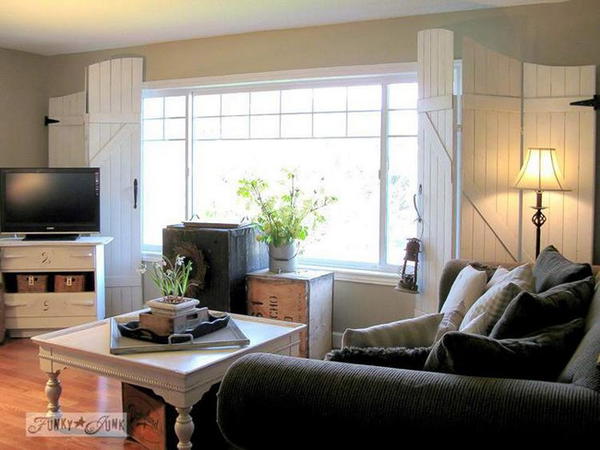 Tired of the same old limp and messy gate window screens? Then it's time to consider building your wood gate window screens. These wood tones have been fitted into a knotty pine panelling that has been secured onto the walls using ceiling trim nails. They fit just right with the room, plus they are also effortless to move out of the way when needed. This home decor idea may take a little time and patience, but you will be happy when you see the results. The greatest thing about this DIY Wooden Gate Window Screens project is that it has a budget-friendly cost so that you can make more than one set.
Skill level: Easy
Steel Privacy Screen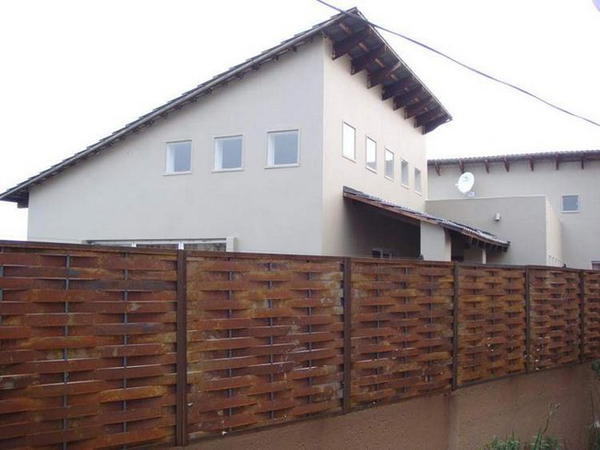 Whether you are concerned about a privacy screen for your patio, this DIY steel privacy screen will be your go-to solution. You can fix this yourself. No need to hire a gate service or contractor. There's nothing more private than privacy screening unless it's steel privacy screening, which is even better. You're looking at a DIY project that will help give you the most privacy in your yard you've ever had. A DIY privacy screen is a beautiful addition to your backyard and family. This project is quite simple, affordable, and handy so get the supplies ready.
Skill level: Beginners
DIY PVC Pipe Privacy Screen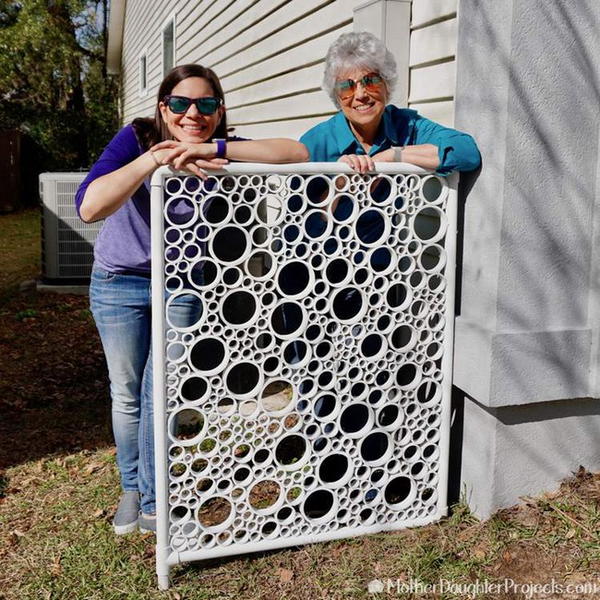 If you are searching for a durable and cheap way to screen in your outdoor area, this DIY PVC Pipe Privacy Screen is the perfect solution. It's made with materials that can easily be found at most hardware stores and requires no tools to assemble. You can also alter the size to create various shapes and sizes of the screen itself. You can complete this DIY PVC pipe project in a matter of minutes. This DIY project is for those who are ready for some fun. You can make the colours to suit your specific tastes and needs. Light, inexpensive, and easy to move, it gives you the flexibility to redecorate and rearrange for every season!
Skill level: Experienced
DIY Home Privacy Screen Tutorial
Privacy is essential, and people love to have privacy screens in their homes. You can easily create your privacy screen with a creative approach and DIY skills. DIY Privacy Screen is a great DIY project since privacy screens are trendy in today's concept of transforming your home or apartment. You can also use this DIY if you have an indoor or outdoor garden where you want privacy while developing natural surroundings and relaxing effects with different types of plants. This DIY is a straightforward process that doesn't involve any complex measurements.
Skill level: Easy
DIY Privacy Fence
If you think that you have a right to some privacy and don't want to feel uncomfortable when someone is always looking into your patio, then the solution to your problem is simple: build a privacy screen. It's easy and inexpensive, plus it allows you to add greenery and other plants to create a lovely outdoor atmosphere if you so desire. A privacy fence is a simple yet effective way to shield your view from your neighbour. Whether you may live in an apartment or a community with strict rules and regulations, privacy fences are here to rescue you.
Skill level: Easy
Building An Outdoor Timber Privacy Screen
Building a privacy screen is simple no matter what materials you choose. The trick to this project is determining the placement of the posts and knowing how high you need the final screen to be. It all depends on what you have to work with and your taste. Building an outdoor privacy screen can add value to your property, maximize privacy, and provide a joyful place for family and friends to relax. This privacy screen is the perfect project for a home with no backyard but a definite need for more. This DIY project is relatively simple to create but does require a few materials and your design.
Skill level: Intermediate
DIY Privacy Screen
Are you need a beautiful privacy screen for your back porch or backyard? The bad news is that this project is time-consuming. However, the good news is that once it's done, you're no longer left feeling exposed. There are many sizes and types of screening. Pick the one you like best! It's a bit pricey, but it's much cheaper than a monthly lease in a small apartment. The DIY privacy screen protects your private life from strangers, neighbours, and passersby. This easy-to-follow video will teach you to build an attractive and long-lasting privacy screen. This DIY privacy screen is the perfect addition to a private backyard balcony. It's beautiful, convenient, and affordable.
Skill level: Intermediate
DIY Trellis Screen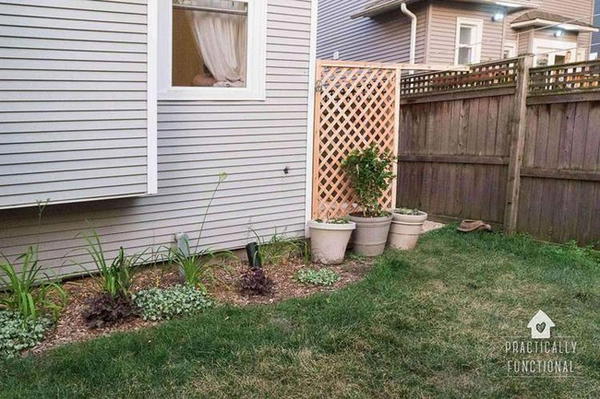 The trellis screen is a quick and easy way to cover unsightly backyard clutter, such as woodpiles or containers full of gardening supplies. It is constructed from inexpensive materials. This DIY solution will make it easy to organize your yard while softening the overall appearance. Its unique appearance makes it an attractive piece, so you can use it almost anywhere to create a focal point. You can quickly build a DIY trellis screen as per the need for space. It helps in making a great-looking piece of art with your plant collection. It becomes cost-effective as you can make this trellis out of any material left at your place.
Skill level: Intermediate
How To Build A Slatted Outdoor Privacy Screen
Summer is finally here, and you want to enjoy it by using your patio as much as possible. Nothing beats fresh air, but unfortunately, not many people want to do their grilling or shmooze in an exposed backyard. You can create privacy indoors for your back patio by building a slatted outdoor privacy screen. It's an easy DIY project that will give you the excellent patio seclusion you've always dreamed of having.
Not only does a DIY slatted privacy screen will dramatically increase the privacy of your patio and pool area, but it also helps to block out any unwanted views. The great thing about making one yourself is choosing the materials to fit your vision. This slatted privacy screen is easily attached using deck building screws and finish nails to the existing fence.
Skill level: Easy
How To Create A Faux Boxwood Privacy Screen
It's a quick, easy and inexpensive project you can use if you have a small outdoor space. Boxwoods are an excellent privacy plant, but they can be expensive. This will create a pleasant environment within your outdoor space while still allowing air to flow through. This video will walk you through the simple process of making your own faux boxwood privacy screen that will replace the need to buy natural plants and their upkeep, which can be time-consuming and expensive. The great news about this privacy screen is that it's a do-it-yourself project. So, grab your yard shears, and let's get started.
Skill level: Beginner
DIY Outdoor Privacy Screens
Building a DIY outdoor privacy screen is the best way to fight back against staring eyes, embarrassing sun, and shadows, and that neighbour's bird feeder is always within view. This simple project is affordable and quick, allowing you to finish in just one weekend. Anyone can do it. The privacy screens have a lot of character and have a rustic look that you'll like. Watch this video to see how simple it is to create your own DIY backyard privacy screens. You will also learn to build one from pressure-treated lumber and cedar fence pickets that you can quickly put together by hand.
Skill level: Intermediate
How To Build An Outdoor Privacy Wall
Now it's time to build an outdoor privacy wall. This easy-to-make project is a great weekend project for anyone with the tools and skills to complete this. You'll see all the tools and materials needed to complete it, step-by-step instructions, construction, and staining. The best part about this project is you can use your privacy wall year-round by packing snow around it and covering it with a sheet for winter. So pick yourself up the materials and tools, then watch the video to learn how simple it is to build this outdoor privacy wall.
Skill level: Easy
DIY Garbage Can Privacy Screen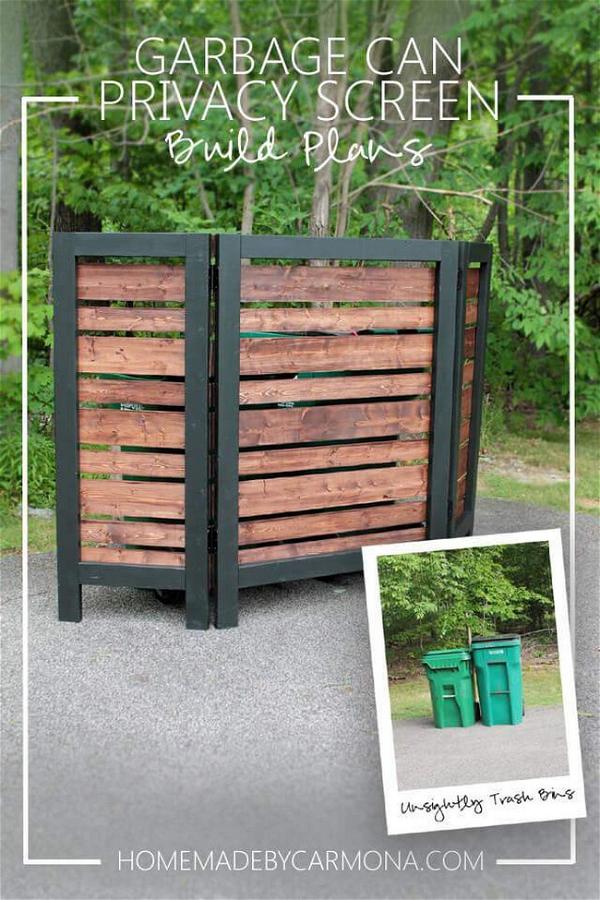 Learning how to build this DIY Trash Can Privacy Screen is fast, easy, and effective. This can be used in the kitchen or anywhere else you don't want to be seen throwing away your garbage. The materials are inexpensive, and the assembly is easy. With a coat of stain, it will last through all weather. Great use of your time. You will be able to put up a privacy screen in less than a weekend while still saving money! Don't let your trash or recycling bins be an eyesore any longer. These plans can be easily modified to fit any size or height of the trash bin.
Skill level: Experienced
DIY Outdoor Privacy Screen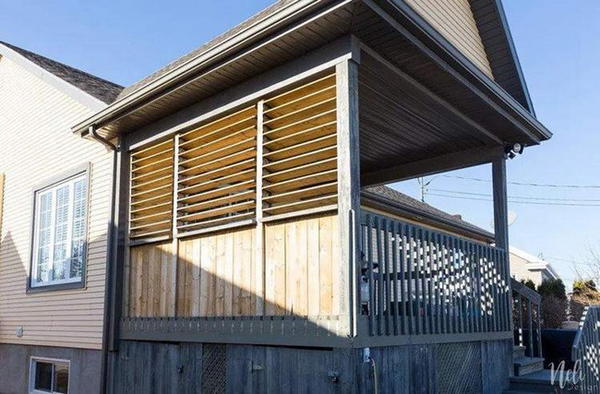 Creating your outdoor privacy screen does not need to be difficult, and this will give you information on the materials you will need. This particular project will cover a patio area outside. Have the hardware kit handy if any parts are not included in the kit itself. Additionally, it improves air circulation and helps keep flies away from the food. A privacy screen is an ideal addition to your home with many uses when you need some shade and still want to enjoy the outdoors. A simple design such as this can be made in no time and doesn't require a professional.
Skill level: Experienced
How To Build A Privacy Screen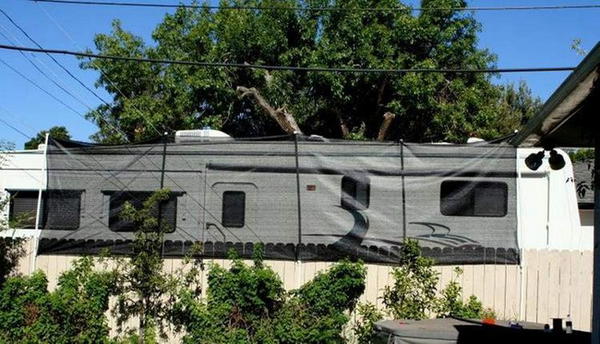 There are several uses for this project, including outdoor parties and entertainment. You can build screens in front of your home theatre, bathroom, bedroom area, or wherever you might need them. The success of this project depends on what type of material you use for the screen (sunscreen or window/door screening), but as long as it's not too heavy, it'll work just fine. This effortless project should take you about an afternoon to complete. The best thing is that all the tools you'll need are from your local hardware store. So if you're looking for privacy, security, or an excellent way to give shade to your backyard, check out this project.
Skill level: Easy
DIY Privacy Screen For Outdoor Hot Tub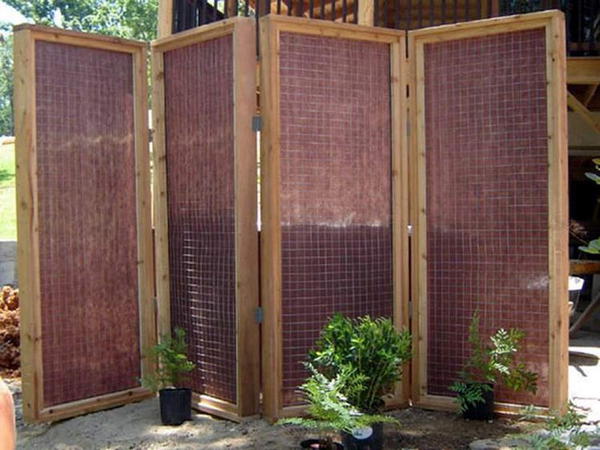 Why should you invest in a privacy screen for your outdoor hot tub? Well, if you have neighbors or passersby nearby, it's just good manners to keep the sights of you and your family to yourself. Privacy And Style A privacy screen is a perfect way to protect the open view of your hot tub. You can learn how to build a sturdy screen made partially of a chain-link fence that is incredibly easy to accomplish. This DIY project you won't be ashamed of. You can create a privacy screen to enclose your spa by building it with prefabricated panels or customizing your own. The tools you'll need to build the perfect enclosure and the materials you'll need are essential.
Skill level: Intermediate
DIY Lattice Privacy Wall
Do you wish to have an open backyard area, but your privacy is at stake? Introducing this beautifully designed decorative lattice screen. Able to settle your worries once and for all, this screen comes in various sizes, made from smooth and durable plastic material, with a construction process that makes it efficient and robust. If you are the one who'd like to have the perfect backyard oasis, don't hesitate to pick on this one. It's made to give you that extra privacy you need while still looking as beautiful as possible. Beautiful and no hassle!
Skill level: Beginners
Privacy Screen DIY
A privacy screen is a great DIY project. You don't need that much cost to get it on your patio, terrace, or garden. It is made out of used deck boards. The outcome is excellent and lovely. This post will guide you step by step on how to make one by yourself. It's effortless to make a DIY privacy screen. You need deck boards. And it would be best if you had a hammer and a saw to do the job. Because it is made out of used deck boards, it will give you an incredible feeling that you replicate what you have experienced. The outcome is incredible and lovely. If you do it well, the privacy screen can sustain your budget.
Skill level: Intermediate
19. Easy Privacy Screen DIY
Here is an excellent project if you don't mind that this is the first you have done it. It is made more accessible by a beginner. Build your privacy screen and stop those prying eyes from checking on your patio activities. This video will take you step by step on how to do it and give you the confidence to make one of your own. Your privacy screen is one of the most helpful backyard projects you can do. It lay a square frame attached posts on all sides and then installed the horizontal slats. The other projects help you make an official tented area, build a fire table, and make some chairs using pressure-treated posts.
Skill level: Easy
20. DIY Privacy Fence
This DIY privacy fence can be a great addition to your backyard. Besides being easy to build, it can withstand snowy winters and stormy summers and keep your curious family members or pets away from the street. Preparing the post sleeves is the most time-consuming part of this project, but it's smooth sailing!
A DIY privacy fence is a way to go if you don't want to spend much money on a fence. The main reason why this type of fence is so popular is that it's quick and easy to build. It doesn't require special tools, and you can easily find the materials. The best part is that these fences are affordable and look fantastic.
Skill level: Intermediate
DIY Window Privacy Screen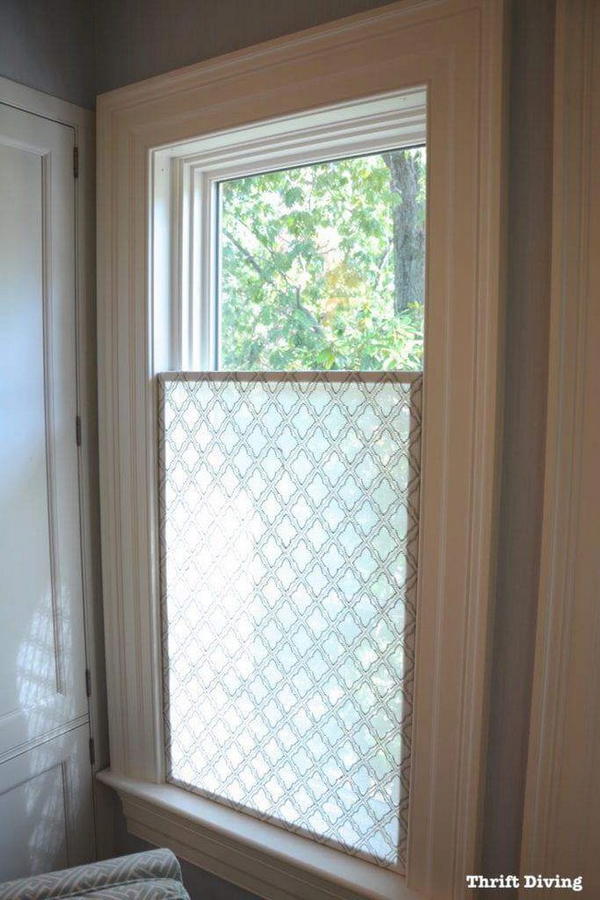 A DIY privacy window screen is the best window treatment for odd-shaped windows or for renters who aren't allowed to install curtain rods. It's a simple and inexpensive way to protect your privacy and control the temperature of your room—without sacrificing natural light. Making a DIY privacy window screen is not hard—you need some recycled materials and the proper measurements to get the job done. All you do is measure the width of your window, divide that in half, and cut two pieces that size. There are a lot of window privacy screens, but this one is made with wood and hardware you can easily find at your local hardware store. The best part about making this screen yourself—you can customize it to fit perfectly in any odd-sized window.
Skill level: Experienced
DIY Wooden Privacy Screen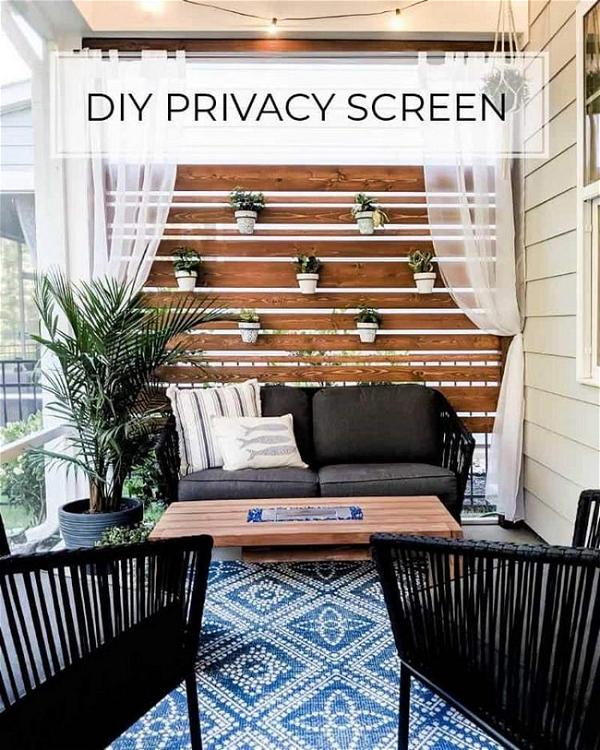 Everybody wants some private outdoor space to enjoy the sun in peace. This privacy screen isn't just economical, and it's also quick and easy to make. And it's strong enough to keep pesky bugs out of your space. Best of all, you can enjoy it now and customize it for the season or occasion. Put decorative plant holders and the centre partition and even a grill on the side partition for al fresco meals. You can create a privacy screen for your yard in a DIY project that incorporates plant holders. This project is an easy weekend project. The result will be a beautiful, natural-looking structure to personalize and monetize your outdoor space.
Skill level: Intermediate
DIY Wood Privacy Screen Attachment To Fence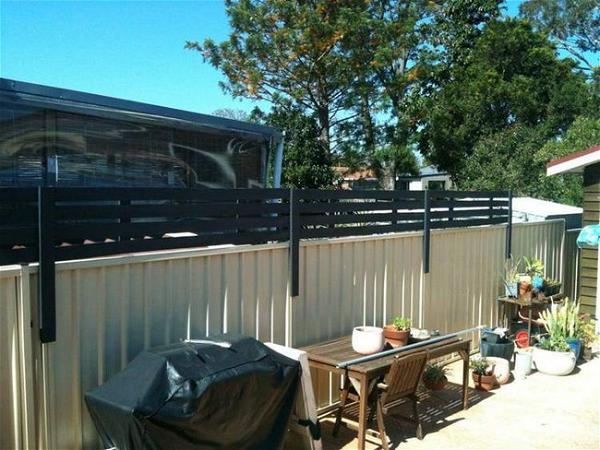 Wooden privacy screens are a great way to add privacy to your yard and garden. The DIY option is available for color-bond fences, but the difficulty comes when you want to cut it to fit the pattern of your fence. This privacy screen attachment is a neat DIY job that you can install yourself on your fence. By following through the proper steps and doing it this exact way, you will get a pleasing result with an option to incorporate further modification of the exact color and size you want. This DIY screen is a fun little project that you can do in a day or two.
Skill level: Easy
DIY Bamboo Privacy Screen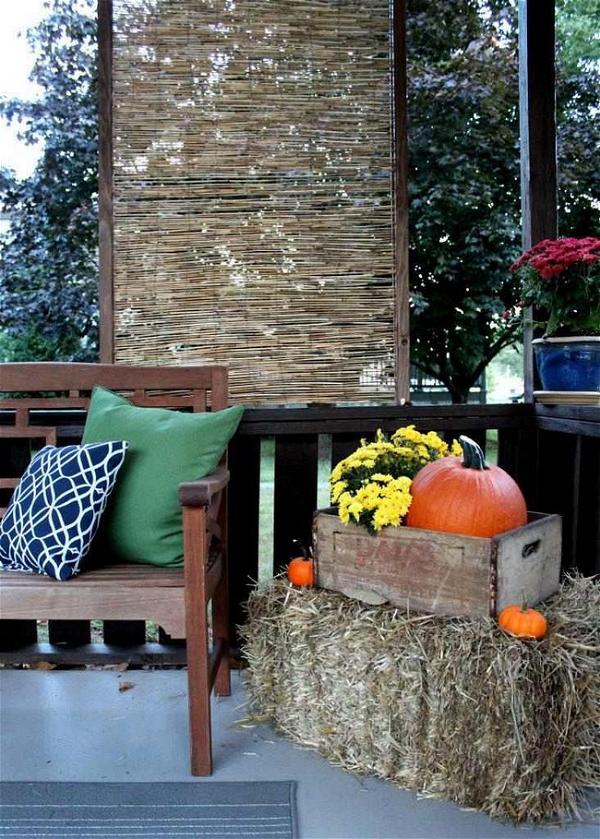 Privacy screens are easy and relatively inexpensive to provide visual privacy in any outdoor setting. Bamboo is an attractive option because it's not only low maintenance but has a rustic warm, and welcoming look. With the DIY Bamboo Privacy Screen, you and your partner can create a unique feature that's easily customized in size and scale to suit the space and style of your home. Perfect for patios, balconies, and decks, it will act as a shield blocking the prying eyes of neighbors, passersby, and pets alike. Bamboo is a hardy, fast-growing crop that doesn'tdoesn't require pesticides or fertilizer to thrive—it just needs a little water now and then.
Skill level: Beginners
How To Build A Privacy Screen
A privacy screen can be an effortless and affordable way to achieve more privacy in your outdoor space, whatever that may be, whether it's at the back door of your home or even your backyard. Privacy screens are great for neighbors that are perhaps a bit too close for comfort or for those who want some extra solitude. They're lovely for those with things in their yard that they don't necessarily want people to see. This DIY project lets you enjoy your outdoor space in complete comfort with just a few tools. It is an easy weekend project anyone can complete.
Skill level: Intermediate
How To Make Cedar Fence Panels
Are you looking for an alternative way to make your backyard look beautiful? If so, then this video is definitely the right one for you! Cedar fence projects were one of the most requested DIY projects. There are so many reasons you should consider installing a cedar fence in your backyard. It will increase the curb appeal and beauty of your home. You could use this display screen for a range of applications, including at the entrance of your house, in a hallway or even inside a building. With these materials you can get building anytime and anywhere.
Skill level: Beginners
How To Install A Horizontal Timber Screen
Horizontal Timber Screening will ultimately help cool down the temperature of your property. The effectiveness of this type of screening is due to its capacity to allow air to go through it, whereas vertical screening reduces ventilation and protection from direct sunlight. Please note that it takes a considerable time for cool air to flow from inside the house to the outside, particularly during the summer season. But if there's already a sizeable horizontal window at your place, you can quickly improve its cooling system by placing a timber screen outside it. If you want to decorate your home with an attractive timber screen, but can't see yourself cutting down a tree and building one from scratch, then a horizontal timber screen is perfect.
Skill level: Beginners
DIY Deck Privacy Wall
You can build a DIY deck privacy screen on the weekend. This DIY screen is a good project for the do-it-yourselfer to build something that you use and enjoy. The privacy wall here is built from treated wood posts and boards to reduce two reasons for building a DIY deck privacy wall: shade and wind protection. Build a sturdy privacy screen for your deck in just a weekend with treated pine fence boards and steel fence posts. This decorative wall is inexpensive and easy to build, yet it's durable, weather-resistant, and attractive.
Skill level: Easy
DIY Decorative Outdoor Privacy Screen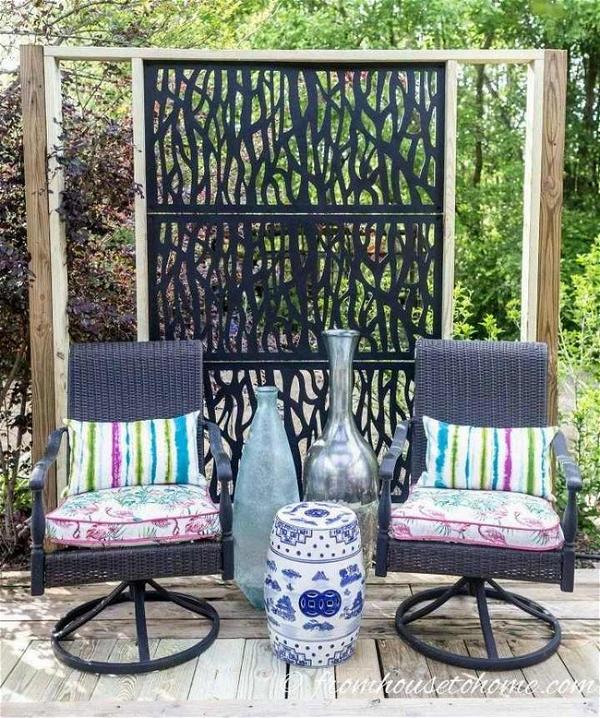 Sun and privacy are a mixture not to be messed with. Stay shaded and secluded with this DIY outdoor lattice screen. This day outdoor privacy screen is uniquely designed to configure in various ways. It's a great addition to home decor, patios, and yards. Your garden isn't just for planting. It's a place for lounging, relaxing, dining, and entertaining. So why not add an attractive new lattice screen to give yourself more privacy? Building this DIY lattice screen for your outdoor space is much easier than you think, and the results are much more dramatic. This simple construction project will set the foundation for your future backyard getaway with a stylish, decorative privacy screen that will please your inner DIYer.
Skill level: Intermediate
DIY Outdoor Privacy Curtains
Looking to define a space outside yet don't have the budget to pay out thousands? Look no further than DIY outdoor privacy curtains. These curtains add a nice bit of warmth and cosy-ness to this otherwise uninsulated open porch. You can even make your own DIY outdoor privacy curtains. There are many ways to save money on creating this curtain, as it is super easy to make. Check out the following article for a great shopping list and simple instructions to follow when making your outdoor privacy curtains.
Skill level: Intermediate
Under $100 DIY Privacy Screen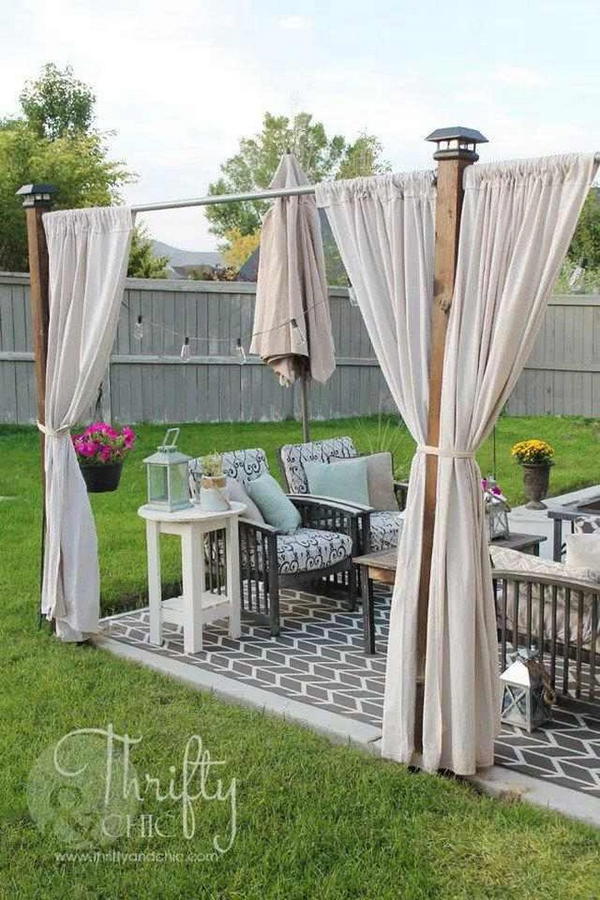 This DIY Privacy Screen is a perfect way to feel more at ease when relaxing on your porch! The addition of a pergola gives your yard a beautiful rustic look and allows you to enjoy the outdoors as you please. Make sure to check out that stylish curtain too! This project is perfect for any outdoor space! Since you'll be using wooden posts, it's imperative to select wood that is treated or approved for outdoor use. Be sure that the lumber is structurally sound, with no cracks in the wood. Inspect each post for any splits, cracks or holes where bugs can enter.
Skill level: Beginners
Trash Can Privacy Wall DIY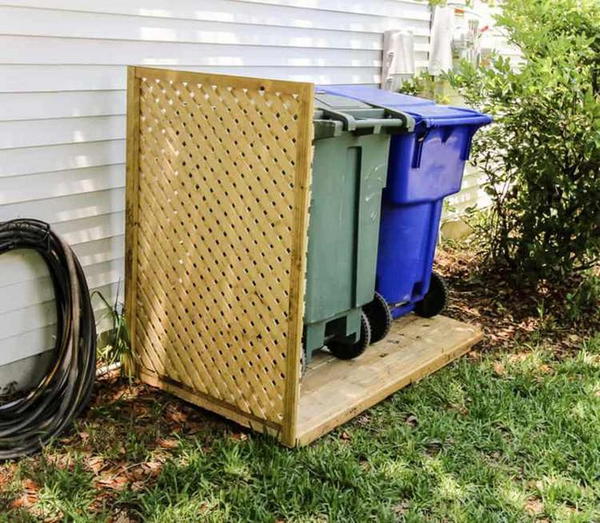 Are you upset because your trash can is visible from your living room windows? Do you wish it was hidden so that it looks neater, tidier and more pleasant to look at? Do you often worry about keeping the kitchen clean and not letting other people see your dirty dishes? With just a few minutes and several pieces of wood, you can make yourself a great privacy screen using lumber or wood. You can easily set up this easy-to-make privacy screen using scrap wood. This tutorial will show you the complete instructions and provide you with a template to build your privacy wall.
Skill level: Easy
How To Build A Stylish Privacy Screen
This stylish privacy screen adds seclusion and style to your outdoor living space. It's a fantastic project, and we'll be taking you through the process step by step so you can be confident in building a great looking screen. The video will walk you through the materials and tools used, how to measure for sizes, how to make cuts for the best fit of your space, how to design a removable panel for access in and out of your outdoor living space, AND how to build this privacy screen out of Pressure Treated Pine. It's super easy!
Skill level: Intermediate
Building An Outdoor Privacy Screen
Privacy and style stream into your backyard by building simple screens to block unwanted views. You can build this charming, versatile design in various heights to give you the perfect size and style while keeping costs down. It's all in the details, so carefully construct your unique fence with treated wood or cedar boards for a lasting barrier or wall that you can enjoy for years to come. The guide with information and tips to help you build your outdoor privacy screen using simple materials and tools. The design we provide can be built at various heights, allowing you to add more privacy as desired. Our short steps below detail how you can build the unique design that suits your environment and helps you get started.
Skill level: Experienced
DIY Mini Screen For Privacy
Looking for a bit of privacy in your garden or on your balcony? Here is a great way to create that shade, privacy - or hide unpleasant views, all with a lovely rustic look. You'll be proud of your results. Plus, you can use these DIY mini-screens for the bathroom or the kitchen, or anywhere you need a little privacy - or don't want others to see something (not pretty) once we help you get started and get through all the ideas below, you'll have a beautiful set of DIY mini screen ready to beautify your space. DIY Mini Screen For Privacy is straightforward to create.
Skill level: Intermediate
Conclusion:
A DIY privacy screen is a simple project that can help you boost your outdoor space's privacy. It can add charm to your outdoor area. You will find designs made from cedar, pallets, lattice and even old window panels. There are also plenty of ideas for creating a more private space with plants! Hope you enjoy these tutorials and would love for you to share this post with your friends.