Most people love spending time with their children. The time you spend playing together, going on trips, and doing activities together is precious. So, In my opinion, it's important to create lasting memories when you can with your kids. One great way to do this is by building them a playhouse of their own. Children's playhouses are fun spaces for kids to entertain themselves in the same way they entertain themselves in the parks and PlayStations. A playhouse can be an indoor or outdoor space, depending on what you are looking to build or where you want to put it. The list below collects 73 DIY playhouse plans that you can build yourself from start to finish in no time at all. Scroll through the list and check out the diverse project plans.
DIY Playhouse Plans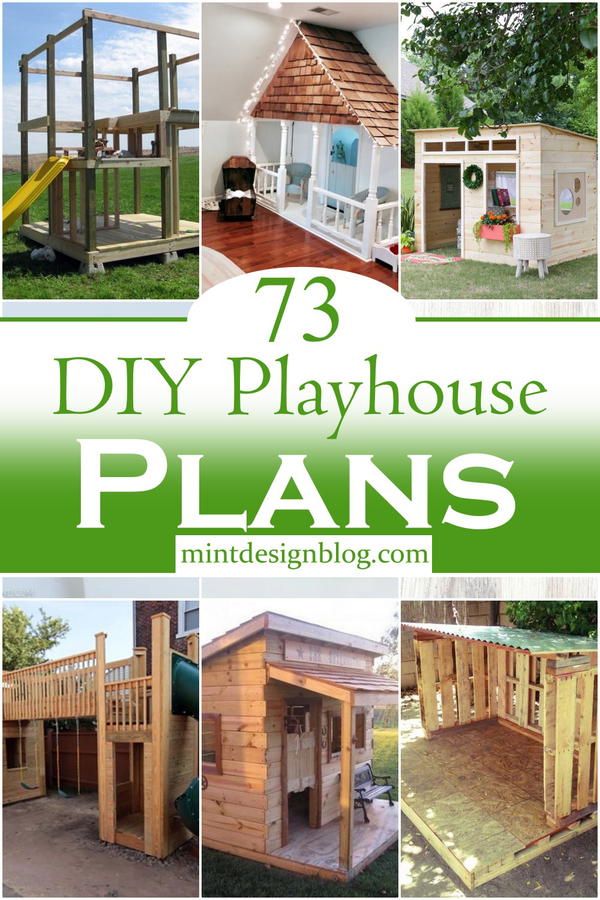 The kids will love these playhouse plans. They will provide plenty of open play space under a shingled roof. And you can build one of them in just a weekend – even with just a few power tools. Building a playhouse for your kids is like no other project you'll ever undertake. The sense of pride in a job well done is superb, and the love it generates from the children and family will be everlasting. Get the satisfaction that comes from knowing that you can build something of this magnitude, and do it all by yourself. DIY Playhouse Plans allow you to build your own playhouses. By following our step-by-step method, you can save money and time as well!
Our collection of DIY playhouse plans will show you how to create the perfect hideout for your young ones. Explore the different styles and designs for indoor and outdoor spaces, from a treetop clubhouse to a princess-worthy castle! Are you ready to get started? All kids need a place of their own to call their own, and these playful plans will help you bring this idea to life. There are a variety of styles and designs for both indoor and outdoor spaces for kids to enjoy. Download and print out any of these plans to get started on a fun project today!
The Rustic Cabin Outdoor Playhouse Plan
Your children can imagine having their own house with The Rustic Cabin outdoor DIY playhouse plan. This Rustic Cabin Playhouse plan will show you how to build a two-story outdoor playhouse that your children are sure to love. This charming outdoor house has two stories, an open porch, windows, a door, and a front railing for safety. Your children will have endless fun with the ladder and the climbing wall. This wooden playhouse has an open porch and is great for entertaining friends or as extra play space. This project includes a ladder and a climbing wall as well as a front railing for safety. You can also add a slide on the roof for extra fun! For additional fun, you can add slides or swings to this playhouse.
The Outdoor Wood Playset With Covered Slide Design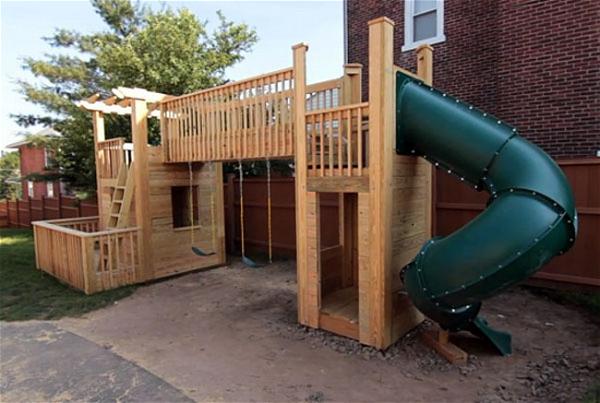 The Upcycled Pallet Playhouse Design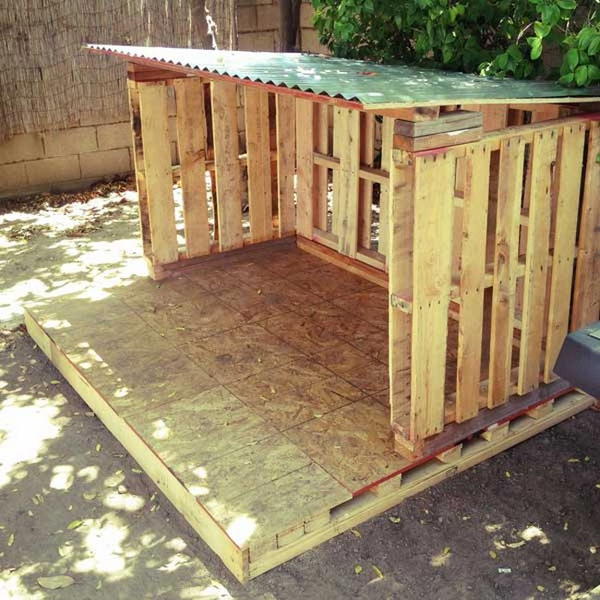 This children's playhouse is made primarily from repurposed wooden pallets. The walls are covered in galvanized steel panels and the floor with durable carpet tiles. This playhouse is perfect for children to chill out in. This particular type is made of wood pallets, but you can decorate it as you please, especially with colors and work tools. Even though it has no door, the house is equipped with a window so that your child can enjoy the sunlight. The floor of this playhouse has been covered with durable carpet tiles so that it's comfortable to step on. Moreover, the roof is made from galvanized steel panels to prevent water from leaking through, so you don't have to worry about your children getting cold or too wet when playing in their house.
The Lilac Purple Outdoor Playhouse Design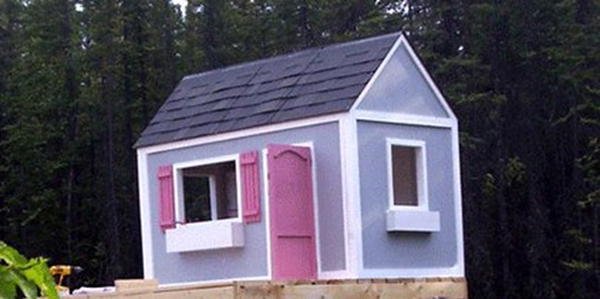 The Scrap Fabric Teepee Build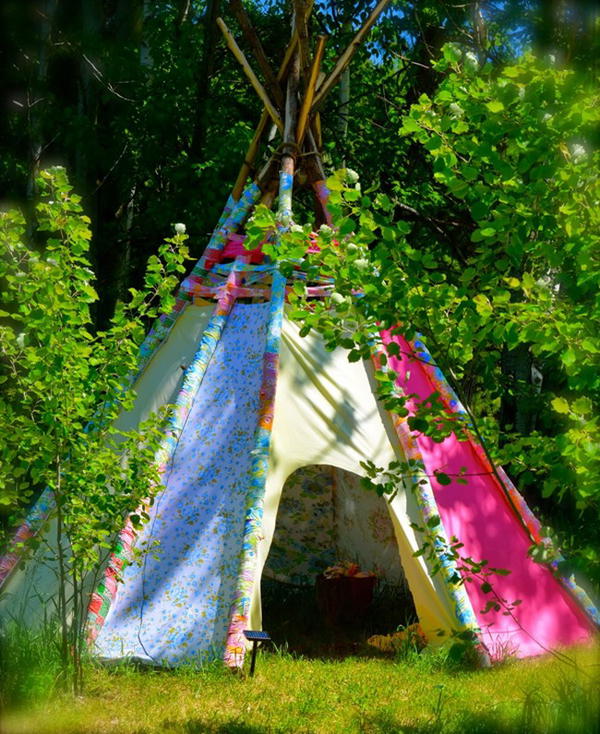 A traditional tepee is a good playhouse. Take your kids' summer to a whole new level with a playhouse that allows for hours and hours of imagination, creativity, and fun. This fabric teepee is easy to make and is suitable for children of all ages, who will be sure to have a blast playing in it. Not only that, but this project is also a great way to get the kids involved in doing some work around the house.
Make this excellent teepee out of scrap fabric. It's not just a place to play but can also be part of your decor. You can make it as high as you want, and keep it that way. This project is perfect for the summer break when the kids are home from school. It doesn't need lots of work, but will definitely entertain them for several hours. Even if it doesn't look professional, there is no doubt that the kids are going to love it!
The PVC Pipe Indoor Fort Plan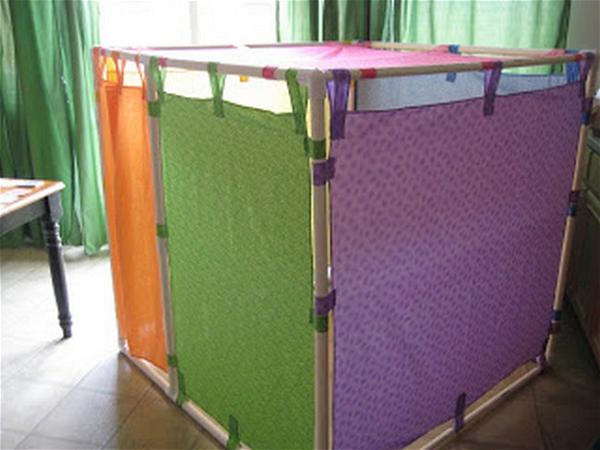 The Indoor Playhouse With Transom Windows Design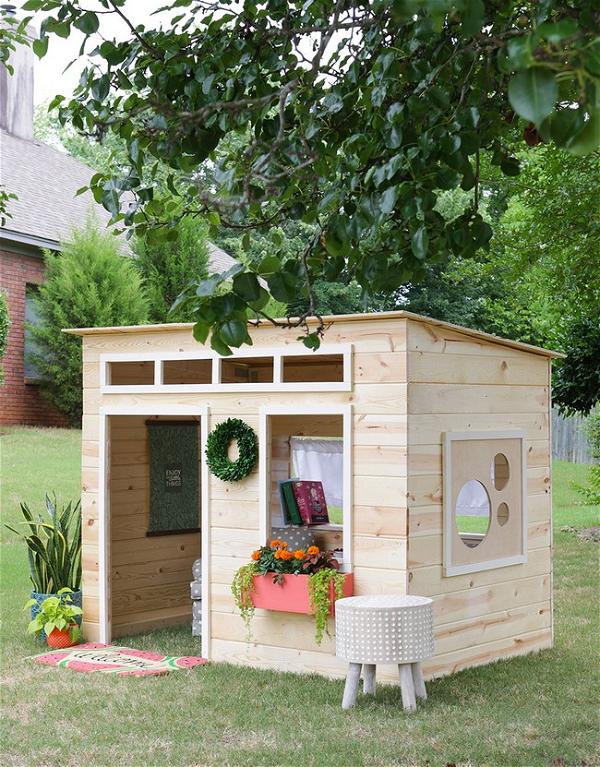 This miniature wooden playhouse is one of the cutest things you will ever see with its accessory flower box. Slide open the transom windows to create a magical effect and climb up the stairs to enjoy life in another dimension. This is an ideal project for any parent to build with his or her children and move around the house as they wish.
The Outdoor Garden Playhouse Build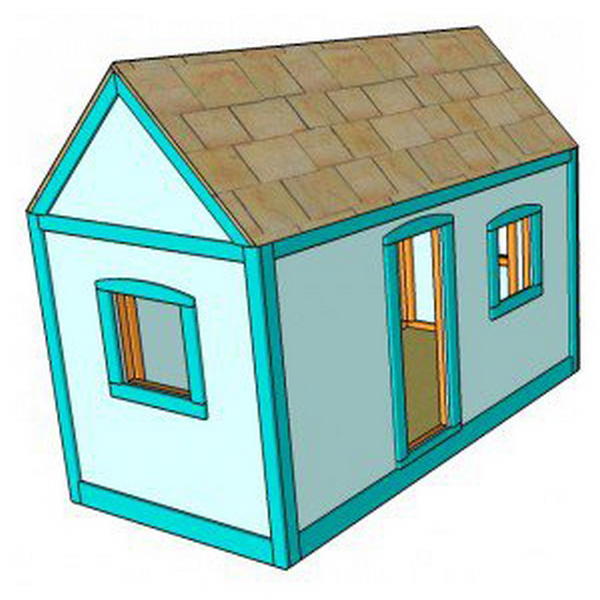 The Wild West Upcycled Boy's Playhouse Design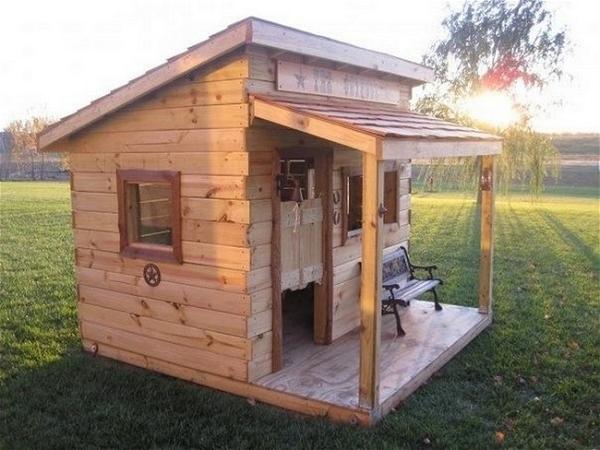 Make the wild west come alive in your backyard with the upcycled Wild West Playhouse, a design that combines cabin and western styles. The playhouse has been built out of modified material you can recycle, including fence boards and cedarwood. With its shingled roof, covered porch, and faux brick detailing, it is guaranteed to be the coolest playhouse at the block party. It's a big project that will take several months of workmanship but when it's done, no other little boys will have anything like it.
The Girl's Wooden Treehouse Playset Idea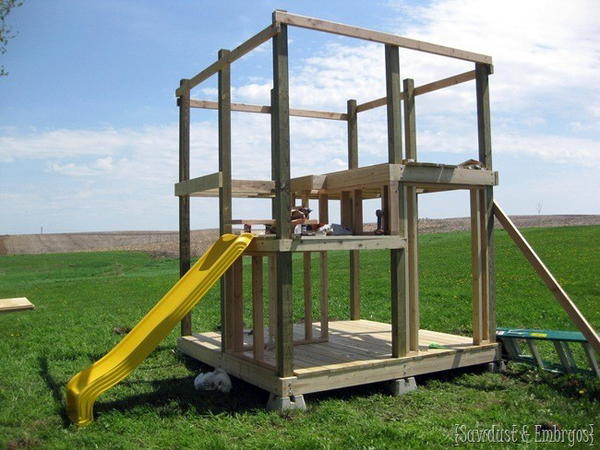 The Upcycled Swing Set Play Fort Build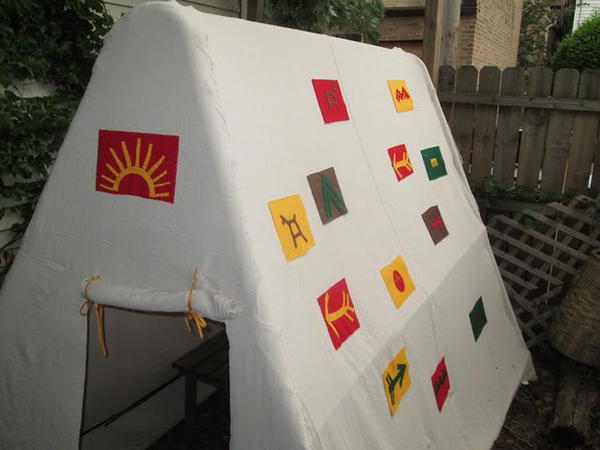 Your children will definitely need hours of outdoor playtime, and for this simple playhouse and swing set, you will be spending more quality time with them outdoors. Made bit by bit out of an old swing set, there is a lot of DIY work involved, but what prevents the builder from getting bored is the excitement that she knows her family will feel when they see it. As a bonus, your set will have added character because it was upcycled out of something else.
The Summer Reading Nook Hideaway Design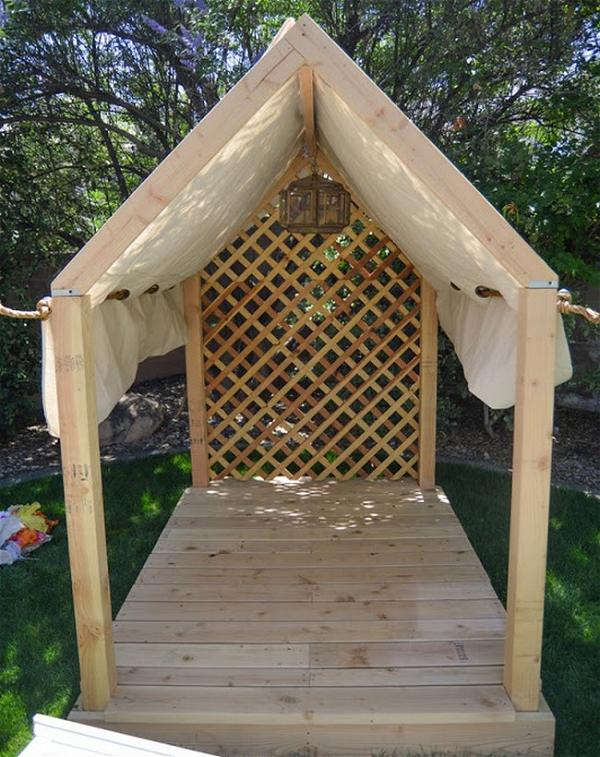 The Summer Reading Nook will be a perfect place to hang out with your kids. They can have their own private space inside or outside, lay down after rough play, or just read their favorite book without worrying about bugs and dirt. It's big enough to accommodate several children, spacious and bright. It the made of high-quality wood, so it will last for years. Never again are you going to have to read on the couch or in bed for your kids – even if it's raining!
This opens up hours of fun for them, and it will be an excellent place for you to do all that paperwork that piles up at home. It's always better to have a house and furniture made by hand, so here is a simple yet very creative way to build a playhouse for your child. You can choose the desired location, get the necessary tools and materials, and with the help of some handyman skills you will be able to create an amazing Summer Reading Nook Hideaway.
The Indoor Closet Children's Playhouse Build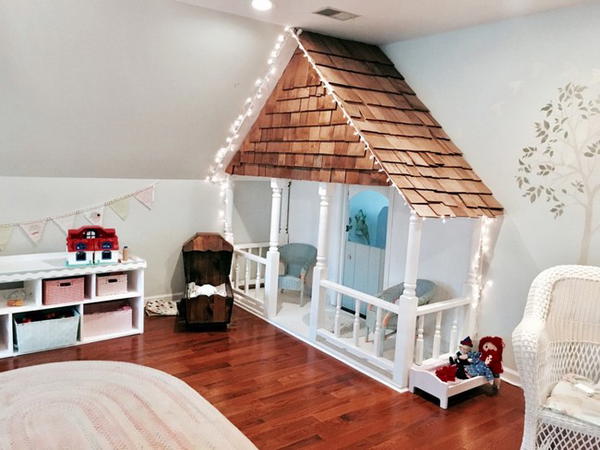 Achieve the dream of a kid's playhouse with this great plan for an indoor kids' closet. The kids will love this playhouse plan, which is designed to be built in a closet. A porch and rocking chairs add to the theme of a small cottage. When you're finished, your child will have his own cozy little space inside. The playhouse is totally built inside the closet.
The playhouse can be opened from one side and then the other opening has a secret door with stairs so that your child can climb through it and reach the first floor. If your closet is big enough, you wouldn't even have to build it out. The playhouse is actually part of the closet, so you can save a lot of time and money. This project includes a wooden play structure, rocking chairs, and even a little roof to keep off rain and snow outside.
The Salvaged Goods Tiny House Build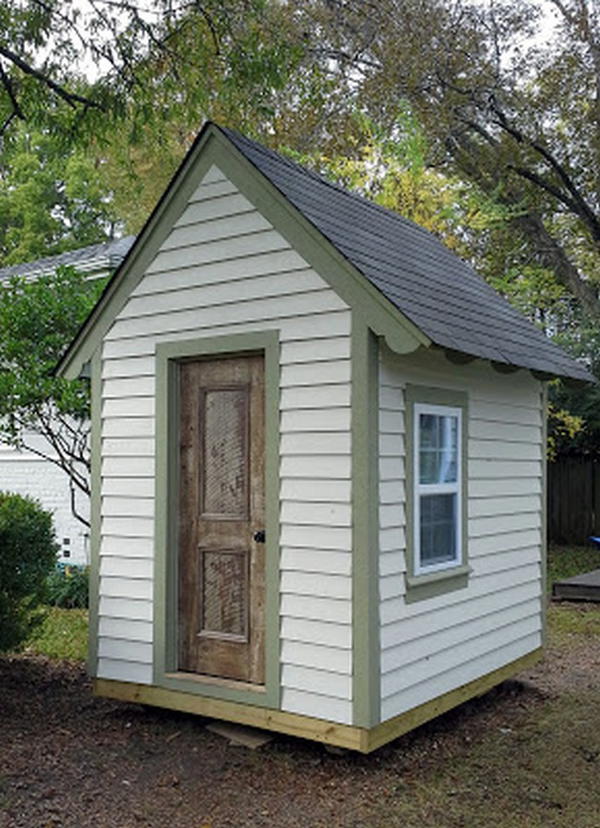 Do you ever feel like a lot of the stuff that your kids play with gets forgot in the bottom of the toy box? Do you enjoy watching them play on their toys, but wish you had more time to actually sit down and have some fun with them? The tiny house built for kids is a great solution to all of these problems. This tiny playhouse is built to last, and it creates a great space for the kids to play outdoors.
The Polycarbonate panels are made with recycled plastic and will keep the house looking new year after year. You can easily personalize this playhouse to suit your family's taste by adding furniture or decorating as you like. Whether you use this to give your garden some character or to keep the kids out of trouble, the tiny house is easy to build and gives you a great sense of achievement as it's completed.
The Kids Play Fort With Slide Plan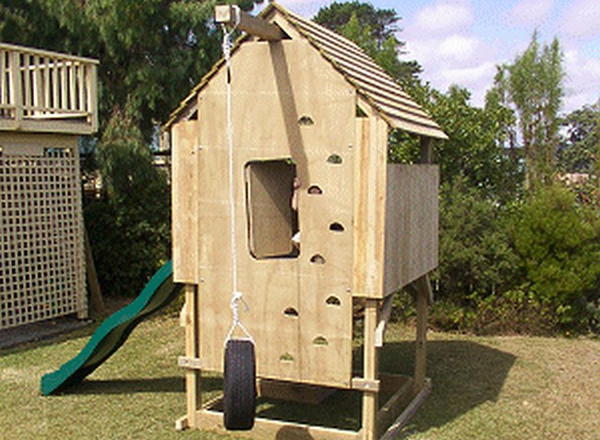 Your kids will spend hours inside of this fort. It can be set up on the ground or on the bottom side of a playhouse for extra protection from the elements. The Kids Play Fort With Slide Plan is designed so that the wood pieces are easily managed by a single adult. If you have more than three kids, you can build more than one of these wooden forts.
This personalized fort plan comes with step-by-step instructions, separate material lists, cutting lists, and a list of screws needed to complete the project. Otherwise, you will need a circular saw to get started with this project. You can open up to enjoy the outside air when you want to whittle or kick back on your porch during the summer months.
The Decorative Wendy House Plan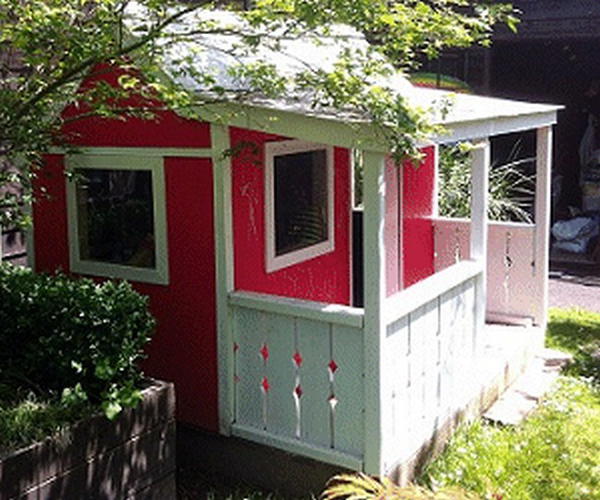 The decorative Wendy House Plan is an excellent option if you are looking for a playhouse for your little girl. This do-it-yourself decorative house plan is easy to assemble and doesn't require complex woodworking skills. This ready-made set of plans will help you build a Wendy playhouse for your little girl in less than a day. You can easily turn this simple decorative house into your little girl's dream home with a few touches here and there. By using the specific plants, you won't have issues building it, no matter if you have zero woodworking experience. It features a dreamy design with cute and fun details, such as the bow window and the flower box. Overall, it looks more like a decorative house rather than a playhouse. Wendy's playhouse is an ideal project for a beginner.
The Perfect Backyard Kids Playhouse Design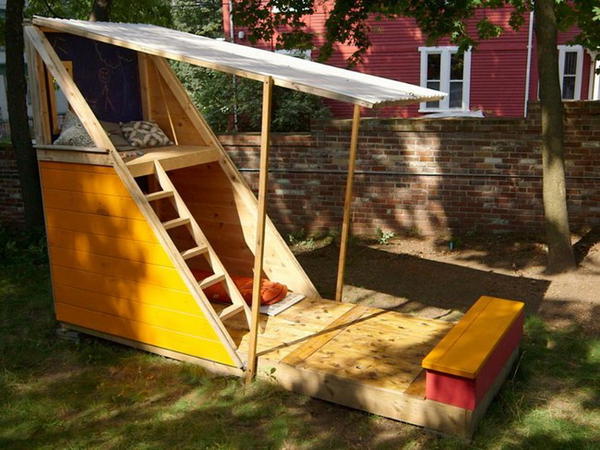 Gone are the days of boring playhouses for kids. The Perfect Backyard Kids Playhouse is perfect for your children because it is best to use when they're playing with their friends or just hanging out and doing their homework at home. It has a charming triangular design that can be built using a variety of building materials. Its roof hatch opens to reveal the two-floor playhouse with storage space below the floor, a ladder leading up to the loft, and even ample insulation. Plus, this design is 10-feet wide, meaning you can cover more ground in your backyard!
The Perfect Backyard Kids Playhouse Design is created with a roof hatch that opens to a two-floor playhouse with storage space below the floor. Your children will also love the loft with the ladder. This classic backyard kids' playhouse design features an easy construction that you can build your own masterpiece in no time.
The Cool Wooden Playhouse Fort Plan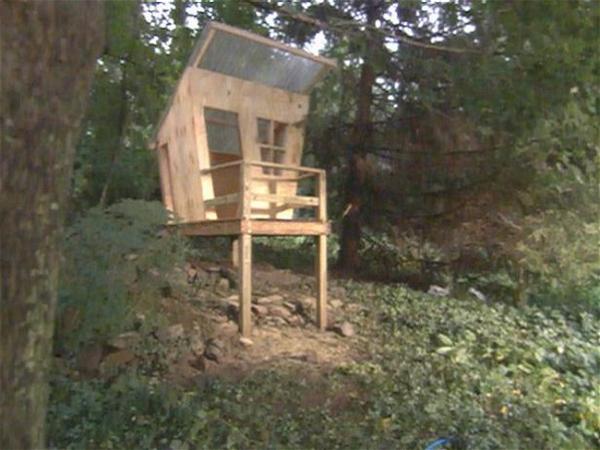 Let your kids' imaginations run free and create new memories with the Cool Wooden Playhouse Fort. Your child will love the simplicity of this wooden playhouse. It is made from pressure-treated wood, so this should last for a long time under normal use. This fantastic wooden playhouse design comes with an arched roof and corrugated plastic roofing, which lets the light in and keeps the rain out. It is designed for children and toddlers to have the best time of their lives with plenty of space to run around. With the Cool Wooden Playhouse Fort Plan, you can build a fun structure for your child to play around in. Made from high-quality wood, it is sturdy and safe for kids. Your child will love this playhouse!
The Simple Woodworker Playhouse Idea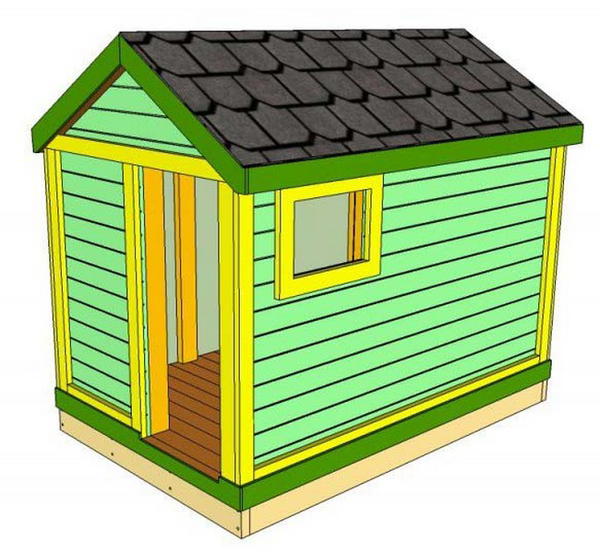 These playhouse plans can be a great project for a family activity or for children's birthdays. These are so simple, that even children of 8+ years old will be able to build them with the help of parents or relatives. Playhouse plans for young kids can be hard to find, but we have you covered. This Simple Woodworker Playhouse Idea will get you inspired to build a simple one for your kids that is sturdy and provides hours of fun.
So you have a couple of spare days, some plywood and lumber in the shed, and you're itching to build your kids a playhouse. The idea of a playhouse is simple. All you need are wooden pallets and some hardware to build the structure. A playhouse gives kids a place to have fun, work on their imagination, practice hobbies, and learn inner strength. Well, that's just what The Simple Woodworker is all about.
The DIY Wooden Raspberry Lounge Plan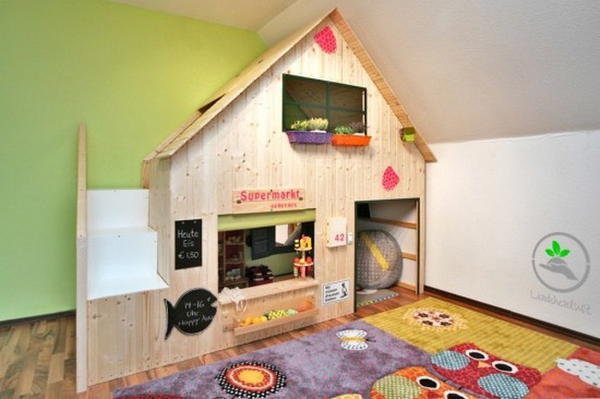 Do you know the thing called Raspberry loft? This small, two-story playhouse has a small ladder to reach the top. The upper floor has two entrances. One of them looks like a real window and the door is hidden behind a flower pot. Children can crawl through it to get into the secret room and you can use this secret door to hide something valuable or toys. They can also rest on the upper floor by sitting on this bench. With this two-story wooden playhouse, your children would have more fun when playing!
This unique playhouse is a new feel for the kids, thanks to its two floors. Kids are very easy to get bored so having this loft space where they can play, sleep, read and eat will surely excite them! The great thing about climbing and sliding down the diagonal wall banisters afterward is that this is just not a cool feeling but also feels like traveling in style.
The Jungle Cruise Disney-Inspired Playhouse Design
This Jungle Cruise Disney-Inspired Playhouse design is an ideal addition to your home for kids who love the jungle. With thatching on the roof and all wood construction, this playhouse is weatherproof and sturdy. The door even has a hole which makes a great window for your child. Create your own version of the Disney Jungle Cruise with this detailed playhouse. The wood playhouse has a steep, pitched roof and angled front porch for all your jungle adventures. As you walk inside, there's, even more, to explore – from the lookout balcony to the secret door to the captain's cabin complete with bed and pillows. Get to safari with this Disney-inspired Jungle Cruise playhouse that is modeled after the one found in Disneyland. It's sure to inspire adventure and provide a creative play space for your child.
The $300 Log Cabin Playhouse Plan
If you're looking for an easy-to-assemble kids' playhouse that actually looks good, builds this simple log cabin. The front overhang provides extra space for storage under the porch; there's even room for a small dog! So if you want to make your backyard a little more fun and save some cash at the same time, this is the project for you. Order this log cabin playhouse plan and build a fun outdoor toy that will be the envy of all your kid's friends. The playhouse is sturdy enough to withstand all weather conditions. Once you step into this cabin playhouse, it feels like a different world. There's more than enough room for kids to freely run and play. Two front windows allow them to peep out. And the gabled roof gives it a classic appeal.
The Clubhouse Fort Castle Design
The Clubhouse Fort Castle Design Playhouse is sure to impress any child or adult. This massive outdoor playhouse has a fort, a bridge, a climbing wall in the back, a secret escape door, a stainless steel fire pole, and a tire swing! It also comes with two regular swings to make it the perfect spot for all kinds of games or just afternoon fun. This Clubhouse Fort Castle Design will impress any kid. It has everything! From the secret escape door to the rope ladder, this design includes a fire pole, stone bridge, and climbing wall in the back plus two swings and a fun tire swing. Building this fun and large playhouse by the Clubhouse Collection will take several months, but it's worth it when you see your little one's face light up when they run inside to play.
The Balinese Styled Playhouse Build
The beautifully designed base attracts the attention of any child, while the attractive design invites kids to play inside. The entrance is at a low level so that toddlers can reach it and easily go up the stairs. The shutters and windows have louvers that add character to the construction, and some of them have safety bars for you to keep a watchful eye on your precious one from close by. This house has a total of three eaves and an intricate railing that filters the sunlight warmth into the playhouse, while metal louvered shutters at the windows allow air to pass through. Additionally, this proves to be an authentic playhouse designed in Bali, Indonesia. The construction of this clubhouse will make your kids smile every morning.
The Naturally Upcycled Cool Cob Playhouse Idea
The Naturally Upcycled Cool Cob Playhouse is a kid's dream. This playhouse has a unique look with a living roof, making it a great addition to any backyard. The natural materials can't be beaten for durability and, are fire-resistant and cool in hot weather. The cool cob house is made of natural materials and can be easily assembled without the use of tools. A child's imagination is a magical, wonderful thing. So what better way to get your kiddo's brain going than to create an outside hideaway for them with the help of this totally cool cob playhouse idea. You — and your little one — won't regret making this playhouse come true.
The Fun Pallet Toddler Playhouse Plan
Who can resist the charm of a playhouse shaped like a pretty, tiny house? Your little girl will have fun hours of playtime when you build this super cute pallet playhouse. The back wall is stackable, but you can go ahead and decide which way to assemble it anyway. A neat fence completes this adorable piece of furniture. This whimsical little playhouse will be a source of joy for the children in your life. Kids love to imagine all the things that happen in their favorite imaginations, and now they can do it in style and safety. The playhouse is constructed from reclaimed wood. Pallets were used for the foundation of the house, and some of the sides are made from pallets as well. Exterior paint is completely optional, but cheerful and bright colors always attract attention.
The Recycled Pallets Dollhouse Plan
If you have younger kids, they will love to make their own dollhouse with this plan. The playhouse model has a porch that is decorated with a white picket fence. In addition, the roof consists of waving pallet planks. Made from recycled pallets, this dollhouse is perfect for recycling and environmental awareness. Small accessories are also included so that kids can play with the dollhouses right out of the box. This dollhouse model has a porch with a picket fence, a four-panel door, and even moveable balconies. The roof also includes waving pallet planks that add unique character to the dollhouse. Your little girl will probably love this unique dollhouse. It is made out of recycled pallets. Because there is a porch with a white picket fence, girls will be able to play those dolls that have weddings or brides.
The Wooden Pirate Ship Playhouse Design
This amazing pirate playhouse is big enough for all kids to play. With a wooden spiral staircase, a swing set, a place for slides, and a gangplank, this pirate ship is the perfect centerpiece of any kid's backyard. And if you want to surprise your boys, this wooden pirate ship will certainly do the trick! The structure is made of smooth pieces of wood, making it perfectly safe for your kids. The design has a spiral staircase, a swing with a set of swings, and an area that has a slide. There is also a gangplank for the curious boys. The design of this wooden pirate ship playhouse will surely be the highlight of your children's childhood. They can spend many hours inside this well-built playhouse and enjoy themselves to their heart's content.
The Elevated Log cabin Playhouse Plan
If you want to build a safe, fun, and cozy playhouse for your kids in the backyard, then you want to get this Log Cabin Playhouse Plan. The Elevated Log Cabin Playhouse Plan is a raised playhouse with a slide. The Plan is for the beginner carpenter, and the design is such that you can build this project.
The building requires 4 days of work. Designed to be built on a flat site, with an open front porch and railings, this playhouse has plenty of room for kids to enjoy. A slide off the second story of the house brings things to a new level of excitement! This cabin comes with a front porch, railings, and a ladder to climb up into the house. The cabin also has a slide that can be added with simple steps. You can build it without electric tools so it will be fun and easy for everyone.
The Outdoor DIY Fort With Rope Ladder Build
It's the perfect outdoor fort playhouse for boys and girls, big kids, or teens. This is an awesome fort with a rope ladder, a climbing rope net that leads to a platform with a fort tower, a wooden ladder that leads to the slide, a tire swing from the platform's tree branch. The bed inside the tower is made from laminated lumber and stronger than any store-bought bed. The slide connects you to one of the side platforms where there is also a large wooden snake ladder that leads to the ground. The rope porch swing hangs beneath this kids' playset making it easy for younger kids to enjoy playing on it too.
The Star Wars Fighter Playhouse Plan
Introduce your boy to the whimsical world of Star Wars and have a little fun while doing it. You can use your imagination to modify this playhouse plan for any room and then transform any playhouse kit into a Tie Fighter Star Wars-inspired playhouse. Wing and port windows, octagonal light fixtures, hexagonal wings and so much more await to take you on a journey of discovery with your child. The reality where your child makes his childhood dreams come true! Who cares if he's not old enough for a real Tie Fighter. He's about to be the happiest little boy in the entire galaxy and his imagination is about to take off!
The Vintage Shingled Princess Playhouse Idea
Behold the Vintage Shingled Princess Playhouse that has got your little girl's name written all over it. This cool playhouse depicts a cozy three-bedroom house with a vintage feel and southern charm. Your little princess will find it irresistible, particularly because of the built-in bookshelf, recessed TV, vintage light fixtures, stained glass windows, and network. Above all, she'll get entranced by the interactive Magic Mirror that lets her see herself in one of three frames - she could even be a princess or a fairy!. The Vintage Shingled Princess Playhouse is big enough to invite kids to play hide and seek or playhouse. The interactive Magic Mirror, vintage light fixtures, and stained glass windows will make her feel like a real princess. You can't leave this cutie out of your order.
The Playhouse With Extra Long Slide Idea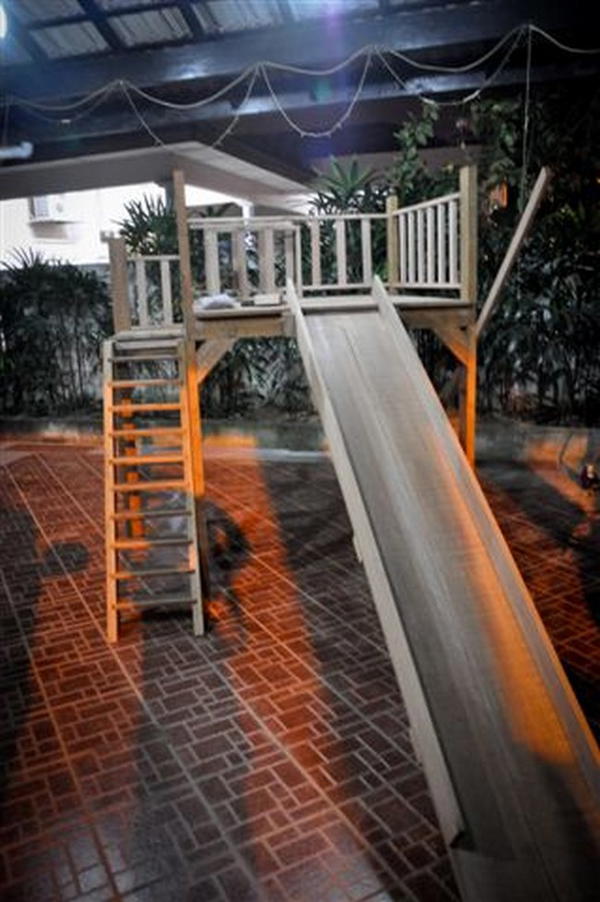 Let your child's imagination run wild. Made up of pinewood, this set is tall and sturdy. Its roof opens and closes just like a real house. It has safety rails around the top so your child will be safe from falling from the top. This playhouse with a long slide is built with pre-treated balau wood and topped off with a tropical roof. The wood allows it to weather the outdoor elements and stand the test of time. Made from Meranti, it has a smooth finish that is possible to maintain with just wood oil. The deck is made up of tiled pieces of meranti that match the stain on the balau wood. The kids love this playhouse because they can slide down into their fort or hide out and pretend they are in a jungle."
The Sprucewood Outdoor Playhouse Build
The Sprucewood is a playhouse and clubhouse all in one that your kids will love. Build your own wooden playhouse, or add a special piece of backyard play equipment to your child's toys. It even has a slide, secret cubby in the fireplace with a lift-up door, ladder, rope ladder, and swing. Also included are two polyester tarps to shade the rooftop. You'll get everything you need for assembly but remember that additional materials like lumber, nails, and screws are not included in this package. This project involves a little bit of work and will require a few power tools, but the results are worth it in the end. If you've never built anything before, don't worry - it may look complicated at first, but once you get going and understand how it all fits together, it can be a fun project for anyone.
The Old World Gingerbread Playhouse Build
Are you the owner of a little one that could use some sweet treats and attention? Well, look no further, I've got just the right thing to make your day! This outstanding playhouse is not just any ordinary piece of real estate, it's an original vintage gingerbread building. The properties in this neighborhood are made out of thick butter browns and come pre-decorated with hard icing accents and scrumptious designs that are sure to please.
This old-world gingerbread playhouse is brought to you courtesy of the Library of Congress. It is a historical most valuable contemporary model and it has lots of fun elements that make children want to play with it again and again. This is a fully functioning, historical, three-dimensional gingerbread playhouse that children can play in.
The Great Pine Mini Loft Blueprint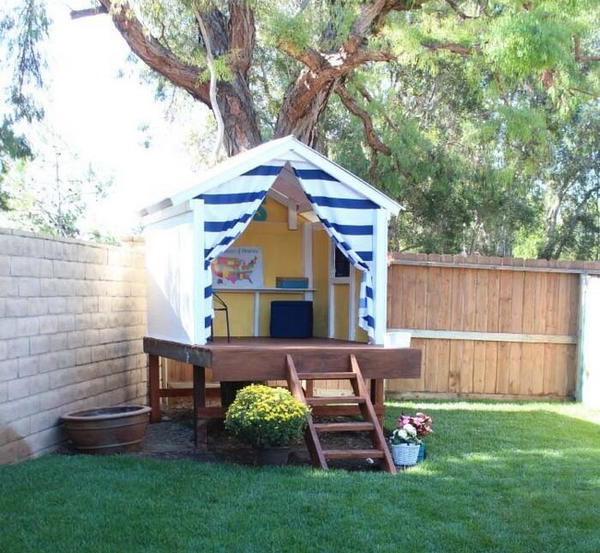 The Great Pine Mini Loft blueprint is the complete and comprehensive guide to building a fun and stylish playhouse for children. This play structure uses mainly repurposed furniture, mostly made from salvaged pine and other reclaimed craftsman lumber. The finished product will be an architecturally impressive piece of contemporary interior design that would be the centerpiece in any home. Big or small, it makes for a really unique and fun space to hang out in or sleep under on a hot summer night.
This well-designed loft bed is the perfect solution for any little boy. The solid pine framing provides a sturdy structure, and both bunk beds and a slide have been taken into consideration as part of the design. The building techniques used to construct this playhouse can be adapted to different sized building spaces and personal tastes.
The Imaginative Children's Playhouse With Faux Chimney Build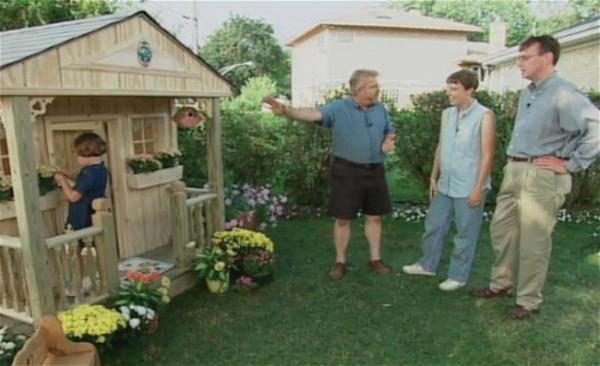 The playhouse is charmingly built in a way that invites children to use their imaginations. It's cute, it's stylish and it's built with love. This project is especially great for anyone who has ever wanted a playhouse but was not able to because of the cost. Build your child's dream playhouse! It's a quick project that you can accomplish in a weekend. Once it's up, you can use a Sharpie to personalize their playhouse to make it look like a cabin, treehouse, restaurant, or another fantasy place -- the kids will have a blast! All you need are $400 dollars and some basic skills with tools. The faux chimney makes this playhouse look much more realistic than regular playhouses. Check it out!
The American Gothic Backyard Playhouse Plan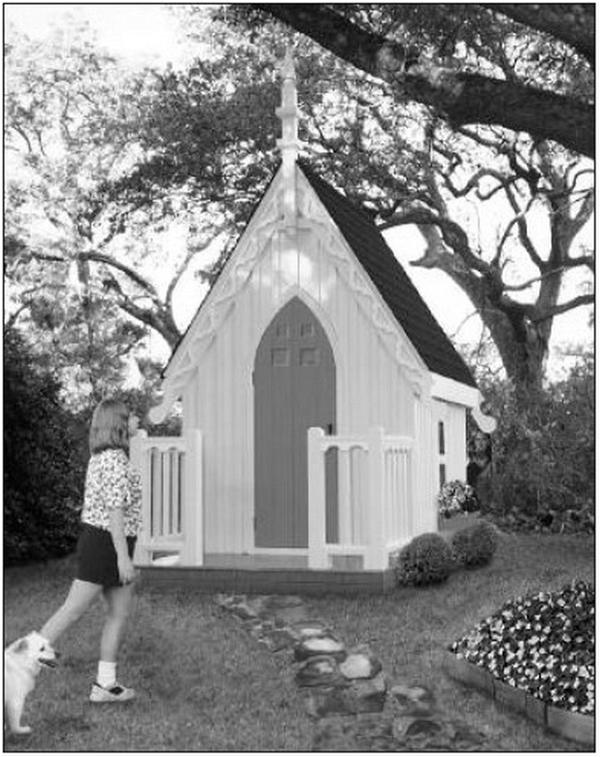 This charming backyard playhouse resembles a forest church, with a steeple-style roofline. The spacious interior has 35 square feet of finished space and snow-white trim against a rich, brown wood. The porch is spacious enough for two adults. This design is printed on premium paper that's durable enough to take from the computer to the shop without fear of bleed-through. Easy step-by-step instructions make building this fun project almost effortless. This downloadable American Gothic Backyard Playhouse Plan offers an easy and affordable way to create your own beautiful backyard treehouse. Decorated with classic gothic revival architecture, this impressive two-story playhouse gives children plenty of space to play.
The Porch And Shingle Outdoor Playhouse Build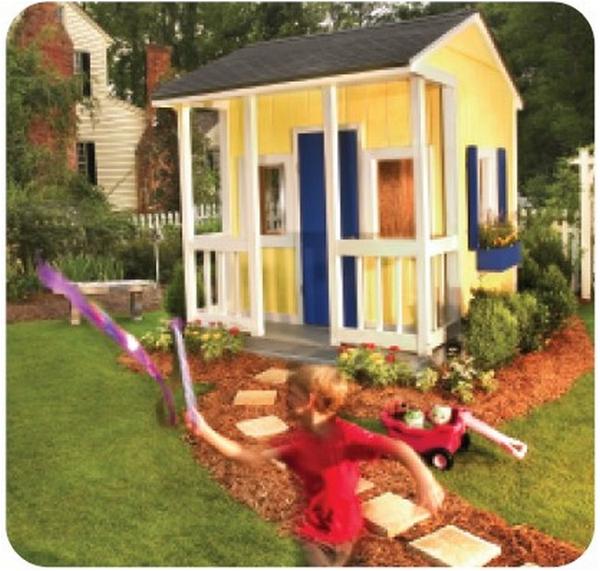 Add a touch of classic charm to your outdoor space with this attractive and bright playhouse. Featuring a classic design, this attractive playhouse adds functionality to your outdoor space and is easy to build with our detailed plans. Build a Porch & Shingle Outdoor Play House, and your kids will love it! The porch is so cute, with two roofs and a sturdy rail that's perfect for climbing. Kids can sit roughly one foot (.30 m) off the ground so they don't topple over and fall.
You can paint this playhouse to match your house-it will look great on your lawn or in your backyard. This porch comes with shutter windows and a flower box – add a few flowers and you have one cool addition to your home. It is a fun outdoor playhouse is an important part of any fun outdoor space. And today's project is just the one you've been looking for…
The Kids Play Outside Cottage Design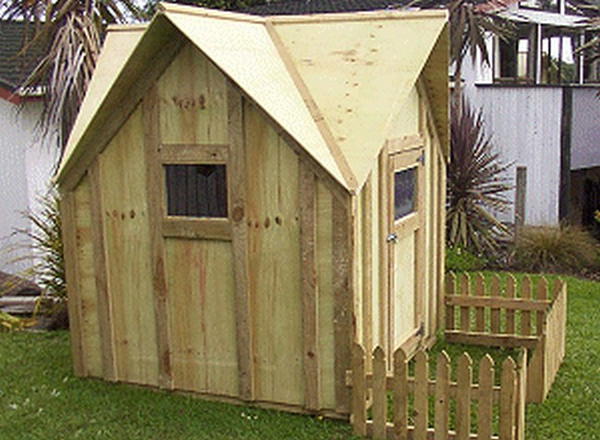 Building a playhouse can be a fun family project that allows parents and children to spend time together while creating a unique retreat just outside your backdoor. Cottage-inspired, this playhouse has some interesting design elements including angled eaves, multiple windows, and shutters, as well as a front door that slides open. Build Eazy provides plans for construction as well as material lists for all of the panels, walls, floor, door, and roof.
There are also tips on how to paint it once you've finished building. Measured drawings provide the exact cut lines for the roof rafters and side panels. Build an amazingly charming cottage that your children will love to play in. This simple build is a great way to spend a weekend afternoon with your kids and provide them with hours of imaginary fun. After building this great kid play outside cottage, you'll want to build a larger version for your friends!
The Backyard Observatory Astronomy Shed Blueprint
This astronomy shed provides an excellent observing platform for watching celestial events, and the extra thick concrete pier ensures maximum rigidity. Looking to add a new dimension to your backyard stargazing experience? This shed plan will walk you through assembling a backyard observatory with a concrete telescope pier, electrically powered telescope, and storage cabinets. Although it's a rather complex design that could require some electrical work- there are lots of pictures to accompany the woodworking plans. Constructed from easy-to-find materials and using simple techniques, this project will allow you to fulfill your backyard astronomer dreams.
The Cool Indoor Child's Playhouse Plan
Use your extra space to create a comfortable indoor play area for your children. This DIY kid's playhouse projects come complete with a ladder and slide and sit up against two walls which means you'll only need to build two walls into the structure. The door is hinged so it can open inwards, or you could cut a hole in the side of the playhouse and add hinges to allow it to swing open and then be fastened at either side using window or door locks. Sturdy materials, easy-to-follow plans, and beautiful details make this project great for any skill level, while still being an affordable option. Combining functionality and design, this cool space will be a favorite place to rest your head, hang out with friends, or use it as an office on rainy days.
The DIY Star Wars Millennium Falcon Cockpit Playhouse Plan
This is the DIY Star Wars Millennium Falcon cockpit playhouse plan, the blueprint to build a spaceship that lives up to all the action and adventure of Star Wars. This fun indoor playhouse is full of details from across the galaxy. The cockpit opens for easy entry and closed, it looks like just one more panel on the side of this Star Wars ship. The rounded shape of the hood makes it look truly like a ship. This is our Millennium Falcon cockpit playhouse plan. It has an upper control deck, a lower living/sleeping area, and a two-seat cockpit that opens. Your kids will love it. The electronic faucet was a last-minute addition we installed after they had already been working on it for hours. It's not a furniture piece, but it is a very sturdy plastic structure that should give years of entertainment.
The Boy's Firestation Custom Playhouse Idea
Head on into your imaginations with the Boy's Firestation Playhouse. This pretends playhouse is filled with lots of exciting adventures for firefighters to enjoy. Your little chief can give orders from his office at the top of the firehouse and you can make all the siren sounds your little firefighter desires! When it comes time to relax, do. This playhouse is a dream come true for our young firefighters. Your son and daughter (the chief and his firetruck driver) can now chase down fires, fight blazes, rescue kittens, and ride in the pumper truck through their very own firehouse headquarters. This custom firehouse was built in just three weeks with a limited budget by your handyman skills.
The Gingerbread Candy Playhouse Build
A fun and festive choice, this miniature gingerbread playhouse is a family favorite! The masterpiece constructed from high-quality materials will soon be covered in icing and filled with lollipops and candy canes. With a colored tissue paper/cardboard construction and an interior light, this toy house is ideal for indoor use. Constructed with colorful tissue paper and cardstock, this magnetic playhouse is great for pretend play.
With an interior light that turns on automatically when the door is opened, it's brightly decorated with sugary candy canes and scrumptious shingles. This creative toy would look sweet on display in backyards or as a centrepiece. Create a delicious atmosphere of delight and wonder with this indoor playhouse. As you enter, you'll get the sweet scent of freshly baked gingerbread, shake a rattle, and roll around in the shaved-nut and gumdrop-studded, cookie-cutter-lined rooms. This house is as functional and fun as it is adorable.
The Fold-Up Children's Playhouse Design
The Fold-Up Children's Playhouse Design is an emergency shelter developed in partnership with the American Red Cross. It was designed as a foldable and portable playhouse for children of all ages. With this unique design using only a piece of coroplast, it's easier than ever to create your own durable and fun place for children to play and build social skills. Be prepared to have a lot of fun with this outdoor playhouse! It is the perfect size for small children, and it comes all in one piece, so there is no putting together required. You can just take the whole thing out of your car and set it up in your yard whenever you are ready. The best part? It's easy to put away when you are done with it, too.
The Children's Upcycled Cardboard Box Playhouse Plan
Your kid's can playhouse in style with this exciting cardboard box playhouse plan. This project utilizes a double-walled cardboard box and creates a unique environment that is cozy enough to keep children playing in, but portable enough so they can just set it down elsewhere if they run out of space, or if their favorite tree becomes temporarily unavailable. This construction will take a few hours to complete, the instructions are very straightforward with visual examples and the end result is sturdy you might even consider painting it! The idea of an upcycled cardboard playhouse is, at the end of the day, simple – make a box that your children can climb into, block their view out and they'll be entertained for ages.
The Portable Prefabricated Domed Igloo Blueprint
If you're looking to add a playhouse to your child's backyard, this blue plan will take you from start to finish on building your very own arctic igloo. The Portable Prefabricated Domed Igloo Blueprint is something that not many others can say. It can be assembled in hours and used for years by adventurous campers and families. With this innovative, easy-to-build dome-like igloo, you'll have a tiny home that's sturdy, safe, and efficient. It's your chance to build a Prefabricated Domed Igloo in minutes without having to hire a carpenter. If you have the space, this blueprint is for you! It's perfect for family gatherings and entertaining. Host the party of the year with a Dome Igloo from Blueprints from Home.
The DIY Upcycled Scrap & Pallet Wood Playhouse Plan
Why pay a lot of money for one when you could make your own playhouse? This upcycled, wooden playhouse plan will help you save money and get the playhouse you want. This wooden playground is the ultimate toy for kids to use all year long! The best part about this plan is that it's upcycling at its best. You'll be able to reuse old items in order to save your money, and it will take your family fun to whole new levels!
The downloadable DIY plan for a small scrabble playhouse project can also double as a tool shed or birdhouse. Have fun with your children creating and designing this endless playing possibilities playhouse. The great thing is that you can build it using any available scraps of wood or offcuts for the roof, floor, and stairs. The roof could even be made from plastic garden sheeting. Made entirely from wood you have on hand. It's an easy build too, only taking 2-3 days to complete if you use a regular DIY approach to building.
The Upcycled Pallet And Stud Work Batten Playhouse Idea
What a funky house! Repurposed as a playhouse by recycling, this shed is constructed entirely from reclaimed pallets. Standing in the front yard, it could easily be mistaken for an actual functional shed filled with landscaping tools. The Upcycled Pallet And Stud Work Batten Playhouse gives kids a place to hide, see out, and pretend is all their own. It is a variant of the standard pallet playhouse, with several walls and much more room inside. You may have to travel a considerable distance to find enough free or cheap pallets for a large playhouse project like this one. This little shed would make a surprisingly good girls' clubhouse or meeting place for local groups.
The Extra Large Dog (Play) House Plan
Whether this is to be a dog house or a playhouse, the design and footprint are the same, just different heights in order to have the proper building codes. This charming dog-eared small house plan features a gable roof and hand-crafted style. Shelter-maker's resources for the design and construction of your dream playhouse, extra large dog house, or a whimsical garden retreat. An ideal project for keeping children or pets occupied on rainy days and getting the family involved in yard work. It's ready to build, easy to paint and decorate, and can be used as a playhouse, art studio, garden hideaway, or home office. This dog house is the right size for most dogs, with a window due to its darker interior (some dogs like sunlight being able to come into their home).
The Canvas Sail Pirate Playhouse Design
This sailboat playhouse is an impressive creation that will thrill any little pirate. It's also a great project for an adult to take on with a child, especially with minimal woodworking experience. The instructions are easy to follow and will walk you through every step of the process. Be prepared for a lifetime of fun and adventure with this highly creative playhouse. This large play structure features a crow's nest, secret passageways, a spiral staircase, walkway running across the cannon and chair – perfect for pirates and their crew to take refuge and launch attacks from.
Made from durable sail canvas this is a great addition to any backyard. The Canvas Sail Pirate Playhouse has been designed so that it can be easily assembled on-site and requires no special tools for construction.
The Beach Shed Fun Playhouse Design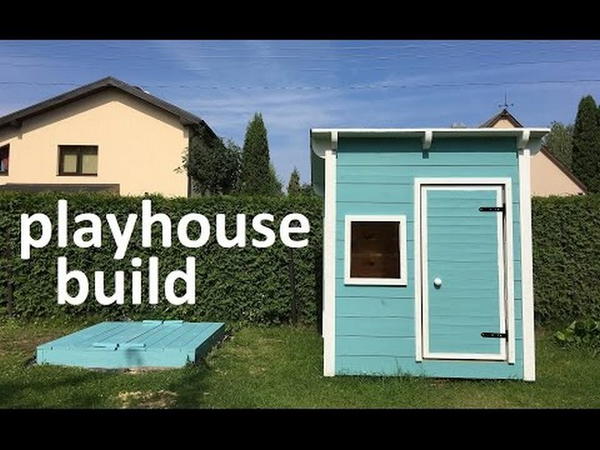 This playhouse is the ideal solution for your children to indulge their imaginations indoors while staying cool and out of sight of pedestrians or motorists. Help your children express themselves creatively with this fun playhouse kit. This build-it-yourself kit makes an impressive beach-themed playhouse. Complete with arched windows and a hinged front door, all decorated with paintings of puffy clouds in an azure sky.
A day at the beach just wouldn't be the same without this Beach Shed Fun Playhouse Design. It's built using bamboo, a flexible and durable natural material that won't warp or splinter. It comes with the materials and instructions needed to create the structure described. The Beach Shed Fun Playhouse Design is one of the best designs. The green roof is made from polycarbonate and helps to keep the inside cool.
The PVC Playhouse And Puppet Stage Idea
This is at best one man's take on a PVC playhouse that doubles as a puppet stage. It is not meant to be an "ultimate resource" on building such a structure or double as a definitive how-to. If you plan to build your own, you may want to consider the size of your yard and whether or not you have enough storage space before you start. In any case, this structure was enough to inspire my kids to play outside more often than they used to.
These playhouses, made up of PVC pipes, are as customizable as they are fun. This idea is made to be used indoors or in the backyard to create a puppet theater for your little one's stage performances and role-playing. It gives your kid a notion that he or she can build anything through creativity and imagination. PVC Playhouse and Puppet stage idea for outdoors. Includes information on how to make a theater for your kids that is safe, easy to use, and durable. DIY PVC playhouse idea for outdoor fun!
The Solar Swing-Set And Photovoltaic Playhouse Blueprint
Check out this cool example of a ground mount solar paneling system. The playhouse/swing is set up to support the weight of the paneling, instead of having the panels support the playhouse/swing. And no worries… it's not dangerous for the children. The paneling does not power the swing and there are large bulky battery packs that are contained inside, where nobody can reach. This blueprint for a non-conventional, functional backyard playset doubles as a ground mount for solar panels. Rather than locate the solar panels on the roof of your home or garage, can you imagine placing them on top of your child's play structure? You'll never have to worry about shade from trees or other structures ever again!
The Converted Micro-Bus Playhouse Plan
Have you ever dreamed of turning an old bus into a playhouse for your kids or pets? Now you can. This plan features detailed step-by-step instructions for converting a bus into the perfect outdoor play area with bunk beds inside the bus and a play area on top. The top can also be used as an outdoor sleeping platform. This micro-bus has been converted into a playhouse/sleeping accommodation with a double bed and bunk area. The bus features two soft-close doors with internal shelves, a chest of drawers, and an insulated water tank. This is a once-in-a-lifetime opportunity to own a unique, one-off campervan.
The Slide And Swing Playhouse Hut Build
The Slide and Swing Playhouse Hut from Little Tikes is a wonderful wooden playhouse for your kids. This two-story playset is packed with amazing features including a slide, swing, climbing wall, tree ladder, and a sandbox. Kids will love playing on the swing and sliding down the slide just like they're in a real treehouse! This Slide & Swing Playhouse Hut is made from sustainably sourced wood and comes with a slide, swing, climbing wall, and a broad roof as well as an interior sandbox.
This handsome wooden tree playhouse is handcrafted. This handsomely detailed wooden playhouse lets kids be king of their own private hideaway with a slide, swing, climbing wall, tree ladder, and an extra-wide front porch complete with a broad roof and an interior sandbox.
The Two Story Playhouse With Balcony Blueprint
Are you looking for a wooden playhouse for your children, but don't have the time or space for an elaborate (and expensive) structure? With some basic tools, a few pieces of wood, and some patience, we designed and built this two-story playhouse with a balcony that your kids are sure to love. The second-floor porch is a great place to sit and enjoy the view as they frolic away on the ground floor. This is a project to build a full-size playhouse. This tutorial and the materials list are designed to help you in building one if you have the skills, have access to the tools, and have time. If not, then maybe someone will see this and offer to make it for you. This is a great project for pretend/role play and imaginative block play by children.
The Dr. Seuss Whacky Outside Playhouse Plan
Dr. Seuss was a genius of creative thinking, and here in this Instructable, we'll show you how to build his whacky outside playhouse! The playhouse is in a prime location for summer fun, but it looks so extreme that it seems better suited for Halloween! This colorful playhouse was designed to be built new or recycled from old materials. It can be made as large or small as you like, and since it is made from wood, it's relatively inexpensive. This design utilizes a door that opens both ways, but could easily have an entrance on the side (if you use old windows).
The Wooden Pirate Ship Playhouse Plan
Here's a plan to build a simple ship playhouse for your child whether you're an experienced carpenter or very much a novice. This Pirate Ship Playhouse Plan includes detailed drawings for building a pirate ship playhouse for kids. Using only basic hand tools, this project is suitable for most carpenters and would be roughly 37-40 hours of work to build. This playhouse was designed with safety in mind, as it features floor-to-ceiling guardrails around the deck.
The included viewing platform can also be used as an additional guardrail or a spot to sit and watch your kids at play. This playhouse is a wooden pirate ship. It will fit snugly in the corner of a yard or into a small garden. It's designed to be very safe and structurally sound, yet still fun and interesting.
The Indoor Playhouse Loft Bed With Storage Stairs Idea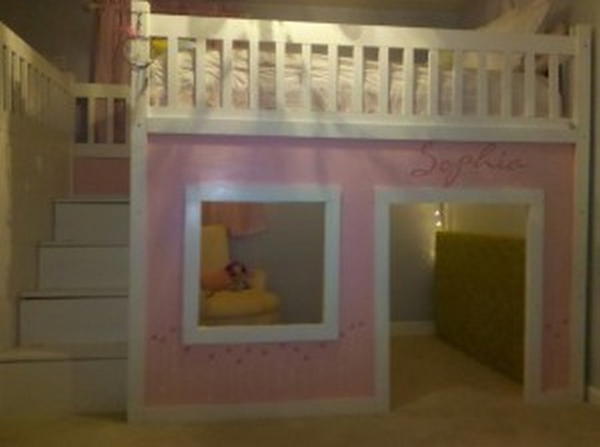 What kid doesn't want a great loft bed? This fun pink and white playhouse for girls is cute, cozy, and built into the ceiling. It has two separate sleeping spaces--one for kids on the top bunk and one for dolls on the bottom level. There's also plenty of room under the bed if you have a playroom that's outfitted with dress-up outfits, toys, or anything else you love to play with. This design is based on a bunk bed with storage underneath the bottom bunk.
The back of the 'beams' is open for easy access to storage. This storage is ideal for toys, clothes, small boxes, books, crafts, and more! The Indoor Playhouse is a super cute, colorful, and girly loft bed with stairs. It's perfect for a little girl's bedroom or playroom! Includes room beneath to store books, toys, and more.
The Plywood And Cedar Outdoor Playhouse Plan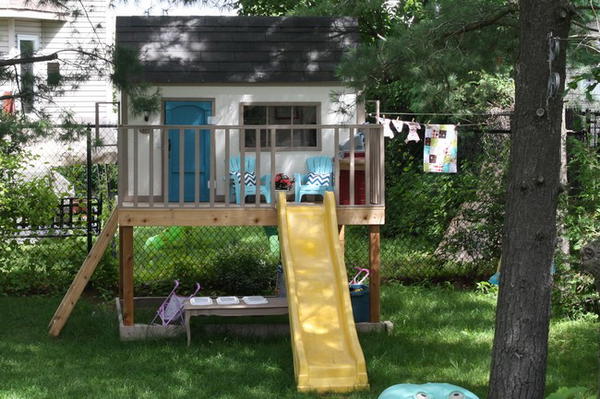 The Plywood and Cedar Playhouse is a great project for the advanced DIYer who wants to take on a large project. This playhouse has all the pieces you need to make a fun and inviting children's playhouse from scratch, including interior amenities and exterior adornments. More advanced builders should not have any trouble completing it, and it can be made as big or as small and detailed as you desire. Your kids are sure to spend hours outside in this beautiful and fun plywood and cedar playhouse. The large porch allows children to safely play and have social interaction with their friends, while the interior have a bench, table, shelves, and a small ladder that connects to the slide extension.
The Playhouse With Climbing Wall Design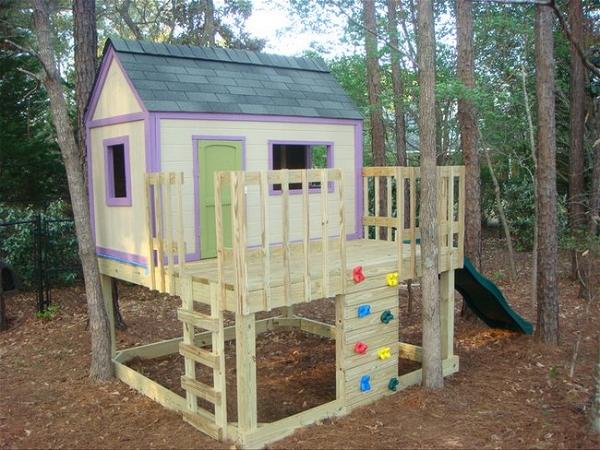 This kid's playhouse features a rock climbing wall design and loft area, promoting physical activity and allowing your kids to avoid the dangers of sitting all the time! Made from recycled materials, it's built-in between three trees to provide additional structural support. You will love this charming playhouse with a little rock climbing wall. The kids can pretend they're climbing Mount Everest or just have some fun on the rocks at their favorite park. It's a colorful playhouse with a tree facade and climbing wall. The little rock climbing wall constructs with cinder blocks, which is built-in between some trees that help provide additional structural support. As an added bonus, the house end up with a coat of primer and two coats of paint.
The Indoor Playhouse Loft Bed Design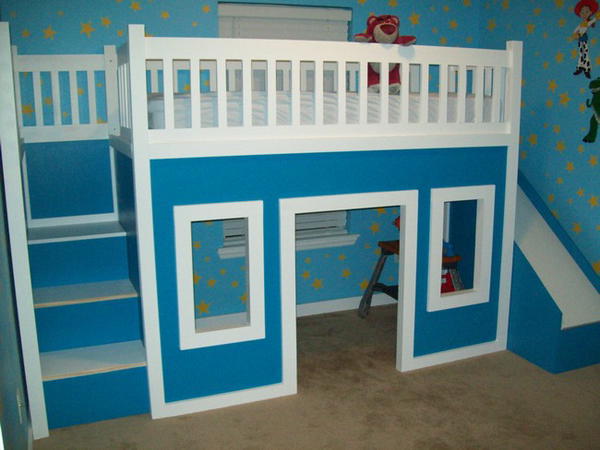 This indoor playhouse loft bed combination is not just for kids- adults love them too. This bedroom looks like it belongs to some kind of space hopeful due to its lofts and other spaceship-like qualities. It has a staircase, slide, working lights, and a place for books and toys on the bottom level. There are plenty of space-saving options with this too- the elevated mattress has room underneath for storage of extra blankets or pillows. The perfect place for kids to use their imagination.
The Gabled Swing Set Playhouse Blueprint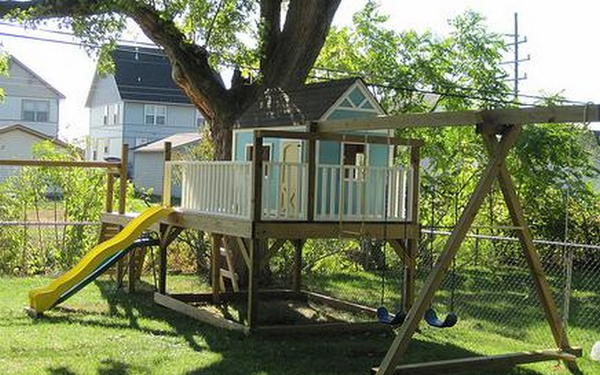 The Gabled Swing Set Playhouse Blueprint showcases the construction of a play fort with a built-in slide and swing set. The playhouse club itself sits on a deck and if you examine the project details this particular house was great to be on the side of a steep hill. This playhouse club is your children's own secret fort! It fit best in a tree, on a hill, or even in a corner of the yard. This playhouse gives kids their own clubhouse with a swing set underneath.
There is so much fun to have inside! Kids will entertain by the slides, peepholes, hidden trunks, and lookout platforms. This playhouse club comes with privacy walls on either side that can serve as an attached hideout for the little ones to enjoy some quiet time reading, daydreaming, and forming their plan for the next big adventure.
The Peach And Pink Mini House Design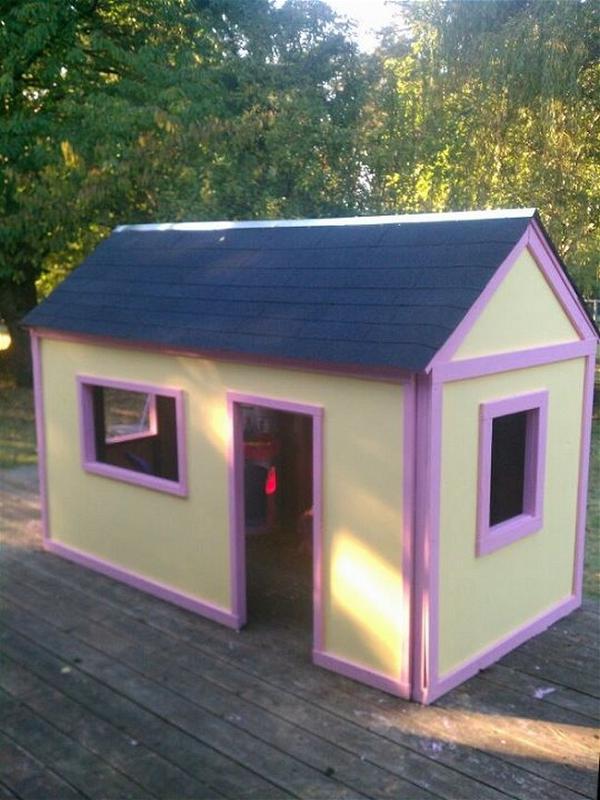 Have a child who has expressed an interest in dollhouses? This is a perfect mini-sized design for you. From the roof to the wooden doorsteps, this is a classic design that will bring your child joy thus making your child happier too. This fun mini house plans project work best by a professional woodworker. Using easy-to-find materials along with a few items from the hardware store, you can create this cute little house in a matter of days. Minimal materials play the starring role in this inexpensive little house for kids. The materials list is short, so you don't have to go out of town for a specific hard-to-find material. The different colors add a fun look to the design, making it feel as if you are looking at something from a Disney film.
The Enclosed Sandbox Outdoor Loft Plan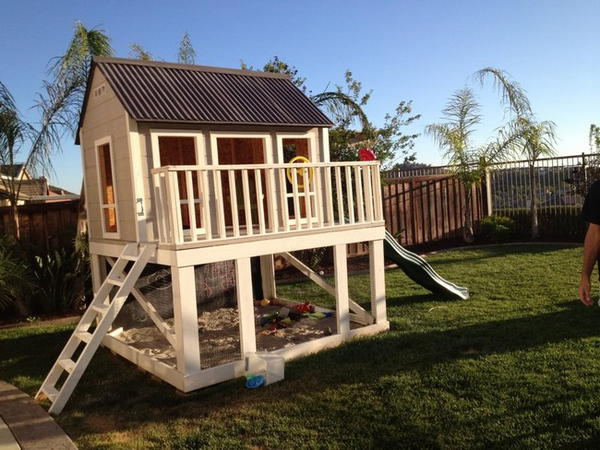 This inspirational playhouse for kids works with pressure-treated wood and suitable to withstand the weather. It's very easy to build, so you won't need any special skills and tools. Turn your backyard into a construction site with this fun deluxe sandbox built on an enclosed platform. The plan includes detailed drawings with steps and materials lists, sandpit dimensions, and lid options for Halloween, Christmas, and pirates. It is a simple backyard of nothing much except grass. A sandbox is the only standout feature. The sandbox might have been the safe choice to just let it be there, but with a little imagination and some old materials from around the house, a little boy's dreams came true and a playhouse emerged.
The Princess Palace Shed Build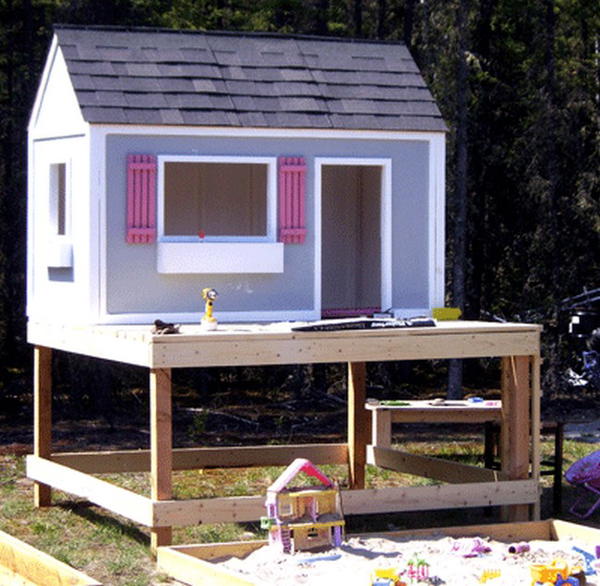 This enchanting little girls' castle will make her feel like royalty. This shed is the perfect playhouse for a little princess. Featuring shingles and a unique silhouette, the fun exterior adds personality with lots of character. A built-in bench at the front door provides a cozy spot to sit and watch the world go by while you're enjoying your tea. Built from a galvanized steel frame and reclaimed wood, this glowing pink castle is charming as well as durable. Sparkly details add a bit of magic, and the design makes the most of this small space so that your child can play all day in her very own castle.
The Under The Stairs Luxury Playhouse Design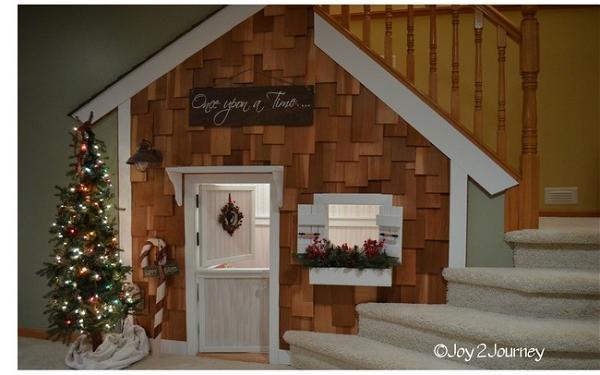 A hidden and fun space for kids to play, this playhouse/bedroom can be built under the stairs or against a wall, as long as it's supported. Lofted sleeping space can be a great addition to a kid's room. However, it's not very practical to use valuable floor space with a lofted bed when you live in a cold climate. This step-by-step project will show you how to build a playhouse for kids that will free up floor space and fit under stairs for full use of the room. This project plan will show you how to build a fun Under the Stairs Luxury Playhouse that your kids will enjoy. It's warmer than the traditional playhouse and is out of the way when not in use.
The Kids' Under-Stair Playhouse Plan
Let your kids dream of fairy-tales and everyday adventure with this fun and easy-to-build under-the-stair playhouse. Perfect for imaginative children, the charming addition with playful details, like a hanging bird feeder, climbing vine, barn doors, and a classic lantern. Constructed from cedar wood, the charming playhouse features an interior floor made from extra laminate flooring that helps to keep the space clean when playtime is over.
It's a fun weekend project for intermediate woodworkers and a must for parents who want something better than a toy box or closet storage under the stairs. Make this under-the-stairs hideaway complete with a hanging bird feeder, string lights, mailbox, and a hanging lantern to complete the look. Use the room for play, a workshop, or an extra bedroom. This project is not only whimsical and beautiful but also functional.
The Girl's Bedroom Play Fort Plan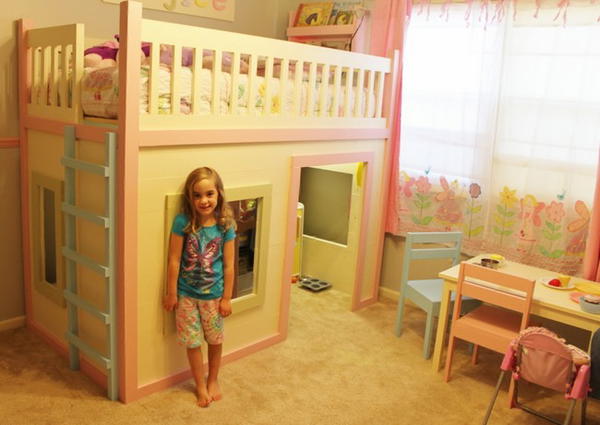 If you love the idea of a loft bed but want it to be a little more girly for your princess, this is the project for you. Perfect for little girls who love to play princesses, this loft bed actually has plenty of appeal for younger boys who love to read and play with toys too! The builder used pink, peach, and light yellow colors to give the bed a feminine look. This fort-style bed will be a cute complement to an existing furniture set; that fits best in a girl's tastes. This loft bed will be best to look like a play fort in a girl's bedroom. Itwil be great to add in a boy's bedroom so that your kids have a place to play when they want to get away from the rest of the family!
The Patriotic Play Home Blueprint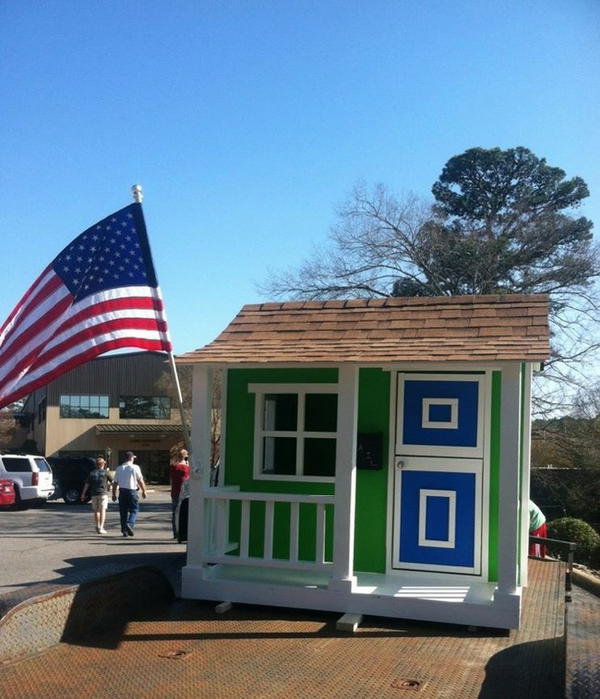 Kids can create their very own piece of Americana with this fun and easy-to-follow blueprint! In this comprehensive kit, kids will learn how to construct a small-scale building that's perfect for play and display. Build the Sweet Retreat Play Home from the Patriotic Play Home Blueprint. It's fun to build and perfect for any occasion! All pieces interlock for easy construction and lots of imaginative play. The finished play home has a two-story design with slide-out steps, an upper deck and balcony; a lower deck, a porch swing, rockers, one opening window, and one opening door. With a layered roof that looks just like a top hat and full-color illustrations throughout; this idea is sure to become a favorite for kids that love pretending.
The Cloth Draped Playhouse Frame Plan