Smoking isn't good for you. But that doesn't mean smokers should be deprived of a little style when they light up. If you're sick of throwing cigarette butts on the ground and want to be more environmentally friendly, why not make your own ashtray? Not only will these DIY ashtray ideas help you contain your cigarette mess, but they can also add a touch of class to any room. These projects are great for people who smoke cigars or pipes, too! Even if you don't smoke at all, these ideas are still great for storing things like keys, change, and jewellery.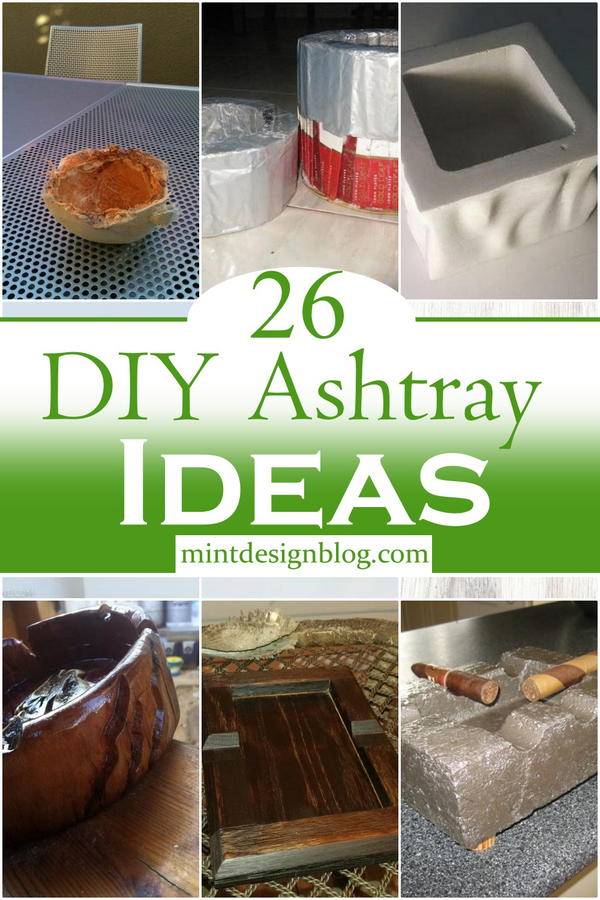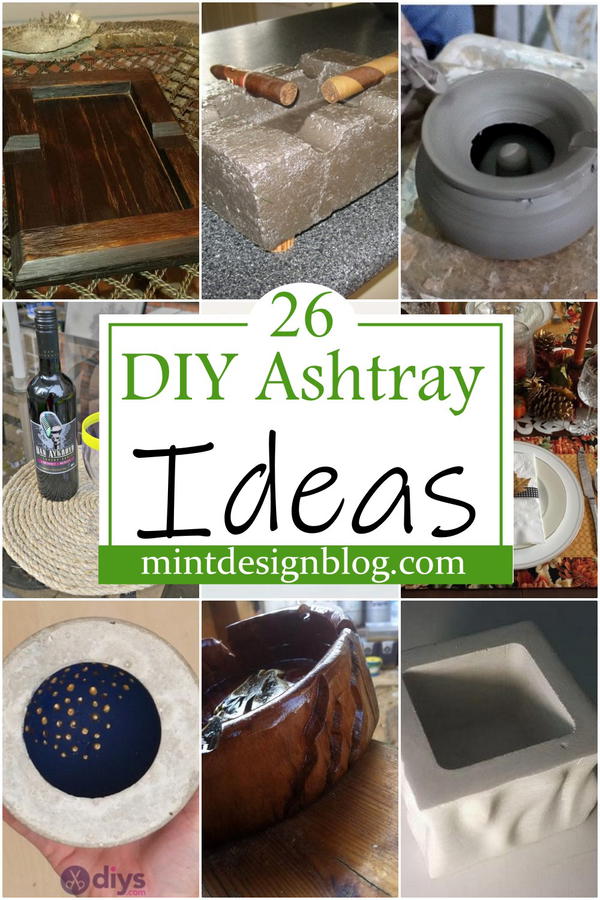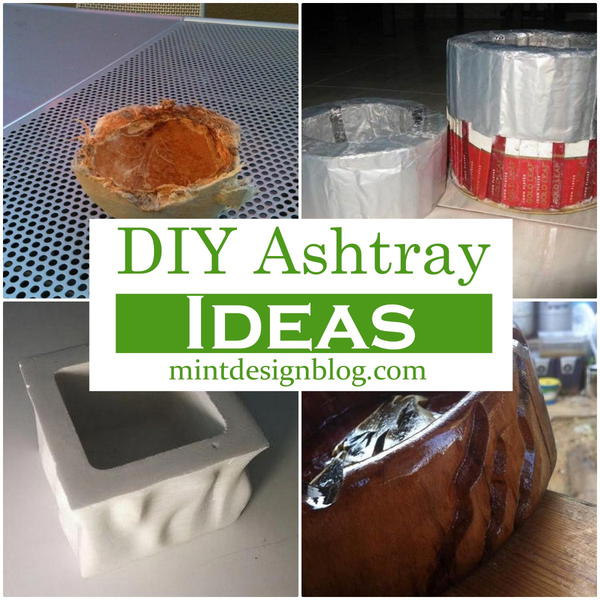 There are many ways to reuse and recycle glass bottles, jars, plastic bottles, and food cans for unique decorations like glass bottle vases and bowls and a hand-made ashtray look great. You can use an existing ashtray or make your own using a pretty plate or candle holder, which you can find at garage sales. You can add coins, seashells, or beads to the base of the ashtray for decoration and use hot glue to attach beads to the side of a plate or cup. Here you have listed DIY ashtray ideas for your inspiration. Make fun and beautiful ashtray for yourself at home or as a gift for your friends with these ideas.
Are you a cigarette smoker? If so, you might be interested in making your own ashtray, take a look at these 26 DIY ashtray ideas and - there is sure to be one for you.
Materials and Tools:
Wood bowl
Sandpaper
Wood glue
Paintbrush
Chalk paint
Polyurethane sealer
How To Create A Custom Concrete Cigar Ashtray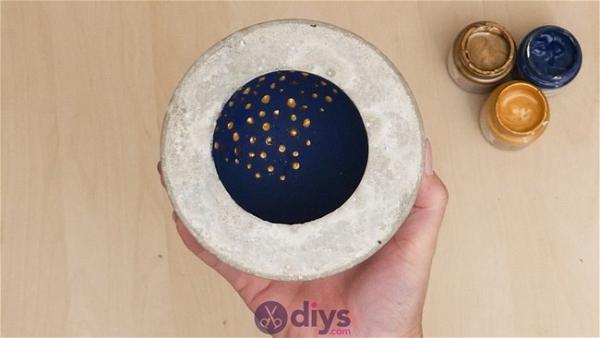 Concrete is a really fun material to work with. It's inexpensive and durable, yet it can be cast into almost any mould imaginable. Concrete is also highly customizable. You can add colourants, fibers, aggregates, or other concrete additives to tailor it to your needs. The process is fairly simple and you can make all sorts of different designs by changing up the mould. It does take a few days though because you need to wait for the concrete to cure before removing it from the mould. This is an easy project that most people can do with very little experience or knowledge. And the results are pretty good!
Skill level: advanced
How To Make A Concrete Ashtray
Ashtrays are a great way to keep your home clean, but with the rise of electronic cigarettes, many people have abandoned them. Still, there is something very rewarding about using an old-fashioned ashtray, especially if you can make it yourself. Concrete is a versatile material that has been used for thousands of years. It is highly durable and relatively easy to work with. This tutorial will show you how to make a simple concrete ashtray that you can use in your home or give as a gift. You can make all sorts of stuff with concrete, it is fun to work with. Some people don't enjoy working with concrete because it gets their hands dirty, but it's part of the fun!
Skill level: easy
How To Make Resin Ashtray
If you love making beautiful things for your home, this is one of the projects you can try out. It's a simple resin ashtray that looks so beautiful and will be something you will lovemaking. It's not all about how beautiful it looks; and also about how functional it is. You can make use of it both indoors and outdoors. The process of making the ashtray is quite easy to follow and so much fun to do. You don't need any special material or equipment to make this resin ashtray. The best part of it all is that you will be able to save a whole lot of money by making your own DIY resin ashtray.
Skill level: advanced
DIY Concrete Ashtray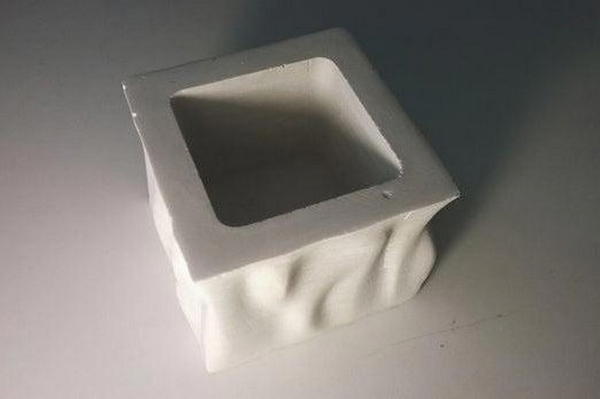 If you're a smoker, there are a lot of concrete ashtray designs that you can choose from. However, if you want something different, this one is a good choice.
The material used in this project is not ordinary. It's actually made from cement and marble dust. To make it look better, the mold was cast using tips and rubber bands as the support. Concrete ashtrays may not be much of a necessity today but they still hold an important place in our culture. These things can be used as a great decoration piece for your home or office or even a gift for special occasions.
Skill level: advanced
How To Make A Beer Can Ashtray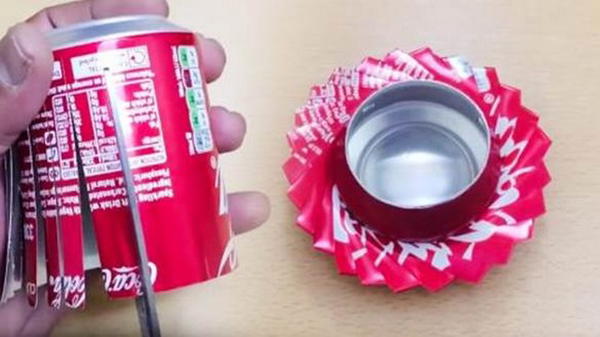 Do you have a beer can lying around? If so, here is a creative way to make use of it. In this DIY project, you can able completely transform a used beer can into a fancy-looking ashtray. This is a very easy project and you can use any beer can of your choice. The key here is to use sandpaper to give the surface an even texture. After that, you will have to paint the surface with several layers of paint and varnish. The first step of this project is to take an empty can of beer and wash it out thoroughly. You will also want to remove the label and any other part of the can that you do not want to be included in your final product.
Skill level: moderate
DIY Wood Ashtray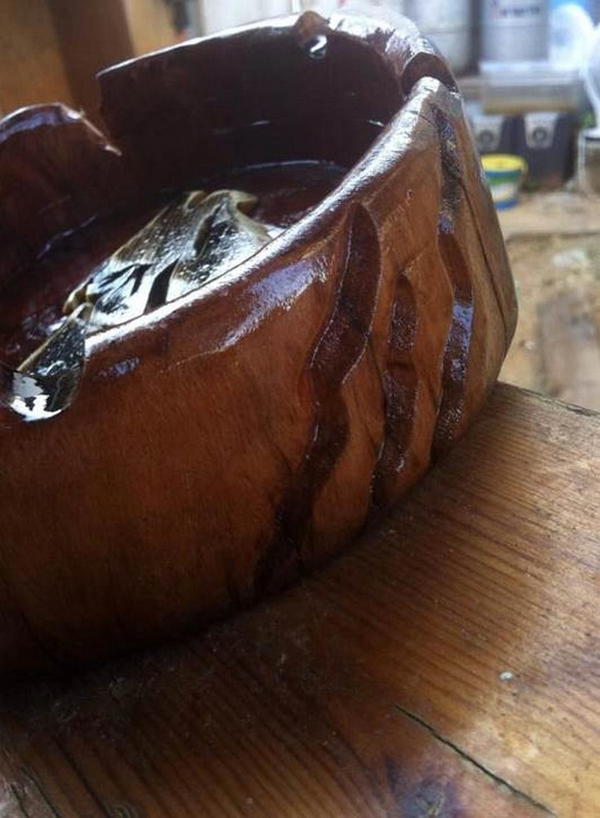 If you are a smoker, then you know how important it is to have a good ashtray. You might not be able to find an ashtray that you really like or one that fits your budget. This DIY guide will teach you how to make an ashtray from wood. This ashtray will work great outdoors as well as indoors. You can even use it as a decoration in your room, but it is still very functional and easy to use. For this project, you'll need some woodworking experience. It's not the easiest thing for beginners. You will also need specific tools, like a band saw and a lathe, which may be overkill for most DIY-ers to buy and then only use once or twice.
Skill level: beginners
DIY Ashtray From Cigarettes
This is a simple DIY project that will only require a few minutes of your time. It's very easy to make and you can use it for your cigarettes or cigars at home or in the office.
This project can be made by anyone, even kids! It's a great way to recycle cigarette packs for something useful and also give your home a better look with this creative ashtray made from cigarettes. To make this ashtray, you need to have some empty cigarette packets. You can either use your own cigarette packets. The DIY shows that it is possible to create something useful and pretty with empty cigarette packs.
Skill level: easy
How To Make An Ashtray For $10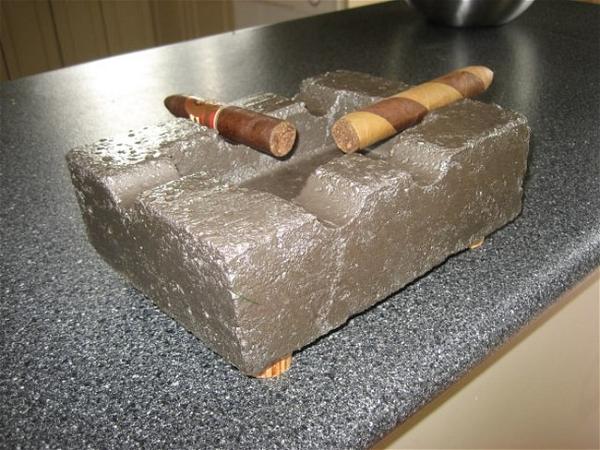 This is a simple ashtray that is made of wood. It is not just an ashtray, it can be used as a decoration If you want to make one for yourself, you can get all the materials from your local hardware store. The only thing you need here is some wood and that should not cost more than $10.You can use a round piece of wood or any other shape you like. The instructions are simple and if you have some basic knowledge about working with wood, you will be able to make this ashtray in less than a few minutes. This project gives you an idea of how simple ashtrays can be and how they don't have to cost much money when you make them yourself.
Skill level: simple
Wood DIY Ashtray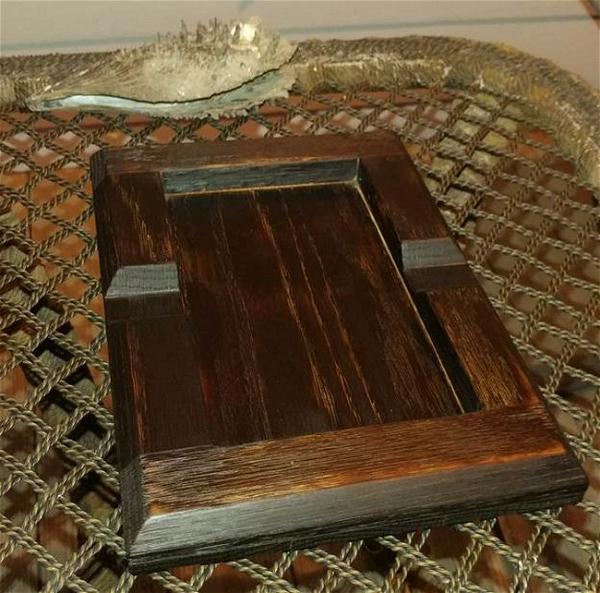 Woodworking is a craft of producing furniture or whatever is created of wood. The products are produced in the form of finished wooden products such as furniture, crafts, and decor items. These products are unique and have high utility value. This DIY ashtray is perfect for cigarette butts. You can put the cigarettes on top of the round hole before putting out the fire. This ashtray is also handy because you can easily transport it wherever you want to use it.
Woodworking tools are necessary for creating this ashtray. With the help of tools, such as a table saw and a belt sander, you'll be able to create a wooden DIY ashtray in just one hour.
Skill level: simple
How To Make A Ceramic Ashtray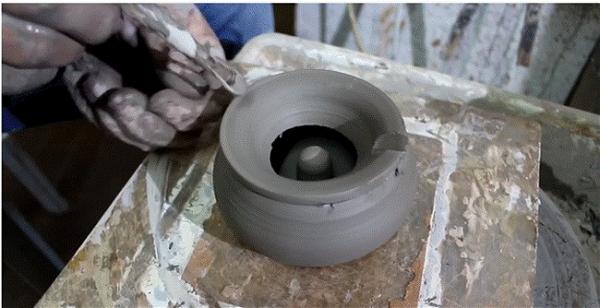 The first thing to do is create an object in clay. It can be anything that is suitable for use as an ashtray, like a bowl or a plate. But if you're going to use it as a plate, you should make sure that it's not too big and it's easy to carry. When you've created your ceramic ashtray, don't forget that there are a few more things to do before you can start using it. You need to dry it in a kiln, fire it and then glaze it. These steps are very important because they allow you to create a beautiful piece of art.
Skill level: advanced
Coconut Shell Ashtray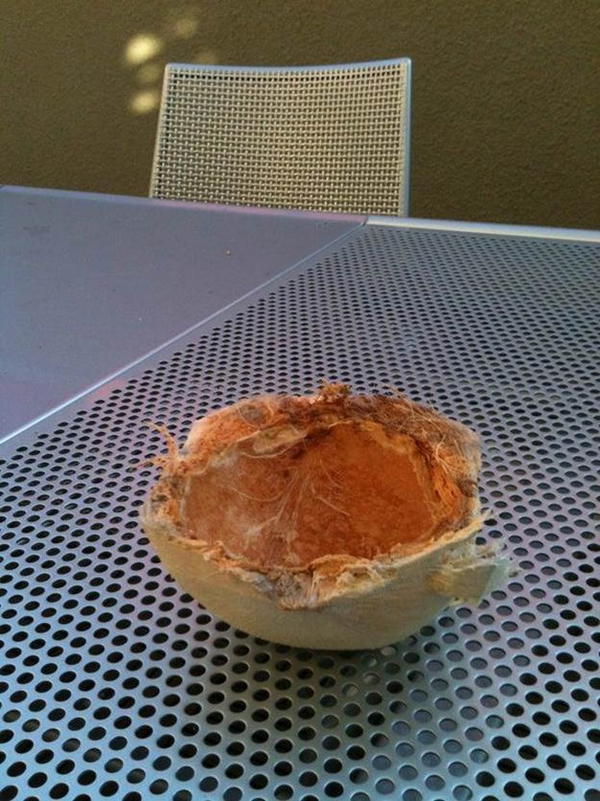 The coconut shell can be used to make many things, from jewelry to a cute ashtray. When you're starting out with DIY projects, it's good practice to keep your costs low so that you can comfortably afford any mistakes that might happen along the way. The coconut shell ashtray is a perfect project for that reason and so much more. It can be used as both a decorative and functional item, ideal for adding more style to your home or using it on your next camping trip. The following tutorial will show you how to make a coconut shell ashtray using materials you might already have on hand or can easily find in your local hardware store.
Skill level: advanced
Smoke Absorbing Ashtray DIY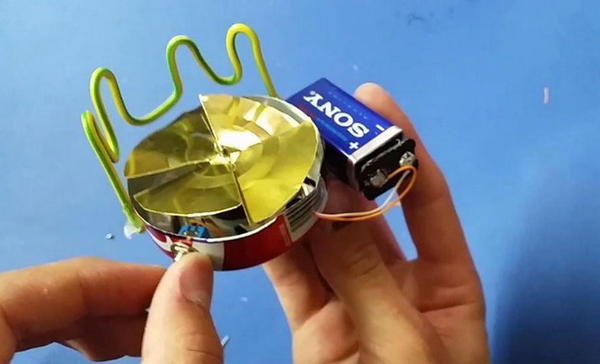 Smoking is a bad habit. It can lead to cancer and other health complications. However, smokers can not just quit smoking at once. They need something that can make them want to stop. A DIY idea for an ashtray could possibly be the answer to this problem.  Smoke Absorbing Ashtray DIY is a great idea that can be a fun project to work on with your friends, or even by yourself. It is also portable and can be carried around as it is small and easy to carry. This ashtray will not only absorb the smoke but also help keep the place clean due to its small size. This project is quite simple and does not require many tools and materials. This ashtray is very inexpensive and can be made at home without any problem.
Skill level: advanced
How To Make A Wooden Ashtray
Ashtrays are a thing of the past. A smoky past, that is. Most people have given up their ashtrays in favor of stink-free homes and cars. But as many people return to smoking tobacco from pipes or cigars, the ashtray has made a comeback. Making your own wooden ashtray is a great way to add some character to your home and maybe even gift someone who still enjoys the occasional smoke. There are several types of wood you can use for your wooden ashtray construction. It is up to you to choose the one that would match your furniture and home design.
Skill level: simple
DIY Ashtray Out Of Waste Material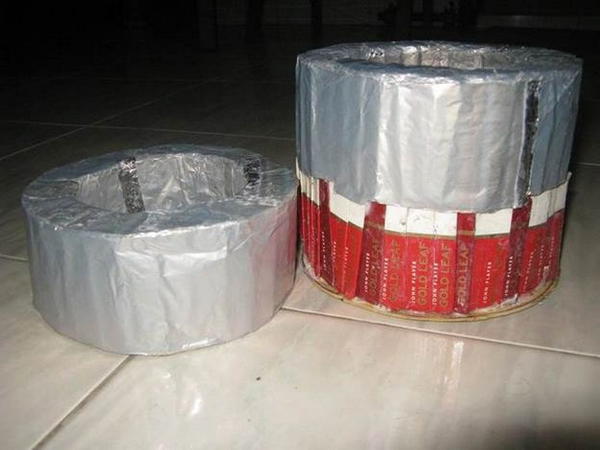 Most smokers just throw out a lit cigarette on the streets which is definitely not good for our environment. You can make your own ashtray at home to avoid this situation. Ashtray seems like a simple object. But, to make it from scratch and recycle waste material is not that easy.
The ashtray has a unique design that can be utilized as a home decoration. This is made using paper and cardboard. The process does not require any wood or woodworking tools. It can be easily made at home with little effort. Making this project can be considered a great DIY project for beginners that are interested in crafts and are looking for some cool craft ideas to try out and work on at home.
Skill level: advanced
DIY Wooden Ashtray
You're tired to clean the cigarette butts left over by your friends at each party? Here's a simple idea to make a wooden ashtray that is easy to clean and will add a natural touch to your coffee table. if you do have the skills and experience, you will be able to create an awesome ashtray that everyone would love to use. A wooden ashtray is an easy project that anyone can make. The main material that is used in this project is wood. The wood includes a number of different species such as oak, poplar, pine, and some more. The different species give this item a unique appearance.
Skill level: simple
Resin Ashtray DIY
This Resin Ashtray DIY is really a great idea for your home. You'll love having it. This is a great way of recycling things that are not useful anymore. Especially those molds that are used in baking or cooking food. This DIY project will require a lot of time, so better prepare yourself for that. But if you have spare time at home, then this is a great idea for you to do at home! You can also use this DIY as a gift for your friends who love to smoke! There are so many different shapes and sizes of ashtrays available in the market today. You can choose which one you want and how big it should be.
Skill level: moderate
How To Make Ashtray From Cigarette Packs
This DIY project is a perfect example of how to upcycle your old items into something useful and beautiful. You can use any old cigarette packs, or you can even buy packs of cigarettes just for this project. Ashtrays are one of the most common items at home and some of them can be very expensive. But you don't need to spend a lot just to have an ashtray. This project shows how you can make a fabulous-looking ashtray from nothing more than empty cigarette packs and a few other items that can be easily bought from hardware stores or even online. The best part about this project is that even a beginner will be able to make it with ease.
Skill level: advanced
How To Make Resin Ashtray
The resin ashtray is a piece of art that can be used for smoking and also as a decorative object. This can also be used as a gift for your loved ones on special occasions like birthdays or anniversaries. If you are looking for something that can also beautify your table, then go for this resin ashtray. It is made with super-strong epoxy resin that is mixed with gold leaf and crystals to get the look you want. This project is very simple and doesn't require too much material or tools. You can use a variety of colorants for your ashtray. You can also make this ashtray in any shape you like, just get the appropriate mould for it.
Skill level: moderate
How To Make A Clay Ashtray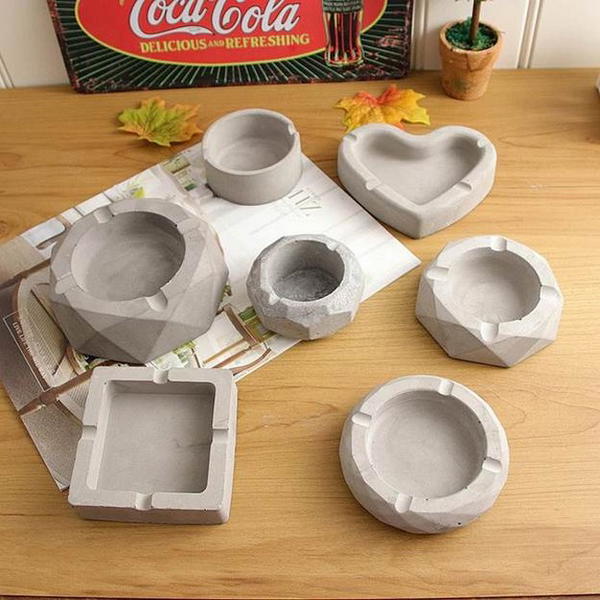 Making an ashtray is a fun and creative way to let your personality shine. Not only are they a classy addition to any table, but they also make great gifts and are useful in the office.
Clay ashtrays are easy and fun to make. Once you learn the techniques, you can make all kinds of pots and vases. The clay is a bit hard at first, but once you start working it, it gets soft and easier to shape. The project uses a new technique that allows you to make an ashtray from just two circles of clay, rather than the many pieces you would normally need for this type of project. This greatly simplifies the process and makes it easier for beginners! This is a simple project that can be completed in about an hour or so.
Skill level: advanced
How To Make An Aluminium Ashtray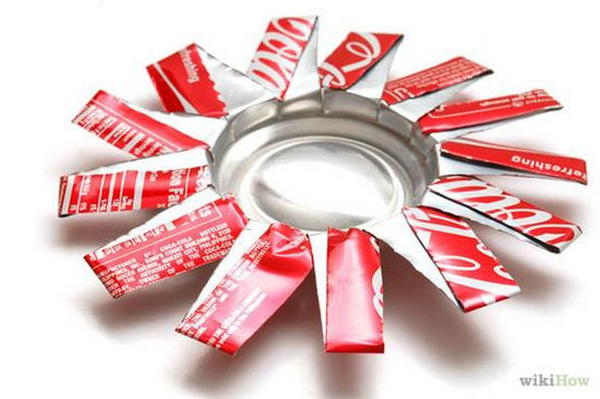 Aluminum ashtrays are one of the most beautiful products a person can have in their home. They have a very beautiful appearance, which makes them highly sought after. The good thing is that you can make an ashtray on your own. These are popular household items. They can be used at outdoor events, or even as decorations in your home. Making this project is a fun and simple project for everyone to enjoy.
You should decorate your new ashtray with any type of decoration that you want. You can either paint or stencil it if you are not so good at painting, or you can simply carve out a design on it using a sharp knife or hand grinder.
Skill level: moderate
Making A Clay Ashtray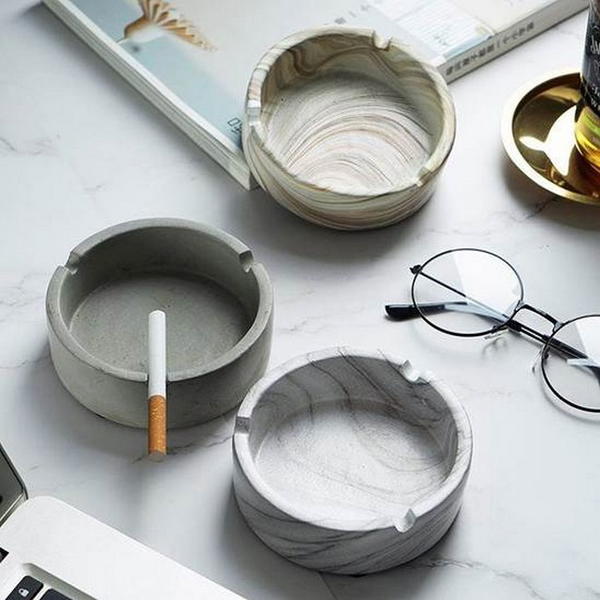 There's no better way to reduce the stress of smoking than to have a nice ashtray to hold your cigarettes. It's one of those things that you don't quite notice, but if it's not there, it sure stands out. If you are looking for a new ashtray, or just want to try something different, building your clay ashtray is an easy project, with a few supplies, some practice and in no time you'll be making these great accessories for your home. The making process is fun if you know what you are doing. To make an ashtray at home, there are certain tools and materials that will help you make your project easier.
Skill level: easy
Beer Can Ashtray DIY
This Beer Can Ashtray DIY can be used for any occasion. It is easy to make and cost-saving. You can use this in your bar, and you can also use this for your parties or events. This is a perfect project if you own a bar and you want to save some money, why buy an expensive ashtray when you can make one yourself. You don't need to be an artist to create this thing, any designs will do. You just need to have the skills and creativity! if you want to make a cheap and cool ashtray, this beer can ashtray design is perfect for you.
Skill level: easy
Making Ashtray With Empty Cigarette Boxes
Sometimes, it is quite necessary to make an ashtray for your cigarettes. You can not just throw the cigarette ash everywhere. It will be better if you create an ashtray for yourself or for your friend. Ashtrays are easily available in the market. But you can make one yourself by reusing an old cigarette box. This is a creative way to make use of something that would otherwise be thrown away. It's very easy to make an ashtray with empty cigarette boxes. You just need to do a little bit of cutting and gluing, and then you are ready with your ashtray. It is quite creative. Collect some empty cigarette boxes. It is always better to have more than less so you can practice before making the final piece.
Skill level: easy
Ultimate DIY Resin Ashtray
This Ultimate DIY Resin Ashtray is a great way to recycle old items and turn them into a beautiful and useful addition to your home. This is a great and easy project to make a resin ashtray. It's very important that you use the right material for this project, so make sure you have ready: You can use any type of recycled items that you wish but make sure that they are not sharp as this will scratch the surface of the mold. You can also add glitter, colorants, or mica powders for added interest and pops of color. You can make this project with any object, but keep in mind that you will have to heat it. So you can't use an object made of glass or ceramic. The best idea is to use something made of plastic, metal or wood.
Skill level: moderate
DIY Piston Ashtray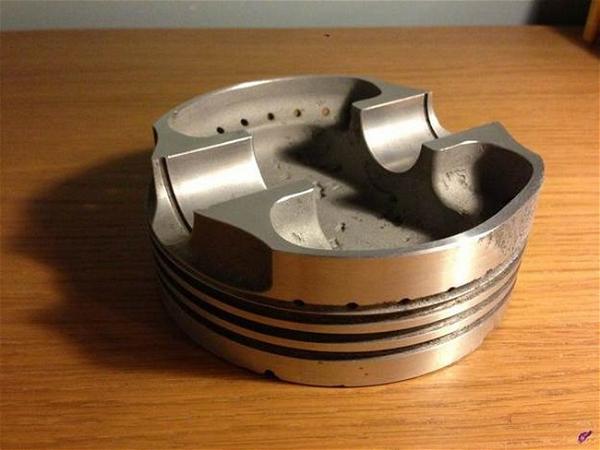 This DIY Piston Ashtray is quite unique. It's also very simple to make. You can find a piston at your local junkyard and then cut it down to the size you can even add decals to make it look nicer. It's a great project for anyone who wants to make one-of-a-kind gifts for friends and family members. Once you sand it down and paint it, the ashtray is ready to go.
You will need a tiny bit of black paint to finish it off. This is a very unique ashtray that makes a great conversation piece for your friends and family. It's also very easy to make and won't cost you very much at all.
Skill level: moderate
Cool DIY Ashtray Of Soda Can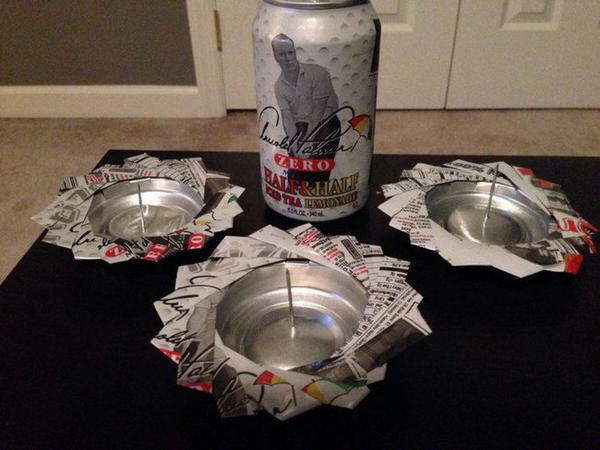 Soda cans are everywhere around us and are usually just thrown away. So, here is a great idea for recycling soda cans by making a cool ashtray. You can use this ashtray not only for cigarettes but also for keys or coins. The actual construction of this ashtray is pretty simple but the results are amazing. You will not believe how great this ashtray looks. What's better than getting something for free? This awesome DIY project is perfect for anyone who wants an easy, fun craft to make and it's also perfect for anyone who has a few extra soda cans lying around!
Skill level: simple
Conclusion:
A portable ashtray is an ideal solution for outdoor smokers and a great way to eliminate cigarette butts! Before you throw out your old portable ashtray, consider giving it a new look with one of these DIY ideas. If you smoke outside, it's always best to have a portable ashtray on hand. This will allow you to extinguish your cigarette and keep the environment clean safely. It's even a good idea to have a portable ashtray in your car so that you can keep it clean and smell-free. Before you run out to buy a new portable ashtray, consider reusing an old one by giving it a fun new look.
See Other Projects