Whether you are an artist, designer, or just a working professional who needs a little bit of extra space for your office work, building your own DIY Studio Desk Plans is the best option for you. It does not only save you from buying it from the market but also saves you from a lot of hassles that come with it, such as transportation and installation. Having said that, we know how confusing it can be for someone who has never done this before. So, to make things easier for you to work productively and creatively, you need space — enough room to spread out and to store your supplies and materials where they're handy when you need them.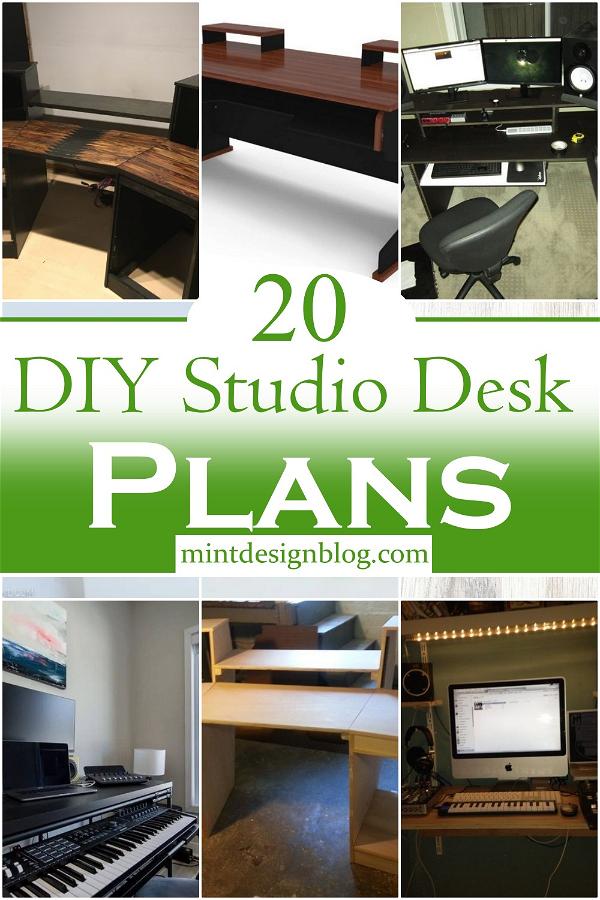 A studio desk can be a beautiful place to work, but it doesn't have to be expensive or difficult to build. There are tons of simple plans online that show you how to make your own studio desk that suits your taste and your needs. Here are 20 DIY studio desk plans for every budget and every purpose. Choose the one that fits your style and get started!
Other Plans
Reclaimed Wood DIY Studio Desk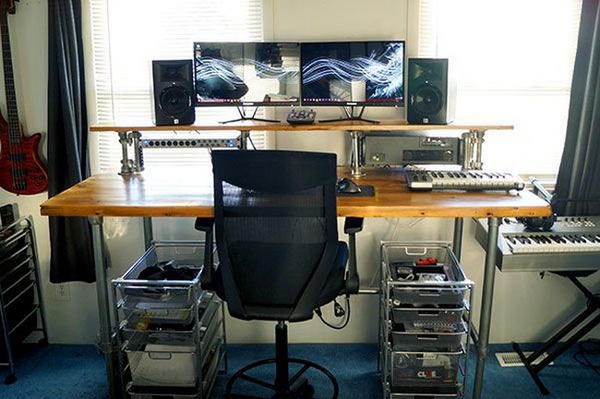 This studio desk was built to last with a reclaimed wood top and steel legs. It is a space saver and can be placed in several different areas of the home including an office, bedroom, living room, or basement. The desk also comes equipped with a wire management system to keep all wires hidden and organized behind the desk.
Add some warmth to your workspace with this DIY desk, which is made part of recycled wood. The legs are constructed from steel pipes with a linear design that adds a contemporary element to the number of ways you can arrange them in your home or office.
Project details: simplifiedbuilding.com
Block Of Joy's DIY Studio Desk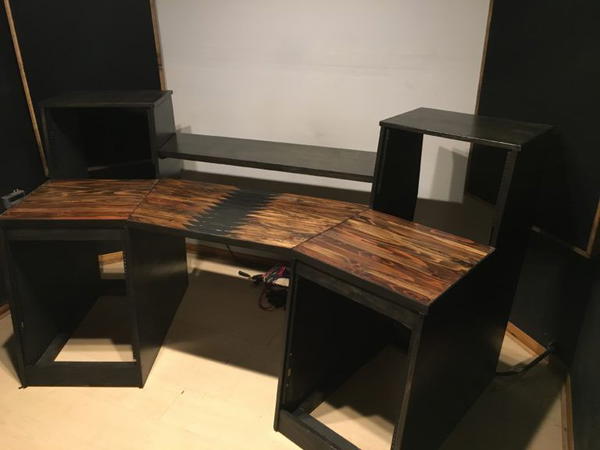 The Block of Joy is an innovative studio desk solution, designed to be decorative as well as functional. It combines two desk segments, seamlessly integrated with a tilted angle, for space-saving but still for better ergonomics. This solved two issues that commonly plagued older workspaces – Lack of storage space and lack of flexibility in use. A simple and inexpensive DIY Studio Desk can provide a great deal of storage space and is also a very attractive piece of furniture.
Project details: blockofjoy.com
DIY Music Studio Desk By Claritone Audio
DIY Music Studio Desk By Claritone Audio is a very simple yet functional and practical acoustic treatment that you can build to fill your room with the music details. You will hear not only vocals but also every other instrument found in your recording or live performance whenever you do so.
With DIY Music Studio Desk, you can now have a natural listening experience when mixing and mastering music since your head will be surrounded by acoustically treated surfaces. To ensure both acoustical isolations from the back and front, placing your speakers on the sides of the desk to make 2 channels is crucial.
Simple And Cheap Studio Desk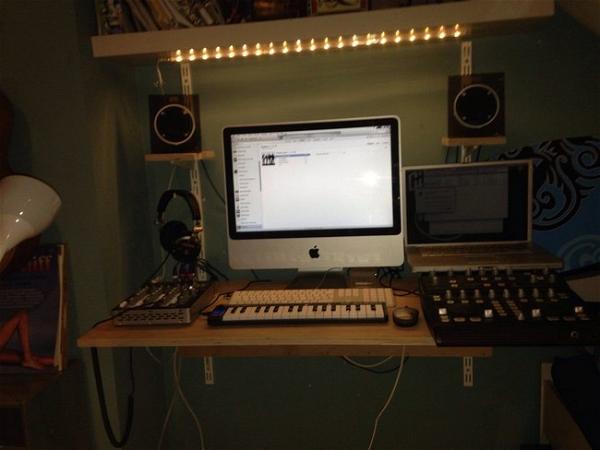 Do you have a small bedroom? If yes, this project is for you. If you're also a DIYer, building a floating desk at home will reduce your space drastically. For this design, two pieces of plywood or a similar board are enough to complete one unit. An LED strip could be installed on the bottom of the desks to light up your working space during the nighttime. No matter how big the house is, how small the rooms are, or how much furniture you have in them, installing studio desks will never make your rooms feel tighter and smaller.
Project details: instructables.com
Minimalist Bedroom Studio Desk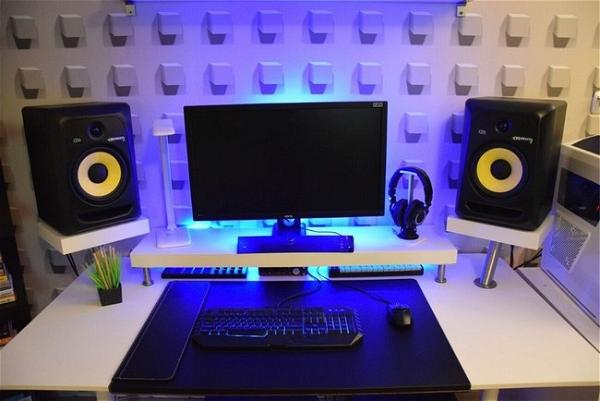 The white desk gives a minimalist-style appearance that fits in with the overall look of your bedroom. Use the black shelf to display your favorite collections, while each drawer is roomy enough to place your desktop PC and important notebooks. With this furniture, you can enjoy a modern bedroom studio that takes advantage of all the space in your room.
Transform your bedroom into a modern and rectangular office, where you will have peace and quiet to get some work done, finish writing your book, or have a romantic evening with your significant other.
Project details: promusicproducers.com
DIY Output Platform Desk With Angled Racks
The angle racks are optional. But if you like to keep your music gear organized and separated, then do consider adding this feature. This is a DIY output platform desk with angled racks. It is a workstation that has 3 levels of platforms and 4 racks. The rack on the top is movable, so it can be slanted or flat, according to the needs of the position. Each platform is connected with a rail so that they can be easily taken out when needed, And this device also has many channels and holes for power cables and wires.
DIY Recording Studio Desk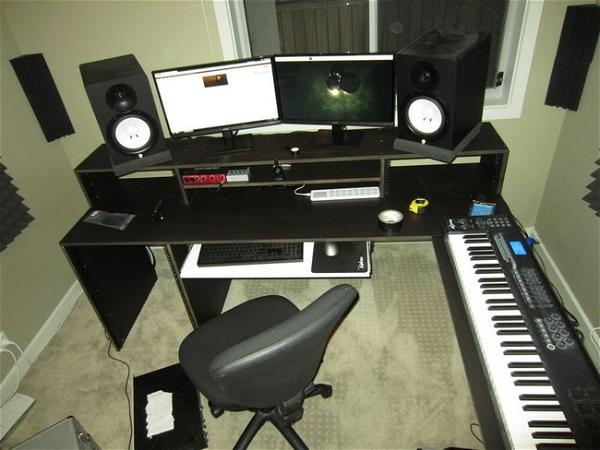 If you are interested in music and want to record, such a recording studio desk is a must. Do you have many music gears and want them to be at hand every time? You can try this DIY recording studio desk. The design is simple but full of style, which makes it a good choice for most people. Besides, the desk has room for a keyboard. It also has a shelf or board underneath the table, so that you can put your computer on it. You can save more space when you have a little studio room.
A DIY  recording studio desk is actually a serious thing, which you should pay attention to if you are a music lover. You deserve it to be simple, yet heavy-duty and trendy. Customize your own DIY recording studio desk. With a simple plan, you can get this desk in no time, though it does look complex to some people at sight.
Project details: imgur.com
DIY Output Platform Music Studio Desk By Extralife
DIY music studio desk is one of the most useful things to have in your room. The 3-tier model allows you to place your audio gear such as synth, drum machine, or mixer on the top shelf. and guitar amps, wedge monitors, headphones, or other tools on the bottom shelves. This solution is not only a great way to save a ton of money, but also saves you a lot of time and space.
This DIY music studio desk is originally a simple desk. But transforming it into a fully functional music recording environment isn't complicated at all. Let's just take your time and some patience to make it.
Two-Level Desk DIY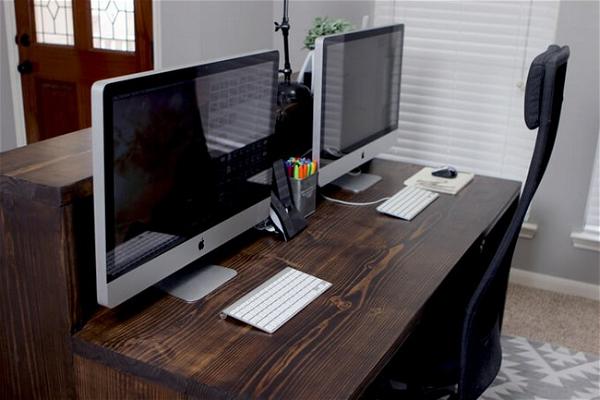 This desk is designed to be put in the middle of the music room. Its elegant and artistic design makes it stand out without being overwhelming. The two-level deck floating in the middle of your music room is a good idea to highlight your interior without handling messy cords. All the cord management is under the desk and hidden behind an extensive front panel. When people come into your room, all they can see are the two levels: The higher one is for some books, a lamp, or small plants, and the main surface is large enough to spread out will computers, planners, binders, and notebooks. You also can sort with anything suitable for your work.
Project details: grayhousestudio.com
DIY Studio Desk (Output Platform)
The DIY wooden desk from Walmart is a great product for gamers or just for working on your musical instruments like the piano! It is easy to assemble and requires no special skill. When you assemble it, make sure that you do not have screws leftover because they are impossible to take back. This studio makes use of mic stands, drum machines, keyboards, an audio interface, and a lot more. This output platform will work with any deck you want to build.
Studio Desk With Sizable Racks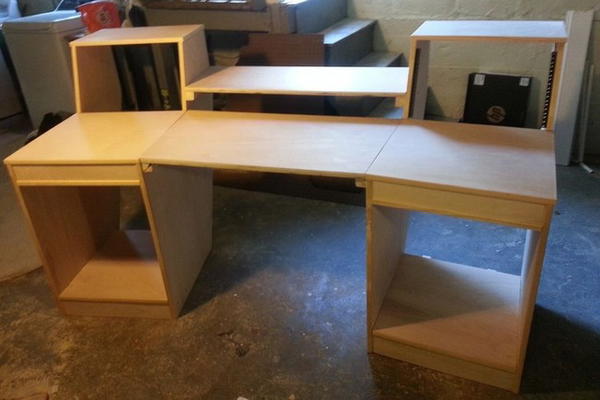 The idea is easy. To make you a better programmer, We have devised this plan for building your own studio desk which can accommodate all necessary gears for your work. Of course, the ultimate decision rests with you. In case you have no desk, to begin with, and want to build yours from scratch, it would be better to assemble everything on one board temporarily at first and then lay out the side racks on top of the baseboard accordingly. If in the end, you like what you see, that's it; if not, proceeding to build a new one won't be a hard nut to crack as well.
Project details: imgur.com
DIY Studio Desk With 5 Rack Sections
A studio desk with rack sections is a common tool in a recording room to keep all the music equipment and gears in place so that they will be available at your fingertips. If you don't have enough space then putting the rack on a desk like this DIY project is ideal.
Build a personal studio that even the biggest musicians will envy with this DIY studio desk. The massive deck has an under-table system that includes 5 different rack sections, an extra deep middle rack to secure your mixing console, and a meter bridge. To make it the ultimate personal studio desk, add an armrest for easy access, plus add casters on the bottom of the frame so you can roll it around like a drum kit.
DIY Home Studio Desk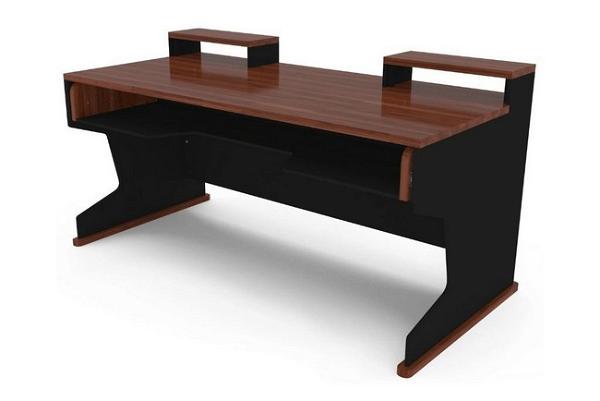 With its built-in, easy-access tray and three sections, you'll be able to work your way, but if you prefer to have it facing up, no problem. The DIY Home Studio Desk is that customizable. The next DIY home studio desk by Creative Sauce is not very different in design, but we appreciate its sturdy construction and material.
This stylish desk can store many of your office necessities while still being compact. When you don't have any work to do, simply place your laptop on the spacious tabletop and start surfing the net or watching TV. Creative Sauce has designed an all-new deck that has been built with quality furniture-grade materials: Merbau, jarrah, and plywood. The desktop itself, as well as the tray side and rails, run in precisely cut grooves, making for easy and accurate assembly as well as adding stability to the furniture.
Project details: creativesauce.net
DIY Studio Desk – Eric's Project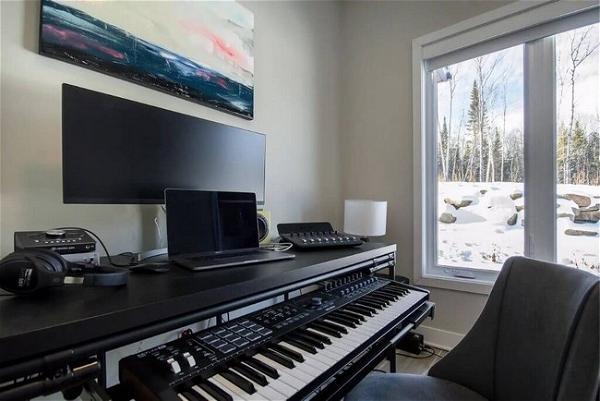 Music is an inevitable part of your life. It has the power to control your mood and actions. Sometimes, you may feel comfortable at a party with friends or a date but seldom feel comfortable playing on stage. It's not that you don't have confidence in your talent; it's just because you have no "stage-ready" music equipment.
This project doesn't require you to get into DIY and carpentry. For example, the elements you need include tabletop, legs, iPad mount, caster wheels, and T-cutter. These parts are simple to install and replace. Besides, online sourcing can help you locate a lot of optional parts for your DIY studio desk and help add more value to your music system. You can also choose one of these three color schemes: black/gray, vintage brown, or natural walnut to match your existing room décor.
Project details: tinktube.com
DIY New Studio Desk By Larry Marrs
Depending on the number of equipment, this desk can easily accommodate 10-12 devices. You can put your home theater system and computer on the back of the rack. You can put all the devices that you need to work properly on those removable shelves. The front part is the space for you to enjoy your private time when you are tired and need rest. When you assemble the desk, please ensure to read the instruction carefully first, then start working step by step and all work should be done within four hours.
DIY Studio Desk By Rock Science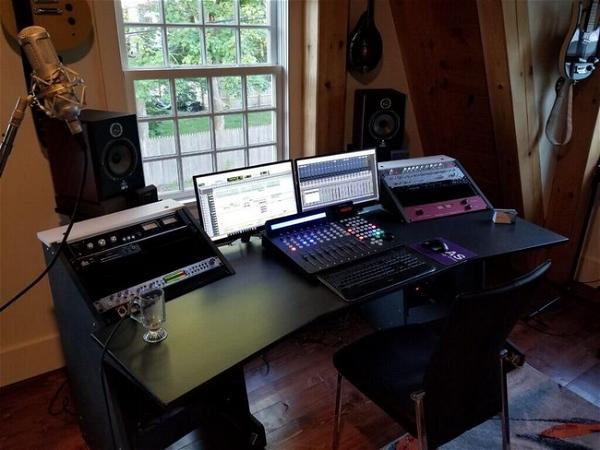 Rock Science's DIY Studio Desk is designed for those who need the desk, storage racks, and room for the computer monitors to all sit together in harmony. From guitars and amplifiers to studio compressors, with this desk, you have space for practically everything. The 16u side rack, another 16u below the desktop, external power station, and plenty of room on top of the desk are keys in creating a studio space. The tabletop is in between two racks and is raised slightly higher than the main surface of the desk - this way, you can enjoy a nice room while not being distracted by sounds from other instruments such as your copy machine or air conditioning units!
Project details: rockscience.net
Recording Studio Desk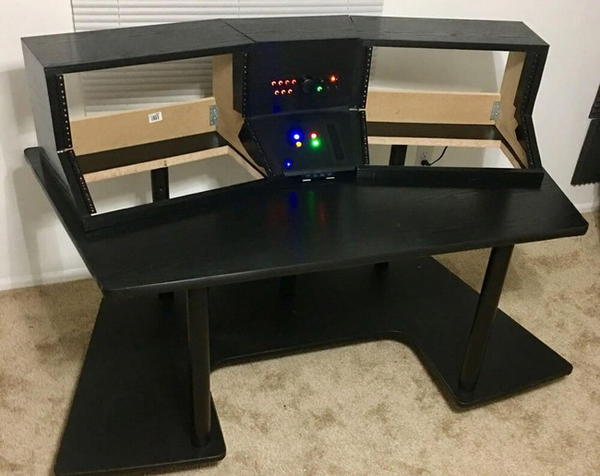 If you're looking for a unique piece of furniture, then why not become an astronaut for the day? A bit of sci-fi design, a dash of cool lighting, and a hint of nostalgia – just what you need to forget about your worries and spend an evening in bed watching your favorite films! The spaceship-styled studio desk is suitable for composing songs and films, watching films, reading, and browsing the Internet. It can also be used as a bedroom desk. The button switch makes it convenient to use the LED lamp, which can save you money while it is energy-saving.
Project details: playingwithgear.com
DIY Studio Console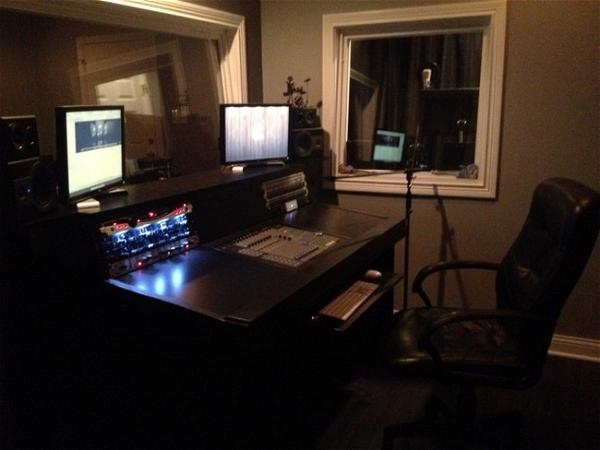 Looking for an inexpensive and substantial desk that is worthy of being placed in your mix of music. This DIY Studio Console is designed for you. There are two storage compartments on the two sides of the console desk where you can put your supplies, especially snacks or important items. This console, as one of the most important equipment in music workstation, You can put it anywhere at home to use it for studying or working.
It is a studio desk that is professionally designed by DIY Pimax. It will provide the best working experience for you according to your demands.
Project details: timsaudiocorner.wordpress.com
Another Ikea Studio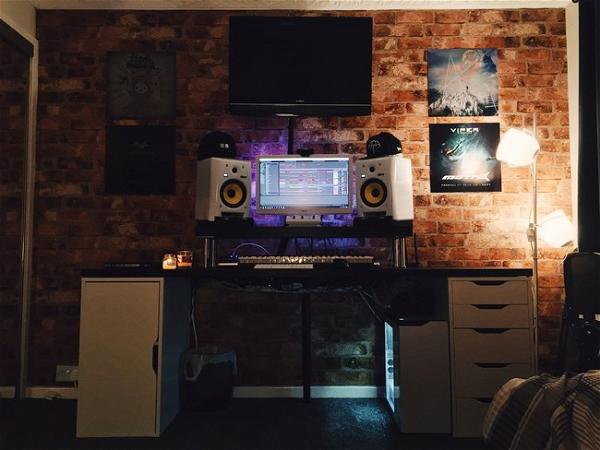 Looking for a desk that inspires creativity and productivity? Look no further than Ikea Studio. At 41" wide, this amazing desk offers room for two monitors, a keyboard, and a mouse, as well as plenty of storage space for all your supplies. Its legs are made from recycled aluminum and its two drawers can be used for storing supplies or other office items. Bring your work to life with the Ikea Studio desk.
This storage unit contains lots of drawers, baskets, and shelves that allow you to store lots of different items. The Alex drawer unit is made of birch which looks beautiful. The Capita legs are available in a few colors allowing them to blend into any environment. The Lack shelf can be cut to make other parts too!
Beautiful Custom Built Desk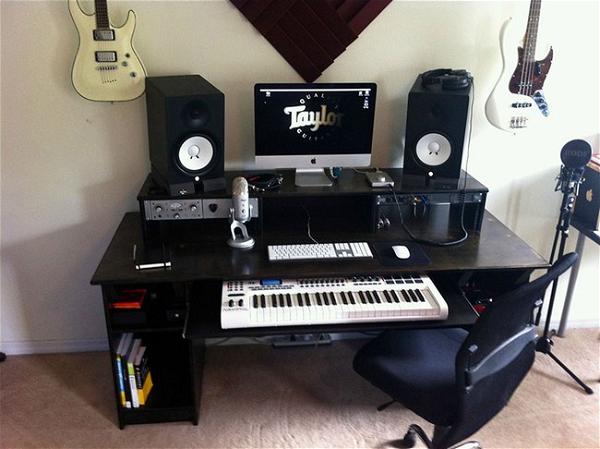 From the hand-rubbed antique finish to the crown molding and custom iron hardware, this desk delivers both aesthetic charm and unmatched function. The integrated shelves and media hutch hold a flat-screen monitor, gadget charging station, and organizer tray to keep media devices and office supplies at your fingertips.
Drop your computer in the desk's sliding drawer, layout wire, keys, documents, and more on the desktop surface, put your TV to work in the middle compartment, then stash papers and artwork in the two side drawers. We'll even add a slide-out shelf so you can run the wires for everything at once.
See Other Projects