Are you thinking about the best way to divide a shared kids' room? Or, do you need a temporary solution for a studio apartment? A room divider can solve all of these problems and more! They are a great way to multitask and maximize the space in your home. A room divider is an easy and affordable way to create a home office where there wasn't one before or just turn a studio apartment into one with a bedroom plus a living room. Here are unique and creative ways to use room dividers in your home, office, or studio. Instead of buying one, try these 40 DIY room divider ideas that can help create privacy, hide clutter, act as storage, and become a decorative focal point.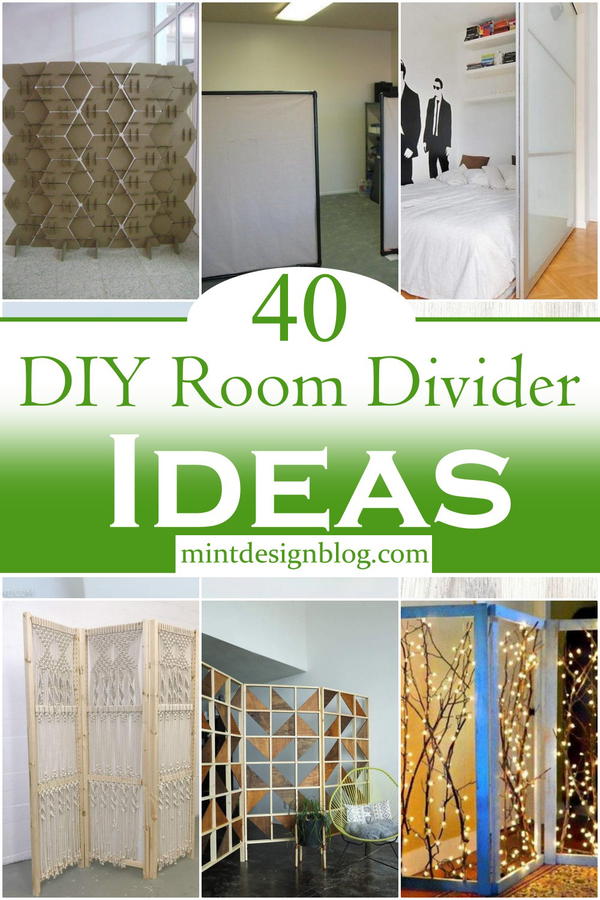 Room dividers are a great way to create a partition in your room and create a new room within the same space. They not only help in dividing bigger rooms but also help in managing small spaces by creating hidden storage and can also be used as a display unit as well. Room dividers can be made from numerous materials such as wood, acrylic, cardboard, or even metal. The right kind of material depends on the style of your home decor. You can also create privacy in an open space. DIY room dividers is a quick, easy and affordable project that works on practically any budget. Check out this list of 40 DIY room divider ideas to maximize your space.
There are 40 DIY Room Divider Ideas that will show you how to make pretty and practical room dividers, just find the DIY that fits your needs.
Benefits of Room Divider
Here are some of the most significant benefits of having a room divider:
It can serve as a partition between two rooms.
The room divider can help create separate spaces in an open plan room.
It can serve as a decorative element in any room.
They can be used as a closet and storage space.
It can provide privacy, especially if it has back panels.
When you have a lot of stuff and you live in a small apartment, using dividers is an effective way to create more space and make it less cluttered because you can use them to store your stuff.
Tips to Construct Room Divider
Making a room divider doesn't need to be difficult.
Here are some tips to help you create your own personalized one.
Start with the best supplies: You can pick up inexpensive items like bamboo or wood, or splurge on something more elegant like black cloth.
Decide how tall you want your room divider: This will depend on the purpose of your room divider. If you're trying to divide a small space, keeping it short and narrow will be best for convenience and ease of use. If you're looking to separate a full-sized room, opt for a taller divider that won't block views.
Want to add color? Add it with paint or some fabric swatches and go wild!
Decide if you want your room divider to be permanent or temporary: If you're looking for something that's easy to put up when company visits but comes down after they leave, try a pop-up option made out of cardboard. If you want something that's going to stay put, pick something that can withstand frequent use and regular abuse.
How To Make A Geometric Room Divider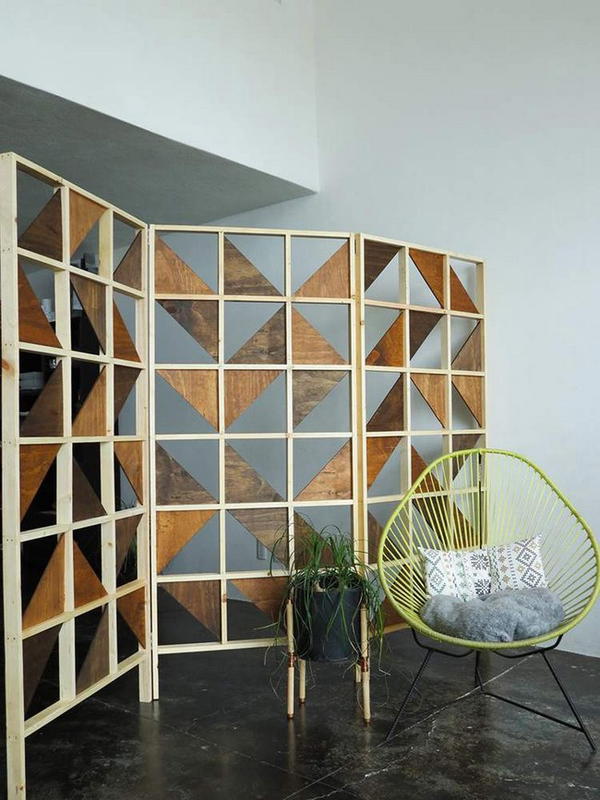 Transform your space into a multifunctional room with this stylish geometric design room divider. If you want a room divider that will give your room a more unique interior look because of the extravagant design, this project is perfect for you. This geometric design is simple, strong, sturdy, and inexpensive.  This project will give your room a more unique interior look because of the extravagant design on the frame, and it's so simple to do! Built with solid materials and easy to assemble, this room divider is perfect for adding privacy and decor to your home.
DIY Macrame Room Divider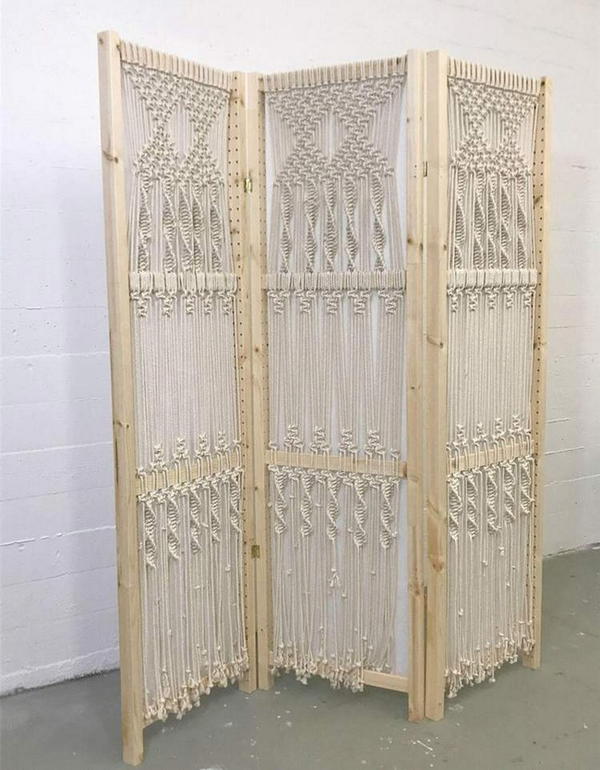 Macrame is the perfect DIY for creative DIYers who love fiber art. Create your own macrame room divider with this kit. Macrame allows you to express your creativity while you're at home, alone, or with friends. By weaving a vibrant rope pattern from the provided materials, you'll learn macrame basics and create a beautiful hanging decoration. Hang it in any corner of the house to divide spaces, create privacy, or simply add a touch of handmade decor. The Macramé Room Divider is great for hanging plants, or as an earthy accent in your home.
Cardboard Room Divider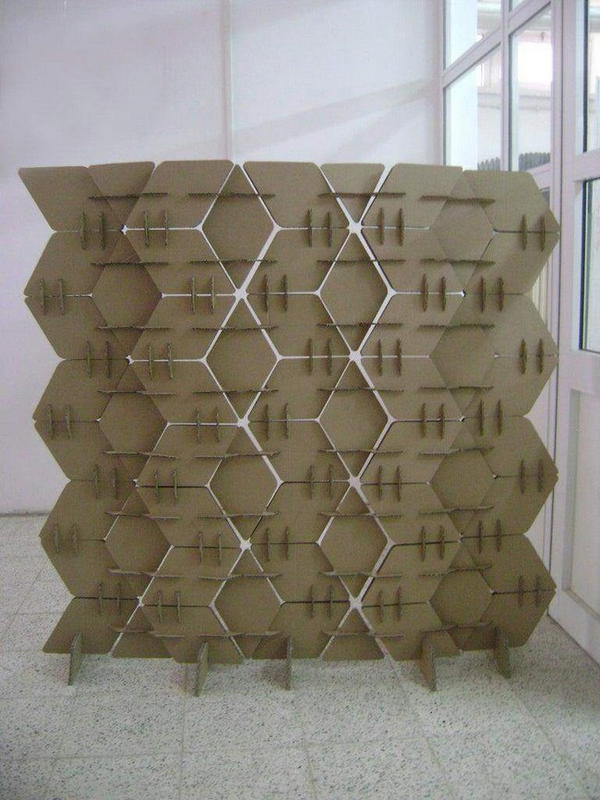 The easiest way to add a touch of style and privacy to your living space is with this long DIY Cardboard Room Divider Kit. The jumbo kit simplifies the project, making it quick and easy. Simply customize and assemble the room divider to your liking. Easy enough for anyone to take on, the low-cost and lightweight room divider is a perfect addition to your home or office. This DIY room divider is meant to be temporary, but it still provides an easy way to add some style and definition to a room. It's made using simple cardboard boxes that you can paint or cover in fabric, so feel free to customize it as much as you want.
Twinkling Branches Room Divider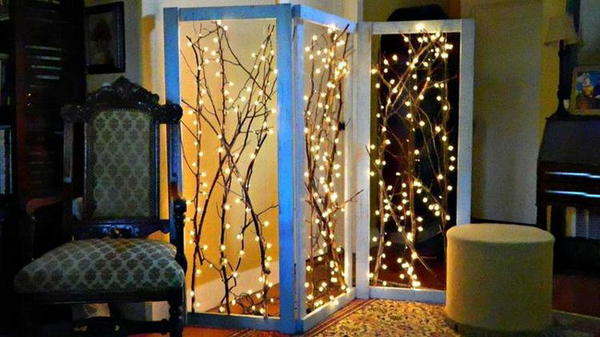 A stunning room divider fashioned from nothing but branches and LED lights, the Twinkling Branches Room Divider is an elegant way to divide space and add privacy to any room. You'll love the soft, warm glow of these atmospheric DIY twinkling branches. This is the perfect way to add a peaceful glow to your space. Use twinkle lights and faux branches to create a magical zigzag frame that will transform any room in your home. Despite looking like a piece of art by itself, this project is easy to make and you'll have fun crafting. Use it as a room divider, or hang it up as a stylish wall decoration.
Glass Room Divider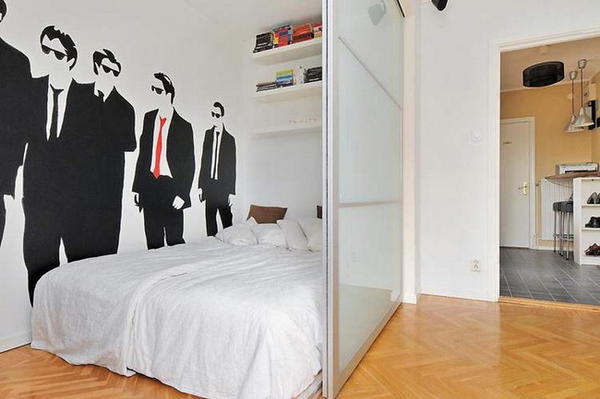 Try your hand at this DIY room divider project and give your home a new look! All you need is to make one door from IKEA's PAX sliding cupboard. In just a few simple steps, you'll have this foldable, cheap, and easy set-up room divider. If you're a beginner, this is one room divider project for you. This DIY glass room divider is sleek and practical, but don't let the professional quality fool you -- it's easier to make than you think. Your friends and family will be impressed. You're basically looking at a simple DIY room divider that only takes about 30 minutes to put together and is pretty cheap.
DIY Room Divider With Fabric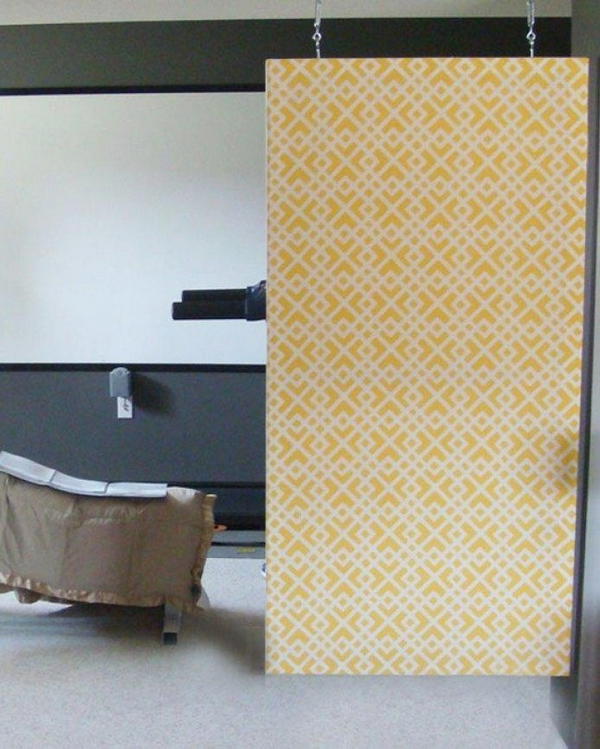 Divide your room in style with a Wallpaper Room Divider. This easy DIY project allows you to create an artistic feature wall, act as a sound dampener, and add extra privacy, all while showing off your creativity. This room divider project is perfect for an apartment or smaller space and can be customized to fit any area. You can find everything you need for this project at your local hardware store and in your household, so let's get started! Installation is simple and requires no framing or special hardware.
DIY Room Divider Wall
Whether you're building a stage for your band, a new closet, or even just a fun centrepiece for your living room, this DIY Room Divider is the perfect weekend project. If you want to create the perfect serene setting in your room, a DIY screen is a great way to achieve that. You can use any colour of paint you prefer and make a pattern or simply paint it all one color. All you need is three pieces of MDF boards cut to the same size, paint, and a couple of screws; then you are set to go.
DIY Room Divider
Help you create your own personal study or lounge space with this DIY room divider. Made out of durable wooden panels, the wall is not only easy to set up but also can be rearranged at any time or place. Great if you have limited living space or need privacy from other people in your home. This room divider will give you the privacy you need without costing a lot of money.
DIY Sliding Room Divider
A DIY Room Divider that can beautify your home is an easy-to-build project. The sliding room divider is not only functional but can also act as a unique design feature for your interior. The guide provides a detailed explanation of each process of the materials and this makes this suitable for beginners as well. It consists of charming blue curtains It consists of charming blue curtains, which you can use to create and customize your own room divider. Both the beautiful fabric and an easy-to-follow guide are included in the package. As this product comes flat packed, it can be easily translated into unique items and solutions that decorate your home.
DIY Japanese Divider
Dividers are a great way to add privacy and flexibility to a room, but store-bought dividers can be pricey. This DIY Japanese Room Divider gives you the space and mobility you need to complete your project. By creating multiple dividers, you will help to transform a large room into something a little more intimate. Start by assembling the frame, then spray paint the entire piece with a finish of your choice. Once it is dry, the room divider is ready to be enjoyed by you and your guests.
DIY Cheap Office Divider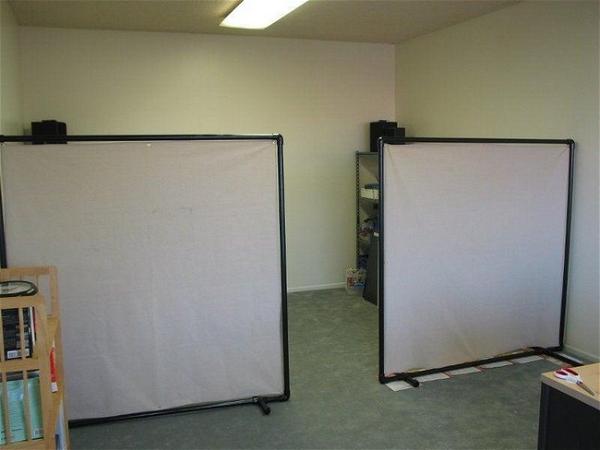 This room divider gives a refreshing feel to an office. It gives you privacy. Build a divider wall for your office or home with PVC pipes and easy drop canvas for fabric. All that's required is a drill, grommets, and hooks. Once the hooks are attached to the canvas, all you need to do is hook them onto the divider, as well as 'connect' the first and last corners using grommets. Use spray paint to customize your divider. This is a great way to get more privacy in the office, or create some extra rooms in your house!
DIY Room Divider Screen With Laser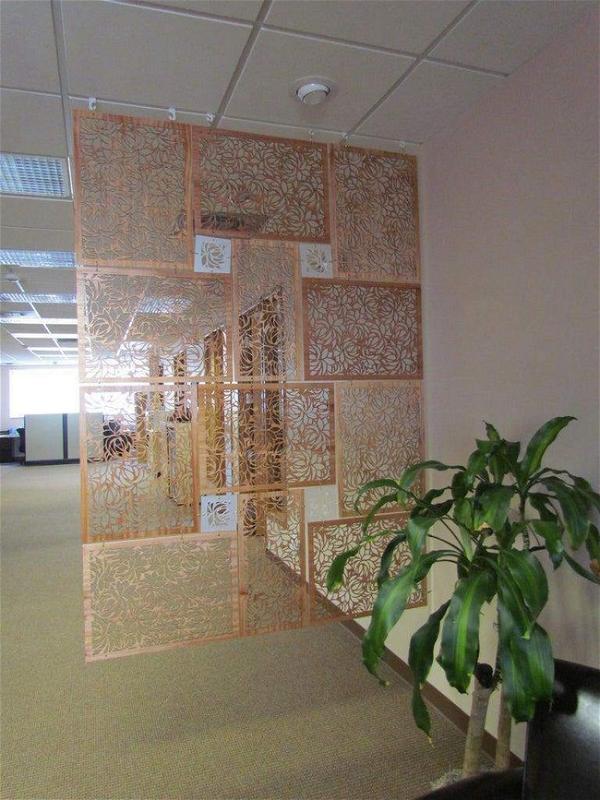 A room divider can create privacy in a small space, or define new areas in a large, open space. The beauty of the room divider, as opposed to a wall, is its impermanence. Installing room dividers is an easy project that takes a few hours of your time at most. A door can do more than keep out a draft. In the case of this DIY room divider, the folding screen's four repeating panels create privacy, define spatial zones in an open space (like a loft or studio apartments), or add a dose of interest to any room. Instead of leaving your doors—or your project fate—to chance, follow this guide below and find out how to repurpose them into a folding screen.
DIY Room Divider Under $20
Making a room divider is not only a great way to add extra privacy, but it's also a great way to organize your space. This is a DIY project that shows you how to make your own room divider from the everyday materials found in the store. The total cost of the project is cheap and saves you money, and only takes a few hours to make.  It can be used as interior decoration and it can be used as a space divider as well. It is made out of wood, so it can easily be painted to match your current décor. Most of the materials are available in any home center, but if you don't find them there, you should check with a trim carpenter for their availability.
DIY Room Divider
A wooden room divider is not only functional but also stylish and adds a decorative element to your home. These dividers are available for purchase, but why spend extra money when it's so easy to build one yourself? Follow this tutorial to make your own DIY Room Divider from scratch. All that's needed are some basic materials and tools like a hammer, nails, a drill, a stud finder, and some wood planks. You can hay paint them too and use tape to make patterns on them if you want.
 6ft Room Divider
When it comes to home decor, room dividers are a fine touch. They can bring organization and greatly improve a room's layout. Thankfully, making one isn't that difficult. Learn how to make a quick and easy 6ft wood room divider with this guide. Made out of wood and stained in your preferred color, this room divider is not only beautiful but easy to make as well. The best part? It's easy to carry and you can use it literally anywhere in your house or apartment! It is easy to build and move, making it a great option for temporary walls for studio apartments or rental homes as well.
How To Make Your Room Divider
Make your room divider more useful by building in three pockets for extra storage. This simple project is great for anyone who wants to have a beautifully designed room divider. The three-pocket construction allows you to place items of differing sizes and weights in each pocket, which means your room divider can be as specific to your needs. This simple project can easily be done in a single day, and with very few tools. All you need is a power drill, some Roman Ogee router bit, and a jigsaw.
IKEA Hack Room Divider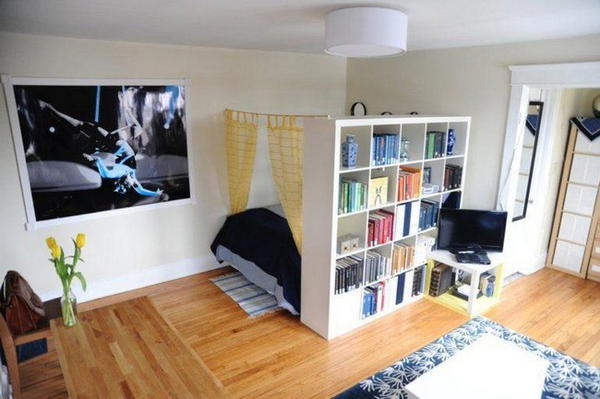 IKEA shelves are a very good item that can serve as a room divider. For example, if you want to transform your office or bedroom into several separate spaces and want them to be easily assembled and disassembled, then this product is just for you. It comes in a variety of sizes and configurations, depending on how you want to arrange it later. The bookshelf is made of particleboard and can be placed anywhere in the room. It is inexpensive and very versatile. Place it anywhere in the room and divide the space into two (or however many). It is very cheap and inexpensive.
Photo Room Divider Screen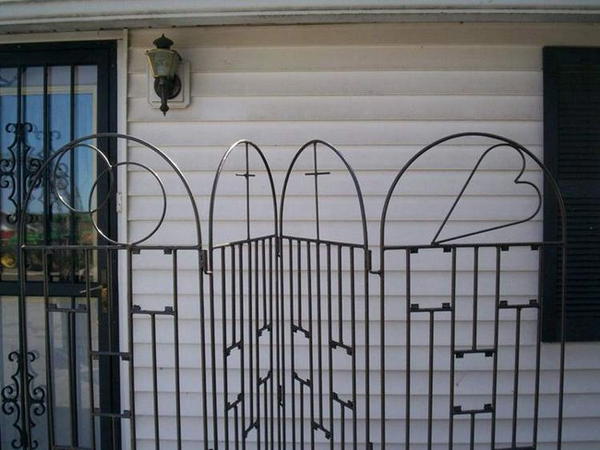 Need a simple way to hide your cooking-for-one prep area? Make this easy DIY photo room divider screen from a few PVC pipes, wood, and some photos. You'll have it whipped up in no time, and be able to quickly reconfigure (or remove) the divider when you need more space. Make yourself a present with this room divider project! This modern DIY tutorial is easily customizable, and you can make a basic frame out of inexpensive birch plywood and steel hardware. The photographic image is printed on fabric and mounted over the frame. The finished pieces are easy to transport, so you can re-use them again and again!
DIY Hula Hoop Divider
A quick and easy Hula Hoop room divider, made using hula hoops attached to a lightweight wood frame so you don't need professional tools or carpentry skills.  All you need is some wood, hula hoops, some brackets, and zip ties. You can use any paint color to customize the divider to your taste. This divider will liven up your living space or bedroom and provide an easy way to create privacy in a shared room. For those who have limited space in the apartment or house, this is the perfect DIY project to have a room divider without spending a huge amount of money buying one.
DIY Folding Screen Room Divider
If you're looking to add a little privacy to your shared living spaces, or just want to hide a corner of a room, this folding screen is the simplest way to make this happen. And if you wanted to get really crafty—and keep on branding your space—you could paint the boards with chalkboard paint, too!
Enjoy your privacy in style today with this panel Folding Screen Room Divider. Perfect for use indoors or out, on your patio or decking area, this heavy-duty screen room divider is both stylish and functional.
How To Divide A Room With Floor Mats
This is made from an IKEA  floor cover. The floor was very strong and sturdy and it was simple to assemble. Stand the long spread mat upright and install it in the desired location. It's a nice thing to divide my room into two areas. This is a DIY  guide on how you could use floor mats to divide a room. The floor mats in question are strong and sturdy and were very easy to assemble. They are the perfect tool for dividing a room.
DIY Wood Pallet Room Divider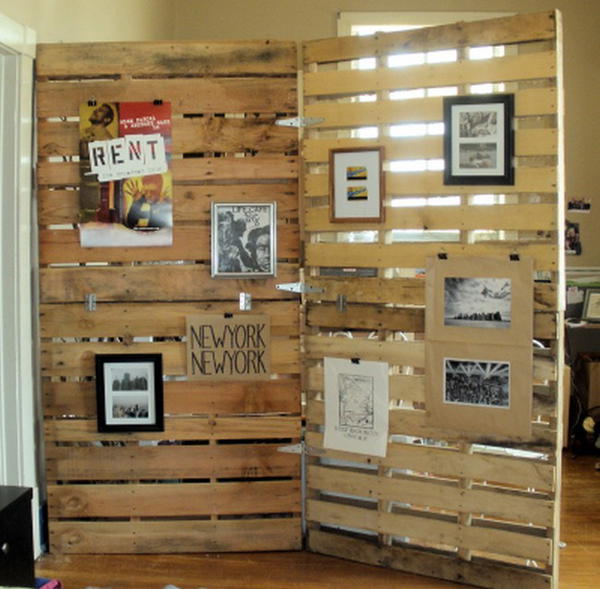 This DIY pallet room divider is a great way to help your home multifunction over its square footage. With pallets, you can make a lot of things, including a room divider! Made from recycled materials, this fun project can be added to any room in your home for that little extra something. It is easy to disassemble and reassemble, so anyone can do it. The creator started by dismantling the pallets and removing every nail or hardware from them. Then, he prepared the pieces of wood and stained them before reassembling them into a room divider.
Steampunk Tri-Fold Room Divider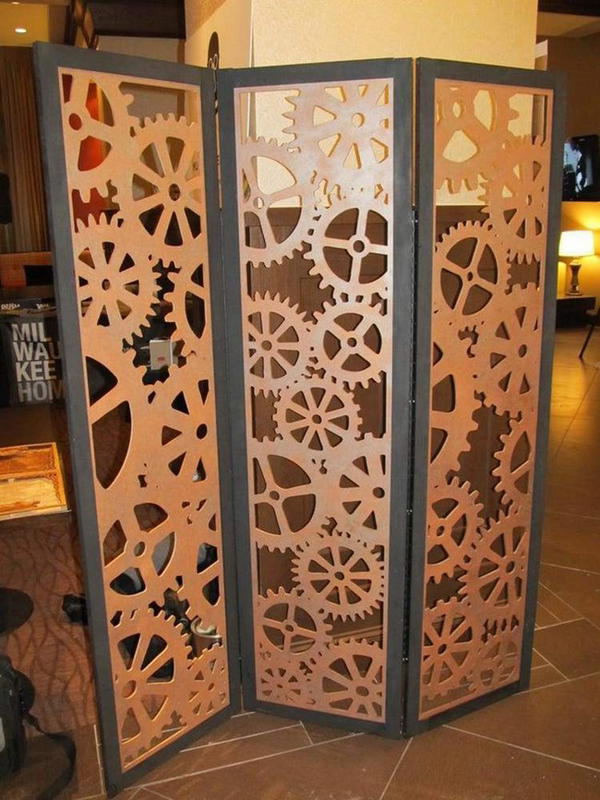 Looking for something to hide the mess in your fancy study? The folks at Lowe's have come up with this simple, Steampunk-style room divider that can be made out of a bunch of easy-to-find materials. This unique tri-fold decorative room divider will make a statement in your home. With a steampunk design, this room divider offers privacy while adding visual interest to the space. Using metal for your room divider will give it a more industrial aesthetic, which is perfect if you have modern furniture and décor in your home. Follow this guide and yours will be ready in just a few hours.
DIY Room Divider
With this simple set of curtain rods, wall brackets, and curtain fabric, you can make a room divider for your home or apartment that's ideal for dividing bedroom or living space out from the kitchen in a studio apartment. Making a room divider can be a great way to separate your living space into different areas, especially if you live in a studio or larger apartment. Check out this tutorial for an easy to follow guide on how to do it effectively. Give it some style with fabric that matches your decor.
DIY Rope Wall Room Divider
A room divider is a great way to divide any room into two. This DIY Rope Wall Room Divider is an update on the classic bead curtain that incorporates both solid and opaque materials. It's also a great option if you're looking for a less permanent solution that lets light through. This simple project is easy to make, requires just a few materials, and can be made for any space and in any color, so it will match any aesthetic. Plus, it gives you a place to hang the jewelry you forgot to take off before bed.
Room Divider DIY
Do you have a large room and no way of dividing it? No worries, this tutorial shows you how easy it is to make a simple inexpensive bamboo canopy.This is such a cool and versatile way to separate two areas that are not easily separated. If you are looking for an idea to give your home a bit of contemporary fresh look and feel by adding a quick and easy room divider then this is the perfect project for you. It will turn your room into a chic sanctuary in no time!
DIY Simple Rope Divider
You'll be able to learn how to make a simple room divider that uses a rope across the front and back. This is a lightweight wood structure with a thick rope that can hold it together. This is an easy project that doesn't take many materials, just some wood and rope. Cut the lumber to size and make grooves in some of the wood pieces. Then you can start assembling the wood pieces to form the room divider. It's incredibly easy to make and it will add charm to any décor!
Building A Room Divider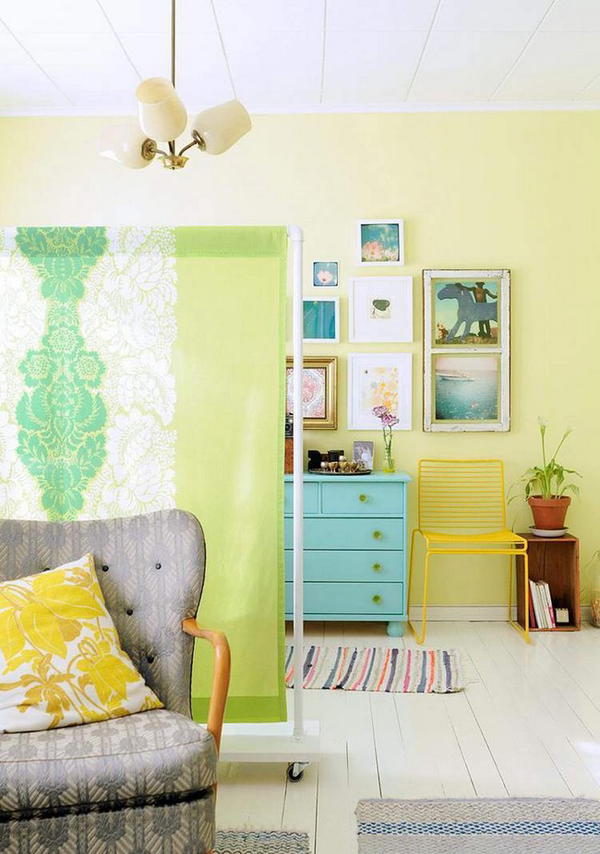 Create a stylish room divider using inexpensive materials such as plywood, pegboard, and eye bolts. This step-by-step guide will walk you through how to cut your own panels, build a stable frame, and use eye-screws and wire to securely hold the separate panels together to form an appealing room divider. For those of you wondering what a room divider might be used for, it's a great way to divide your space and make the room appear more whole. It can also be used to create more privacy or even as a place to display art.
DIY Multifunctional Room Divider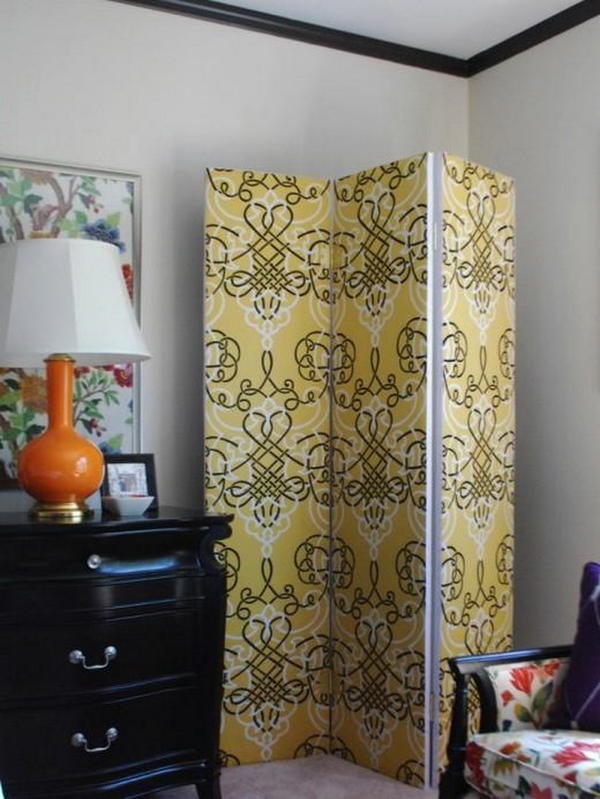 Add a splash of color to any room with this creative room divider! Featuring an interior black chalkboard, the inside of this unique room divider not only serves as a partition but also provides functionality. The outside colors are completely customizable, and the design can be resized to suit your needs. You will need wood, nails, wood glue, different colors of paints, sandpaper filler, and black paint for the chalkboard. This multifunctional room divider allows you to divide any space in a split second without the need to purchase new furniture.
DIY Bi-Fold Room Divider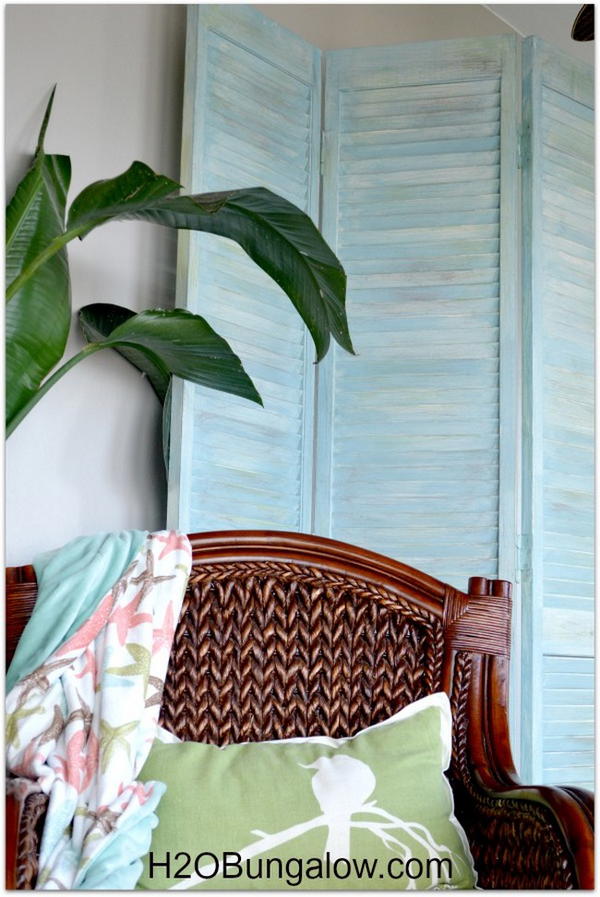 This bifold door room divider is made by placing two doors together, which makes a door larger than the standard door size. A paintbrush is used to cover the doors with white primer, followed by gold paint that's mixed with water to create a matte finish. Mounting hardware and hinges are attached to the back of each panel, followed by the trim on the inner edge of each panel if you choose to use it. This allows you to divide your bedroom if you don't want to make a permanent wall. Paint and customize the door, then add some furniture.
Sheet Music Decoupage Pax Room Divider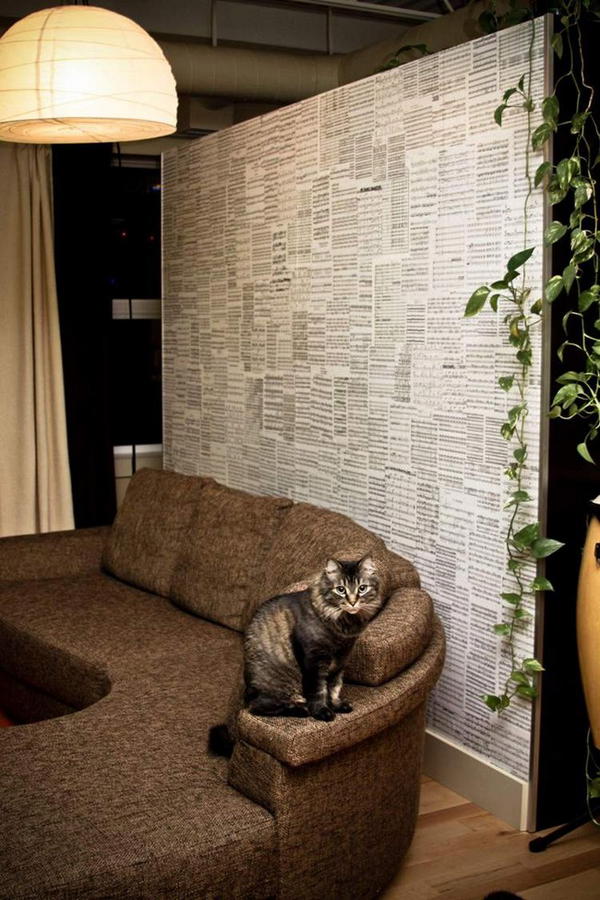 This pax room divider is so simple it's almost unbelievable. You may have a really wonderful room that is divided into separate areas. The problem with a nice room is that you miss out on the fantastic open feel of a single space. If you enjoy the open feel of your room but want to divide off certain areas, a great solution is to install a pax room divider. This is made from recycled boards, screws, primer, and white glue. Paper, foam brush, wood or metal trim, and adhesive are needed to complete the project.
DIY Room Divider
Screen your space with a fabric or paper room divider, like this one created from an electrical conduit and fabric. You'll be amazed at just how flexible these materials can be! Home decor is expensive and oftentimes hard to do on your own, but this video will teach you how to make a room divider with just fabric and an electrical conduit. It is incredibly cheap, easy, and very stylish! To build, bend an electrical conduit into a circle and then screw it to the ceiling. Staple fabric panels to a long piece of wooden molding and, using the wiring kit with hooks, hang it from the conduit or screws.
DIY Room Divider For Small Rooms
Divide your room with a DIY hanging divider! First, measure the size of your room and cut the tent material to create your desired height. Use wallpaper or other crafting supplies to decorate your room divider as you wish with paper, fabric, or any other materials. Finally, hang your new room divider from the ceiling for instant privacy! This simple how-to guide will show you how to create a beautiful, cost-effective divider in less than two hours.
How To Build A Room Divider Closet
Room dividers are a wonderful addition to any space in your home, making it easier to separate the space while still allowing light to pass through. They're great when you don't want to put up permanent walls and need a way to divide the room. So many storage ideas use up so much floor space, or worse yet, they make your room look messy and cluttered. Instead of adding more storage to a room by taking up floor space, you can build this easy overhead storage shelf unit to keep all of your stuff hidden but close at hand.
How To Build A Simple Room Divider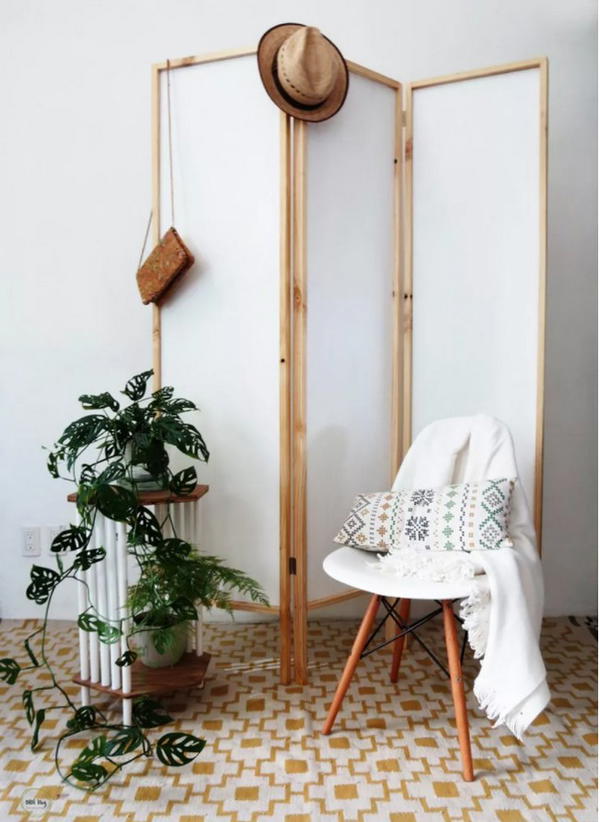 A room divider can act as a makeshift wall, helping to separate your space into distinct areas. If you're on a budget, or are renting and want a more temporary solution, you can make one yourself with inexpensive materials that fit your space and decor. Use this step-by-step guide to building a simple room divider perfect for apartments, small homes, studio spaces, or dorm rooms. The room divider is a foldable white stained wooden room divider. The most interesting thing about the material that is used in making this kind of furniture is that it can be used in different places in the house.
DIY Woven Room Divider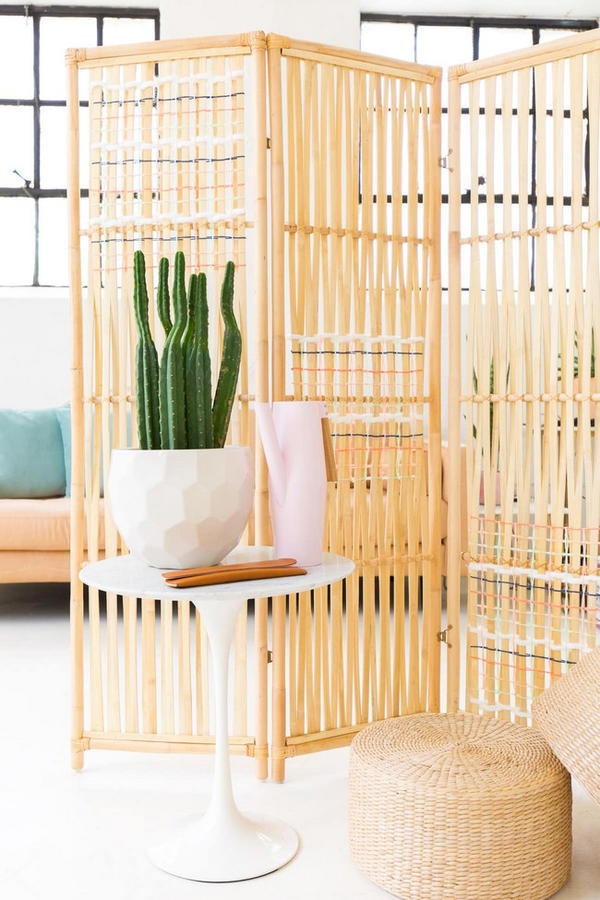 Add privacy and texture to your space with our easy, do-it-yourself woven room divider. When hung from the ceiling or doorway, the wood dowels create a beautiful bending effect. This project is easy enough for anyone to tackle, even novice DIYers. Decorate your space in a unique and playful way with a DIY Woven Room Divider. It adds texture, color, and interest to any room, and makes an easy weekend project that you can finish on your own time. You'll want to hang one in every room once you make your first!
DIY Room Dividers
DIY Room Dividers are a great way to break up a space and make your space feel bigger. This beautiful DIY door divider is the perfect way to divide any space! The best part is that it can be customized to fit your unique style. Ready in just a few hours, this divider is crafted from used doors that are recycled and refurbished. A creation that you will definitely be proud of. Use them in your office, to create a dressing room at home, or even in a studio apartment. These DIY Room Dividers will give the illusion of separation while still keeping the open feel to a room.
Build a Hinged Room Divider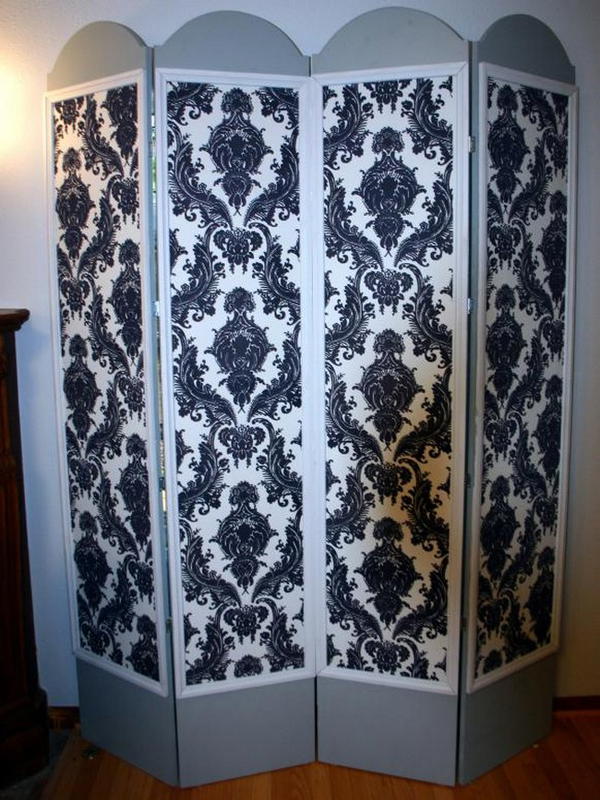 Oh-so-stylish, so very useful, this room divider has it all. You can make it yourself from just one sheet of plywood, and the large hinges allow you to fold it open or closed in just seconds. Transform your living space with this DIY hinged room divider. Whether you live in a small space or just want to create the illusion of division, this removable room divider allows you to easily and quickly alter the look and feel of your home. Make it out of fabric, felt, or leather for a more luxurious feel.
Folding Screen And Room Divider
This elegant folding screen will add a decorative touch to your room. This handy, stylish, and durable divider can be used in many different ways. Of course, it can help to define one area from another but if you have an office or even a bedroom in a loft where the space is separated by drapes or curtains, this folding screen can make that area more private. In addition, there are many educational and artistic uses for this folding screen, such as on a stage for performers needing to change outfits quickly.
Build Your Own Room Divider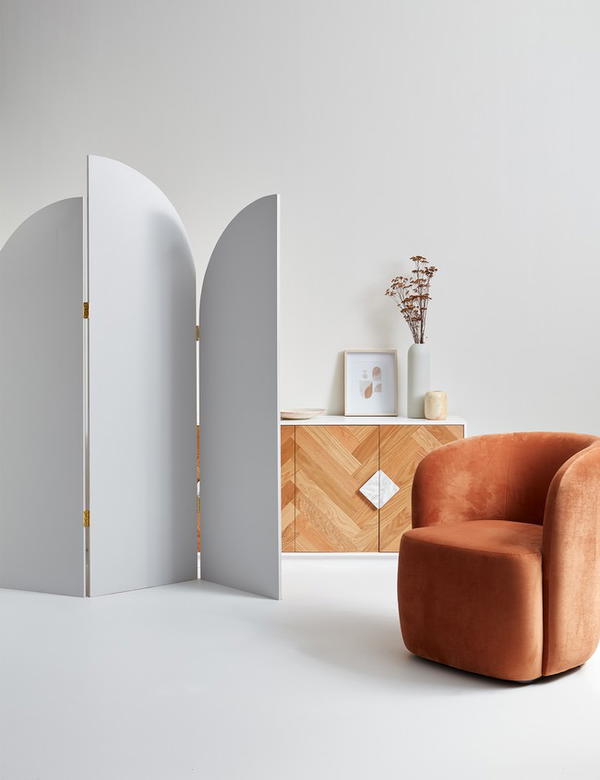 Featuring stylish, magnetic hinges and a simple, yet striking design, this room divider can be tailored to suit the look and feel of your home by choosing the stain and color of the screen. Create your own folding screen for the room – perfect for dividing space or adding privacy, and in a color to match your décor. This screen will add heaps of character to your home, whether it's used to section off a hallway or simply hide a bookcase. Go crazy with different stain options to match your home décor. Paint it any color you like or use wood stain. You could even add a funky pattern or decorative fabric panels.
See Other Projects