Whether you like to admit it or not, medicine cabinets are an important part of most bathrooms. You can pay thousands to buy, or you can spend an afternoon and make your own. The possibilities are endless when you're the sole designer of your own cabinet. Do what works for you! Proper bathroom storage is essential for any busy bathroom. These 25 DIY Medicine Cabinet ideas will keep your toiletries hidden yet easily accessible. Keep your space organized by creating a new medicine cabinet, adding shelves and hooks to an old one, or just ensuring that the space is being used as effectively as possible.
DIY Medicine Cabinets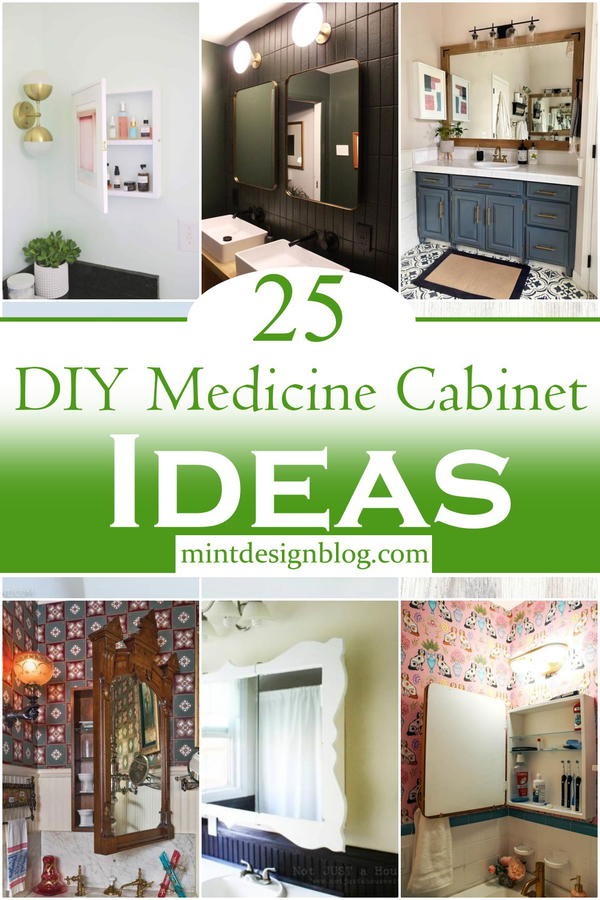 Medicine cabinets are a helpful addition to your bathroom. They're great for storing toothpaste, floss, and other bathroom essentials. Medicine cabinets can also be used as storage for extra towels, washcloths, and toilet paper. If you have a small bathroom, you can really make it work in your favor by installing these 25 DIY Medicine Cabinets. It is an easy way to add space to your bathroom without having to do major renovations. When you're done installing the cabinet, you'll have more space for all of your bathroom essentials. Whether you're installing a new medicine cabinet or replacing an old one, this project is easy enough that any DIYer can handle it.
Things To Be Kept in mind while Making Medicine Cabinets
There are two primary uses of medicine cabinets. First, they provide a place to store medicines and first aid supplies. Second, they allow you to store soaps, lotions, and other cosmetics where they will be easy to get to. Some people use the cabinets in the bathroom others in their bedroom.
Before getting into the specifics of making a medicine cabinet, there are some general things you need to know.
First, you need to decide where you want your cabinet located. You will have to have access to an electrical outlet for the light. If a mirror is part of the plan then you will want it in a place where it can be seen from different angles. If not, then it can go anywhere that is convenient.
Second, what size do you want your cabinet? The answer will depend partly on how many items you want to store and which ones. Third, what kind of look do you like? If it's going in the bathroom then maybe it should match the theme of that room or at least not clash with it.
How To Build A Medicine Cabinet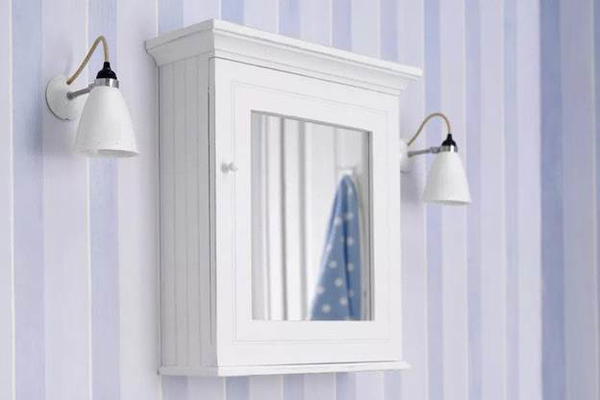 This tutorial will teach you how to build a medicine cabinet in a single afternoon, using simple and inexpensive materials. A white medicine cabinet is a great way to add functionality to your bathroom while keeping it looking modern and sleek. This DIY medicine cabinet is made out of pinewood, brackets for mounting and molding. It is unique because it is sleek and perfectly white. You can make it from scratch using a cut list and following the directions carefully. The completed cabinet mounts to the wall with brackets. To make it, construct the frame and attach the molding. Build a door that mounts onto the face of the cabinet with hinges.
DIY Recessed Medicine Cabinet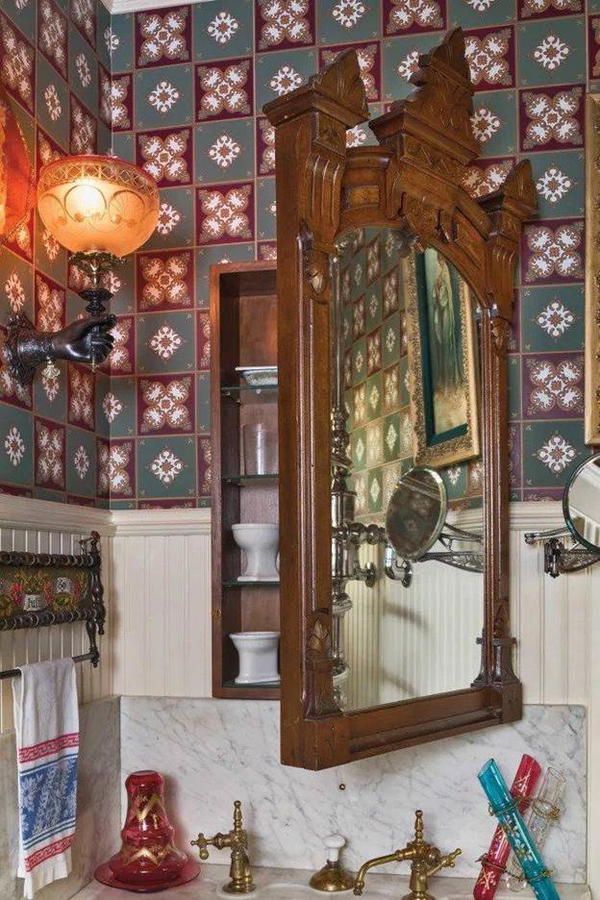 Sometimes it's hard to find the right size medicine cabinet for your bathroom. A recessed one is nice because it gives the wall a clean look, but you have to find the exact dimensions in order to fit the space. This DIY is a solution for how to create your own custom medicine cabinet that is exactly the correct size for your needs. This example has two compartments for increased storage space plus an actual Victorian walnut mirror that gave this cabinet a glow with its natural wood tone. Bathroom storage doesn't come in many forms, and DIY recessed medicine cabinets are best for small spaces. This night grays cabinet is a custom-designed creation made to fit the space between two studs perfectly. It's a handy way to add extra medicine cabinet storage without cutting into drywall.
How To Build A Bathroom Medicine Cabinet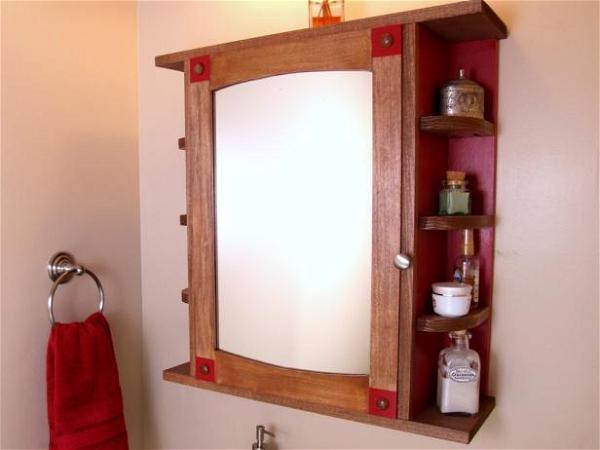 This cabinet uses a common pine board and can be built on a weekend. It is raised above the reach of children and has two shelves for storage. Put your pocket-hole jig to work with this project. First, cut the sides, bottom, and top from ¾" plywood, and then cut the back from ½" plywood. Next, use a straightedge and utility knife to cut the plastic laminate for the sides, bottom, and top. Apply glue to the laminate and attach it to each piece. Once the glue has dried, apply edge banding around all of the exposed edges. Use screws to assemble.
DIY Hidden Medicine Cabinet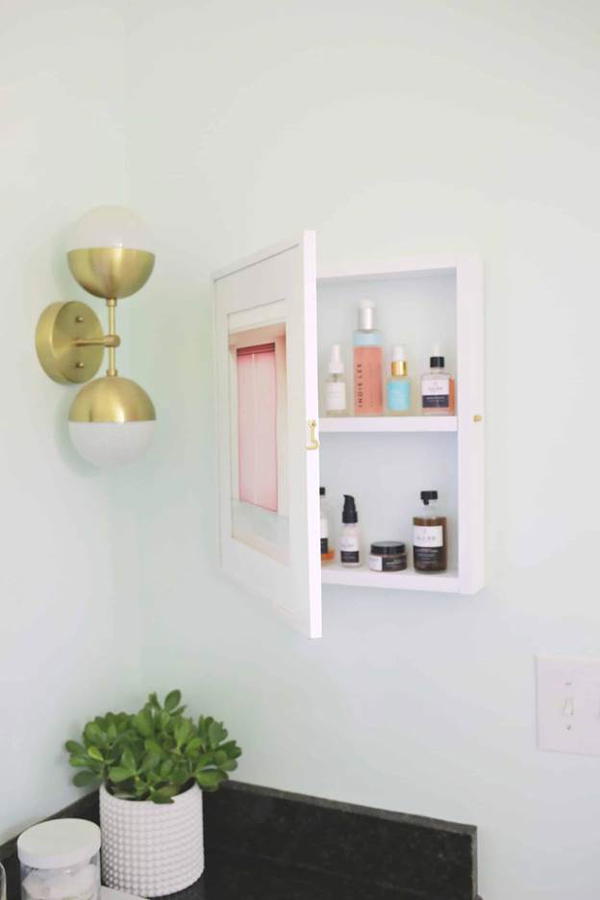 Keep all your medications organized and out of the reach of children with this DIY medicine cabinet. It is easy to install, matches any decor, and easily fits into the space between studs. You get two interior shelves to keep you organized, which can be kept behind a door that looks just like any other wall once closed. The DIY cabinet offers you the opportunity to have a place for your beauty needs or a place to stash your medicines. Conceal your products from kids, guests, and prying eyes with this storage solution. It's stylish, too! A recessed medicine cabinet provides better organization for medications, cosmetics, and toiletry items. Interior shelves are adjustable to accommodate items of different sizes.
Medicine Cabinet With Mirror Door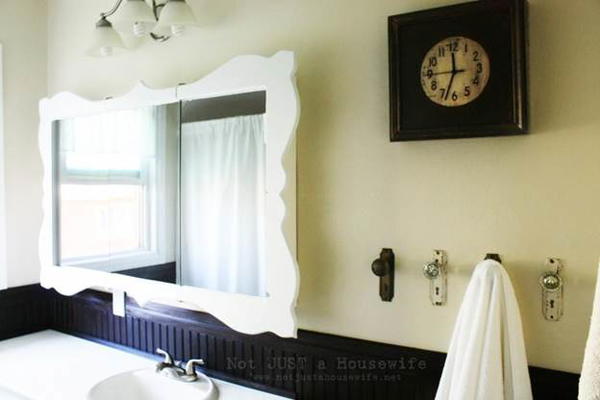 This attention-grabbing DIY medicine cabinet is easy to make and a great way to add interest to any bathroom. It's constructed from reclaimed wood, old screen porch balusters, and a mirrored door. This beveled mirror makes a handsome frame for itself and any other wall art you choose to display above it or nearby. The interesting thing about this DIY medicine cabinet is that you'll never know it's there--until you need it. Made of wood, the cabinet is disguised as a wall-mounted, framed print (you can also use wallpaper!) that opens to reveal a hidden cabinet with shelves for storing medicines and first aid kits. After you've installed it, watch it become a true gathering place for toothbrushes in the morning!
DIY Medicine Cabinet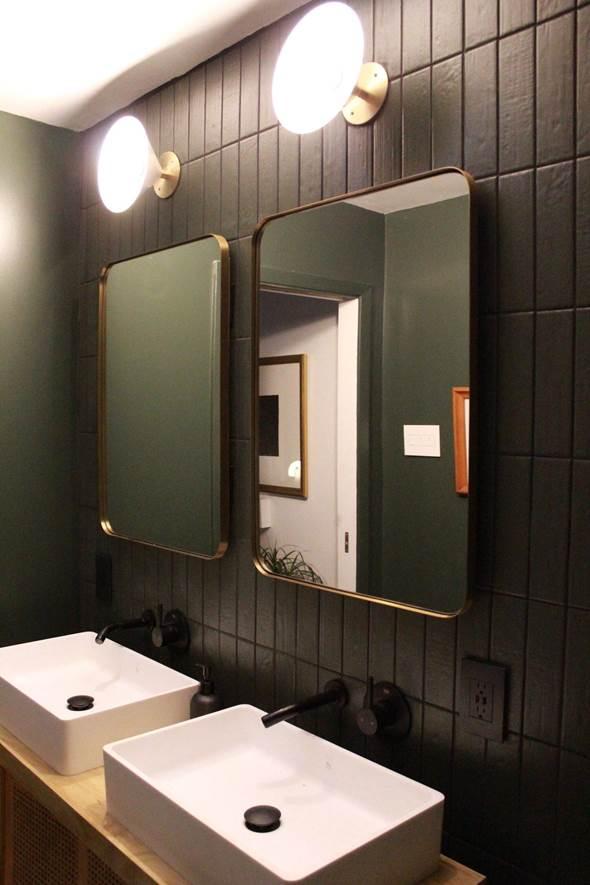 Need a good place to store your medicine bottles, lotions, and other toiletries? Want a spot to hold your flat iron when not in use? This DIY medicine cabinet may be just the solution. The medicine cabinet is made of half-inch thick plywood and a mirror. Perfect size for storing toiletries and medicines. This DIY medicine cabinet is a clone of one that incorporates a mirror into the door it is also recessed, so it gives the room the illusion of being larger than it really is. It is also good because you can do it yourself at a far less cost and it will be much better if you make use of your skills and resources. This DIY cabinet is a perfect addition to any small bathroom. It's easy to build and adds additional storage space for toiletries, medicines, and cosmetics.
DIY Picture Frame Medicine Cabinet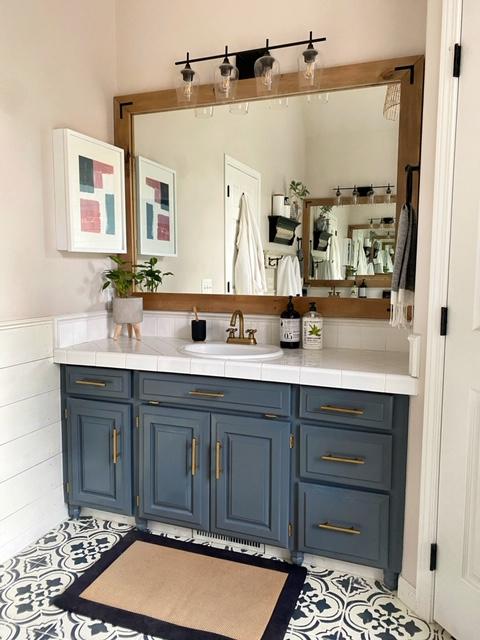 Looking for a medicine cabinet to install in your bathroom. This is the perfect DIY project if you're a handyman and have some spare time on your hands. To make this easy project, you need wood, glue, screws, shelf pins, and a magnet. Just cut the wood to size, add shelves where needed and paint everything with quality paint. The design of the cabinet depends on your own preference. You can make it with current handles or add new ones.
The DIY Medicine Cabinet is a highly customizable project. Use your existing bathroom mirror, or replace it with one that fits the cabinet design. And with a magnetic closure, you can create a clean look on the outside as well. The slight overhang of the cabinet helps keep water away from wood and adds a level of sophistication to this project.
How To Make A DIY Medicine Cabinet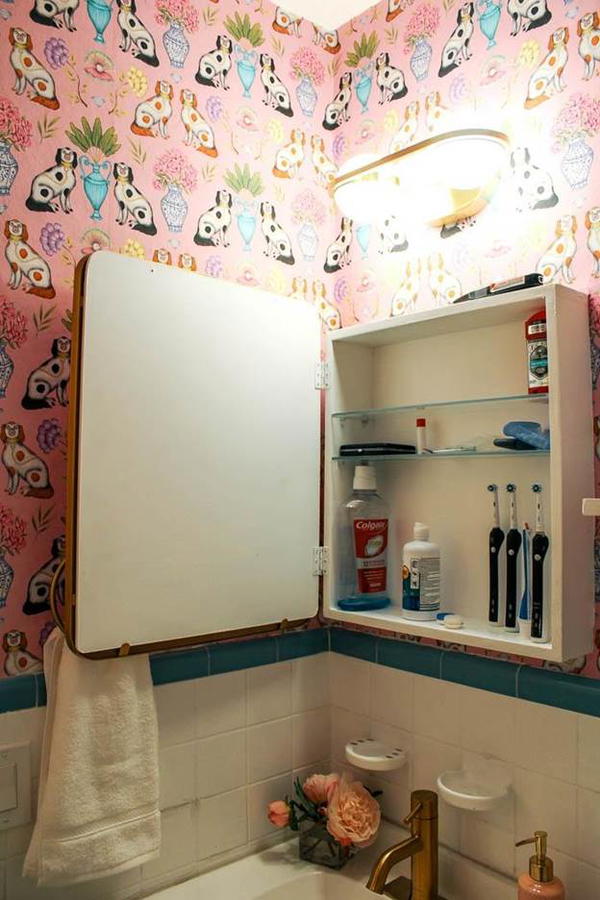 A big part of homeownership is maintenance and repair. Prevent your toolbox from overflowing by learning how to make a DIY medicine cabinet, an important part of your bathroom. And Get rid of those ugly medicine cabinets and make your own cabinet that fits in with your bathroom decor. Add storage and style to any space, no matter how small, with a DIY medicine cabinet. With just a mirror and a few boards, you can build one in no time. All you need is some paint, wood, molding, and basic tools to create this custom cabinet and the result is beautiful. This medicine cabinet is easier to build than most-the simple beveled frames creating the mirror effect, with contrasting edges for a clean, modern look.
7. DIY Wooden Medicine Cabinet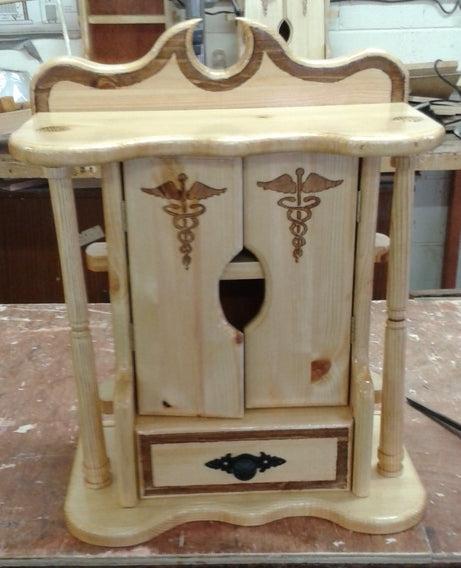 Make your own medicine cabinet with this detailed guide from realtor.com. It's easy to create your own design, and you can create a place that is unique to your home at a fraction of the cost of buying new. So grab some wood, grab your tools and get ready to build. It's a great weekend project. Enjoy life with your own original wooden medicine cabinet! This detachable wooden DIY medicine cabinet is creatively captured. The exterior of this wooden cabinet is classy and attractive. This DIY Wooden Medicine Cabinet is a creative and classy design. The exterior of the cabinet itself is a beautiful hand-created pallet styled front with a natural brown and grey finish. The interior is solid white and has smaller shelves to fit different-sized items. It's easily portable, easy to assemble, and in less than an hour depending on the style you're going for!
Reclaimed Wood And Plastic Medicine Cabinet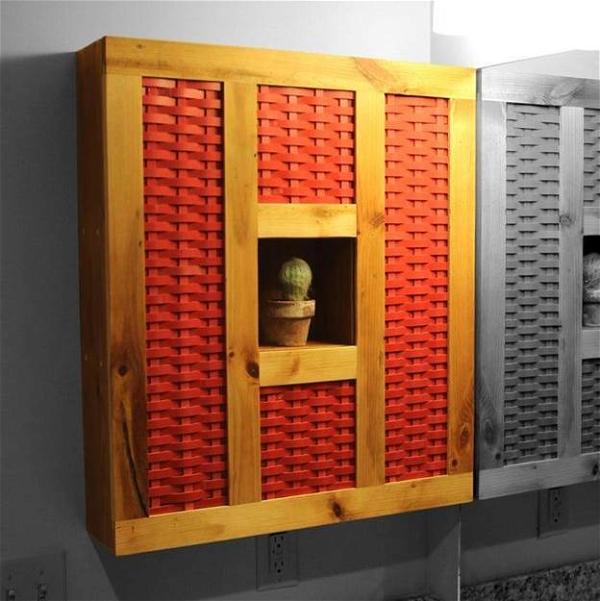 Revamp your bathroom with a boldly reimagined medicine cabinet. Made from sustainable reclaimed pine, this design features striped slats of PVC wicker to create a modish accent in your space. Featuring magnetic closures, it's just as stylish on the inside with three adjustable shelves and beveled mirrored surfaces. The environmentally wood is kiln dried and carefully sanded to preserve its inherent beauty. Give your bathroom the ultimate makeover. For a fraction of what you would pay for a store-bought medicine cabinet, you can make one yourself from reclaimed wood and plastic. And if you're a beginning woodworker, it's actually easy! These additional storage solutions give you room to display more of your favorite accessories and toiletries and keep the clutter away.
DIY Modern Medicine Cabinet Makeover
If you love your old medicine cabinet, but feel it looks a little outdated and time to give it a makeover, here's your DIY project! Take some time with the process of sanding and staining. Good luck on giving your old medicine cabinet a beautiful new makeover that everyone will be sure to notice! This do-it-yourself modern medicine cabinet is an easy, weekend project that creates tons of extra storage. It has all the charm of a traditional bathroom cabinet, but a more efficient and modern design. The sliding doors were made from plywood instead of a mirror to get rid of the reflection and give more shelf space inside.
How To Build A Large Medicine Cabinet
A medicine cabinet is a spacious storage utility that can also help with bathroom organization. A well-built medicine cabinet not only looks great in the bathroom, but it could last for generations. Make your crown holding. You can either use the studs or not. This project is just a small tutorial and a basic idea to demonstrate how you can also build large medicine cabinets. It's an easy way of building this because there are a lot of things to fit in. Here's how to build your own Large Medicine Cabinet from scratch. Cut and arrange the pieces to fit inside the space in your bathroom. Assemble the pieces together and use a stud finder to figure out whether you can use studs or not to hold them together.
How To Make A Wooden First Aid Cabinet
Every home is meant to have a first aid box because emergencies don't always tell when it wants to come around. It's always best to be prepared for every eventuality. Many accidents occur at home, and straightening up is often difficult. A first aid box reduces the chance of infection and helps to keep the wound clean. It's always best to be prepared for every eventuality. Using pinewood makes it easy to cut or drill holes because it is smooth and soft. Make sure you read and observe all safety precautions when working with a saw. Making a First Aid Box out of wood is a great way to get organized. It's a huge asset to every family, and you can easily sew together your own simple version to keep everything organized with easy access.
Vintage Medicine Cabinet DIY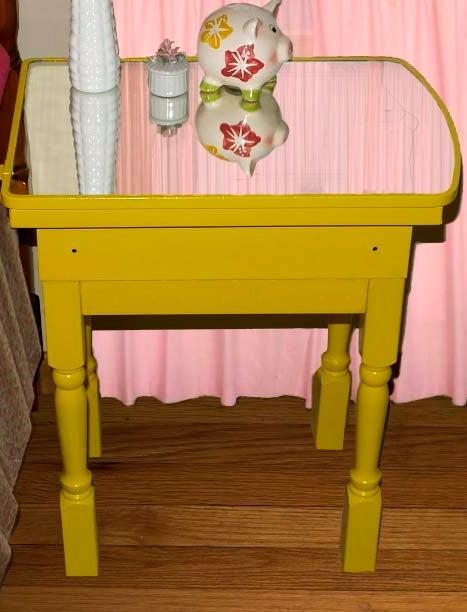 Here is a simple design of a standing way to store your medicine and linens. To keep your stockpile of medicine and first aid items organized, a medicine cabinet is an ideal solution. They can do double duty as storage for beauty products as well.A simple stool is given new life by repurposing it into a cabinet. You can then place it in the corner of your room or even in the bathroom, its wherever you want it to be. Take a step back in time with your own medicine cabinet. This medicine box offers an antique look for a vintage, handmade cabinet. Feel free to repaint if needed!
DIY Bathroom Medicine Cabinet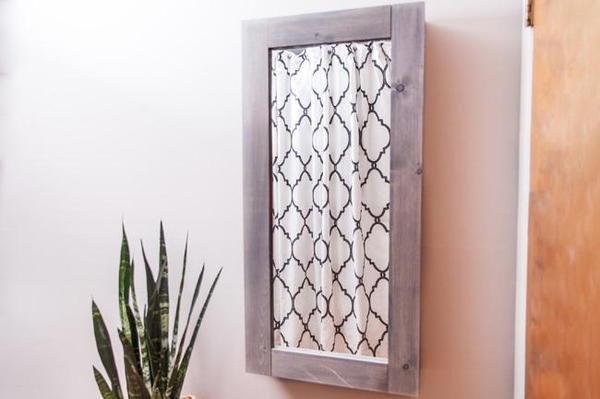 Looking for a unique DIY project for your bathroom? You can create a rustic and stylish bathroom medicine cabinet using pine boards, a mirror, and cast iron brackets. Add extra storage space to your bathroom in a very functional and stylish way with this DIY plan. Cut out the pieces and build the box. Then be sure to install shelves so you have plenty of storage space. The last thing to do is cut a mirror to fit inside the open back and secure it with screws.
This DIY bathroom mirror cabinet from Ana White will maximize your storage space while enhancing the beauty of your bathroom. With interior adjustable shelves, you can store a wide range of items. Use high-quality pine wood to construct the frame, then add useful features such as hinges, knobs, and a door latch lock. The final result will be a beautiful addition to your bathroom.
DIY Bathroom Storage Cabinet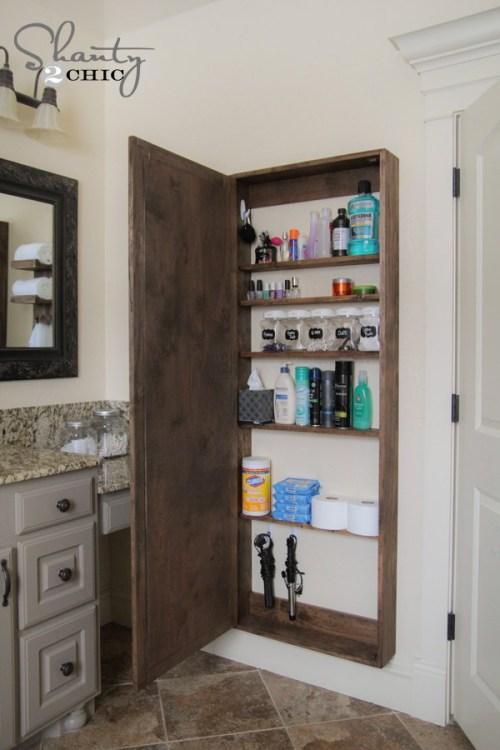 This DIY medicine cabinet features inner shelves that can accommodate all your beauty products. Combine it with a mirror for a great way to save space. Put a little bit of old-fashioned charm into your bathroom with this rustic wall cabinet. Not only is it decorative, providing a place for the towels you want to display and keep handy, but it also has room inside for items that need a bit of privacy. This DIY medicine cabinet can be created from pine or whitewood boards, depending on the look you want for your bath. You should have basic carpentry skills for this project, which will require safety glasses and measuring tape, hammer, handsaw, drill with a screwdriver bit, putty knife, and screws.
How To Make A Farmhouse Medicine Cabinet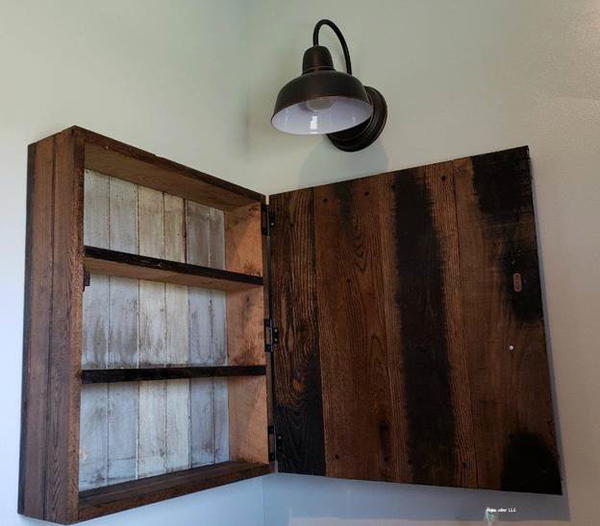 A medicine cabinet is necessary for every home. It will help you to get your bathroom organized, especially with small space. This tutorial is a great project for someone with limited DIY skills and it will require only a few tools. It's totally possible to make a functional cabinet that looks like something you'd buy in an expensive shop. Its Z pattern cut will give balance to the door.
Homemade cabinets can be not just cheaper than store-bought cabinets but made in the specific dimensions you need. Once you have the boards cut them to the size needed, join and sand until they are smooth. Use a router if necessary, and screw them together. To make a Z patterned door, cut grooves into the door with a saw or a router, add paint and glitter to seal it all.
How To Make A First Aid Cabinet
Make your first aid cabinet one of the first cabinets to consider in a house. There will always be a need for them in a house where people live. This first aid cabinet is neat and will require not so much work. "The first aid cabinet should be placed in a position where it can easily be accessed by someone in need of help. The cabinet can also have a glass door to display the contents so that an accident victim will know what is there. First aid kits first need to be customized for the basic essentials you will be needing. The best things to put in would be a pair of gloves, a mask, tweezers, forceps, scissors, and basic medicines for injuries. If you can buy them as well as vitamins and multi-vitamins for shock and heart attacks.
How To Build A Medicine Cabinet
This DIY medicine cabinet is built into the wall comfortably. It has two adjustable glass shelves and a mirrored door. Make a sketch of your planned medicine cabinet dimensions on a piece of paper, and take into consideration if there are any obstacles you will have to work around such as pipes, windows, or hot water heater vents. Building a medicine cabinet for the bathroom is an easy weekend project. This DIY medicine cabinet includes a unique, rustic drawer handle and latches that doubles as a towel bar. Sand, cut, and build this hidden gem in less than one weekend. This DIY medicine cabinet will fit perfectly in between the studs. It is a very easy project and perfect for those with limited space.
How To Install A Medicine Cabinet
Installing a medicine cabinet is an easy home improvement job that you can do in just a few minutes. The first thing to do is a measure to see how big a medicine cabinet you need to fit on your wall as well as its height. You will also need to know if there are any wires or electrical outlets in the wall at this height. If there are not, you can proceed with making the hole for the cabinet to be installed by cutting out the part of the wall that won't be needed. If there are wires, you can either install your cabinet above or below the wires and cut out the part of the wall that won't be needed.
How To Revamp A Medicine Cabinet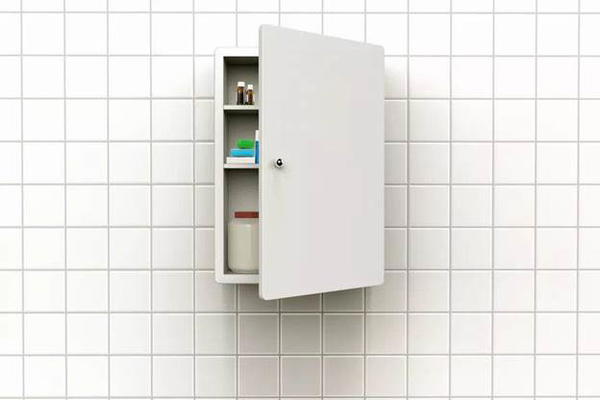 You don't need a lot of money to revamp an old cabinet into something new. In decorating your medicine cabinet, a little cleaning and paint will make your cabinets look good as new again. Take out the old stuff and take notice of how much space is left. Realize that this is like a blank canvas or even your own craft project. In fact, you can add extra shelves in order to maximize your space. If you got cabinet doors from your junk shop, then all you need is some paint and basic tools. Give it a makeover with an accent color, or chalk finish for an earthy and vintage look.
How To Create A Medicine Cabinet From A Mirror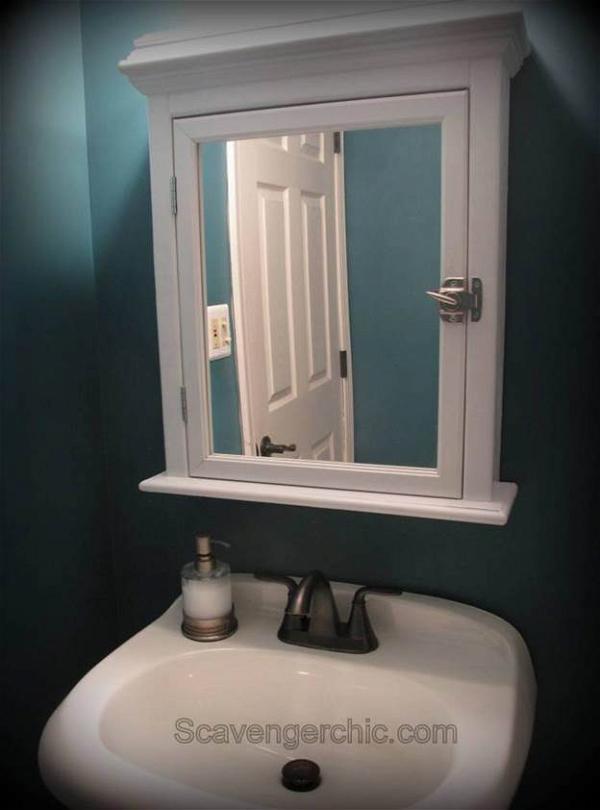 Turn up your nose at the usual old medicine cabinet. Recycle a vintage mirror into one that speaks to your unique style. You know how you love two-in-one furniture. This DIY medicine cabinet and mirror are a really good fit for this! First, you separate the mirror, then turn the cabinet into a sideboard and attach the mirror back. For your medicine cabinet, you can just make it from scratch or convert an already existing one. You just need to modify it to fit your medicines. The simplest way is by adding shelves inside the cabinet and then let the mirror be on the inner side of the door. Don't forget to add interior shelves – they are pretty much useful!
You can also see: DIY Sideboard Ideas
DIY 3-Drawer Medicine Cabinet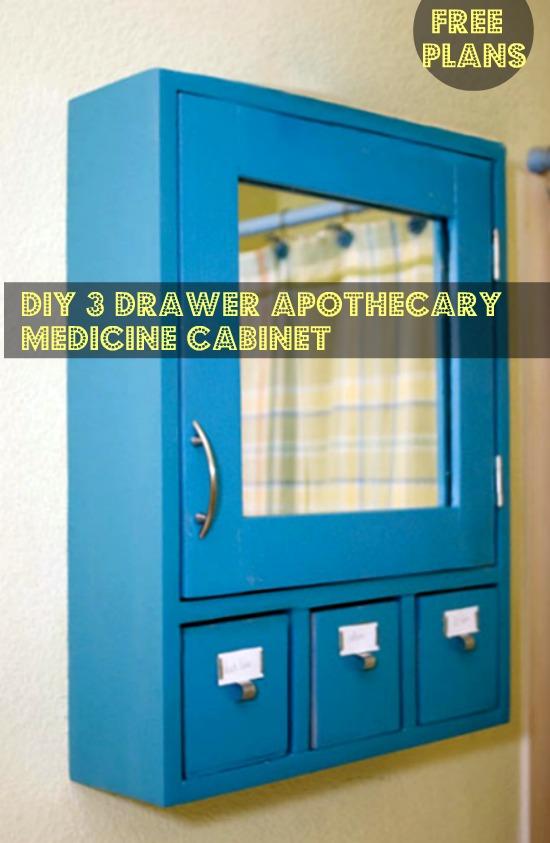 Create a high-end DIY medicine cabinet that can be done in about an hour. This small project will still provide large amounts of storage for your bathroom without taking up much space. This elegant and refined DIY medicine cabinet offers a storage space of 3 apothecary-style drawers. It can be customized to fit in any living space with simple methodology. Attach the drawer, attach the pull chain knobs to the drawers and polish it for a classy appeal. This is surely a great addition to your bathroom or bedroom. And it's much easier to build than you think! This DIY medicine cabinet is both a functional and stylish project to add to your bath. All it takes is a couple of hours, some stain and paint, a couple of tools, and a cabinet door that even the most novice woodworker can build.
DIY Modern Medicine Cabinet Makeover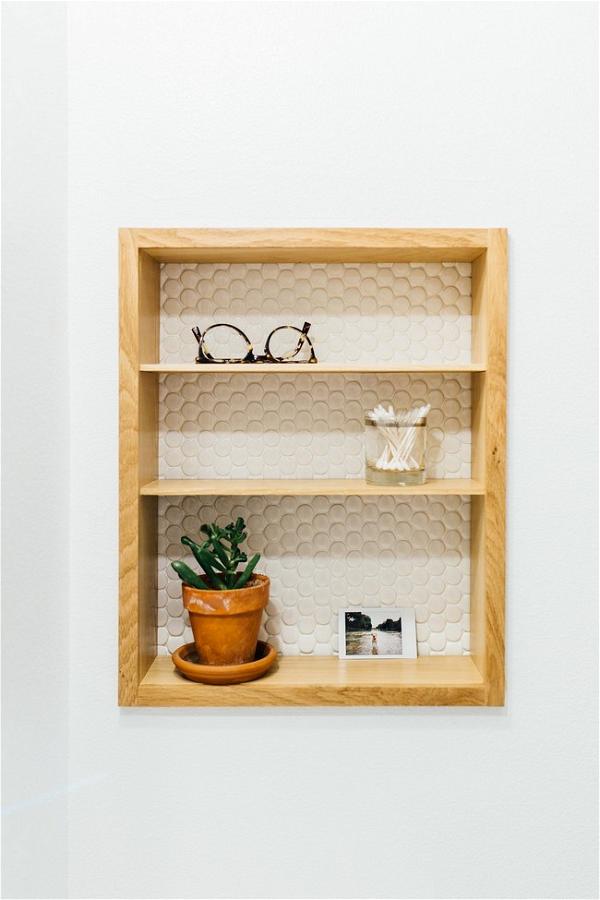 Beautifully modern and wonderfully functional. This gorgeous DIY medicine cabinet was created out of an old mirrored medicine cabinet, with white oak and subway tiles on the front. You can always make something out of the old. This is a custom wood and tile built out of an old medicine cabinet. Bring out the beauty of this DIY medicine cabinet with white oak. You'll need to sand the pieces of wood that have been cut and a water-based finish on dry wood comes out neat and clear. You will also need some finishing putty - it is great for filling nail holes, but you can also use it here to eliminate any visible gaps between boards.
DIY Recessed Medicine Cabinet With Oversized Mirror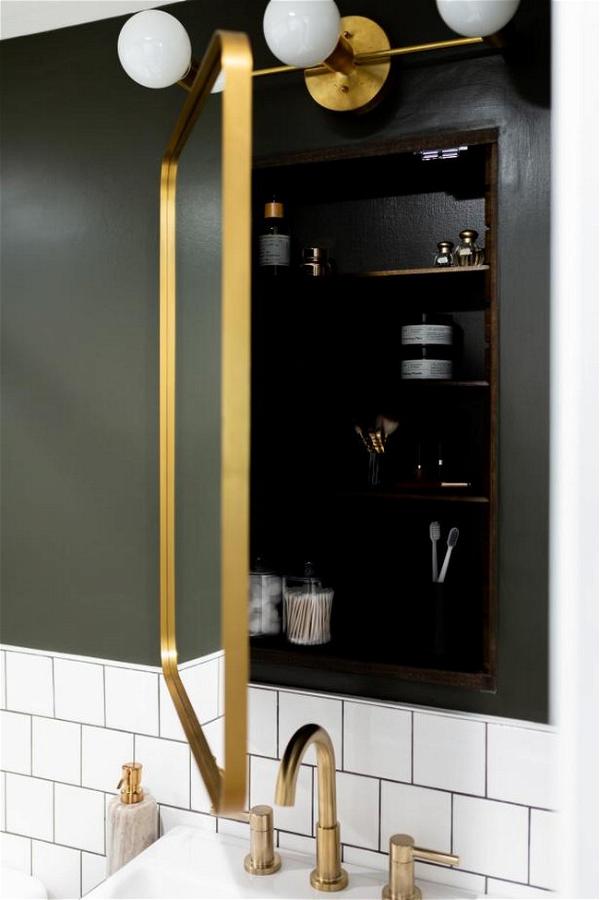 Keep your medicine cabinet organized and find what you're looking for with a single glance. The DIY Recessed Medicine Cabinet With Oversized Mirror is the perfect bathroom cabinet for you and your family. This medicine cabinet comes in a variety of sizes and finishes so you can get the perfect medicine cabinet to fit your aesthetic. The medicine cabinet comes with a solid wood door that keeps your toiletries hidden from sight and is attached to a magnet. It allows you to install the mirrored medicine cabinet on your own and it features a magnetic door with a beveled mirror. It is easy to install, and the included lightweight Knoppäng mirror allows the magnets in the door to attach tightly to the cabinet frame. The mirror surface mounts over existing doors or walls in your master bathroom, toilet room, entryway, or guestroom.
See Other Projects