Liquor cabinets are often considered "optional." However, you have to put your liquor somewhere. If you don't have a set-aside cabinet, it'll spill over into your kitchen cabinets and take up much-needed room. Wherever possible, you may want to consider adding a liquor cabinet to your home, especially if you like to keep many varieties on hand. That doesn't necessarily mean you have to go out and purchase one, though. Instead, you can learn how to build a liquor cabinet. Of course, this will require a bit of time on your part, but there are many straightforward 17 DIY Liquor Cabinet Plans that just about everyone can build.
DIY Liquor Cabinet Plans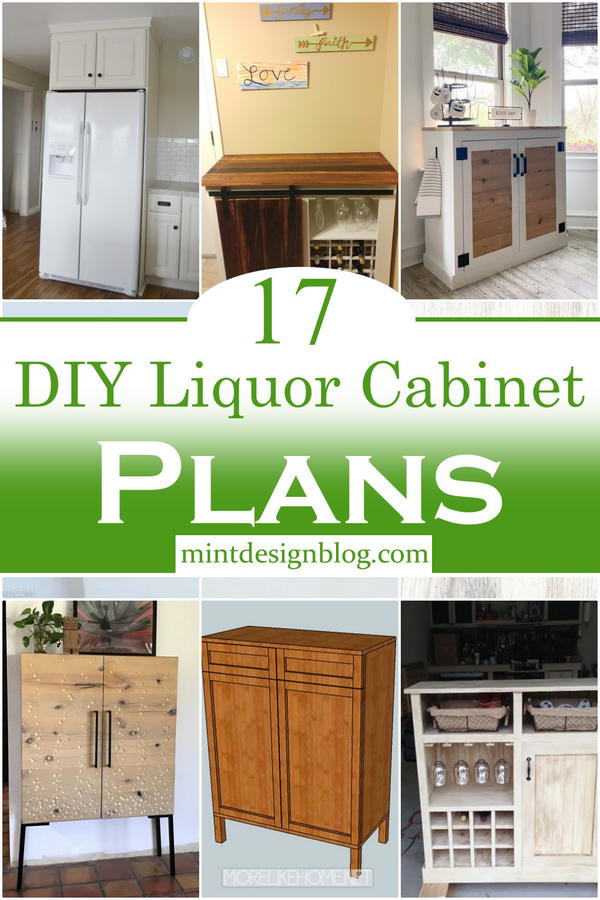 There are many things that make a liquor cabinet unique. Some of them include their size, shape, style, and storage options. However, there are other features you can add to make your liquor cabinet more functional. For example, some people like to put LED lighting under the cabinets so that they can see what they have when it's dark. Others will add a chalkboard or mirror to the door to keep track of what's inside or write notes for themselves and others. Unique liquor cabinets are great if you have an idea in mind for one. If not, then you should stick with one of the simple 17 DIY Liquor Cabinet Plans on this list so that you don't waste any time or money.
DIY Bubbly Bar Cabinet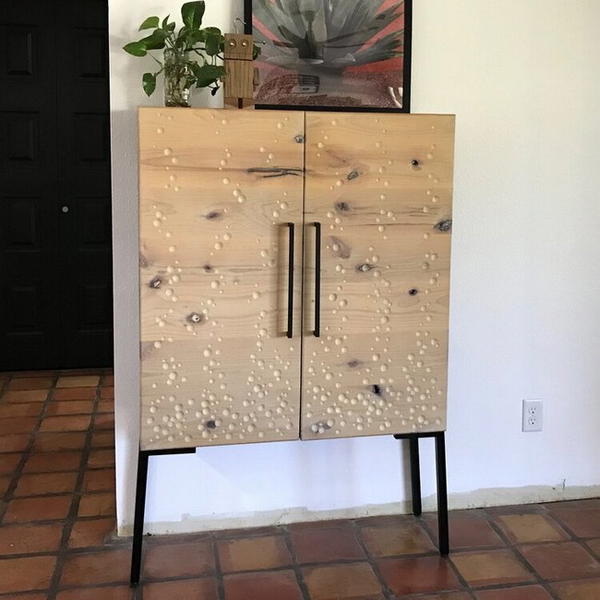 Hosting a party? The DIY Bubbly Bar Cabinet is the ultimate at-home bar, a brilliant way to put your liquor on display, and an organized storage solution. It features four shelves, two doors, and four sections for hanging wine glasses. Fold back the wall-mounted bar drops to reveal a spacious workstation with hangers for martini glasses. With the Bubbly Bar Cabinet, your party is about to get pretty fizzy. Whether it's a dinner party for two, an engagement party for twenty, or your wedding for all of your family and friends, this bubbly cabinet is sure to impress.
DIY Yukon Bar Cabinet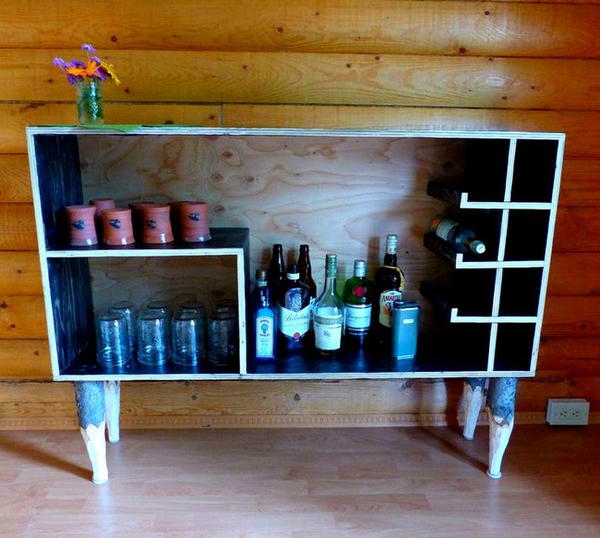 A space-saving solution for the wine connoisseur, the Yukon Bar Cabinet is the ultimate compliment to any dining room. Crafted from solid acacia wood, this sleek cabinet features ample storage for all your favorite liquors, glasses, and more. A center rack designed for several wine bottles rests between two counter-height surfaces, creating a bar station that is perfect for serving drinks to guests or preparing mixed beverages. Made from environmentally friendly materials and built to last, the Yukon Bar Cabinet adds convenient organization and style to the modern home.
Simple Liquor Cabinet Plan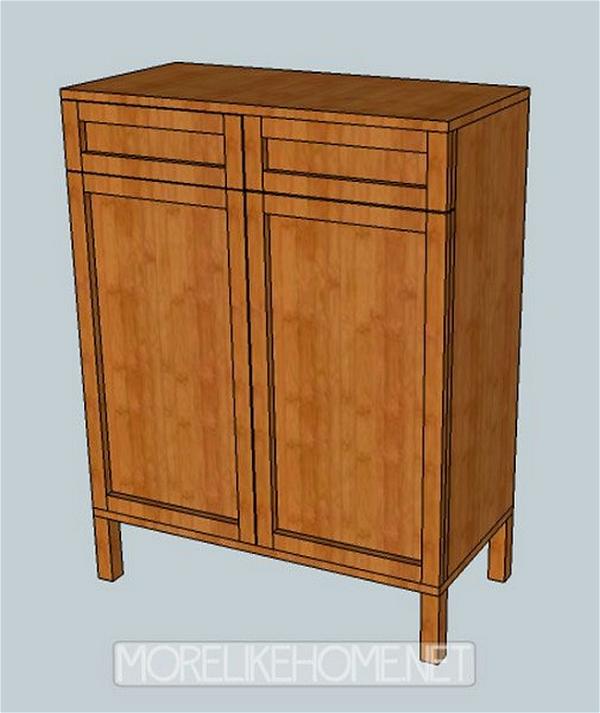 If you're looking for something that is simple and doable, this is going to be your best option. One of the best things about this liquor cabinet is that it is so practical and versatile. It can fit in any room of your house, from a living room to a dining room. It is so easy to put together, too! This plan is very straightforward and easy to put together, making it perfect for those who only care about practicality. Plus, it is perfect for smaller spaces and can easily be adjusted to the size you want. This traditional style cabinet features a fold-out bar of a concentrated space for everything you need to make that perfect cocktail or pour a pint. It tucks neatly away into a simple wooden shell when not in use and easily adjusts to fit any space you may have set aside.
Reclaim a Console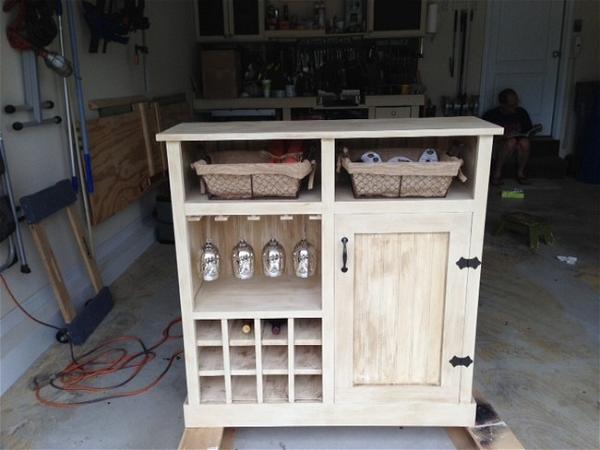 So you have an old console sitting in your home, but it's not very useful? Why not turn it into a bar cabinet! Consoles are full of cabinets and all sorts of small storage spaces, making them perfect for bars and liquor cabinets. If you happen to have a console lying around, you can easily paint it, add some more shelves, and adjust it to fit your particular style and needs. This can be a fun or serious project, depending on what you want from your new cabinet. The best part is that the only thing you need to do is add some shelves, paint them, and make sure that the bottles fit inside.
Barn Door Liquor Cabinet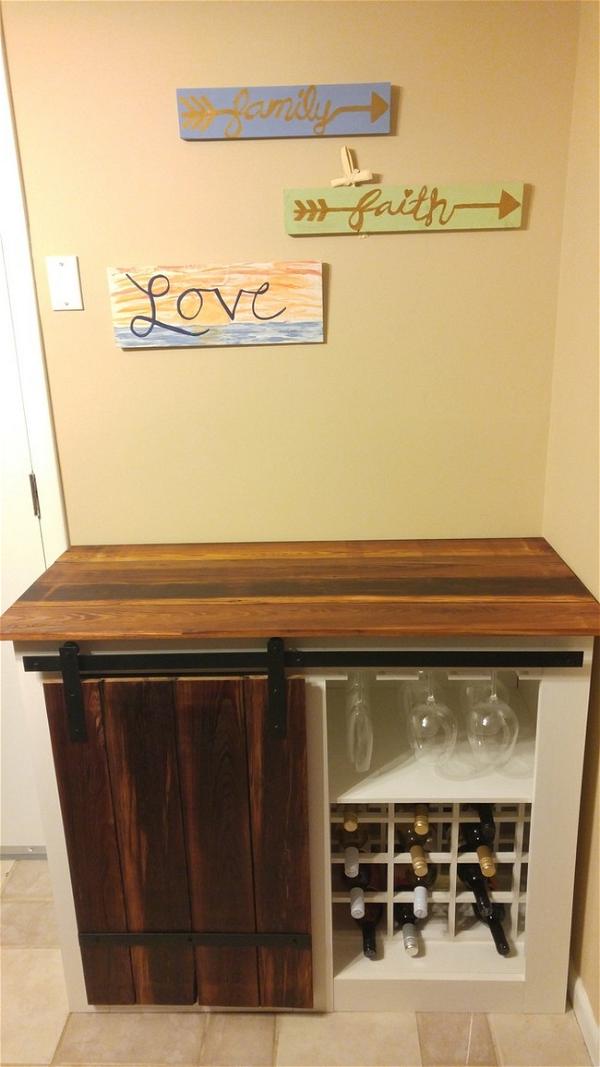 Everyone loves the contrast of rustic textures against a crisp white interior, so The Barn Door Bar is created in a gorgeous way to display your fine wares. If you have a farmhouse-style or rustic home, this is a great liquor cabinet idea. This is also a reclaimed console that was made into a wine cellar and liquor cabinet. However, this cabinet has a barn door on it, which gives it a bit more character than most other options. It is ideal for entertaining and everyday use, this must-have piece has a sturdy glass shelf above a rail for holding glasses, a reversible wine rack that holds many bottles, and four fixed shelves below. The doors slide on easy track hardware with decorative straps and decoratively casters, adding to its charm. Finished in natural woodgrain with black undertones, it looks great in a living room or dining area.
Coffee Cabinet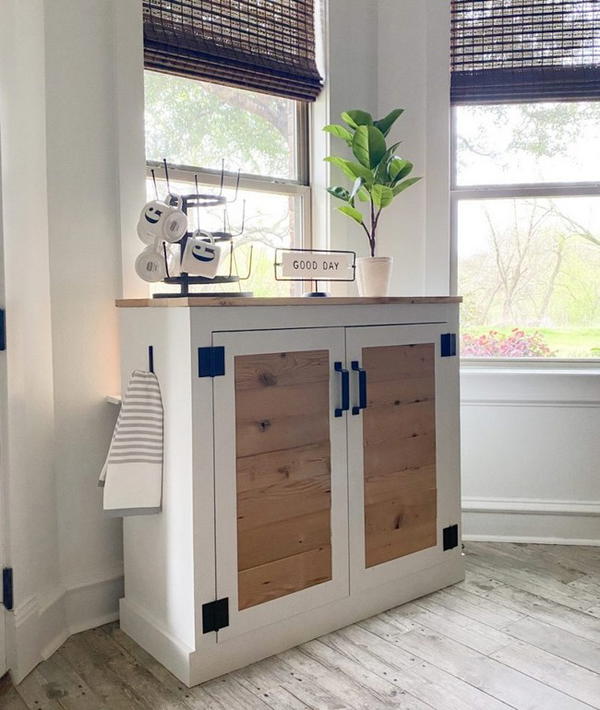 You can set up this coffee cabinet as a wet bar in your home. It will not only store a bottle of booze and a tumbler, but it will keep them at the proper temperature throughout the party. And don't forget that you can add glass racks for martini glasses if you like! This fun and functional coffee cabinet, with bar-height seating, is an easy weekend project. With a few simple tools, standard lumber, and some paint in your favorite color combination, you can have a customized piece of furniture that will add flair to your space.
Pantry Cabinet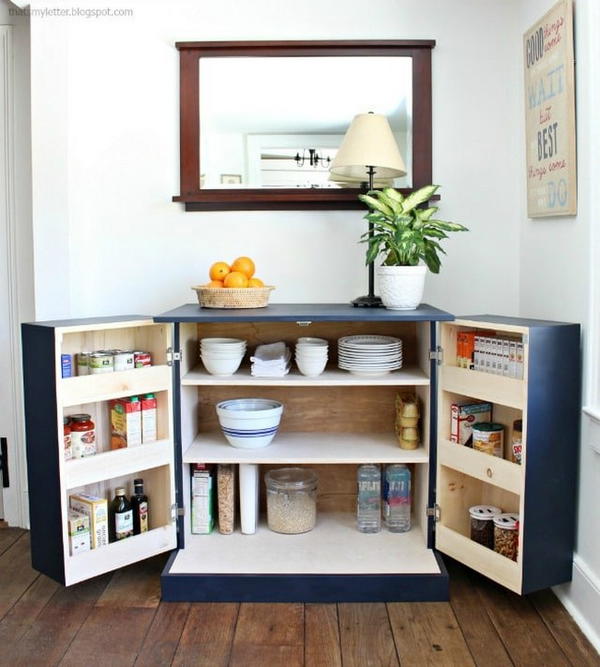 This classic pantry design was built for food, but we think it's a perfect place for liquor. Its large size, doors and shelves provide ample space for bottles and glasses and can be adjusted to suit your needs. And with optional wine rack inserts, you can accommodate even more bottles. To make this plan truly fit in with the kitchen of your home, add wood veneer planking to match your cabinets. It also has adjustable shelving so you can squeeze more alcohol in there if need be. Great for beginners or if you want to keep your liquor in a more convenient location, like the kitchen.
Above-the-Fridge Cabinet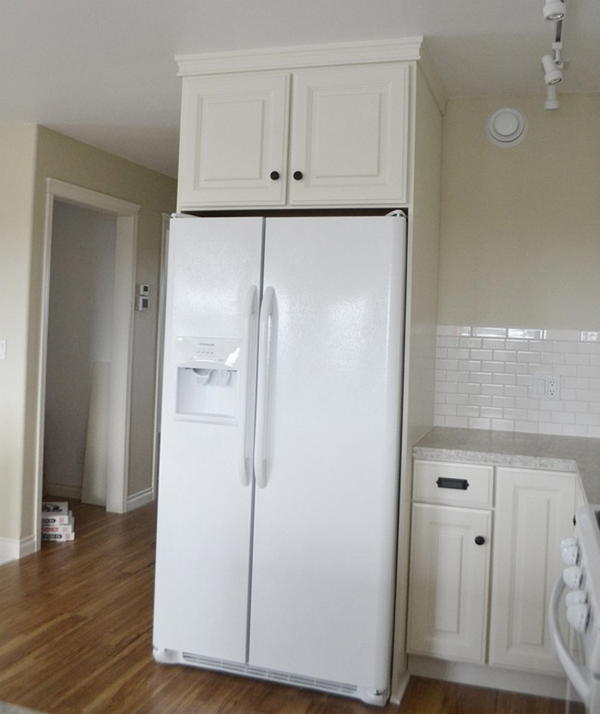 Extend your kitchen storage space by installing an over-the-fridge cabinet. The cabinet shown here is a typical example of how people often add storage above the fridge, but it's not something you need to worry about if you have nowhere to put an over the fridge cabinet when you walk into your kitchen. This plan provides all the information you need about building and attaching an over-the-fridge cabinet to your home and therefore getting a great place to store your liquor and keep your kitchen organized.
DIY Wine Cabinet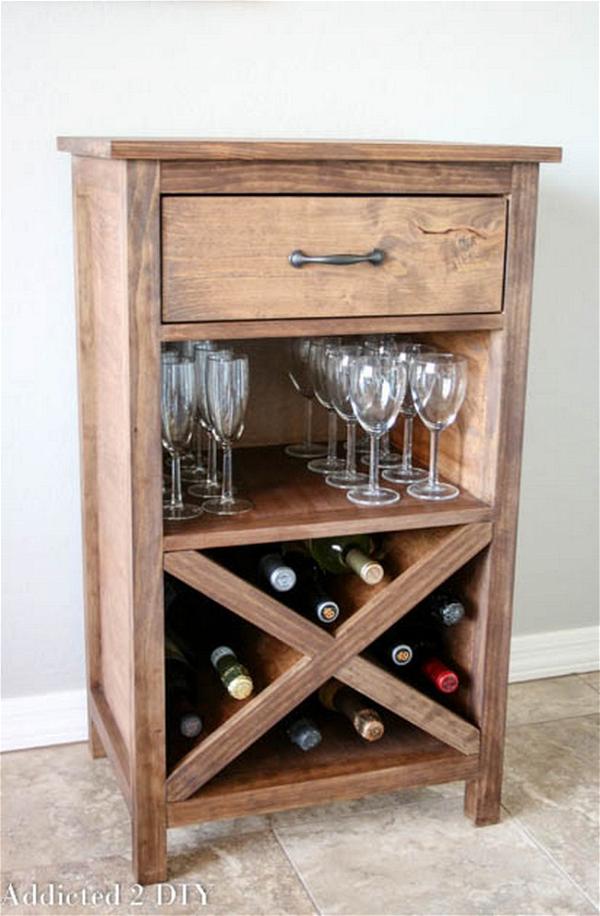 Looking for a simple and inexpensive DIY wine rack plan? This one is pretty easy to make but still has a sleek, modern look. It's also ideal for beginning woodworkers who want to build something that looks nice and fits the measurements of the home. Make sure to measure the spot where you're planning on placing this rack before you start!
Storing your favorite bottles of wine in a homemade cabinet is a great way to save space and show off your DIY skills. This frugal project is easy to make and is perfect for any area of your home, whether you want to display the wine you keep for special occasions or your favorite wines you drink every day.
Sideboard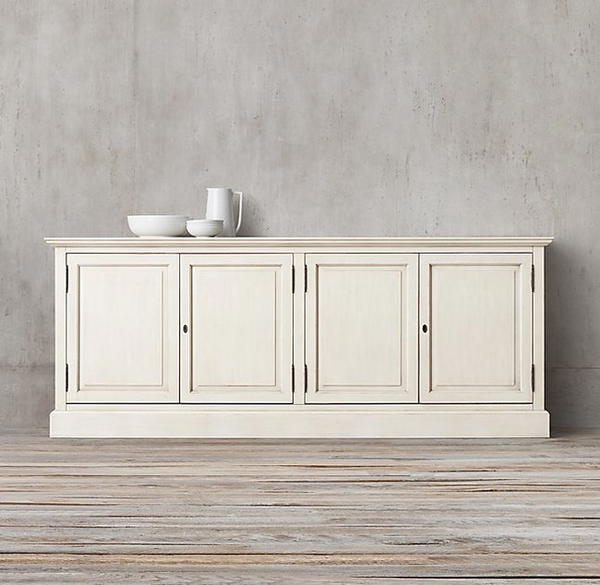 This elegant sideboard can be used for just about anything - including liquor. It would look great in a bar area, though it would also look nice in your kitchen if you have the room. This is a straightforward cabinet that can be designed to fit into nearly any home style and space. You can paint it or stain it to match your kitchen cabinets. This Elegant cabinet is great for displaying your favorite objects or serving drinks and food when entertaining guests. The included shelves are adjustable, so you can create unique setups. It is quite large, so be sure to account for its larger size before deciding to put it together.
Simple Wall Cabinets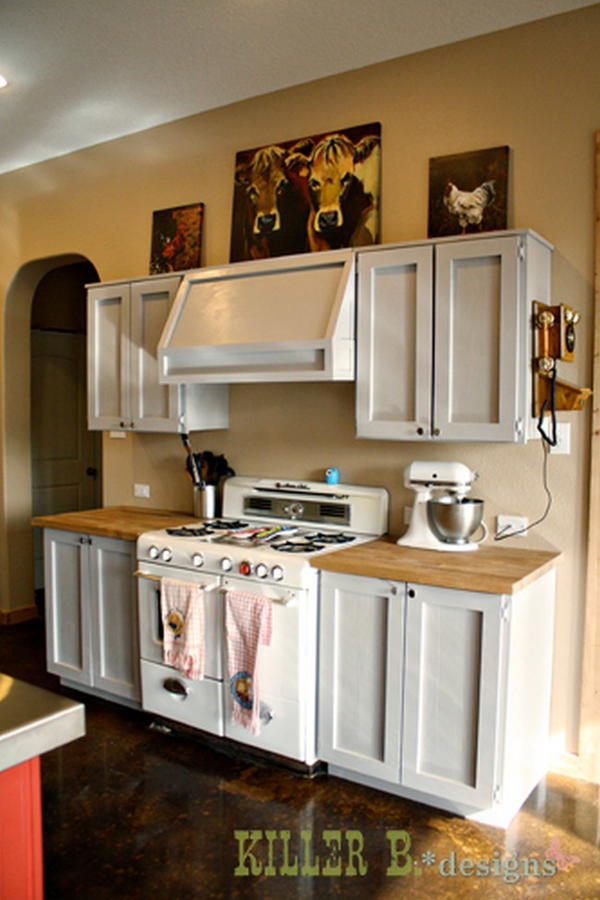 With this plan, you can easily transform your kitchen into a high-end establishment. You'll be able to add another kitchen cabinet that can store all of your liquor. With only a few hand tools and hardware, you'll be able to transform your kitchen into a luxurious place any bartender would love to work at. Keep your liquor and other smaller items of importance close by, but out of sight with this super easy cabinet idea. It will fit in perfectly with your already existing kitchen or bar area, and you can build it within a couple of hours if you have some experience with carpentry.
Another Coffee Cabinet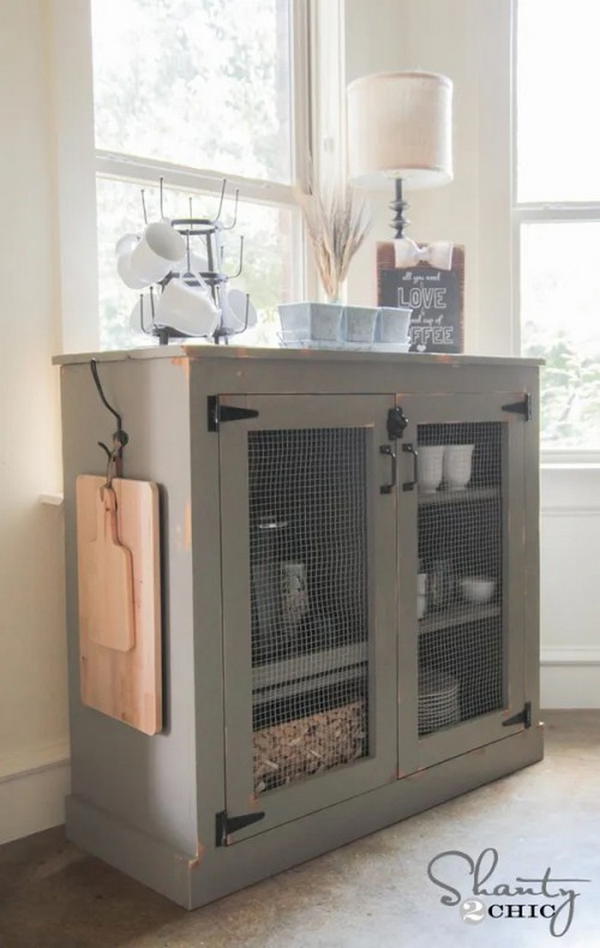 Cabinets are oddly perfect for liquor cabinets. This DIY option is designed to be a coffee cabinet. However, you can make it as-is and easily use it for your liquor as well. It even has places for glasses and other accessories you'll need to have on hand. The counter space is the perfect area for mixing cocktails and getting drinks ready. This cabinet is very versatile, you can use it for different purposes in your home. The spaciousness of the top for drinks, etc, and the drawers for utensils, taking away accessories or other items.
Sheet-Metal Cabinet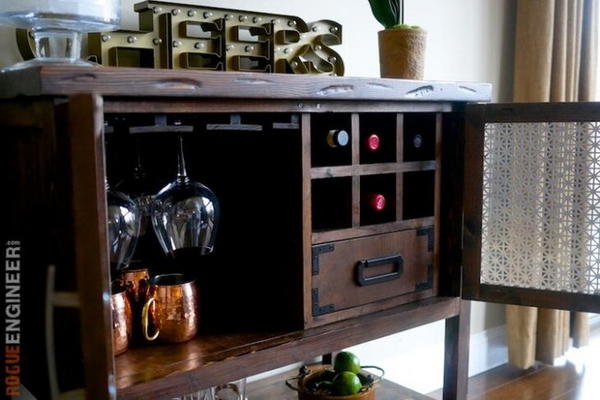 Whether you're preparing a drink for a client or serving wine at a party, this cabinet makes it all possible. The counter is the perfect height for you to easily mix drinks and prepare cocktails. The sheet metal doors in the front of the cabinet provide secure storage for bottles, spices, and all the other essential bar tools. Complete with a rustic feel that can be easily painted white for a more modern look. Its rustic feel and sheet-metal doors make it the perfect centerpiece for your home bar and will safely store all of your cocktail-making supplies. The top can also be used as a space to mix drinks and prepare cocktails.
Pallet Cabinet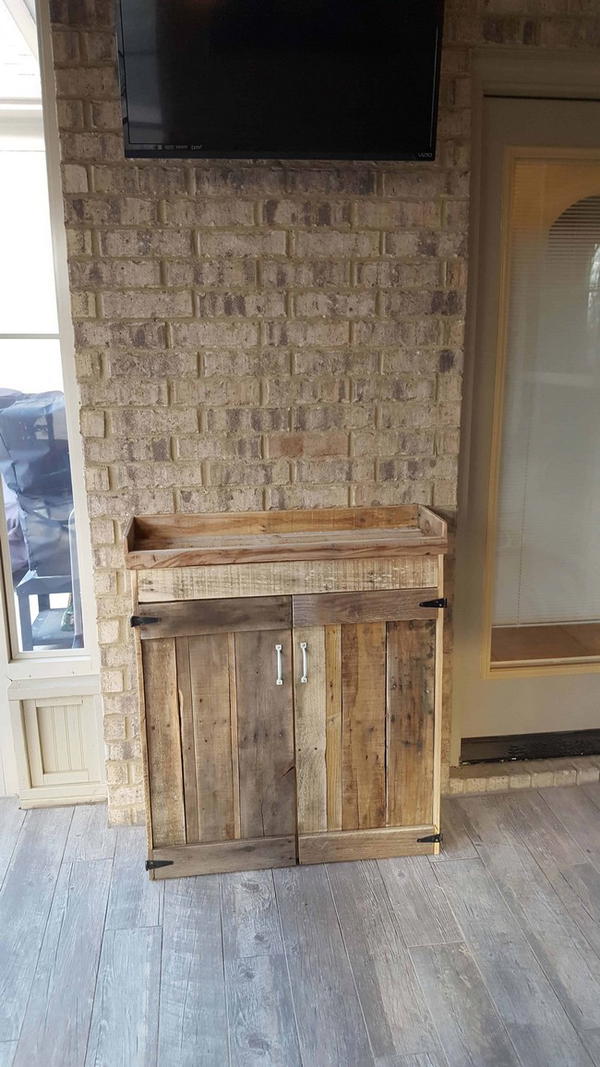 This pallet cabinet is a low-cost storage option that is built quickly. A great choice for beginners and experienced woodworkers alike, this cabinet can easily be adapted to fit your needs. Pallets can be used to make a fabulous cabinet. If you have some extra pallets lying around, then this is an inexpensive option. Many local businesses may allow you to take their pallets off their hands for free, allowing you to build this for practically just the price of the handles and hinges. While it isn't designed explicitly for liquor, you can easily design the shelving inside to be used for liquor bottles.
Custom Liquor Cabinet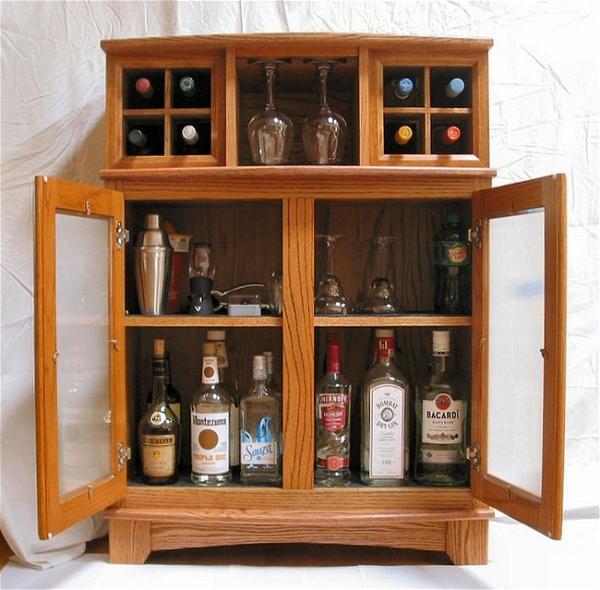 Want to make your own liquor cabinet? This step-by-step guide will help you create a custom cabinet that can store all of your glasses and alcohol, and display them in the most appealing way possible. Liquor cabinets become even handier when you change up the design a little bit. This wall-mounted liquor cabinet is nice because it takes up very little space while still giving you plenty of room to hold all of your bottles, accessories, and glasses. Additionally, the design includes features like items becoming more accessible when the door is open and upper glass shelving for easy viewing.
DIY Pallet Wood Liquor Cabinet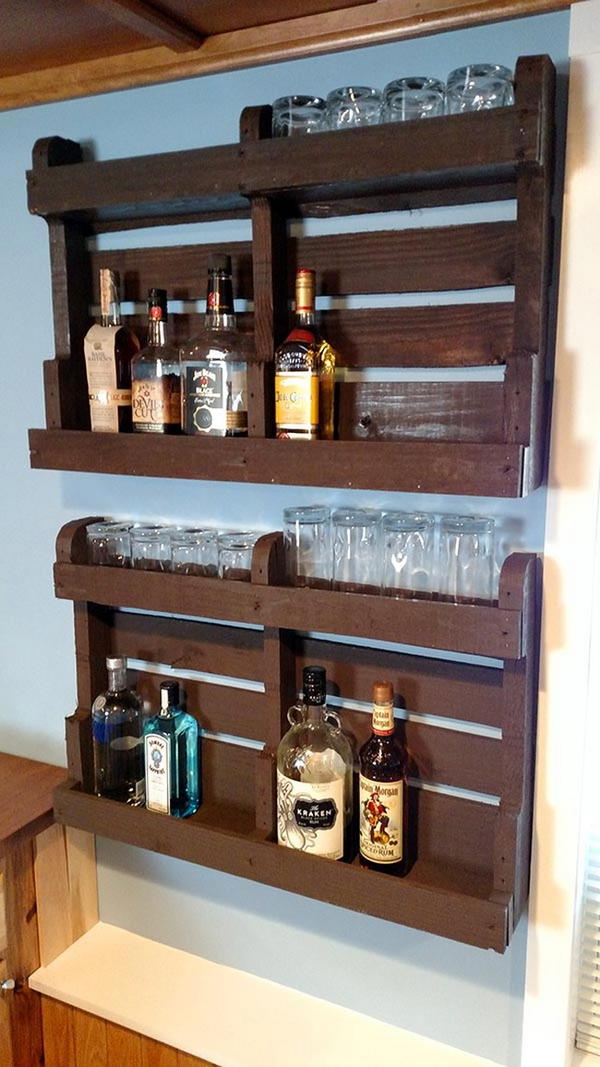 If you love to do it yourself, this article will help. We are going to show you how to build a DIY Pallet Wood Liquor Cabinet that can hold several liquor bottles and two levels of shelves. This is a simple project that has minimal costs. You will want to make sure you have the right tools and if something goes wrong, it is an inexpensive fix. We hope you enjoy reading this article as much as we do writing it. This DIY liquor cabinet is perfect for a home bar. It's an easy project that not only cleans up the clutter of bottles on your countertop but also adds a special touch to your décor. Follow these directions and you'll find yourself with a unique, homemade liquor cabinet made from pallet wood.
Build A Vintage Inspired Liquor Cabinet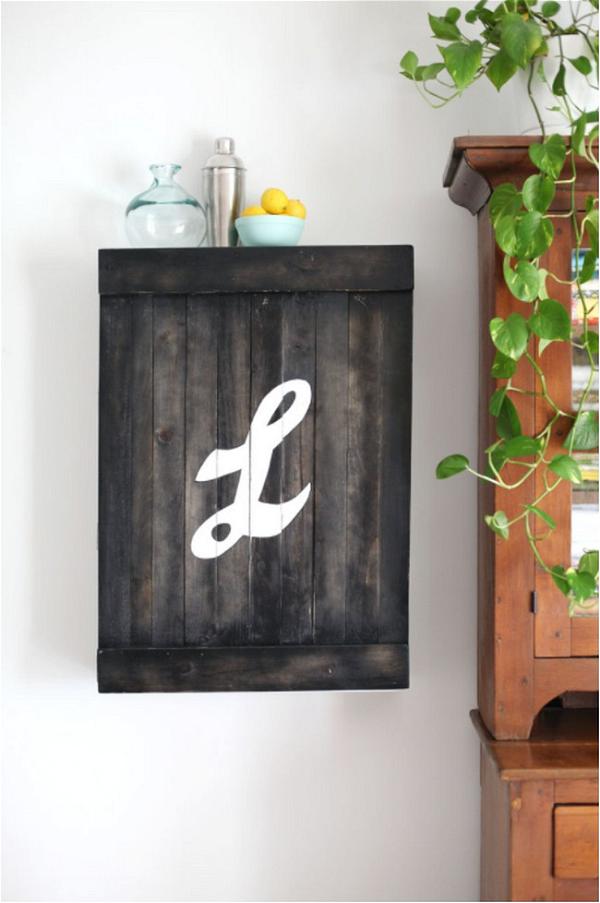 The Vintage-Inspired Liquor Cabinet Woodworking Plan is a step-by-step guide to building a liquor cabinet. This free woodworking plan will help you create an elegant piece of furniture that you'll be proud to show off in any home room. This free woodworking plan is a great project for the beginning or intermediate woodworker, this free woodworking plan provides everything you need to build an impressive new home decor item. This liquor cabinet is a great project, and we hope you will enjoy building it as much as we enjoyed designing it. The cabinet is not that difficult to build if you have the right tools.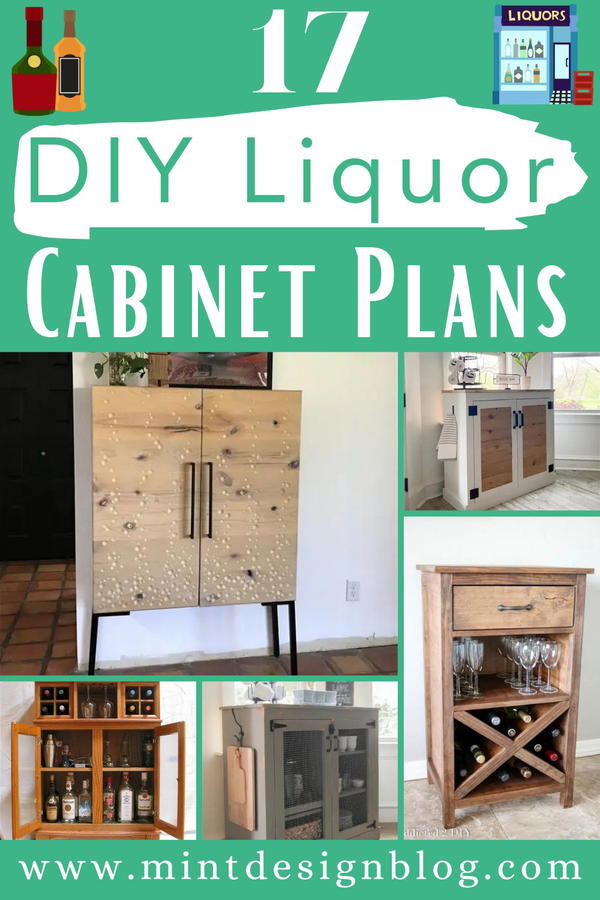 See More Plans: