With these DIY garage cabinet plans, your small garage can easily be turned into a storage wonderland. An organized workshop, filled with the right kind of storage units and tools for the job, can be the difference between spending all day trying to find a specific tool versus finishing the project in half the time. By building your own customized cabinets from scratch, you can easily add cubbies to your existing workshop or clean up your mess by clearing away machinery, allowing you to follow your DIY dreams.
DIY Garage Cabinet Plans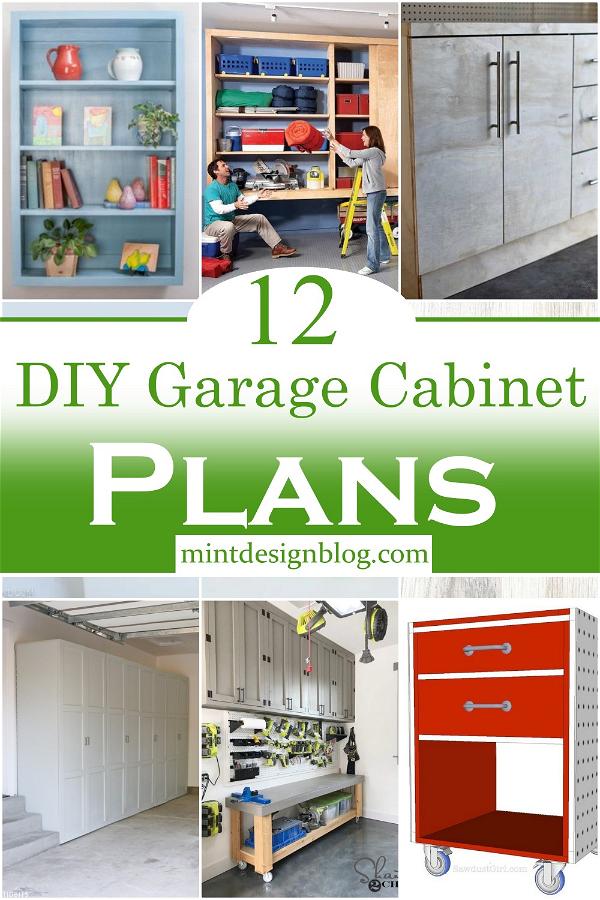 The garage is the workshop for most DIYers. Building a cabinet for your garage can be a great way to get organized and get rid of the piles of tools in your workspace, but it doesn't have to be an expensive or difficult process. It's a place to go when you have time, not just when you need to do something right now. Often, the garage can be a dark, damp space with little or no organization. You may also have a lot of tools and equipment that need to be stored. You don't want to use them as is because they can become rusty quickly and are hard to find at the right time. Don't let your garage get cluttered. It is time to build some DIY Garage cabinets!
Here are 12 DIY garage cabinet plans that you can build yourself with a little DIY knowledge, a few basic tools, and hard-earned sweat equity.
How to Build DIY Garage Cabinets and Drawers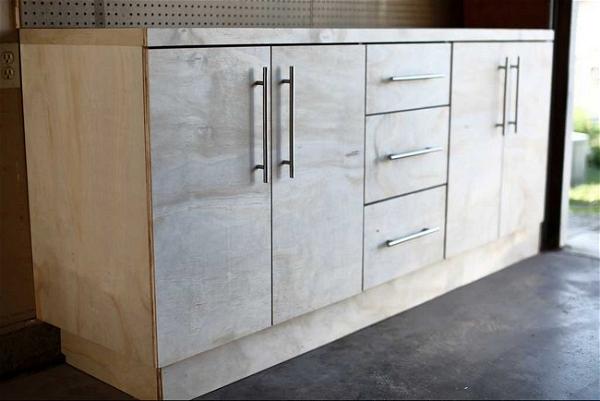 This plan will show you how to build DIY garage cabinets, drawers, and even install decorative garage storage racks! This guide will focus on building the most cost and time-effective DIY garage cabinets that you can buy at your local home improvement store. Nearly as important is first understanding tool requirements and basic construction skills required to complete this project. These storage cabinets are going to make all of your tools, supplies, and materials much more orderly and easier to find when needed. The garage is one of the most important rooms in the house. This room is sometimes used as a workshop or studio, in addition to a parking place for cars. By organizing everything correctly an ordinary garage can be transformed into an organized workshop that helps you perform most of your tasks with high-quality results.

Sliding door cabinet
These simple sliding door plans will guide you through building a strong and sturdy cabinet. You can make this cabinet any size you like, so it will fit perfectly in your garage or workshop. It's the perfect organizational solution for storing all those things that no one else wants to pick up! A sliding door cabinet is a cheap and simple garage storage solution that's perfect for storing all sorts of items. It's great in the workshop too, keeping your power tools safely locked up out of harm's way. These plans show you how to build a cabinet with a sliding door using only a 15mm (⅝") MDF board, but you could use any similar material of your choice. The sliding door cabinet shown takes up less than a square meter of floor space, so it will fit into almost any sized garage or shed.
Mobile Work Cart Free Plan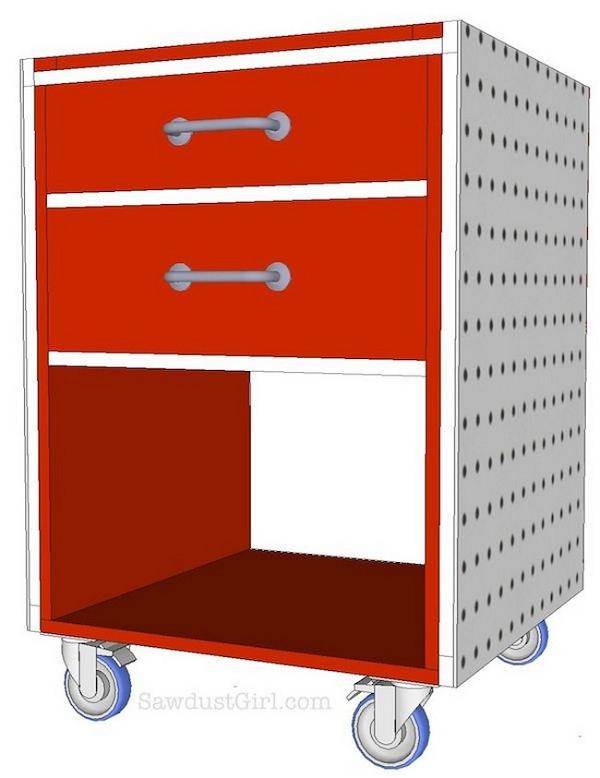 The Mobile Work Cart is a versatile, moveable cart cabinet with four shelves. You will have to build this mobile cart with wheels, but the result is well worth it! The Mobile Work Cart is a great addition to any garage workshop. This makes your workshop efficient and tidy. It's a slightly more complex project with the addition of wheels, but it's a worthwhile project to undertake nonetheless. A moveable cabinet makes your workshop efficient and tidy. This mobile cart cabinet is also a great place to keep tools, making them easy to find and use. This mobile cart cabinet includes a set of removable shelves and wheels to make it moveable. The included workspace diagram utilizes every inch of your workspace making projects much more efficient as you're able to put tools back where they go right away.
Large Wood Cabinets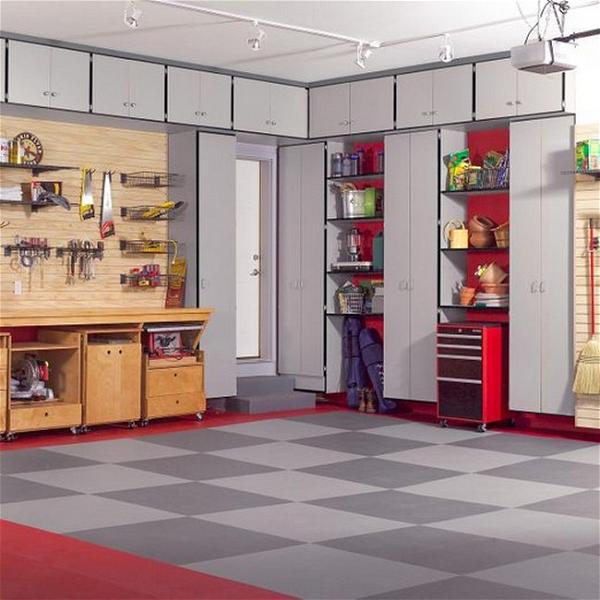 Looking to add some extra storage to your home? These Large Wooden Cabinets make a great addition to any home. Super easy to build, these cabinets are inexpensive and huge! This DIY project is perfect for even the most inexperienced woodworker. Turn excess pine closet paneling into large, storage-ready, and even more inexpensive wood cabinets. This one will look great in any room of your house and you'll love showing it off to your friends.  These large wood cabinets are an inexpensive way to add some useful storage space to your home. They're made from inexpensive materials, they're DIY-friendly and they can be built to fit any space. They'll look great in an entry or living room, or even at the bottom of a staircase. Plus — you can choose the color of your cabinets!
Giant Storage Cabinet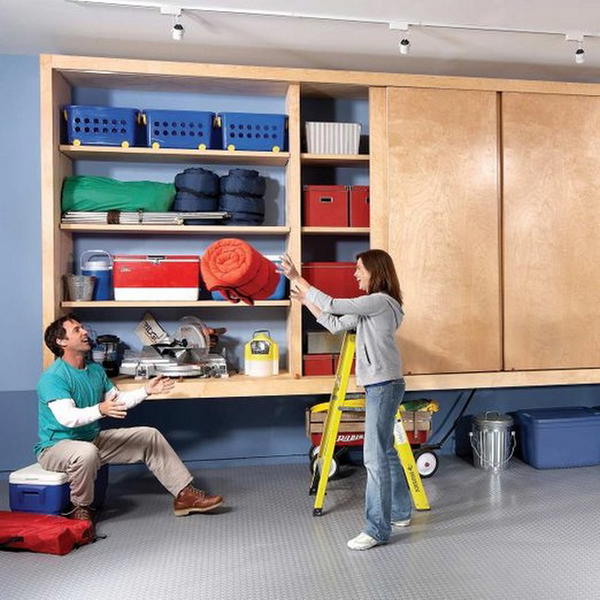 Make more space in your garage for the things you love with this Giant Storage Cabinet. Tired of not having enough space for your belongings in the garage? You can build this large storage cabinet to solve that problem. It will give you plenty of space to store bulkier items, like camping equipment and power tools, and it hangs off the wall, keeping them dry and mold-free. Ideal for storing camping gear, seasonal clothing, holiday decorations, and more, it's easily customized to complement your home's décor. Plus, with this plan, you'll enjoy an easy-to-build project that comes complete with a materials list and a fully illustrated cutting diagram. With this design, you can keep your items and protect them from moisture with the walls of the cabinet. Easy to build and fun to play with after completion!
Basic Wall Cabinet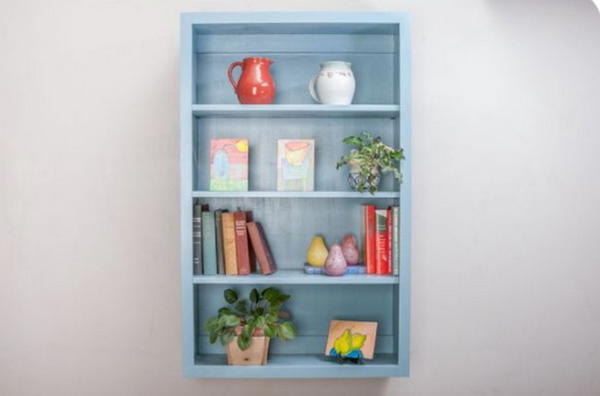 Let's face it, not everyone is good at building something from scratch. Whether it's a small shelf to hold your keys or something on the more complex side like a wall bed, you may want to modify the design to allow for a specific need. If you're just starting out, choose this simple design and add your own modifications to make it what you need. It is a perfect project for any skill level. With no complicated joints, it's perfect for the beginning woodworker. Small and compact, it's ideal for cramped garages where space is an issue. It can easily be modified to meet your unique needs. If you're short on space, and money, but need a better storage solution for your garage or workshop this basic wall cabinet is an excellent option. It will give you the space that you need without taking up too much of your time.
Large Storage Cabinets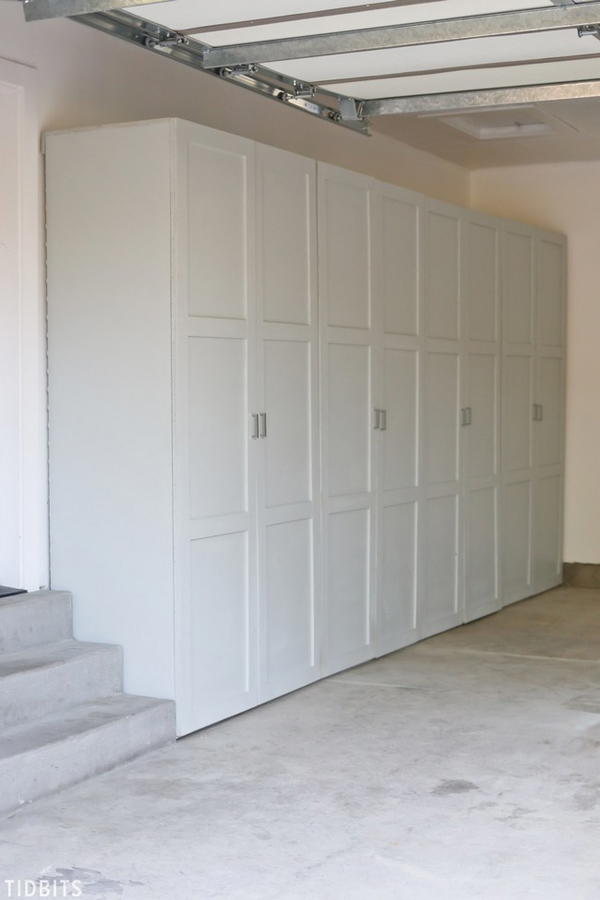 What do you get when you combine two storage cabinets with three shelves each? A perfect place to stash your tools, gardening equipment, and scrap lumber. The best part is that the larger pieces will construct from common shelving units so this unit will fit in almost any budget. These larger storage cabinets will help you organize and keep your garage neat. With plenty of shelving, you'll be able to store many different items, from power tools to camping equipment. This plan is best for the do-it-yourselfer with intermediate skill levels in carpentry, and it shall take most people a couple of days to finish.
Whether you need extra storage space or just have big things you like to keep cozy, our large storage cabinets will grant your wish. This plan is perfect for anyone who likes to tackle projects and save on buying replacement parts. It's the perfect plan if you have bulkier items, like camping and fishing equipment, or large power tools that need more than just a few extra shelves.
Simple Wall-hanging Cabinets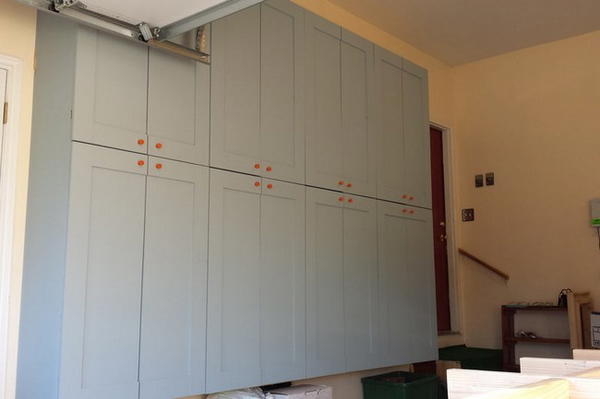 Are you looking for a simple yet elegant way to organize your space? These hanging cabinets are free-standing, meaning they don't need to be anchored to the wall or placed against an existing cabinet. These will get your storage issues under control in no time! It is the perfect start for a beginner DIY enthusiast or woodworker. No special skills or techniques will need to make this classic cabinet. These cabinet designs are best to be affordable, functional, and easy to make for beginners. It doesn't have a it on of frills but is still very attractive. These cabinets construct entirely from solid wood and use a miter joint at the corners to maximize strength. The design maximizes available space through the use of deep shelves, making the most of its small footprint
 Shaker Cabinet Plan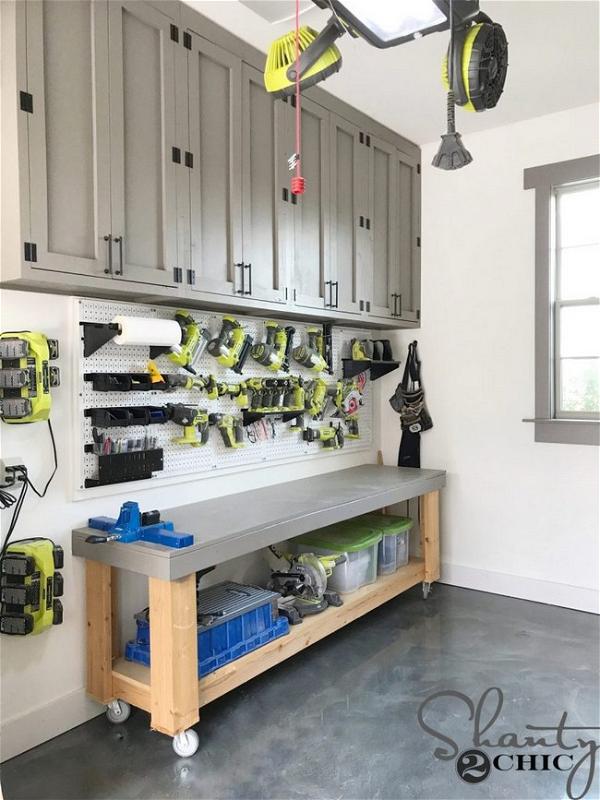 Have you ever seen a cabinet for making sawdust? They're pretty nasty, and you have to sweep up way more sawdust than should ever be possible. This cabinet is best to stop that. It's a wall-mounted cabinet that gives you tons of useful space below it, yet it keeps all of the sawdust inside the cabinet and out of your way. These shaker cabinet plans teach you how to build wall-mounted cabinets for your garage that keep sawdust where it belongs: inside the cabinet. It's a simple and easy way to organize your tools and keeps you focused on what's important: making things. This plan contains crisp-looking progress photos and very detailed plans with material lists.
DIY Garage Cabinets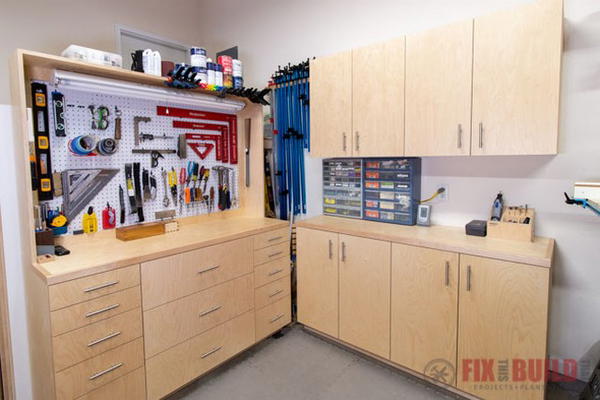 Maximize your garage space with these DIY Garage Cabinets. Durable enough to stand up to DIY, quality workmanship at a reasonable price - what's not to love? Allows you to create the ultimate storage space for your garage. Mix and match cabinets and drawers with different doors and hardware to build the custom solution that's right for you! Whether you are just start or have been in the game for years, start building your dream garage today. DIY Garage Cabinets are the perfect solution for the space-conscious to help you declutter and stay organized. These cabinets and drawers are ready to assemble, but all you really need is a screwdriver.
How To Build Oversized Garage Storage Cabinets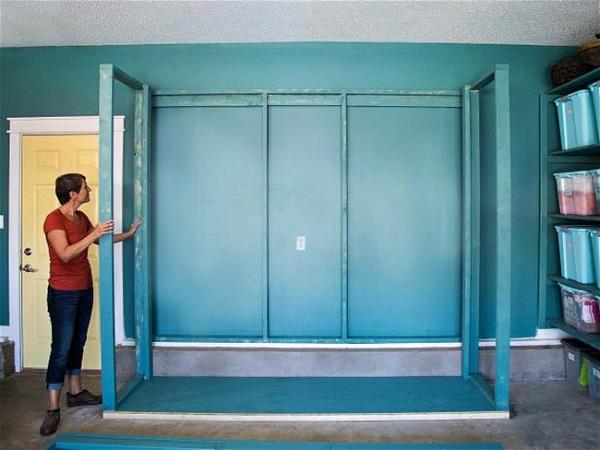 These new Garage Storage Cabinets are an oversize offering that allows you to create garage storage that is easily accessible and highly versatile. The cabinets' large footprint and open design provide maximum usable storage space for larger items, even large tools for your workshop. Building oversized garage storage cabinets is a popular carpentry project that just about every homeowner can tackle. The design presented will produce a set of heavy-duty cabinets in a six by eight-foot size that meets the need for extra storage in any home or garage. This project is simple-to-build, only using basic tools like a table saw, a jigsaw, and a drill motor. The garage space will be transformed into an organized workshop with ample room to store your car or motorcycle, extra camping gear, garage workbench, and much more…
Garage Hand Tool Storage Cabinet Plan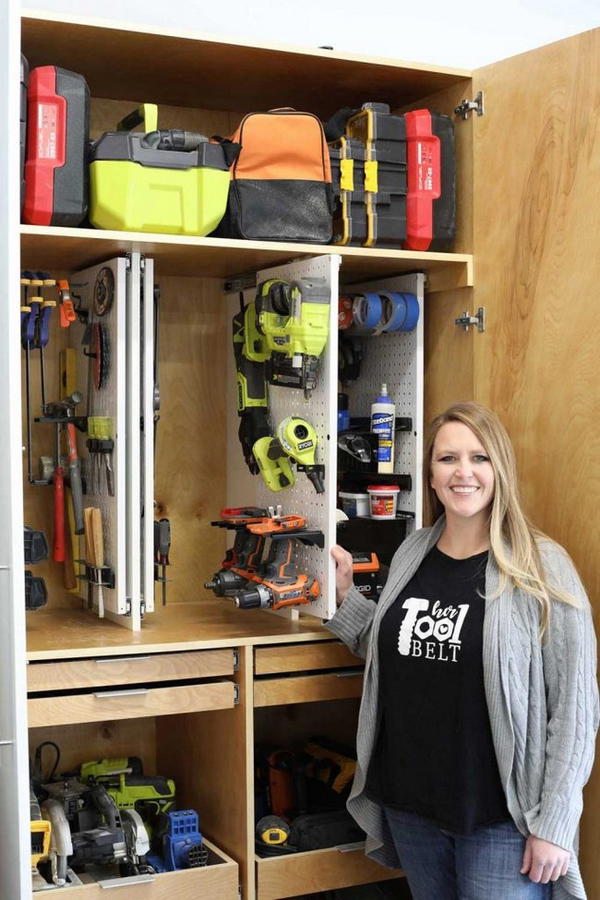 Set your tools free! All these tools in the garage need a home, and the Garage Hand Tool Storage Cabinet is the perfect solution. Keep your garage organize with our Garage Hand Tool Storage Cabinet Plan. This handy tool storage box is perfect for organizing your garage, basement, or workshop. Use the free woodworking plan to make cabinets – like experienced workshop pros! Simple to build with basic carpentry skills and common tools, this storage cabinet plan offers room for four medium-size hand tools (or two really big ones!), a drill press or other power tool, and all of their accessories. This plan is for a large cabinet that can serve as your garage hand tool storage center.