If you're just getting started with woodworking, it may seem like a daunting task to build your own executive desk. It's not as difficult as it might seem, though — there are detailed instructions available on how to build one yourself if you know where to look. In this article, we'll show you some DIY Executive Desk Plans You Can Make Today that will have you sitting in style in no time! An executive desk is an important part of any home office, and it provides a unique set of challenges for the woodworker. Executive desks often have drawers that need to open and close. These desks are usually large pieces of furniture that don't permit you to see the user's legs, and they can often be quite ornate.
DIY Executive Desk Plans
As you begin your DIY executive desk project, it is important to take a moment to plan your project. Consider the size of your office and what furniture you already have. If you have a large office or space for an executive desk, consider one of the larger projects below. If you only have a small amount of space or are just looking for a minimal workspace, consider one of the smaller projects. Some of these projects may be considered easy while others will require more advanced woodworking skills and tools. These DIY Executive Desk Plans You Can Make Today are beautiful and functional and will turn your home office into a place where you can really get some work done!
How To Build A Simple Desk
Building a home office desk? You're in luck. This simple design will be easy to build, and it won't take up too much space. Even better, you can add in drawers as you need them and easily alter it. This is a project that most beginner woodworkers should be able to tackle. This is a very simple, yet elegant desk and shelving unit combination. It could be used in a home office, kitchen, or any other room where a workstation is needed. This would make a great project for someone who just started working with lumber. A materials list is included to make this project go smoothly at the saw.
Executive Desk from Modern Builds
This is a really fun project, the guy on Modern Builds made it and had a lot of fun doing it. It's only a moderate difficulty project. All you need is a handheld circular saw, and a few standard tools, but if you're looking for something simple, this is not for you. Now if you are serious about this project and like building things, then have fun making it. This executive desk is a great piece of furniture that can be made inexpensive and will last a lifetime. It can be painted in whatever color you want. From top to bottom this table is made with the finest wood we could find.
| | |
| --- | --- |
| Materials: |  Lumber, screws, wood glue |
| Tools Needed: |  Circular saw, drill, sanding block |
How To Build An Office Desk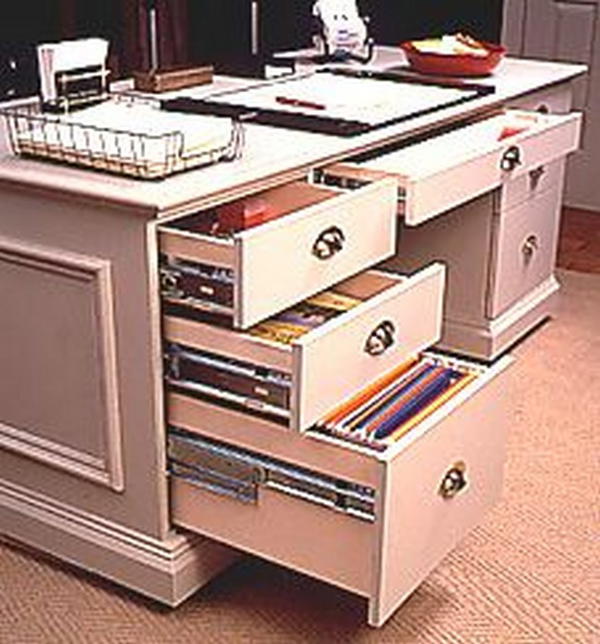 If you're ready to take your office to the next level, this project will walk you through the process. You'll need a few tools, but nothing too fancy. Whether you need a new desk, or are just looking for a weekend project, check out this step-by-step instructions through the process of building your own office desk. Follow along with the included steps to make this desk in about ten hours. You'll have a functional and very impressive free-standing desk that upcycles spare wood from around your home.
Executive Desk from The Wood Whisperer
Make a beautiful and unique executive desk with The Wood Whisperer. This project features high end tools like the table saw and bandsaw, and includes a free video guide to help you build it. Build this advanced project for yourself, or make it as a gift for someone you care about, because almost everyone needs an executive desk. Executive desk project that is perfect for the advanced woodworker. The Wood Whisperer Executive Desk is a high-end, beautiful piece of furniture that can easily be completed in a weekend.
Executive Desk from John Melecki
If you're looking for a work desk that is an integral part of your office or home study, the John Melecki Executive Desk could be just what you're looking for. Stylish and highly functional, this desk has multiple drawers which allow you to keep your essential supplies close at hand when working on a project or answering e-mails. A leather top enhances its visual appeal, while a single drawer can be used as a filing cabinet. Made from the finest French oak, this piece will last for generations with proper care.
How To Build an L-Shaped Executive Desk
Build a functional, powerful focal point for any home office when you build an L-shaped executive desk. It's simple to make with these step-by-step instructions, using standard tools and basic woodworking skills. Add some style and functionality to your home office with our L-Shaped Executive Desk. It's constructed of solid wood and birch veneer and features a hand-applied cherry finish, making it an attractive addition to any room. With its simple, classic styling and multiple storage options, this desk is an ideal workspace for any home office. It's perfect for any home office or study. The simplicity of this desk makes it a great choice for someone just starting out in woodworking, or an experienced woodworker with limited shop space who is looking to create a large workspace.
Making a Veneered Executive Desk
This is the story of making a veneered executive desk using hand tools and hot hide glue for a client. The desk was made from soft maple legs, a walnut apron, drawer fronts, and African mahogany for the veneered case. There are photos showing most of the process of making this desk from rough lumber to finished product. Build a classic and elegant desk with step-by-step instructions from craftsman Kevin Rodel. The executive desk is made from cherry veneer plywood, cherry lumber, and solid walnut details. Learn how to cut and apply the veneer, mill molding that helps create the traditional shell shape, accent the desk with solid wood details, and finish the entire piece with a hand-rubbed oil/varnish blend.
QLine Design Executive Desk
The QLine Design Executive Desk is a stylish, yet functional addition to your home office or workspace. The sturdy steel construction makes it a durable choice for any room. This computer desk is available in multiple colors and finishes to suit your preferences and personal style. The QLine Executive Desk is designed to help keep you organized, featuring two storage drawers for documents, a center drawer that opens from both sides to hold pens and notepads, and three accessory trays perfect for phones, keys, wallets, and more. A shelf on the back of the desk provides additional storage space for books or decorative items. The finished back makes it easy to place against a wall in an office or any other room, and its compact size fits easily into small spaces. Constructed with durable composite wood, it's built to last.
The Casual Everyday Office Desk
The Casual Everyday Office Desk provides ample storage and classic style with lasting durability. A large work surface, easy glide drawers, and hidden storage behind simulated drawer fronts make this desk both beautiful and practical. Crafted of solid hardwoods with engineered wood panels, the rich rub through chestnut finish gives the desk a vintage effect. There's an open cubby that's the perfect size to store your laptop, tablet, or even a book or two. A spacious bottom compartment offers extra storage for books or bins, and there's a handy drawer to organize office supplies. The tabletop provides a smooth surface for writing or using your laptop, and pair it with our Casual Everyday Office Chair (sold separately) for a best-in-the-business workspace!
DIY Modern Office Desk
If you are looking to add a little style to your office, consider giving your desk a little personality. This DIY modern desk is simple, yet incredibly functional and versatile. A few minutes of your time and an afternoon in the garage, and you'll have an awesome (and inexpensive) modern desk for your home office. This Modern Office Desk not only provides an attractive and efficient workplace but has also been designed to flex and fit a variety of office layouts and work preferences. A modern, minimalist desk constructed from sustainably harvested hardwood and brass. Fits up to two people comfortably, or one very comfortable person. Clean simple lines, this is a piece that will endure generations of use. This desk is perfect for anyone looking for a modern, sleek style desk to fit into a small space.