A hack is a method used to alter a designed object. These hacks only use tools found at your local hardware store and require no special skills so anyone can easily do them. There are quite a few creative uses for Ikea desk hacks that don't involve turning them into a standing or sitting desk. Use these 25 Cheap Ikea Desk Hacks in the kitchen, in the nursery and kids room, in your closet, as display shelves, and even to organize art supplies. Finding the perfect desk for your home office can be a challenge. Not only because it needs to fit your style and personality, but also because it needs to fit your budget.
Ikea Desk Hacks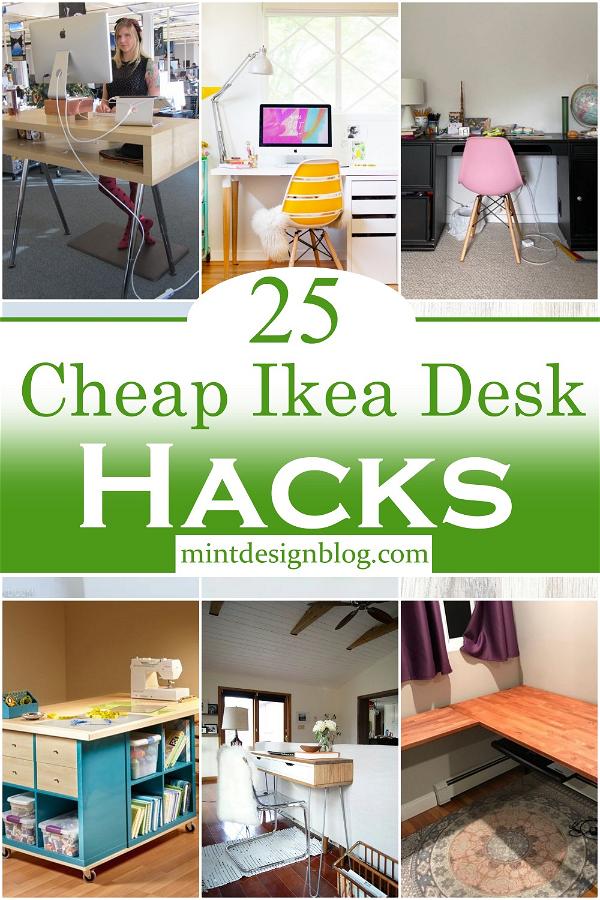 A desk is an important part of any home office. It's where you keep your work, study, or do other things that require a table to work on. If you don't have space for a normal-sized table, you can always make good use of a desk hack and get the same thing done in a smaller space. Trying to save money by piecing together your own desk from various IKEA components is a lot of work, but you'll end up with a chic piece of furniture that costs much less than buying one off the shelf at the local office supply store. The best part about these 25 Cheap Ikea Desk Hacks is that they're easy to put together and can save you hundreds of dollars in the process. It's worth noting that these desks are not only great looking but also very functional.
Looking for cheap and easy desk hacks? Here are 25 with instructions on how to make them! Ikea is fun to make your own furniture so it doesn't have to cost much.
Ikea L Shaped Desk Hack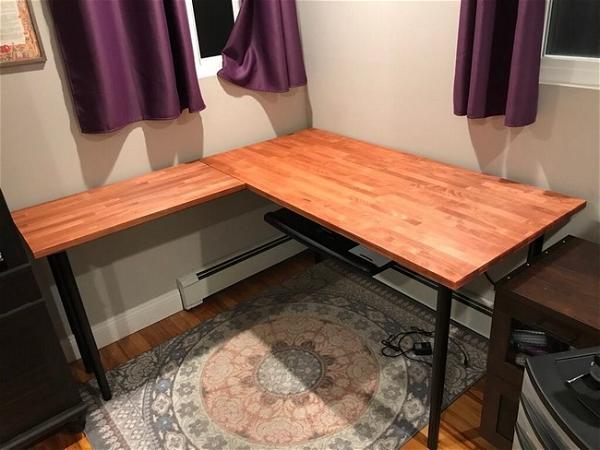 Are you taking your office to the next level of ergonomics? This stylish and convenient L-Shaped Desk is designed for your space-saving corners. It's a great alternative to a traditional desk, with more L- shaped desks being utilized in offices than ever before! Its open corner design offers plenty of workspaces. If you are trend-savvy, then this computer desk is for you.
For this setup, you'll need the corner table, 4 of the Alex add-on units, and several pairs of Capita legs to make it the height you want. You can also use Capita brackets to secure the units together so they won't wobble.
DIY Standing Desk – Ivar Ikea Hack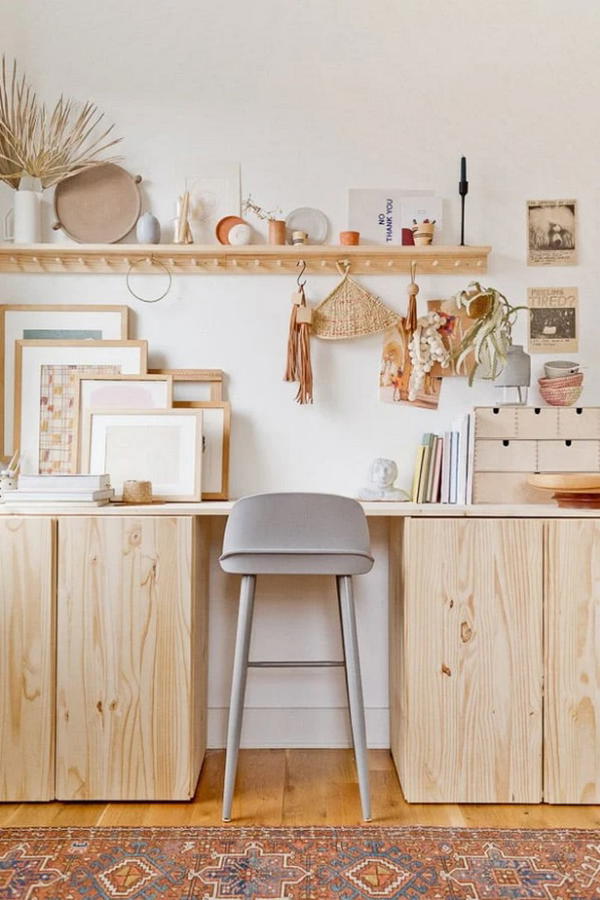 This DIY standing desk can be made in just a few hours! It's an inexpensive study space that is elevated and cute - a functional desk hack. To kill the sedentary sitting and behaviors, the standing desks are becoming a bit center of attention. So, get here a brilliant IKEA hack about DIY standing desk without getting a bit expensive. You need a pine board, drill with screw bits, screws for the tabletop part of the desk, furniture wall straps, and 2 pcs of 20″ deep IVAR IKEA cabinets to complete this fantastic wooden desk. This desk is a great IVAR IKEA hack, and it will be loved dearly by all the students and computer operators. Building this desk will cost you little. One of the best IKEA hack desks hacks ever.
Ikea Slim Desk For Writing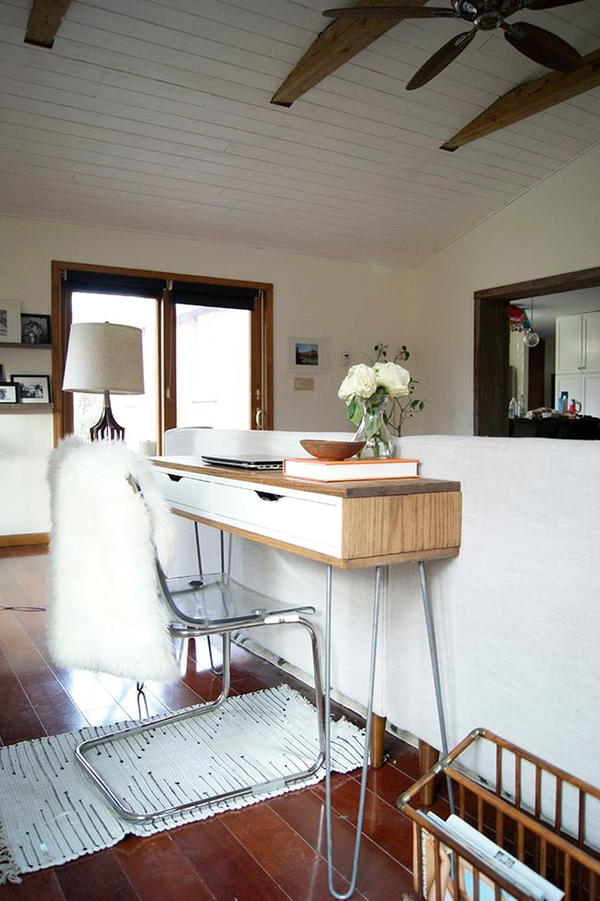 This Ikea Slim Desk For Writing is awesome. IKEA EKBY Alex shelf, pre-stain, Minwax mission oak in gloss stain, sandpaper, brad nailer, hairpin legs, drill, and 2 custom-cut pieces of wood are just some of the things that you need to complete this phenomenal wooden desk, sure to be a big love of all. It will not take too long to build this stylishly beautiful wooden desk that is storage-friendly also. This is the perfect desk if you are looking for some minimalistic design. The metal hairpin legs give a stylish look. You can expect this wooden desk to serve long on a durable basis.
Affordable Ikea Desk Computer Hack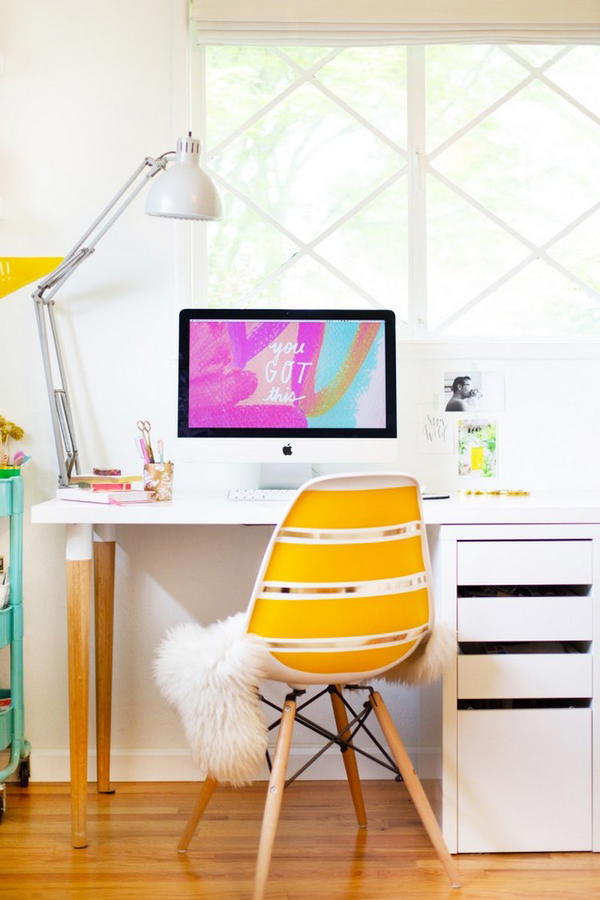 If you're in the market for a new computer desk, consider this DIY Ikea hack. With minimal woodworking skills and some basic tools, you can create a functional workspace on a budget. The white Linnmon tabletop is neutral to fit any home decor and gives you enough surface area to spread out your computer, keyboard, mouse, or whatever you need. It's also great that it's easily customizable so you can find one to fit your needs exactly. The legs are strong enough to support a heavy piece of furniture but sleek enough that they won't take up too much space in your room.
DIY Craft Room Storage Desk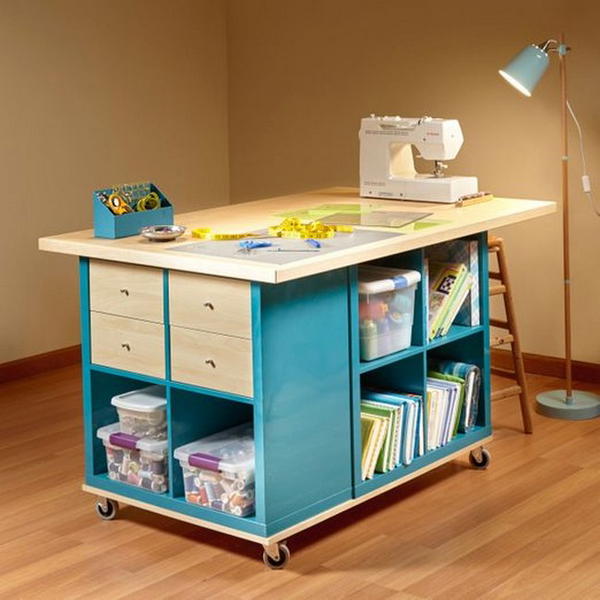 The DIY Craft Room Storage Desk is pleasing to look at and exceptionally practical furniture for your kids. The do-it-yourself desk will help boost their creativity and improve the craft activity. The desk works just like a conventional desk, sturdy and durable with enough niches for keeping all crafted goods − paints, pens, brushes, etc. All IKEA stuff comes together in this one-of-a-kind desk and so you don't have to buy it separately, making your home and office furniture less cluttered. The desk is easy to build, the construction is fully doable for intermediate carpenters. The final material used is birch plywood with a smooth finish, and it has metal screws as well as polyurethane coating.
Built-In Ikea Bookcase Desk – Ikea Shelf Desk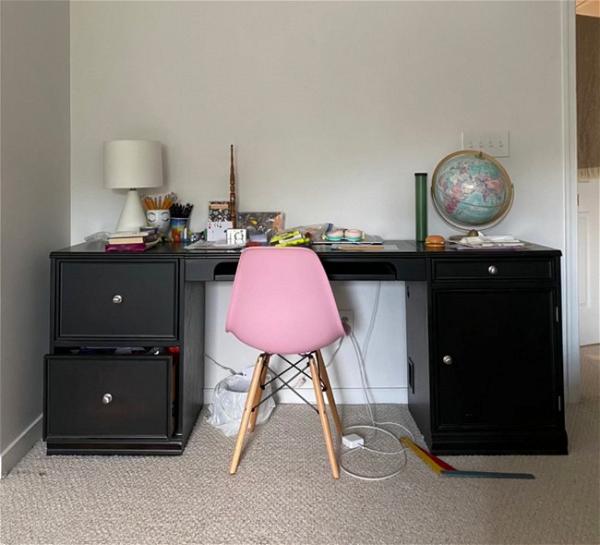 If you are looking for a unique DIY desk that is an absolute space saver then this one will win your heart. The desk uses a simple IKEA Bookcase as its base and there is a plywood desktop to make it easily usable for laptops and storing books. The best thing about this DIY project is that it will be super easy even for a beginner, and the cost will be incredibly low. Along with the plywood, you also need the IKEA cabinets or 2 drawer chests to complete this functional desk built to fit a custom space. The project will be super easy and cost-efficient, even for a beginner.
Adjustable Standing Desk With Pipe Legs- Small Ikea Desk Hack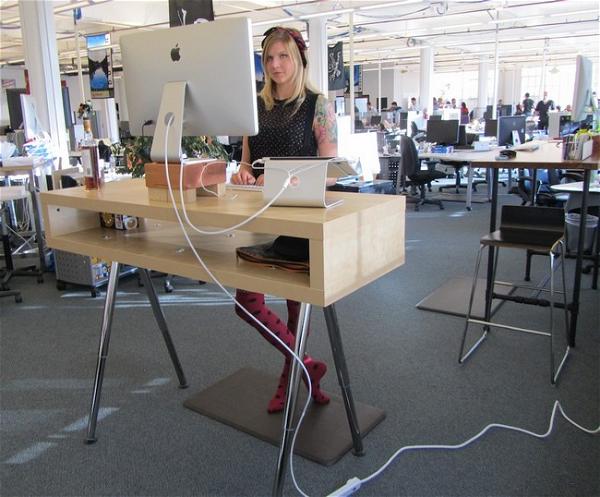 IKEA adjustable A-frame legs offer the perfect solution for you to build this awesome small desk. The desk features are a metal pipe, solid steel legs with heights from 25 to 37 inches, a top with full extension, and an open storage shelf. You can use different furniture components and utensils that suit your own needs. The impressive IKEA modern standup desk promotes a healthy lifestyle not only in your workplace or home but also in other life situations or moments. It will look great in any modern living room with an industrial touch and there are many benefits that make it worth putting together.
Hideaway Home Office Desk – Ikea Shelf Desk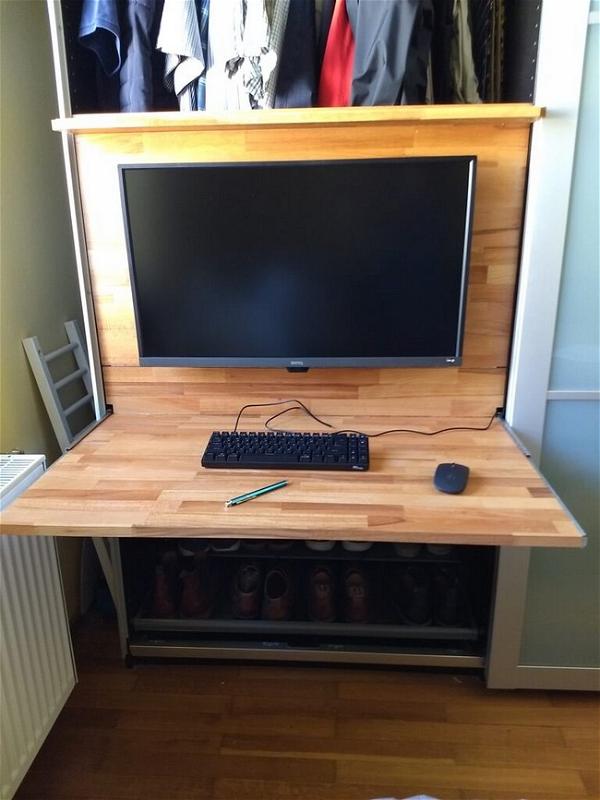 Here is the most genius Ikea shelf desk to gain a beautiful instant desk in a short space interior. The desk folds gracefully out of the PAX frame and will rock for laptop and computer operating. You need an IKEA PAX frame with sliding doors, wooden plates, heavy-duty slides, piano hinge, screen with a corresponding VESA mount, magnetic catches, and some scrap wood to complete this outstanding folding IKEA desk. In tools, you need a drill, wood glue, dowel pins, measuring tape, joiners square, spirit level and saw to complete this IKEA desk. And if you're a maker, it's a great project to try out some new techniques.
Make Your Own Ikea Long Desk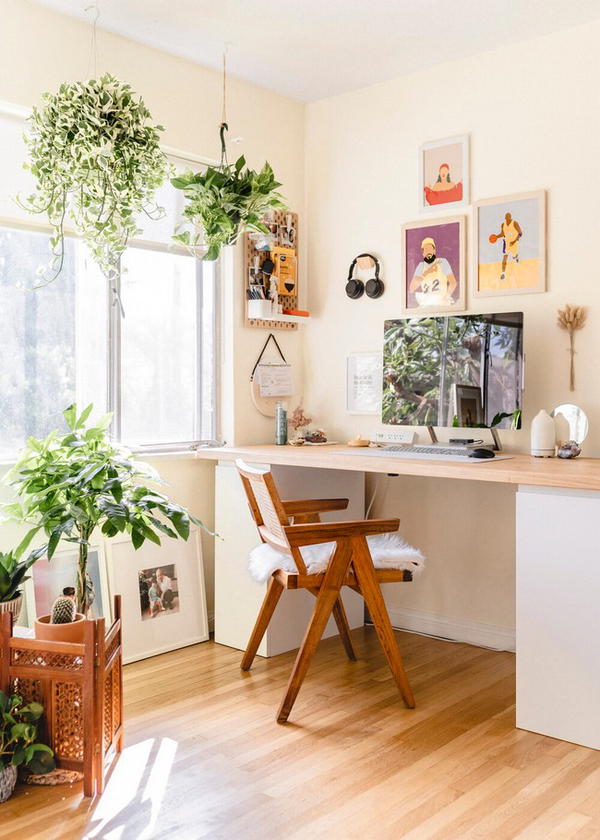 Are you bored with the standard long desks of Ikea? Look at this awesome desk DIY project that is not only fun to make, but also costs you next to nothing. The fashionable and modern computer desk you can see in the pictures offers a stylish look for your house interior and will provide you with 2 workstations for a laptop or for two computers. This solution is perfect if you like to work on a couple of things simultaneously, which makes it good for small offices too. It will save you a few bucks, as you do not have to buy the $600-$800 long desks at Ikea now.
Cheap White And Gold Ikea Desk Hack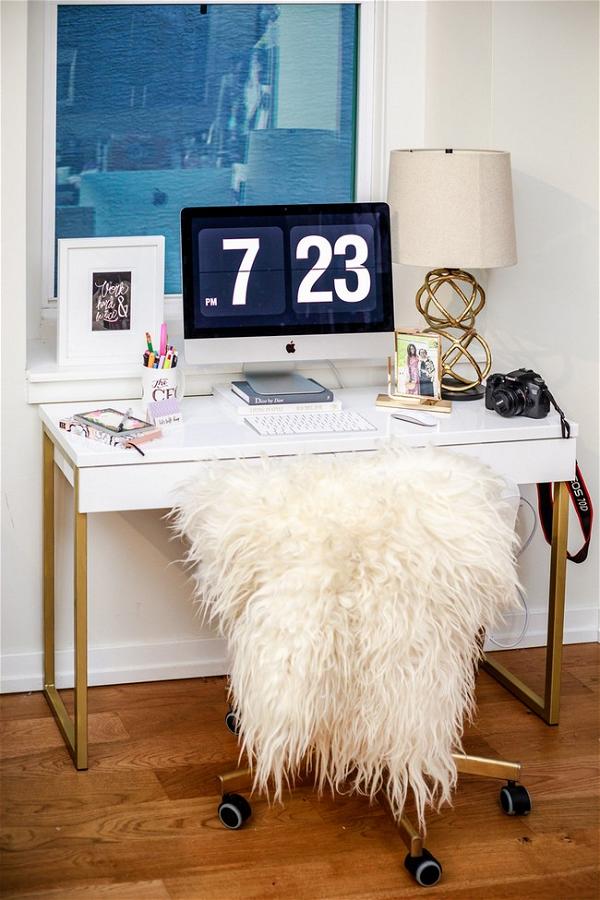 The white and gold go great together, and you will find it so true when looking at this white and gold Ikea computer desk hack, that helps build a gorgeous modern and lush design of the desk. The furry chair just makes the user more comfortable working on this desk. The desk will rock for computer or laptop operating and also for reading and writing purposes. All you need to build this elegant yet modern desk is an IKEA BESTA BURS desk, metallic spray paint, and cardboard or plastic drop cloth to spray on to complete this entirely modern IKEA desk. This corner office furniture stays simple but offers more storage space for your office supplies.
DIY Ikea Lerberg Computer Desk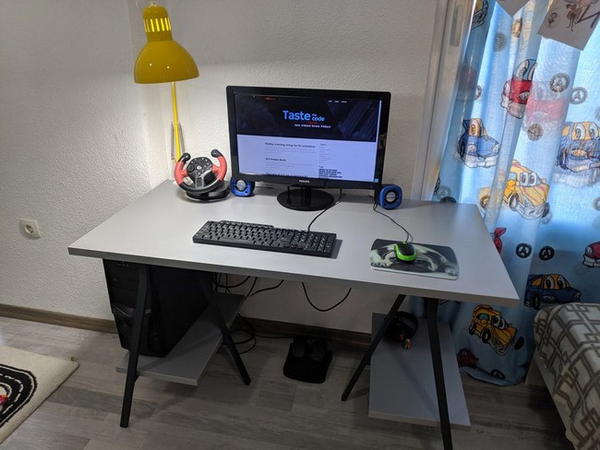 Do you need something looking stylish and modern to complete your study or work area? If yes then look at this beautiful and unique DIY Ikea Lerberg computer desk that is also budget-friendly. You just need the LERBERG IKEA system and gray melamine board to duplicate this entire that is looking extra beautiful in the final painted appeal. Nevertheless, you can drill holes to attach the metal legs to the top of the desk. Also, you can go with a custom wood finish and paint for the top also. You can use it everywhere at your home or office where you need a table for any purpose. It will support you with its durability, easy assembly, and longevity of life.
Built In Desk With Ikea Alex Desk And Drawer Hack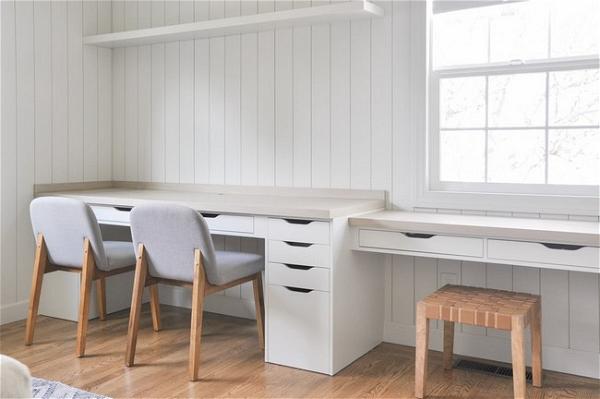 If you love having your computer on the desk but with limited space, this hack is perfect for you. You can store your office supplies and other things in these drawers and shelves underneath a huge desk to accomplish the best combination of working and storage ideas. If you want to complete an attractive room with an extra work surface, then the IKEA computer desk hack will be perfect for you. The desk you see here is made with a mixture of Ikea Alex drawer and shelf unit. The countertop is also from Ikea. This desk is not only functional and practical but also looks trendy and stylish compared to your regular computer desks.
DIY Lego Desk With IKEA Trofast Bin Storage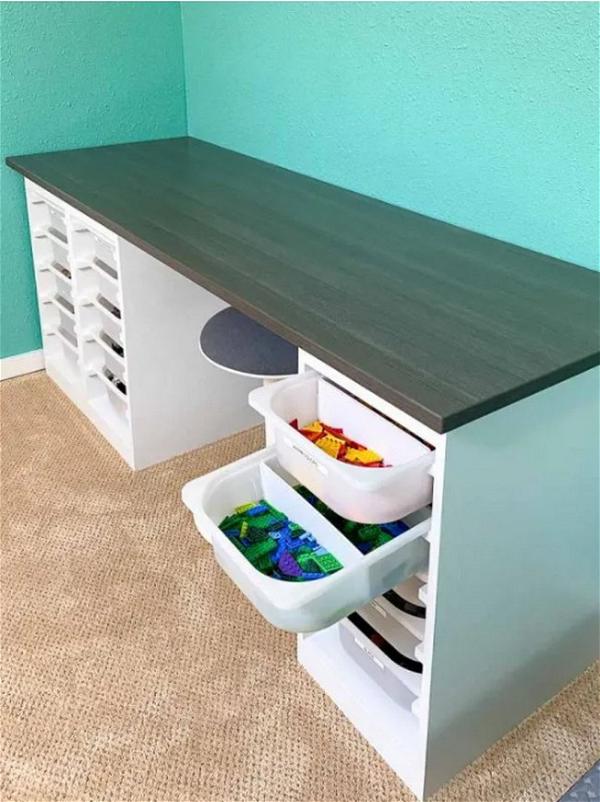 This hack is the perfect way to keep your little Lego fan busy for a long time. The colorful desk has enough room to rock as the kid's gaming desk and then also will be a nice spot to hold their crafting supplies so that you would be less worried about the things lying on the floor and creating mess here and there at home. Here's a clever IKEA desk DIY hack that will help you get organized, even on a tight budget. This unique IKEA desk is easy and inexpensive to build, To build your own DIY Lego desk project, you need IKEA Trofast bins, boards, plywood,  square wooden dowels, pocket hole jig, wood glue, clamps, edge banding and paint.
Live Edge Desk With Trestle Legs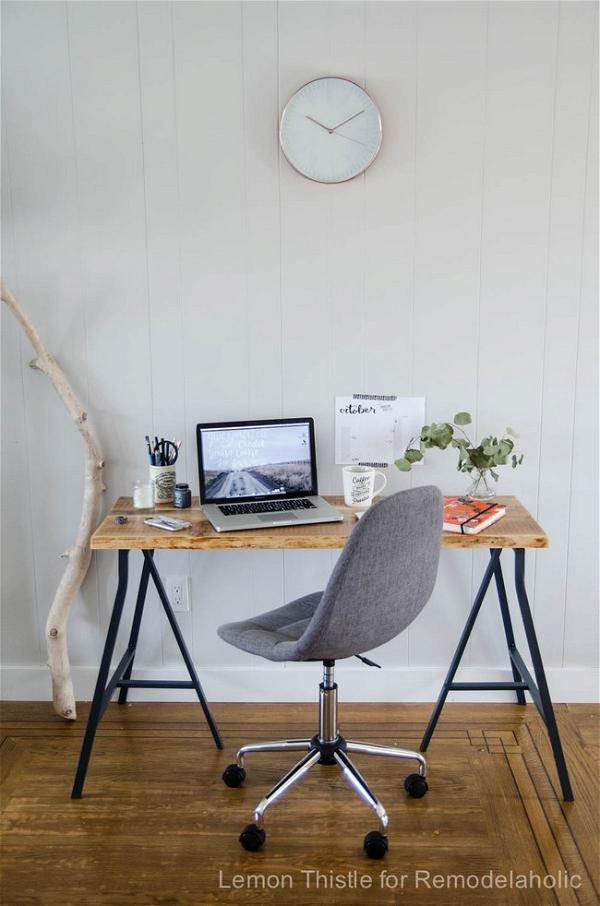 A fine choice of delivering a glamorous rustic and contemporary wooden desk that doubles as industrial-style furniture because of the live edge design. Build this live edge tabletop on top of the IKEA trestle legs to create a perfect office desk. Include the Live Edge Desk With Trestle Legs plan here for a simple do-it-yourself woodworking project. Live Edge Desk With Trestle Legs, is crafted by live edge wood planks that make it stand out as a great piece of wood furniture and dynamic industrial styling. The dark walnut color adds a great hue to the entire workspace. It's also easy to build with free IKEA trestle legs and some simple tools.
How To Build A Ikea Desk Hack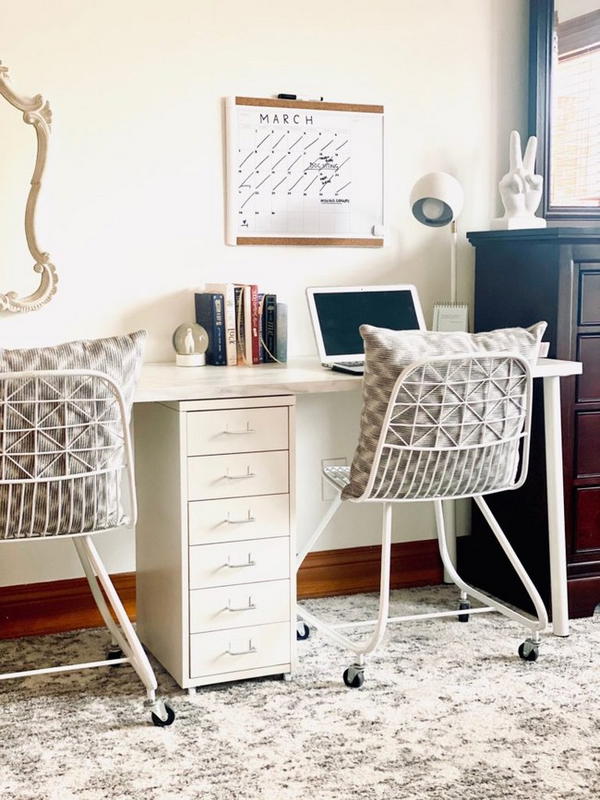 Have you ever dreamt of building a modern desk? Yes, IKEA is always helpful in building beautiful wooden tables. This article helps you to build a beautiful IKEA hack that looks simple and stunning for you to use in your workspace for a long time. Grab an ADILS leg, HELMER cabinet, and EKBACKEN countertop from IKEA and follow the instructions carefully to make this wooden desk. You can choose from 2 colors that are black-brown or white finishes. This DIYer made a lovely custom desk with plenty of storage space that fits two people working side-by-side.
DIY Plywood Kids Desk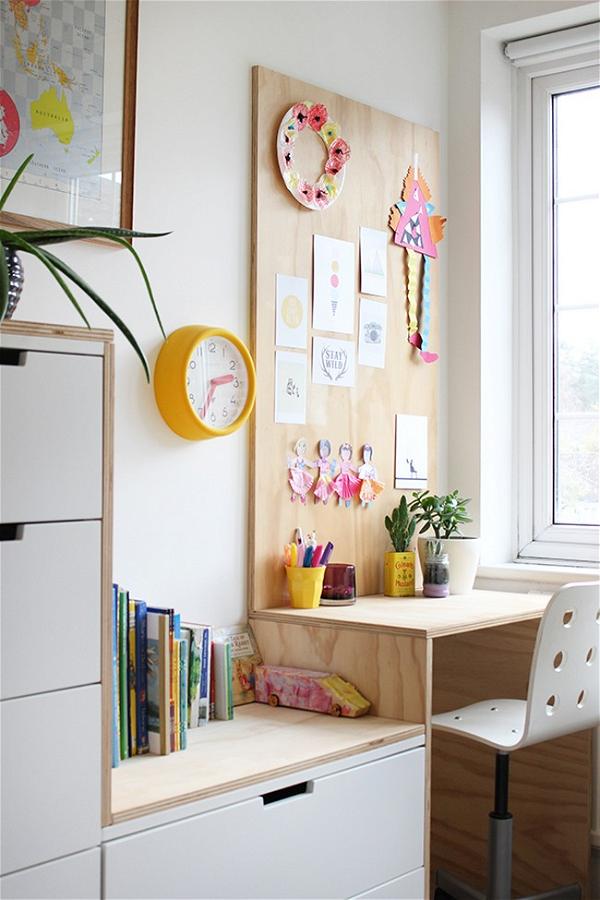 By making some simple cuts and installing of DIY plywood kid's desk, this IKEA Alex hack has turned out to be excellent functional furniture for the bedroom. By shelving the back wall with a board, it even adds up to be an elegant memo board. It gives you a fantastic chance to create your own imaginative furniture designs. It just might include speakers for the children's music, shelves for books, monitors for their laptops, and any other accessories required by them. The whole thing looks good without looking too gaudy or flashy. To complete the task of a DIY Plywood Kids Desk, you need plywood sheets and a set of IKEA Alex Drawers. A back wall is added extra on the desk so that you can keep many things in its storage.
Gold Leafed Acrylic Ikea Desk Hack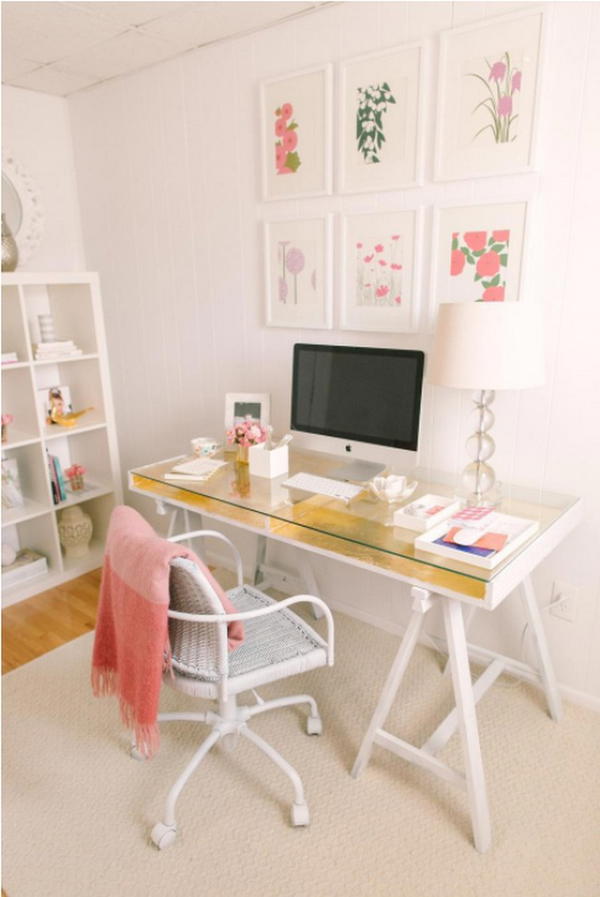 Everybody loves good furniture and you will also want to bring some stylish change to your room by adding this hand-painted trestle gold-leafed desk from IKEA. The gold-leafed desk requires a little bit of work but is going to add a nice feel of classic elegant style to the room for quite a long time. In addition, with the right kind of paint and gold leaf, you can make this desk as colorful as you wish that too without any harm to the solid wood material. The whole process is pretty fun indeed, and the final result will leave you amazed!
DIY Linnmon Alex Corner Desk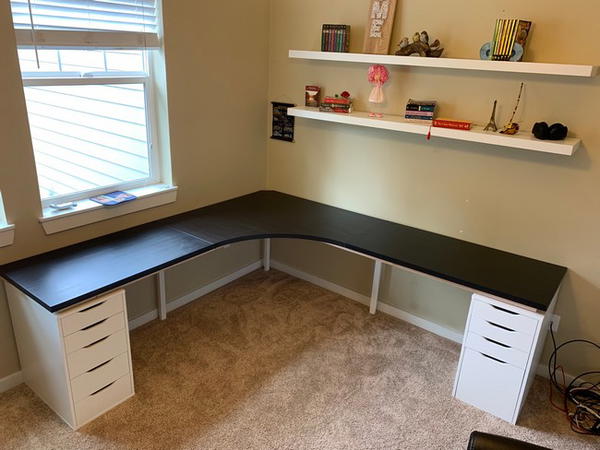 Are you looking for a more creative, space-saving desk? Look no further than the Linnmon Alex Corner Desk. This desk will make your workspace both stylish and functional. With its white-painted drawer units and dark stained top, this desk is a DIY lover's dream. This project can be completed using the IKEA Linnomon top and IKEA Alex drawer units, easily transforming into your new favorite workspace. The drawers have plenty of storage for whatever items you might need. This corner desk is a great DIY project that anyone can build. This DIY corner desk will be a favorite of everyone.
DIY Plywood Double Desk Hack With Drawers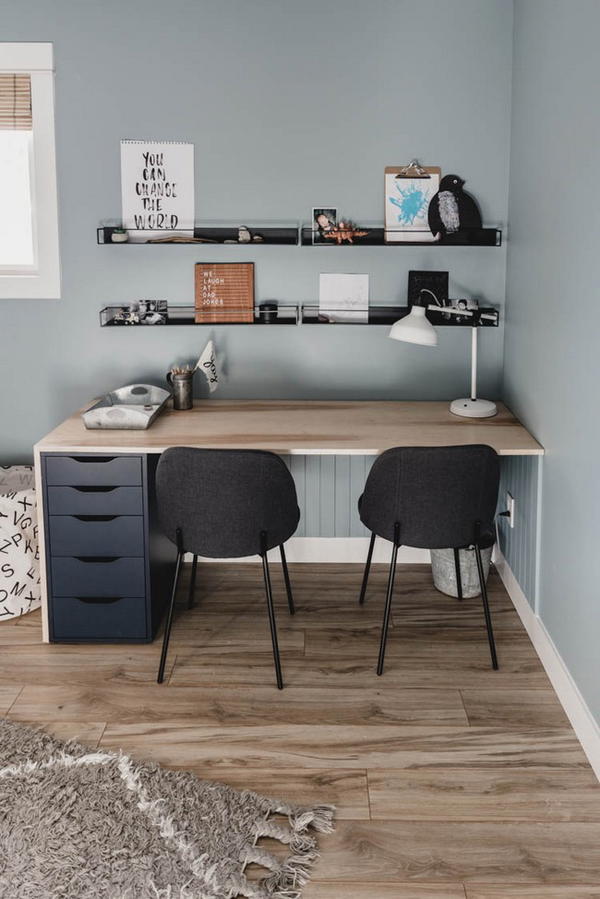 If you love the idea of a DIY desk with drawers, this IKEA hack is for you! No assembly required – just adjust and attach the parts. The vertical shiplap under the desk and the waterfall baseboard are the two most beautiful features of this particular design. The drawers that come from IKEA are very easy to install. You can also make one yourself, or purchase a ready-made drawer at your local home improvement store.
This DIY plywood double desk is perfect for kids' rooms, home offices, and even the corner of your kitchen. The vertical shiplap under the desk and the waterfall edge are the most beautiful features of this very modern desk design.
Easy Ikea Alex Desk Hack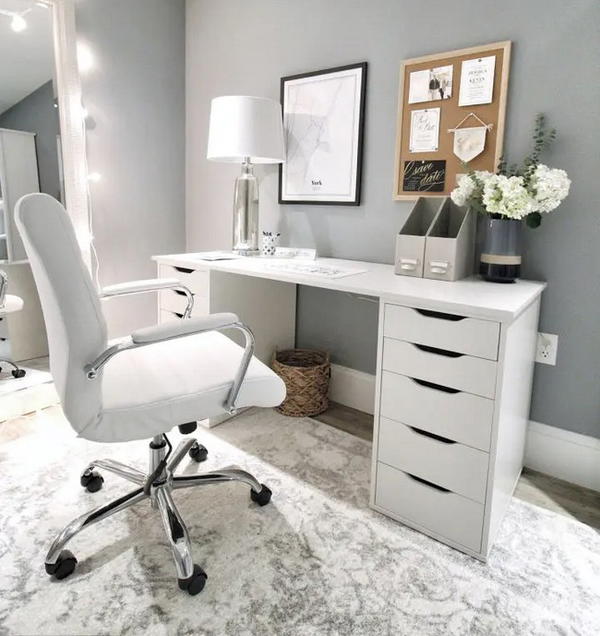 Construct a beautiful IKEA workspace with this stunning white-painted desk that provides an elegant top and many drawers for your ultimate storage needs. To complete this fabulous wooden deck, you'll need IKEA Alex drawers and an IKEA Linnomon top. Then you can give the entire IKEA desk a nice wood finish for weather protection, and lots of visual stimulation. You'll need stain blocker primer, snowbound paint in gloss, and a high-performance sealer for a brilliant shiny white desk finish. This project can be done easily in less than two hours for a complete finish. You will absolutely love the great finish on this amazing desk.
Ikea Rast Desk Hack With Minwax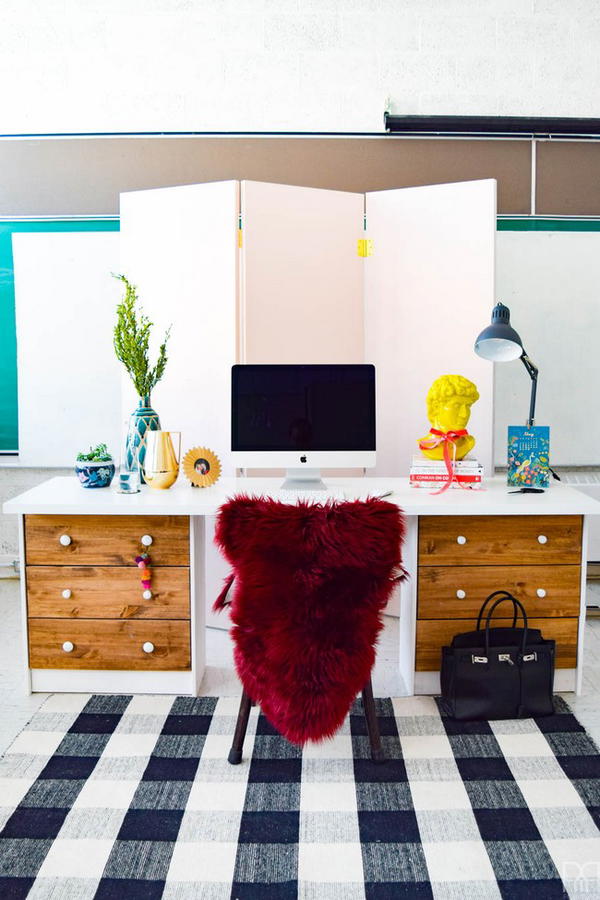 Get inspired to build a creative Rast desk design of your own with this stylish and cool IKEA Rast desk hack. This easy DIY tutorial shows how you can make two IKEA Rast desks using Minwax wood stain, latex gloves, cotton staining rags, white paint, drill & bits, nail gun, and knotty pine pieces. The IKEA Rast desk is one of the most popular and flexible desks out there because it offers so many customizable possibilities while being ready to assemble in no time at all! So, if you love the IKEA Rast desk but can't afford to buy a brand new one, here is the best cost-effective solution. It does not cost extra money and not even heavy lifting.
Ikea Desk Hack Tutorial
A custom desk can help you get organized without spending a lot of money. IKEA desk hack provides excellent, easy step-by-step tutorials to build the desk using common materials available in IKEA. Decorate the completed wooden desk using unique decorative items.
A customized home office desk design is the best thing you can get that gives you huge space to organize your office. You are no longer getting the same desks with less storage and space. Customize your own home office desk design based on your needs, whether you have more books or papers for storage or you need custom art frames and stickers to display on the wall. Create a customized study desk in any size to complete your desk set up from other furniture.
Small Ikea Desk Hack With Cube Storage Shelves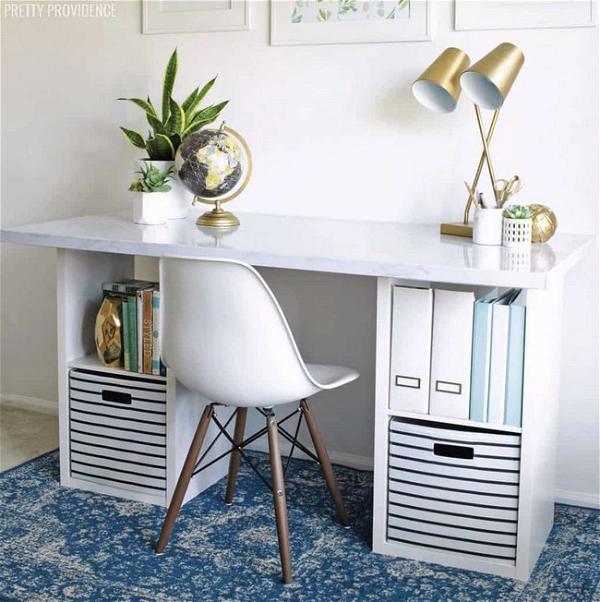 If you're looking for an easy way to cut down on clutter around your home, a cube storage shelf is just the solution. Whether it's neatly organizing your clothes and accessories in your closet or keeping office supplies in place, a cube shelf is a great choice. This is a great way to spruce up a simple desk into something sleeker and more modern by adding a few easy-to-find components. It can be assembled in minutes and remains inexpensive, so you'll have a fresh new desk without breaking the bank. This piece of furniture looks super elegant with succulents, marble contact paper, and other details. You may need a drill, pencil, screwdriver, tape measurer, and more tools to complete this job.
DIY Cane And Wood Desk
Are you looking forward to getting a new desk at home or office? You know that desks are everywhere, from the office to home! The traditional desks are get-go, often to add to the kids' playroom or study. But they are not super trendy, so IKEA came up with an innovative IKEA Alex hack with cane & wood. This DIY cane and wood desk will add more romance and imagination to your workspaces.
A DIY enthusiast puts some creativity and made two Alex drawer units into the coolest desks. The DIYer used cane webbing, poly shades spray paint, plywood for sides and drawer fronts, wood trim for drawer fronts, stain, wood stain, door slab, and furniture legs to complete the DIY desks! What are you waiting for?
Custom Ikea Hack Floating Desk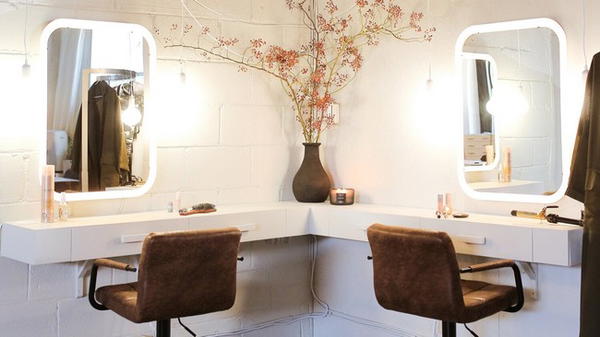 Create a custom floating desk in a few easy steps with this IKEA hack floating desk. It's designed to make use of the corner space in your home office, and the wide top is ideal for writing or computer work. If you're looking for a practical workspace in the corner of a room, consider this IKEA hack floating desk. It's the perfect solution to making use of a narrow corner or funky wall. The shelves and lower cabinets provide plenty of storage. The desk is a fun, budget-friendly project that makes it easy to create a space to work when you don't have the luxury of a full office.
See Other Projects