Keep your guns safe while adding a perfect blend of form, function, and style to your space by getting inspiration from these DIY gun cabinet plans. It's not just about storage and organization but also best to show your love for weapons and firearms; plus, you'll find them extremely useful, especially if you're a hunter.
There are several designs for gun cabinets; some differ in size but always serve the same purpose. They help you organize your guns, keep them safe and secure, and make it easy to access them when needed.
DIY Gun Cabinet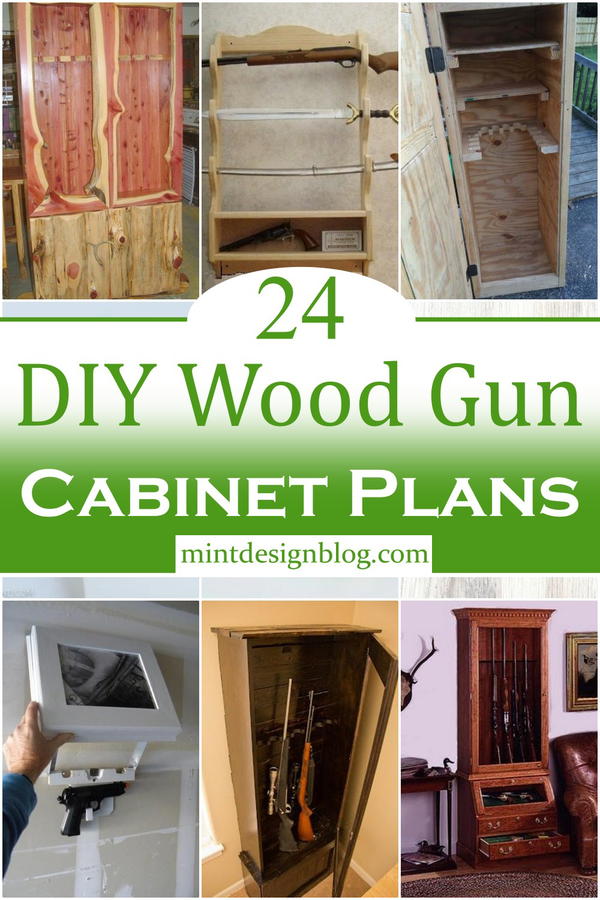 Making your DIY gun cabinets can protect your guns and other weapons against unauthorized access, but their usefulness extends beyond that. Well-built gun cabinets provide ventilation, which helps keep your weapons safe from humidity and temperature changes.
Gun cabinets also serve as an organizational space for shotguns, rifles, handguns, and related accessories. They can even become a decorative element showcasing your collection and skills, making them a delight for woodworkers.
Picture Frame Gun Safe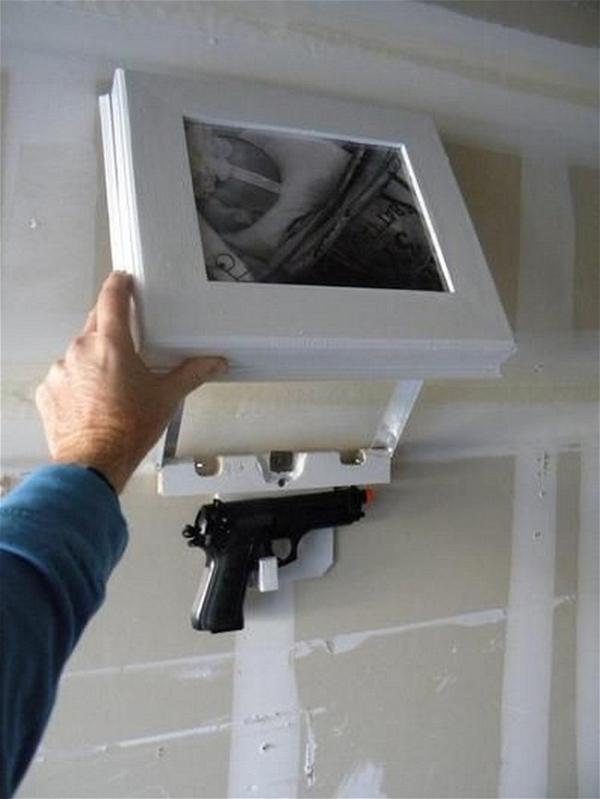 If you are tired of feeling like a criminal when trying to discreetly own a firearm, then the Picture Frame Gun Safe is for you. This design utilizes 2 good ole hinges, a series of switches, and revealing the safe behind an average picture frame. Display your favorite picture of your loved one on the wall, but can instantly hide your handgun in this clever sliding picture frame gun safe. This frame is a lot smaller and more discreet than the usual shelf. You can also customize it to display any picture you want.
 Amish Inspired Wood Gun Cabinet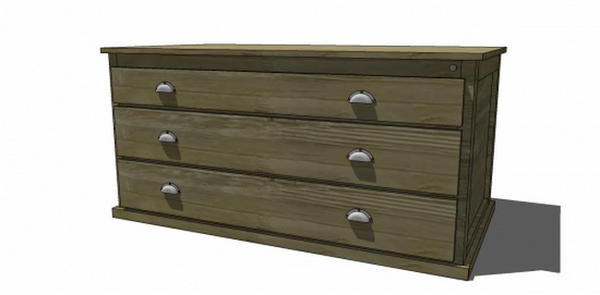 This amazing cabinet is the perfect gun storage solution. Its three drawers allow a gun to be stored in each one, with room for ammunition in the larger ones. Each drawer is constructed from solid wood and has sliders mounted on the back and at the bottom front corner.
Firearm Display Cabinet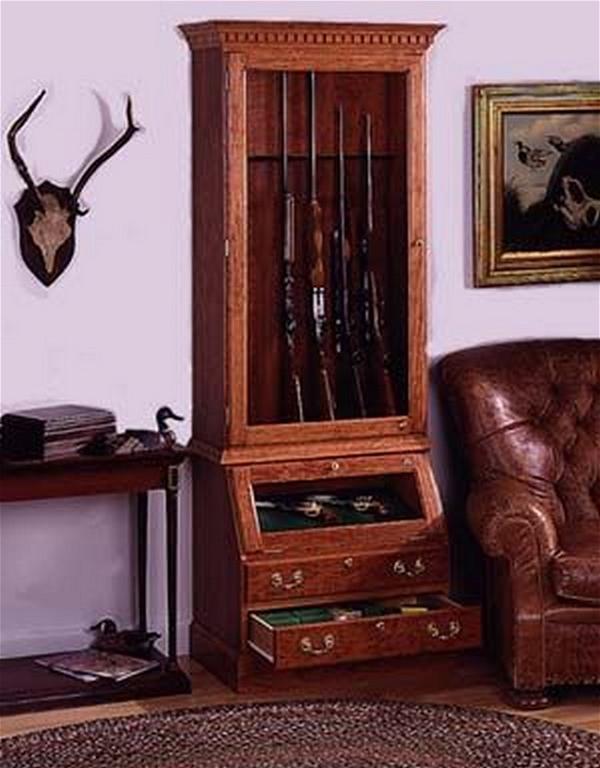 This cabinet lets you store your firearms in a secure and convenient place. The unique design provides a glow-up effect, making them even more eye-catching. Besides, two drawers for additional storage and gun display cases let you install low-voltage halogen lights for better lighting. This display cabinet pairs two storage units, a lower and an upper case. The lowercase has drawers for ammunition, gun cleaning tools, and other items.
The upper case comes with halogen lamps, providing a glow-up on the firearms stored inside the case. This cabinet is perfectly sized for any room, from the living quarters to the bedroom, and is further accentuated by its sleek finish. This unique cabinet and a special design enable you to store your favorite guns. Besides, it allows you to exhibit them, too.
Project details: popularmechanics.com
Pallet DIY Gun Cabinet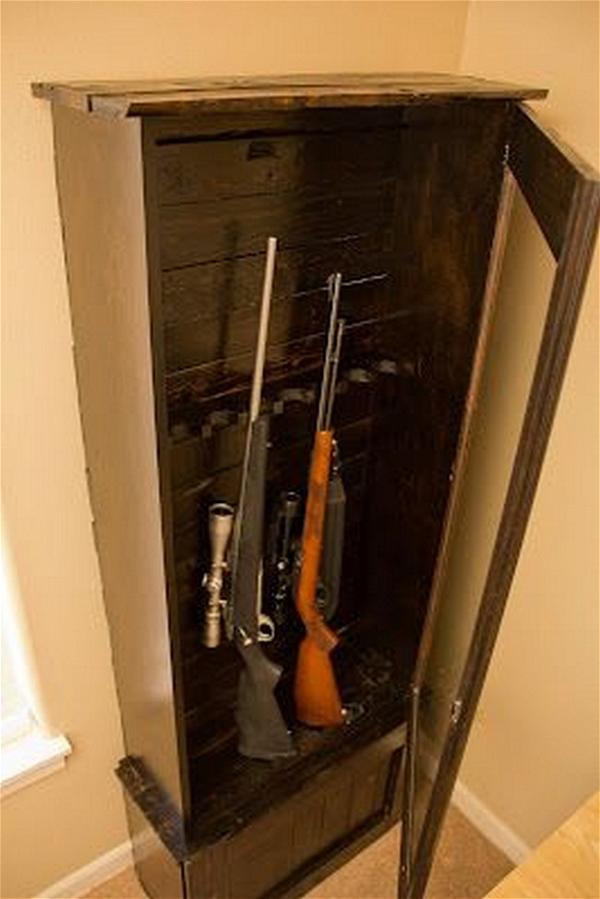 If you need a gun cabinet that is not only big enough to keep your guns in but also to decorate the interiors of your home, this project is the one for you. The entire cabinet has been built from recycled wood and is designed to blend seamlessly into any existing interior. Moreover, it can be built easily and cheaply, as all its materials are retrieved from pallets.
Project details: wilsonsandpugs.blogspot.com
Handyman's DIY Gun Cabinet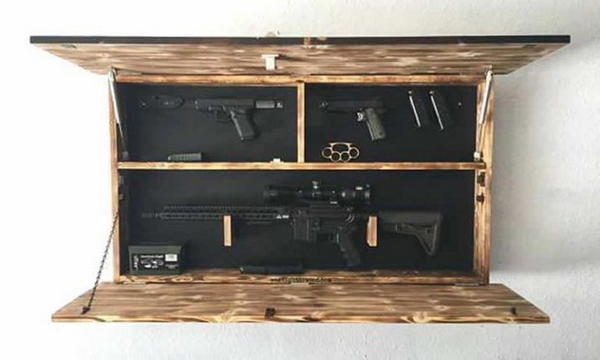 Do you have a collection of guns in your house but confined to a corner because they are too big to store anywhere? We have an easier solution for your home! Learn how to make a gun cabinet that can be customized according to your needs. This amazing storage cabinet is also a great way to conceal your weapons. All you need is a large piece of plywood, some saws, screws, and hooks from the hardware section of your local hardware store. Made from high-quality wood it is sturdy enough to last long while keeping your guns safe and secure. Project details: handymantips.org
Cedar Gun Cabinet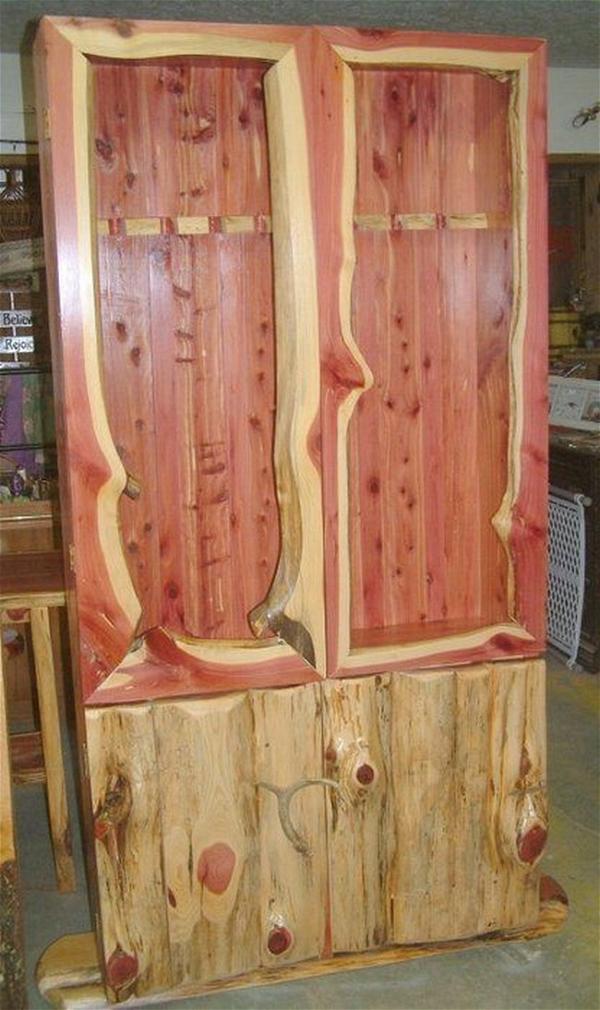 Lightweight and airtight, this gun cabinet is ideal for storing your collectibles. You get a handsome, incredibly durable shelf thanks to its being made from cedar wood. This means you can use it in areas of your house that aren't subject to adverse weather, such as basements and attics. There are also slots on the interior of the cabinet door and faceplates with letters on them, allowing you to remember where you stored your most prized possessions. This attractive rustic gun cabinet features attractive cedar wood construction and an ample amount of finish. Cedar wood is long-lasting and durable, as well as impervious to termites. It will look as good as new for years.
Project details: s3.amazonaws.com
DIY Free Rifle Rack Plan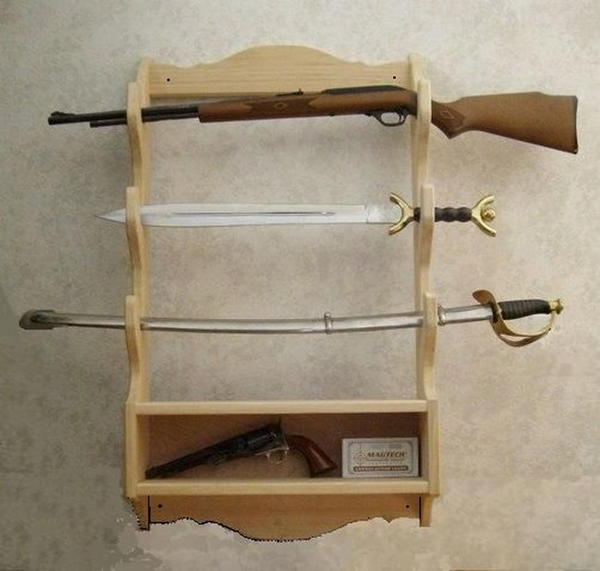 This shooting weapon rack plan is free to use and make. Here is an interesting rifle rack plan. It is small but has all the features you need when storing your hunting rifles. You can build it at a low cost using the materials you have in your hands when you need a storage unit or an attractive piece of weaponry for your home. The rest shelf supports even the heaviest of guns and has additional space for handguns and ammunition. The most important feature is that it is easy to build and won't cost much.
Project details: woodworkingcorner.com
DIY Gun Cabinet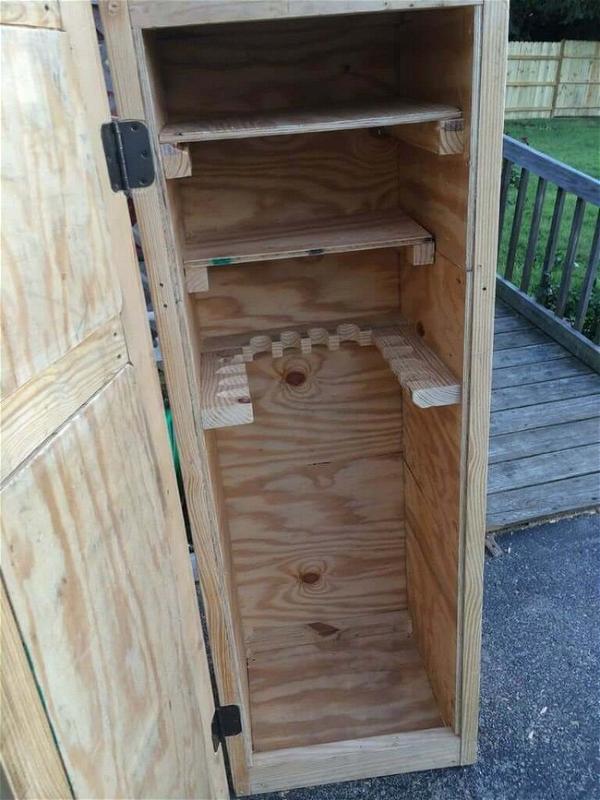 Are you a gun fanatic? With this DIY gun cabinet, you don't have to worry about your collection getting dusty. This sturdy cabinet helps keep your guns upright and in place. It has a unique design that will make the most out of a regular-sized door, leaving you some extra space. It comes with a U-shaped barrel rest perfectly fitted for taking hunting rifles and air guns.
Project details: instructables.com
DIY Rifle Rack Plan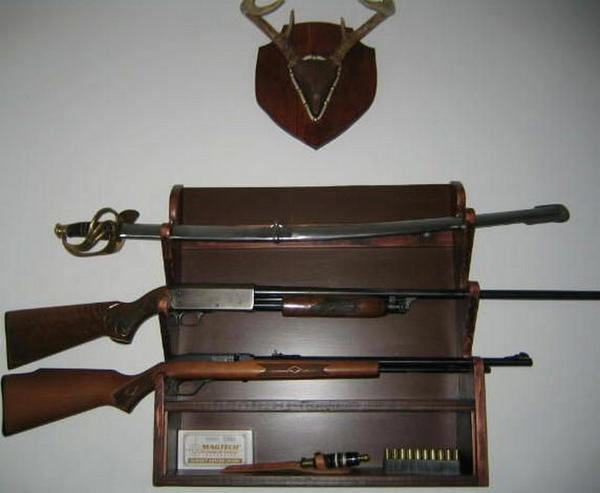 Looking for an easy project that will hold your prized gun collection? Our DIY Rifle Rack Plan is a great way to display the guns you use to tag game or hunt with the people you love. It only has three barrel rests, so the most you can store is 3 hunting rifles. However, each barrel rest has a beautiful curve, so the whole rack is more of an exhibition piece.
If you are interested in this project, it is easy to make. The only thing that might prove extra challenging is the measurements and cutting; otherwise, it is a pretty straightforward project.
Project details: wayneofthewoods.com
Secret Floating Gun Shelf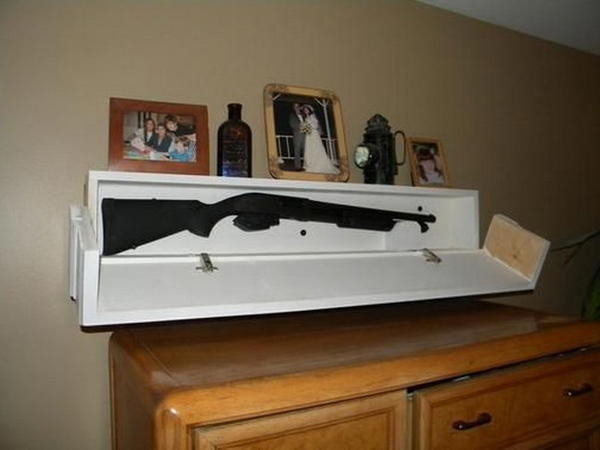 A floating gun safe is a cheap and cool way to hide your guns. It looks like a regular shelf. No hinge, no button, no lock, no trace. The shelf consists of two layers of Baltic birch plywood with a layer of rubber between them so it can float on the wall surface. You can hang it easily with four screws or nails on the wall. If someone takes it down to check out, just pick it up and put it back on the wall!
Project details: diyeasycrafts.com
Reclaimed Pallet Gun Shelf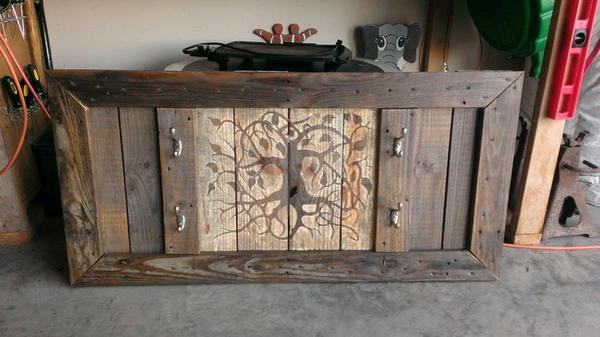 Are you a gun-toting country boy or a girl? Or maybe you're an urban gent or dame who likes decorating your pad with these rustic finds. Either way, you'll want to check out this rustic gun shelf that combines practicality and quirkiness. Reclaimed pallet wood helps bring character to your tool shed or game room, and with a little elbow grease and a lot of imagination, you can make this project fit into any space.
This gun shelf is perfect for preventing rust, collecting dust, and adding a touch of nature to your home. This is one of the most basic pallet projects you can do, and it only takes a few easy steps.
Project details: instructables.com
Field Rifle Rack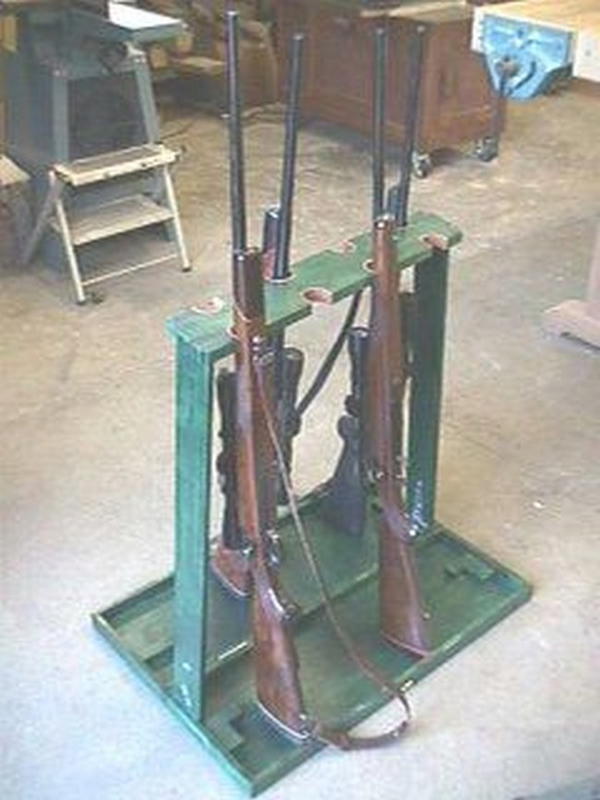 Whether you spend your nights in an urban area or the wilderness, you appreciate a rifle rack that is portable and strong. My Field Rifle Rack is immobile, yet it folds into a small suitcase for easy transportation. The Field Rifle Rack holds as many as 8 rifles or shotguns at once, and its collapsible, tubular steel arms support every make and model of family rifles. It can hold any type of gun, including but not limited to compound bow guns, fishing pole guns, and paintball guns.
The only screws needed are the ones that are provided. The unique feature is that this field rack can fold into a suitcase so that you can take it with you when you travel, making this item the most portable field rifle rack available in the world.
Project details: billpounds.com
Rustic DIY Gun Cabinet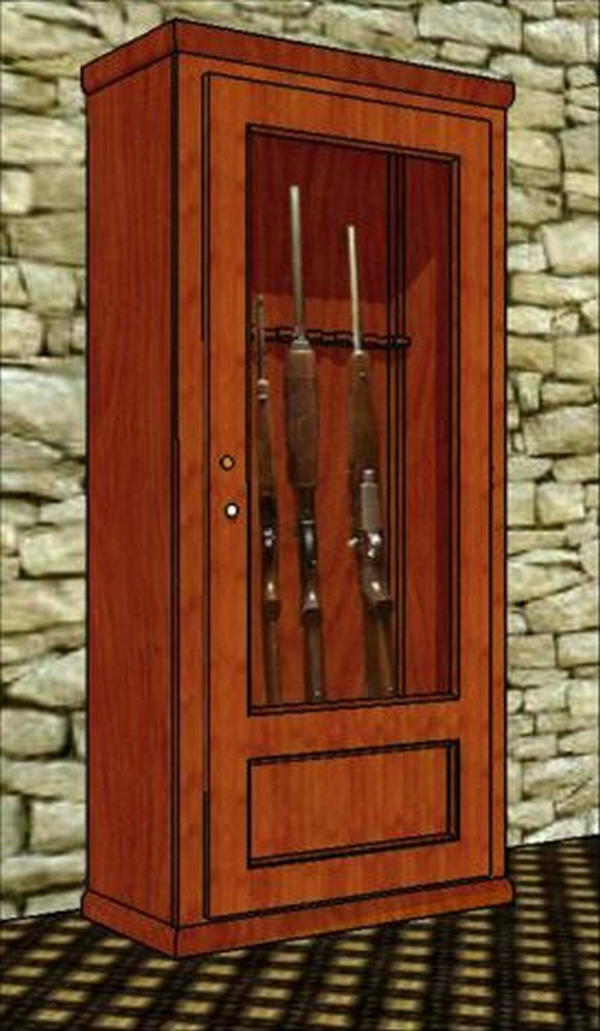 If you want to build a gun cabinet follow this amazingly easier idea. This is a working plan for a real, lumber-based gun cabinet you can construct in your garage or workshop.
If you already have a safe and only need a smaller cabinet for your pistol collection, simply remove or adjust the guns' locations in the plan accordingly. Or, if your safe is full and you want an additional location for your rifles or other valuables, you can easily scale the plan up by adding columns or rows to increase the volume of storage space.
Project details: jacksfurnitureplans.com
DIY Wooden Gun Rack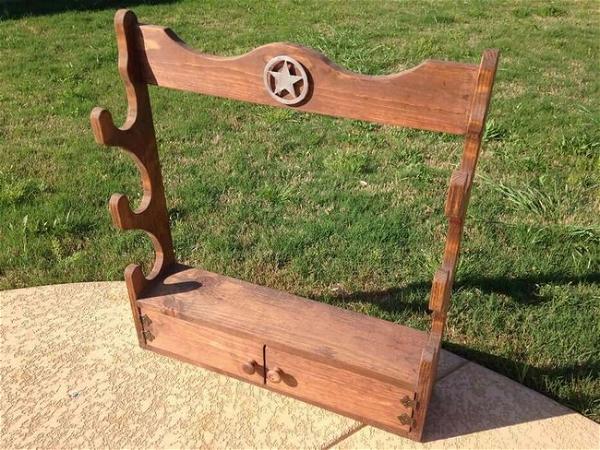 Sporting guns can be expensive, so storing them in the right places is very important to ensure that nothing happens to them. Adding some doorknobs and hinges here will add extra safety and security to your precious few firearms. You can customize this rack and it will be best to ensure that your weapons are stored safely in a home environment. The rack is built straightforwardly and utilizes hinges to give you a secure but easily accessible cabinet.
Project details: instructables.com
 Addam Holder's Pallet DIY Gun Cabinet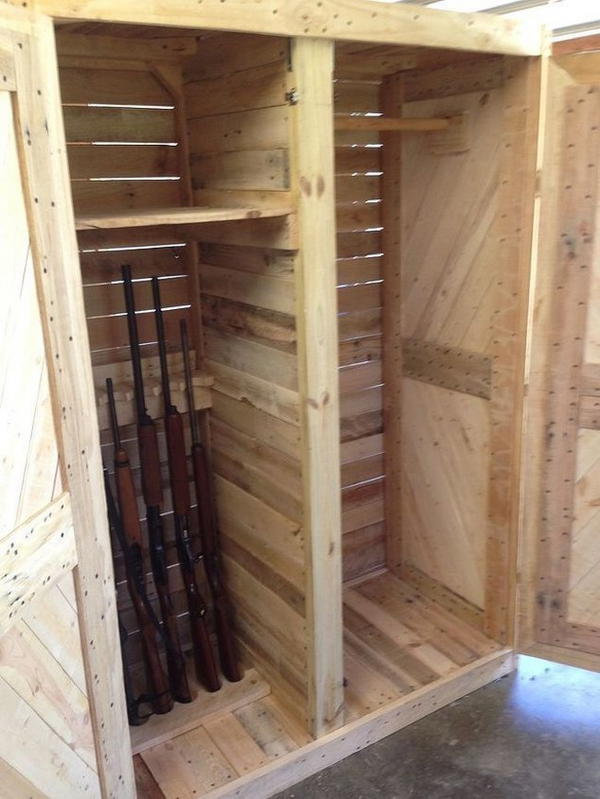 This holder's Pallet Gun Cabinet is for gun storage and other equipment, such as hunting clothing and boots. No need to buy one of those expensive tactical cabinets that can even cost you half of your budget for guns. With less money, you can get the cabinet. Made with a rugged construction of wooden planks, this storage cabinet has two levels for your guns and other equipment.
The bottom level is reinforced to support the weight of shotguns safely. You can hinge the top panel so it opens outwards or prop it open for easy access. It's lightweight enough to move around during deer season or to take camping but holds up well in the basement or garage all year long.
Project details: hometalk.com
Secret Coffee Table Gun Storing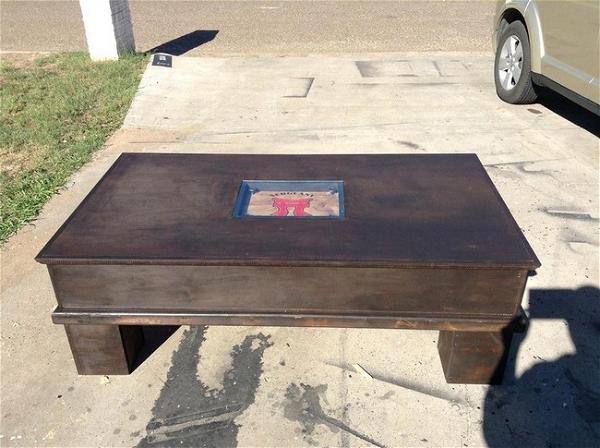 If you are looking for a coffee table that can conceal your firearms without sacrificing storage capacity, this project is for you. While others build bookshelves to store their guns, you will have a coffee table that does the same without compromising storage capacity or concealment. It has locking pins on each display side to safely keep your guns in place. It can hide rifles and pistols at once without sacrificing any concealment capability. Also, its locking mechanism on the side trim is simple yet incredibly effective.
This horizontal rifle holder is great and can store various things, such as guns, cleaning tools, and other toys. But if that wasn't enough, this shelf comes with another mini-gun safe at the back to store your handguns and pistols, so they are stored safely in one place...
Project details: instructables.com
Wall Gun Cabinet With Hidden Keypad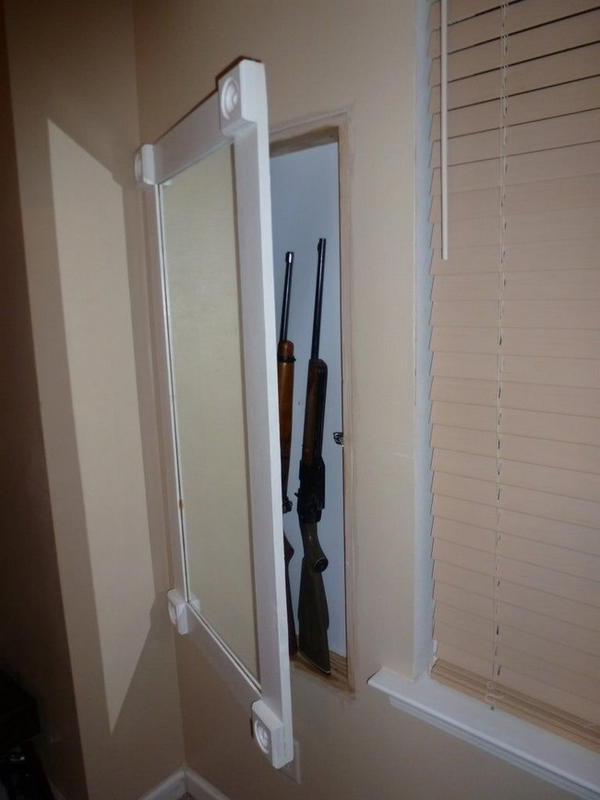 Need a place to hide your secret stuff? This amazing gun cabinet is for you. It is the perfect place to keep valuables safe and the best way of storing your valuable firearms, in and out of the home. No one will ever know there are guns in here. No one will ever suspect this large, full-body mirror is hiding a large safe.
Adding a full-body mirror will make it tucked away when you have company over and a hidden keypad on the back. It can be easily installed on most walls and you'll find it useful too.
Project details: instructables.com/
DIY Gun Cabinet Coffee Table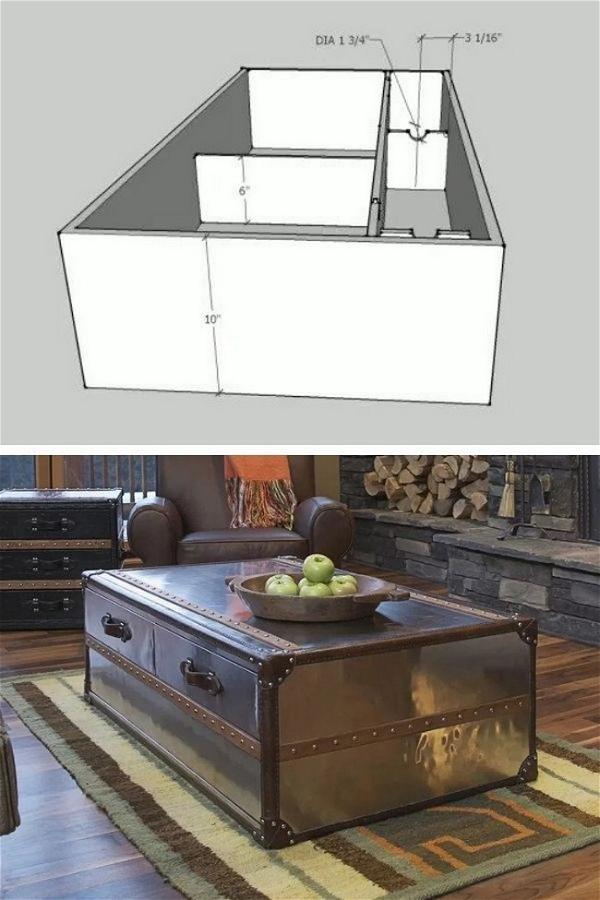 This DIY Gun Cabinet Coffee Table allows you to have a coffee table and a gun cabinet in one. Build this hidden gun-safe coffee table and enjoy your favorite beverages while securely storing your firearms. It is much cheaper than buying a coffee table from the store, but if you are handy with wood and drill, by spending less money.  The upper part is constructed of wood and can hold quite a few things on its surface, such as your laptop, books, etc., and accessories.
Project details: furniture.lovetoknow.com
Hidden DIY Gun Cabinet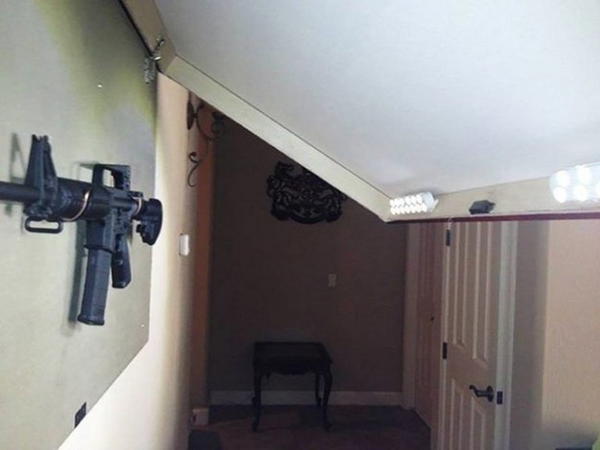 Use unused wall space to hide firearms, ammunition, and other valuable items inside a picture frame gun storage cabinet that blends easily into nearly any room in your home. This amazing idea requires the user to pull on a small lever to open the back panel and reveal a hiding place for his or her firearms. The mirror panel is attached with hinges, so it will swing easily when opened and closed.
Project details: diyprojects.com
Custom Rifle Rack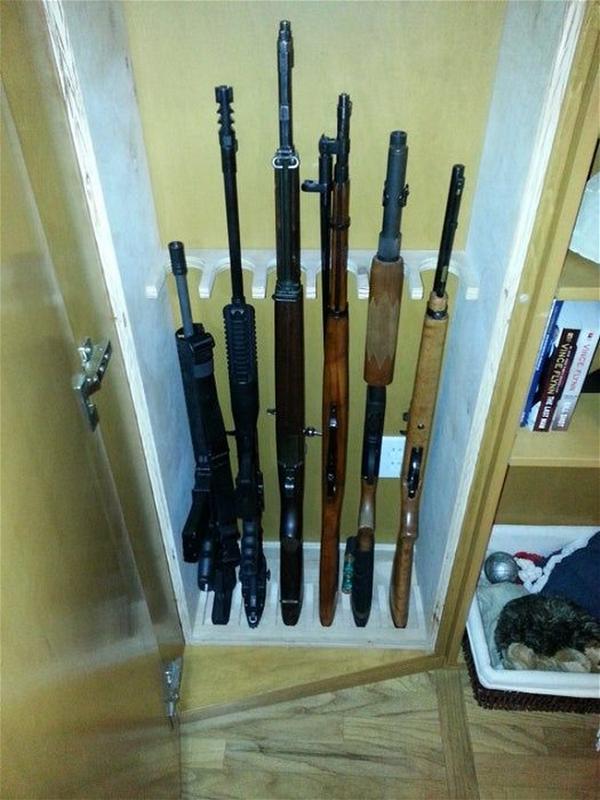 The Custom Rifle Rack is designed to fit into a cabinet, but with some handy measurements, you could easily turn any unused cabinet into a rifle cabinet without spending another dime. The Custom Rifle Rack is built entirely of wood, with few support boards and the butt and barrel rest made of poplar. Poplar is a hardwood that is strong but easy on your wallet.
This project's main advantage is that you don't need to start from scratch – if you already have a cabinet, you can easily turn it into a rifle cabinet.
Project details: instructables.com
Modern Trophy Gun Case
Modern Trophy is one of our most sophisticated gun rack ideas built in a cabin/hunting style for any person. The front body has been designed to look like a classic case and features a burglarproof touch control panel. With a wood interior and a beautiful touch control panel, you will always be able to find something to display your prized possessions.
It is the perfect addition to your home for all your firearm needs. This cabinet holds firearms of every caliber and is made from aircraft-grade plywood and interlocking joints. Featuring a touch control panel that contains all the useful functions you need, such as lighting, interior pulling door, and thermostat.
Project details: extremehowto.com
You can also see: DIY Trophy Projects 
Standing Gun Rack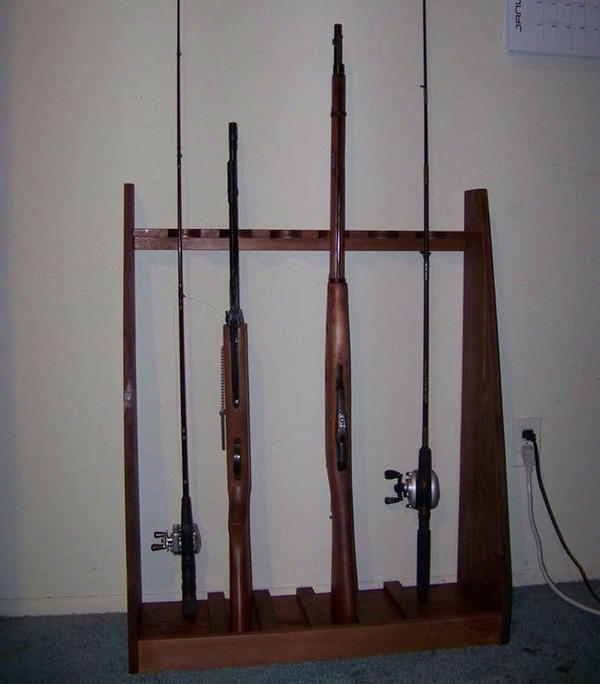 With these free plans, Build a cabinet to store your guns safely and securely. They will show you how to build a gun cabinet without plywood or sheet metal fasteners, ensuring easy assembly and low cost. This amazing gun cabinet needs to be secured to the wall for best results, but it's made from standard wood stud materials easily available at hardware stores.
It's sturdy enough to store rifles and semi-automatic weapons with no problems but compact enough to fit in a small part of your basement or garage. You can even make one yourself with just a few pieces of wood and some screws. Just follow the instructions for this simple project, and you'll have a sturdy gun rack that will keep your gun separate from your ammunition and safe from anyone else who might stumble across it.
Project details: instructables.com
Secret Compartment Mirror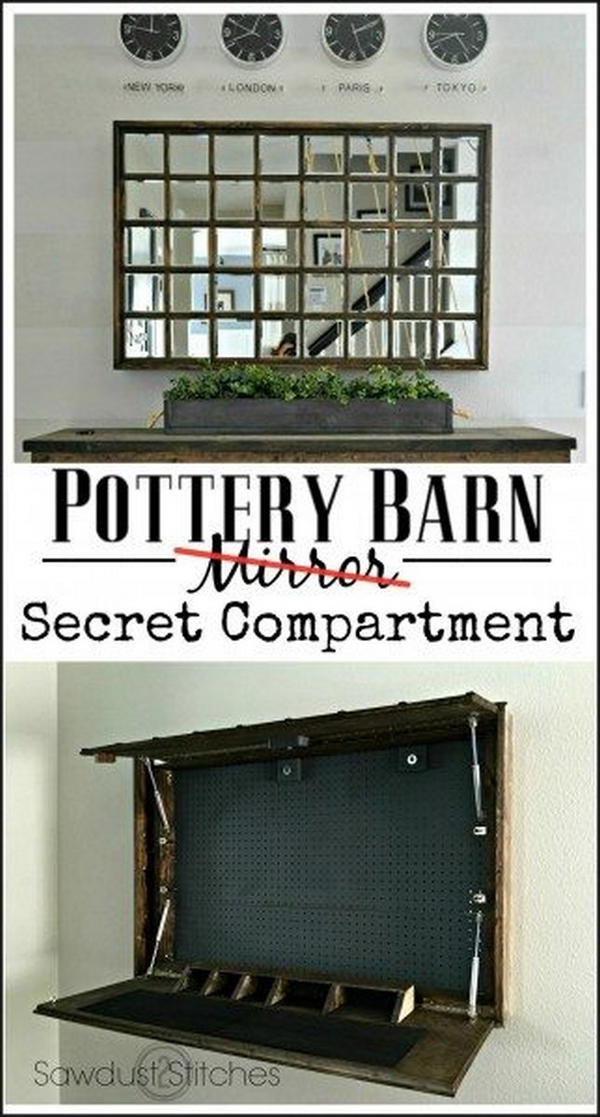 Our Secret Compartment Mirror provides a beautiful, functional solution for securely stowing away small firearms and valuable belongings. Keeping with the theme, it also comes with a handy hidden compartment for small pistols, hunting guns, or other personal belongings. You'll love the way it looks and so will your friends!
This elegant mirror features an elegantly decorated wood frame and glass front, complete with a keyhole opening to safely store its contents when not in use. The mirror's base compartment can be secured easily with the included screwdriver by turning off its supplied latch bracket.
Project details: sawdust2stitches.com
Free Gun Cabinet Plan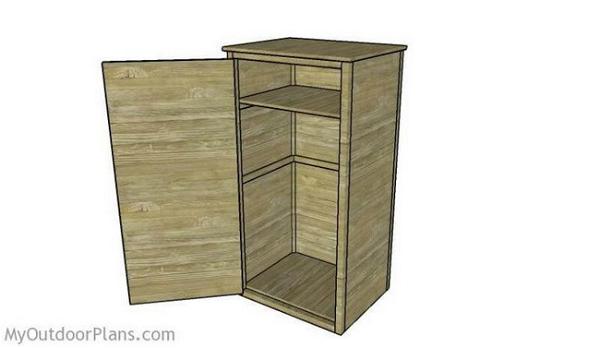 With this Gun Cabinet guide, you can turn two bookcases into pretty furniture and keep your firearms away from children. The ultimate gun cabinet, big enough to hold pistols, rifles, and shotguns. This storage cabinet has two sections, one for rifles and the other for smaller guns such as pistols. Both parts are lockable, so they can be protected against unauthorized access. The bottom has a hanging rail with four hooks to hold bullets. The exterior has a map of the world indicating where various kinds of game are hunted.
Project details: myoutdoorplans.com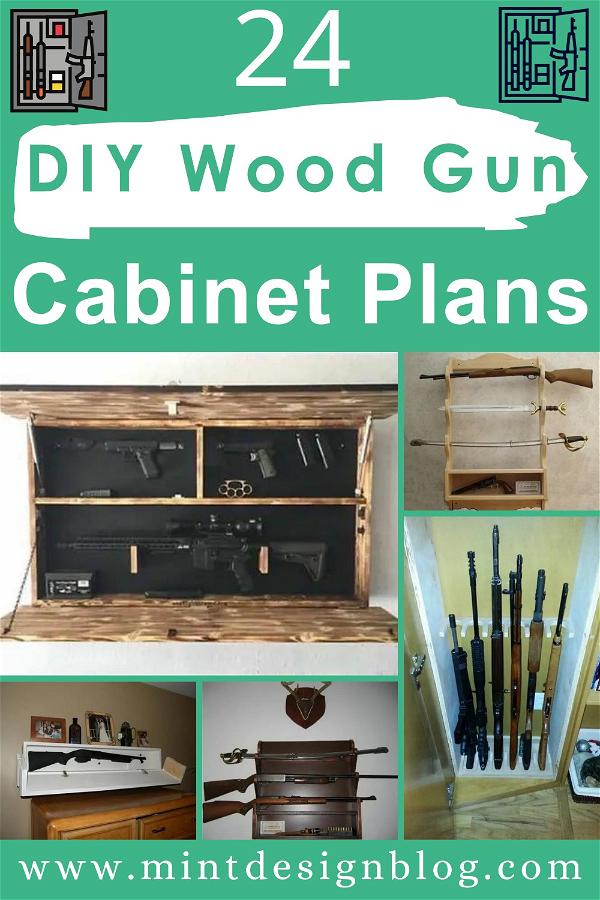 See Other Projects