If you love to be outdoors and are passionate about DIY projects, you might be interested in a portable sink project. Luckily for you, we have compiled a list of DIY Portable Sink Ideas that can make your outdoor adventures much more convenient and sanitary! You'll notice that most of these are variations on the same theme: They are just a large bowl with some water and a way to drain it. This is because gravity is generally enough to get things clean. These DIY Portable Sink Ideas don't require many tools or massive work. You can simply follow the steps and build one yourself with bamboo, wood, or even plastic bottles! From simple to elaborate, these DIY portable sink plans allow you to wash dishes without compromising style or appearance. They're easy to build and can help you save money over buying one from a store!
You Can See: 25 DIY Outdoor Kitchen Ideas You Can Build On A Budget
DIY Portable Sink Ideas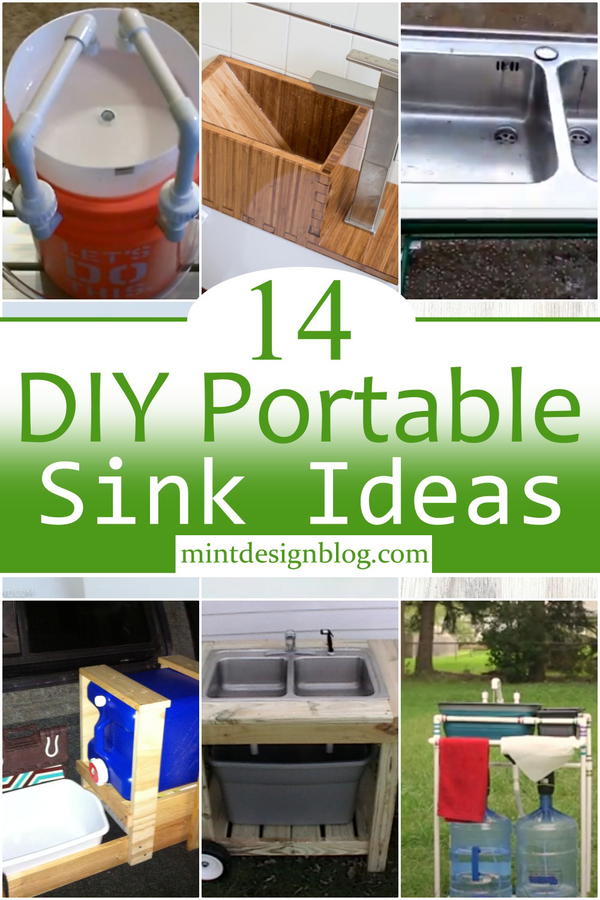 No Advanced Skills Required:
All the information you need to make a portable sink is right here. Our DIY Portable Sink Projects include ideas for a simple, four-walled box that sits on your water supply and features an add-on washing machine. You'll also learn how to build beautiful sinks that can live outdoors or in your home. A portable sink is a valuable resource, whether camping, tailgating, or picnicking. The steps in making them are easy to follow; it might take time, but it will be worth it in the end.
Uses And Benefits:
A portable sink can be a great addition to your camping or picnic experience and a lifesaver if you want to wash any dishes while camping or out in the wilderness. If you are going on a long camping trip, you are probably thinking about how often you will have to go inside the tent to use the bathroom and how often you will need to clean your hands or do some cleaning up. Camping sinks provide what they promise: they enable you to clean up after yourself while out in nature. You can also use DIY Portable Sinks at home when washing dishes by hand and keeping your sink area free from food, garbage, or other messes.
Portable Sink For Garden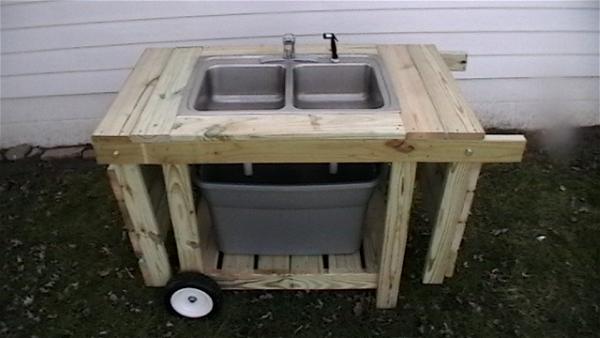 If you want to keep the kitchen clean when working in the garden and don't want to dirty your sink, then this portable sink is an excellent solution. It's easy to build and can be taken apart in just a few minutes, making it super handy when you're done with your gardening chores or if you need to take it away for storage. The portable sink has its tap, which makes it easy to fill one of the two soap dispensers, the internal basin, or your pots. When you have finished using the sink, simply press down on the drain plug to release the excess water automatically.
DIY Sink For Your Truck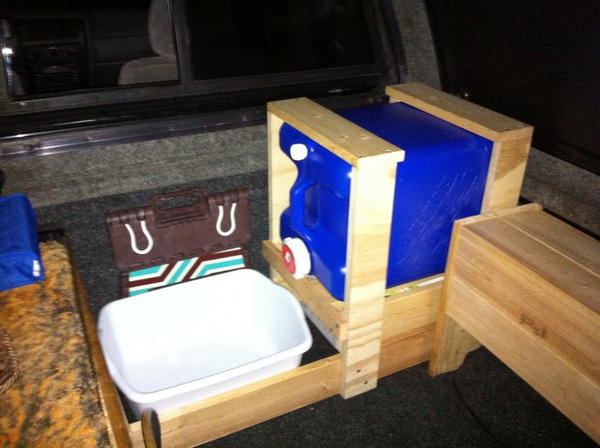 If you have to move around a lot, it only makes sense that your bathroom should follow you. Nothing is more convenient than having a portable sink that you can use in your truck whenever you want. This article will walk you through making this DIY portable sink for your truck without breaking out of your budget or going through too much trouble. You'll need some reclaimed wood and screws to do this project, as well as a 7-gallon water jug or any other size that works for your truck. Once built, it can last for years without any maintenance.
Toilet Top Sink To DIY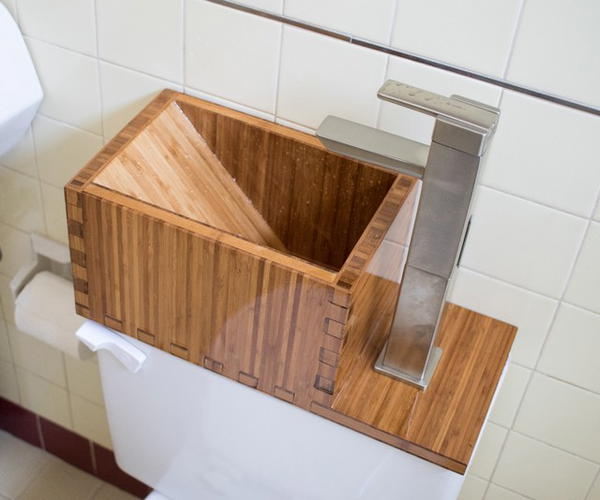 Guys, did you know that a single flush of the toilet uses approximately 13.5 Liters of water? With this portable toilet top sink project, you can conserve all that water by re-routing it through a hand-washing sink instead. By filling up the tank with greywater for the next flush, you can save the water you would have used to wash your hands separately. This revolutionary idea has existed in Japan for over 30 years and counting!
Plastic Hand Wash Sink
A Plastic Hand Wash Sink is the perfect addition to any house. It aids in easy cleanliness needs and helps save money by shopping less frequently from stores. The product can also be used multiple times, making it long-lasting and environment-friendly. This sink features simple styling and a square design that makes it perfect for a variety of restaurants, bars, and commercial kitchens. In addition, the sink also comes with a PVC stand for added convenience.
Portable Sink DIY
With this DIY, you can construct your own portable sink system in just a few simple steps. It's an inexpensive alternative to those sizeable bulky marble sinks that take up a lot of space in the salon. This DIY cold and hot water sink will fit right into any room's corner and allow you to wash your hands quickly. It's fast and easy, so you can have your portable sink up and running in no time. Get watching now, and start building your very own portable sink today!
Cheap Camper Sink
Our cheap camper van sink is designed to place in the back of your campervan and is made to be used directly after you've been out on a nice long hike; just rinse off all the dirt and grime right here before getting in the car. It's very easy to build and shouldn't take more than an hour of your time. All it requires is a bar sink, flexible pipes, two desert patrol water jugs, a marine foot pump, a copper pipe faucet, bulkhead fitting, and a hose bib - we also recommend using an old garden hose.
DIY Kitchen Sink For Camping
This DIY sink is perfect for campers. And for anyone who loves camping, you should also continue reading. This video gives a step-by-step tutorial on how to make this kitchen sink for camping. It's handy to increase your camping trips without carrying so many heavy items. It is almost like learning to cook, with the most important part being that you're outdoors and in the wild! So what are you waiting for? Go ahead and give it a try if you love camping too!
DIY Portable Sink
Are you an adventurer who loves to use your hands and, of course, get dirty? Well, if you are looking for a portable sink that you can use almost anywhere, this is the perfect project. It's easy to make and doesn't take too long, either. It's simple to use and beneficial for washing dishes or hands in your kitchen. Plus, if you ever had to move out of your house and didn't have time to pack everything, it will easily fold up for you. So, have fun making your very own DIY Portable Sink!
How To Build A Portable Sink
When handling kitchen chores, cooking, and cleaning up, having an easily portable sink makes life much easier. A portable sink also comes in handy when you're moving into another place or even taking it along with you when you travel so that washing and doing your dishes are made faster and easier than ever. You can build a portable sink in no time. All you have to do is attach the bowl to a metal frame, and voila! You are on your way to a portable sink.
Portable Sink For Hand Washing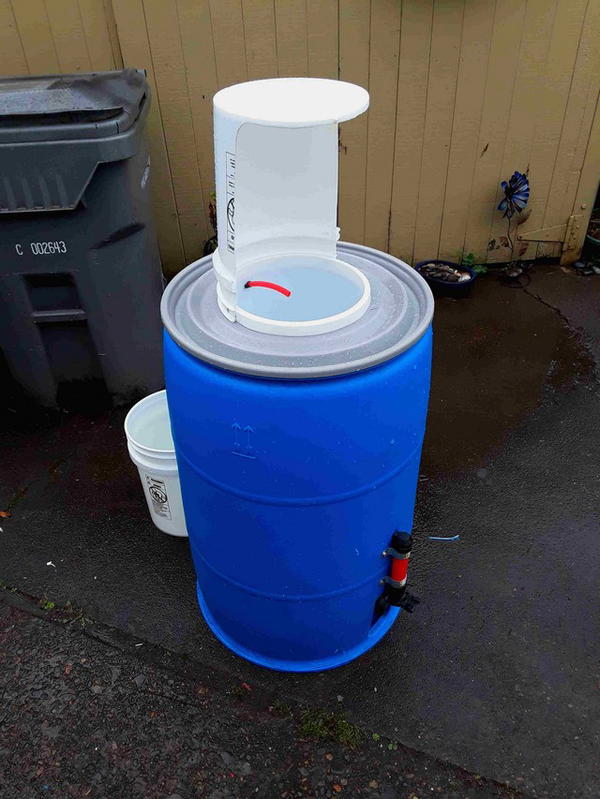 This portable sink for hand washing is easy to take on the go. It is simple to put together and will not cost much of your budget. In this tutorial, you will learn how to build one at home with standard tools like a hammer, screwdriver, and drill. This Portable Hand Washing Station is perfect for those who live in smaller spaces or need a mobile washing station. It can be easily transported from the kitchen to your van or even on camping trips in the wilderness. You can even use it at home or in the office if you're looking to lighten your load of plastic and other disposable items.
Portable Kitchen Sink
The best way to get the most out of your outdoor cooking experience is by having the best gear to help you along the way. Here's a video that shows you how to build a portable kitchen sink; this will make doing dishes during camping or other outdoor events much easier, and you can use it in any ordinary kitchen as well. It's great for camping and cleaning up messes in the garage, workshop, and other places. Watch this video to learn how to make your own at home.
DIY Camp Sink
The DIY camp sink is a simple and effective way to keep your hands off dirty water. It comes in handy for washing pans and utensils, cleaning fish, and more. The DIY camp sink allows you to connect two buckets, making it easy to fill one with dirty water and use the other as a rinse bucket. You can add a 12-volt faucet or power supply, so you don't have to lift heavy buckets of water. It's easy to build, inexpensive, and a great alternative to a portable camp shower or tub.
Portable Sink Build
Learn how to DIY your own portable sink and keep yourself from having to go inside to wash your hands or any other part of your body. It can come in handy for camps, cookouts, and outdoor events like music festivals. You can also use it when you don't have water access or simply don't want to drag along the stationary sink from your bathroom with you. It also offers more functionality by providing movable options to rinse dishes, scrub fruits and vegetables, or wash hands in the event of an unexpected spill.
DIY Camp Sink
This DIY camp sink is the perfect option for off-grid camping and boating. It can be used anywhere, anytime in your backyard, or on a trip. We love this simple design because it only requires a 5-gallon bucket, PVC pipe, and faucets. You simply mount the faucets to each side of the bucket and then connect them at the bottom using a piece of PVC pipe you slide into. This simple DIY solution means you never have to walk back to your tent or camper to wash your hands after eating or cooking!