Bubble walls are a great way to create an exciting atmosphere. Whether you're having a party or event, they add a touch of fun and excitement without being too noisy. They're easy to make and fun to play with, but we feel you will want to keep that bubble wall up long after the party. Do you have a baby shower coming up? Or do you want to make your home a cool place for your kids to play? Well, this post is for you! We've collected 21 DIY bubble wall ideas for kids. The ideas featured here do not require any special equipment, but if you want something more dramatic, you could take advantage of the power of physics and use some air pumps to create a massive bubble wall.
Cheap DIY Bubble Wall Plans

Bubbles have long been recognized as a fun and memorable way to commemorate an event. As such, thousands of people choose to incorporate them into their party plans. From weddings to graduations, a bubble wall can add a pop of color or whimsy to an already spectacular setting. And even though it sounds complicated, creating a bubble wall is easier than you think! Here are 21 DIY Bubble Wall Ideas you can use on any occasion. Whether you hang them from the ceiling or use them on the floor, share these ideas with your friends and family so they can enjoy some extra sparkle in their space!
Uses Of DIY Bubble Wall Panel
DIY bubble walls are a great way to add a unique touch to any event. They offer an excellent opportunity for people to get together and have fun.
They can be used for many things. Some of the most common uses include:
Party wall. Many people make DIY bubble walls as part of their party decorations. This can be done easily by spraying the wall with soap suds and adding some colored lights underneath it. It will create a very cool effect, especially if done at night or in dim lighting.
Hobbyists' delight. If you are making soap bubbles yourself, this is the perfect way to enjoy them without worrying about anything else! You can blow soap bubbles on your DIY wall and watch them float away slowly until they disappear into thin air!
Aesthetic appeal. This is ideal for those who want something different from all the other typical party decorations! You'll make an impression at your next party with this wonderful addition!
DIY Bubble Wall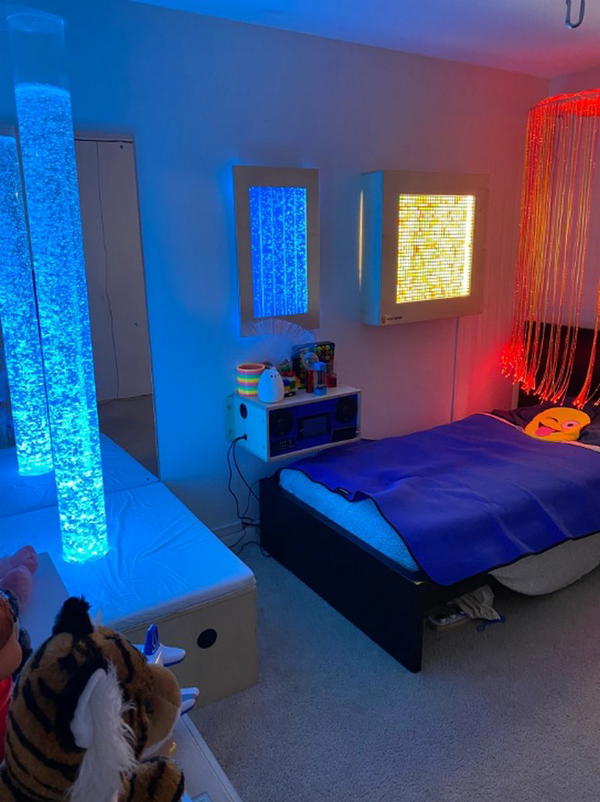 Dive into the world of bubbles with the Bubble Wall! A wall full of bubbles will create a magical light show that will surely surprise kids. Surprise the kids with this easy DIY project. Use leftover paint and some poster board to create an interactive bubble wall that's sure to be a hit. This project will create a transparent bubble wall in your garden or yard. It's simple to make and only requires a few materials that can be purchased from your local hardware store. This DIY Bubble Wall adds fun and whimsy to any outdoor space.
How To Make A Bubble Wall Easy
If you want to add a bit of delight to your home, look no further. This bubble wall is perfect for artistic individuals looking to create something different and unique. Bubble walls are spectacular to look at. They may be made from clear glass, silicone sealant, and an air hose. The silicone sealant is used because it has an adhesive strength that is perfect for glass and will ensure a quality wall. The best part about this project is that it's easy to do, and you can make it yourself without hassle.
You can also see: Bubble Tent Ideas 
DIY Bubble Wall Display
This bubble wall is a fun project that can give your home a unique look. It is easy to make, and it's very amazing when it comes to the lighting. You can build this bubble wall in any location in your house or outdoors. No space is too small or too big for this project because it only requires enough space for people to walk through and see it. The materials needed are flexible though they should be water-resistant to prevent water from seeping into them from the outside, causing leaks within the housing of the bubble wall.
Homemade Aquarium Bubble Wall
Bubbles are known to be relaxing and therapeutic. This bubble wall provides a stress-free environment while making the home look more beautiful and luxurious. All you need is an air stone, air pump, 3-way connector, and aquarium tube. With this DIY bubble wall tutorial, you can make an inexpensive and stunning water feature for your house. The bubbles will give a relaxing effect to your room and bring a calming effect on your mood. This video tutorial teaches how to make a simple and cheap bubble wall for your house. It's budget-friendly, beautiful, and relaxing!
How To Make A Bubble Wall Aquarium
This DIY bubble wall aquarium will make your fish more active and give them a wild look. The aquarium can be used as a decoration piece for your living room or office or as an art piece. All you need to make this homemade aquarium is glass for the wall pieces, silicone glue to adhere the pieces together, and an aquarium air pump that creates bubbles at the bottom of the tank and returns air to the tank and pipes for installation. This tutorial will walk you through creating your own DIY aquarium bubble wall.
DIY Bubble Wall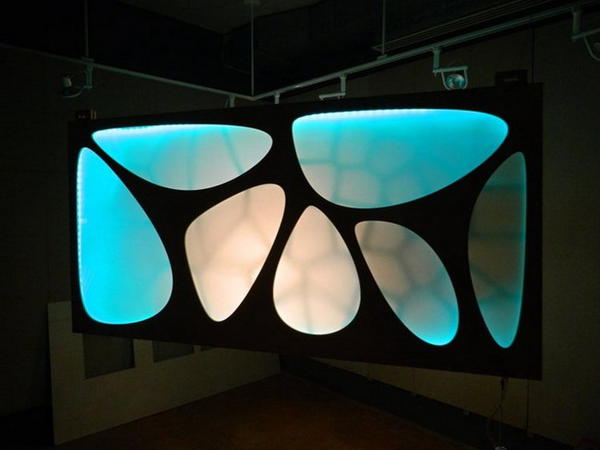 This DIY Bubble Wall is a great addition to any playroom, bedroom, or nursery. The wall can work as a decoration that kids will love and as a night light. Made of three plywood panels, each 30 inches high and 4 feet wide, it can be installed on an existing wall by drilling holes in the corners to accommodate screws. The bubbles are made from wallpaper cut up into geometric shapes and attached to the plywood with double-sided tape. They have been darkened with black spray paint to make them glow when illuminated by LED strips powered by a solid-state relay so they can turn off and on automatically.
Homemade Bubble Wall DIY
This DIY project will let you make a bubble wall if you have a leftover piece of tile. It's easy and fast to put together. There are plenty of ways you can repurpose cut-off and tile pieces. If you don't know what to do with them, check out this awesome DIY project that allows you to reuse a tile as a bubble wall.  It is easy to do and if you have a few extra tiles sitting around, give this project a go! This video tutorial shows you how to create a homemade bubble wall. You'll need an off-cut or piece of tile, silicone sealant, adhesive spray, and an air hose. Watch the video to see how it's done!
DIY Bubble Wall
Looking for bubble wall ideas? This DIY bubble wall is the perfect mix of stylish and effective. You can easily create a magical mood in your room with this wall. Make this stylish and eye-catching DIY Bubble Wall for your office or home! This bubble wall looks modern, creative, and unique. Use it to hide unsightly appliances, such as refrigerators, or create living walls like the ones used by interior designers. If you want to introduce new ideas, you can use this bubble wall as an accent piece in any room.
DIY Bubble Wall Infinity Mirror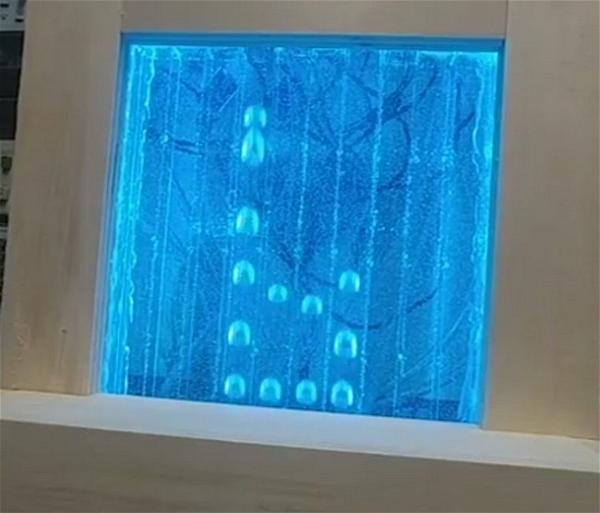 All you need to do is to get some pieces of PET-G and HIPS, then assemble them with silicone. After this, start with the woodwork. You might need the help of an expert here if you're a beginner with woodwork, but still, it's not too difficult. This is a very simple DIY project, so don't be afraid to try it. The bottom of the case has been constructed from plywood and attached to metal poles so it can stand firmly. You can use mounting boards if you don't have metal poles. The acrylic sheet is attached so that it's easily replaceable as required.
DIY Scrolling Bubble Display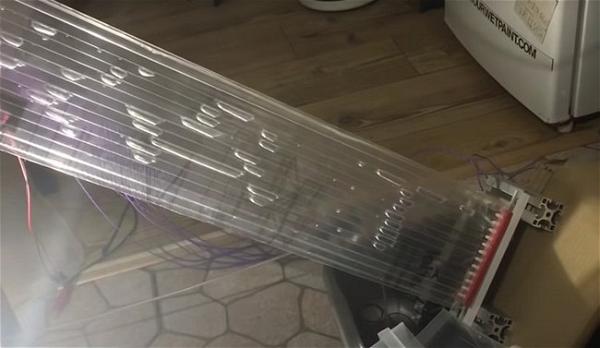 This is the tutorial for you if you are looking for a unique yet simple and inexpensive way to display your name. The scrolling bubble display uses an Arduino and one twin-wall roofing polycarbonate sheet to display your name or a short message in bubbles. This project is just an example of displaying someone's name in bubbles. The beauty of this project is the use of a twin-wall polycarbonate sheet. Every bubble can be cut out separately and placed on top of another. This gives more complex options like displaying names and inviting people to a party!
How To Make A Bubble Wall Very Easy
Learn how to make a glass bubble wall in your home without calling a professional. This is a very easy method to do a bubble wall. It's very useful for you who love DIY activities. The first thing you need to do before making the bubble wall is to clean the glass and make sure it's dry. After that, cut two pieces of glass into square form, ensuring they are the same size. This video will show you how to make an awesome bubble wall in a few simple steps.
DIY Water Bubble Wall
This DIY water bubble wall is a quick and easy project that makes a fabulous decoration for any room. All you need is some glass, a wooden stand, and creative assembly to create this fun display. The bubbles will shimmer and move in the light, creating an almost magical look in your space! The water bubble wall is an art installation that will add an aesthetic element to your living space. It's a great way to bring attention to your decor and give a welcoming feeling to guests.
Making A Bubble Wall From Scratch
A bubble wall is a fun addition to a house or office, but it can be expensive to buy it ready-made. In a sparkly tone, this bubble wall is great for your bathroom or bedroom. Assemble it from scratch in less than an hour, and enjoy! To make this wall from scratch, find two pieces of plain glass that are 45cm x 55cm, and place your hand onto the bottom layer of glass. Once you have the glue on your fingers, put glue on the thin layer and align it with the second piece of glass. Learn how to make one from scratch with the help of this video.
DIY Bubble Wall In Bottle
Learn how to make a bubble wall in a bottle. It's very simple and cheap. All you need is a bottle, air hose, LED light, and glue! You can create your very own bubble wall inside a bottle. All you need is a bottle and a few materials. Make holes in one of the bottle caps and one side of it. Fill the bottle with water, cover it with that cap, then attach the other cover with glue, and you are good to go!
DIY Bubble Wall Craft
Decorate your home with a DIY Bubble Wall Craft! You will need plastic panels, glue, adhesive spray, an adapter, and an air hose. Use an air compressor to make the bubbles shoot up to create this fun decoration for any holiday or party! This bubble wall is an amazing DIY project. You will only need leftover tiles, an air hose, cardboard, glue, and adhesive spray. The bubble wall is easy to set up and will add great fun to any party or gathering.
DIY Bubble Wall Using Acrylic Sheets
Build a bubble wall with plastic pipes and transparent acrylic sheets. Watch the bubbles magically float in the air and enjoy the beautiful view! This bubble wall is easy to build and will look great in any room. All you need is an aquarium air pump, acrylic glass sheets, and glue. Start by removing the protective sticker on the acrylic sheets, then line up the sheets together to make a grid pattern. Then add some glue to the top of your wall and push it against the above ceiling."
DIY Bubble Wall For Aquarium
This DIY Bubble Wall for Aquarium will pump air into the tank to give your fish something to chase. It's easy to make and requires only a handful of supplies. Creating a bubble wall for your aquarium is an easy and inexpensive way to make the tank more colorful and interesting. This DIY Bubble Wall for Aquarium can be made in no time with easy-to-gather materials. You'll need only an air hose and glue. Close one end of the air hose and make many holes around it using some sharp object. The result will be beautiful bubbles that will make your pet happy!
DIY Bubble Wall In Wine Glass
You can create your own bubble wall in a wine glass. This DIY is for all ages and fun for the whole family. Make an oil bubble wall with water and color in a wine glass. Start by pouring cooking oil into the wine glass, then slowly add water as it goes down the sides of the glass. The water will go down because it's less dense (lighter than the oil). Next, add drops of color to the surface of the oil and observe how they fall through the waves like a table.
How To Make A Bubble Wall
Lightweight, flexible, clear glass is best for making a bubble wall. A glass cutter can also cut into thin, flexible sheets. This simple DIY project will light up your space and add to your atmosphere's aesthetic. All you need is clear glass and colored lights, a compass, an air hose, measuring tape, and an adapter. The bubble wall is perfect for any home, bar, or club. With a few simple steps, you can create this beautiful light feature in no time.
DIY LED Bubble Wall
How To Make Bubble Wall For Aquarium Wall
Having an aquarium can be a fun and relaxing pastime. But you don't want your fish to get bored, so here's how to make a bubble wall for the aquarium wall that will keep your fish happy and entertained. This bubble wall for an aquarium is a great way to add color and beauty to your tank. The process includes making a PVC pipe frame, attaching the hose, and setting up the wall in your aquarium. You can change your design by choosing different colors of plastic hose or even putting multiple bubble walls in one tank.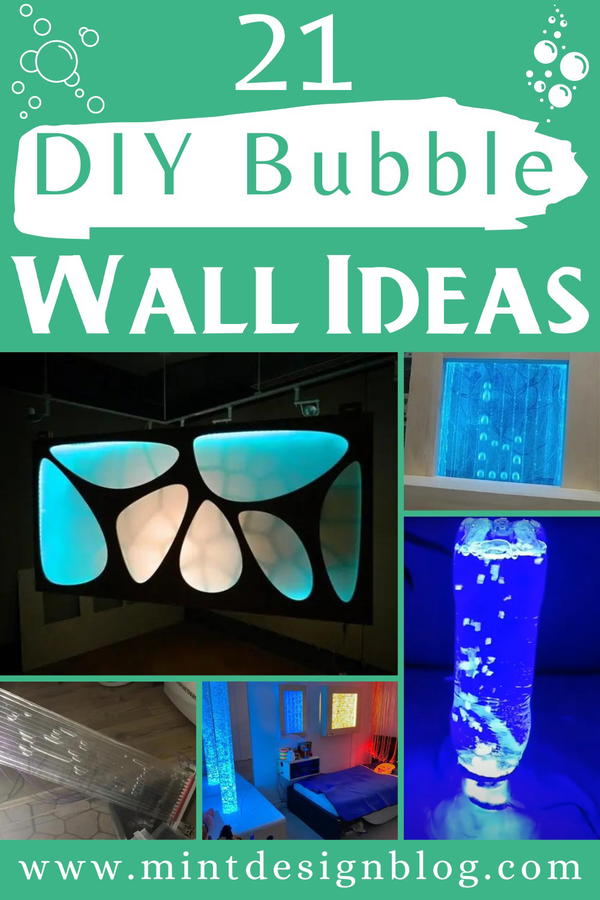 See Other Projects