Whether a new or previous knitting or crochet project, yarn ball will always be there. You'd use it repeatedly even though it doesn't look good. But why should we waste such beautiful material in a tangled mess? This list of 15 DIY yarn holder ideas will make your studio or home look beautiful and organized. You can create a beautiful wall hanging that holds your favorite threads or make some fun magazine holders to keep everything neat on your work table. Hopefully, one of these ideas will inspire you to put something spinning in a cool new spot!
Homemade DIY Yarn Holder

If you're a knitter or crocheter, you know that your yarn collection can get out of hand after a while. If you're not careful, you can end up with balls and skeins of tangled yarn all over the house, making it difficult to find what you're looking for. To cope with this situation, there are plenty of yarn holder accessories you can purchase at craft stores. However, you can save money and get the same results by making your yarn holders at home. Crochet lovers can easily find ways to hold their crochet projects together with the help of these DIY yarn holder ideas.
Best Yarn Holder For Crocheters
If you are a craft person or have kids, there is a good chance you have lots of yarn at your house. You are missing out on some great benefits if you don't use it all, and it just rolls around in a basket or box. Here are some of the benefits that you can get from DIY yarn holders:
1) You will save space
2) You can store it all together
3) It's easy to find what you need
4) You can have more organized crochet hooks
Crib Rail Yarn Storage
Have a hobby? No problem, because no matter your favorite craft, you can easily practice it at home and still have the space you need. Storing your colorful yarn is a breeze with this DIY crib rail yarn storage! Not only does it provide a very practical place to store your yarn, but it also doubles as a display piece and gives you an excuse to show off all of your favorite embroidery floss (aka skeins!). The DIY Crib Rail Yarn Storage is a great way to store yarn, and it's super easy to make. Use this project as a guide when creating your own yarn storage!
How To Build Shelves Using Wooden Crates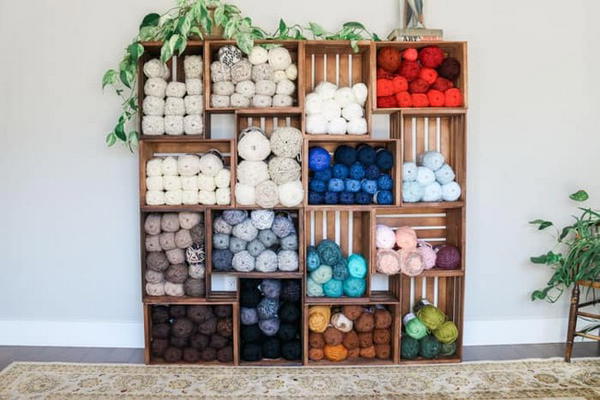 Learn how to build shelves using wooden crates. This is a great craft; the results are better than anything you could buy in a store. In addition to having these shelves on display in your home, you can use them as a way to store things like books and toys. These shelves also add character to any room and can be used in many applications for the home. Use reclaimed wooden crates to create an inexpensive, space-efficient, aesthetically pleasing shelving unit. Shelves can be built to fit any space by varying the crates' size and the shelf legs' height.
How To Make A Storage Basket For Your Yarn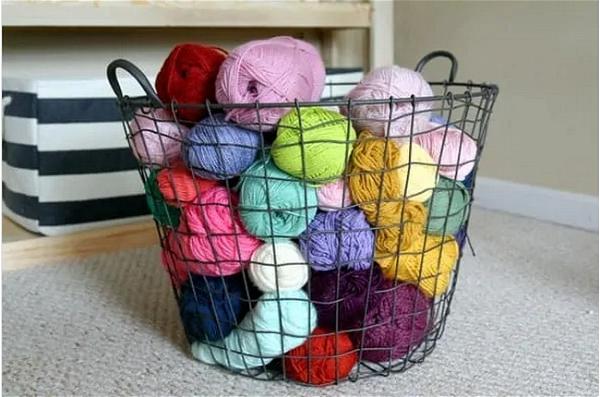 If you are looking for a great way to store all the yarn and stuff needed to knit or crochet a project, this project is for you. Add storage to your home with a yarn basket. The easy-to-make and inexpensive basket are designed to hold skeins of yarn so you can see them all at once. The finished cotton bag will make organizing your yarn stash easier than ever! This storage basket can be made in less than an hour and will help keep your stash well-organized. You'll love the finished product!
Sew Organized Dollar Store Cup To Yarn Container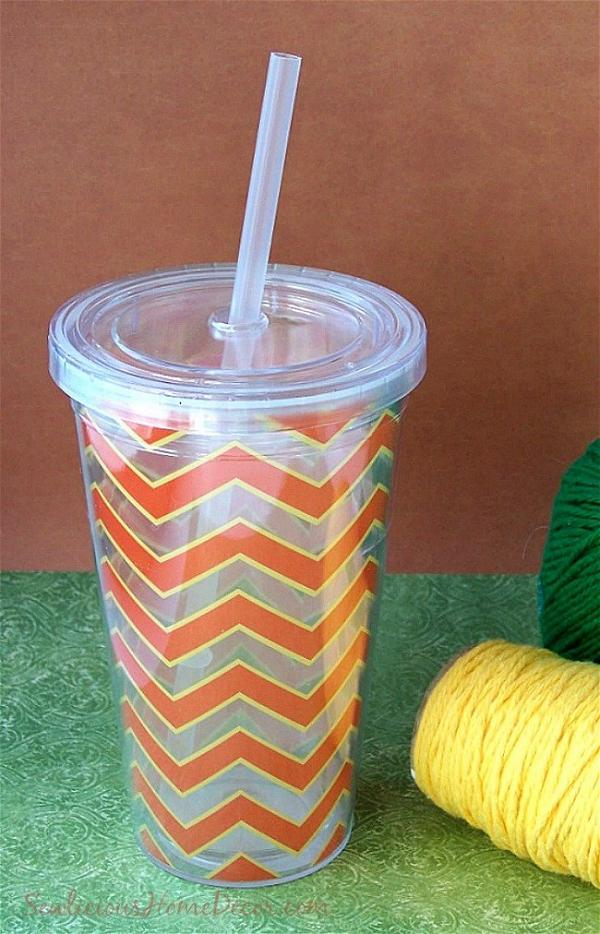 This sewing organizer cup is perfect for storing small items you need when sitting down to work on a project. The fabric-covered lid closes over your items and keeps them contained, while the handle allows easy transport. You can easily access your tools without sacrificing the look of your home decor or office. This great craft hack can serve as an organizing cup or yarn container. It can hold small items, such as buttons, beads, needles, and knitting tools. And it's the perfect size to fit into your sewing box!
DIY Yarn Holder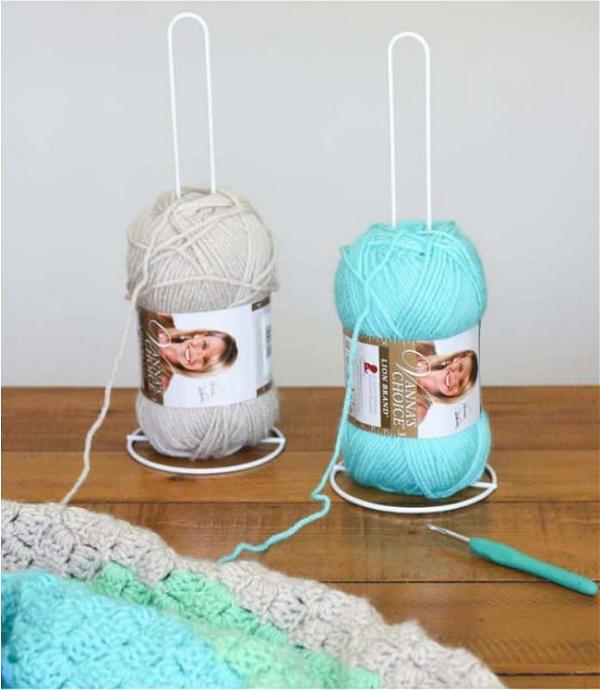 Love to crochet? This DIY yarn holder makes it easy to keep your yarn untangled and stored in one spot. Tired of searching for your yarn balls? With this DIY Yarn Holder, you will never have to search again! This simple, inexpensive, and easy-to-make holder is the perfect solution. This is a homemade DIY-style yarn holder for all your knitted and crocheted projects. You have no more tangled balls of yarn, so you can play with your yarn easily and conveniently.
Wine Rack As Yarn Storage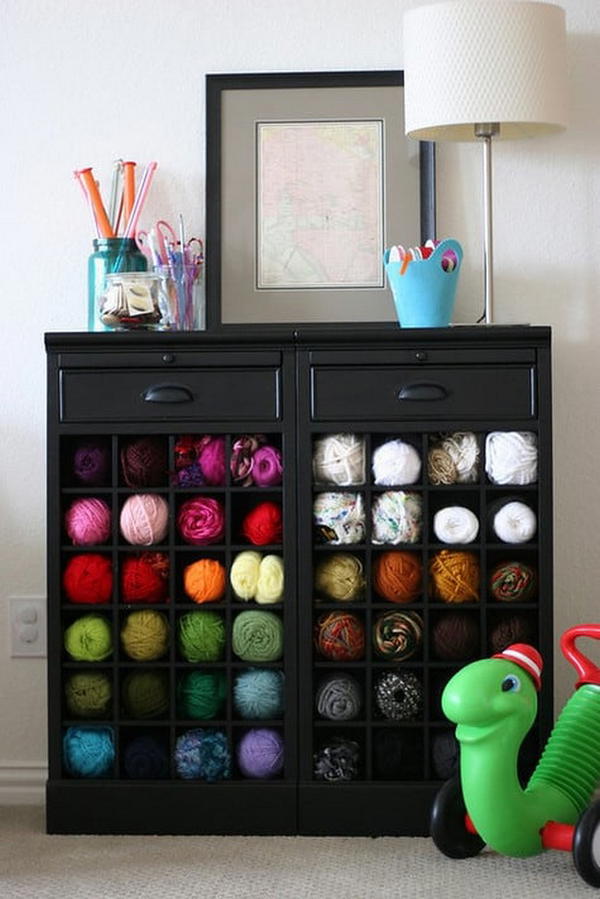 A lovely DIY Wine rack can also be used as storage for yarns. It is very easy to make, and it looks amazing. The materials required are basic, inexpensive, and found at any hardware store. Making this project yourself is a great way to save money while getting something unique and useful! With its beautiful details and rustic touches, this wooden wine rack gets a new life as a yarn storage unit. It's the perfect combination of functionality and style.
Hanging Organizer Yarn Storage
Hanging Yarn Storage is the perfect way to keep your yarn from getting tangled. This closet organizer features a sturdy backing, clips onto any wall, and is made of fabric that will not bend or crease your yarn. This convenient organizer makes it easy to store and use your yarn by keeping your yarn balls corralled in a neat, organized fashion. The big loop in the center allows you to pass your yarn over the top and pull it down through the rings.
DIY Yarn Wall Peg Board Storage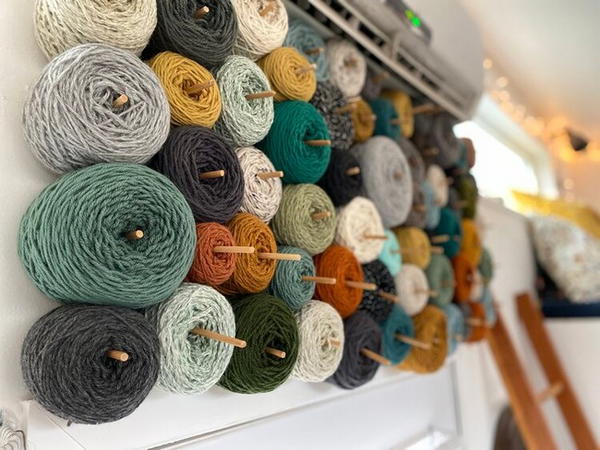 This DIY Yarn Wall Peg Board is a great way to store your yarn while making a statement in your craft room. It's perfect for the knitter who wants a place to hang up their yarns and project progress. This peg board makes it easy to pick the right color without digging through boxes. This yarn wall peg board is a great place to display your beautiful stash, and it also serves as a convenient and super easy storage solution. The hooks are made of repurposed wood from pallet boards.
Yarn Wall Cabinet
Are you looking for a fun way to organize your craft supplies? Try this DIY yarn wall cabinet, which is perfect for storing crochet hooks, knitting needles, and other crafting materials. It's easy to make and will fit just about anywhere. You don't need a degree in architecture to create a yarn wall cabinet. This simple DIY project will take two or three hours the first time out and about an hour each time after that. If you're handy with basic tools and have some carpentry experience, there's no reason why you can't do this yourself. So take up your saws and snap drills, grab some wood and make it happen!
3 Simple Ways To Organize Your Yarn Stash
Yarn is a hobby that's not just for knitters, crocheters, and weavers: there are many other ways to incorporate it into your life, including felting, pom pom-making, and tassel-making. Lovers of weaving and spinning will also love the softness of yarn against their skin. Even if you're not a crafter, playing around with different textures made from different fibers or knits can be both meditative and fun — especially when combined with coloring sheets! If you're looking to organize your new stash of yarn, here are three easy ways to do it!
Yarn-holding Coffee Can Cubbies
Look no further if you look for a great way to store your yarn! This fun and easy kit will help you get organized in style. Make all the yarn-holding coffee can cubbies you need, or give them as gifts. This DIY project is perfect for someone who has a small crafting space. The yarn-holding coffee can cubbies are attractive and help keep your yarn organized and tangle-free. The perfect yarn storage solution! If you're sick of bulky, unattractive storage systems that take up precious floor space, try this cute DIY coffee can cubby for yarn. This knitting project is super easy to make with just a few items.
Yarn Storage System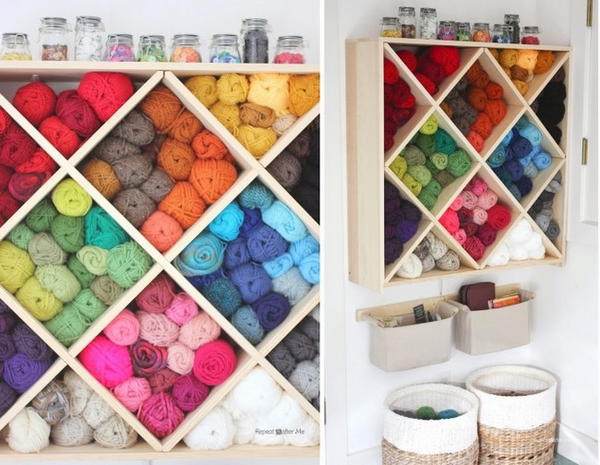 Yarn storage is a problem that must be addressed. Thankfully, this DIY project is designed to get you organized and your yarn safe. Need a place to store all those gorgeous skeins of yarn? This DIY yarn storage system is the perfect answer! It's so easy to make, and the result is a beautiful way to show off your stash. Create a beautiful and functional yarn storage system that you can use in your craft room, on the go, or at home.
The World's Best Yarn Storage Idea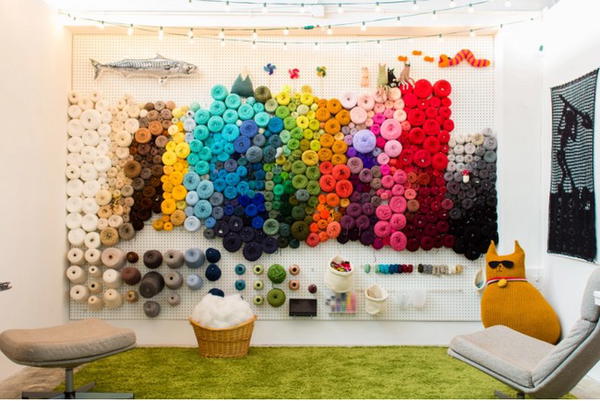 Love to knit or crochet? If so, you've probably amassed a stash of yarn that takes up too much space. This yarn organizer is the perfect way to create a functional and stylish storage solution for your yarn stash. This DIY project is simple and doesn't require drilling or power tools. Use a nail gun and a few slats of wood; you have a great way to store your yarn! It also makes it easy to keep track of your ball by keeping it in one place and preventing it from rolling around. Whether you're looking for a new way to keep your yarn organized or want something unique, we have some ideas to help you get started.