If you love the look of rain chains but don't want to spend hundreds on a professional installation—or if you're going to get crafty—you can make your own! These DIY Rain Chain Ideas are easy ways to add this classic style to your outdoor space; they are easy to add beauty and interest to your outdoor space. Our Rain chain Ideas will be the best option to keep water from falling directly on your porch/door/steps, but you don't have to spend hundreds of dollars on a fancy version. These DIY rain chains are a thoughtful and creative way to create an outdoor shower.
Homemade Rain Chain Ideas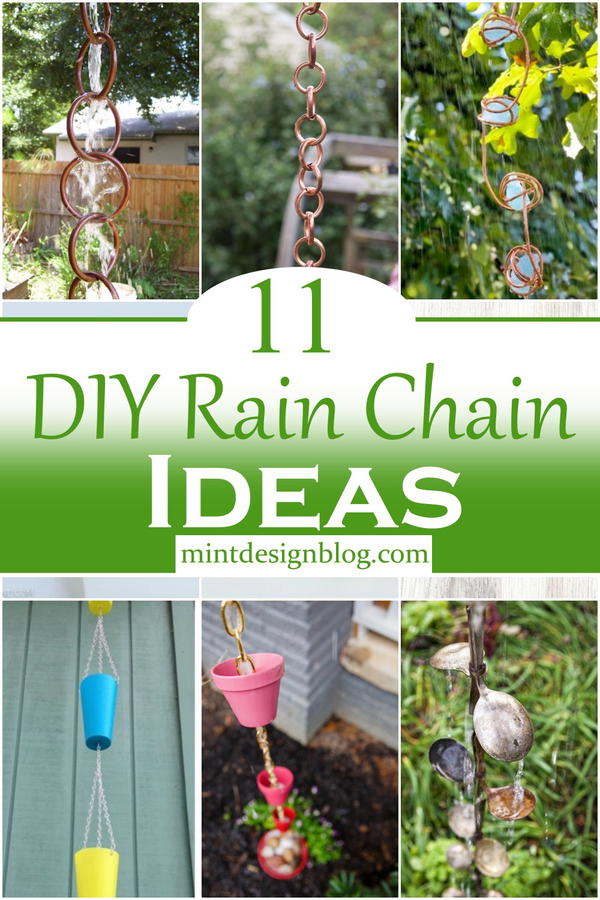 Rain chains are a great way to add style and function to your outdoor garden. They can be purchased at most hardware stores, but these DIY rain chain ideas are cheaper and will save you plenty of money in the long run. Create your own rain chain with these ideas. Rain chains are an easy way to add beauty to your yard while being functional by helping keep out pests, moisture, and dust. Add a splash of color to your garden with these rain chains. Rain chains will improve everything if you want to add a touch of nature or some drama to your style.
Benefits Of Making Rain Chain Ideas
DIY rain chains are easy to install and can be made from recycled materials. Here are some of the benefits of DIY rain chains:
Cost Savings You can save money by making your own rain chain instead of buying a commercial one. If you have an old bike lying around or some other type of metal, you can use it for your rain chain.
Reduce Waste if you recycle an old bike for your DIY rain chain, this is a great way to eliminate waste.
Customization is a good idea if you want something unique and no one else has it. You can customize your own DIY rain chain using different metals or rocks if you choose!
DIY Copper Rain Chain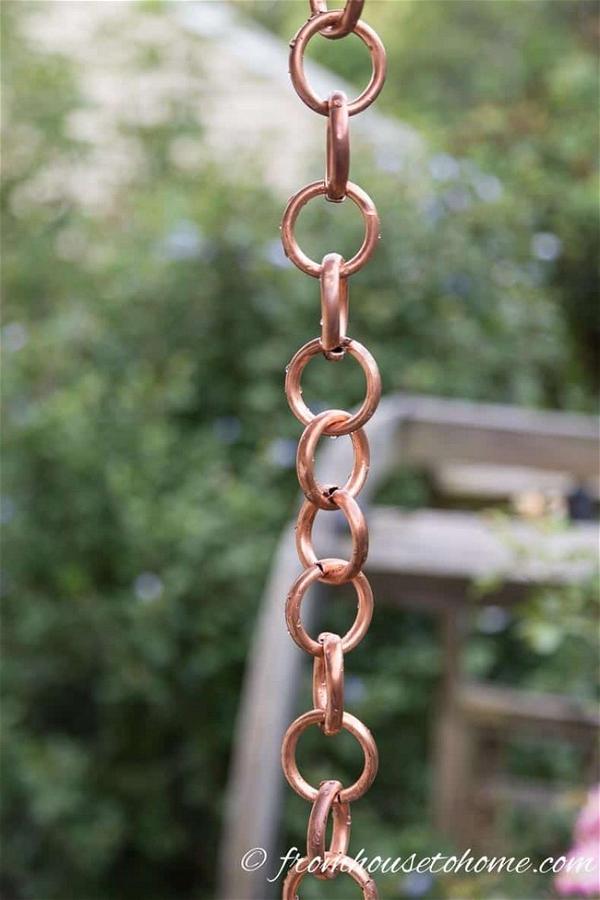 This Copper Rain Chain brings a bit of organic style to your garden or patio. Easy to assemble and install, this unique watering feature will complement any space with its simple beauty. Add this stylish DIY Copper Rain Chain to your yard or garden to add charm and style. This easy-to-assemble chain is made from copper so that it will weather any storm. Use rain chains to draw water away from your foundation to keep it from eroding or causing damage.
Stock Tank Rain Chain Fountain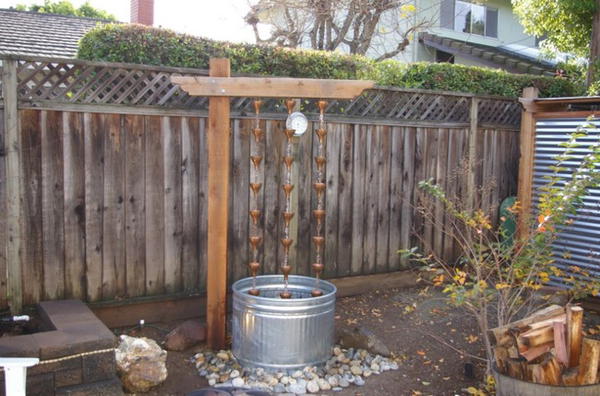 This DIY Stock Tank Rain Chain Fountain will turn your garden into a tranquil oasis. A must-have for your summer days and nights, this unique assembly offers an easy way to add beautiful sound and style to your backyard or patio. It's also perfect for adding dramatic flair to any front yard's look. This fountain is made from an old storage tank and adds an ancient-world feel to any home or business. When installing this project on your own, you'll save millions of dollars in labor charges from professionals.
DIY Rain Chain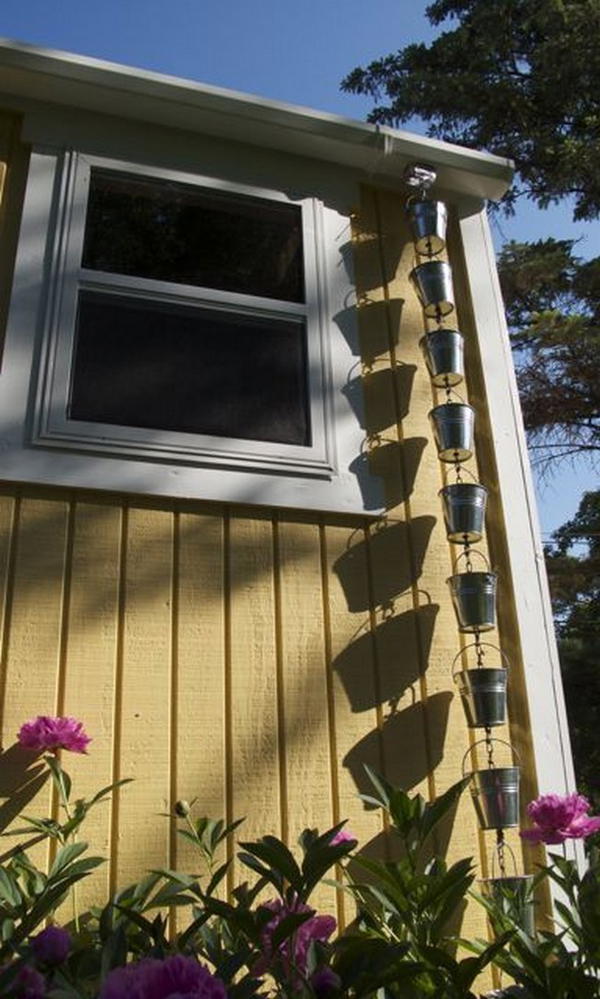 Looking to add greenery to your garden and direct water from your gutters in an attractive manner? This easy DIY project will turn your existing downspouts into a beautiful rain chain. This project is easy, even if you are a beginning DIYer. It takes less than an hour to assemble and costs less than $30. This rain chain style will also add a unique and artistic element to your backyard space. Create an instant style upgrade to your backyard with this DIY Rain Chain! This rain chain creates a soft, ambient sound when water hits the metal.
Make A Plastic Cup Rain Chain With Dollar General
Did you know that you can make an easy DIY rain chain out of plastic cups? This cheap and versatile way brings some rain magic to your outdoor space. You can mix or match colors or get creative with one-of-a-kind designs using Dollar General's wide selection of party supplies, decorations, and more! Make an elegant rain chain with a Dollar General plastic cup, scrapbooking twine, and toothpicks. This is great for indoors or outdoors. Perfect for anyone looking to do something different with their garden and add something colorful.
DIY Rain Chain
Building this rain chain is a great project to do with your kids or even your friends. You can spend an afternoon assembling parts and tools, learning about the process, and having fun. The hanging beads are a decorative addition to any porch or patio area, bringing a splash of color to the garden. This DIY Rain Chain project is a fun one to do with a loved one. The color variants make it easy to customize to match the colors in your backyard or patio. You won't believe how easy it is to make this rain chain for your garden (or house) and have fun along the way!
DIY Rain Chain Using Spoons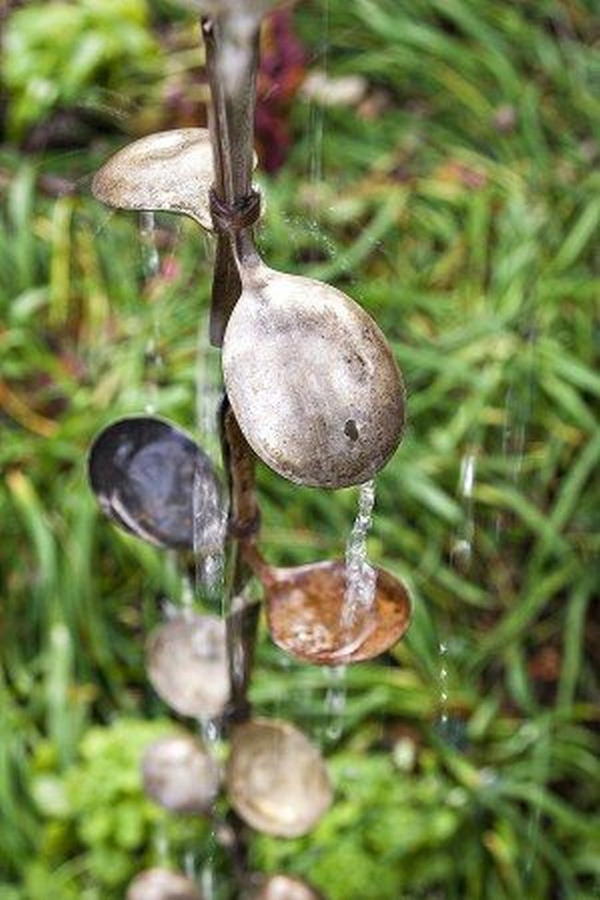 Rain chains can create a lot of visual appeal in and around your garden. They also work perfectly for downspouts since they capture and direct the water away from your foundation. This fun project shows you how to make rain chains using recycled spoons around your kitchen. They take less than an hour and are a great way to reuse items that may otherwise get thrown out or recycled. This tutorial will show how easy it is to create your own unique rain chain for next to nothing, and you can even start building them today!
Copper Rain Chain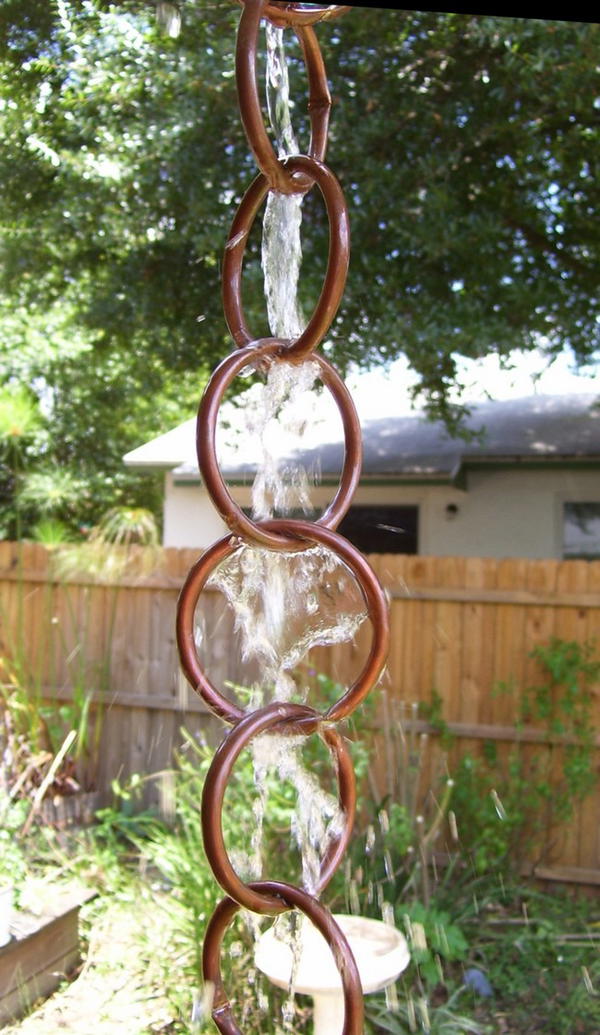 Copper is an accessible material to work with and can be used to create various products. The DIY Copper Rain Chain, made of copper pipe, is an attractive way to deal with your water runoff in both commercial and residential situations. This DIY Copper Rain Chain is a great way to bring the feel of nature indoors. Its sturdy copper construction makes the chain durable enough to be left outside year-round without worry and easy to install. You can create your own copper rain chain. The copper Rain Chain is a beautiful and functional way to divert water from your roof into your garden.
Repurposed Candle Holder Rain Chains
Do you love candle-lit meals? This DIY repurposed candle holder rain chain is the perfect addition to any outdoor space. Get ready to add some style and elegance to your home with this DIY project. This repurposed candle holder rain chain is a great way to add a touch of class. Create your own beachy rain chain or candle holder. This project is a perfect way to use up some old beach glass and create something beautiful. A variation on the old broken bells, these DIY repurposed candle holder rain chains will add a fun modern touch to your entryway or backyard.
Rain Chain DIY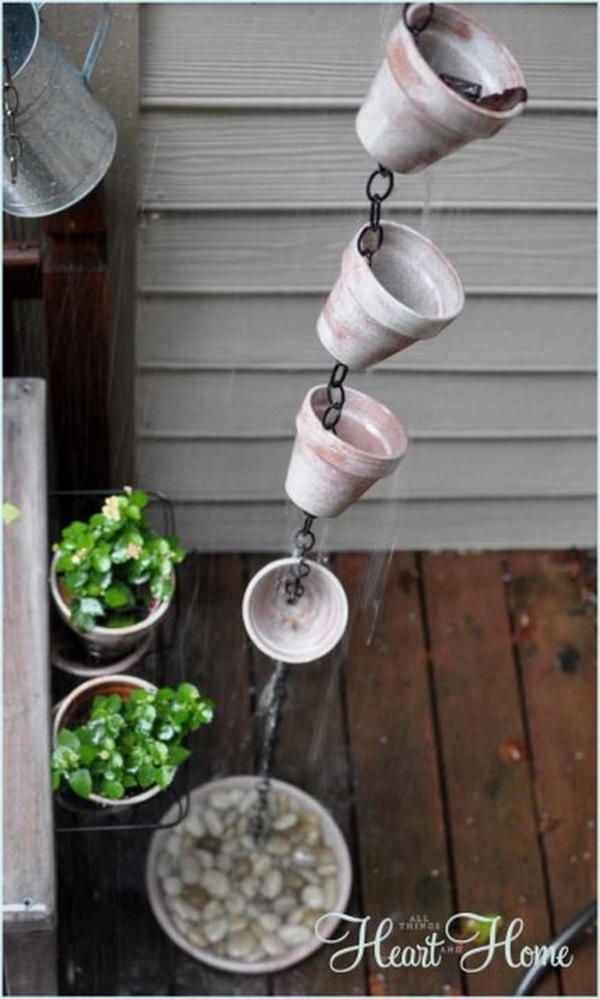 The Rain Chain DIY kit is an easy, fun way to create your own rain chain and bring a new element of nature into your home. This all-inclusive kit will help you add the sound of water to any space, regardless of size or style. Complete your backyard oasis or front porch with this Rain Chain DIY. Easy to assemble and install, it's a fun project that will quickly appeal to any outdoor space. This rain chain DIY is an easy project that you can use to beautify your garden, patio, or yard. The best part? The finished product looks incredible!
Recycled Soda Bottles As Hanging Seedling Rain Chains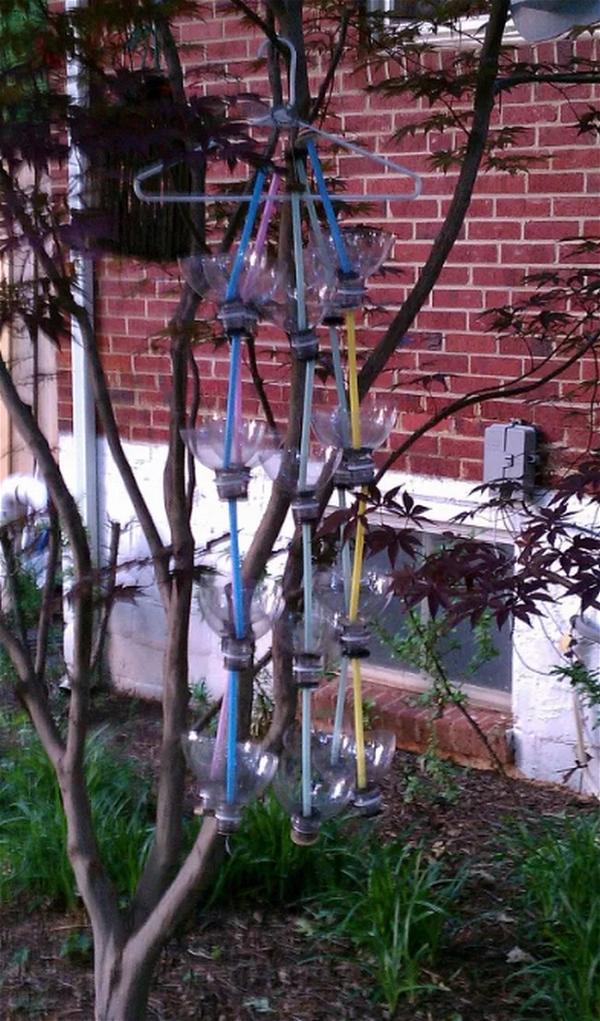 DIY Recycled Soda Bottles As Hanging Seedling Rain Chains are perfect for watering your garden plants. By recycling soda bottles as hanging seedling rain chains, you will be helping protect the environment and save money. Turn recyclable soda bottles into hanging seedling rain chains with this simple tutorial. You'll also need a few other supplies—like tie-wraps and a way to attach them to the ceiling—but it's worth it for the beautiful result. This is an easy, creative way to recycle soda bottles by turning them into hanging seedling rain chains.
DIY Terra-Cotta Rain Chain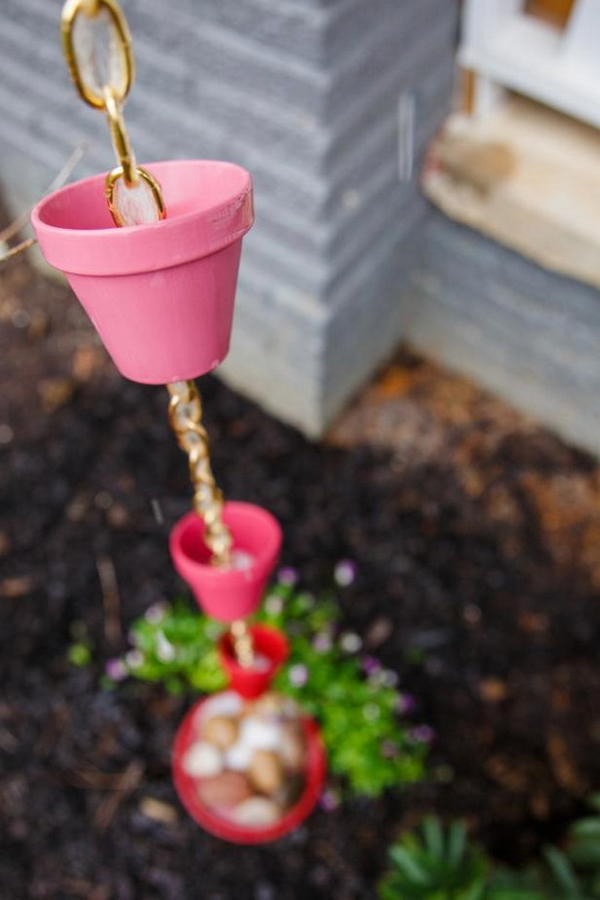 Give your porch some welcome moisture resistance with an easy-to-make terra cotta rain chain. Rain chains act like fountains for your patio. They offer a unique, water-collecting alternative to traditional downspouts and gutters. The key is to hang them at an angle, so the water flows down into buckets or pots below. This DIY terra-cotta rain chain is handcrafted using clay materials and can easily be crafted by you in one afternoon. Not only does this rain chain add curb appeal, but it also makes an exceptional gift for the eco-conscious gardener in your life!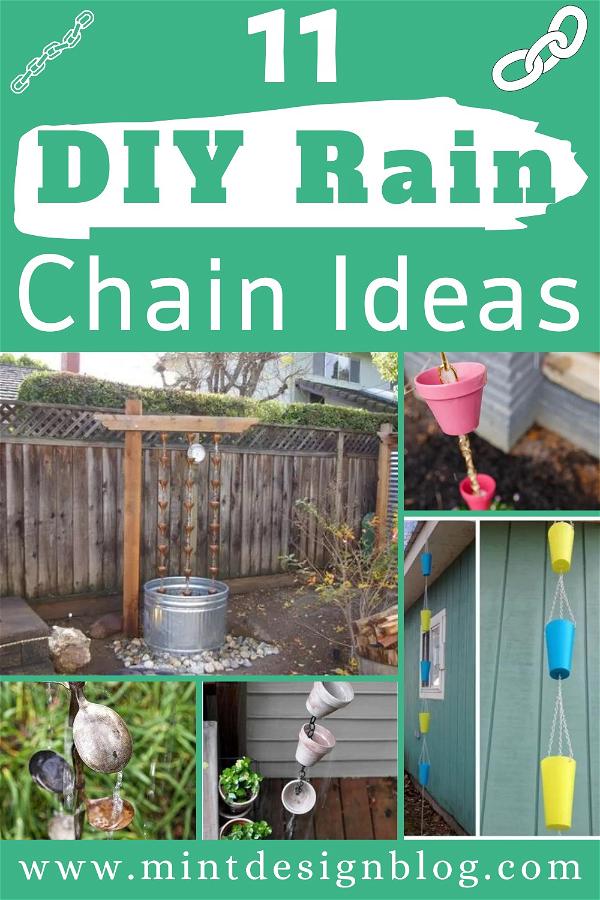 See Other Projects