If you love maps and don't want to spend thousands at an antique store, consider making your own. These DIY map table ideas will give that rustic nautical look while adding a unique piece to your house. These tables are made from different materials and will make a statement in any room.
Make use of your maps by turning them into something functional and beautiful. These Map tables can be made with minimal tools, ranging from a map to a reclaimed wood table. Take your love of travel and make it into something useful in your home! Transform what you have into something new with these DIY map tables. Make one of these tables using a few tools and supplies, or find a kit that works for you.
DIY Map Table Plans And Ideas

There are many reasons to DIY a table. It can be a way to use up scrap wood; it can be an opportunity to work on your woodworking skills; it can be a way to design the perfect table for your needs. But if you're like most of us, you want your tables because they look good. Tables that show off maps in their design are a great way to take advantage of the beautiful decorative element that maps can provide. Here are 11 ideas for DIY map table tops and map-shaped tabletops that are beautiful and useful. All these ideas will work well with a world map or any other map with clearly defined continents and oceans.
Benefits Of Making Map Tables
Map tables are a great addition to your home because they can be used for many purposes. They're perfect for storing things, displaying photos, or even as a desk.
They're Easy To Make: Map tables are easy to make at home. You don't need special skills or equipment to create one, so anyone can do it!
They're Functional: Map tables can be used in many different ways. You can use them to store things like books or knick-knacks or as an additional place to sit and relax when you're home. They also look great as decorations when you display photos or other items on them.
How To Make A Map Table An Ikea Hack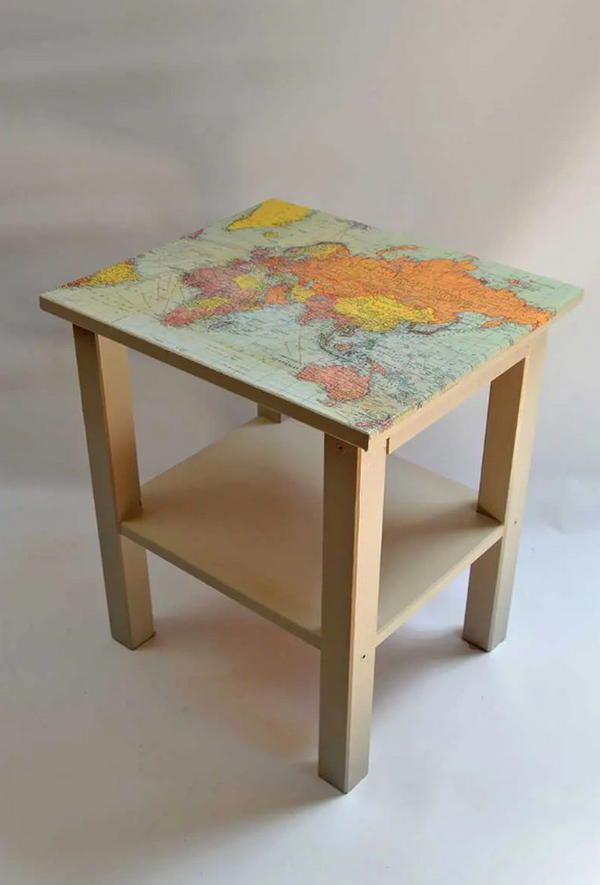 When you can't afford a map table but still want to show off your love for geography, grab your padded hammer and nails and make your own! This DIY project teaches you how to make a map table. The best part? It's super easy and free! This DIY map table by Ikea Hackers combines everything we love about Ikea hacks: affordable and functional furniture with a unique look that embraces the temporary nature of traveling. Learn how to build an easy and fun DIY map table that can be customized with your favorite maps and decor for any room in your home.
DIY Desk Makeover With A Map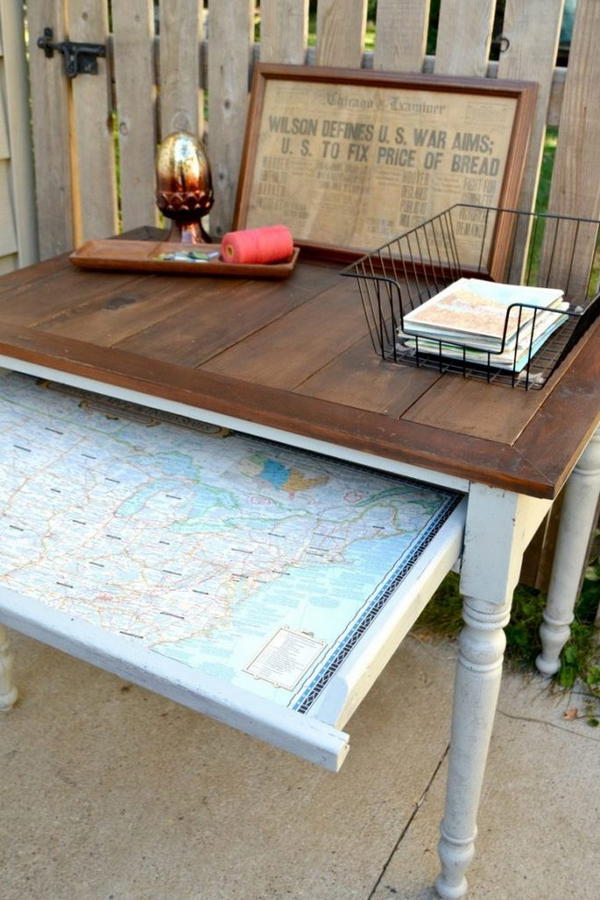 A desk makeover is an excellent project for a rainy weekend and will give your space an instant update. We chose map tears to give our desk a quirky and artistic feel, but you can use any fabric or object that speaks to you. Transform your desk with this fun DIY project. The diagram has all the tips and tricks you need to Makeover your table. With just a few supplies and a little instruction, you'll have a new look that takes your space from bland to bold and colorful in no time!
Cool DIY Map Tables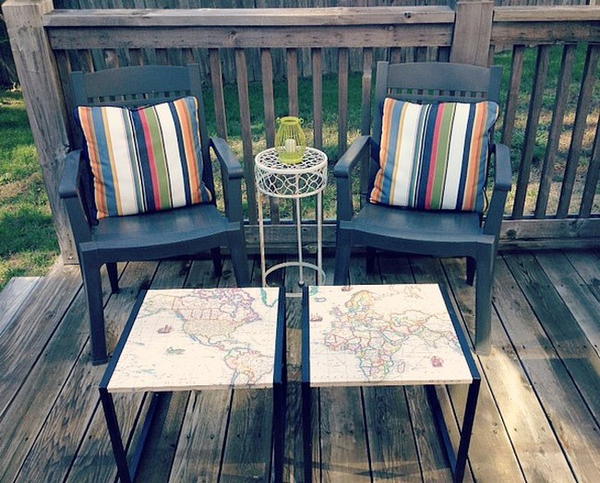 Let's make DIY Map Tables! They are perfect for reading, playing puzzles and games, or even helping your kids with homework. Adding some baskets, you can also use them as plant stands or extra storage space. These DIY map tables are easy to make and can be done in just a few hours. This a perfect DIY project for your outdoorsy family! Turn your world upside down and build a map table that shows us the way. This DIY project for kids is a time to take your furniture to new heights.
Decoupaged Map Table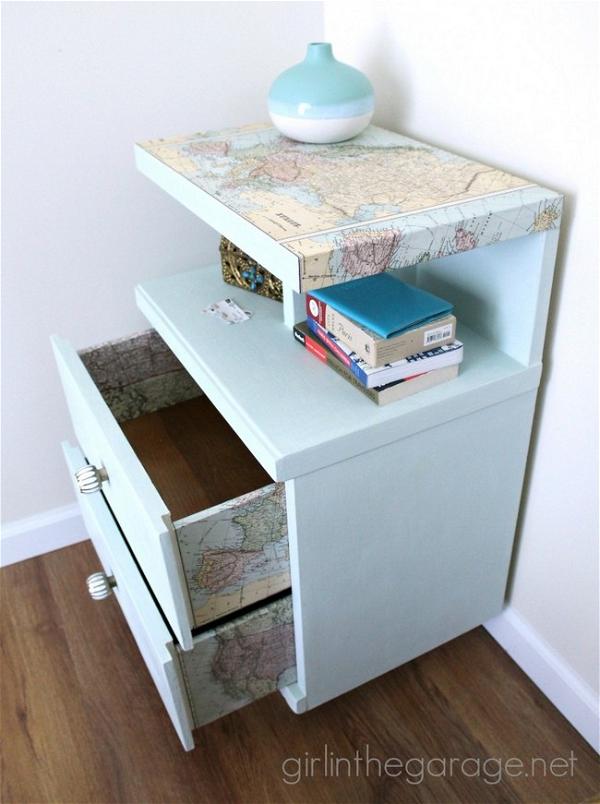 Turn something old into something beautiful with this DIY Decoupaged Map Table. This project is simple but requires patience and care to get the look you want. The result is worth the effort, though! This colorful and functional table is a perfect addition to any room. It's easy to do, and there's room for creativity! It will be a great space to gather around with friends and family while they create memories by playing games or doing puzzles.
How To Decoupage A Table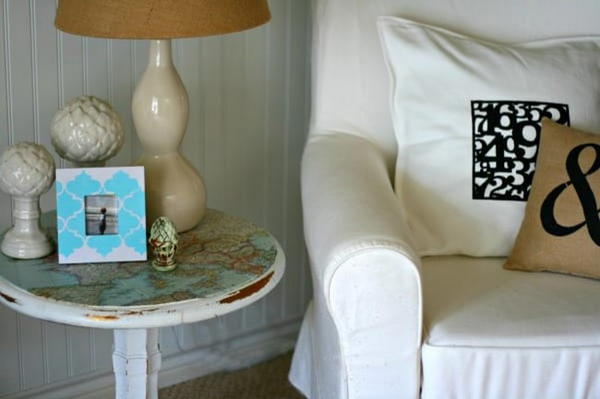 If you love a good DIY project, this how-to decoupage a table is for you. This quick and easy tutorial will teach you everything you need to create a fabulous new tabletop! Decoupage is an easy and relaxing way to transform your home. It's a fun, clean, and creative way to decorate whatever you want. A decoupaged table is timeless and always looks great. Decoupage became popular in the seventeenth century when it was used to decorate furniture or homes by adding texture and warmth to a table. Today, you can create your own piece of history with a fun and creative decoupage project.
DIY Pallet Coffee Table With Tolkien's Map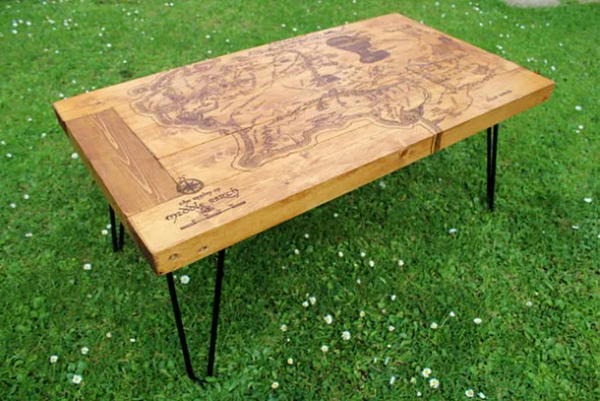 If you are a fan of the Lord of the Rings, here is an exciting project. In this DIY project, you will make a coffee table with a map of Middle Earth carved on it. This is perfect to use as an inspiration for your next project or to add some special touches to your living room. This project is fun and easy to make with the map of Middle Earth from The Lord of the Rings movie. You can customize your own version with any secondhand pallets available.
DIY Map Table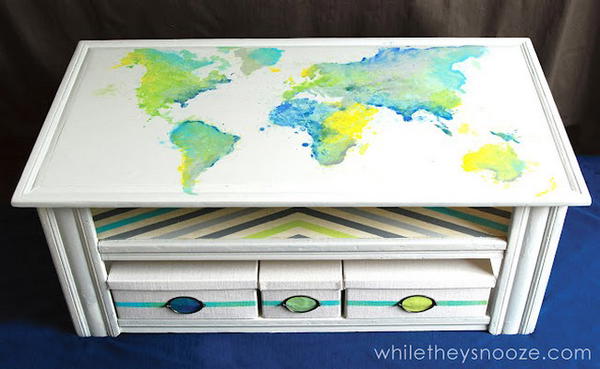 Spruce up your living room or man cave with this rustic yet refined wood table. Bring some personality to your dining room with this DIY map table. It will be a stylish and unique addition to your home. This rustic DIY Map Table is the perfect addition to any home decor. It is easy for any beginner to make a unique piece of furniture. The possibilities are endless, as you can personalize it by painting it however you want! This project is easy enough to complete on the weekend and adds excellent to any home.
Mod Podge Map- Accent Table Before & After Makeover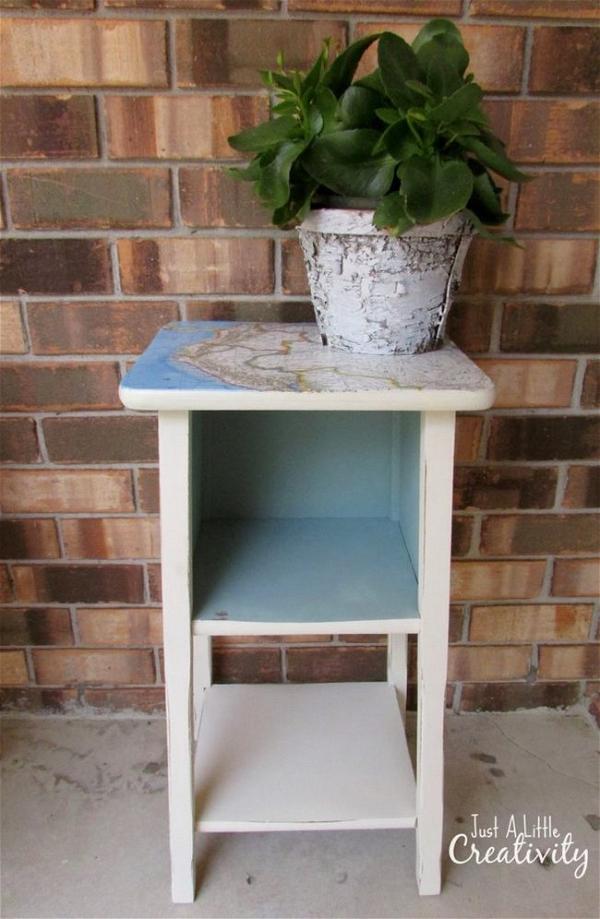 Create an accent table that's uniquely you with this DIY Mod Podge map craft! You'll make a transformed piece perfect for storing personal treasures, remotes, and more in just a few easy steps. The beauty of this DIY Mod Podge Map accent table before & after Makeover is that it's super simple, and you can use any map. Customize your style, and enjoy a charming addition to any room. This DIY Mod Podge Map- Accent Table Before & After Makeover is sure to be a hit with your entire family! It's the perfect way to bring your favorite cities and travel destinations into your home. Give this look a try today!
DIY Coffee Table In 30 Minutes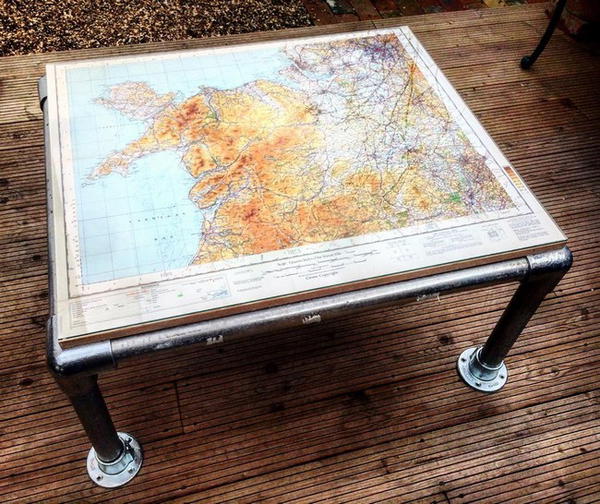 A coffee table is a beautiful design piece, but one that can be hard to incorporate into your home. To help with this, we created this DIY Coffee Map Table that uses an old map and wood. This construction only takes 30 minutes and can be used as a decorative piece or a place to set drinks or food while watching television or reading. The map is the perfect way to bring the story of your travels in front of your eyes every day!
Chalk Paint Map Decoupaged Table Revamp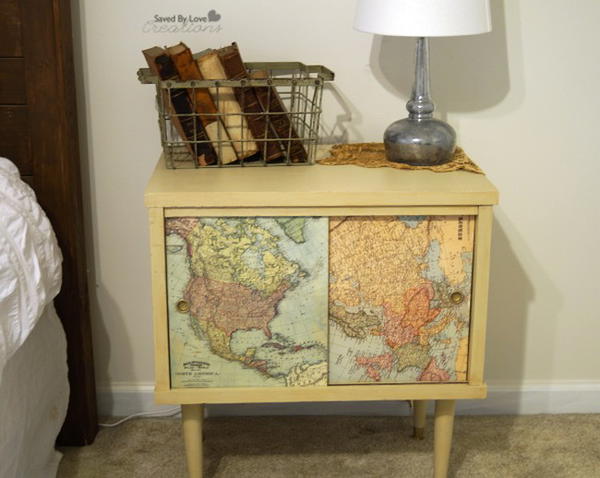 With these simple step-by-step instructions, learn how to decoupage the perfect old table into a masterpiece you'll love decorating year after year. You'll want to start with an old, thrifted, vintage wood table or crate. Then prepare your surface, add a beautiful glittery coat of chalkboard paint and embellish with accessories that suit your style! Transform a piece of furniture with this easy DIY project. Use chalk paint and a map to create this romantic table revamp. This project is perfect for those who love to add unique touches to their home decor!
Topographic Map Table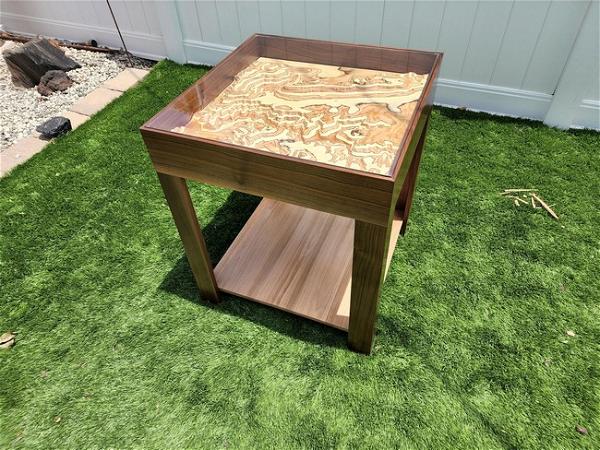 Bring the outdoors inside with this DIY table made from a map. The unique display will make your home or office look undeniably cool. This simple DIY project makes a beautiful coffee table doubles as a topographic map. You can use essential tools and inexpensive materials to do this table in the afternoon. Add rustic charm to your home with this project, perfect for either style or function. This easy-to-make table features a river rock base and a beautiful topographic map finish.
See Other Projects