Are you ready to put on an entertaining show for fair attendees and raise money for a good cause? DIY kissing booths offer fairs a fun new way to collect donations and make a name for themselves. Even if you want to avoid getting up on stage, there are other ways that booth participants can help raise money. Add a twist with DIY kissing booth ideas to create a loveable theme based on your community's favorite products or public figures, and I hope you'll admire it.
Homemade Kissing Booth Ideas

If you're planning a marriage event and want to add fun elements to your party, 'Kissing Booth' is the perfect way. These amazing series have the best ideas for DIY kissing booths that you can use for your wedding or event. You can go with several other additions to your booths, like glitter paint, custom stickers, live music games, and more, to make them more fun and memorable to provide your guests and family a reason to spend quality time.
How To Make A Kissing Booth?
DIY kissing booths are perfect for birthdays, weddings, and more! Here are some of the benefits of DIY kissing booths:
Affordable: You can create a kissing booth with items you already have at home or in the office. Creating a DIY kissing booth is much more affordable than purchasing one from a party rental company.
Customized: You can customize your kissing booth by using different colored backgrounds or decorating it with balloons and streamers to match the theme of your event or party. You can also add special touches like personalized signs or props for guests who want to take pictures at the end of their visit in this fun photo booth!
DIY A Kissing Booth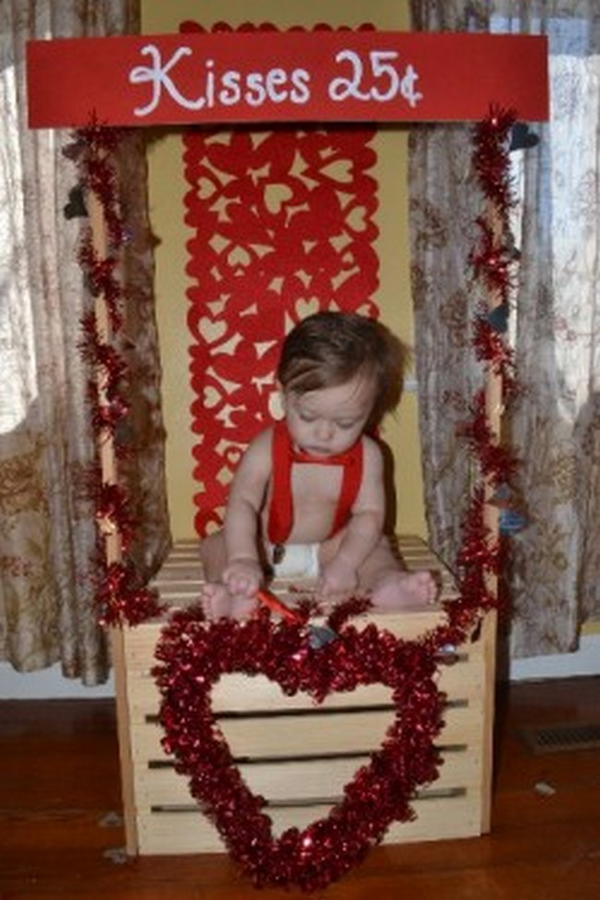 This DIY kissing booth is fun and perfect for a baby shower or birthday party. This first birthday party setup is easy to assemble and guides you about everything you need to create your own kissing booth. The frame is made from wood; the matching display sign is included, and the poster banner on the top is best to make this kissing booth everyone's favorite.
DIY Reusable Kissing Booth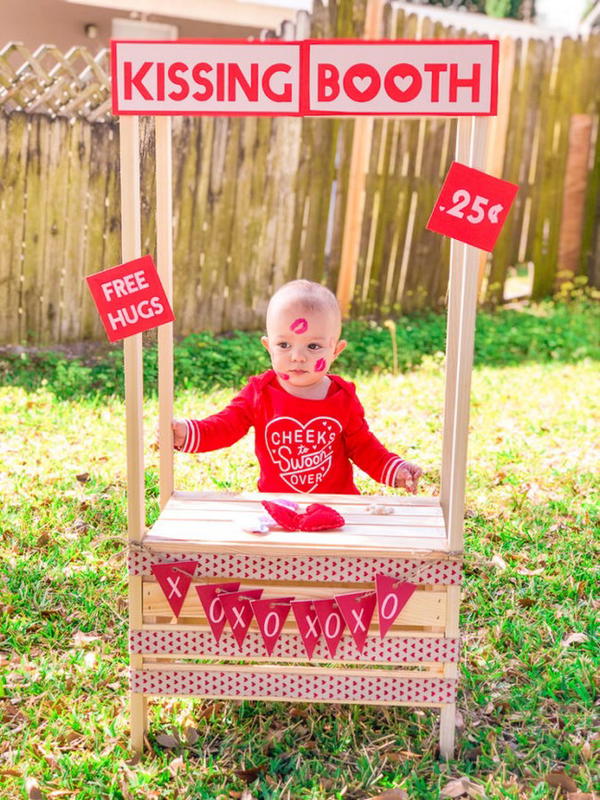 Make your next party or event memorable with this kissing booth. Make your own Kissing Booth with materials from around the house! This fun DIY craft project is easy for kids and fun for everyone. You only need some cardboard and free time to create this super cute booth!
DIY Kissing Booth Photography Prop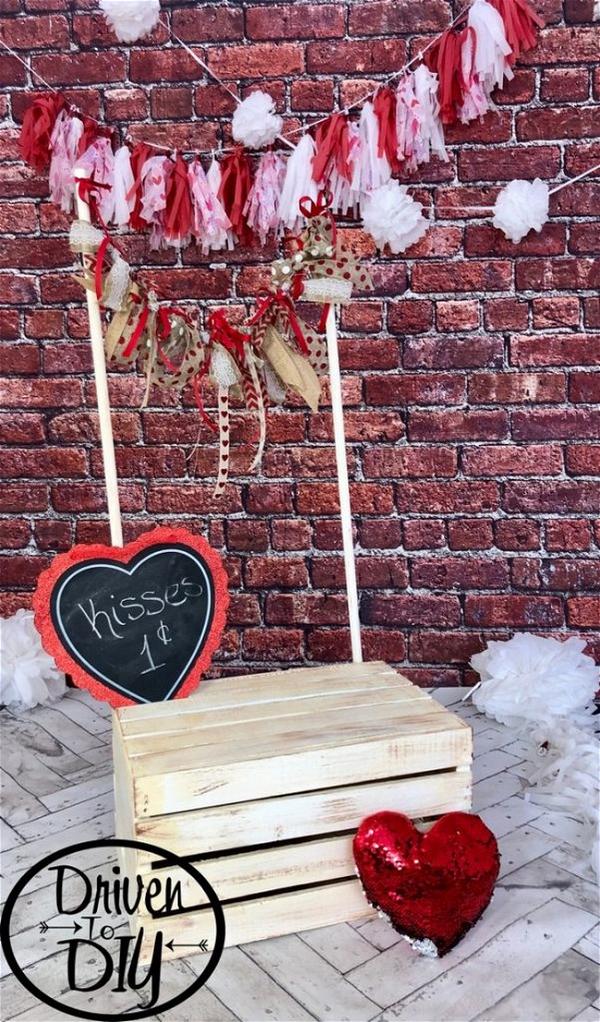 You and your partner will love this fun and unique DIY kissing booth prop. This model is the perfect prop for all-smooching couples, created by a DIY expert, photographer, and designer! Its creation is quite easy, and the cheap construction material will put less burden on your pocket.
DIY Kissing Booth For Charity Collection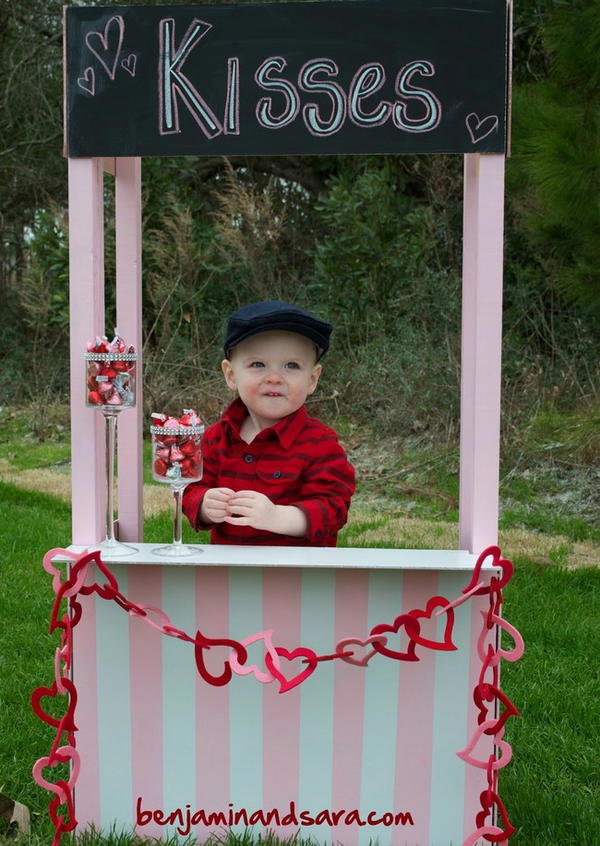 It's time to put the "fun" back in "Fundraiser" with your DIY Kissing Booth from Party Princess! Planning a DIY tent kissing game is the way to go if you want to throw a fun and unique party. Create the booth by making a simple "kissing box" using colorful paper, styrofoam, and construction paper. Decorate it with stickers and let everyone know what's happening inside! If you've got a big garden space, set up an outdoor kissing booth for everyone to enjoy!
Homemade Kissing Booth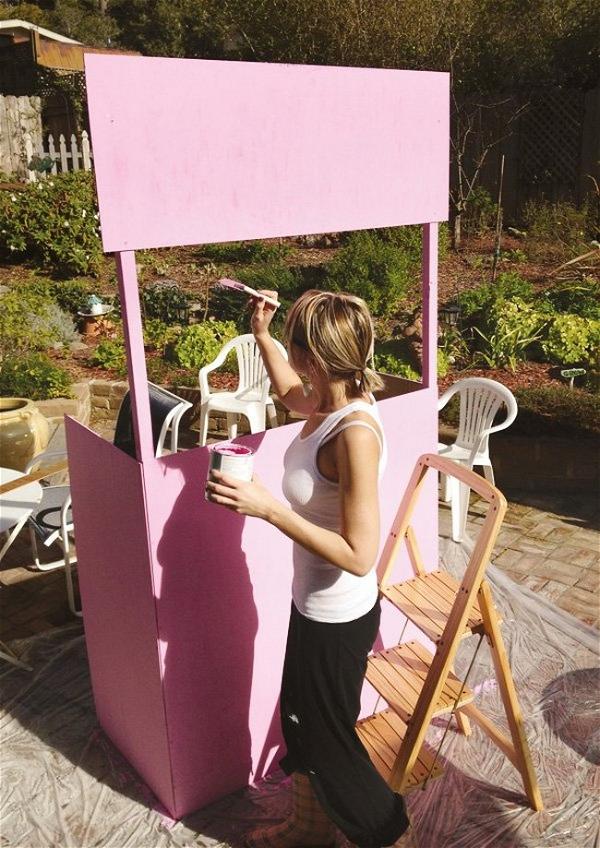 The kissing booth is buzzing in the wedding world, with brides and grooms everywhere trying to bring their famous "free kiss" to their special day.  This DIY kissing booth idea allows you to work with your favorite colors and make the whole process super creative.
Kissing Booth Costume Inspired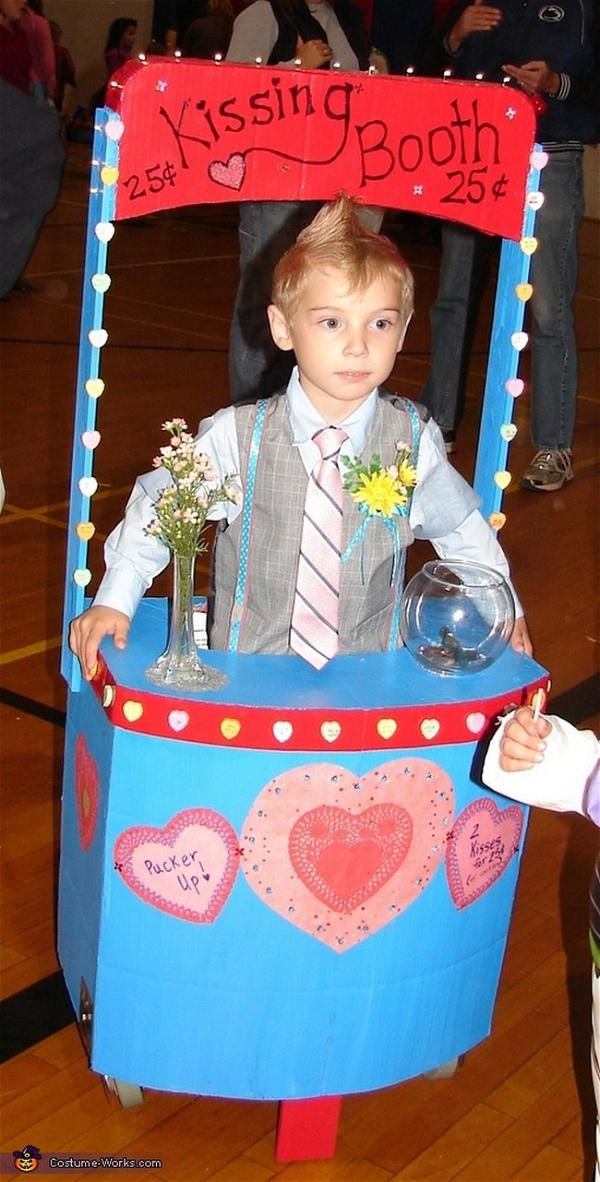 Create a jaw-dropping kissing booth at your next party with this easier kissing booth DIY tutorial! It's decorated with hearts all around to make it everyone's favorite. If you're willing to do something creative and looking for a masterpiece to be a part of your home decor nothing can be better than this kissing booth idea in this regard.
DIY Kissing Booth For Baby Shower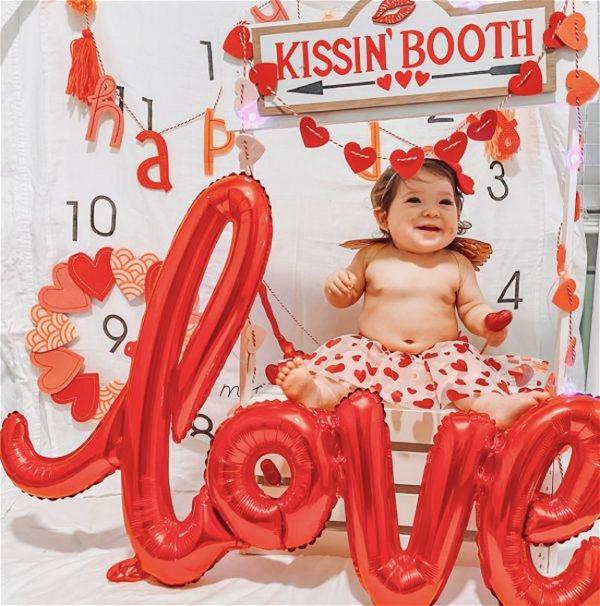 Are you planning to throw a love-themed wedding day party? If yes, check out this amazing DIY kissing booth tutorial. It is quite easy to set up and can help enhance the fun mood of your wedding reception. This kissing booth is a fun idea, and with so many ways to customize it, you're guaranteed to make it fit your decorations. It takes few materials and requires even less time to make it in just a day or two.
Kissing Booth Frame DIY
If you are looking for a fun and affordable way to take portrait photos with your friends, this easy-peasy kissing booth will surely be your best choice. It's perfect for parties, weddings, or any occasion to celebrate with family and friends. Your friends and relatives will love the photo booth you put together with this kissing frame.
How To Make A Wooden Kissing Booth
If you are a woodworker who always wants something interesting to DIY, this amazing kissing booth tutorial will surely be your best option. This wooden kissing booth is great for the holidays. It's strong and sturdy, just like a traditional booth, but easier to assemble.
How To Make A Valentine's Day Kissing Booth
Make your V-Day the best it can possibly be. Get yourself (or a loved one) a kissing booth and watch everyone else fall in love with you while you watch yourself fall deeper in love. It's about that time to embrace the love in the air and get a super cool kissing booth for yourself and your loved ones. Although, if you can't buy a good kissing booth for a fair price, how about you try making one effortlessly today.
Mini Kissing Booth DIY Tutorial
What is a kissing booth, and why do we need it? Well, if you have many toys in your home, most of them are based on subjects like princess dolls, princesses, and castles, then it's time to get your kids excited about their present. With this simple guide, you will see how easy it is to make one and give your children what they crave. Create a charming mini kissing booth to add to your child's playroom or be a unique decoration! This simple project can be made to scale and customized with paint colors and felt hearts so that it can go well in any room.
Hanging Kissing Booth Sign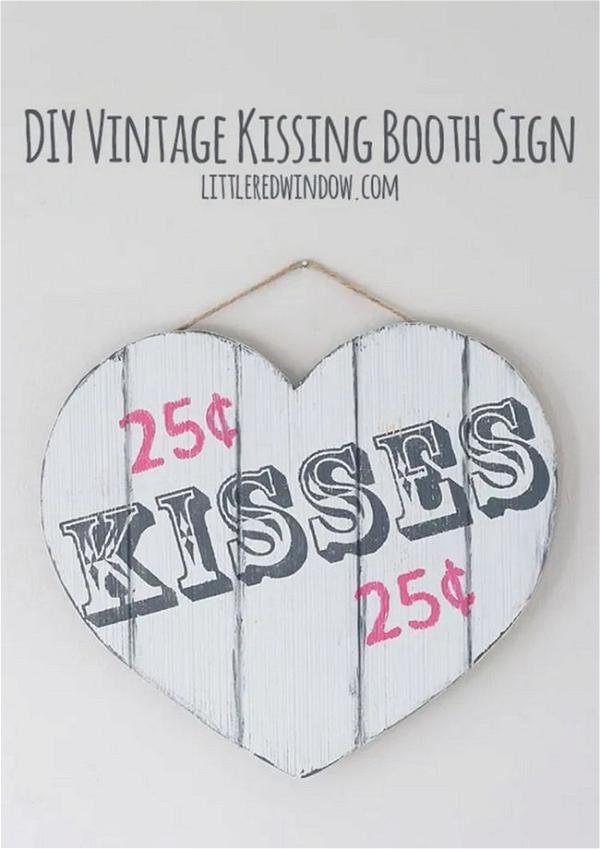 DIY a kissing booth sign for your next party or event by following this easier project; it is so easy to make! Ask them to put their names on a piece of paper where you can write down their time slot for the kiss and collect money for charity.
How To Build A Dog Kissing Booth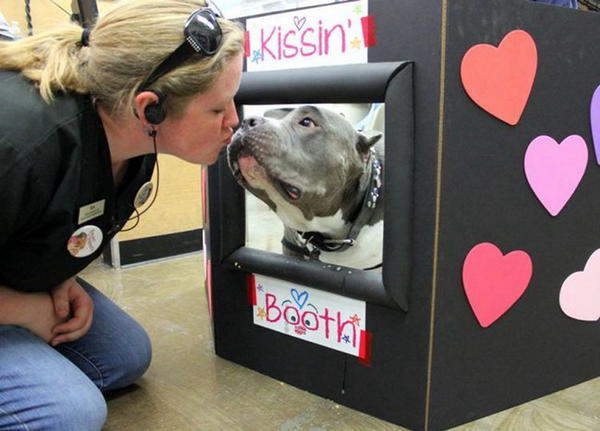 Building a kissing booth can be fun and easy and keeps your dog happy! Would it be better to show a little affection than with a kiss? If an event or party is being held for your pup and you want them to unwind, this setup will make it easy for them to get their paws on some smooches.
Fun DIY Kissing Booth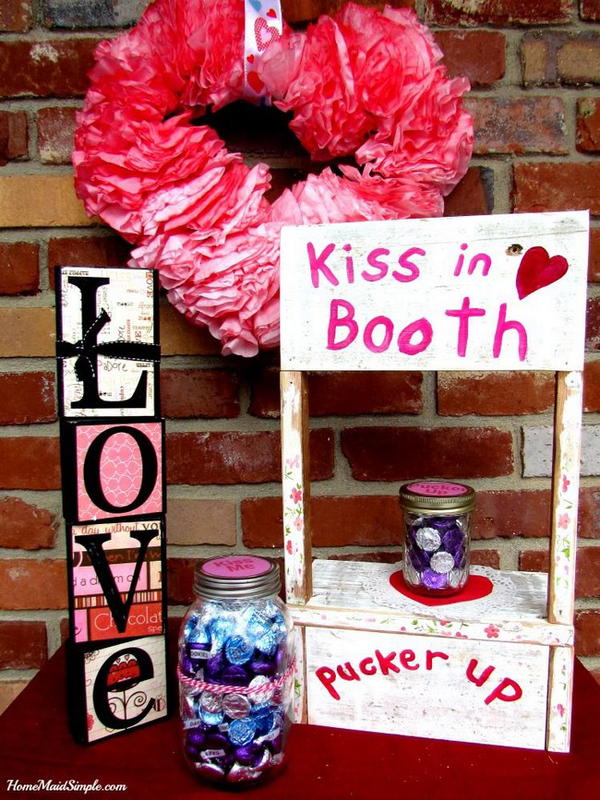 If you love making things independently, this tutorial is a must-read! You'll learn how to make a kissing booth that's great for special events such as weddings or engagement ceremonies. It will help people to take fun pictures and keep their memories alive for a long time. It's easy to set up in various ways; add a heart-shaped wreath and cute decorations, plus paint the wooden boards to fit your theme perfectly.
How To Make A Cheap Kissing Booth
Are you looking for an inexpensive way to advertise your business? Try our custom kissing booth! This tutorial will show you how to make this adorable kissing booth on a budget. It will be a fun way to show off your crafty skills and love nature, plus it will also be great to raise funds and charity for noble causes.
Easy To Make Kissing Booth For Dog
If you love having pets in your life and want to offer a creative and fun way for your dog-loving clients to have their photos taken with a furry companion, then look no further than our dog kissing booth DIY tutorial. With complete instructions, you can build this sturdy wood structure that will hold up to the strength of even a great big dog. With a few materials and creativity, you can build a dog-kissing booth and help raise money for your favorite charity.
Valentine Decor Kissing Booth
If you love Valentine's Day and want to create a special atmosphere in your home or backyard, this Kissing Booth is the right way. It features a mini kissing booth perfect for cutting the cake, grabbing a few tasty bites, and showing off some love. This amazing craft is perfect for Valentine's Day, and you can use it for other occasions like weddings or baby showers. It features a heart plant on top of dowel sticks, floral foam, twine, a clay plant pot, and other items. Next time you invite your guests to a party, ensure they don't leave without trying one!
Kissing Booth For Hamster
If you have a hamster pet and want to enjoy kissing them on weekends, this tutorial is for you. This fun and worthwhile project can transform into a nice separate cozy home for your lovely hamster pet. The hamster kissing booth is a cute and funny gift for any hamster owner. You only need five minutes to assemble it, but your hamster will love it forever! The best part is that you and your little friend can enjoy many quality private moments together anytime.