If you have a desk job, you know well that sitting in the same position and typing on the keyboard all day can cause much pain. The best way to combat this situation is by making one of these DIY keyboard tray ideas. It will be best to make your workstation more ergonomic to help relieve wrist pain and give your hands a break from typing.
Homemade DIY Keyboard Trays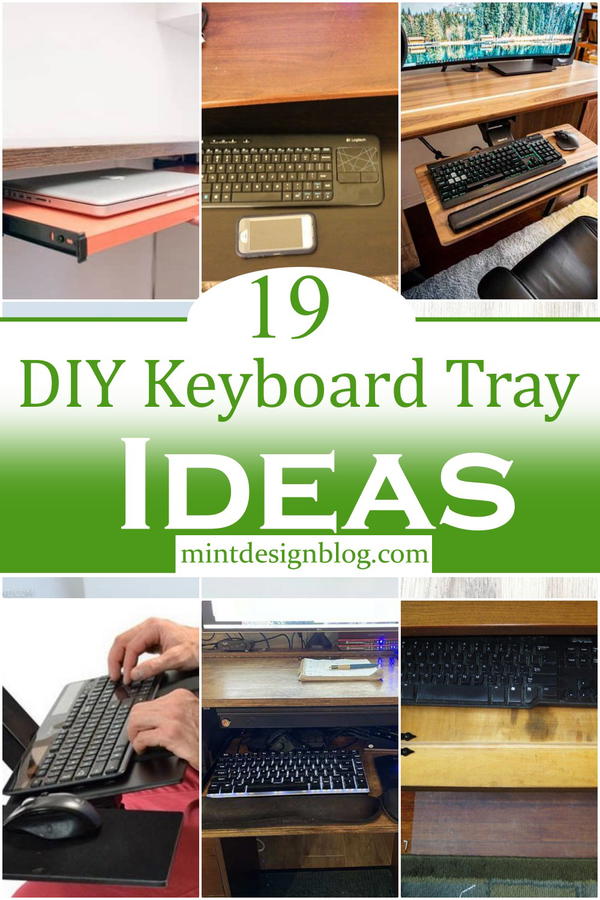 Say goodbye to clutter and discomfort as we guide you through these amazing DIY keyboard tray projects to suit your needs and style preferences.
From repurposing household items to making customized keyboard trays, your journey toward a more organized and comfortable workspace starts here. So gather your tools, let your imagination run wild, and lead us on this exciting adventure to create the perfect DIY keyboard tray for your home or office!
Materials and Tools:
 A piece of plywood
¼-inch thick MDF sheets
A saw
Wood glue and wood filler.
A router
How Do You Make A Keyboard Tray Out Of A Desk Drawer?
Transforming a desk drawer into a keyboard tray is a brilliant way to maximize space and enhance ergonomics in your workspace.
To begin, measure your drawer's width and depth to ensure it can comfortably accommodate your keyboard and mouse.
Next, remove the drawer from the desk and carefully detach its front panel. Attach sturdy drawer slides or hinges to the panel, allowing it to flip down when needed.
Now, mount a flat surface, like a wooden board or plexiglass, onto the slides or hinges, creating a stable base for your keyboard and mouse.
Finally, reinstall the modified drawer on your desk, and voilà!
DIY Keyboard Tray From Walnut And Leather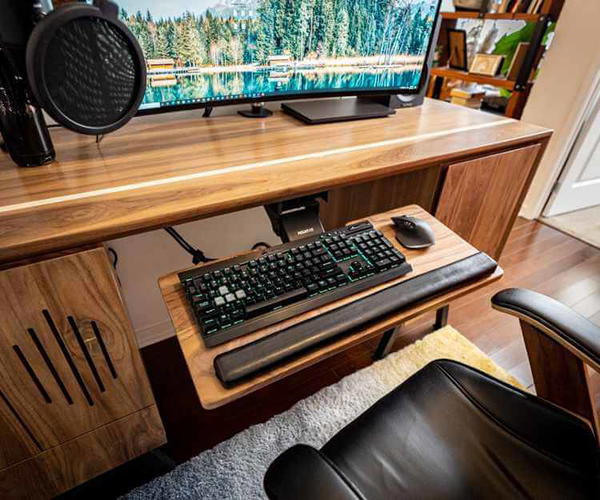 Here's an awesome way to customize your work environment in style. This practical and meaningful tutorial will teach you how to create an amazing DIY keyboard tray made of walnut and leather. With the help of a few more simple hacks and some material you likely have to lie around, you can put together a beautiful arrangement of all-natural materials. And if you want to customize, creating your own is easy, just like we did here.
Skill level: Intermediate
DIY Keyboard Tray and Desk
This DIY keyboard tray is easy to build; you can use it with an old oak desk or a new computer table. Holding a laptop computer, keyboard, mouse, and monitor for all your work needs will be best. This keyboard tray is perfect for music creators and inspired studio lovers. You will be able to purchase the items from a local hardware store. This is a great project to do while watching TV.
Skill level: Intermediate
DIY Keyboard Tray out of Desk Drawer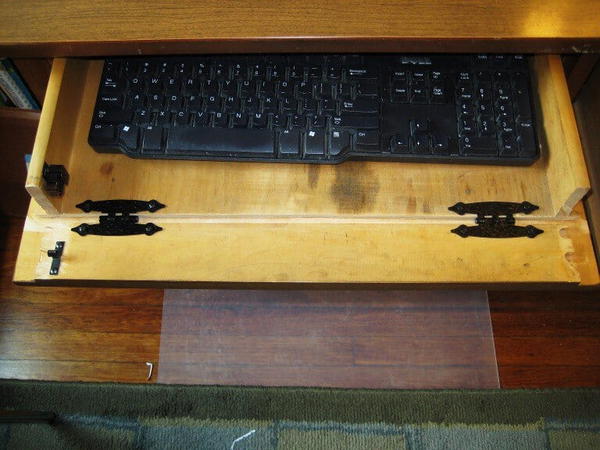 You can recondition this old piece of furniture into an ergonomic keyboard tray with a little bit of woodwork and elbow grease. This simple project uses an old desk drawer to create a custom keyboard tray and track system, adding a more natural aesthetic to your work setup. This simple DIY project will turn an old drawer into a keyboard tray. You only need to invest in a few items, and you have a cheap keyboard tray that is vibrant and cozy.
DIY Midi Keyboard Tray
For all of you music lovers, it's time to DIY. This video guide will be more effective if you have a tabletop where you place stuff like your Monitor, mouse, and other computer and sound-related parts. Make your own sliding compartment beneath the table! This is an easy build for beginners, but you will need some basic woodworking skills to complete this project.
Skill level: Beginners
DIY Music Keyboard Tray
Following this easier video tutorial, you can build a really easy keyboard tray at home in an hour or two. This lengthy keyboard tray will be well for music creators and those who don't want to spend much hard-earned money on store-bought keyboard trays. This easier tutorial will teach you how to build your keyboard tray easily and stress-free without spending a fortune.
Skill level: Intermediate 
How To Install A Sliding Drawer Under A Desk
Add a sliding drawer under your desk to accommodate the huge-sized keyboard and maximize the use of space you have by following this super easier youtube tutorial. It costs only a few dollars but will be a blessing for your workspace environment. You need a steel railing, a wooden board with smoothened edges, and a few DIY skills to make a decent keyboard tray home.
Skill level: Beginners
Cost-effective Keyboard Tray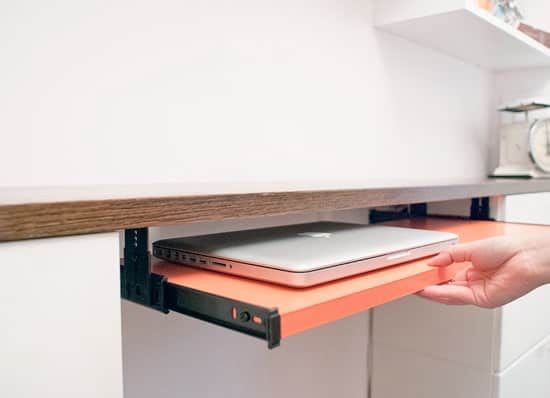 If you're looking for a keyboard tray that's high-quality, comfortable, and adjustable, then this is an amazing tutorial for you to follow. It may cost a little more than some of the other options, and best to use your keyboard tray every day. You can use this keyboard tray as a sliding base platform for your laptop, too, and I hope it will be a great masterpiece to try.
Skill level:  Advanced
DIY Keyboard Tray for a Tall desk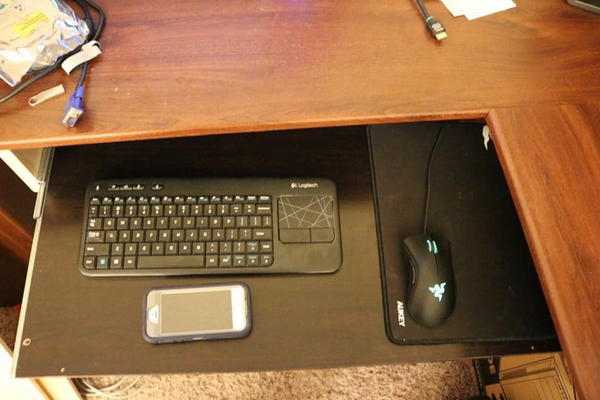 Are you looking for solutions to make your desk more comfortable and ergonomic? Look no further than this amazing Keyboard Tray! It is ergonomically designed to fit under your desk and can easily store your keyboard and mouse. This amazing project is a simple modification that will turn your boring desk or narrow desktop into a useful and functional workspace. This project requires no tools or skills except a hand drill and saw.
Skill level: Beginners
Movable DIY Keyboard Tray
This DIY plan is for a movable keyboard tray that rolls under your existing desk. Whether you're looking for more space to store equipment and supplies or enhance your ergonomics, this tray is inexpensive and easy to build. The versatile design keeps you organized and ensures everything is always within reach. When mounted, it can be moved up and down, and the mechanism makes the slide extremely smooth. This DIY keyboard tray will provide additional space for adding your computer accessories.
Skill level:  Advanced
DIY Keyboard Tray Using Reclaimed Hardware
If you have an old desk in your garage or know someone tossing one, you can use the wood and hardware to build a new keyboard tray. Make a sturdy keyboard tray using reclaimed materials. This step-by-step project will guide you through turning an old desk into a functional, new keyboard tray that is sturdy enough to last.
Skill level: Beginners
Homemade Keyboard Tray for Gamers
If you love to game, you know how important it is to have enough room for your keyboard. This DIY keyboard tray is an easy addition that will give you the extra space you need. With little time and effort, you can design a DIY computer desk with all the amenities needed to level up your gaming.  The homemade keyboard tray is perfect for those who do not want to spend much money, and I hope you'll find it useful too.
Skill level:  Advanced
Sturdy DIY Keyboard Tray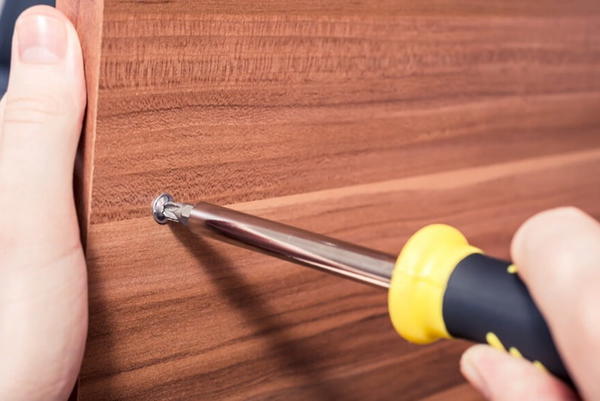 If you're looking to save money and build your own keyboard tray using inexpensive materials in a couple of hours, then this tutorial will be the best option. It's perfect for those who want to take their work off the desk daily and make it more comfortable.
Skill level: Beginners
DIY Keyboard Tray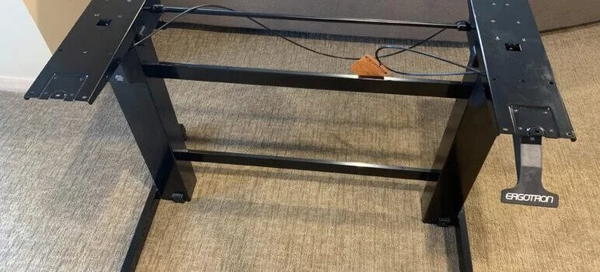 Building a DIY keyboard tray is an easier and cheap way to add space to your desk or table. The process is simple, and most DIY'ers know the parts and tools needed to do the job. This is especially useful if you have a large desk surface and need to expand your desk storage.
Skill level:  Advanced
DIY Keyboard Tray With Desk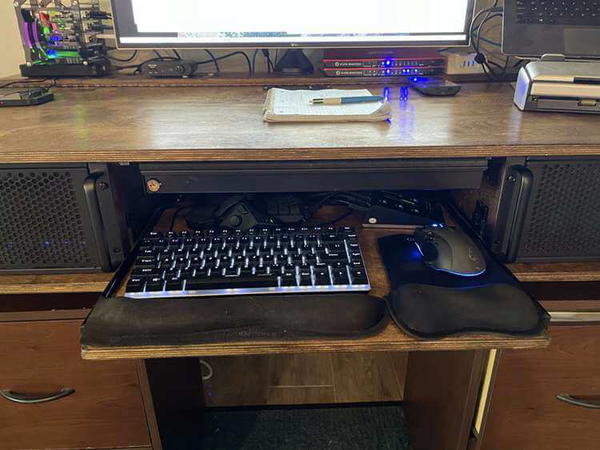 If you love how the new tiny keyboards fit on your desk but you're having trouble typing without a lot of wrist strain, this keyboard drawer is for you. It attaches to the side of your desk and provides additional space for your mouse or even some workspace. You can make it as large as you like if your desk allows it! This project is also a very budget-friendly, easy DIY under $30!
Skill level: Beginners
Sliding Keyboard Tray DIY
Making a sliding keyboard tray is the best way to solve this problem. It's much easier to make and a safer option to balance your laptop or computer on the surface of your desk or table. Our guide will quickly give you a healthy, effective, and stable keyboard tray! This amazing guide will show you how to build a sliding keyboard tray and the necessary tools, materials, and steps.
Skill level: Beginners
DIY Apple Keyboard Tray
If you may use a Mac/ iPad or iPhone in areas where space is an issue, your keyboard tends to stay in the same position for long periods. The coolest thing about this DIY Apple Keyboard Tray is that you can customize its height by adding or removing spacers. No more uncomfortable wrists while typing away at your computer!
Skill level: Intermediate
Ultimate Guide To The Under-desk Keyboard Trays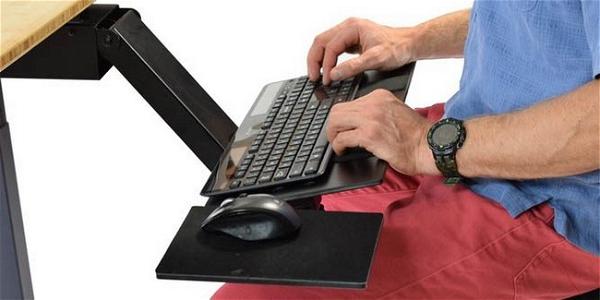 If you're using a desk that doesn't have a built-in keyboard space, this amazing masterpiece will surely be the best choice for you. It will be an excellent opportunity for extra storage space and is like being able to add another shelf to the room. You can use this keyboard tray as an excellent masterpiece addition to your workstation and I hope you'll love it.
Skill level: Advanced
How To Make Keyboard Trays Into Shelves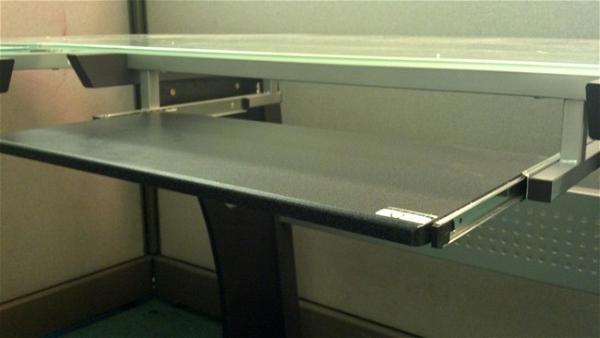 Looking for a clever way to store items such as loose papers, documents, or even writing utensils in a tidy desk space? Put your old keyboard trays to work! You can easily transform them into shelves for simple storage that creates extra space. It will be a decent addition to the office, allowing us to quickly grab our devices from the desk and take them wherever we go. This can be helpful for a coffee break or lunch in another office area.
Skill level: Beginners
Best Keyboard Tray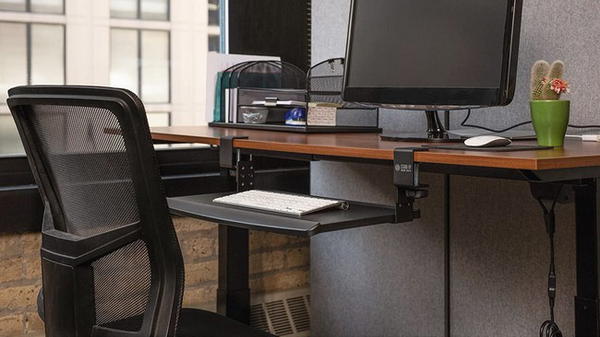 Make an ergonomic keyboard tray for your desk without spending a fortune or time following the guidance from this article. Proper keyboard placement will be the best option for you. Take the strain out of typing and improve your productivity with our keyboard trays. Designed to help you create the perfect workstation, our keyboard trays are easy to install and can even be custom-cut for any desk.
Skill level: Intermediate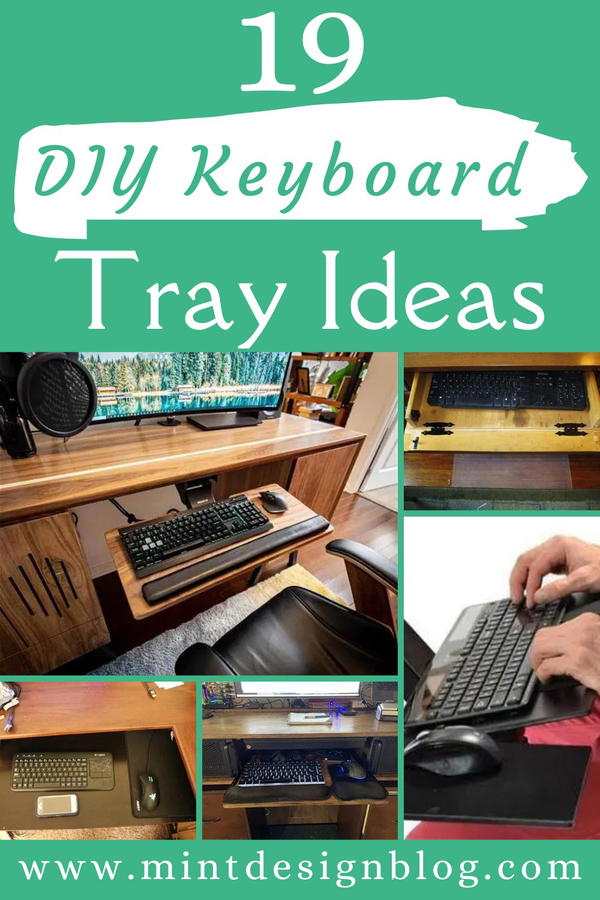 Conclusion:
Let me show you how to DIY a keyboard tray with the help of numerous ideas to make loveable and unique masterpieces for your workstation. They will be a great alternative to store-bought keyboard holders, and the endless customization options make them everyone's heartily favorite. So get the supplies, follow our guidelines, and have fun keyboard tray creations in your workspace with minimal effort.