Looking for a way to make a keyboard stand? You have come to the right place! A keyboard stand is a great way to upgrade an entry-level keyboard and make playing more enjoyable. In this guide, we will be going over the parts and tools that you need to make your stand. Building one of these stands is easy and quick; you will be on your way to playing music in no time. These DIY keyboard stand projects are great for playing your piano or keyboard while standing, which is a great option if you want to add extra energy to your performance. If you're looking for a cheap, practical solution that works perfectly, this guide is exactly what you need.
DIY Keyboard Stand Projects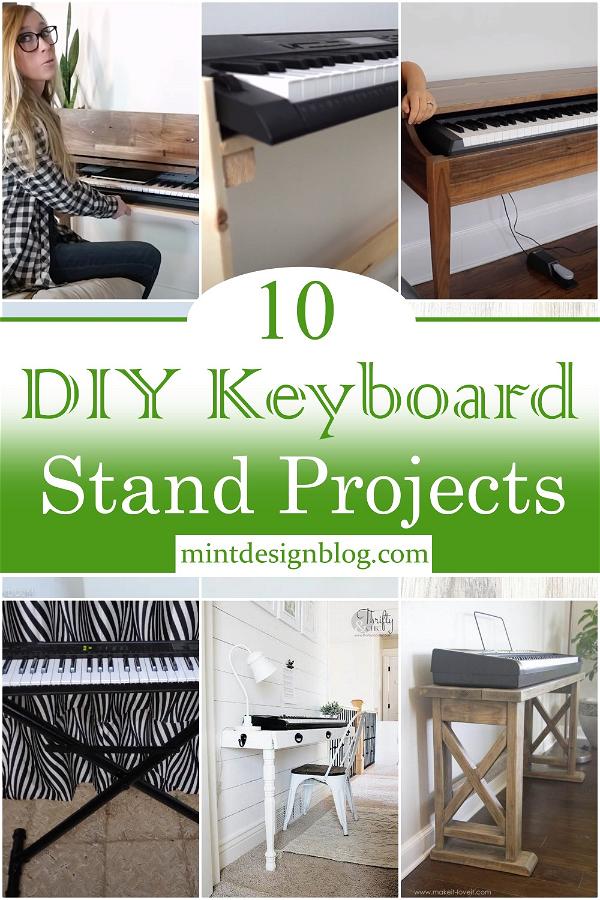 These designs make it easy for you to create your own keyboard stand that is both functional and beautiful. With just a few basic supplies, anyone can build a frame they'll be proud of. These projects are easy to make and fun to use while being durable, sturdy, and aesthetically pleasing. They look great anywhere you put them! These DIY keyboard stands have detailed instructions and many tips and tricks. You only need inexpensive materials like wood boards, dowels, and screws, and away you go! Build a custom keyboard stand that suits your needs and is perfect for home and studio musicians. You can make one from a sturdy heavy-duty shelf and some pipes. Try the following tasks and create a perfect companion for your keyboard at home or studio!
Advantages Of DIY Keyboard Stand Projects
DIY keyboard stand projects are a great way to save money and get the exact look you want. The best part is that there are no limits to what you can design! You can make a simple stand with a few pieces of wood or create a complicated, artistic masterpiece. It's all up to your imagination!
Here are some advantages of DIY keyboard stand projects:
You can customize your keyboard stand project for any music or instrument, including pianos, guitars, violins, cellos, or even xylophones!
If you're unsure how to do it yourself, YouTube has plenty of videos on building different kinds of stands at home.
You'll be able to save tons of money on buying one already made—which means more cash left over for other things like new instruments!
It's fun!
How To Make A Keyboard Stand
Anyone Can assemble this Keyboard Stand. Make this beautiful stand the centerpiece of your home studio and enjoy the extra space to expand your sound system. A bench is attached to the back so you can sit while playing. It will also look fantastic when placed in a place of prominence in your living room! This is a great stand for any keyboard player. The stand is a beautiful finish piece of craftsmanship to last and can disassemble by removing a few screws. The bench also attaches to the stand using bolts for easy storage and mobility.
Easy DIY Digital Piano Stand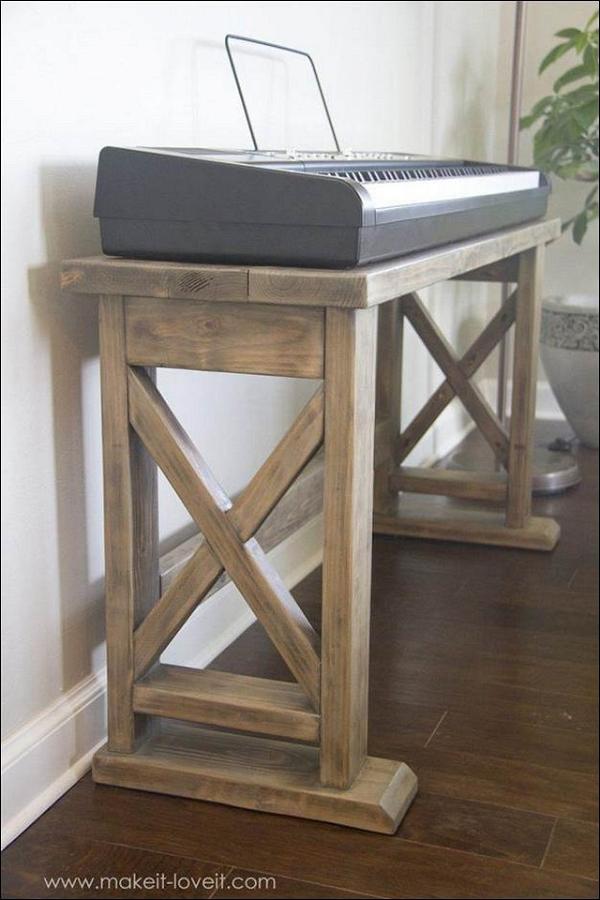 A piano is one of the most expensive purchases that you'll make for your home. Please keep it safe, secure, and looking beautiful with this adjustable stand. Made from durable oak, this rack can be assembled in just a few minutes and is ideal for protecting your digital piano while you play or practice. Assemble your very own digital piano stand. This DIY project is a fun and easy way to upgrade your home's decor. The sleek pine wood design will complement any space, while the practical finish can be customized to suit your tastes.
Keyboard Stand Using PVC Plan
If you're looking for a keyboard stand that's simple, sturdy, and affordable, this one will do the trick! This DIY keyboard stand is easy to make and extremely durable. It has a universal design, so it fits all keyboards, featuring a clever bubble-shaped base that keeps your instrument safely in place no matter how much you move around on stage. This DIY keyboard stand is a great tool for music lovers looking for an inexpensive alternative to commercially available frames. Anyone can complete this DIY project, which only takes an hour.
How To Make A Flip Top Keyboard Stand
This project is perfect for you if you want to make a keyboard stand out of wood. Our Flip Top Keyboard Stand is simple to build and can be customized with your favorite wood stain or solid color if you want to add some design flair. The flip top provides easy access for performers and adds a professional touch to any stage. This flip-top keyboard stand is the perfect addition to your workstation, or use it as a beautiful accent piece in any room. The frame is made of walnut or other hardwood and has been treated with a clear finish. Easy assembly required.
Custom Keyboard Stand Plan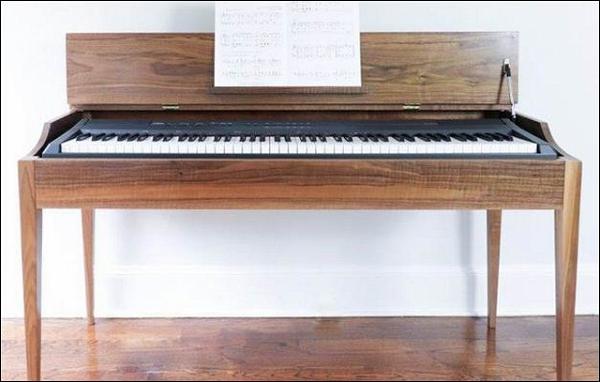 Protect and enhance your piano while making it mobile with this DIY custom-built wood stand. Made from durable hardwood, this stand is built to last and is easy to assemble. You can enjoy playing your piano anywhere in your living room or favorite spot with room for a custom-built keyboard stand. This DIY custom keyboard stand makes it easy to find a great place to play the piano. It's made from solid wood and features a low-profile design. The piano top can be placed on the stand using the same screws that hold the halves together, allowing you to remove it easily if needed.
How To Make A Keyboard Stand
The keyboard stand is a luxury project. You will need to work with wood and cut to size, shape, and assemble using fasteners, screws, and plywood. This is suitable for those looking for a project that requires more woodworking skills and carpentry ability. This keyboard stand will instantly create an elegant and stylish space for your home. Made from walnut wood for a luxurious appearance, the stand is finished to a high standard and can be used with any modern or traditional piece of furniture. It's easy to assemble and comes flat packed, so it's great if you don't have lots of storage space.
DIY Keyboard Stand Under $30
Do you love your piano and have the ferocious desire to sing along at high decibels? Then your stand should be able to match that intensity and passion. Follow our instructions to make a stand fit for your keyboard and MIDI speakers, with plenty of room for volume control. Make a beautiful keyboard stand by yourself. It is easy to follow; you can use it at home, studio, or school. Make the most of your laptop or desktop computer with this DIY Keyboard Stand, designed for adults and children. Its great performance and impressive style will inspire you.
Easy To Make Piano Stand With Storage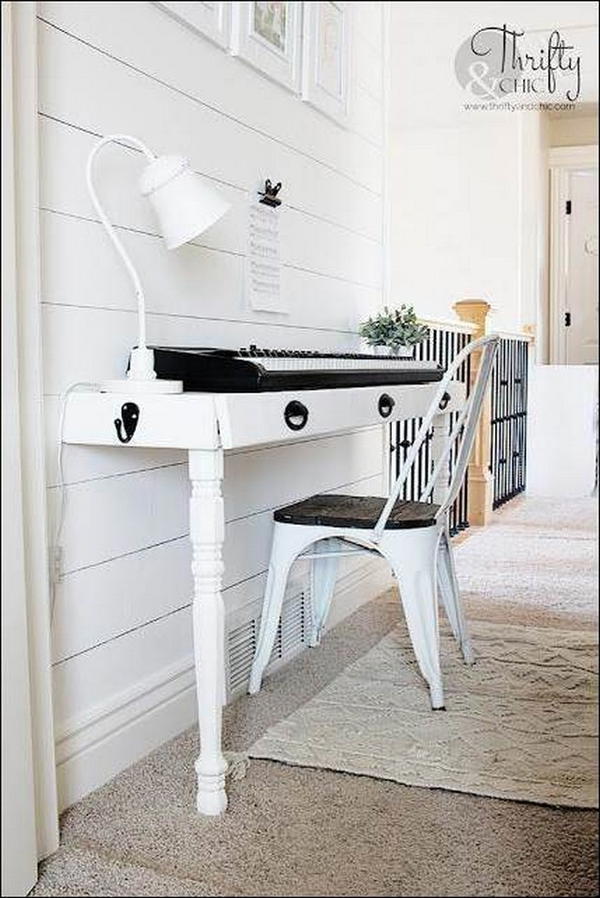 This is a beautiful and easy way to make your piano stand. This DIY piano stand with storage can be used in any room you want to display. The base comes with a floating design and stylish legs that add a touch of elegance to your room. You can also use this storage table - it's convenient and beautiful. This is a DIY project that you can make yourself. The floating stand will keep your piano looking beautiful and can be adjusted to suit your needs perfectly. You can easily build a matching storage unit underneath, and you're ready to play!
Keyboard Stand Build
A keyboard stand is a major investment, so why not build one yourself? Made from pre-milled stair treads and risers, this DIY keyboard stand is a fun build project. Easily cut your wood to size, and make sure to use dowels, jig, and drill to reinforce your joints before gluing pieces together. Once all the parts will glue together, paint it with your favorite color! This keyboard stand is made from pre-milled stair treads and stair risers. Crafted with high-quality materials, our keyboard stands are durable and built to last. This exceptional stand is the perfect addition to any home music studio or professional practice facility with a sleek design.
Simple Keyboard Stand Plan
When buying a keyboard stand, you'll find a wide variety of options, from inexpensive to very expensive. But if you don't feel like spending more than $100 for a stand, why not build one yourself? While this is an easy project, there are some key things that you will need to make your own stand. You have the right to choose your preferred materials. The frame should be of solid wood; besides that, there is no limitation. Look for a fabric you like and make it possible with measurements and finishes.