Do you want your headphones to take center stage? Try placing them on an artfully designed headband stand. You can create your own by using three different colors of wood–or other materials—to make the design pop. Headphone stands are a great way to keep your headphones organized, especially if you're the type who likes to show off their prized musical equipment. There are numerous DIY headphone stand ideas out there that can be used to get the perfect look in any room. Choose the right color and style of your headphone stand to fit your room decor. Unlike other headphone stands, this one is made out of solid wood!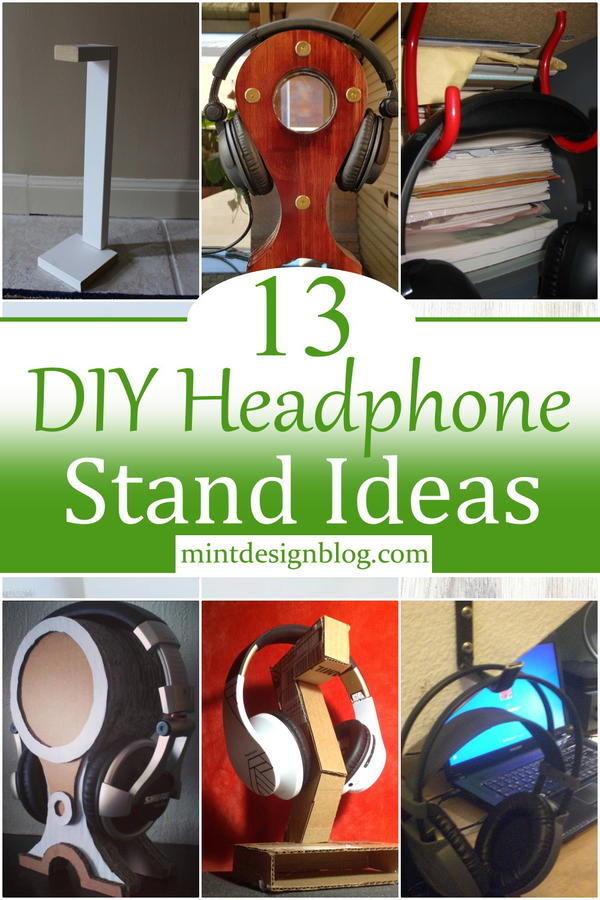 The best way to store your headphones is with one of our DIY Headphone Stands. These stylish and functional designs will keep your headphones neatly organized, dust free, and ready for use at a moment's notice. Fun and practical, these extra tall headphone stands are designed to keep your headphones off the floor. The legs add height and stability, while the storage compartment gives you a place to stash additional accessories or cables. Check out these fantastic DIY headphone stand ideas to spruce up your home or office.
Advantages Of DIY Headphone Stand
Headphone stands are a great addition to any home. They keep your room tidy and add a bit of style to your space. Many types of headphone stands are available for purchase, but if you're looking for something unique, you can always make one yourself! Here are some of the benefits of DIY headphone stand ideas:
Save Money – Headphone stands can be expensive, especially if you want one made with high-quality materials like wood or metal. Making your own headphone stand will allow you to save money while still getting something that looks great in your room!
Customize It – These Headphone stands come in many different shapes and sizes, so there's no reason why yours has to look exactly like everyone else's! You can customize it to fit perfectly into your home decor while still being functional!
Use Your Imagination – Headphone stands aren't just for holding headphones anymore! You can use them as storage containers for things like remotes or magazines; the endless possibilities!
Simple Headphone Stand Plan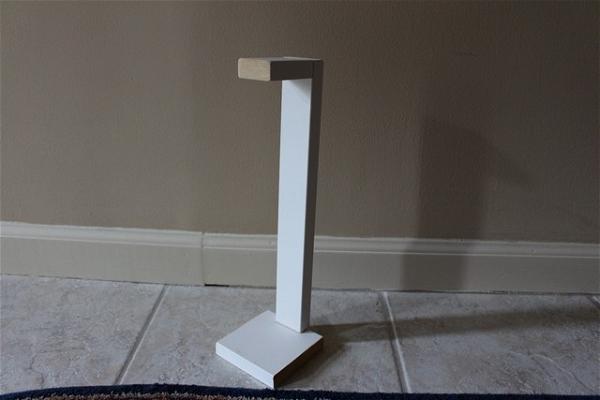 This stand is perfect for your headphones. It is compact, simple, and easy to make. The design is so simple yet unique. It has a modern vibe that most of us like nowadays. Since it uses wood, there will be no metal or plastic, which makes this an eco-friendly, stylish headphone stand. This headphone stand is a great addition to your desk. This stand is made of a wooden base, covered with a layer of beautiful red paint, and then decorated with a floral design. The headphones rest on the stand's top part, allowing you to easily take them off while listening to music or charging them.
DIY Headphone Stand
The Wood Workshop DIY Headphone Stand is an easy-to-build, fun project that looks great. It is a solid wood plank and a handcrafted headphone stand, making your audio devices look simple and timeless. The unique design is perfect for home or professional studio use to store, display and protect your headphones when not in use. It is a stylish and stylish headphone stand that helps you keep your belongings safe and tidy. Never lose a headphone or another item again! This DIY headphone stand is the perfect gift for yourself or the audiophile lovers in your life. The process of making this stand is quite simple and easy, but you will need timber that is thick enough to hold strong with all its weight.
You can also see: DIY Laptop Stand ideas 
Easy To Make Headphone Holder Idea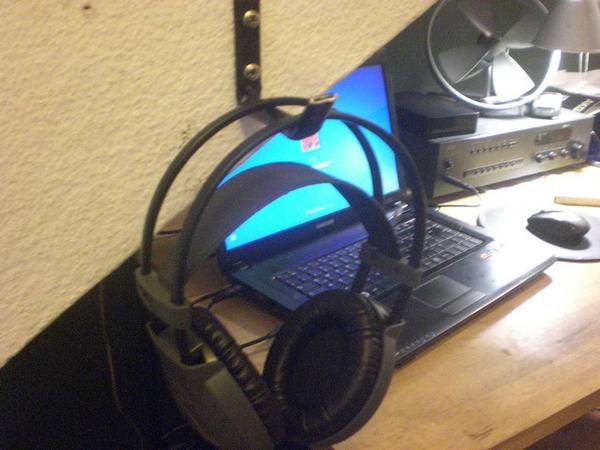 Headphone holders are designed to keep your headphones from tangling. Save space and make your workstation more organized by creating a DIY headphone stand that can be mounted on the wall. Headphone holders cost about $10, but you can make your own from an aluminum pipe and DIY supplies. With a ruler, screwdriver, pliers, metal saw, drilling machines, and metal driller, you can weld the pipe into shape. Drilling holes with metal drills makes it easy for screws to hold it against the wall. Add some finishing touches, such as duct tapes, to make it appealing.
PVC Tubing DIY headphone Stand
It's time to get your home office ready. This DIY headphone stand is made of PVC tubing and can be a stand for other miscellaneous items as well. It is simple to make, yet sure to add some style to your desk space! Transform any ordinary pair of headphones into a sturdy, modern headphone stand with this PVC Pipe DIY Headphone Stand. It's easy to build and costs nothing, so you can make one for yourself or give it a unique gift! Crafted from black PVC tubing, this headphone stand adds minimalist style and functionality to your workspace. Set it on a dresser or tabletop for easy access.
Best Headphone Stand With Modern Design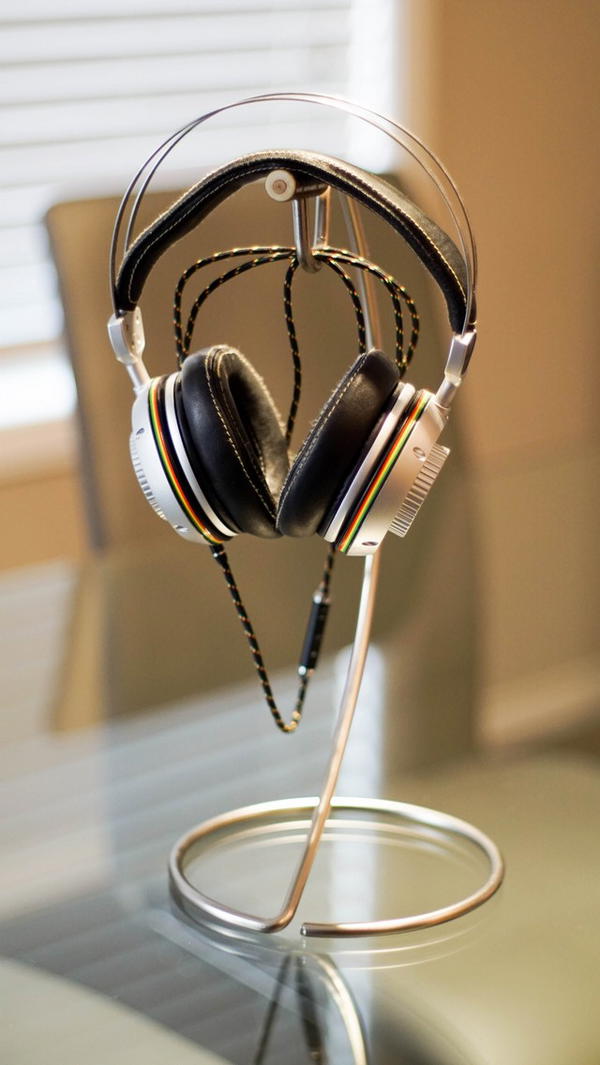 The modern banana DIY headphone stand is a future classic, a simple yet stylish design that will make all your friends jealous. The combination of banana steel and wood creates a sleek look that will add character to any environment. Modern Banana DIY Headphone Stand is a stylish way to display your headphones clean and organized manner. The base of the stand is made from banana steel with a wooden dowel, which adds character to the overall look. This stand lets you keep the cords neatly organized for visibility, making them easy to find. This sleek holder is perfect for your home or office, creating an eye-catching addition to the look of your space.
Reclaimed Wood Headphone Stand
This Reclaimed Wood DIY Headphone Stand is the perfect way to store your headphones. Add a unique touch to your home and keep your headphones tidy with this reclaimed wood DIY headphone stand. Made from 100% reclaimed wood, it's an eco-friendly way to elevate your music experience. It looks great and is a great addition to any room. As a bonus, each stand is handcrafted from recycled wood & sanded smooth, then sealed with a food-safe finish. A thoughtful gift for music lovers who enjoy a great sound experience all year round.
Clothes Hanger Headphone Stand
This Clothes Hanger DIY Headphone Stand turns unused hangers into a perfect place to keep your headphones organized. Its hinged design allows you to flip it up and down, making it easily in and out of the stand and providing you with several hanging positions. This Clothes Hanger DIY Headphone Stand is a beautiful way to display your headphones at home or in the office. The piece comes with four metal finishes, meaning you can select a color matching your décor. The Pause & Play button can flip up for you to put your headphones on. You can relax, hang up your headphones, and enjoy the music!
LED Headphone Stand Idea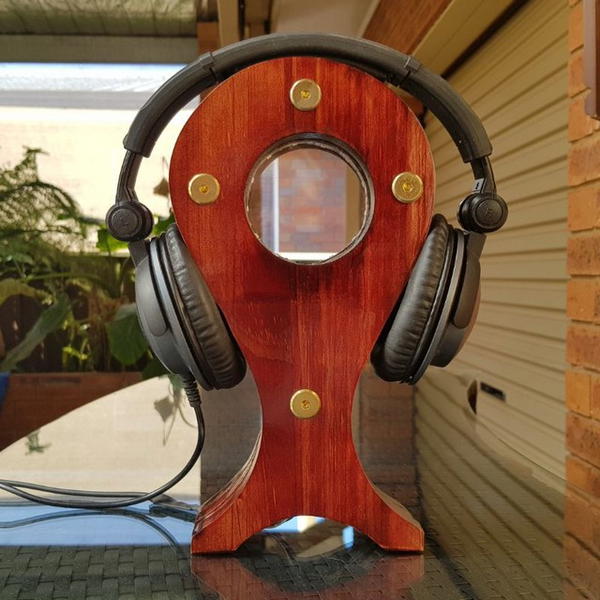 Get the best of both worlds with the ultimate headphone stand, crafted with a high-quality aluminum top and frosted acrylic base. The soft black pads ensure a secure grip on your headphones, while the glowing LED interior adds ambiance to your space. Put a little light into your life with this LED DIY Headphone Stand. Crafted from metal and available in four colors, these headphone stands are perfect for showcasing your style while storing your headphones and keeping them within reach. With this easy-to-make headphone stand, you can always keep them organized. This would make a great DIY gift for someone who loves music!
Spiderman Headphone Stand Plan
This is a beautiful stand. It is made of katalox wood, maple, and mahogany wood. This can be the best present if you have kids who love the Spiderman character. They will work for sure like it. You may need help assembling the materials, which can sometimes be tricky. However, you have a professional-looking stand once you finish that phase. This headphone stand is the perfect gift for your family and friends. It features the Spiderman character, who offers comic relief in this real-world setting, held together with a sturdy base of katalox wood. These headphones shine on their own, but built into this unique stand makes them even more special.
Headphone Stand With Bicycle Hook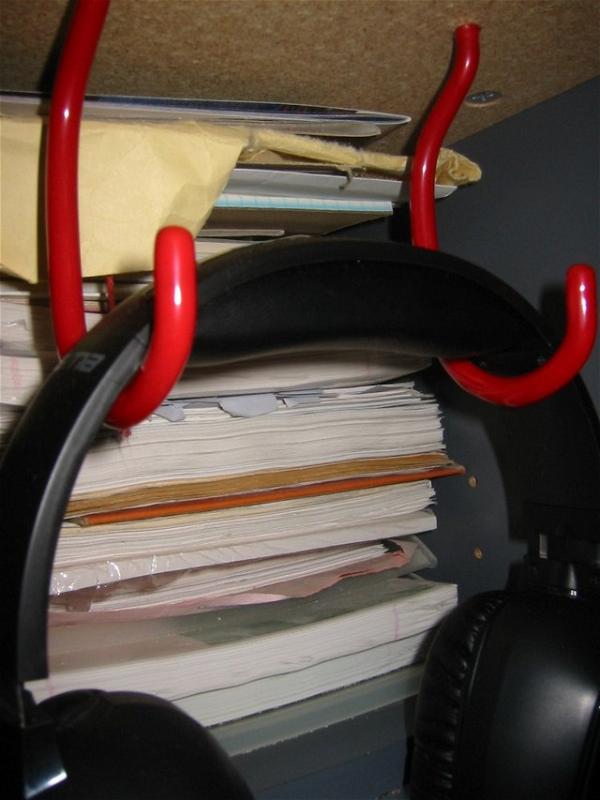 This Bicycle Hook DIY Headphone Stand will keep your headphones organized and within reach. The bicycle hook stores your headphones, making them easy to grab when you need them. It's lightweight and portable so that you can take it anywhere. The Bicycle Hook DIY headphone stand is a stylish and practical solution to your headphone issues. The bicycle hook shape of the frame keeps your headphones stored hands-free while not in use. It saves space on your desk because there's no more clutter. It makes your headphones stylish.
Steam-Bent Headphone Stand
The Steam-Bent DIY Headphone Stand is one of a kind, made to fit your style. You can all collect reclaimed materials and use them to build this stand. This headband stand is made from a fine assortment of reclaimed materials. This stand type is the perfect choice when you need a beautiful place to keep your favorite headphones. This headphone stand is beautifully crafted from reclaimed materials and has a unique design and shape. Made from steel scraps and reclaimed wood, this accessory makes for a special gift for audiophiles. This vibrant stand will give your living space a boost of character and style that everyone can appreciate.
Easy Headphone Stand Plan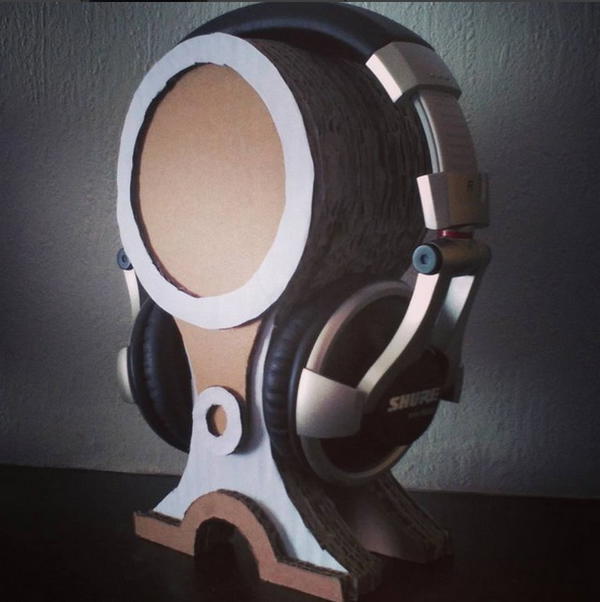 The Stacked Cardboard DIY Headphone Stand is an ideal gift for your loved one, perfect for those who favor modern and minimalist designs. This handmade item is made by stacking cardboard sheets and hence, a recycled material. The strong construction makes it durable, while the catchy design complements any decor. This simple way to create a DIY headphone stand uses only cardboard and adhesive hooks. The frame is strong enough to hold your expensive headphones without fail but can also be easily disassembled when you need to store the stand away.
Cardboard & Hot Glue Headphone Holder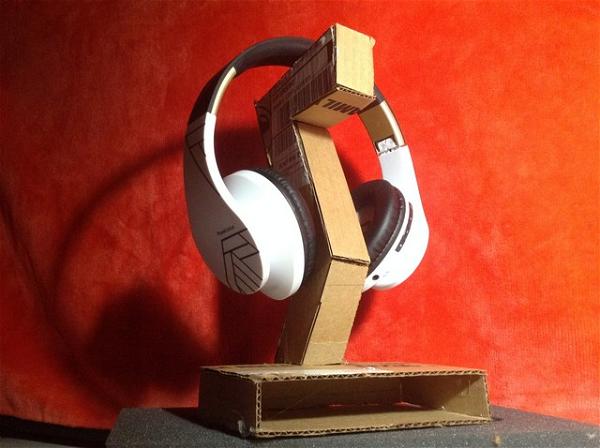 Locate your headphones stylishly and compactly with this Cardboard and Hot Glue DIY Headphone Stand. This home decor project requires only a little cardboard, hot glue, and tape. Add artistic flair and turn old cardboard into a modern, elegant design statement with this fun and easy project. You can make your headphone stand with cardboard and hot glue! This stand is easy to make, cheap to buy, and customizable. It will keep your headphones safe, foldable, and stand up independently.