A pencil holder is a valuable accessory for your desk. It keeps your writing materials within reach, neat and tidy. With everything in its place, you can work with ease. A pencil holder can be made from anything that is big enough to hold all the required items. There are a lot of pencil holders that you can take inspiration from and come up with something unique and original. Some of them are made using recycled materials such as cans, bottles, cups, jars, etc. If you're the type of person to misplace your stuff all the time, then you need this guide! Here are 23 DIY pencil holder ideas that will help keep everything in one place.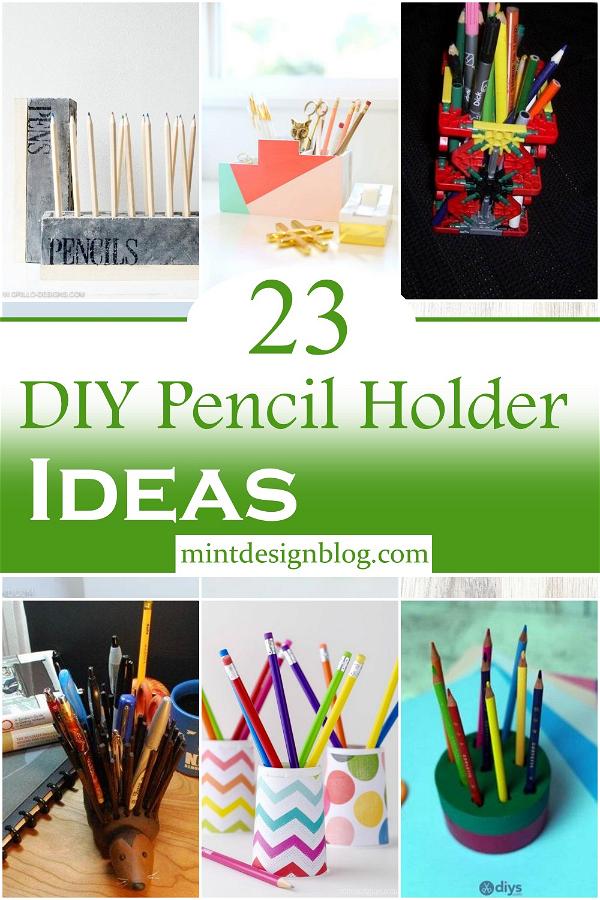 You can use a pencil holder for storing pencils, pens, scissors, rulers, and other small items. A pencil holder can also be used as a decoration or gift idea. There are many different types of pencil holders that you can create yourself in your spare time. These 23 easy-to-make pencil holders will keep your pencils and pens in order and double as decorative pieces of art that help you add some personal touches to your home office or workplace. The best thing about DIY projects is that you can experiment with different ideas and designs without making a big investment.
The list of 23 DIY pencil holder ideas is compiled to make your life easier and keep your writing materials organized.
Ideas For DIY Pen And Pencil Holders
Do you have a lot of pens and pencils that are laying around your house? If you want to keep them organized, you might want to consider making your own DIY pen or pencil holder. These can be a fun way to get creative and personalize your own storage containers for pens and pencils.
You can easily make a DIY pen or pencil container out of anything from a plastic bottle to an old jar. You just have to be creative with how you decorate the outside of the container.
If you need some inspiration, here are some ideas for DIY pen and pencil holders:
Glue colorful buttons on an old jar using hot glue.
Take an old can and paint it using craft paints or acrylic paints.
Take an empty soda bottle and cover it in duct tape.
Decorate an old tin can with stickers or cutouts from magazines, newspapers, or comics.
Paint a plastic bag and then put it over a cardboard tube to create a unique design for your pen holder.
Uses Of DIY Pencil Holder Ideas:
A DIY pencil holder is a great way to boost your mood and add some color to your home or office.
A DIY pencil holder can be used as a lovely centerpiece for an office or living room.
Making a DIY pencil holder is not difficult and you can make one in less than an hour with only a few supplies.
You can preserve art supplies with DIY pencil holder ideas
They are an inexpensive way to decorate your house and they are handy
It will help you keep everything organized in your room
DIY pencil holder ideas
Use them to hold your pens and pencils
Make some for friends too as gifts
You May Also Like:25 DIY Sunglasses Holder - How To Make A Sunglass Organizer
How To Make A Pencil Holder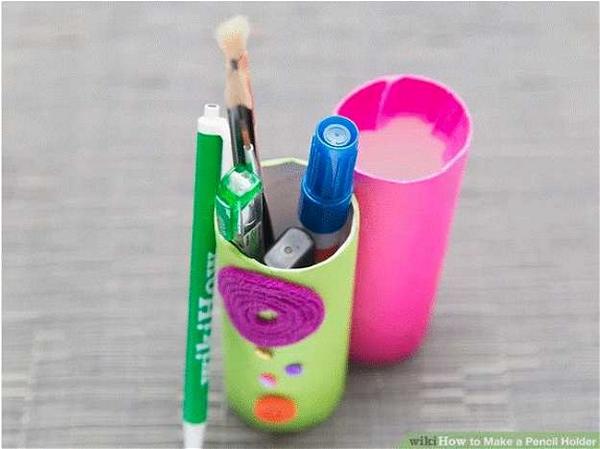 Making a pencil holder is a fun weekend project you can do and customize to suit your taste. Pens and pencils that lay scattered across the table, or stuck against a wall often go unnoticed when everyone and everything else is shouting for attention. A handmade pencil holder acts as the perfect organizer where you can put away your pen pots and pencils without wasting much space. Sturdily pack your drawing supplies with an easy and quirky pencil holder. . You can also add embellishments of beads or buttons, or paint it whatever color you wish.
Simple DIY Pencil Holder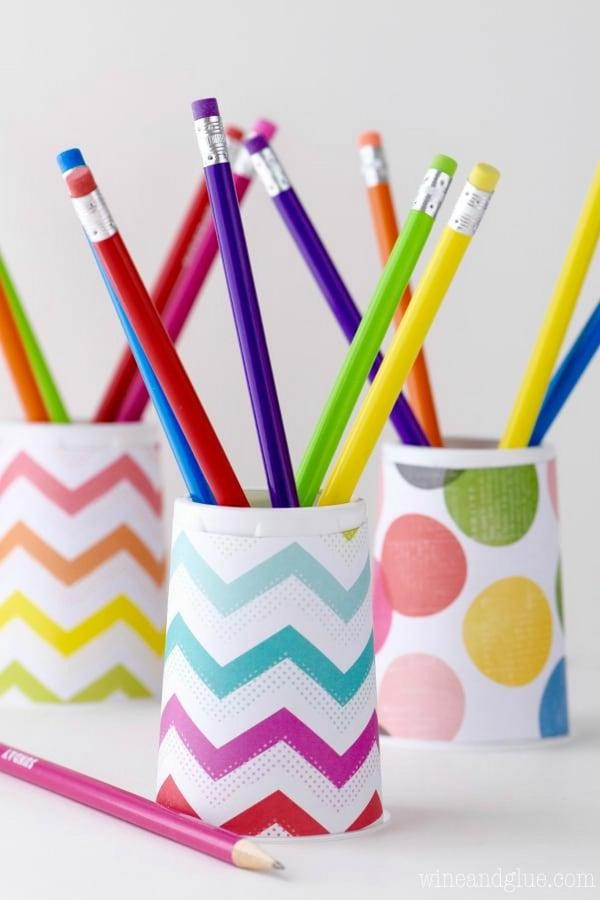 Here is something simple and affordable to get you started. This DIY pencil holder will pick up your desk space a little and brighten it. It is cheap to make, colorful and fun for children. This DIY is a functional and colorful approach to holding your writing utensils. Take a transparent plastic cup, decorate its cover with colored paper, glue it and make it even more attractive. Just fill it up with pencils and pens, and place it at the students' working place or at the teacher's desk. These holders have become a popular means of enhancing a writing culture in preschools or kindergartens. Give it a try, it's not that hard!
DIY Knex Pencil Holder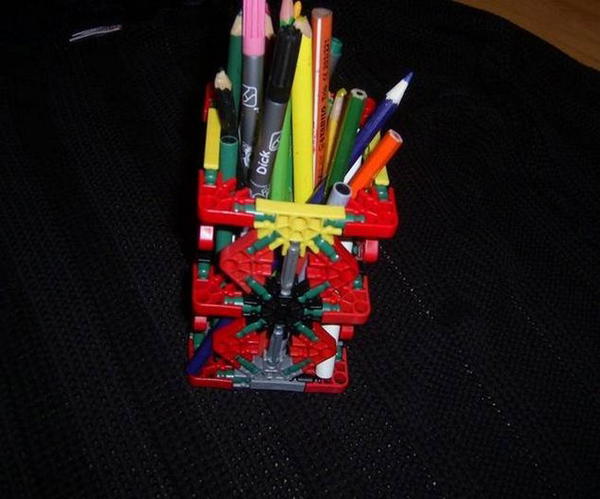 Get this piece to arrange and mount your K'nex sticks personally! You will get these pieces to combine them together with glue and some minor tweaking, to finally come up with a beautiful and versatile K'nex pencil stand. It is a great way to make sure you get your paper in order. Whether you're starting college, high school, or even elementary school, this is a great way to make sure you're organized. This DIY K'nex pencil holder is a cheap and easy way to get organized for the year, and you can build it yourself!
DIY Desktop Pencil Holder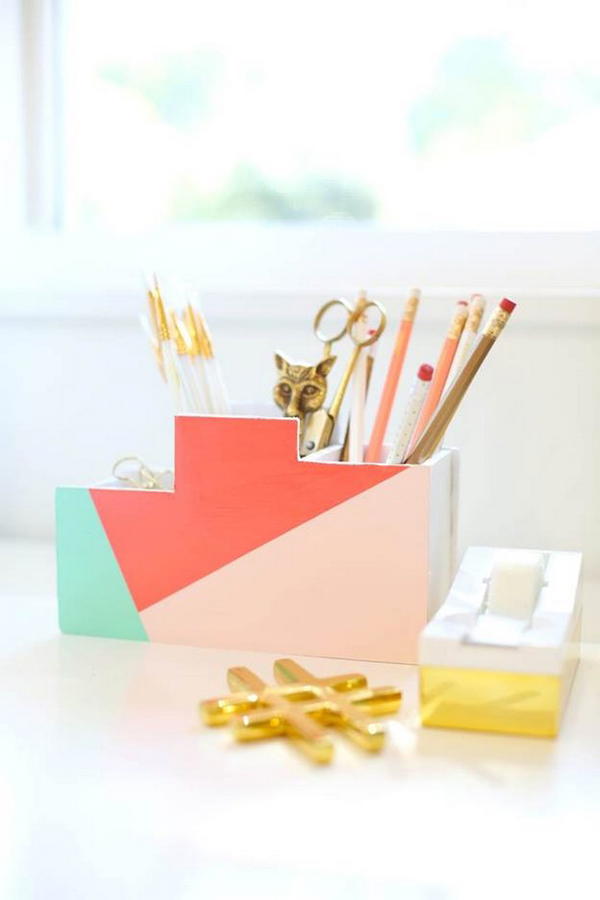 A desk without a pencil holder just looks incomplete. Why? Because it is the most much needed of all the stationery items on a desk, with no easy way to access it. This DIY pencil holder is perfect for you especially if you are a busy student who works online and needs to keep all your notes and prescriptions organized. Make one of a kind DIY pencil holder for your college dorm. This is a very simple project to make so you won't have a hard time making it.
 DIY Simple Pencil Organizer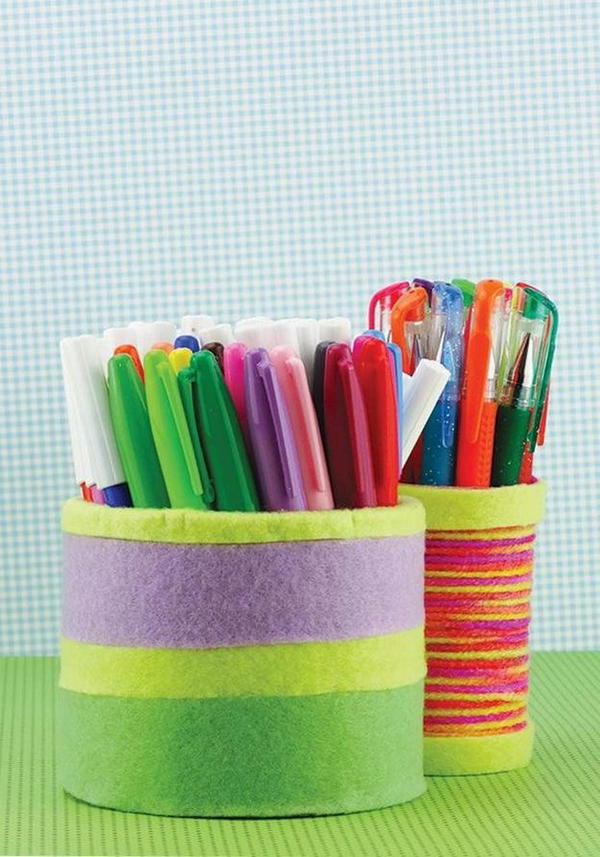 Don't have time to DIY a homemade pencil organizer? You can print out the patterns from this resource and hand them to your kid to work on them. Do yourself a favor and put away the jumbled mess of pencils and pens that are getting lost in the bottom of your loved one's desk drawer. This DIY pencil organizer will make her (or him) smile with the centerpiece of the design being a recycled glass jar or tin of your choice. The perfect scrapbooking idea for your child.
 Concrete Style Pencil Holder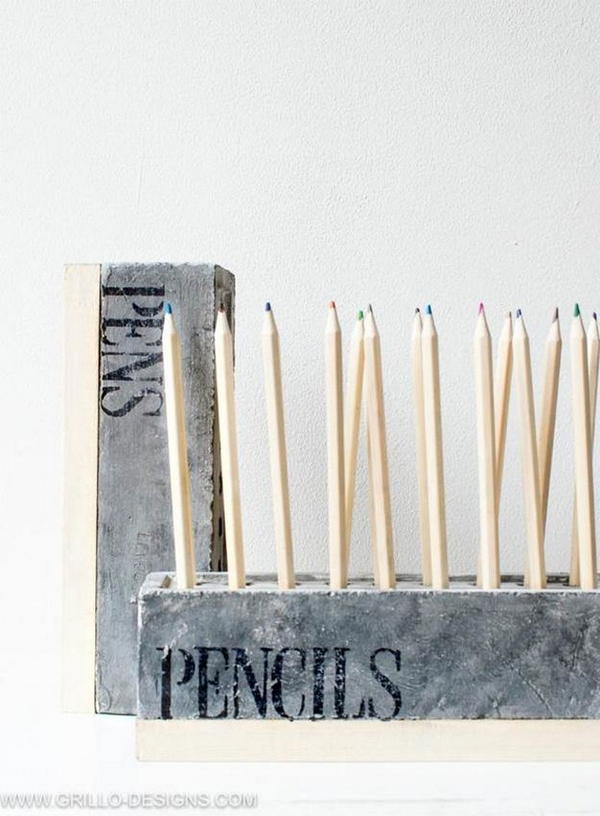 Here is a straightforward yet exciting and crafty DIY project you can do. Concrete Style Pencil Holder is one of the easiest and quickest ways to decorate and warm up your place or office. This pencil holder is made using bricks, and you will need to let the wooden base dry before you start fixing your pencils in them so they don't have to stick to the DIY pencil holder. You can customize this however you want, just like other stuff. You can call these concrete pencil holders by any name you want like.
10. Simple Concrete Pencil Holder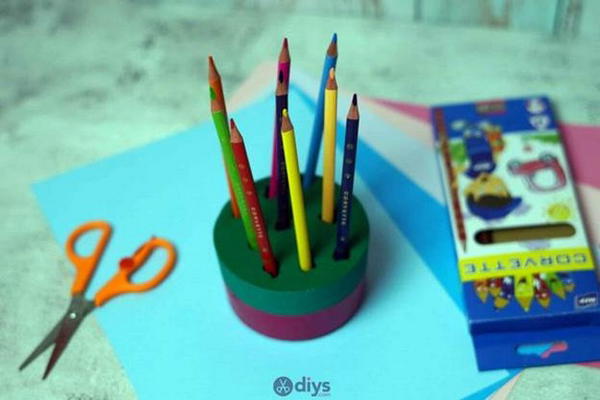 It is easy to lose your pen here and there, especially when you are in your workstation. This is why you need a place where to keep them. This simple solution will be perfect on your desk; organize your pencils and pens with this concrete holder. An easy-to-make DIY project which makes you feel satisfied and accomplished upon completion. You will love the end product you make with your kids and friends. You might want to continue with this as a mini hobby.
How To Make A Paper Pen Stand
Folding a stand is the best way to secure the pens or pencils so they won't go here and there. There are many ways to fold it, but if you don't have much time or whenever you just want to make a simple one, then this is for you. You only need some pcs of medium-hard papers to complete it and most likely you already have some at home. All the things needed to complete this project are shown in the image itself, so all you need is to follow them and that's it.
How To Make A Pencil Stand From Plastic Bottle
Have you got a lot of plastic bottles lying around? Now is the time to be creative! Follow this simple guide to turn your plastic bottles into pencil holders. You'll need to cut off the top, and then stick it on a piece of plain paper. You can make a really simple and chic pencil stand from a plastic bottle. This is an easy craft that can be made within 30 minutes. The best part of it all is, that you don't need to buy anything aside from the plastic bottle. Also, if you're using materials you already have at home, this will cost you nothing.
DIY Pencil Holder From Toilet Paper Rolls
If you want to help your children with a more organized and colorful desk, divide the toilet paper rolls into different shapes. This DIY project gives an original look to a room or to the homework desk. The kids will be able to organize their pens and pencils using this organizer, which is a simple design made from toilet paper rolls. Stick it all together to make a structure and you can use it in any part of the home. This is a great lesson for your children, who will learn how to make small objects themselves.
DIY Porcupine Pencil Holder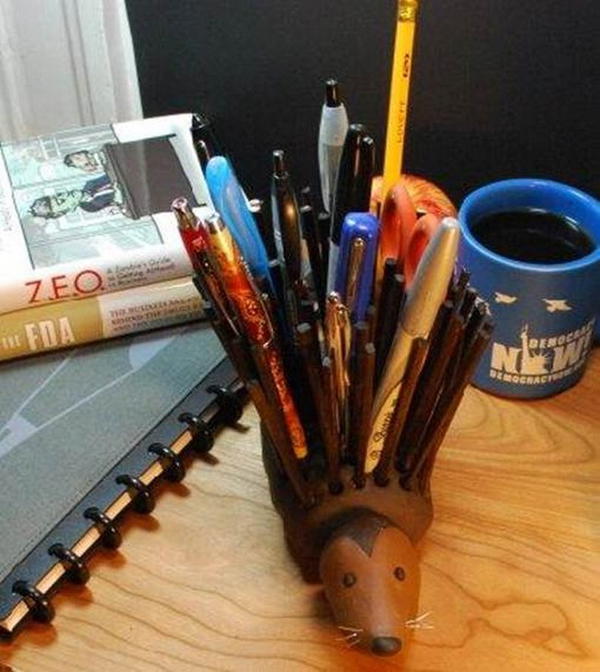 It's time to get those kids off your busy hands and feet, glue them to the table, and do something creative for once. The DIY porcupine pencil holder will surely keep them glued to their tables with the creative fun they create. It will surely keep kids glued to the table during their study time. This creative DIY project is fun and easy because kids can mold it and paint them using different colors you have. But before this, you need to heat up the clay in your oven so that the clay will become stiff just like a porcupine.
DIY Pencil Holder From A Jar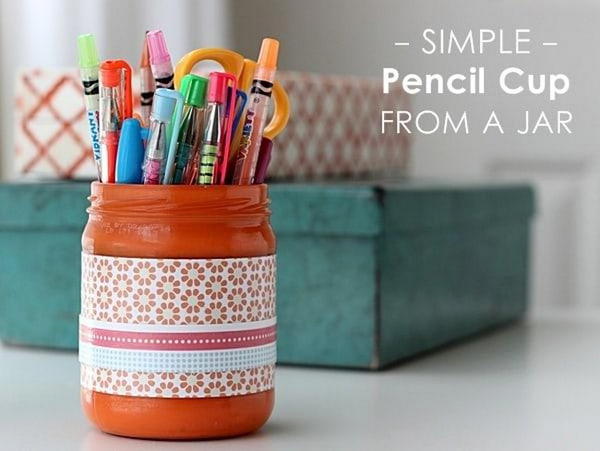 Here is a fun project that anyone can easily make at home. It is also one of the easiest DIY crafts you will ever face. This pencil holder serves an additional purpose to hold your other knick-knacks and stationery items. Another useful feature of this DIY pencil holder is that it does not take up space on your desk. This simple DIY pencil holder duct tape is decorated with old and non-functioning cans. When you start thinking about what you can do with ordinary cans, you will have a better view and know how to use them properly. You may also get rid of your old cans in a very healthy way.
DIY Cork Pencil Holder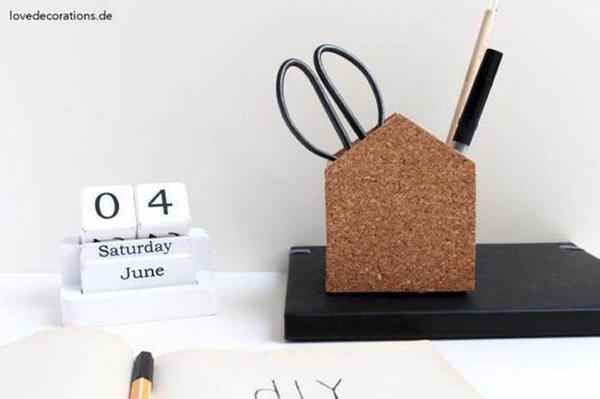 Create your own beautiful work accessory with this DIY cork pencil holder. It is pretty easy to make, and depending on the cup you use and your creativity, it looks gorgeous and works wonderfully. The cup is of course tall so you can store more pens, allowing you to concentrate better on the task at hand. This DIY cork pencil holder is an easy solution to making something special and beautiful from something plain. Smooth and colorful make them a favorite for many people.
DIY Pencil Holder With Cork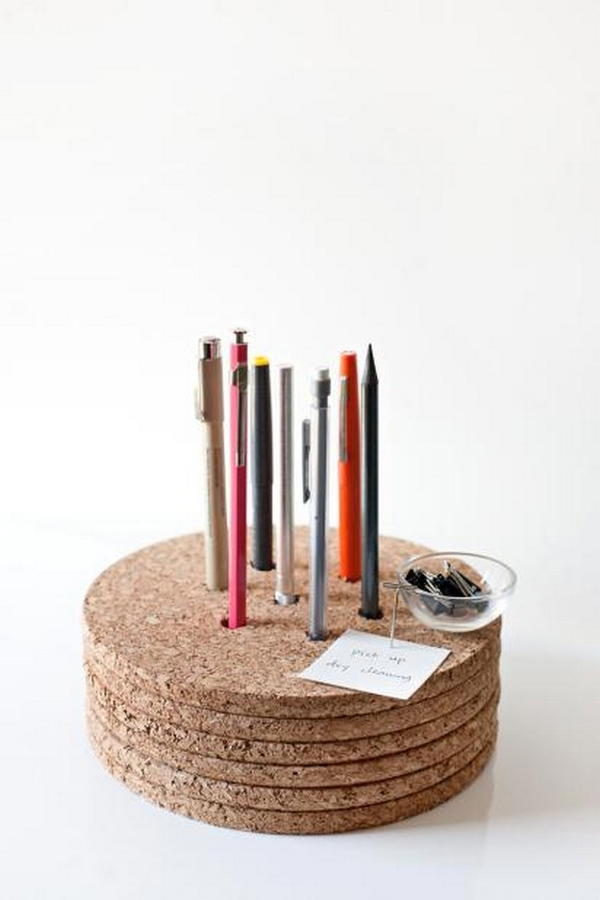 Have you been wondering how to make a DIY pencil holder? The cork material can be used to make one. Cork! Yes, this versatile material has a lot of uses and you can even use it to make pencil stands. It is extremely durable. This is a very interesting way of making a pencil holder. The materials that you need for this project are few and cheap. The best thing about it is that it can be made within an hour. It can add a bit of nature to your room or office.
DIY Pencil Holder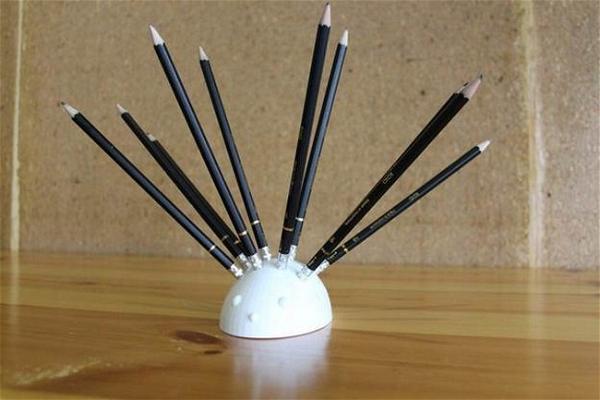 This DIY pencil holder is perfect for kids who hate losing their favorite item. Designed to resemble a mole hole the pencil holder is created for printing on TinkerCAD, you can place as many holes in the design depending on how many pencils you have in your office. This model is made to look like a cartoon mole. It will have a place for a lot of pencils but that doesn't mean you need to fill it up, it will look good even if you put just a few in there.
Heart DIY Pencil Holder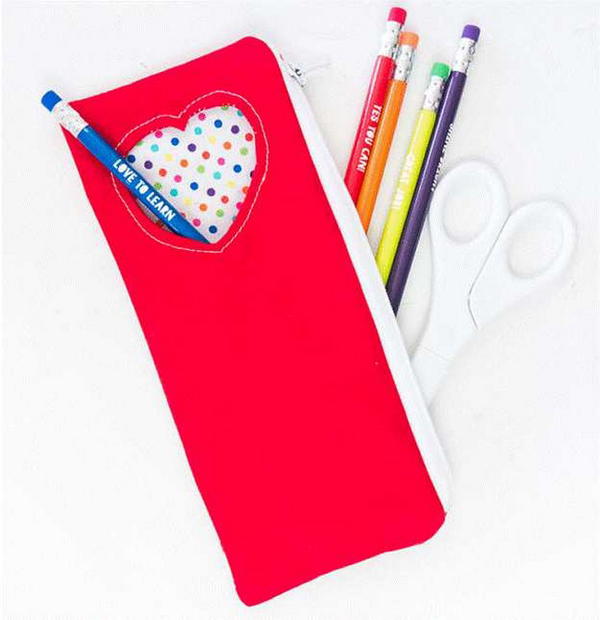 Populate your desk with these handmade pencil holders to store pencils. It also adds color and creative expression to your space as well as function. You can now bring a little romance to your pencils and pens organizer with the heart-shaped DIY pencil holder. Why not make one for yourself or to give it as a gift this coming valentine's day? To start off, you will need 10×10 square pieces of fabric. Cut them according to your desired size and then sew them together. The next step is to attach a zipper to one of the sides. You may ask a sewing expert how to do this if you find this too technical.
DIY Pencil Holder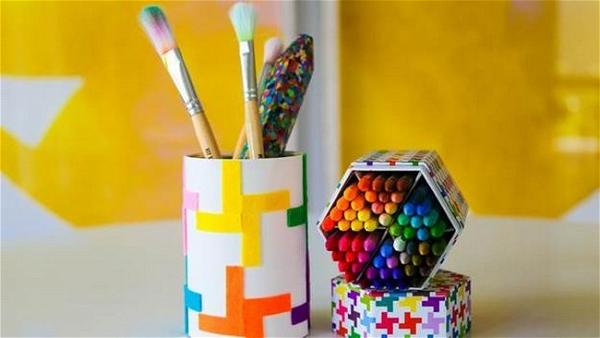 This pencil holder is the perfect way to use up those cans or jars you have lying around your house, with the added plus of making your room look a lot cuter in the process. Get creative with embellishments on this project. It can be as simple as using cardboard from cereal boxes, or going all out and using fancy metals and colorful fabrics to really wow them at school. Using these recyclable and charming cans for pencils, you can hold your artist utensils.
DIY Pencil Pouch
Most kids in school like to keep crayons and pens in a pretty pouch. You can make your kid's pencils stand out by giving them a fabric pencil case. Sewing this case can be easy. All you need is a straight-stitch sewing machine and a couple of minutes to spare. The designs of the fabrics can be very traditional that can also be modern with geometric shapes at the same time. It will not just keep up with the fantasies of kids but you can also give an entire set to teachers as gifts during teacher's day celebrations.
How To Make Newspaper Pen Stand
Did you know that you will have formed a triangle if you start to fold a newspaper one way and then turn the paper around? With nothing more than a few sheets of newspaper and some glue, you can create amazing things. This is a fun craft project to do with kids as they will love to play with the stands afterward.
The end of the school year is the best time to use the newspapers and make a lot of useful things to decorate your home or use as decorations in your room. These paper pen stands look nice and attractive on a desk or a table but if you want you can also make them for gifts.
DIY Origami Pen Stand
Beginners and kids will have no problem learning how to make this origami pen stand. The paper may look complicated but they're all just simple folds that you can do with a bit of practice. Crafted from a combination of gorgeous papers, Kraft cards, and clear acrylic, these paper stands are stunningly beautiful. When you take the time to create your own paper stand, you can add a personal touch that makes it feel like yours. Plus, with so many styles and looks to choose from, you can find something that fits your style and stand out in your classroom or home office.
DIY Pencil Holder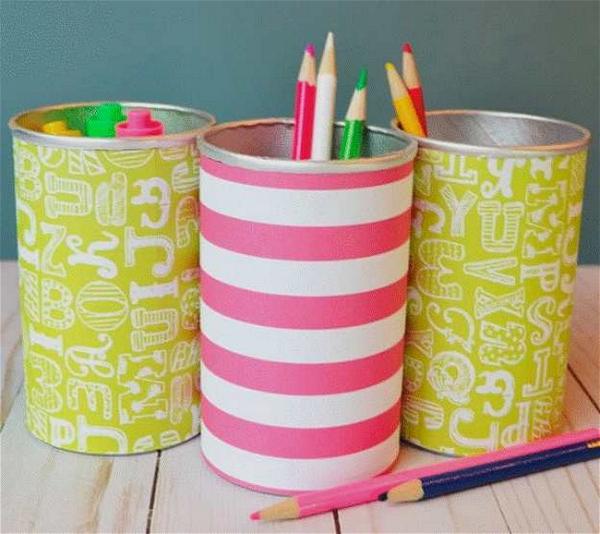 If you love to reuse stuff instead of buying a new one, here's an awesome DIY pencil holder perfect for your desk, kitchen counter, or any other room. Never throw away a paper tube from your pencils; instead, clean it and turn it into this lovely pen holder. It's small, cheap, and easy to assemble. You don't need to spend money on buying a decorative pencil holder when you can make one yourself! It's easy, fun, and pretty useful.
DIY Wooden Pencil Holder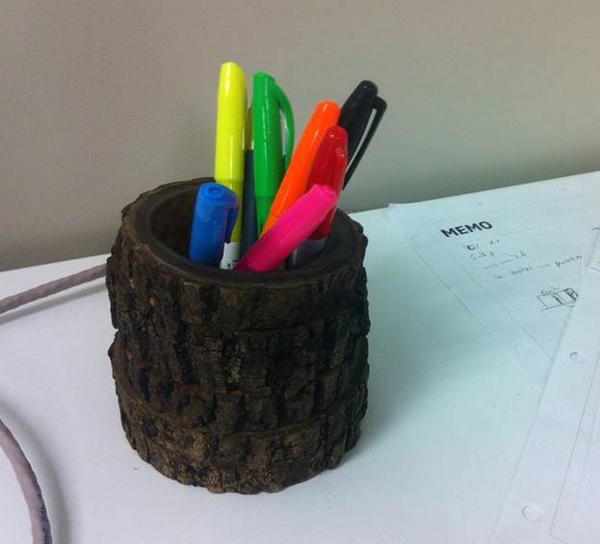 Simple, easy, and fun to do. It is inexpensive and straightforward, yet a one of a kind and rustic pencil holder. These easy-to-make wooden pencil holders are great for holding pens, pencils, and other small office supplies. By using colorful wooden disks you may dye together with bark, you can add a unique fun touch to your home or office space. You have a nice variety of materials, and you can spruce up the whole piece through the use of the wood glue and coloring process.
Knit And Crochet Pencil Holder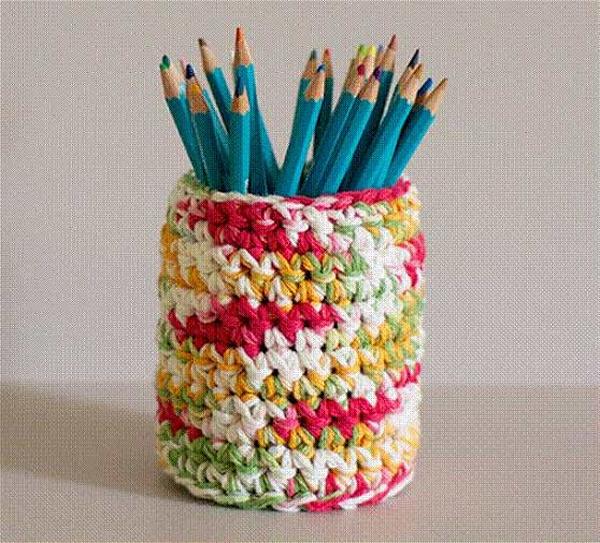 If you love knitting and crochet, here's a DIY pencil holder that you can make right away. This knitted piece of DIY pencil holder will surely give your pencils some warmth. All that you need to do is to rinse out a can or jar and then lay the knitted piece over it. This process might be tricky, but once you get the gift ready, the smiles will be worth the effort. This piece of knitted material will protect your pencils from dust-causing bacteria. The best thing about this DIY pencil holder is that it does not cost a lot of money, and you can have it as a gift for your family members or friends.