These homemade incense holders are a fun accent piece to keep on your mantle that can be used as decoration or to hold incense sticks. They look great when grouped together in a collection, or put individually around the home. Incense holders brighten up any home décor style and can be very simple to make if you have a little time. Incense holders can be intricate and sophisticated, or you can make them very simple and cheap. Here is a round-up of 24 unique and inexpensive DIY incense holder ideas that you can make or purchase!
Easy DIY Incense Holder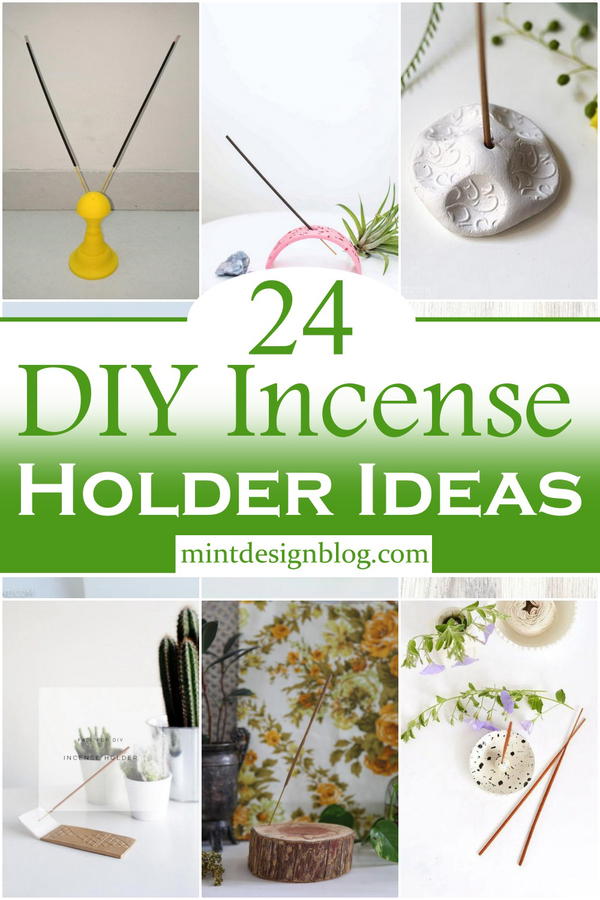 Incense is also very inexpensive, which makes it ideal for those on a budget. Because incense is so popular these days, you can find it at just about any grocery store or online retailer. But what do you do after you buy your incense? You need something to burn it in! Fortunately, there are lots of DIY incense holder ideas floating around cyberspace. In addition to holding your favorite scented sticks, an incense holder will help protect your skin from burns. They also add a decorative touch that pulls together the look of any room. If you want to get creative and make one yourself, there are tons of great ideas out there that are fun, easy, and cheap.
These 24 stunning, low-cost DIY incense holders will also embellish and enhance the space with their smoothness, elegance, and alluring charm.
How To Make Your Incense Holder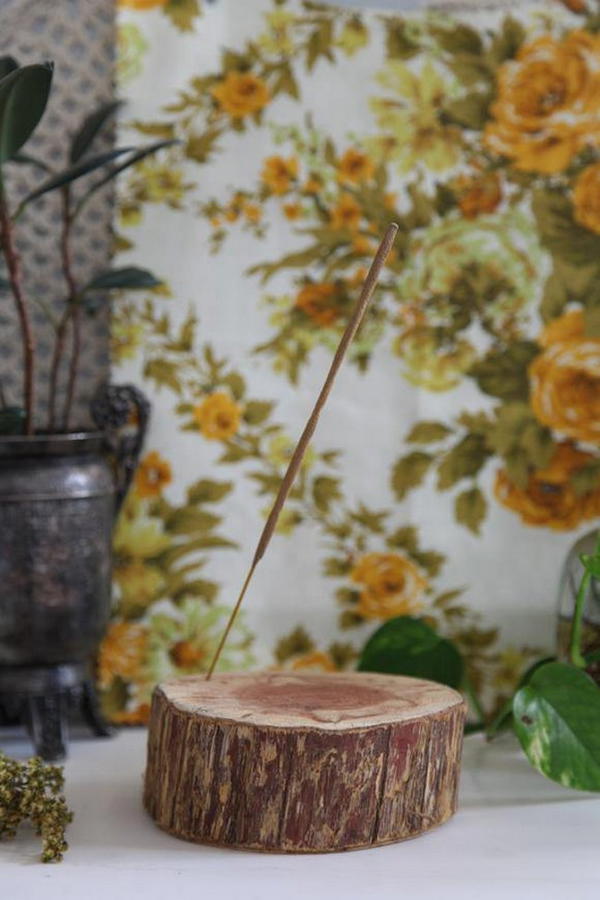 Incense holders are a great way to burn incense. Here's how you can make one for your home. This is a craft that makes your living space look beautiful and increases its fragrance as well. Turn into a relaxing moment in your daily routine, you just need to get a wooden board and create a hole for the incense stick then insert the stick into the hole and let the incense work its magic. Creating this could be an easy yet exciting DIY project for you. Take a look at these simple steps to make your own Holder.
DIY Incense Holders
Burning incense is an awesome way to create a calming atmosphere inside your home! take your home to a new level of modernity with this pretty incense holder. These are super cool and pretty. with modernized sparkling stones and a small jar, your table can be beautiful. Here's a simple step-by-step tutorial on how to make a modernized incense holder. It would also make a great gift or even just a really cool interior decoration. At last, you will be able to DIY incense holders.
DIY Polymer Clay Incense Holder
Burning incense is probably one of the easiest ways to add a calming fragrance to your space without lighting candles, but if you don't have the right incense holder to catch the ashes, it can get messy quickly. It is important to note that most of the ingredients used in this project are easily obtainable. Therefore, you should not encounter any difficulty finding them, In these short tutorials, you can learn how to make a beautiful and functional incense holder with polymer clay.
DIY Incense Holder Using Little Dishes
DIY projects are always interesting, and this one is no exception, as you can make a nice incense holder using little dishes at home. To build a decorative incense burner with just three items in place, you can have a holder super ready! The cute little dishes can serve a great purpose to you. In addition to the little dishes, get 15mm-20mm beads, bead caps, and of course incense sticks. Watch these amazing tutorials to make them easy.
DIY Incense And Candle Holder
Are you interested in making your own incense holder? This DIY project is easy, clean, and simple to do. The materials needed for this are inexpensive and readily available in any arts & crafts supply store. This can make a truly unique gift for someone special that you know and care about, It can hold up to three candles or incenses, and at the same time will make a great decorative piece for your home. The tutorial here is very easy to make and will take only a few hours from beginning to end. Plus, the material used here is readily available near you.
Incense Holder DIY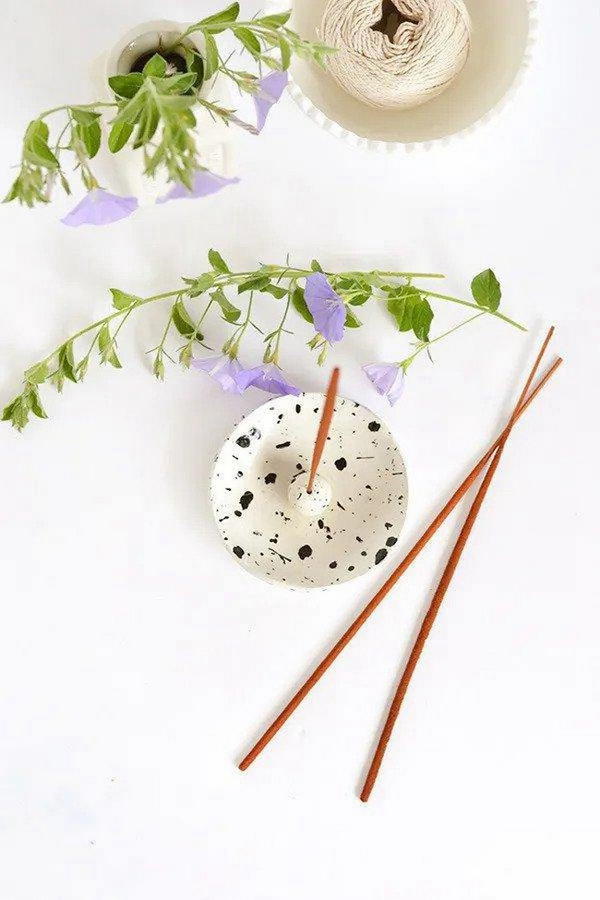 An incense holder is usually for placing incense, stick, resin, or cones used to create an atmosphere or add a fragrant smell to a room or an area. This DIY (do it yourself toolkit) will help you through the process of making such a home accessory. This is made of clay, which is one of the things you need to get this done, alongside materials like a Small bowl, Superglue, Black acrylic paint, High gloss varnish, Rolling pin or jar, Skewer or toothpick, and Craft knife. Explore the steps. The detailed steps will make it easy for you to incense sticks.
DIY Terrazzo Style Clay
This DIY Terrazzo Style Clay incense burner is an easy way to keep even your smallest home accessories looking good as they sit out on your desktop! Step away from this homemade project looking like a pro. In order to make this beautiful clay, the following supplies will be useful; oven-bake clay for the base color, acrylic roller, clay cutter, 2 small packages of color, 1 small package of colored, oven-bake clay for color specks, parchment paper, plastic straw, oven-safe cylinders such as mason jar or aluminum can.
8. DIY Clay Hand Incense Holder
Molded from clay, this hand incense holder is a gift in itself. Use it to make your home even prettier with the scent of good hand-made incense. The design is simple yet beautiful and it makes your work more unique and special. It's lovely, we all love having a good time nowadays, so make that night more special by creating this project that will hold your incense sticks. You have to be creative and put some love into it. Let the fun begin!
DIY Incense Holder
Take a break from your stresses and make something nice with your own hands. This is an easy craft that anyone can do. This is a simple yet pretty and practical stick incense holder, made out of an old plant pot, a stick incense, and something you like because it's meant for you to customize it (white sand, sparkle stones, pink glitter, etc.). It's a great thing to keep yourself busy making DIYs when you're bored or tired while having a calming effect on you.
How To Make A Clay Splatter-Painted Incense Holder
An incense holder is a more popular accessory for any home. Clay is so cheap and you can use it to make your own custom incense holder by simply painting it, or glazing it. This incense holder is an easy DIY project that will take your living room to the next level. Here are some handy tips, add a splash of color and save yourself the money on buying a premade one! "Do It Yourself". And it is a method of building, modifying or repairing something without the aid of experts or professionals.
DIY Incense Holder
Highlight your unique style with a handcrafted incense holder made from a recycled bottle. This simple project is so easy a caveman can do: remove the label and paint your bottle, then attach the key ring holder to the bottom and insert your stick. Let the aroma of whatever you're burning fill the room. This step-by-step video shows you how to DIY this in just a few minutes, using simple materials you can find at your local craft store. Just attach the keyring holder to the bottle and wait for it to smoke from bottom to top.
How To Make A DIY Incense Holder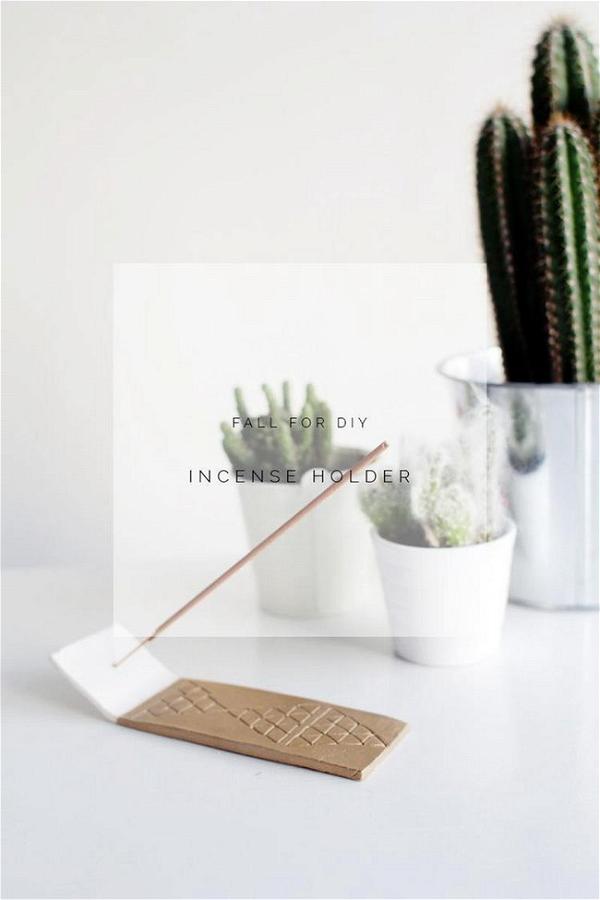 Homemade incense holders can be both decorative and functional. If you have some air-dry clay, roller, sheet metal, and a craft knife then you can make your own incense holder. They're not too tricky to make either but it does take a little bit of preparation beforehand. If you're tired of messing up your home with piles of incense ash, try making this simple DIY project using dry clay. This way you can burn as many sticks as you like, without the mess. If you follow the instructions and create one that suits you then it'll look great in your home.
DIY Clay Incense Holder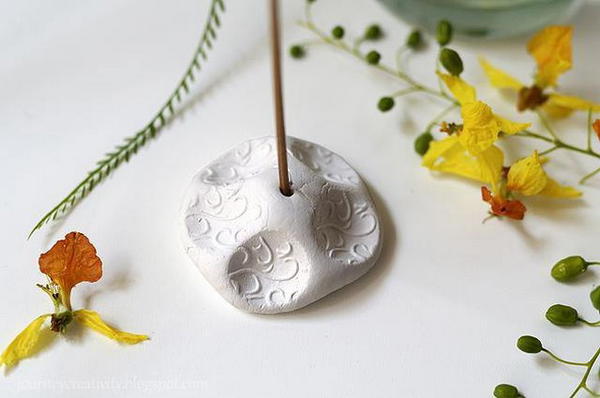 This DIY clay incense holder is a fun and easy craft project, you can make your own attractive holder for these sticks. Simply start by making a ball of modeling clay. make sure that it is thick enough not to break easily, as you will be using it to hold the incense stick. Use a special button with an embossed design on it, or use a skewer or straw to imprint the design into the clay. Then, form a hole in the middle with a straw or stick and it's ready for use.
14. DIY Incense Holder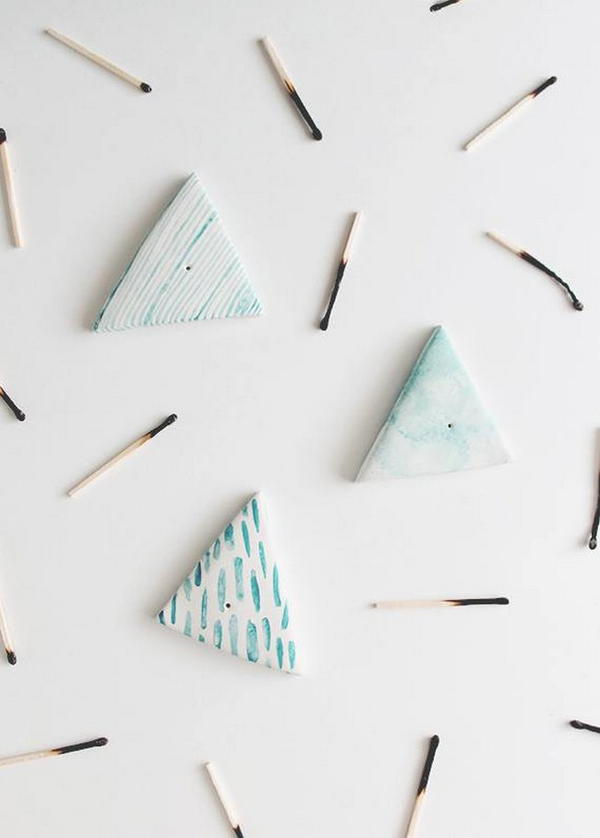 DIY incense holder - with a little time, you can always get your room scented, and it's perfect for use with loose incense sticks, This little project is really easy to make and it's great as a gift to someone or even yourself. This holder is perfect for beginners and very simple to make. You will need polymer, clay, a rolling pin, a clay blade, and acrylic paints. This is one of those projects that you can do with any style or color of polymer clay depending on where it will be displayed.
Easy Incense Holder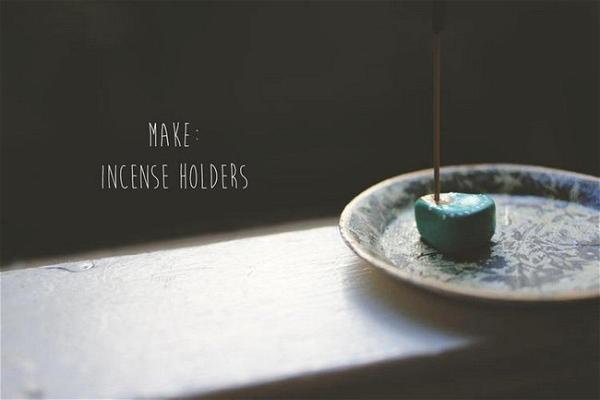 This easy incense holder makes any collection of incense look nice and has a great presence. It also can act as a pedestal for an incense burner or have placed inside. This would be a great gift to your family, friends, and especially significant others. This is easy to make, and it's sure to freshen up your room. Feel free to make it with different colors, and enjoy your new holder! Here you will find it very easy, relaxing, and fun to make your own holder.
DIY Incense Holder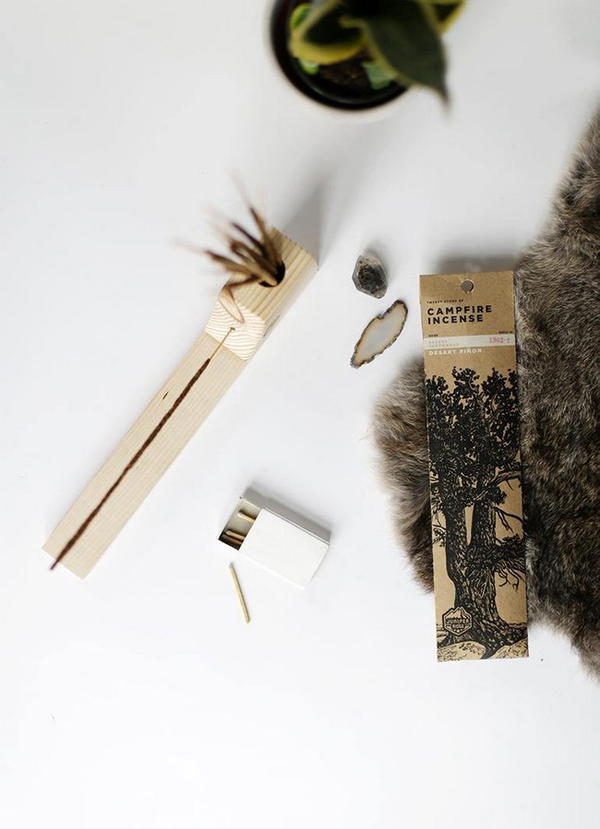 With just a little bit of time and effort, you can make a beautiful, personalized incense holder for your home. This project is an especially good one to tackle with your kids, since it's easy and satisfying, this holder is built from just three simple pieces of wood with bandsaw cuts made to size. Find out how to make the super easy DIY holder! This is a great, quick project that you can do in less than an hour.
Incense Burner Made From Wine Bottle
This incense burner made from a wine bottle is sure to give your space a classy look. This is a beautiful handmade incense, you can lightly tap your incense stick on the surface of the bottle and the ash will fall through the holes in the bottom! The holder comes with a wine bottle and is paired with a keyring holder the size of the bottle opener so that we can make an incense stick face down while being on the key ring instead of touching the bottle bottom.
How To Make An Incense Holder Cottage
Make a clay cottage incense holder using simple household items and some clay. These are so easy to make and take less than a day to dry, If you've wondered how to make a decorative incense holder, then you need to see this Video walkthrough. It will guide you through the steps of making a cottage for burning these aromatic scented sticks. It's easy to create in your own home and it produces a sweet fragrance that will immediately relax and rejuvenate.
DIY Clay Incense Holder
Our DIY Clay Incense Holder is the perfect piece for any gathering or personal space. To make these beautiful incense holders, you'll need air-dry clay, paint, and a few other supplies you may already have in your home. These are fairly simple to make and look great on a mantle or large windowsill, this is a fun and simple project. All you need is the clay flattened out, trace a leaf shape and use a toothpick to form the veins to make it more realistic. Paint with your desired color. Your simple little incense holder is all ready for use.
3D Printed Incense Stick Holder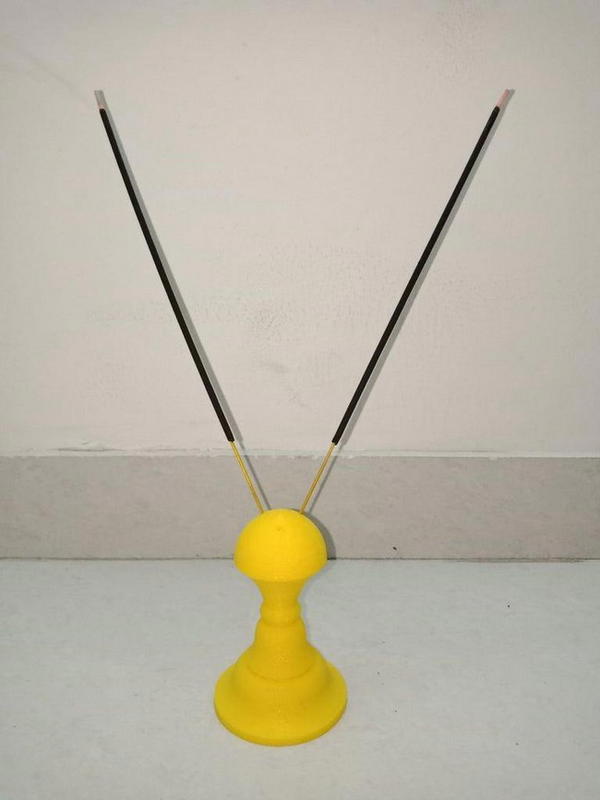 Burning incense creates quite a pleasing scent and calms the mind. But with traditional holders, you often run out of room to burn multiple sticks. This little gadget will suit you best, it is made in 3D printed form and designed to hold two incense sticks at once. Its elegant and classy design makes it look so much like a piece of jewelry or art carved out of wood. giving you more fragrance whenever it's needed. This is a stylish item that can also be used as a piece of home decor.
Tin Foil Incense Holder DIY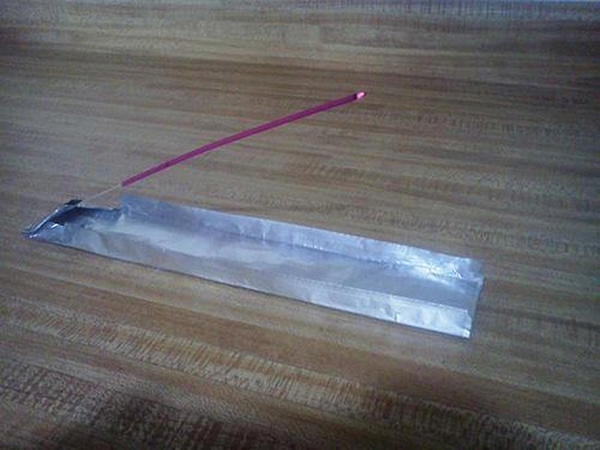 There are so many ways and materials to make an incense holder. But did you know that you can turn a tin foil into one? To be more precise, the simplest form of it is made of tin foil. That's right. All you need is tin foil and some glue, and skills in folding. It should be the perfect choice for you. It comes in handy when your house needs a scent. Enjoy your time to come up with this simple yet elegant idea.
DIY Incense Holder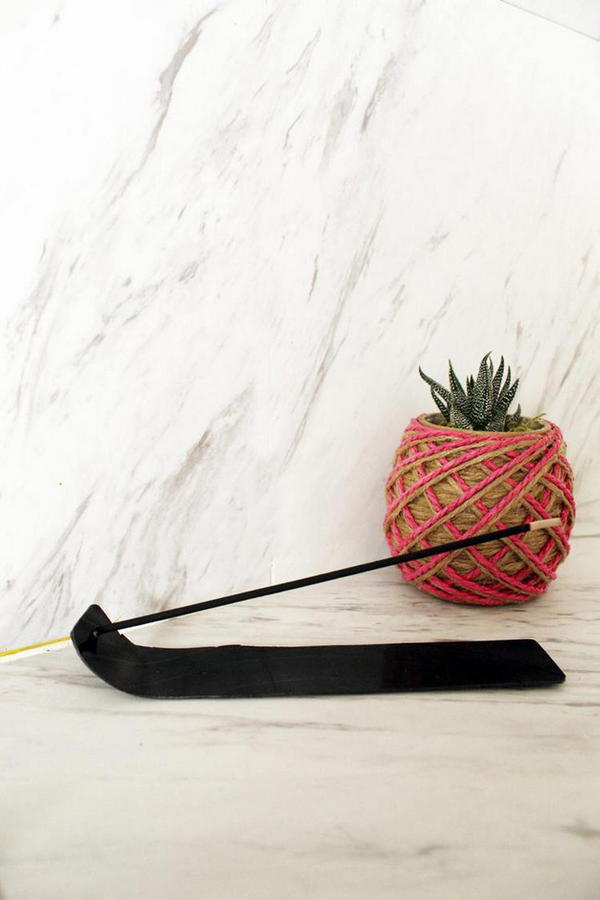 Make these easy, cheap and beautiful DIY incense holders from Vinyl records. They are cool and pretty, check out this cool and easy how-to on how to make your DIY holder. You can make it for you and your friends for that next hangout to look at with fun and excitement. If you're a fan of incense and vinyl records, you will definitely love this project. Here you can make your own funny incense holder display in your home, with only a couple of steps and materials.
DIY Candle And Incense Holder
Everyone loves candles and incense sticks. This is a super easy DIY project, that will not take much time, and your room will look lovely with a homemade candle and incense holder. Your home will smell wonderful, while you will have a base to your own taste so that you can use it both ways. With some helpful materials, you could even create a better atmosphere filled with your favorite fragrances. With this simple trick, you can organize all the scented sticks at once and make a fancy display. See how to make an incense or candle holder.
DIY Incense Stick Holder With Leaf
You should love the look of this project. It isn't just a leaf, but a clay molded to form a leaf shape and this came out really attractive and lovely. The incense holder itself is for your safety and you must consider it an important consideration. They are placed in different parts of our homes, offices, or business establishments, which we shouldn't forget to put away because they will cause serious dangers like fire outbreaks, accidents, etc. So you better learn how to make one.