Cloud walls sound like a great idea, but when you think about how to create one, you realize it would be difficult and time-consuming. Lucky for all you busy DIY enthusiasts, we've found some pretty simple cloud wall projects that are easy and fun to do. Everyone loves a cloud wall! Transform your space with these DIY Cloud Wall Ideas. Make them yourself, so they are unique and personalized to fit your style or decor. They are also a great way to express yourself or create a conversation piece around the home.
DIY Cloud Wall Decor Ideas

Cloud walls, cloud ceilings, cloud anything! We all know that clouds are a universally loved subject of wonder, and they have the power to transform any space. Whether you love the dreamy effect of a white wall or the lightness of a ceiling full of clouds, these 14 DIY options will help you bring the sky indoors and fill your home with a feeling of lightness. Whether you're going for a sweet but subtle effect or want to go all-out with rainbows and galaxies, there's a perfect DIY cloud idea for you. They are so simple to make, and they give an awesome effect. These DIY Cloud Wall Ideas will have you on the cloud in no time.
Benefits Of DIY Cloud Wall Ideas
No Need For High Ceilings: Cloud walls do not require high ceilings. This is the perfect design option if you have limited space in your home or apartment.
Can Be Repainted: If you decide to change the color of your clouds, repainting them will be much easier than repainting an entire wall of paint or wallpaper.
Simple Design: Clouds are simple shapes that can be easily applied with stencils or cutouts from paper or cardboard. This makes it easy to create unique designs without investing too much time or effort into creating them yourself.
DIY Cloud Wedding Backdrop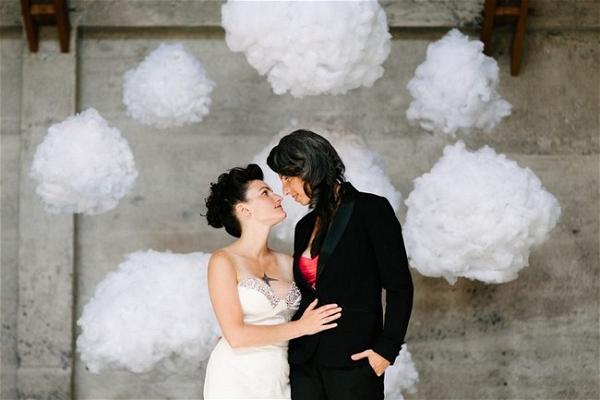 Have a cloud-themed wedding? This gorgeous DIY Cloud Wedding Backdrop is the perfect backdrop for your ceremony. It's easy to hang with dowels and can be decorated in any way you like. You might also want to check out my DIY Cloud Bouquet! The most important aspect of your wedding day is the backdrop. Please keep it simple and elegant with this DIY Cloud Wedding Backdrop. You probably won't want to use it every day, but it could be a nice conversation piece in your home or office!
DIY Cloud Wall
Enhance the ambiance of your bedroom with this DIY Cloud Wall. Turning a wall in your room into a cloud wall is simple and can be done quickly. All you need are some materials and tools for the job. The best thing to use for covering the original wall is a poster board or wallpaper. But if you have time, it's better to use a sealant such as mod podge as it gives an even finish than just a single layer of paint. Once you have covered your wall with either of these materials, you can start decorating your DIY cloud wall.
How To DIY Tik Tok Cloud Wall
If you want to spice up your ping pong table room, or if you're looking for an alternative way to decorate your room without having to spend too much money, then consider trying out the cloud wall. Start collecting all the materials required for this DIY project. For this DIY, you will get a breakdown of the steps and costs required to make a cloud wall. If you need more information or if you want to create a special cloud wall for your room, feel free to contact us.
Cloud Wall Walkthrough
Need a way to add that "WOW" factor to any room? Look no further than this Cloud Wall. The materials needed for this project include a hot glue gun, polyester fiberfill, and clear scotch tape. Then it's time to assemble the materials on the wall and attach them with the clear scotch tape! Once you have all the materials needed to build this cloud wall, you can start assembling. The polyester fiberfill will be placed at the bottom of the poster board, with clear scotch tape on top of it. This is to ensure that it stays in place and doesn't move while putting other materials on top. Using your hot glue gun, you have to put hot glue between each layer.
DIY Light Up Cloud Wall
Do you love taking photos or hanging out with friends but hate how dark your room can be? Well, it's time to turn that all around by making a light-up cloud wall. Create a cool cloud sheet that you can use to decorate your room or as a prop for photography. It's easy to make and even easier to use. Once you learn how to make one, you'll want to start making multiple clouds so everyone in your family can enjoy them!
DIY Cloud Wall Art
Clouds are a fun design element that can add a bit of whimsy to any room. One way to get them on your wall is through cloud stencils, but you can also DIY; we'll teach you how to create this cool cloud in blue and white, just in time for Spring! This is a simple art lesson that anyone can do. It involves paint, brushes, gloves, and some purposeful planning. The result is a beautiful cloud effect of your choice: you can move to any place in your home as needed!
How To Make Cloud Wall Lights With Cricut Maker
The Cricut machine is not only designed to make amazing arts and crafts materials but also can be used to cut wood. All you need to do is get a Cricut knife blade, connect it to the Cricut maker and calibrate it using instructions on the Cricut website. Now, move the white star wheel to the end of the machine so that they don't get in the way when you're working with thick materials like wood. Use a strong cutting material and tape the wood materials to prevent them from moving around. Trace the design you want to cut off the wood and take it to the Cricut machine.
How To Make A Cloud Wall
This project is quite easy and inexpensive to make. You need a blue poster board, spray paint, glue, and white polyester fiberfill. Spray paint the board blue and then add glue to create the cloud look with white spray. The cloud wall is one of the simplest DIY projects. All you need is poster board and a glue stick, and you are all set to create cloud-like structures. The process is quite easy too, but if you don't have poster board or glue sticks, other materials that can be used to create clouds include tissue paper, cotton balls, rice, or even flour.
DIY Cloud Wall
Make a gorgeous statement on your wall with this DIY Cloud Wall! The best part is that you can change it seasonally or whenever you want. All you need are poster boards and colors of satin spray paint. Add a little cloud blue to your decor with this DIY project. This inexpensive and easy way to create your own cloud wall using poster boards, spray paint, and double-sided tape. You'll love how easy it is to customize this project through color combinations, sizes, and shapes of your panels.
Pom Pom Cloud Wall Decor Idea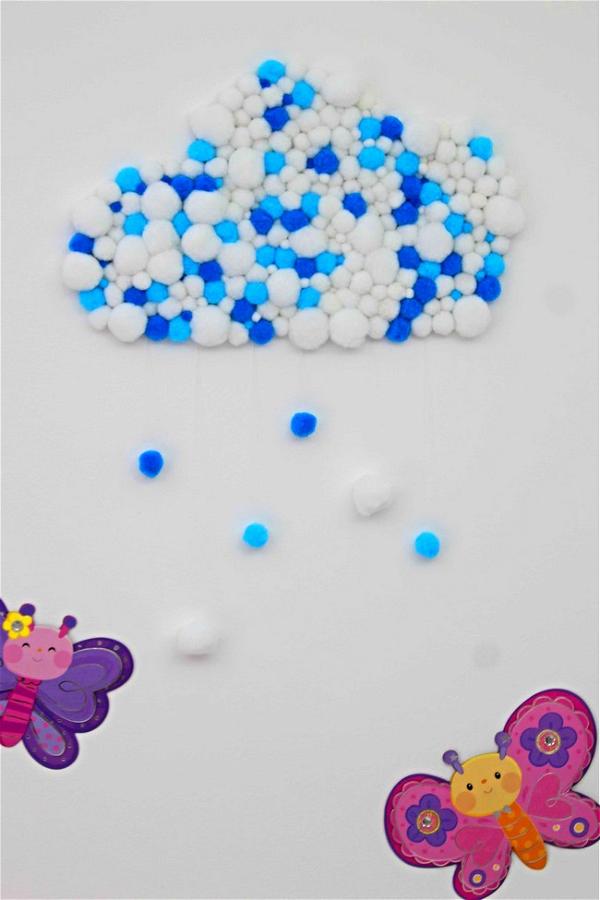 This DIY pom pom cloud wall decor idea goes on a trip to the clouds. These soft and cozy pom poms add a relaxed, fun vibe to any space. This DIY Pom Pom Cloud Wall Decor Idea is such a fun and easy idea to decorate a nursery or bedroom. This simple cloud wall decoration project is perfect for little kids and teens alike. Using just a few supplies and two different colors of pom poms, you can create the perfect cloud wall on any wall in your home. If you love this look, check out this DIY Pom Pom Cloud Mobile idea!
Felt Cloud Kid's Wall Decor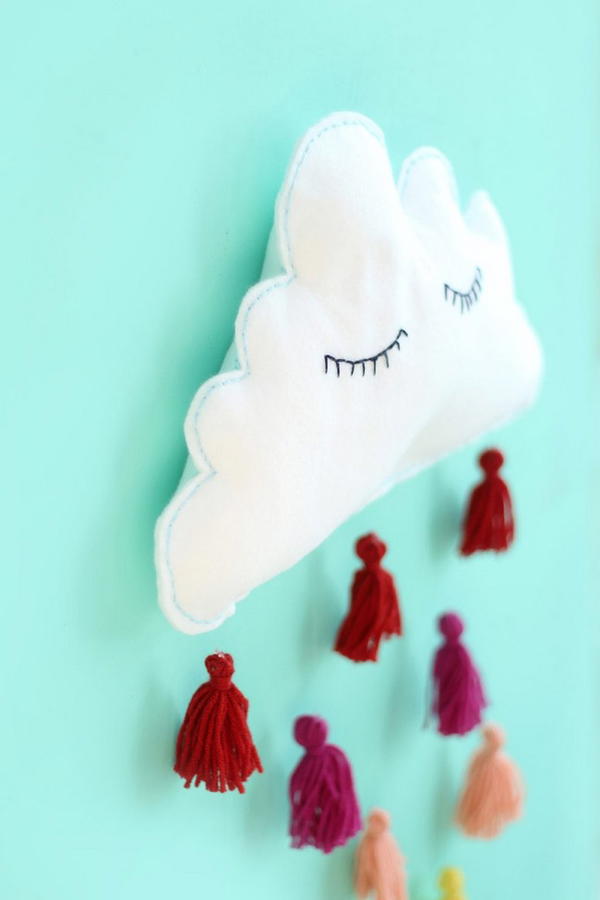 DIY felt cloud kid wall decor is a super easy and fun craft that can be personalized to fit your child's decor. Your little one will love hanging this fun cloud crafted from wool felt on their wall or door! This DIY felt cloud is an easy, fun, and creative way to decorate your kid's room—the perfect accessory for a baby shower or birthday party. You can hang it up on its own or in combination with other clouds and soothers on the wall; it's all up to you!
How To Make A DIY Cloud Light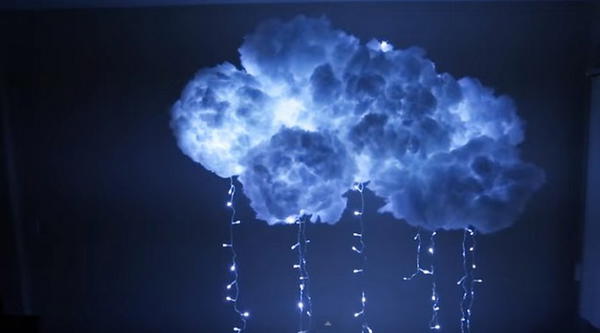 Have you been searching for the perfect nightlight to make your baby's room look like a dreamland? This DIY Cloud Projector makes a great addition to any baby's nursery. It is easy to make and provides a fun and interactive experience to help soothe your little one to sleep. Building your own cloud light is easy, fun, and will save you a lot of money. It's a great project with the kids on a rainy day or with friends for a craft night! These beautiful little lamps are perfect for celebrations such as birthdays and holidays. The simple DIY design can be altered to fit any taste or room decor.
Wood Geo Cloud Diy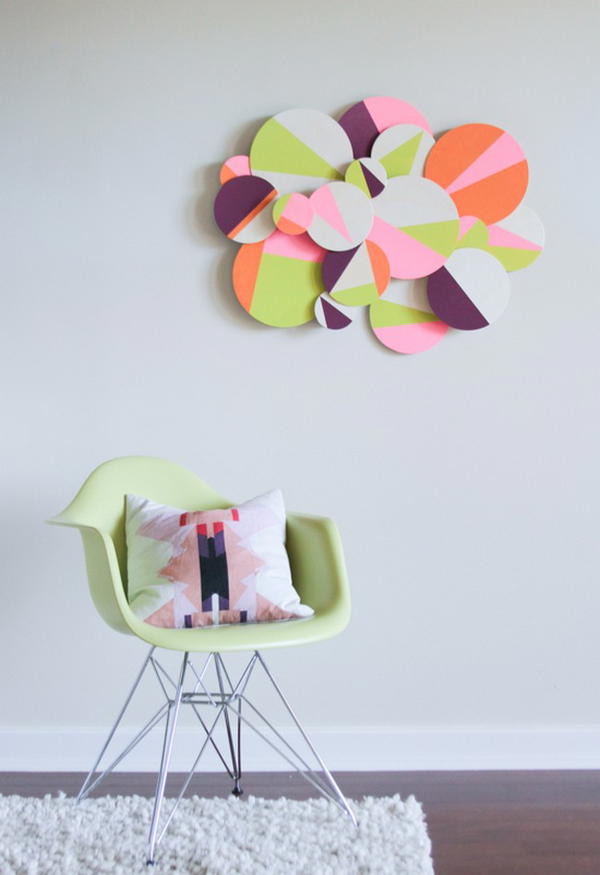 Wood Geo Cloud Diy is a unique and fun way to bring the beauty of nature inside while creating something unique! These cloud-shaped wooden coasters are easy to build but also light and durable. This makes them perfect for small family gatherings or larger parties. This Wood Geo Cloud Diy is a fabulous idea for anyone who loves woodworking and cannot get enough of creating unique pieces. Whether you need a gift for a loved one or something special, this is the perfect item!
Cloud Of Charm Ceiling Light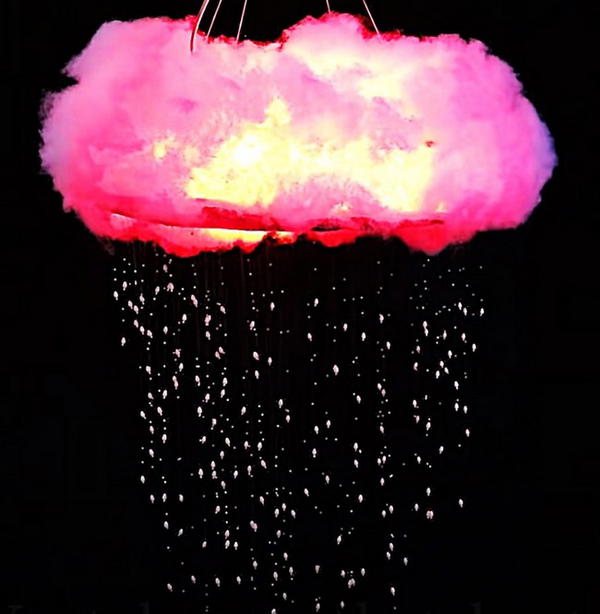 Isn't it wonderful to make something simple like this Cloud Of Charm? Its design is classic and timeless so it can be used in more than one room in your home. Create a charm in your nursery with this DIY Cloud of Charm Ceiling Light. You'll need a white plastic orb, some gold spray paint, and some thick metallic yarn to make an adorable fixture perfect for adding to any charming little space you call home. This light will add a modern, eye-catching style to your living room, bedroom, or entryway. It features a sleek, stainless steel frame and black acrylic panels that refract light.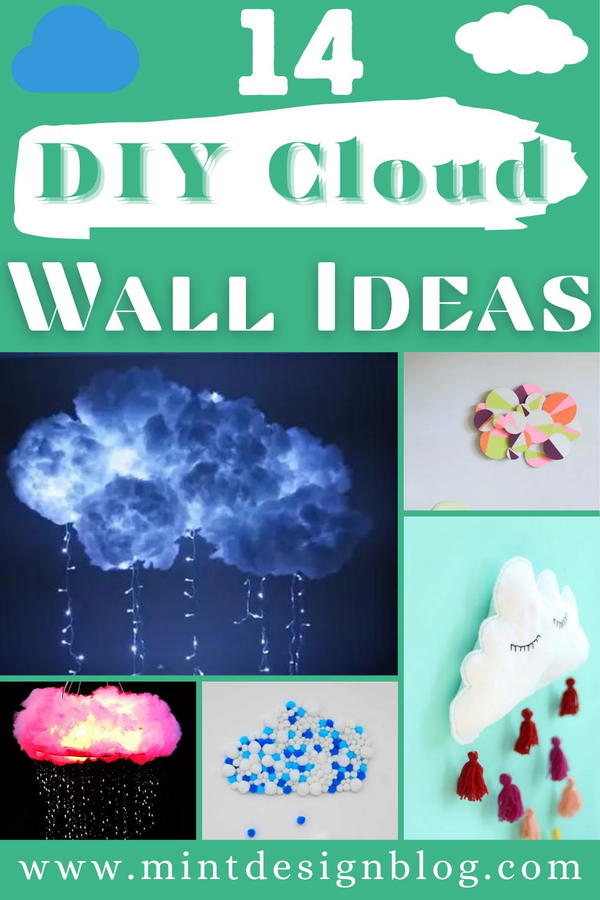 See Other Projects