A cloud light is a decorative and artistic fixture that adds a unique flair to any room. It is in the shape of a cloud and emits light via LEDs. Cloud lights can be hung from the ceiling or placed on tables; it depends on your taste and preference. They are usually battery-operated, making them portable and very easy to move around. This means you can have them in different rooms depending on the mood you want to create. You don't need to do much as far as maintenance goes – all you need to do is wipe it clean occasionally and change the batteries when they run out. Cloud lights are also pretty durable, so there's no need for an immediate replacement in case one breaks down.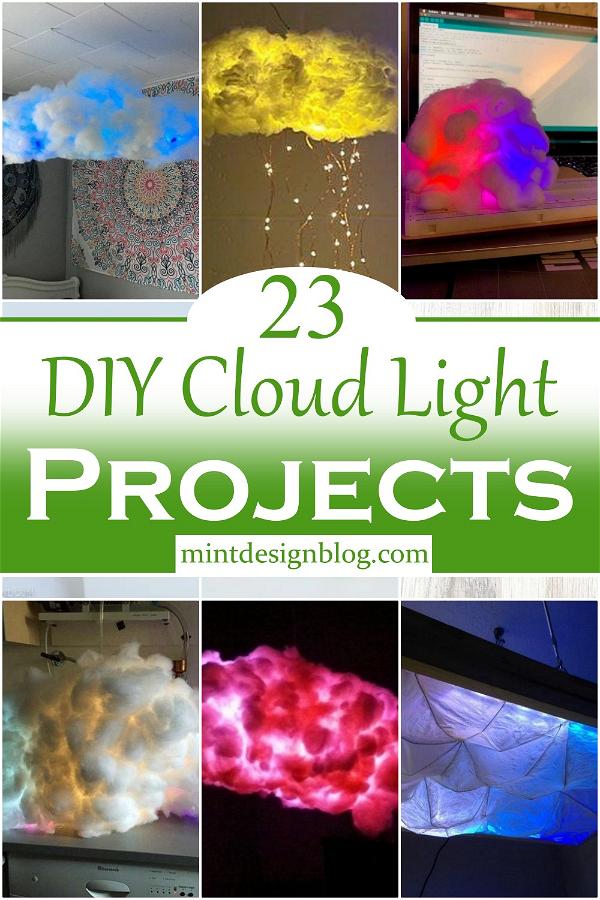 You would like to create a nice, warm, and ambient feeling atmosphere in your home or indoor and outdoor spaces, lighting is everything you want. But traditional light without imagination may fail to meet your expectations. Cloud lights are a creative solution. Different from regular lighting fixtures, cloud lights have been coined more because of their unique drum-like shape and their ability to create a magical glow. These 23 cloud light projects for kid's and adults' rooms are battery operated that adding beauty to a room.
These 23 DIY cloud light projects are as simple as they come, just need a few materials and basic tools, some of which you might already have on hand.
Materials Needed To DIY Cloud Light
These 23 DIY Cloud Light Projects will walk you through the process of making your own cloud lamp step-by-step.
Canvas drop cloth (The canvas is important because it's thick enough to allow the LED lights to be inserted with a needle and not show through the other side.)
Polyfill stuffing (You can use cotton balls, but they're more expensive and don't fill the cloud shape as well.)
LED string lights
Yarn (or embroidery thread)
Pencil or pen
Tapestry needle (or sewing needle)
LED Smart Cloud Light DIY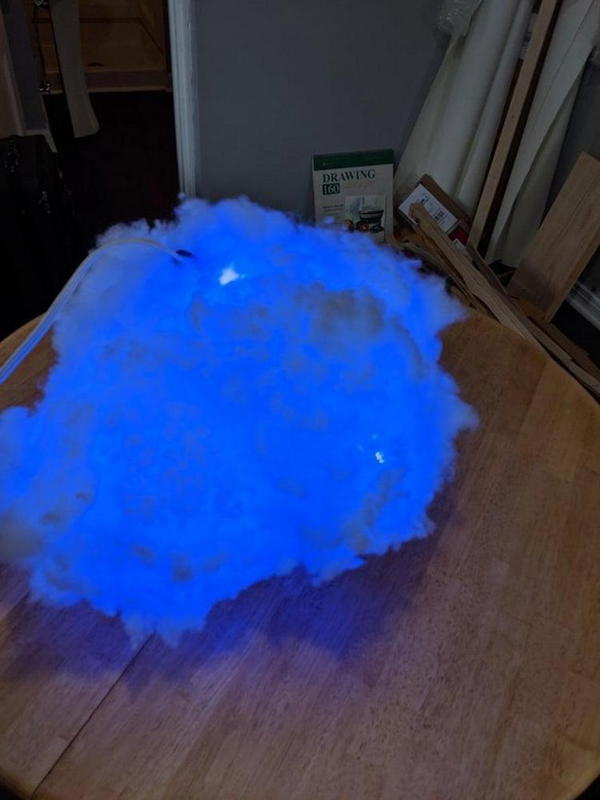 If you love watching the clouds roll by but can't always see them, don't worry: you can bring that experience home with this LED Smart Cloud Light DIY kit. This light lets you create your own plush cloud complete with little light-up stars and moon. With this LED Cloud Light DIY Kit, you can now make your own cloud light at home. This kit comes with everything you need to create the most adorable room decor ever. This is a smart LED cloud light that supports voice control and app control. This kit includes all the necessary components you need to create your very own cool cloud night light - No soldering required.
SKILL LEVEL: EASY
DIY Cloud Lamp
If you were looking for a project to do on the weekend, look no further! Build a room-filling cloud of your very own with our DIY Cloud-Lamp Kit. This build-it-yourself version of our Cloud Lamp comes with everything you need to hand-assemble a spectacular lamp that you'll be surprised to know you made yourself. This amazing cloud lamp is super easy to make, and it is one of the coolest things you can create as a home decor object. You will absolutely love how colorful it is, and how it really does look like a fluffy cloud in your living room, bedroom, or any other space you choose to put it up!
SKILL LEVEL: ADVANCED
DIY TikTok Cloud Ceiling
DIY TikTok Cloud Lighting is perfect for the game room, kid's bedroom, or to make an amazing cloud lighting effect on your wall with low cost and easy assembly. Add a relaxing and beautiful look to your gaming space or bedroom with this Cloud Ceiling. Install a sky filled full of fluffy clouds that are lit up by the rainbow colour-changing lights. The lights have different modes including flashing, colour change, and more.
SKILL LEVEL: ADVANCED
How To Make A DIY Cloud Light
Put yourself in the clouds and create a cool, animated cloud light at home. We'll show you how to make your own lifelike cloud light using Lifx smart strip lights and paper lanterns. DIY cloud light with Lifx colour strip light, paper lanterns, and fibre-fill. This project is a little bit tricky, but we're sure you'll be able to do it with a little bit of patience! To get started, you'll need a Life color strip light, Two large white paper lanterns, Fiber-fill (or "stuffing") Hot glue gun & glue sticks. A 3D cloud wall lamp with responsive mood lighting and sound is sure to be a hit at your next party.
SKILL LEVEL: ADVANCED
DIY LED Cloud Light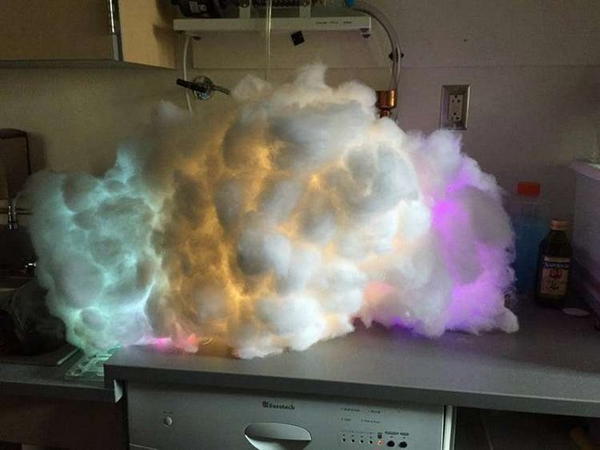 Create your own cloud light at home with the DIY LED Cloud Light guide. Using this simple guide, you'll be able to build your own portable LED cloud light that is battery-powered, portable, and requires minimal DIY skills. Make yourself a cloud light — it's super easy. With just a few simple steps, you'll be well on your way to making this self-standing, portable DIY cloud light shelf. You can customize the size of your cloud light depending on how large your paper lanterns are, or adapt it for a kid's bedroom by using smaller lanterns.
SKILL LEVEL: EASY
DIY Cloud Night Light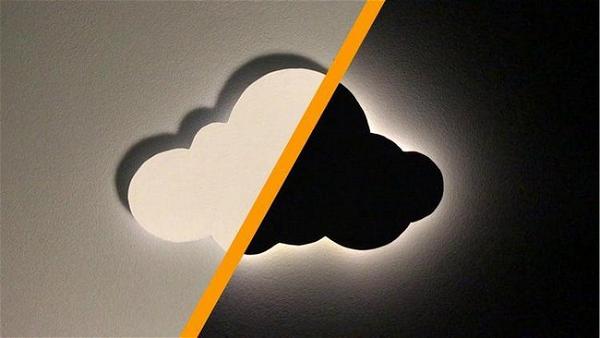 Make your own DIY cloud night light with this tutorial. This is a great project to make with the kids to place in their bedrooms! Assemble the wood and paint the cloud with white. Thread LED lights between the holes. Glue battery box to the bottom of the cloud. Show off your creation at night! It can be used as mood lighting, night light, or to decorate rooms. Cloud light is perfect for kids' bedrooms or nurseries. The beautiful white cloud-shaped LED light looks great at night and is also a special design compared to other cloud night lights.
SKILL LEVEL: EASY
DIY Tilt Activated Cloud Light
Create a dazzling LED cloud light of your own, with just a few basic components and this guide. Once you've put it together and hung it up, you can tilt it left or right to turn the light on and off! Make your own cloud light with this complete kit. Includes three unique circuit alternatives and houses an easily inserted LED light strip (available separately). Installation requires some basic woodworking knowledge and tools, but no soldering or electronics experience necessary. Choose between solid walnut and white maple plywood.
SKILL LEVEL: ADVANCED
$20 DIY Cloud Light
DIY a whimsical cloud light in your room! The material cost is only $20 and it's super easy to make. You'll also be able to turn on/off the light with the remote control. This DIY project will have you feeling like you can conquer the world. All you need is patience and this step-by-step guide to making your own cloud light for your home. With a Buffalo snow fiberfill, remote-controlled string lights, paper lanterns, and a hot glue gun, connected to the clouds is no longer just an imagination, but reality.
SKILL LEVEL: EASY
How To DIY Dreamy LED Cloud Lights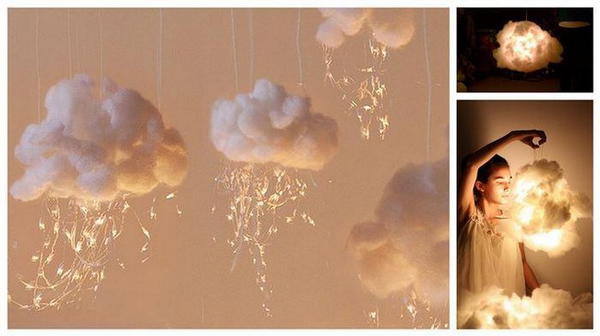 DIY dreamy LED cloud lights are so simple to make and will take your décor from drab to dramatic (and make bedtime a lot more fun!). Perfect for a nursery or a kid's room, this DIY cloud lighting is fun for the whole family. It also doubles as eye-catching party decor or an ambient home accent. It's just the right touch of a statement piece you don't want to be without. This one uses white paper lanterns, cotton batting, and some glue to create a DIY project that looks like it could rival.
SKILL LEVEL: ADVANCED
DIY Cloud Light With Ease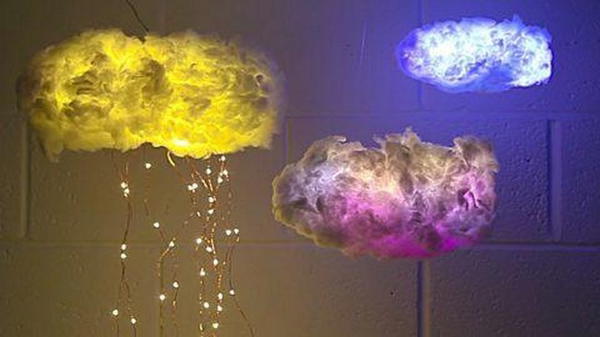 If you love DIY projects, then you're going to love this DIY cloud light. It's simple and easy to make and will bring a little bit of magic to any room. The tutorial walks you through each step of the project. You'll be amazed at how easy it is to make this beautiful cloud light! You have seen those magical cloud lights, which glow at night and make a perfect background light. They are easy to make and you can do it yourself effortlessly. You have your very own cloud light that won't just illuminate your room but will also become an excellent decorative piece to elevate the beauty of your room.
SKILL LEVEL: ADVANCED
How To Make A Cloud Light
When you have an old teddy bear that you don't want to use anymore or some light fixtures, don't throw them away just yet. This DIY cloud light is a great way to recycle an old teddy bear into something beautiful. It would be perfect in a kid's room or as a quirky office desk lamp. All you need is an old teddy bear, an old Christmas light, a glue gun, and some water bottles. You can easily use the stuffing from your stuffed animals and common household items like Christmas lights to make your own cloud lamp.
SKILL LEVEL: ADVANCED
DIY Cloud Light Tutorial
DIY Cloud Light - DIY Cloud light tutorial. Create a cloud light to add some fun and color to your home decor. This easy craft tutorial will show you how to make this beautiful cloud light fixture with some paint and simple construction techniques. All it takes is some basic supplies that you can find around the house like foam and stuffing. Then you will add some LED lights and you are done! These cloud lights are too cute, and they add a whimsical touch to any space.
SKILL LEVEL: ADVANCED
DIY Cloud Ceiling Light Tutorial
Create an interesting statement in your home with this ceiling-mounted cloud light. If you're looking for fun and easy, you'll love this DIY cloud light tutorial. Using polyester stuffing and a few other materials, you can create the perfect light fixture to hang over your bed or any living space. The fluffy poly-fil comes in a wide variety of colors, so you can choose the right tone to fit any aesthetic. This super-cool project is easier than you would think, and since it's made out of simple supplies like foam and string lighting, you can get creative and design a variety of different-sized clouds to fit any space.
SKILL LEVEL: EASY
How To Make A DIY Cloud Lamp
Now you can have clouds right in your room! This is a cool project that will light up your room and make you the envy of your friends. It's easy to make and won't cost you hardly anything. This cloud lamp is super easy to make and looks amazing when it's done. You can vary the colors for different effects, and if you get some of the super-fine poly-fil, it makes for a really cool-looking cloud that you won't forget in a hurry. This DIY cloud lamp is made out of poly-fil and an LED light and is super simple to make.
SKILL LEVEL: ADVANCED
DIY Flowing LED Cloud Light
DIY LED Cloud Light ensures an amazing atmosphere lighting, which is perfectly suitable for party decoration. This light arrangement has always been one of a kind. Nothing comes closer to it in terms of uniqueness. It is just beautiful and would make your room look amazingly romantic because of the cotton clouds containing LED lights. What's even interesting is that these lights can be adjusted accordingly to get desired results. This project will ensure that you are never bored while at home. Create a mysterious cloud landscape in a few minutes, nothing more to it!
SKILL LEVEL: ADVANCED
Homemade Cloud Light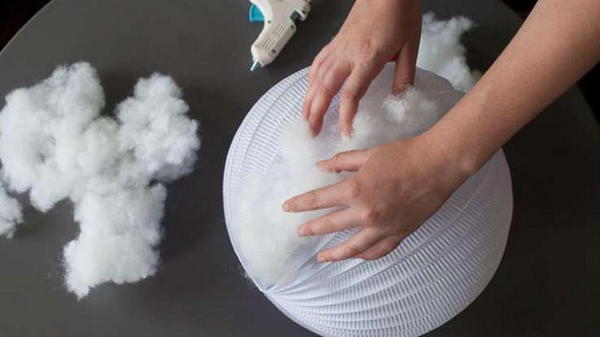 Decorating your home with a DIY cloud light is a simple and easy way to add some cozy decor to your bedroom, living room, or nursery. If you're looking for a fun and affordable way to create some soft lighting in the corner of your room, this DIY cloud light is perfect! This inexpensive project is perfect for a new homeowner wanting to add a personal touch. Or for experienced home decorators who want to create their own unique piece of lighting. It is easy to make and perfect for anyone with a ceiling. Use any light bulb to illuminate your bedroom, office, or living room.
SKILL LEVEL: EASY
Homemade DIY Cloud Light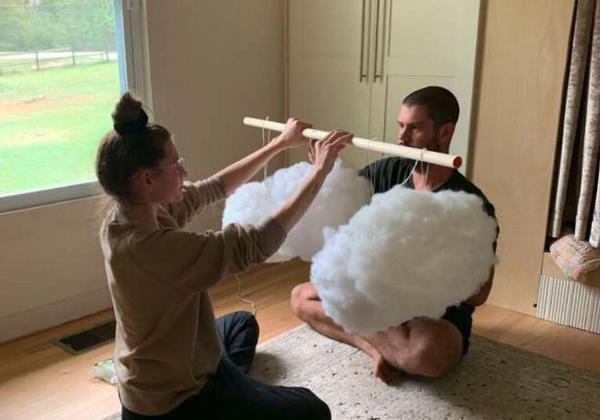 Do you dream of seeing the color of your bedroom walls, but most importantly, having a fairy tale ambiance? Add a touch of magic to your home with this homemade cloud light. This adorable, simple design would make a great addition to a child's room or nursery. This cloud lamp will be a perfect choice to produce exactly that. You will end up with a beautiful piece of lighting to add to any room. This amazing cloud light is easy to make with poly-fil and a few other essential materials. Add it to any room of your home to add style in minutes.
SKILL LEVEL: EASY
Colorful Cloud Night Light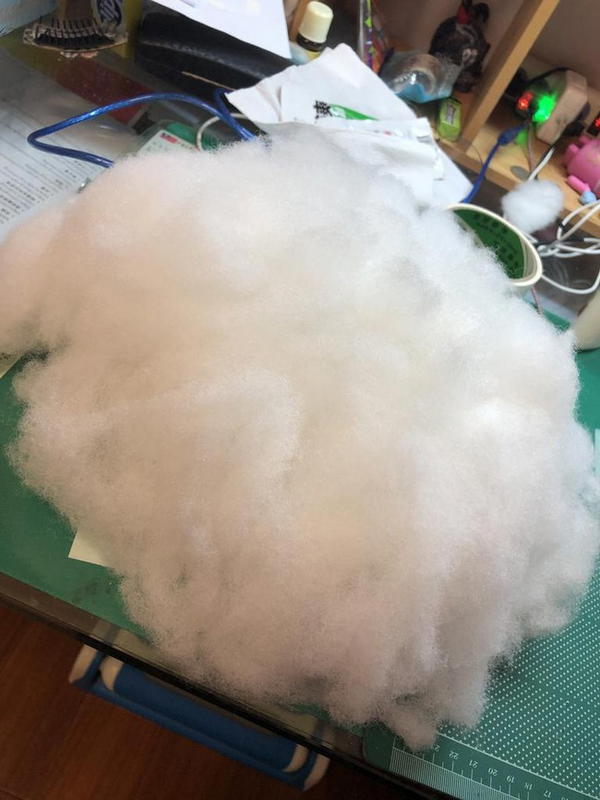 The night sky has never been so inviting. The DIY Colorful Cloud Night Light Kit makes it easy for you to build a cloud light that shows off the colours of sunrise and sunset. This cloud lamp is easy and quick to assemble and looks great in any room. With an assortment of lighting effects from a real cloud, full moon, or even a thunderstorm, you can create the perfect atmosphere for reading, relaxing, or a fun photo session with friends. You can make your own colourful cloud light with friends and family. With a few simple supplies, your cloud can be in operation in no time at all.
SKILL LEVEL: EASY
Programmable LED Cloud Light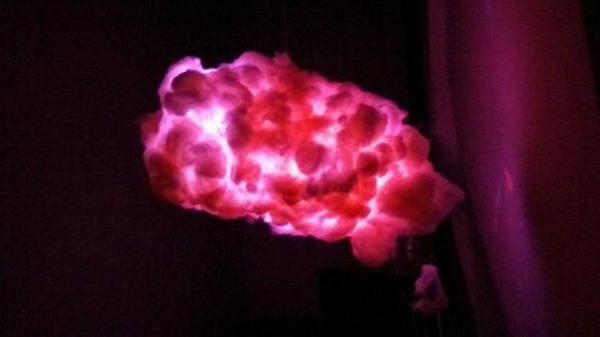 Do you need something programmable? Here is an amazing guide that will help you get that done with a cool LED cloud light. You need cotton, an empty water bottle, fish wire, and a glue gun. The steps are simple to follow. This project uses a cotton pillow and an empty water bottle as the base of the project and is a great use of fabric you already have around the house. This DIY project will look great in your home or apartment. You can also gift it to a friend or family member with an interest in electronics.
SKILL LEVEL: ADVANCED
DIY Cloud Light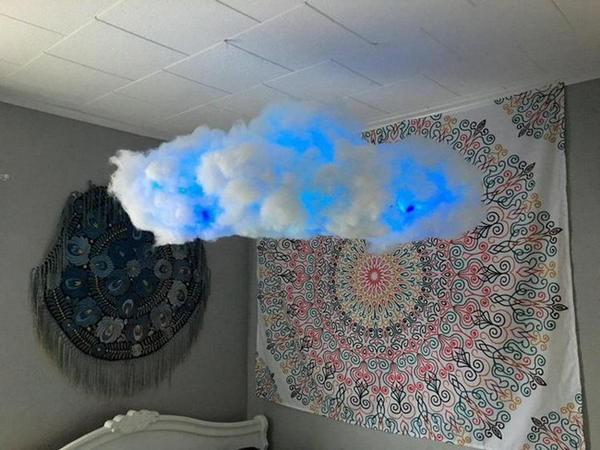 A cloud lamp is basically a regular lamp with white or transparent paper that depicts the shape of a cloud and is placed over the bulb or LED strip. Bring a little light and magic to your room with our DIY cloud light! This fun craft is inspired by the light, fluffy clouds outside and combines that with the soft glow of light inside your room. You'll learn to turn plastic bottles into something you might see floating by in the sky. You will feel like you are in a dream once you get this creative cloud light to float magically above your head. It's like a piece of the sky just fell upon you.
SKILL LEVEL: ADVANCED
 Tik Tok Cloud Ceiling Light
This project is perfect for anyone out there trying to bring some humour into their home. Tik Tok has taken over the world and there's no better way to create some laughs than by creating a Tik Tok cloud on your ceiling. This LED light kit is easy to put together and set up. Anyone can do it, even the kids! You can change the colour of the lights with an app on your phone. Just follow along with this tutorial and watch DIY Tik Tok Cloud Ceiling Light come to life before your eyes.
SKILL LEVEL: ADVANCED
DIY Cloud Lamp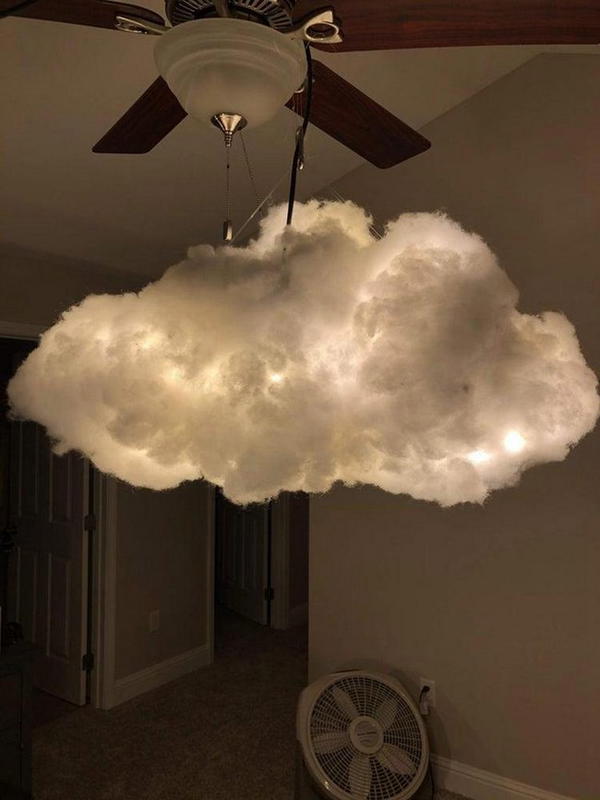 Turn a boring Saturday into a fun and productive DIY weekend with this Cloud Lamp kit. Everything you need to create your very own puffy white cloud lamp is inside, along with in-depth instructions that will have it complete in no time. This DIY cloud lamp kit contains everything you need to make a unique bedside reading lamp. The light strips are battery-operated, so there are no cords to worry about, and they can be hung anywhere in the room. No previous experience is necessary.
SKILL LEVEL: ADVANCED
Giant Cloud Light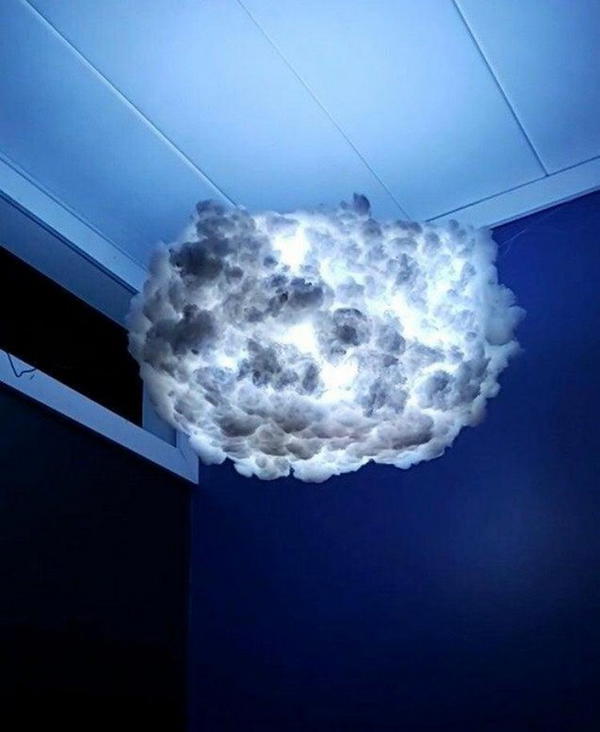 This giant cloud light is perfect for any child's bedroom or playroom, but is so magical that you might want to put it in your own room instead! Cut out the edges of one of the boxes and then use it to trace the same design on the other box. Cut out enough clouds for your light so you can stagger them when you're hanging them. Glue each cloud onto the extension cords, staggering and layering as much as you desire. This is also a great way to leave room for your light cord as well as where you want to hang your cloud light. It's an excellent version to use for a nursery or a kid's room, but it would be equally at home in your man cave or office.
SKILL LEVEL: ADVANCED
CONCLUSION:
Take a look at these 23 wonderful DIY cloud light projects that will help you to embellish your rooms in a very unique way. Your kids will be over the moon with their new cloud lighting, and even the grown-ups won't be able to resist. We thought that a lighted cloud project would be a perfect way to make your own DIY decorations for a birthday party, baby shower, or wedding. Not only are they cute, but they're fairly easy to make as well! Plus, you can use lots of different materials to light up the clouds. Let your imagination run wild! Check out all of them and in case you find any that you like, don't forget to save them on your Pinterest board!