A stained glass window is one of the most beautiful ways to add color to your home and make it appear more beautiful. Stained glass windows look elegant and give a vintage feel that goes very well with most interiors. These windows also create a warm and cozy atmosphere in your house by allowing more natural light. Making your stained glass window is a project that you can do with just a few supplies, and it is a great way to save money. The possibilities are endless when decorating your home with stained glass windows. These ideas will get you started! Let's look at some of the best DIY Stained Glass Window Ideas that can be done easily at home.
Homemade DIY Stained Glass Window

Discover ideas for DIY stained glass windows that you can make at home. Whether you're looking to add some flair to your own house or you want to give a beautiful gift, here are some ideas for decorating with stained glass windows. Make them personal with custom-made stained glass window designs. Use this set of templates in your own art studio to make memorable images in stained glass that can be installed in any home or business for safety and beauty. If you've never tried stained glass before, these 15 DIY stained glass window ideas will inspire you to start crafting unique designs today.
Advantages Of Stained Glass Window Ideas
If you've ever considered using DIY stained glass window ideas in your home, keep reading to learn more about how they can benefit you.
Customization: The best part about DIY stained glass window ideas is that they allow you to customize them however you want. You can choose different colors, sizes, shapes, and designs depending on what looks best in your home and what kind of feel you want to convey with your artwork.
Low Cost: DIY stained glass window ideas will cost much less than professionally made pieces because of their size and scale. They're also easier to install than larger pieces of stained glass, reducing labor costs and installation time for contractors who might be able to do the job for you if necessary!
Limited Maintenance Requirements: Stained glass windows require very little maintenance once installed correctly in your home by an experienced professional or contractor who knows what he's doing!
Stained Glass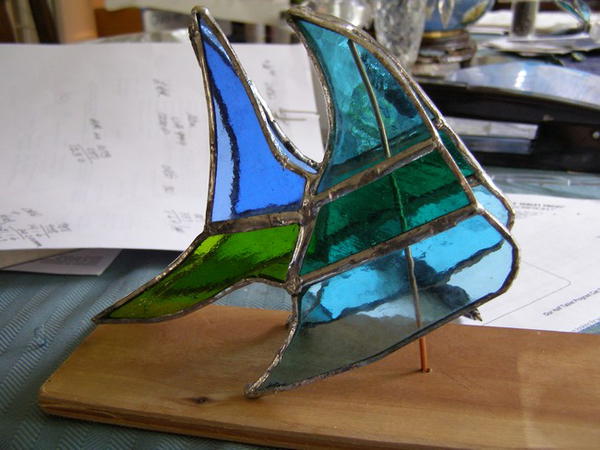 Elevate your next DIY project with the addition of a glass panel, whether a crafty coffee table, statement piece artwork, or gallery-worthy bench; this class is guaranteed to help you create beautiful, meaningful art worthy of showing off in your own home or as a gift to a loved one. Make beautiful stained glass with this DIY kit. You'll be able to recreate the look of stained glass and use it as your own art piece, decorate windows, and more.
Stained Glass Door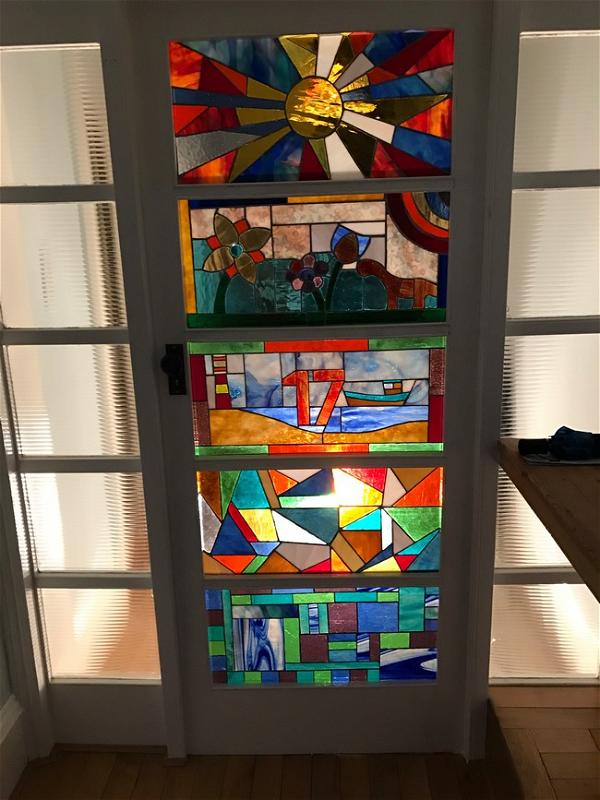 Want to add a burst of color, light, and beauty to your home? With this DIY Stained Glass Door tutorial from Martha Stewart, you can transform an ordinary door into a stained glass masterpiece. Many types of glass will work to do the project, but clear glass is the easiest to find at craft and hardware stores. Once your door is painted (and primed), you can hang it on any wall or closet door, making it a versatile addition that can be used in just about any room in your home. Create a stained glass door that you can hang in your entryway or over your bed. This project is great for beginners because it's simple to make and easy to clean up.
Stained Glass Blue Suncatcher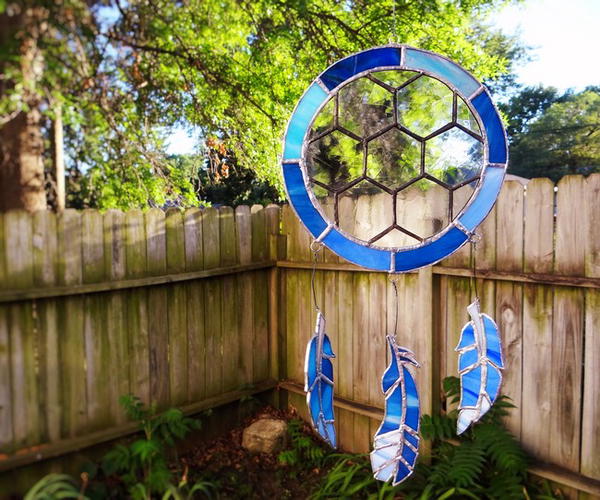 Your kids will love making this stained glass suncatcher! Stained glass is fun and easy to make, so get your child started by helping them outline the suncatcher shape. Then let them use different paint colors for each colored square and help glue on the squares. After that, hang it up on their bedroom wall or craft room! You will love this DIY Stained Glass Blue Suncatcher, which is easy to make and beautiful to display. This suncatcher requires no experience and makes a great gift for friends, relatives, or teachers. You will be amazed at how easy it is to make your own stained glass suncatcher!
Stained Glass Recreation in Paper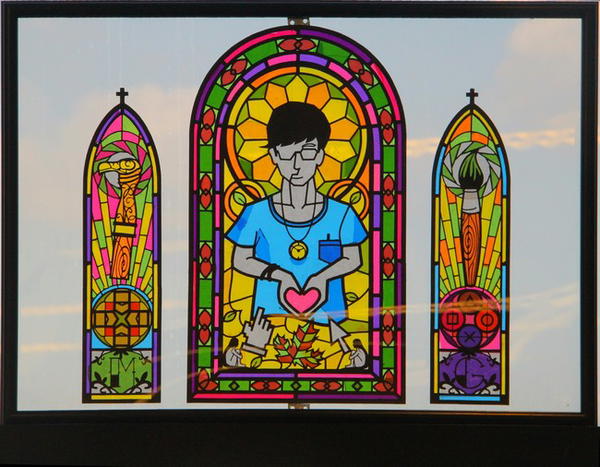 Whether a professional painter or an aspiring artist, crafting with paper is a fun and creative way to make all sorts of things, you can create colorful stained glass artwork by simply cutting shapes out of translucent paper and layering them on top another. The result is stunning, just like real stained glass. You can create gorgeous table lamps or hang them as colorful decor in your child's bedroom. This fun activity is great for rainy days or evenings spent with friends and family!
Stained Glass Lion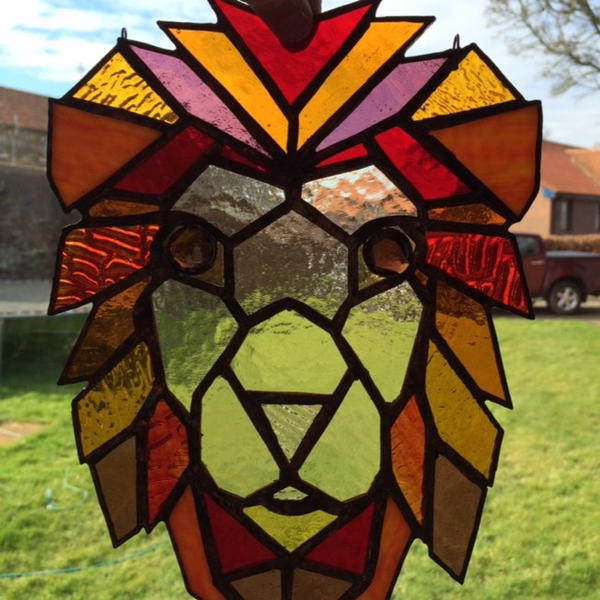 Discover the beautiful artistry of stained glass and create a windowsill display with this easy-to-follow DIY Stained Glass Lion project. This stained glass craft is perfect for beginners because it requires no special tools or materials. All you need is your favorite pride mascot, a few supplies, and easy steps to create something wonderful. Turn a simple sheet of glass into a colorful and crafty lion with our DIY Stained Glass Lion project. This easy DIY project is perfect for beginners or anyone who wants to jump in and give the stained glass a try.
Making Faux Stained Glass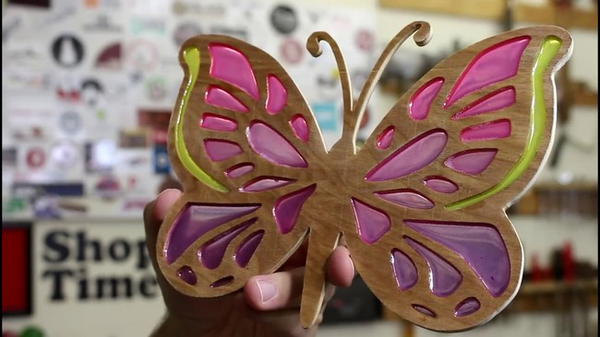 How to make a stained glass window using faux stained glass. Learn how to create your own beautiful art and bring it into your home. In this project, you'll learn how to make stained glass artwork on canvas, paper, or plastic and use it as a lampshade or on your tabletop. Making your faux stained glass is fun and easy with your kids. It is also the perfect project for tweens, teens, and adults! This simple DIY project will turn plain glass into a one-of-a-kind stained glass window.
Stained Glass Flower Ring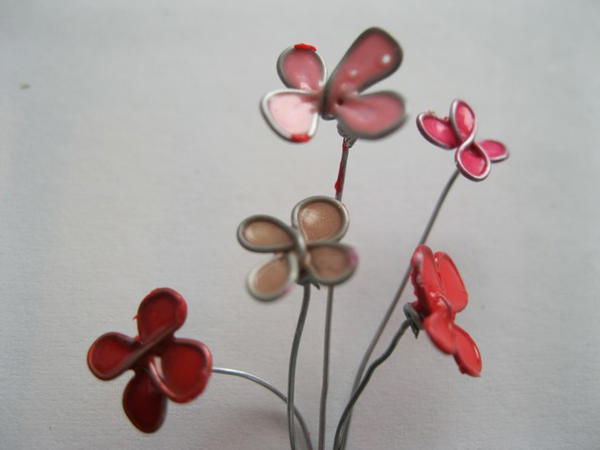 A beautiful ring made from stained glass and brass, you can create this DIY Stained Glass Flower Ring from scratch in your very own home. If you're looking for a way to make your rings more personal, this DIY stained glass ring is for you! Learn how to create a unique design that's as beautiful as it is unique. This homemade stained glass flower ring is the perfect example of an easy project that can be completed in a couple of hours. With the right materials and patience, you can easily make a stained glass ring with your own personalized artistic touch.
Paper Stained Glass Earrings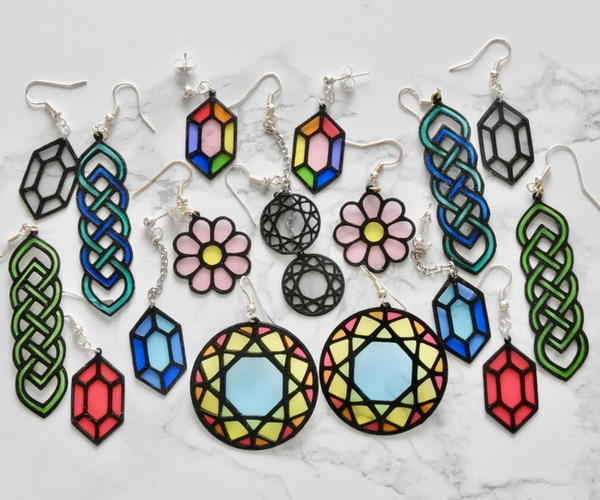 Dress up your ears with these DIY paper-stained glass earrings. You can paint them any color to match your clothes and be creative with the designs. Making earrings out of paper can be tricky, but it's a creative and fun project. These Paper Stained Glass Earrings are reusable, so you get the perfect marbled look every time. They're great for making many different styles of earrings, like hoops and studs, so that they can be reused repeatedly. The tutorial takes you through simple steps on making beautiful earrings with little mess or fuss.
DIY Faux Stained Glass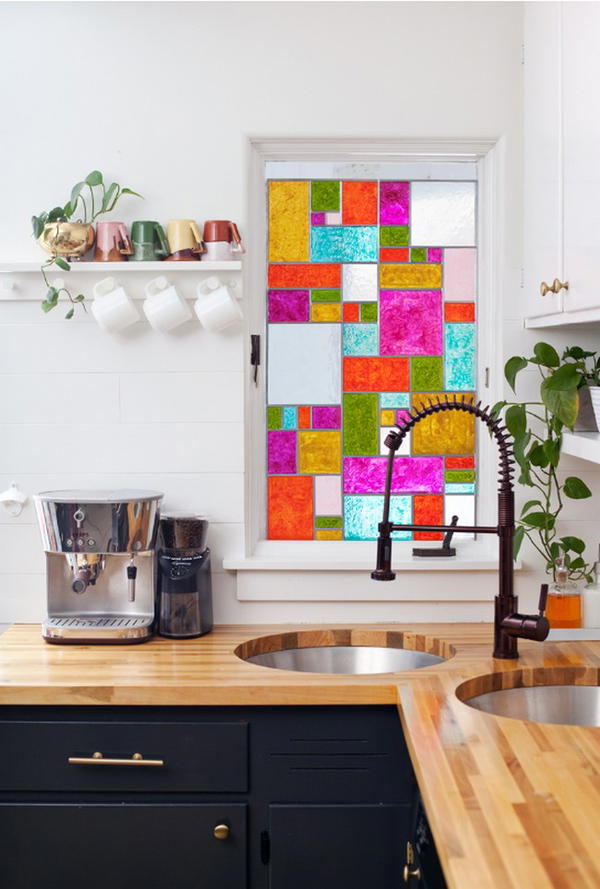 Please create your own beautiful stained glass wall art with our simple DIY project. With just a few tools and supplies, you can create an easy stained glass home decor piece that can be hung in a window or on the back of a door. Make your own stained glass window with this simple, fun DIY project. It's a great way to teach kids about color mixing and optics while they create something beautiful that can be incorporated into their room or decor. And it's the perfect way to keep busy on rainy days. This DIY project is easy and fun, with a beautiful finished product!
Faux Stained Glass Suncatcher Craft For Kids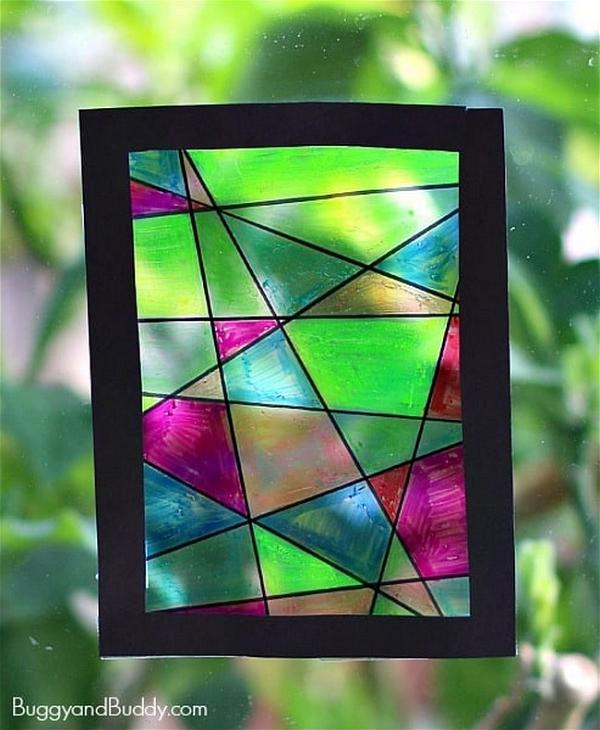 Create a one-of-a-kind suncatcher that looks just like stained glass! Paint patterns and add stick-on jewels to turn your kid's plain old window into a work of art. Make these adorable stained glass suncatchers in seconds with a few household items. Kids will have tons of fun making and decorating their own beautiful window decorations. These DIY stained glass suncatchers are easy; even your littlest crafter can do it. This is a perfect rainy-day craft project to do indoors! It's a great gift idea to give as a homemade present or use as part of a room decorating project at home.
Stained Glass Art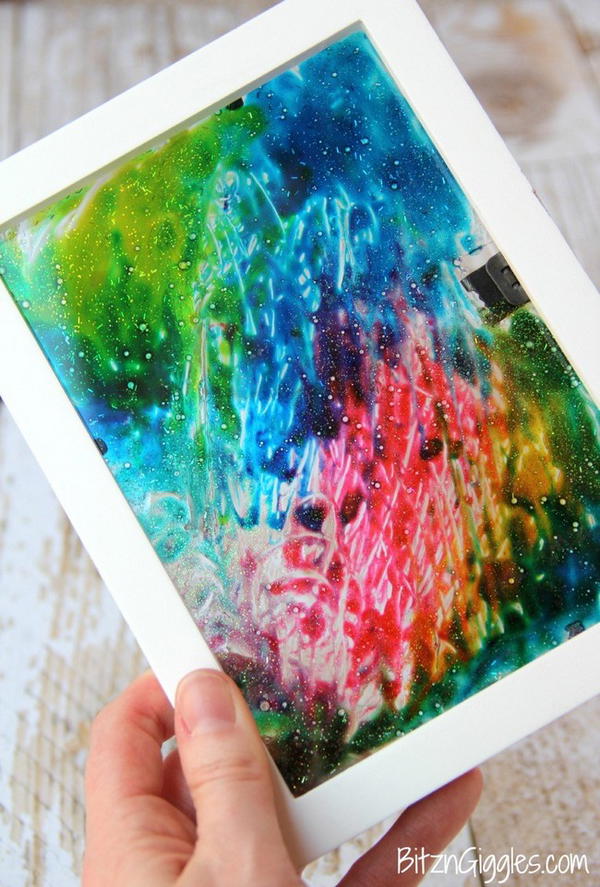 This simple, step-by-step guide teaches how to make your own stained glass art. This DIY stained glass project is easy to complete and a great way to decorate your home or garden with stunning art. With this guide, you'll be able to create beautiful works of art that are truly unique! Make beautiful, vibrant stained glass art with our glass-cutting system. This kit includes everything you need to make your own colorful glass art. Use your creative imagination, or follow the included project ideas for help. Both beginners and advanced crafters will love creating gorgeous glass art pieces using this amazing system.
Flower Petal Stained Glass Door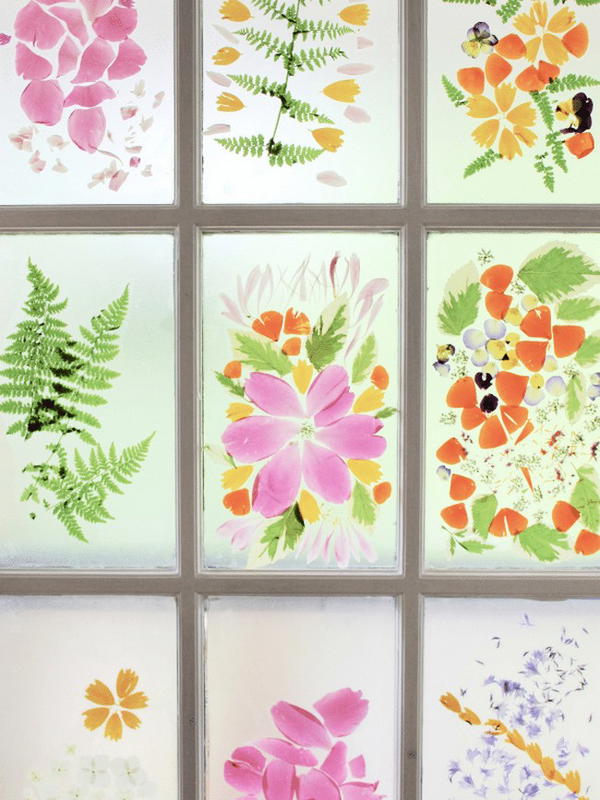 This fun and the easy DIY project makes a stunning stained glass door for your home. It's a great way to upcycle old glass or make something gorgeous out of new pieces. Create a stained glass effect with this DIY stained glass project. Place flower petals between two sheets of plain glass and leave to dry, then remove the petals and seal the back of the glass. Perfect for decorating a home or office door, this project also makes a great gift during springtime!
You can also see: DIY Window Plant Shelf Ideas
Faux Stained Glass Windows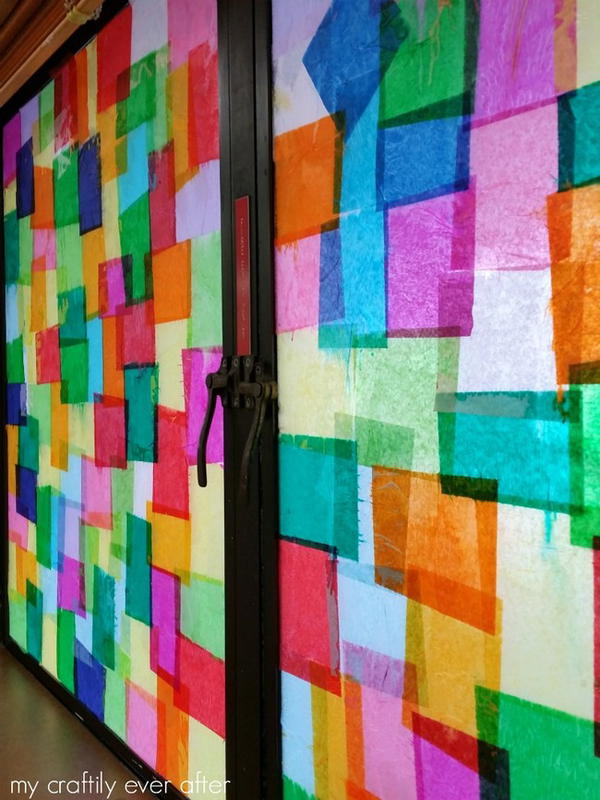 Add a little color to any room with these faux stained glass windows. It's easy to create using simple household materials and tools and can be completed on the weekend. Transform your home into a truly one-of-a-kind masterpiece with the DIY Faux Stained Glass Window. Decorate your door, accent windows, or even walls to add some serious wow factor to your interior design. Each window has a special effect design and is easy to install! Add fun, color, and excitement to practically any room in your home or office.
Faux Stained Glass Window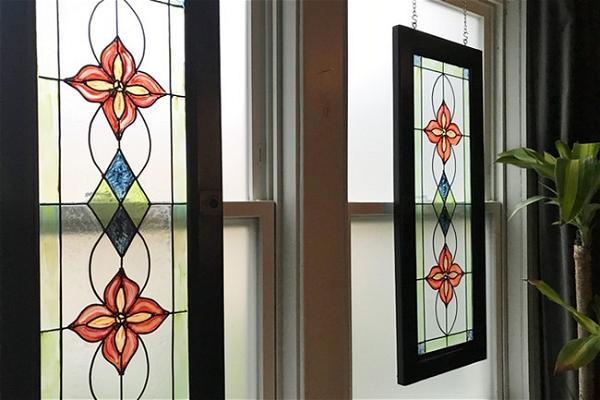 This easy DIY project transforms your walls into stunning stained-glass windows. You only need a few materials to make this faux stained-glass window. Want an instant makeover for your windows? Stained glass doesn't always have to be the bold, colorful glass we envision. Whether adding a touch of color to a plain frame or just creating a decorative window treatment, you can use basic stained glass supplies to create this faux glass window easily.
Stained Glass Window Children's Craft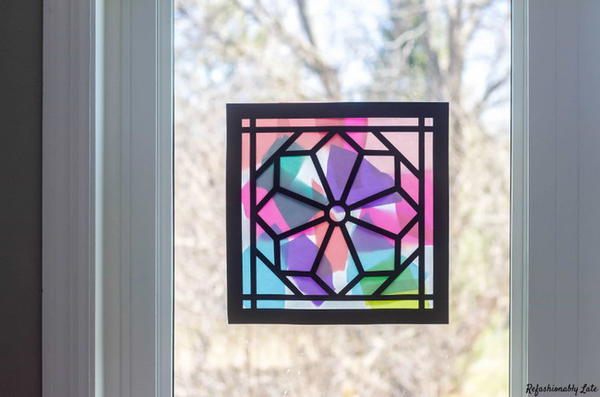 This DIY Stained Glass Window Children's Craft is so easy to make and can be customized to fit any child's interests. This stained glass window is easy to make and looks lovely once complete. Children will love using ordinary household materials to turn their windows into beautiful works of art. You do not need to have supplies on-hand or search around stores to find colors that work together. This project allows children to be creative while easily bringing color into their homes.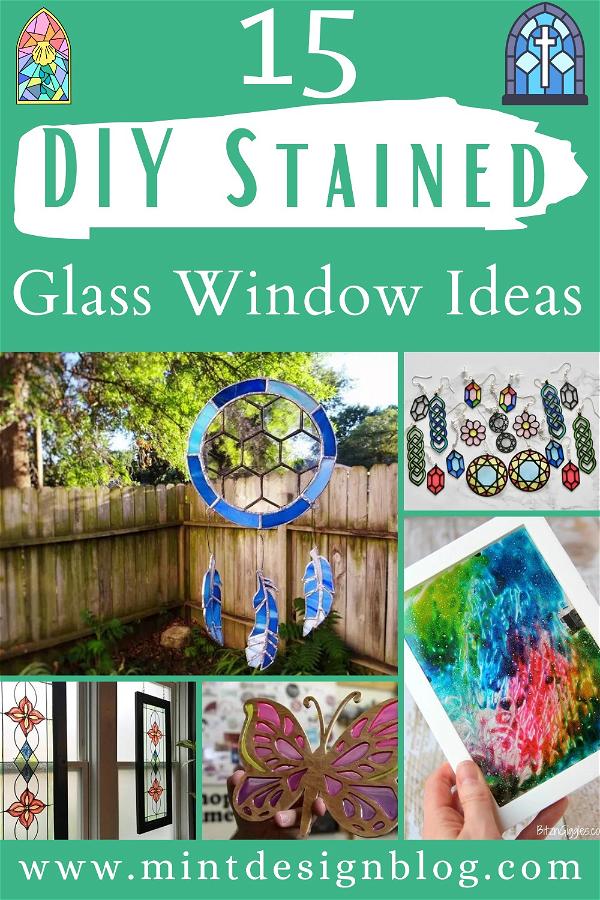 See Other Projects