How cool would it be to be able to swing free in the breeze, just relaxing and having a good time after a long, hard day at school or work? Many people think that swings are just for children and their enjoyment, but that's not true! Adults want in on the fun as well! These are 29 DIY porch swing plans that you can run off on a weekend and build for your home. You will know how to disassemble and reassemble the swing later on. One thing is for sure, now, you will never get bored at home. It's a great place to rest during hot summer days; relax your body and mind.
DIY Porch Swing Plans
Just buy a few simple tools, a nice and durable chain for the swing, and build the porch swing of your dreams. You don't know how good you will feel afterward, once you are fully done with building that magnificent porch swing that you always wanted. The materials we used for it were pretty affordable compared to other plans out there. You may not even have to buy any of the lumber or find it in your attic.
How To Build A Porch Swing Bed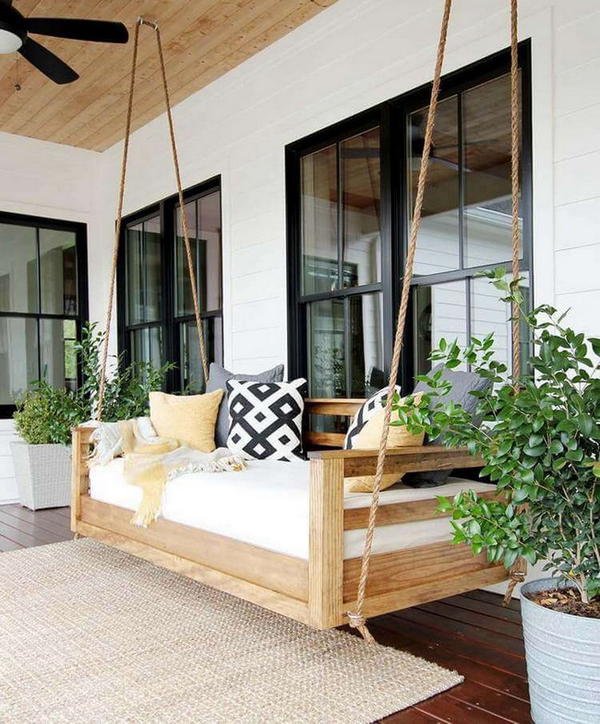 Need a place to relax and enjoy the afternoon? This swing bed is easy to make and a nice addition to any porch or patio. This is perfect for residential patios, gardens, and decks. The materials needed for this include clear pine, knotty pine, framing lumber, finish nailer, sandpaper, wood filler, wood glue, wood stain, eye screws, and finish nails. Start by building the frame for the seat then prepare the cushion and place it inside the frame. After this, attach hooks to the four corners of the frame and another four screws in the ceiling where the rope will pass through to hang the frame.
How To Build A Porch Swing
A porch swing should be one of the places in your garden where you like to spend death. It will be an adorable creation for you when you make it yourself. There is a certain sense of satisfaction when doing so. A porch swing is an excellent addition to your porch. It can be enjoyed by young and old, and by both adults and children. This porch swing can be built using simple tools that may already be in your shed. It's easy to build and can be made for a very low price. The porch swing is a beautiful piece of furniture that can look truly amazing in any backyard. Building a swing for your porch can seem daunting at first, but it is actually very simple! Using free wood from around your yard and a simple-to-build design, anyone with time and basic tools can build their own swing.
DIY Porch Swing
If you love relaxing on your porch, then you're going to love building this DIY porch swing. Make your patio complete with the addition of a DIY swing. Once you build it, you'll be able to relax in a soft seat with a cool drink in your hand and enjoy the view of the backyard. Set up a porch swing and enjoy the summer breeze while reading a book, listening to music, or watching birds fly by. The materials for this are easily available in your house and the total project is easy enough for a beginner woodworker. The entire process takes a few hours but is quite simple to follow. This is really an easy project and may just prove to be your next DIY project!
DIY Mission Style Porch Swing
If you have a porch or patio, a DIY Mission Style Porch Swing is an attractive and romantic idea for your outdoor seating. Bring the fun of a porch swing into your home with this DIY mission-style porch swing. The materials required to build it are pine, clamps, a drill press, a router, and drill bits. Assemble the pieces using wood glue and screws then sand the wood down. Finally, attach the seat and hang your new porch swing from hooks in a tree or patio. Cut the wood pieces following the plans given for your own custom size. You can put on waterproofing paint to protect all the pieces from mold and water damage. It's that simple! With a pine frame and a rustic look that resembles a traditional mission-style bed, you'll be surprised by how easy it is to create.
DIY Wooden Porch Swing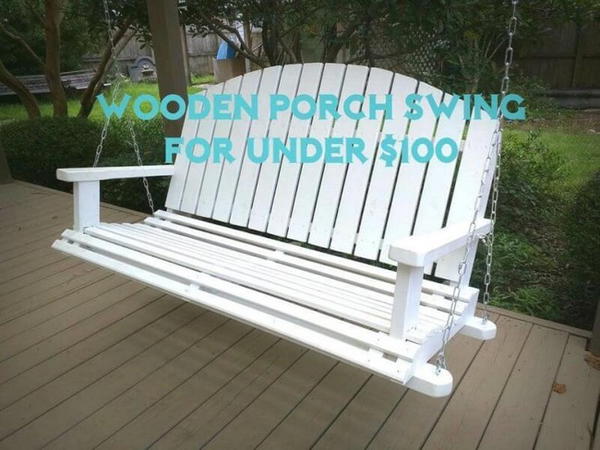 This wooden porch swing is one of the most popular projects around the DIY Project Center. If you have any carpentry skills and an afternoon to spare, it can be yours to enjoy for years to come. With an afternoon of work and a few materials, you can build a stylish swing that will enhance the appeal of your front porch. Build your own porch swing from hardwood lumber and chains. Choose a good solid board for the seat and back supports, which will last for years. Cut the pieces to length, then attach support and a seat panel piece. Attach the pieces so they are firmly connected, but with some play in between. Fasten the braces on either side of the seat panel with screws. This porch swing will give you and your family great backyard entertaining!
DIY Heavy Duty Porch Swing
If you love hanging out on your porch, then how about stopping the rocking with something homemade? Or are you looking for a nice place to sit in the backyard? A DIY porch swing might be exactly what you need. They are easy to make and will add some unique charm to your yard. The best part is that they are not that expensive and can be completed in a matter of hours. Gather your materials and tools, then start by making the swing frame. Assemble the back and seat support then attach braces to it to form the chair frame. After this, paint the frame and hang it with a chain so you can use your porch swing immediately. Cedar log is recommended for this project for extra durability.
DIY Porch Swing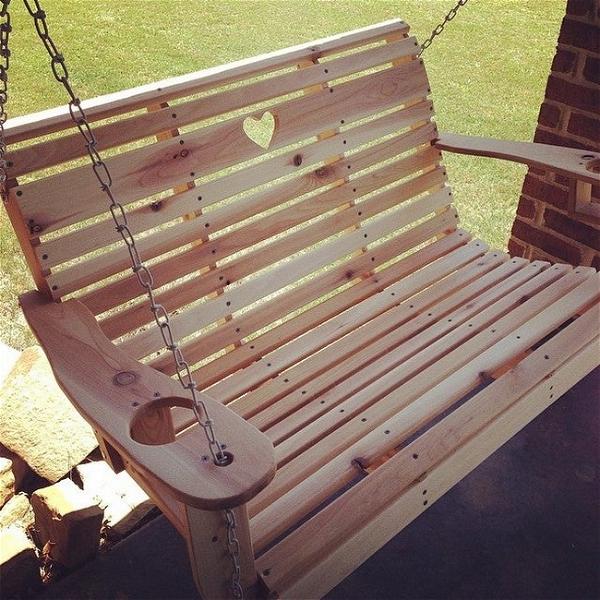 This porch swing is a perfect addition to any front or back porch. With the right tools and materials, anyone can hang one of these in about 3 hours. This is a great project for the whole family! Grab a couple of your friends and spend some time on DIY's swinging porch swing. Grab some tools and get to work building your own front porch swing for a tranquil summer evening. To build this fun seat all you will need is flat washers, nylon nuts, carrier bolts, small S hooks, chains, and exterior screws. This porch swing can match any type of décor and landscaping. You can use some fabric and paint to decorate the chair, armrest, and chain. This can add a touch of beauty to your yard or patio.
How To Build A 2x4 Porch Swing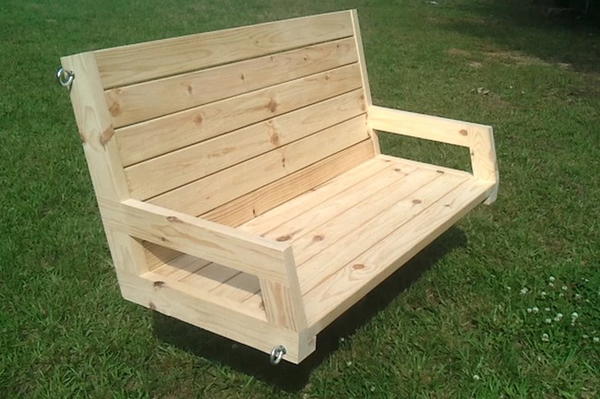 A 2x4 porch swing with a slatted back panel that does not have a brace. Start by making the arm assemblies then make the seat support and attach braces to it. After this, attach the seat to the arm assemblies then attach the back panel. Using eye bolts, attach hooks to the base of the frame and hang the frame with a chain. Make a charming, inviting porch swing with these plans. The design is simple and straightforward, yet the finished product will provide years of soothing summer breezes. Make it with 2x4s and ¾-inch plywood for a durable swing that will last for years to come. Building a porch swing is an easy weekend project with readily available materials. Swinging perfectly on a porch is a wonderful way to relax after a long day at work.
DIY Porch Swing Less Than $100
If you love to spend time outdoors, then you could make a porch swing. Make your own porch swing with these materials and instructions. It's affordable and fun to build. This DIY porch swing is much easier to make than it looks. It creates a strong swing that can be hung in minutes. Cut all of the wood pieces, then assemble them and drill holes for the screws. Attach the back and seat support, then put the rest together and you're done. Have a friend help you or work on this project together. You'll love relaxing on your new porch swing as you watch the sunset on summer evenings. For a unique and comfortable porch swing, you can easily make with little carpentry experience.
How To Build Porch Swing
Building a porch swing is not difficult. The most popular way to build the back of this porch swing is to attach a piece of wood on each side of it to serve as braces or supports. Swing construction can be considered an art form, but the fundamental parts and the process to form them are easy enough for anyone to do. The basic material needed to build a swing includes: Seat and back support made from wood. You can screw these onto the back and seat support using a drill and appropriate bit. Build a porch swing using simple tools and hardware at your local hardware store. Mix and match a variety of wood planks to make a personalized swing that reflects your home's decor. Sturdy construction and hanging materials will last you for many years.
How To Make A DIY Porch Swing
The first step in building a porch swing is to cut out the pieces. Use metal steel, soldering kits, and a chain. Choose the seated skeleton and cut it into pieces then assemble the seat and back skeleton for a chair and weld them together. Next, attach one part of the chain to each end of the seat skeleton frame. Repeat this process with another piece of chain using the frame of the back of the swing set. Finally, attach each piece of chain onto its partner frame using bolts and nuts. Now hang your swing using a tape measure so that it's tall enough for someone to sit on comfortably. This is a very interesting project, requiring some metal cutting, welding, and assembling. Ideally, you may use a vice to grip, drill and cut the pieces of steel frame parts.
DIY Porch Swing Frame
Create your very own porch swing and outdoor relaxation area with this DIY porch swing frame. This is a plan set that provides you with all of the necessary tools and blueprints to build a porch swing frame for two. The swing frame includes an A-shaped swing leg that runs from the ground to the top of the swing, as well as a long piece of wood that connects the two legs and where you can hook the chain of your favorite porch swing. This porch swing design is decorated with metal accents to add character to the finished product.
The Do It Yourself porch swing frame will make a relaxing addition to your back or front porch. This carrying frame is a great beginner woodworking project and will take approximately two days to complete without any professional equipment needed.
DIY Porch Swing
Looking for a backyard project to do this summer? DIY Porch Swing One of the things that makes a home a home is the porch swing. Painted, with a nice cushioned seat and a place to keep your glass of lemonade, it warms the heart and invites you out of the house. But finding the time to make one can be difficult. Whether you're retrofitting an existing swing or building a new porch swing for space on your deck or patio, this swing can be put together on a weekend. This DIY porch swing is a fun weekend project to get you outside in the fresh air. It can be made from anything from an old wooden crate or pallet to an actual curbside find. The design for this wooden swing was inspired by the sway of a rocking chair.
DIY Porch Swing Plan
Looking for a simple, oversized porch swing that doesn't require any hardware? Then, this DIY tutorial is for you. A collection of simple and clear instructions, this swing plan will walk you through the process of making your own porch swing and attaching it to an existing structure. To make your own DIY Porch Swing, you will need the right materials and tools. First, make a plan for the structure of the swing. Next, gather all of the wood you need in order to build the frame of the swing. Cut each piece of wood according to your plan. Next, assemble your frame and screw in braces to hold it together. For the seat and armrests, measure and cut those pieces of wood accordingly. This swing plan can be scaled up or down depending on preference and fit the space in which you aim to place it.
How To Build A Porch Swing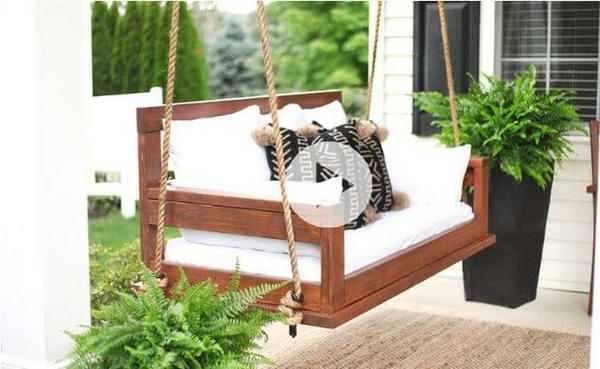 A porch swing can be a sign of your success, a symbol of luxury, and a relaxing location to enjoy nature. However, many people worry about building the perfect swing because they do not have the right tools or experience. Building a porch swing is an easy weekend project that almost anyone can do. A porch swing is an ultimate way to relax and just hang out. It's a chance to take it easy, kick back and enjoy some relaxing time alone or with family and friends. Building a porch swing is an easy and fun DIY home project. This video will show you how to build a covered porch swing. The frame is made from 2×4 and 2×6 pieces. Cut the pieces to size and drill pocket holes on all of the pieces. Assemble the pieces with pocket hole screws, then hang the swing with rope.
DIY Outdoor Porch Swing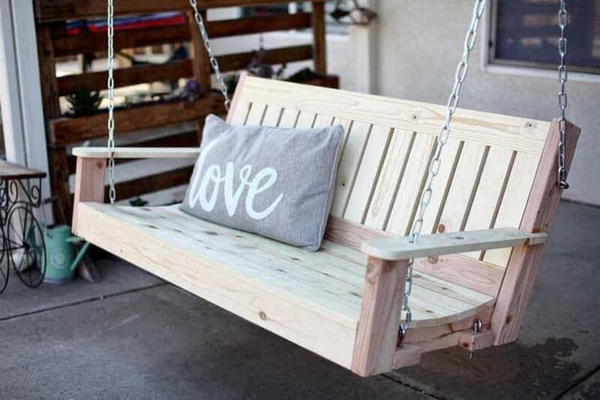 Your porch needs a new look! The brightly colored materials and the idea of swinging in the air are just so tempting that you begin planning an outdoor project. You decide to build a porch swing. It turns out to be a great decision because you not only get a new eye-catcher for the backyard, but you also get an extra place where you can relax with your family and friends. It is quite an easy project and you can customize it according to your own taste while making it comfortable and attractive. The wood that you can use for this project can be found at your local lumberyard or home improvement center.
DIY Porch Bed Swing
Build a porch swing bed for yourself or someone special. This DIY porch swing bed is super simple to make. You may choose to place the swing on your porch, so it will be visible from the street. This DIY project won't cost much, and you can make it at home without having to pay for a carpenter or any other professional. All you need for this project is a few simple tools like a saw, a drill, and a staple gun. The materials are inexpensive as well, with only 2x4s in various sizes being needed along with some fabric. Building a bed for your porch is a satisfying project. The whole family can relax on this DIY porch bed. It's like hanging out in nature but with no bugs or dirt!
Build Your Own Porch Swing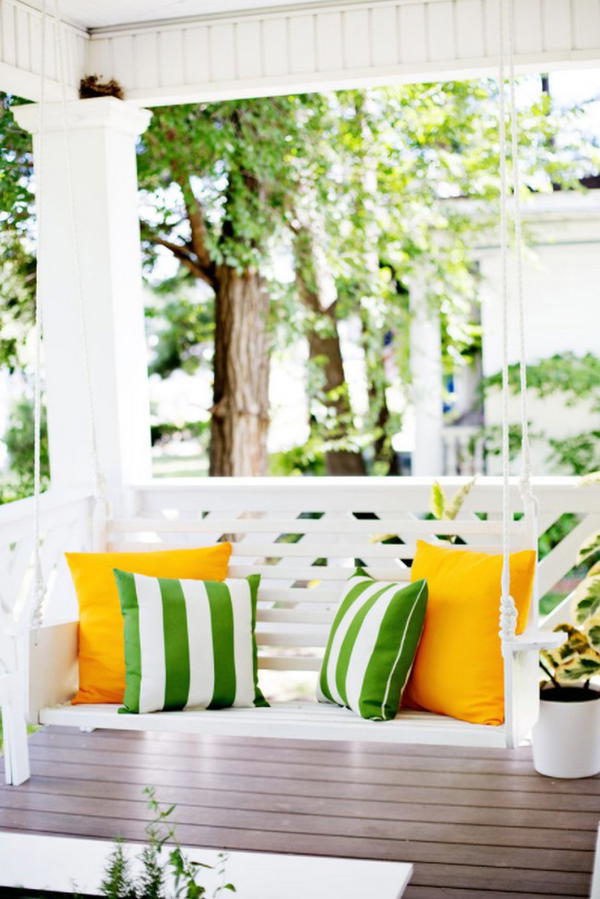 For some, the best way to end a day is to sit on the porch and enjoy the night air. For others, swing sets are more their ideal way to unwind. If you're one of those people who believe life is still worth something simple, then check out what we have for you: The Build Your Own Porch Swing. This set gives you the tools and accessories you need to turn an ordinary tree limb into a place to rest your feet; a place where you can find that peace that tends to get lost in our busy world today. Build your own porch swing! The set comes with exterior-grade plywood, pre-cut slats, and rope.
DIY 2×4 Porch Swing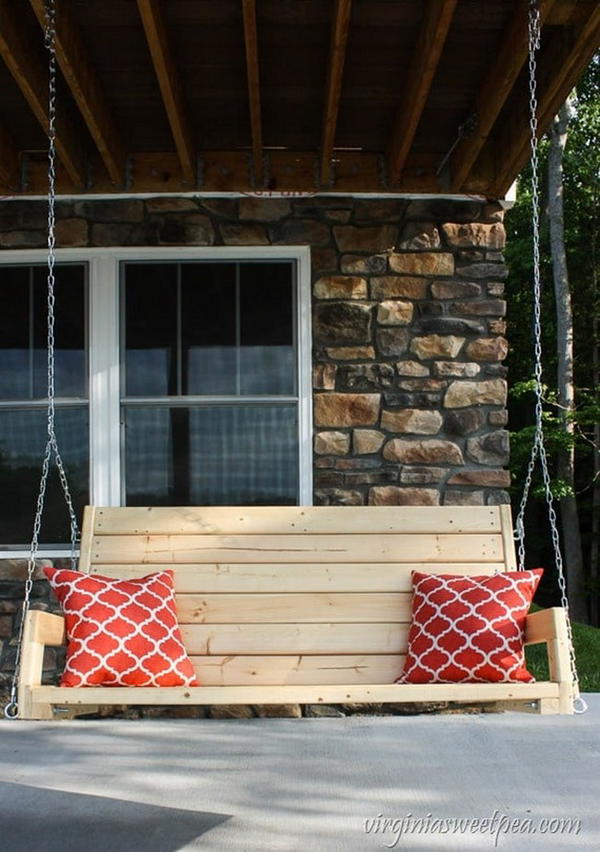 A super simple DIY project, build a sweet porch swing that allows you to enjoy those summer breezes. Perfect for those warm summer days, this DIY 2×4 swing is easy to make and perfect for enjoying on your porch or patio. Build this sturdy porch swing with 2 x 4s and galvanized screws, or use it as a template to make your own custom design using a variety of larger lumber piles. Enjoy your swing for years to come by treating the lumber before assembly and periodically throughout its life with a stain-blocking treatment. Build this 2×4 porch swing and create a relaxing retreat on your back porch. The swing is large enough for two adults to enjoy a quiet moment together. It's built from clear cedar, so it will weather nicely and blend in with the rest of your landscape.
Large Modern Porch Swing Couch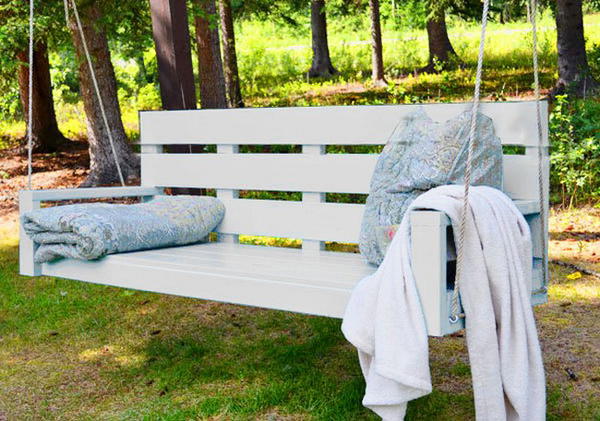 Summer is a great time to relax on your porch or deck. This swing makes it easy to be comfortable in a beautiful outdoor environment. Build this large porch swing or couch and you will have a place to relax with a book or just talk for hours. The basic design is easy to build with common tools and can be made from any combination of woods to fit your own individual style. Alternatively, with the addition of a porch ceiling, it becomes the perfect place for watching sunsets or moon rises. Make it as large or as small as you like by just changing the width of the wooden seat-boards. It is easy to build using standard tools and materials that are available at home supply shops. Let your imagination run wild with lush pillows, fun fabrics, and bright cushions.
Easy Porch Swing
Helpful for swinging, lying down, or sitting up on the porch, the DIY Easy Porch Swing offers a relaxing chair to the outdoor dining area. This unique swing offers two ropes and two cushions so you can enjoy it with your partner or friends and kids in your outdoor area. Building a porch swing that can be placed in your own backyard or near your patio is no longer a dream. All you need to do is grab these woodworking plans and make your outdoor living better. Build a porch swing that your family will enjoy for years to come. Wood, tools, and hardware available at most hardware stores make this swing easy to build and affordable on any budget. In addition, it is very easy to build, so you can save money instead of hiring someone to do this job.
$40 Porch Swing
If you want a perfect place to relax, then this DIY porch swing is the project for you. Hang it from a tree or porch as long as you have solid support in place first. This DIY porch swing won't break the bank but will give you a spot for relaxing on a sunny afternoon. To make this easy outdoor project, head to your nearest home improvement store and purchase the wooden material and chain required. Next, select a comfortable chair and attach the chain to its back. After that, attach the wooden material to the chain and you're good to go! It's also great for adding a personal touch to your home. This swing is sturdy and should last for a very long time. Now you can sit out on your porch and relax in the shade from a nearby tree.
DIY Porch Swing Build
An inexpensive solution to a rustic backyard addition, this DIY porch swing provides hours of relaxing pleasure. Build your own Porch Swing and enjoy the space with your family. Learn how to build an attractive and durable wooden porch swing that can be placed in your backyard or added to any existing deck or patio area. To make a porch swing, you need materials. Wood and chain or rope are common. You also need wood screws to put the pieces together, and hooks for the chain or rope. If you have wood screws that fit snugly into pre-drilled holes, then you can skip that step altogether. Doing it yourself doesn't always have to mean spending a lot of time and money. Check out this fun porch swing DIY that can be done in an afternoon!
Free Porch Swing Plans
Love to relax in your own backyard? You can now make a beautiful rustic porch swing at home without having to spend a lot of money! This swing is perfect for your porch, balcony, or backyard. It features a wide seat, backrest, and armrests that offer comfort and security. Its free plans allow you to build it at a low cost and in an easy manner. Build it for yourself, your family, and friends, or host a giveaway to those around you in need of some good woodworking plans. This free porch swing plan is easy to build, provides a lovely spot for you to read, reflect or just relax with family and friends. To construct this swing, you'll need a jigsaw, wood screws, a handsaw, exterior wood screws, and a drill.
DIY Porch Swing Plan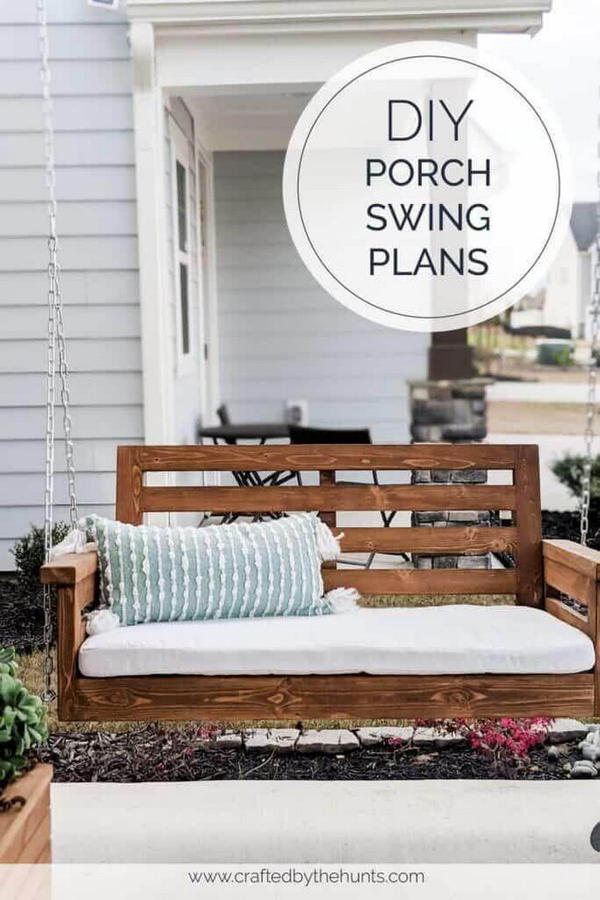 With a small investment and a little bit of time, you can get this porch swing plan to build in front of your house. This DIY porch swing plan is a great weekend project. If you like sitting outside but can't enjoy the view because there's no place to sit, consider building your own porch swing. The yard swings are usually quite expensive and they take a lot of space. You can quickly build one that is not only beautiful to look at but also very comfy to sit in. This porch swing plan has simple instructions it requires tools that most people already have and it is a perfect summer project as well. It is easy to build that even beginners will do it. The seat is wide enough to place one or maybe two persons. The most important is the price is affordable and the design is attractive.
DIY Porch Swing Plan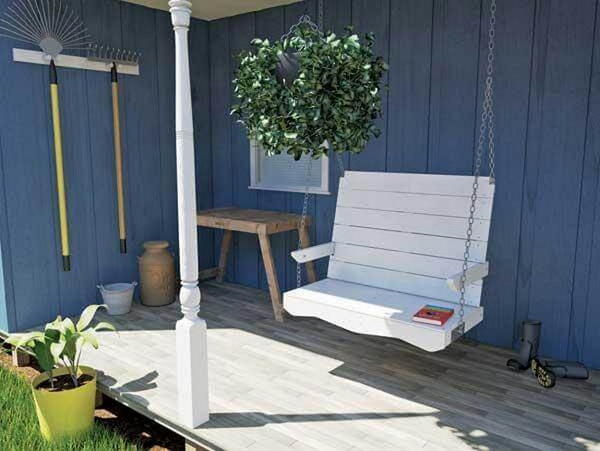 This DIY porch swing plan is a relaxing and fun addition to your backyard. This porch swing is an affordable project to make on your own. Here's a simple plan to build a porch swing from scratch. It doesn't cost much because you use recycled wood and basic tools like a miter saw, tape measure, jigsaw, and paint. The materials needed to build it are readily available. The seat is simply made with slats of wood, and the backrest uses pieces of wood glued together. Both pieces should be painted pretty white color and you will want to hook the frame onto a stud in your wall for additional support. This swing can be attached to two hooks on either side or hung from the rafters in your ceiling.
Building A Porch Swing
Who doesn't enjoy an afternoon on the porch, soaking up the sun and enjoying a glass of lemonade? With this exclusive detailed plan, you can build an amazing porch swing all by yourself in your own backyard. Use the detailed plan above to build a porch swing right in your own home. You can add the detail of your choice by making the back out of different wood slats or even a cushioned seat with padding. It can be a wood-only swing if you prefer. You can paint, stain, or leave it unfinished for the look of weathered wood. The back and the seat are made of hardwood. You can add the detail of your choice by making the back out of different wood slats or even a cushioned seat with padding. You can paint, stain, or leave it unfinished for the look of weathered wood.
DIY $40 Farmhouse Porch Swing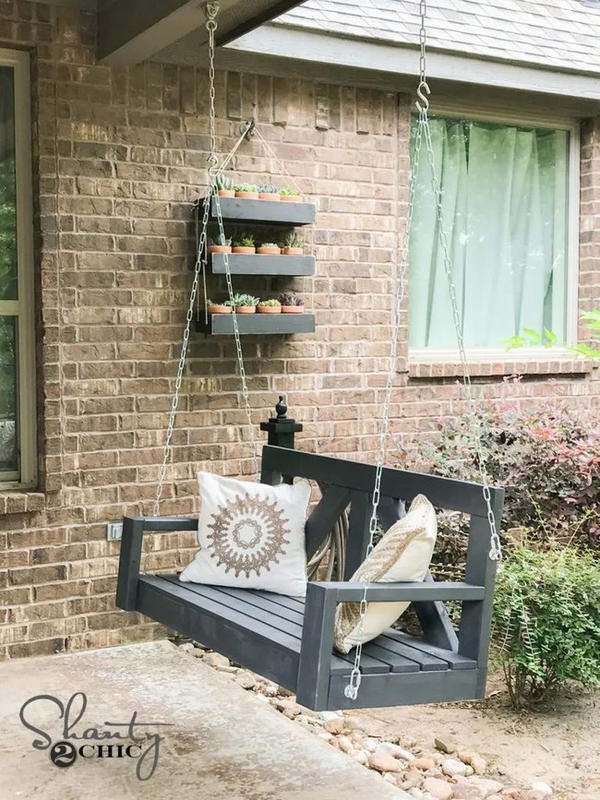 Isn't it pretty?? This one is super simple! Building a porch swing is easier than you think. It takes just a few basic tools and a little bit of elbow grease to do it yourself. Paint the frame, wipe it down with a dry cloth, and add pillows for extra comfort. This simple but stylish DIY porch swing is easy to build and even easier to love on a hot summer day. Made with basic tools and two types of wood, this swing packs a punch–perfect for a front porch, back yard, or garden. Gather the supplies, and set some time aside to build a porch swing out of wood to enjoy the breeze on your outdoor porch. An easy way to give your yard a calming country charm without breaking the bank.
Cedar Swinging Bench Free Plan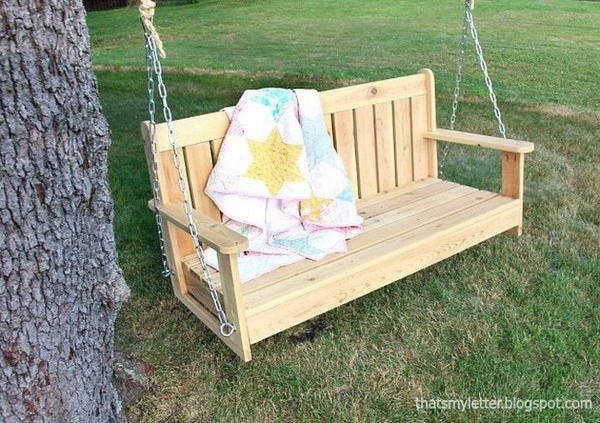 Can you remember the last time you swung? Swayed gently back and forth, good times, memories with family and friends. It's one of those simple pleasures that you somehow grow out of as you get older years and responsibilities pile up. Make sure you don't start taking those simpler pleasures for granted. Once it's gone, it's gone forever, unless you can find a way to recapture those moments in some small way. Build this cedar-themed bench for your yard with ease, using a simple yet innovative building style. This is the ultimate backyard swing. This bench is great for a porch or treehouse. Add rope or chain if you want to hang from the ropes of the tree and enjoy a relaxing swing.
See Other Projects