DIY farmhouse desk plans are a great way to create an amazing and comfortable workspace for your homes. They can be built from different materials and styles, but the most popular ones are the ones made from reclaimed wood. These pieces of furniture are perfect for your homes since they can blend with almost all decor styles, whether you prefer contemporary or vintage. The farmhouse desks can have various configurations and designs, including simple tables with a flat top and legs that are connected in the corners. Some of them even have drawers, cubbies, and open shelving for books or accessories. Tables made from reclaimed wood are very sturdy and durable, so they will last for many years.
DIY Farmhouse Desk Plans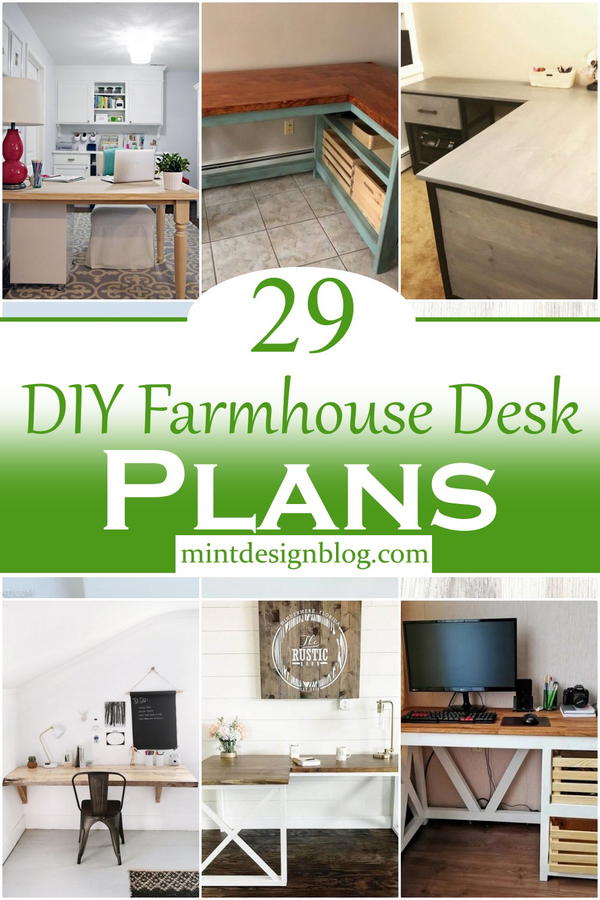 You can also customize them by adding drawers, cubbies, or other elements to improve their functionality. They are easy to build if you follow our DIY plans. The farmhouse style is a bit like your favorite pair of jeans - it's simple, versatile, and just as comfortable in any room in the house. The same holds true for your desk - it should be perfectly at home in your dining room or in the den, but not too out of place in your bedroom. The style is characterized by wood surfaces and a minimalistic design - the idea being to keep things simple and rustic. But don't let the name fool you - you don't need to live on a farm to use one of these pieces.
In fact, you can find them all over the world in homes, offices, and even businesses. Check out the following lists with the best DIY farmhouse desk projects. All you need is some basic carpentry skills and a few tools. If you're a freelancer, or online worker and need a beautifying studio desk then our list of DIY ideas will surely benefit you.
DIY Live Edge Wood Desk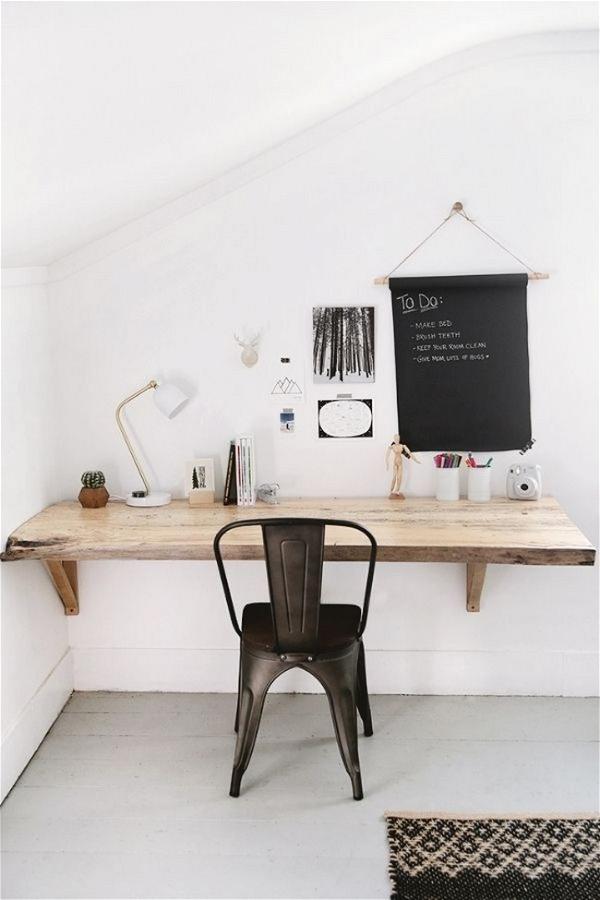 Embark on a "unique" project this weekend with our DIY Live Edge Farmhouse Desk. This desk is made from individual boards that are a little warped and not cleaned to perfection. However, don't let the imperfections fool you, we still love these wall-mounted desks. The wooden boards curve out of the wall at different levels but are supported by the sturdy brackets installed in previous steps. Save money by finding unique boards with natural imperfections and creating something new from your wall. This project will make your live edge wood desk stand out from the crowd. It adds a natural look to it and gives you the impression of DIY work while saving you time and money. Give a modern touch to your home decor by incorporating a hint of natural elements in it. Additionally, enjoy working at this functional wood desk built from scratch! You can also install a decent wooden bookshelf along with this wood desk to make it more functional and useful.
Project details: themerrythought.com
L Shaped Double X Desk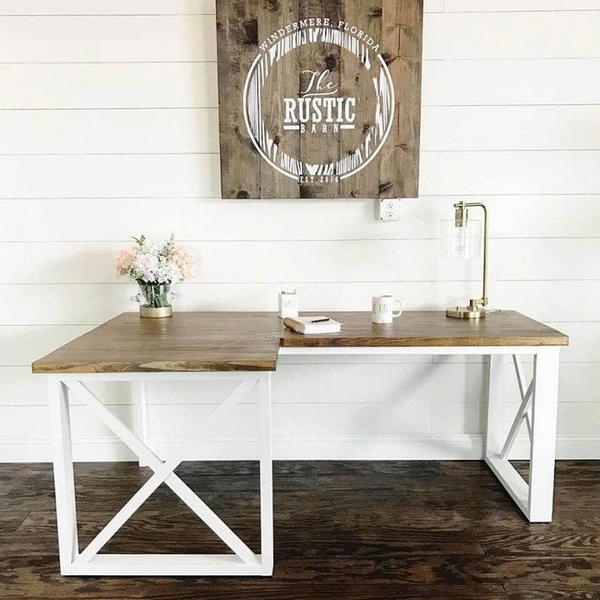 We are here to inform you that this is a home office that is made using wood. This one is such a good item for daily use and it can give you the comfort to work on whatever you like. Just do justice to the neat and excellent exterior of this computer table and it will serve you even long after you acquire it. It will serve as an important decoration in your room or workplace. It can also be an excellent desk for kids who study or have their workspaces in their rooms. Bringing the quality of a well-made antique, the L Shaped Double Desk provides the perfect setting to study, read or paint. Crafted from rubberwood with a honey oak finish and featuring three wooden legs in X-design, this L shaped desk is a charming addition to any living space.,
Project details: handmade-haven.com
Farmhouse X Office Desk By Instructables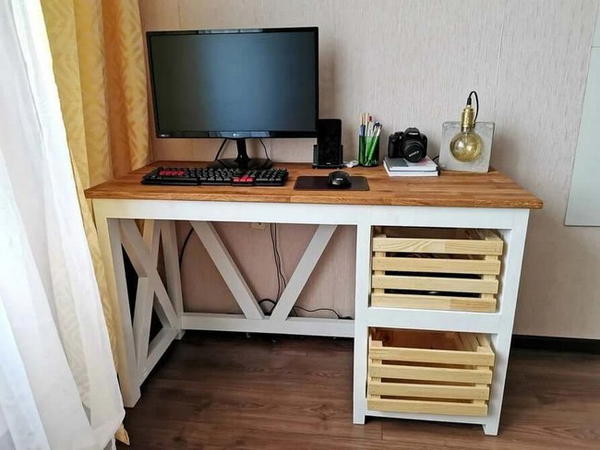 Make your desk as functional and customized as possible. This project has it all, from the height that you desire to the style that fits your taste. Also, you can save plenty of space with the drawers built in the shape of fruit boxes - a design that is both exciting and functional. It's a modern and stylish desk, which makes the interior design more personal. Its color and shape are so simple; every piece is unique.
The desk is tall enough for you to put your laptop easily, and it's spacious enough for your files to stay put. And the best part is the storage space under this desk, which is helpful for you to keep your papers and other things organized. You can add X braces to the outer legs and V braces to the back. Those braces are both for supporting and decorating purposes.  Bonus: Open the X brace holes and see how cool it looks!
Project details: instructables.com
DIY Farmhouse X Desk Free Plans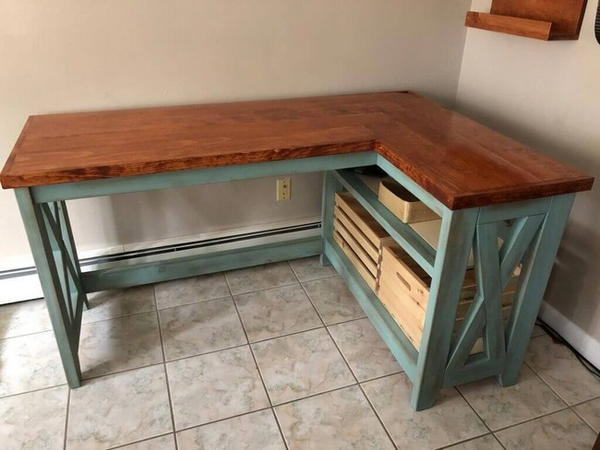 Are you tired of trying to find the right storage unit for your supplies? Instead of buying pre-manufactured storage, create this DIY Farmhouse X Desk that you can build from scratch. The tabletop is made from wooden sheets, the L-shaped desktop is built from pieces of wood, and the X legs are half as long as the tabletop. The best thing about this idea is that it could be used as a desk and a bookcase, so you can put some stuff aside. Generally speaking, building this furniture does not require any advanced carpentry techniques or expensive tools, thus is suitable for both amateurs and professionals.
If you have a tiny office but have just too much stuff to store? Then it is time to upgrade your small space with this DIY farmhouse desk design. Once you have finished the DIY farmhouse desk, you may ask some questions. For example, how to make a DIY farmhouse desk with new legs or other exclusive details to add.
Project details: heatherstudios.com
Farmhouse Computer Desk Plans By How To Specialist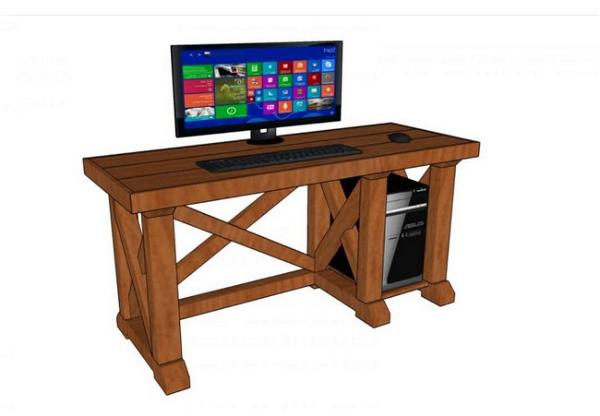 Take on a new challenge and build this farmhouse computer desk. With its 3 X frames, you will gain the satisfaction of knowing that nothing is wobbly about the finished product. It is an amazing Farmhouse Computer Desk Plan. This computer desk suits rooms in rustic style. This computer desk was designed with your PC in mind as well as office use. It has featured three sturdy X frames and another supportive X brace between the middle and the left legs. The distance within the center and the right legs is built as a shelf to carry your computer case This is a computer desk with a look of rustic.
You can easily turn it into an office workstation with a few simple tweaks and personalized touches. This desk is ideal for those who have a space limit, whether it be the corner of a room or an apartment. It can be arranged to be both a functional computer desk and a purpose office with a look rustic.
Project details: howtospecialist.com
DIY Gorgeous Industrial Farmhouse Desk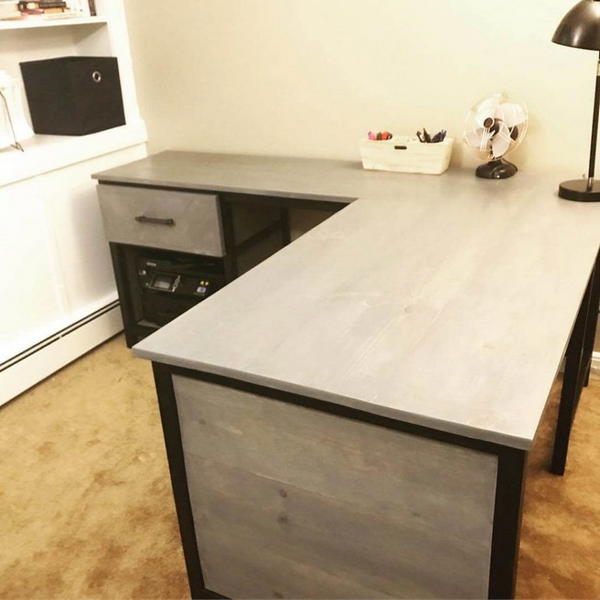 DIY Gorgeous Industrial Farmhouse Desk Overview it is a corner desk with a panel on the right side and two storage drawers on the far left. There is also L-shaped support in the middle to keep your chairside free from any legs. A beautiful desk for an office doesn't have to be expensive and this DIY project shows you how to build one on your own using wood, metal, and some craft supplies. This desk is the best corner desk for your home or office. There are two storage drawers, a panel on the right side, and L-shaped support in the middle. The two drawers help you to place some office supplies and books.
This project needs time to build but it seems that you can get an excellent finished computer table made from reclaimed wood as the shop photo shows us. With just a few tools and supplies, you'll have a functional and stylish desk. This industrial desk will give your home office a clean-lined transitional look that blends well with a variety of existing décor. The open design creates a sense of space while adding functionality to the room.
Project details: rockycanyonrustic.com
DIY Farmhouse Table/Desk Tutorial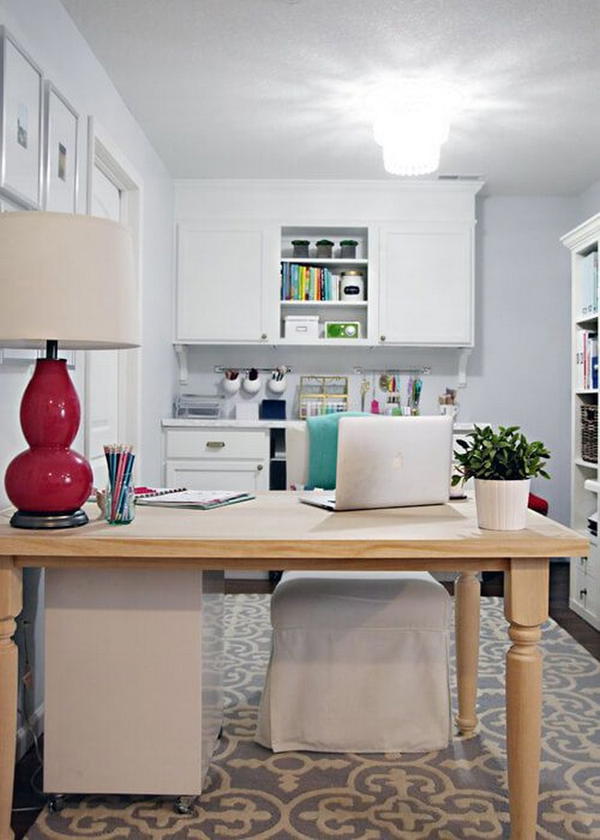 Have you ever wanted to have a farmhouse table? You need to learn how to build one by yourself instead of paying money for buying it at the furniture stores. This farmhouse desk is a DIY project to make for yourself or as a gift for your parents or friends. The desk is made of several parts and components, such as supporting wooden boards, stair spindles as legs, and the removable desktop. Even with little woodworking skills, you can easily build one using Kreg jigs. To make it, you can pick up the components from home supplies stores and assemble them without much woodworking experience. Thus, no worries if you are a beginner. The desktop of the whole desk is removable and can be used in multiple spaces.
Project details: iheartorganizing.com
Small Farmhouse Desk By Life On Summerlin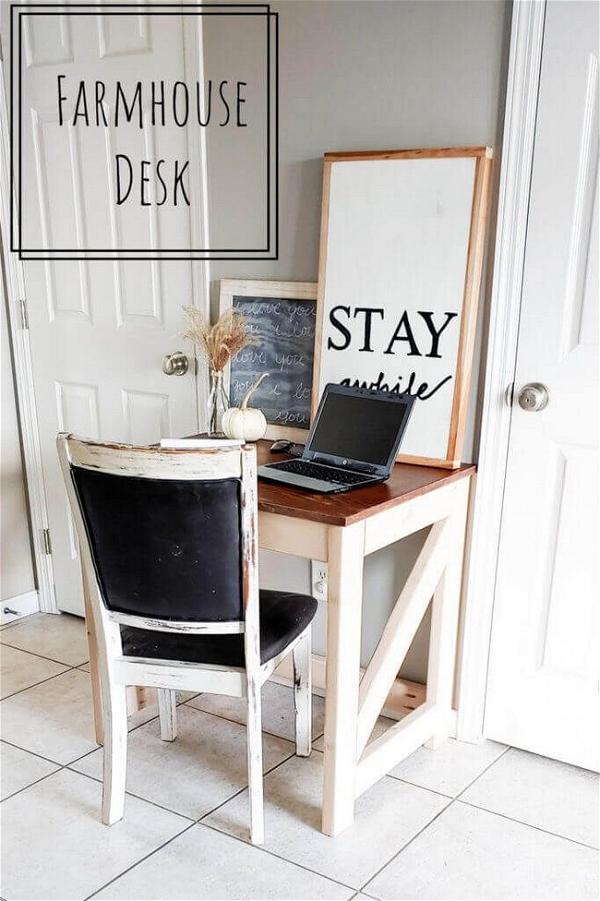 If you have a small room or you only want a place where you can sit down with the laptop and work, you will find this plan ideal to build. The small farmhouse desk is designed for those with limited space. It's great for a powder room or as a place to set your laptop when you have guests over. This small farmhouse desk serves more as a table where you can sit down and work. It is ideal for an office room that is too small as well.
The distance between the two legs is not enough to spare storage space. the desk has a simple and rustic appearance. It looks very cute and matches any home decoration with its wood texture. It is small enough to fit in a cozy corner of the house. This project is simple with no storage, so keep the door shut when you work on your laptop's computer.
Project details: lifeonsummerlin.com
Farmhouse Desk By Chisel And Fork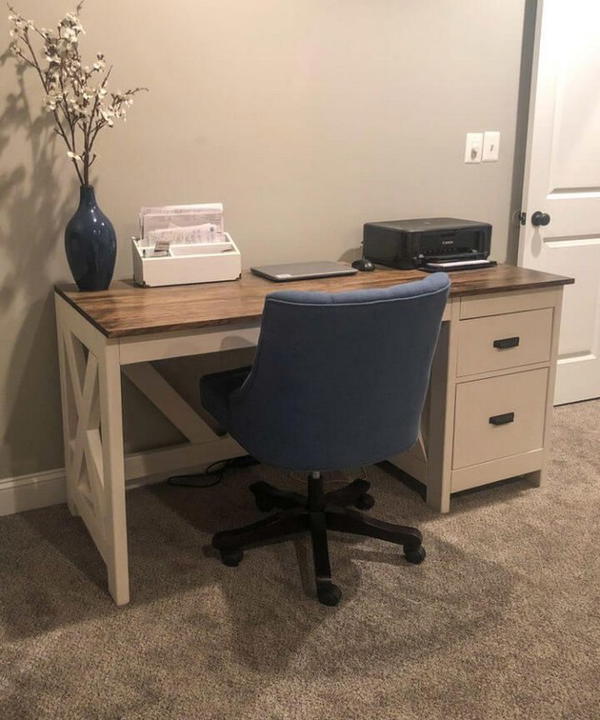 Our Farmhouse desk is a perfect solution to keep all office supplies in order, neatly and tidily. As you can see from the images below, it has two drawers at the top and bottom. The top drawer is in a smaller size for personal things like keys, pens, pencils, etc.; and the lower drawer is for letter-size files. Each of them has a handle for easy pulling out. The rest of the process is like a typical farmhouse desk with two exciting parts: two X pieces on two sides of the deck and V braces to its back. A rustic farmhouse desktop is something anyone can make from already-available materials. In short, the farmhouse look never goes out of date so this desk is ideal for your bedroom, as a file drawer to store all important documents.
Project details: chiselandfork.com
Farmhouse Modern Desk With Open Front Storage Cubby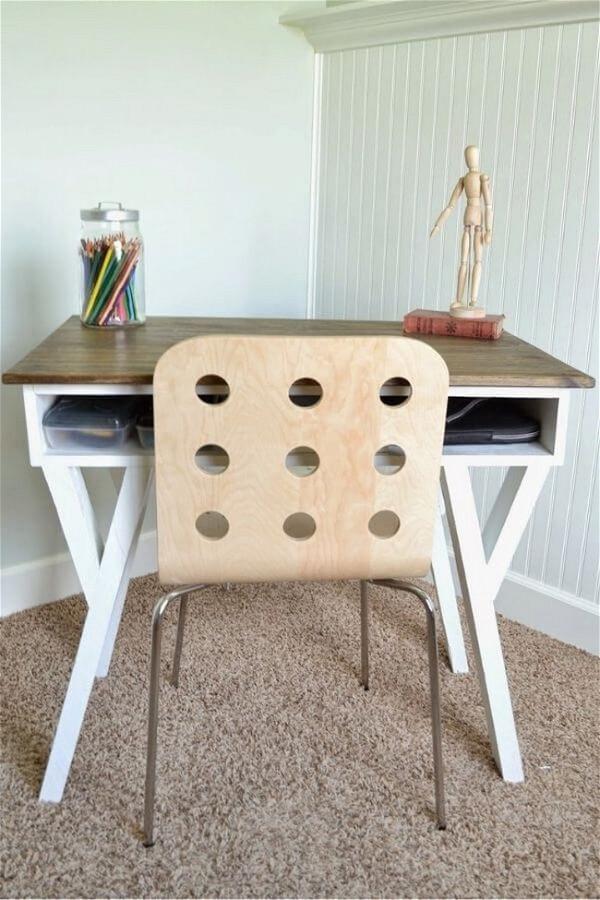 Forget bogging down your teenage son's bedroom with one of those huge oversized desks. This is a simple farmhouse desk for the kids or for your little office space at home. Give him a functional yet stylish desk with our Farmhouse Modern Desk With Open Front Storage Cubby!, but it also doubles up as a workstation for your son's art supplies and accessories. This desk has no drawers so it takes up minimal space and can be used as a student desk where you can keep your pens, pencils, pen holders, and notebooks in the open-front cubby at the front to make it convenient to grab them when you need them!
If you were looking for a desk that doesn't take up much space, this is the perfect desk. It can save significant space in your room and would work as a student desk to keep your children focused on their studies.
Project details: makeit-loveit.com
DIY Farmhouse Computer Desk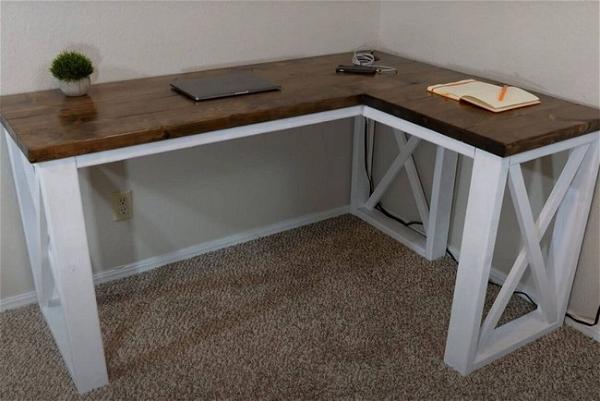 If you have a small room but still need to work on a large surface, this farmhouse desk will make the best of your working space. The sturdiness of its support frame makes it able to carry many books and even a computer on top. A computer desk is important in daily life. We all like to listen to music when we work, and we might want a large keyboard tray. However, we still want to make use of the available space and keep the desk lean. This is where a DIY farmhouse computer desk will come in handy. Thanks to the sturdy support frame, it can provide you with enough strength to hold a computer and many other books. On the top surface, there are holes for cable management so that you could enjoy using your desktop freely.
Project details: diyjoy.com
Industrial Farmhouse Desk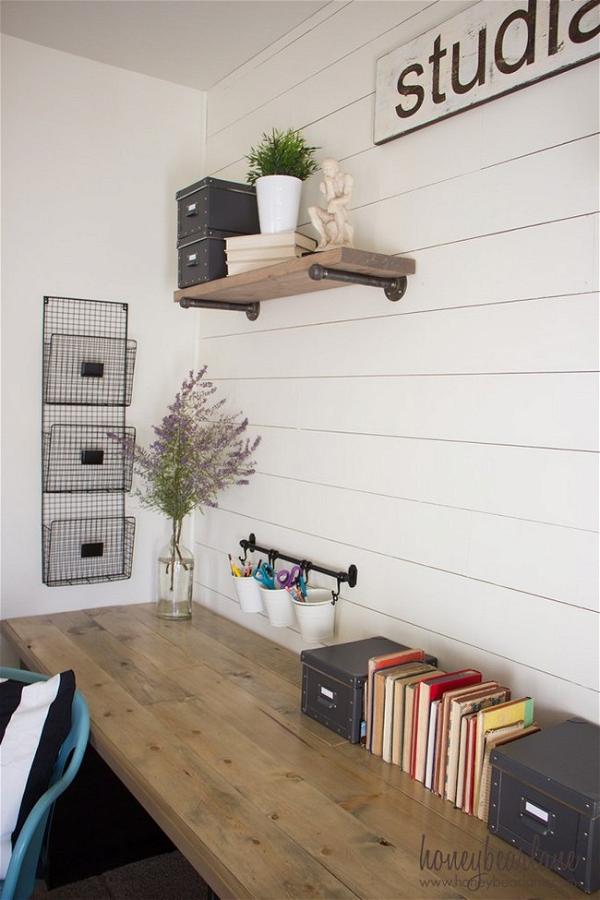 You do not need to buy large pieces of wood. Instead, cut multiple planks in different lengths and attach them using the Kreg Jig. The DIY Industrial Farmhouse Desk is no ordinary piece of furniture. It uses your wall for support and thick legs to bring the top up to an ideal height for working at a desk. The work surface is large, making it easy to throw a laptop down or spread out a bunch of papers. The industrial-style desk can help you relax after work. It's simple enough for beginners, but adding cabinets and drawers makes it a bit complicated. The desk with the perfect combination of size and storage. By cutting multiple planks in different lengths, you can join them together to get the desired length while saving time.
Project details: honeybearlane.com
DIY Modern Farmhouse Desk With Storage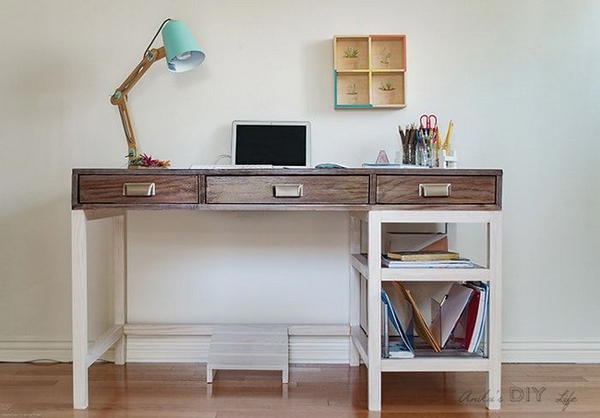 If you have a small room and want to keep your things in an organized manner, then this DIY project is for you To make a functional farmhouse desk with storage is not technically a very tough job. If you have basic carpentry skills, then no need to worry about assembly because instructions are provided along the way. By building your own DIY modern farmhouse desk you can save money on pine furniture and have a fun time.
The project is ideal for saving space in a small room. Optional features include two shelves and three drawers and adjustable legs that allow you to switch the side of the shelves or create them on both sides by attaching the racks to the top. It looks very impressive due to its modern design and style.
Project details: anikasdiylife.com
Rustic Desk With I-Beams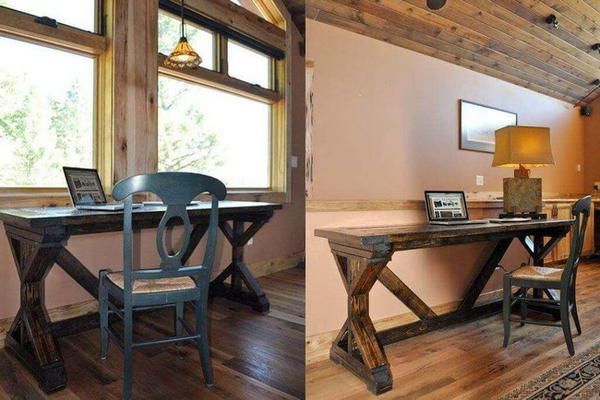 This rustic desk provides ample workspace for your study or hobbies. Featuring a sturdy construction and stylish design, this desk combines the functional with the attractive. The design boasts two supporting I-shaped beams and crossbars to increase sturdiness. Made of solid oak, this farmhouse desk surely catches your eye with its sturdy construction. Perfect for a home office, the open shelves and large work surfaces keep your necessities within reach.
You can place your heavy stuff here like a PC. If you want to add another timber, you can connect them by crossing bars at the center. Also, adding a side shelf enhances the space-saving purpose of this desk. So, is it rustic or sturdy? Both of them!
Project details: diypete.com
DIY 6 Board Farmhouse Desk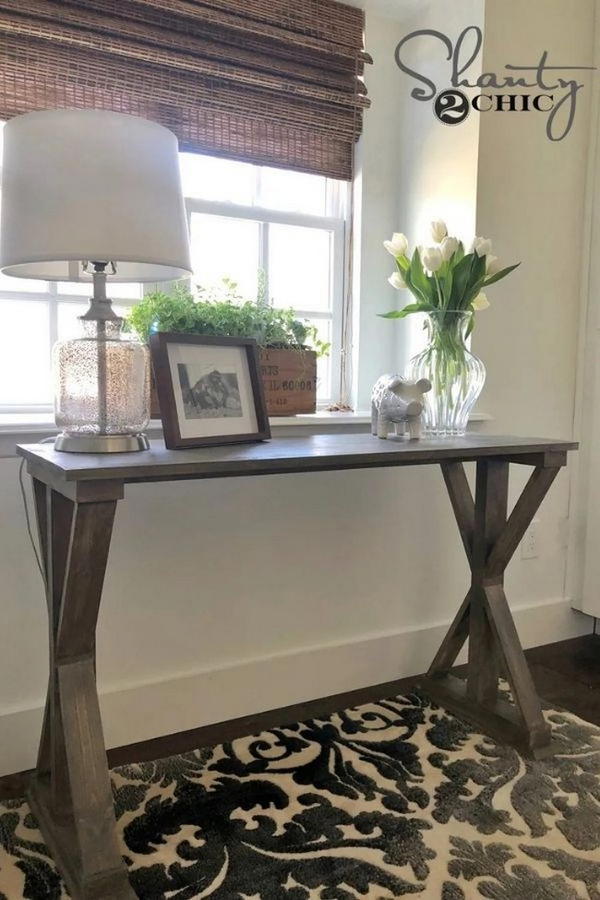 An ideal decoration for your living room, the small farmhouse desk can help you arrange the necessary stuff in a concise manner, while still helping you add a personal touch to the whole space. Moreover, after being made, it will also act as a functional piece of furniture in your house. this DIY farmhouse desk is clean and simple! What's more important is the surface board. With a narrow shape, it can be pushed up in a corner and provide an inexpensive workstation for crafting or study purposes. By featuring the beauty, simplicity, and modern rustic aura, it goes perfectly in your living room. It serves as an admirable place to keep all the small things like a vase flower, a small lamp, family picture frames, etc
Project details: shanty-2-chic.com
A Rustic, "Factory Salvage" Desk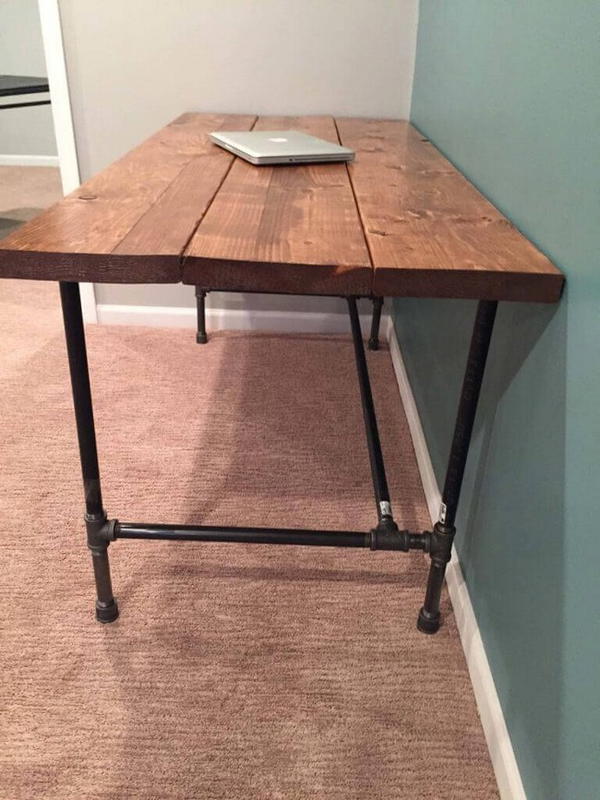 Do you want to save time and money on building this deck from scratch? Save the costs of buying woods, sanding it down, and assembling it. The whole thing would be cheaper, faster, and more efficient for you to buy a package of legs. The standard pipe legs are readily available in stores. This particular leg is made up of a set of three by four pipes combined to form a stylish yet sturdy desk that can pass as a modern/rustic piece. It can be hard to find a simple desk without having to build everything from scratch.
This rustic design is built out of premade metal pipes and a cross brace for legs. The claim of being "factory salvage" may be a joke, but it still looks nice. Perfect for any setting. This rustic desk isn't going to win any awards for style but it is a handy way of using existing scrap metal and pallets in an attractive functional way.
Project details: homestratosphere.com
 DIY Barstool Desk By Liz Marie Blog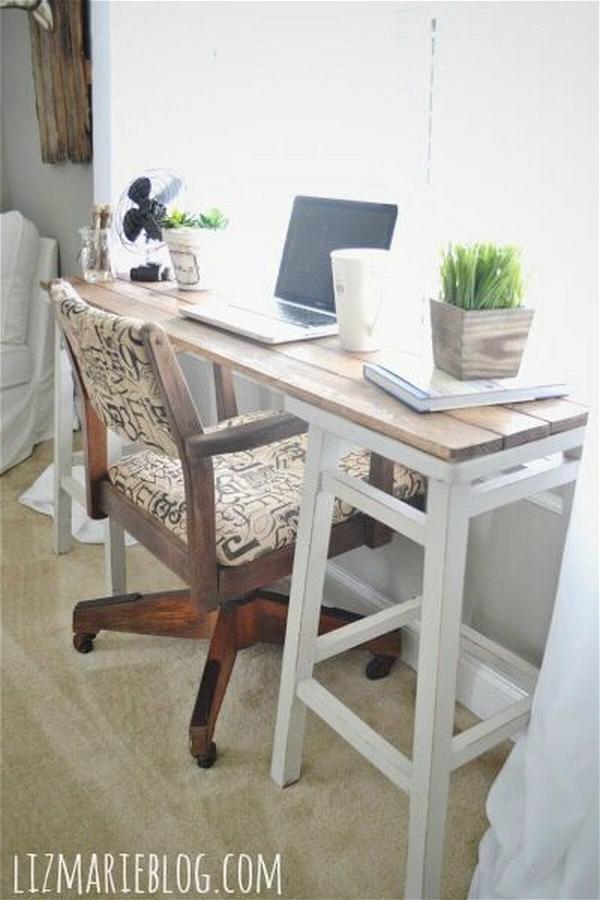 Your kids can use the room in another way – as a classroom. What if you incorporate your barstool desk by the window with a whiteboard upfront or a projector screen? You'll have a convenient and multi-functional room. Most of us have barstools at home. They serve as a resting place for that glass of wine after a long day at work. As an added use, you can also consider turning them into a desk for your bedroom, or living room. This can be easily done with a minimum amount of time and effort. Create a slim desk to fit by the window in your bedroom using two barstool chairs and a sturdy desktop. This DIY project is an appealing alternative to store-bought desks and contains features like a wider leg profile to balance the tabletop, plus a file holder for letter-size files.
Project details: lizmarieblog.com
DIY L-Shaped Farmhouse Desk As An Office Makeover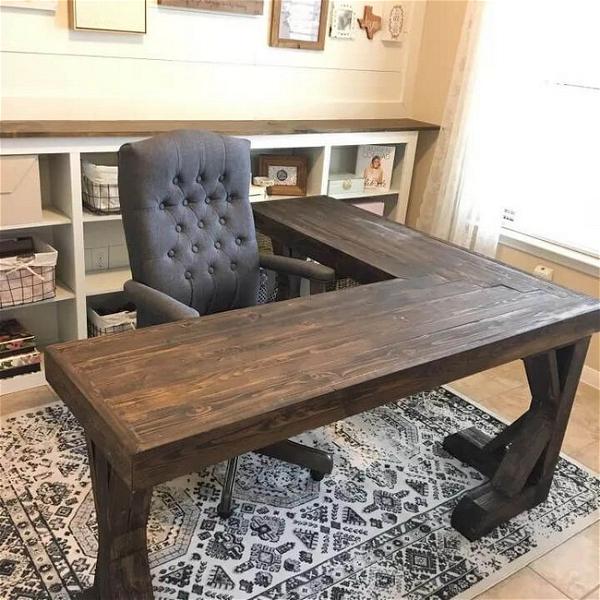 Do it yourself (DIY) projects are a great way to add personality and style to your home. This L-shaped desk is a DIY project that is perfect for a large space, or for the back of a smaller space, like an office or bedroom. It doesn't take expensive materials or skills to create, just time, energy, and passion. The younger nephews and nieces will especially find this DIY desk, which is the easiest to build from scratch, over a full-sized one because there are fewer things to carry around. It was tested and approved by all adults for sturdiness and stability. This rustic L-shaped desk is hand-crafted using solid pine and finished with a dark wood stain that gives it a charming, weathered appearance.
This L-Shaped farmhouse desk is perfect for a modern home office with its dark brown color and thick, sturdy materials. This desk provides great additional storage ideas on each side of the deck with plenty of room to store your favorite things. The desk is sturdy, large enough for any office supplies as well as workspaces, and a great way to add rustic charm to any room in your home.
Project details: hometalk.com
 Farmhouse Desk By Anna White
It's time we take a trip to some rural farmhouses. Thanks to that, we can get inspired by their simple, elegant, and practical designs, which really reflect their owners' personalities as well as provide with an eco-friendly lifestyle. That's why we start to pay attention to them. A manual farmhouse desk is one of the elements you can easily find there. But if you don't have what it takes to build a real farmhouse desk, here is a good idea for your home office!
Many of us, who have too many computers and office paraphernalia in the house, want to put extra tables beside our desk as well as with a proper height to keep the computers on. Here is a DIY farmhouse desk that might end your problem successfully. If you have a strong back, you can give this rustic farmhouse desk idea a try. Create an interesting piece of furniture that serves as a home office, storage space, and footrest in one.
Project details: ana-white.com
DIY Rustic Desk With Pipe Legs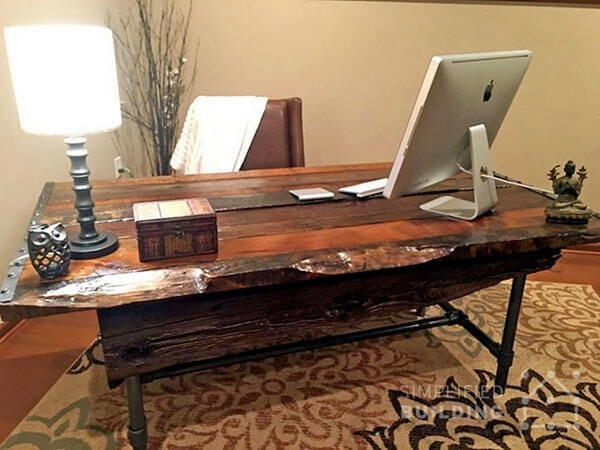 The DIY Rustic Desk With Pipe Legs is a great and inexpensive project for DIY enthusiasts. Instead of spending a lot, you can create yourself a unique desk to fit any room in your house you will need a big WOODEN BOARD for this project. Using the reclaimed boards is ideal since it would help you maintain the natural rustic look of DIY furniture. You can recycle them and use them to make the deck. Afterward, cut all the planks to equal size, and keep one piece with uneven edges. Place a pair of angled iron pieces on top of aboard. Then, fix them with screws. The only tricky part is assembling all parts together with good techniques.
Mounted on wheels, this desk can be moved conveniently. Moreover, it is very sturdy and solid to offer much flexibility. The desk will not be wobbly even if you pile a lot of books or office supplies on it. The best part of this project is that it is truly budget-friendly. Even though natural woods and metal costs money, they can be sourced from home improvement stores and neighbors. Just grab the materials and make your desk as you like.
Project details: simplifiedbuilding.com
Farmhouse X Office Desk

Looking for a small and neat desk with enough storage space to place your supplies? This Farmhouse X Office Desk is the one you are looking for! This desk has three legs, but only two outer ones have the X braces. The middle leg will only feature two lumbers so that you have two open shelves. You can put supplies in and out easily. A working desk without legs would be less stable. But if you are searching for a simple design, this small-sized desk is a good choice. The Farmhouse X Office Desk features a classic farmhouse design with clean lines and a simple, mid-century style.
The Farmhouse X Office Desk is another great addition to its line. It incorporates the X sitting and standing desk design which has been quite successful. The reason that many prefer this model is that you can use it as a cute storage space and as a workspace to get your tasks done. There are plenty of options for storage such as shelving, drawers, and cabinets that can store important things in an organized manner so you do not have to worry about misplacing anything.
Project details: handmade-haven.com
DIY Farmhouse Writing Table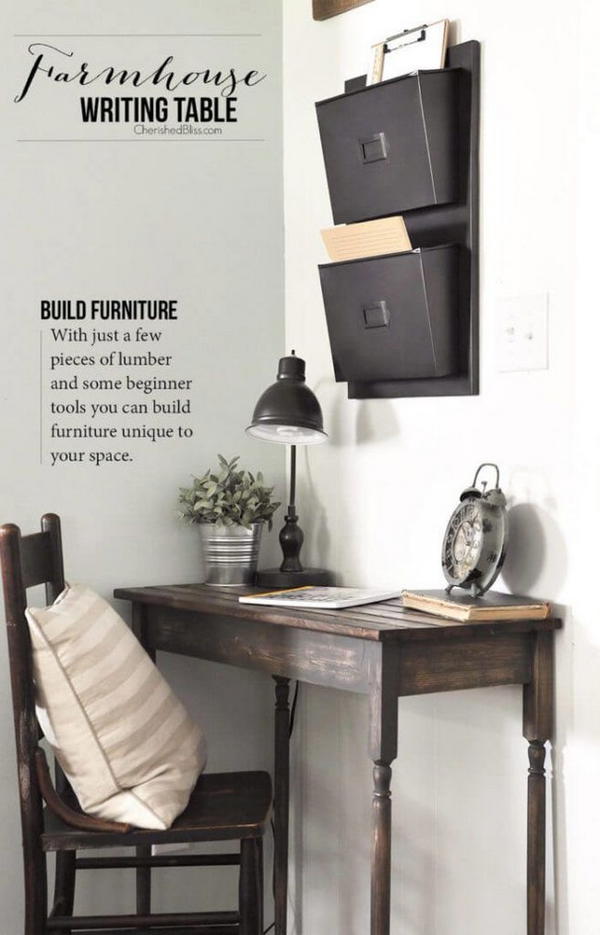 This is a farmhouse DIY writing table for your homestead. It requires advanced woodcutting experience and tools to create the four equal spindles. This Farmhouse Writing Table is made using old-fashioned tools and materials. The legs come from the local carpentry shop, but you can also cut them using a woodcutting skill. You also need a Kreg jig to build simple joints that will create the tabletop and the shelf underneath it. The desk is built from spindle legs and an old stained board. This DIY project requires advanced woodcutting skills and tools so you could cut the four equal spindles. Adding finishing touches would make a great farmhouse writing table for your home. This DIY farmhouse writing table is a great addition to your house! It reminds you of the good old days and helps you enjoy a creative moment while writing.
Project details: cherishedbliss.com
DIY Farmhouse Desk With Drawers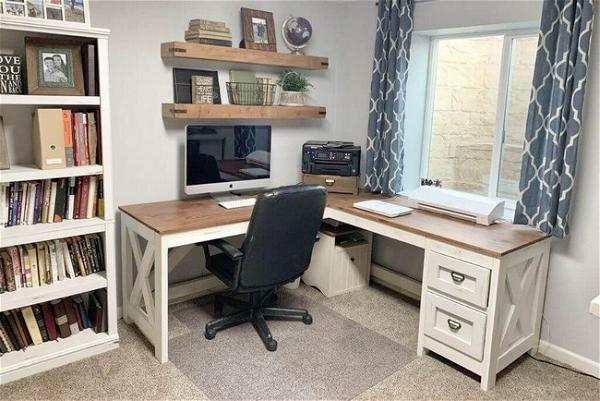 This DIY project is a massive one, but the sense of accomplishment after completion will leave you feeling all warm inside. Let's explore this fabulous office farmhouse desk and build your own today! You will create three different parts with the same design and connect them into a single desk, making two of them for corners of the desk to hold it together. Then, you will create two drawers separately as a box and will be installed on the desk in the end. The desk is a major furnishing for any home office dedicated to working. However, it can be overwhelming for homeowners looking for the best option similar to their furniture store counterparts
This DIY farmhouse desk is the best for those requiring ample surface space without crowding the room. You will build three separate pieces and craft them together. In particular, you will create two parts having the same design: outer leg, in-between supporting boards with V braces, sideboard, and the tabletop. Then, they are connected into an L shape. The drawers are built separately as a rectangle box and will be installed into the desk.
Project details: ashleydianndesigns.com
17. DIY Modern Farmhouse Desk By Shanty 2 Chic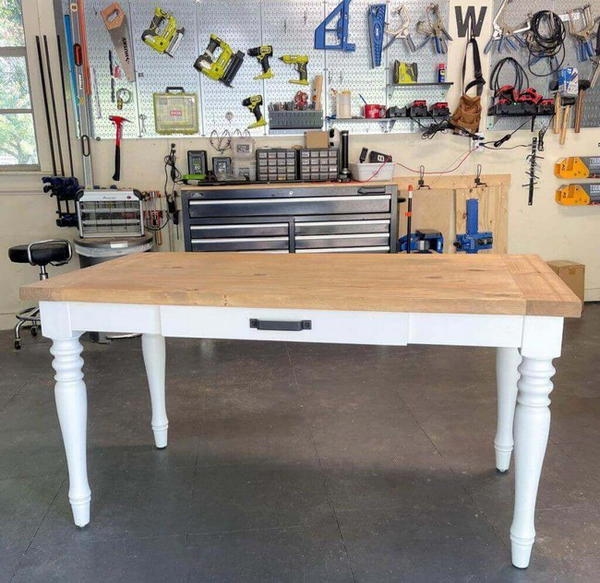 The most modern farmhouse desk you will ever see, portable yet solid.DIY Farmhouse Desk is the perfect addition to your modern farmhouse decor. You can easily paint the legs a darker color if desired or repaint them to match whatever new decor you are working on in the future. As you can use the tabletop as a dining table, it is a perfect choice for your modern kitchen and you can install it yourself using four wooden legs.
The legs are more eye-catching than the typical square and rectangular shapes farmers usually have; instead, they are shaped like stair spindles and DIYed to fit perfectly with the rest of the wood. Don't forget to drill some holes where you need them because they have a thickness. Occasionally an end table is just not enough. If you need extra surface space for a cup of coffee or file folders then this "mini" farmhouse desk could be the solution.
Project details: shanty-2-chic.com
Farmhouse Desk By The Creative Mom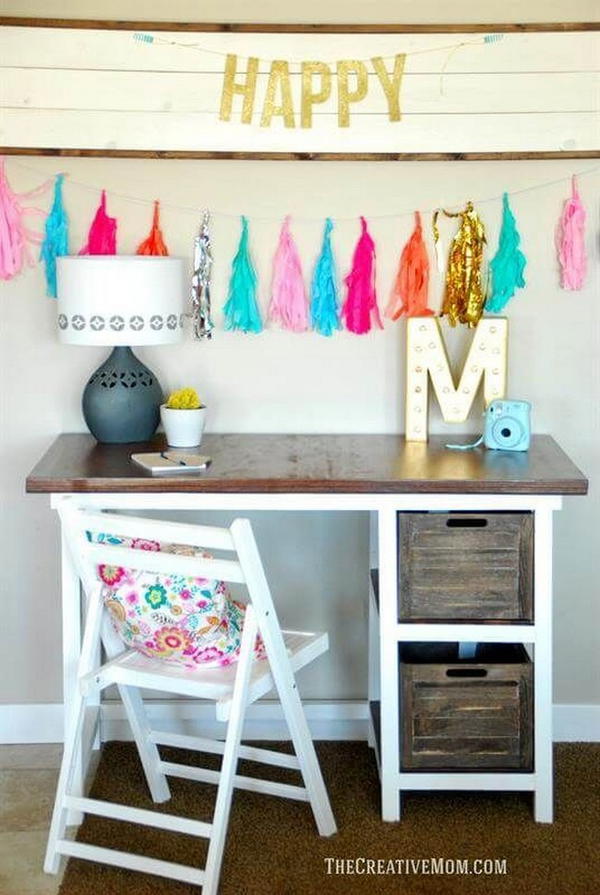 Do you want a small getaway in your modest bedroom? Is that wish including a small workspace and storage drawers? The desk will be a really well-needed addition to your room. Building a DIY Modern farmhouse desk with storage and shelves for your bedroom may be a good solution for those who want to keep their bedroom organized and make room for other necessary items, such as TV, computer, or even treadmill. Store office supplies and accessories, such as desk calendars, pens, pencils, business cards, files, and documents in a compact manner and with ease using this farmhouse office desk plan. this Farmhouse Desk Plan is designed to fit in a smaller bedroom, freeing up space for more.  This is a great project for beginner woodworkers, or as a way to de-clutter a room.
Project details: learn.kregtool.com
DIY Custom Industrial Wooden Desk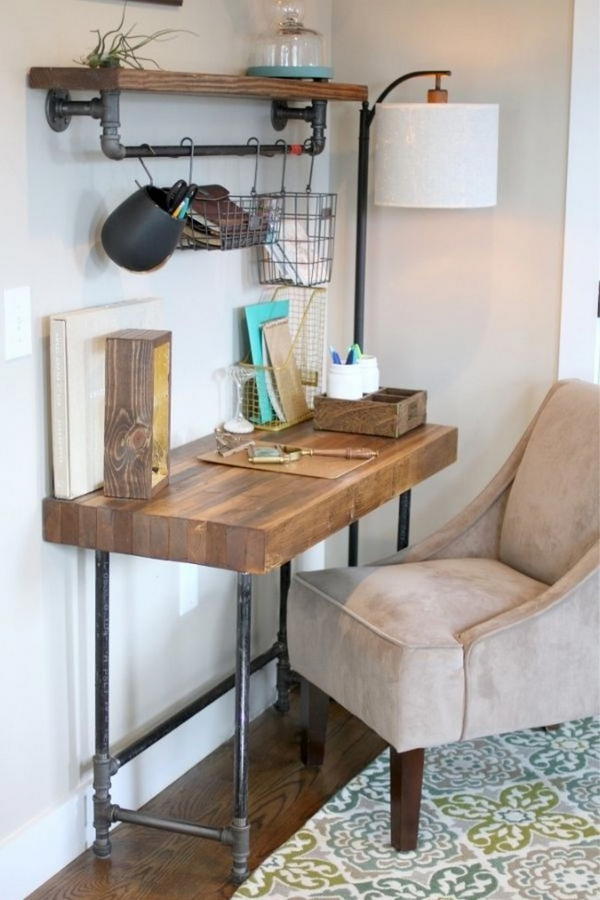 This DIY project is all about creating a custom industrial wooden desk that looks convenient, compact, and reliable. The legs are made from pipes from IKEA. Utilizing these innovative DIY parts will save you time in terms of the cutting and gluing process for the lumber. This project has everything you need to complete it in under one day and at an affordable price point--it even uses materials such as wooden dowels for the legs to save on cost and time.
custom Industrial Wooden Desk is the modern interpretation of a traditional piece. Functionality, simplicity, and aesthetics all contribute to this design. It consists of pipes and wooden planks that can unite any interiors and help to create an individual style of your space.
Project details: craftthyme.com
DIY Farmhouse L-Shaped Desk By Joleen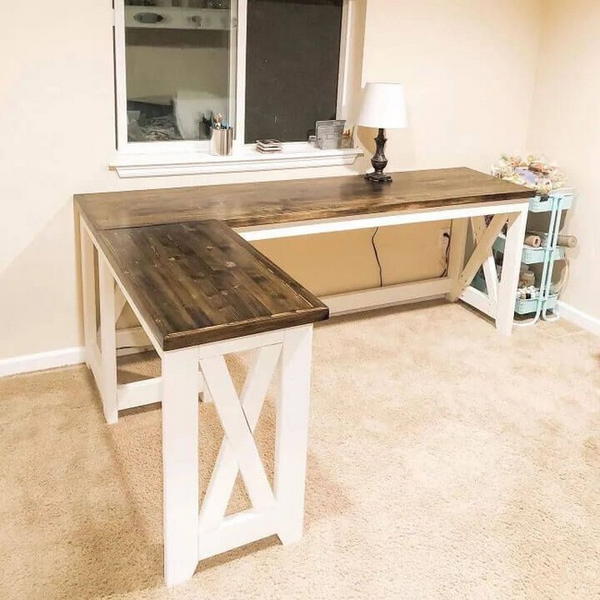 This DIY farmhouse L-shaped desk is an all-in-one solution for living room furniture. With almost zero cost, you can build a nice farmhouse L-Shaped desk at home. The main work is to screw the wooden legs and the top panel together. You will build the L shape with the main part being more than twice as long as the extension part. That way, you can use the longer side as a place where you can place your work desk and the other side for your little one to study and do some crafts with her friends. Just paint it to match your wall coverings, and you are all done! With simple woodworking and woodcraft plans, you can build this sturdy desk that looks just like the one pictured here. Apply finishing for an excellent appearance.
Project details: hometalk.com
1×3 Sawhorse Desk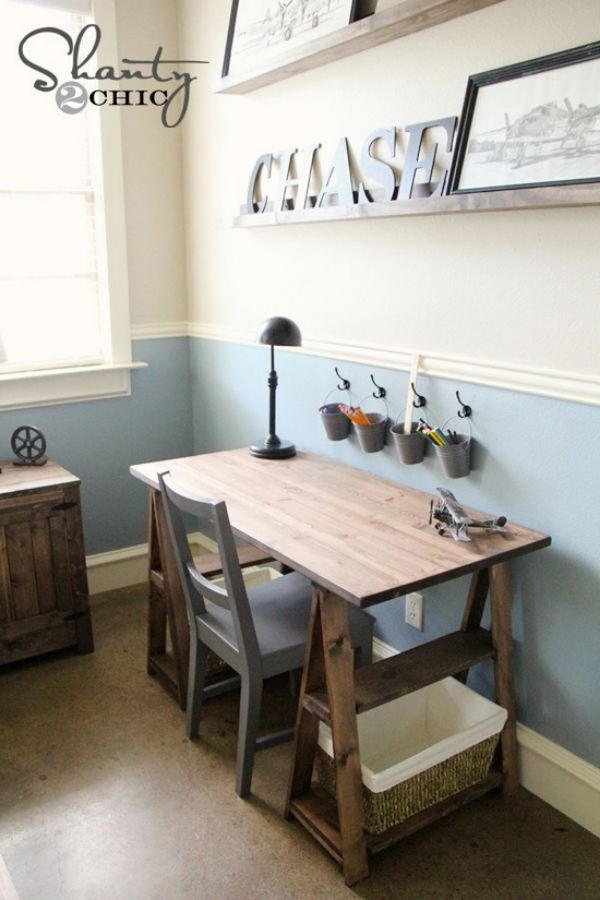 To create a wide desk with storage capacity, place four sawhorse legs on the floor. It is great to have a new set of DIY farmhouse sawhorse desks at home as it brings both useful and eye-catching furniture by using basic materials. It was certainly a valuable lesson that can help you create different projects. Cut the tops at different angles for each pair of legs. Adjust the length of the angled tops and nail them to the straight-leg bottoms. Then make sure you attach two more legs near the top of the desk to add stability. Finally, cut two boards slightly wider than what will fit between the two lower legs' angles. Place one board on either side and keep it in place with 2 wall brackets along with some nails or screws.
It is great to have a new set of DIY farmhouse sawhorse desks at home as it brings both useful and eye-catching furniture by using basic materials. It was certainly a valuable lesson that can help you create different projects.
Project details: ana-white.com
DIY Farmhouse Desk And Shelves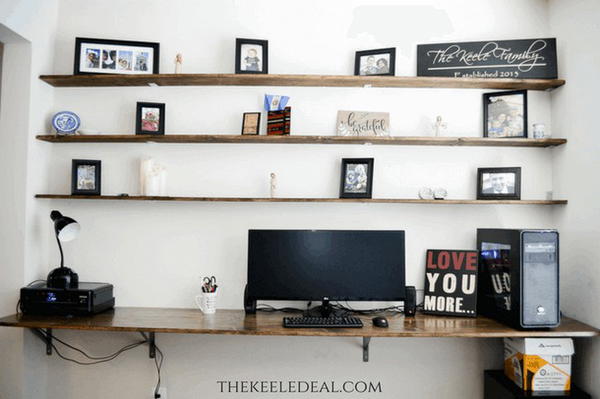 In addition to saving space, you can also save more money in building your own farmhouse desk and shelves. If you do not have any tools for projects, you can buy everything at the local home improvement stores. Although the cutting will be a little bit of a hassle, it's relatively easy. A standard miter box can help you cut the wood down precisely. If a hand saw is not within reach, consider using a circular saw; it is the easiest tool to cut out several pieces at once.
Creating your own customized furniture will inspire you to do more projects with less effort. If you want a rustic look for your room, but don't want to mess up the walls with holes, installing shelves is the easier way to go. It's cheaper, and in the end, it looks just as good. These DIY Farmhouse Shelves are perfect to hang above your desk and give you plenty of storage space. The farmhouse style looks great with bedroom furniture and various other decors.
Project details: thekeeledeal.com
See Other Projects