These 24 Free DIY Bookshelf Plans in this article will put you on track to build a bookshelf that is perfect for your needs. The great thing about building a bookshelf is that it makes an excellent project for any skill level. There are many different bookshelves out there and we were sure to include every style possible.
DIY Bookshelf Ideas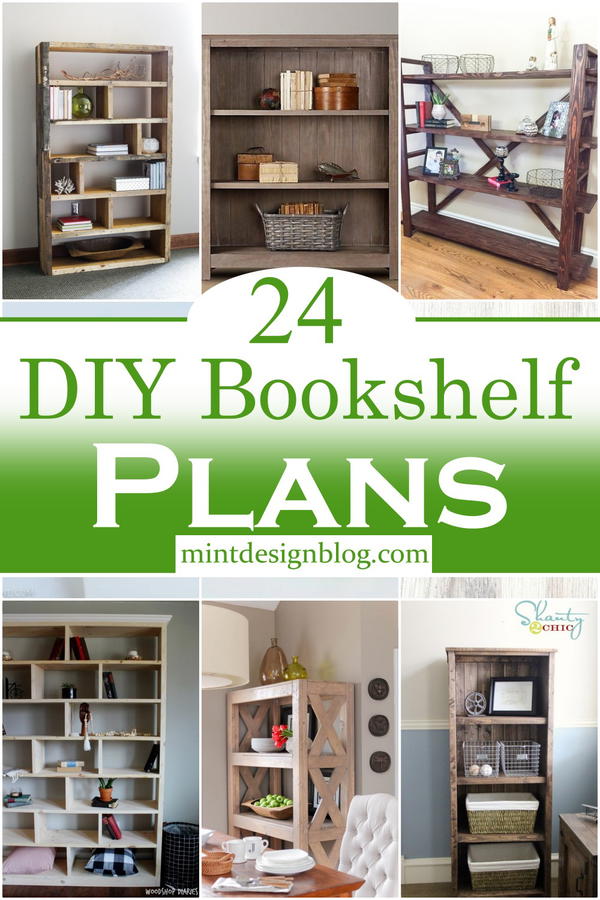 There are many different types of shelves you can build, but building a basic bookshelf is a great place to start if you are new to carpentry. You may be moving and need something to hold your books. You may have a specific design in mind that isn't available in stores. Or maybe you just want the satisfaction of building something yourself. Whatever the reason, there is nothing better than seeing a project through from beginning to end and knowing that it was done by your own hands. So whether you want to build a new bookshelf or turn an old one into something new, we've got a plan to help you get started.
We came across these 24 Free DIY Bookshelf Plans for repurposing old bookshelves into new pieces of furniture.
How To Make Bookshelves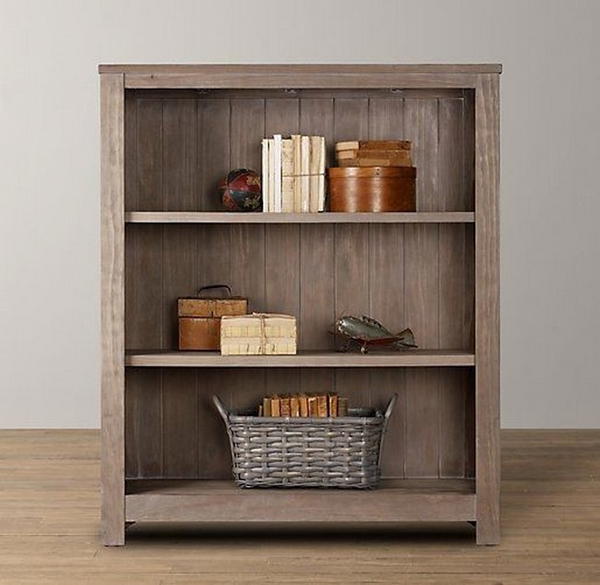 Not only is this bookshelf functional and affordable, but it's also the perfect way to add a modern flair to your home library. This bookshelf is about seven feet tall and would be a fantastic addition to a home library. This bookshelf provides ample, accessible storage for all of your books, DVDs, and albums. For a space-saving way to store a large number of items with style. This bookshelf is also the perfect space-saving way to store your odds and ends. It's narrow enough to fit in a tight corner and tall enough to fit several boxes of books. It's also very sturdy.
Cubby Bookshelf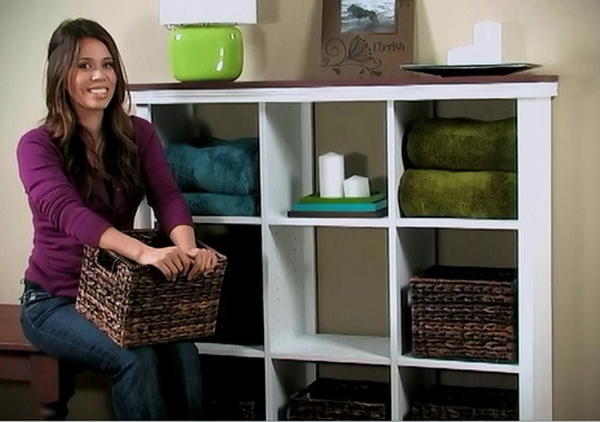 Cubby bookshelf design is an example of what you can do when you have a large wall available and multiple small children! There are no right or wrong ways to build this project. You can add or remove cubby holes to fit your family's storage needs or the size of your bins. This bookshelf will end up on the wall in your living room or family room and can hold a good amount of books! You won't have to worry about trying to find where you shelved a specific book, plus you'll have all 3 shelves dedicated to one room. This storage area will look great painted white with bright colored bins
DIY Toscana Bookshelf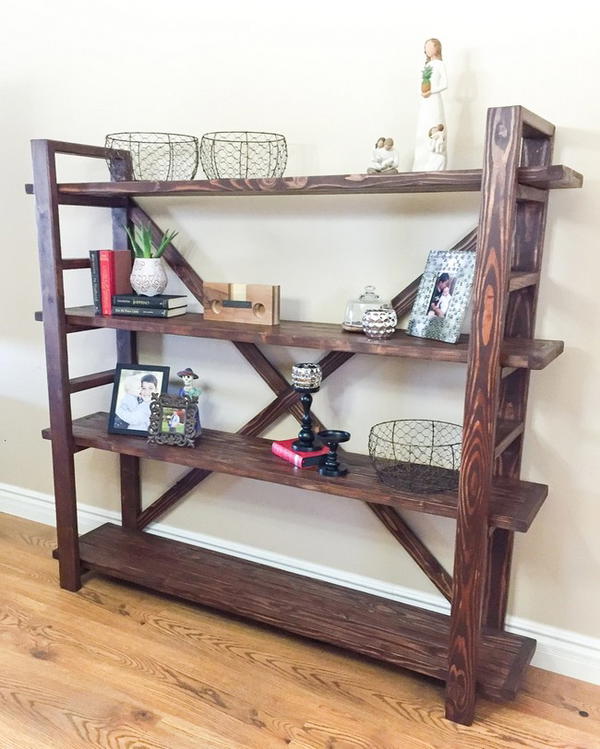 The DIY Toscana bookshelf is a knock-off of a very expensive bookshelf. This DIY project does not require any sort of advanced power tool skills. Anyone with a few power tools and a little bit of time can build this unit. This project will add an awesome focal point to your room as well as some extra storage space. Do It Yourself (DIY) bookcases allow you to have customized shelves in a variety of sizes and styles that you can build yourself for less than half of what you would pay for it prebuilt. Whether you're into classics or contemporary fiction, or if you're looking for something particular to fit in with a theme or room decor, DIY bookshelves allow the freedom to pick the size, the style, and the design of your shelf.
Crates & Pallet Bookshelf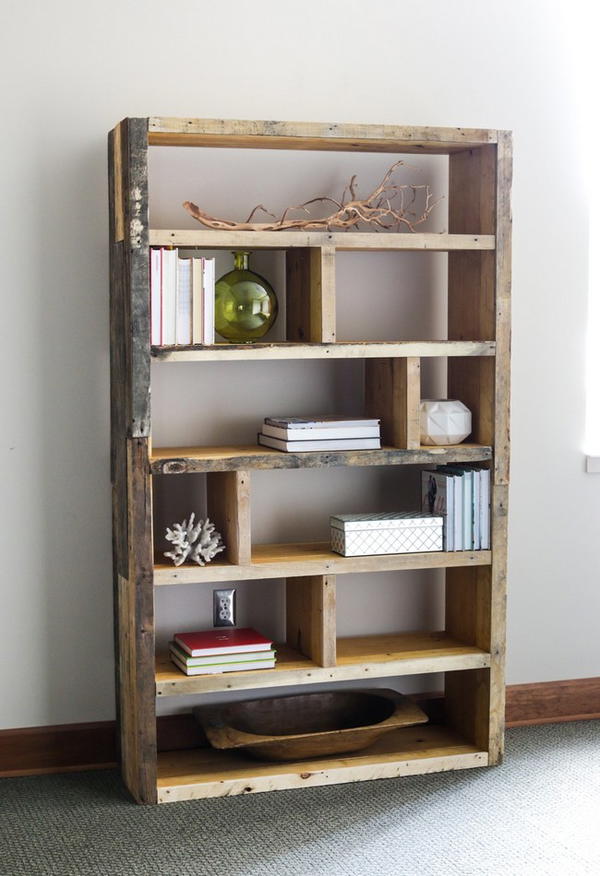 This crate and pallet bookshelf is a project that a beginner can easily tackle, but will give the appearance of a very elaborate bookshelf. The two crates make up the outside structure, while the pallets form the interior structure and shelves. This free bookshelf plan doesn't require much more than basic carpentry tools, and most of the materials can be found around your home or found at the local hardware store. This Crates & Pallet Bookshelf is a beautiful and creative way to store books and other knick-knacks. Once you've gathered everything needed to build your own, you can have this bookshelf up in under an hour. It's sturdy, stylish, and best of all.
Kentwood Bookshelf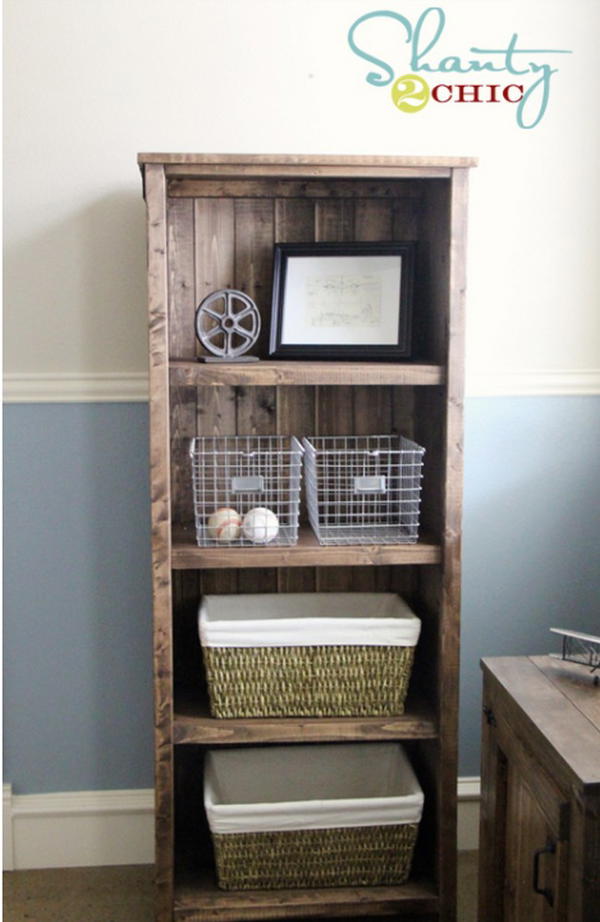 The Kentwood Bookshelf is a great project that is fun and easy to build. With its open center and its traditional design, this bookcase will accent any room in your house. Whether you are looking for a place to hold books, the latest DVDs, or just have some extra storage space in your office or home, this is the perfect project for you. Building this simple bookcase is a great way to learn some basic woodworking skills. It features pine boards with a tongue and groove design, which has been sanded to create a smooth surface. If you're looking for furnishings that is easy to make and will last for years, this is the right project for you.
Small DIY Bookshelf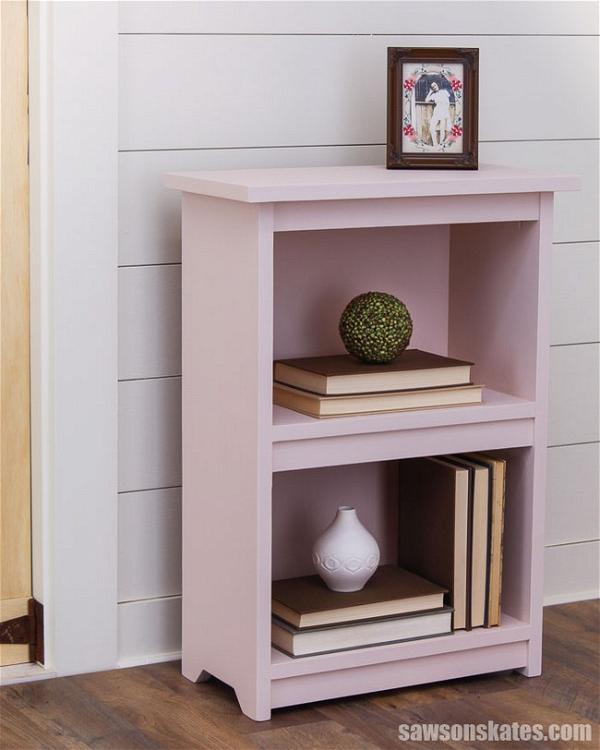 If you're ready to work on a project but need to save some space, this bookcase is a great solution! The small DIY bookcase comes pre-cut, making it easy to assemble. It holds books, decorative objects, photos, and other treasures in your home office or living room. Best of all, when the books are removed from the shelf, it becomes wall art!. Although it is not hard to assemble, requires no special tools or skills to put together, and does not take up much space, it looks outstanding and adds a designer touch to any room. Each shelf can be used for books, clothes, or accessories. Nevertheless, the size and material allow us to invent many interesting bookcases.
Simple Modern DIY Bookshelf

Looking for a simple yet stylish way to display your books? Say hello to the Simple Modern DIY Bookshelf. It's perfect as a floating bookcase in any room, and it's also great for organizing toys and photos. Featuring back channels and shelf holes, this versatile stand will hold all of your favorite books and magazines – or any small objects that you want to display in style. Simple Modern DIY Bookshelf is a quick and easy project that only requires one sheet of plywood, two pre-made boxes, and screws. It takes very little time and you can use the shelf to store your books, display collectibles, and organize your everyday items.
Industrial Bookcase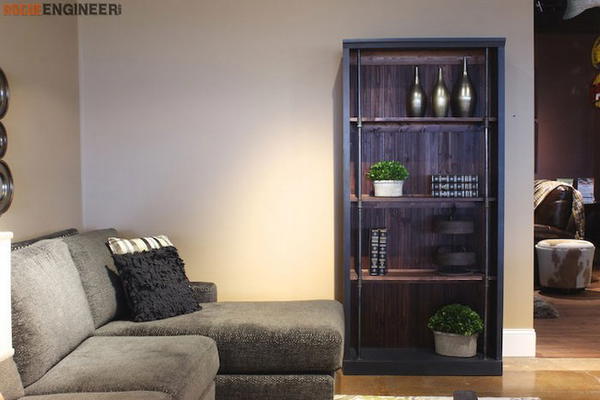 Have you been looking for a bookshelf that offers the warmth and character of wood, with the strength and durability of metal? Well, look no further. This industrial bookshelf has a beautiful iron frame surrounding a wooden shelf. Why pay hundreds for this gorgeous piece of furniture when you can build it yourself? Nowadays, people are more and more concerned with their home decoration and they want to better enjoy their life. If you have kids at home, please note that a bookcase will be a great choice for you. Compared with other bookcases, this bookcase is quite special because it combines metal and wood elements.
Rustic X Bookshelf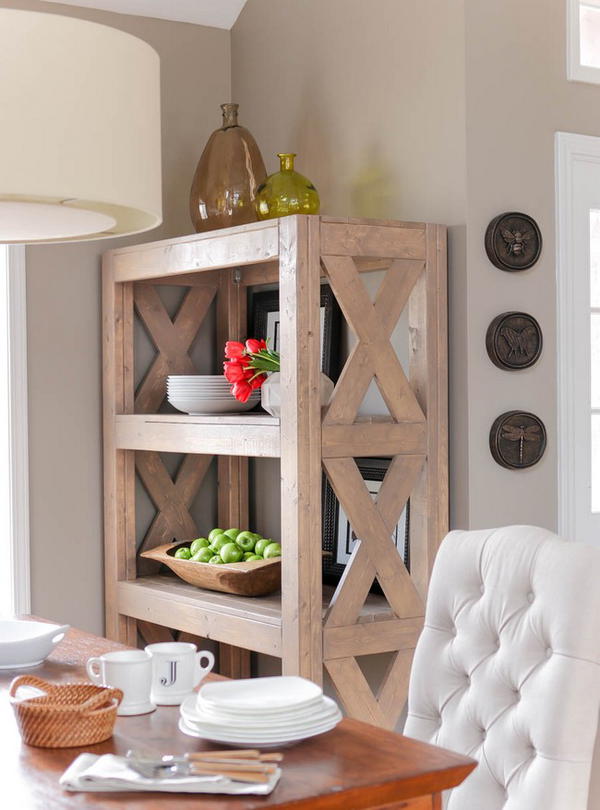 This plan is for a rustic-looking bookshelf that can be made out of any type of board you have lying around your house. This design would make the perfect addition to a room in your home, or even out in your garage. It is extremely easy to build and could be made for very little money. If you haven't already built it, check it out now. Another great thing about this shelf is that it can take stains or paint in any color of your choice. It can also be made to fit any wall space, which you can't do with the standard store-bought shelves.
Arts and Crafts Bookcase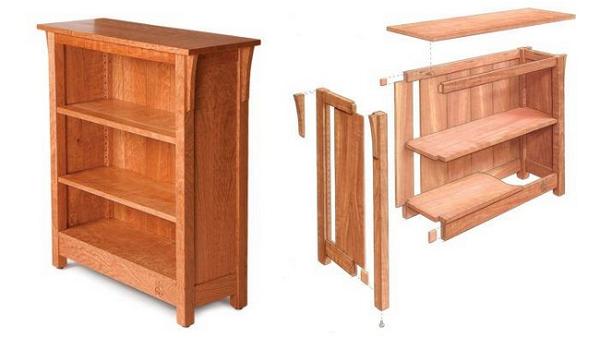 If you are looking for a classic look in a child's room or a place to display your treasured books this is the bookcase for you. With its three-tier capability, lots of storage capacity, and Arts & Crafts-inspired design it will be the most visually appealing piece in your home. Arts & Crafts Bookcase is a traditional style that you'll be proud to display. With a classic design, this bookcase can also be used to store your favorite books or toys, or as part of your nursery furniture. The days when you have to sacrifice style for storage are over thanks to this large wood-look bookshelf.
Henry Bookshelf by Ana White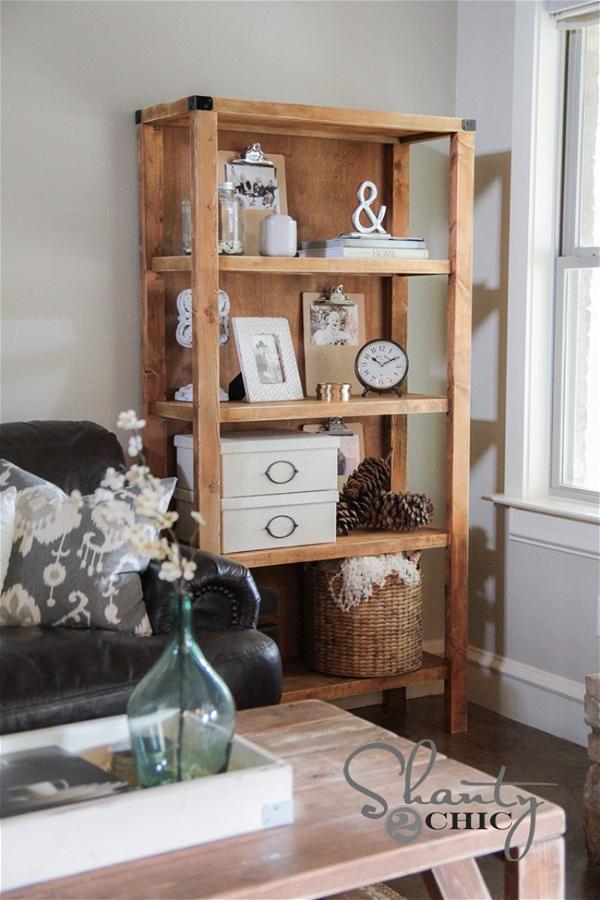 The Henry bookshelf is a great addition to any room. This wall-mounted bookshelf has four cubby shelves that can be customized to meet your needs. You can easily add decorative elements to this shelf. The wood in the backboard can also easily be painted, stained, or covered with fabric or paper. The versatility and custom options make this an easy build for novices and experts alike – definitely one you don't want to miss out on! The decorative trim on the top is just beautiful. It gives the shelf a completely different look than other basic shelves. The design is not overly complicated and could be used as a first-time project.
Contemporary Bookcase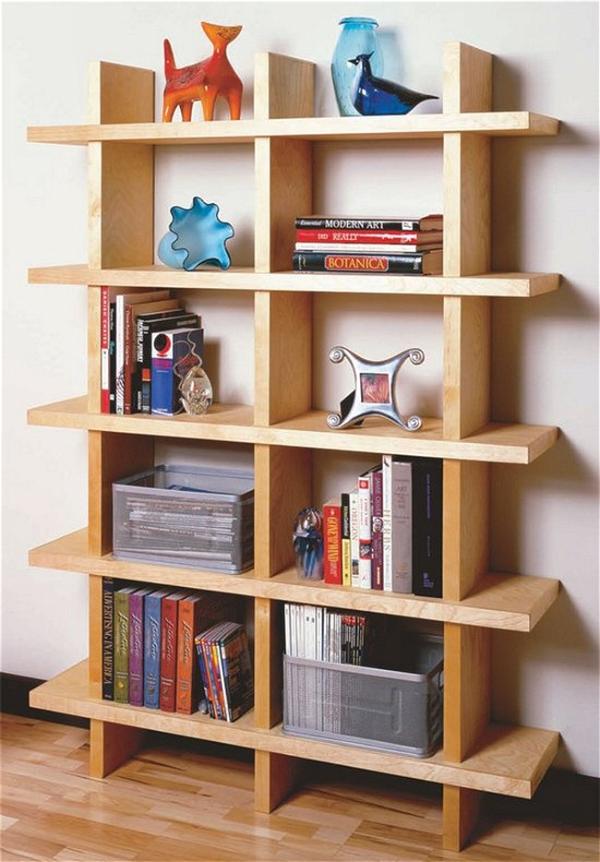 The Contemporary Bookcase is a compact and convenient unit that helps you keep your books, DVDs, and other small items neatly organized. Its sturdy frame and great design make it a reliable companion to any home. With the Contemporary Bookcase, you can make your living room look great with a stylish, custom piece that is easily customizable according to your particular needs. Lovers of contemporary design and sleek lines will adore this choice. It is a free-standing bookshelf, it can be placed in any room of the house and is ideal for organizing not only books but other types of collectibles too, such as ornaments or figurines.
DIY Modern Rustic Bookshelf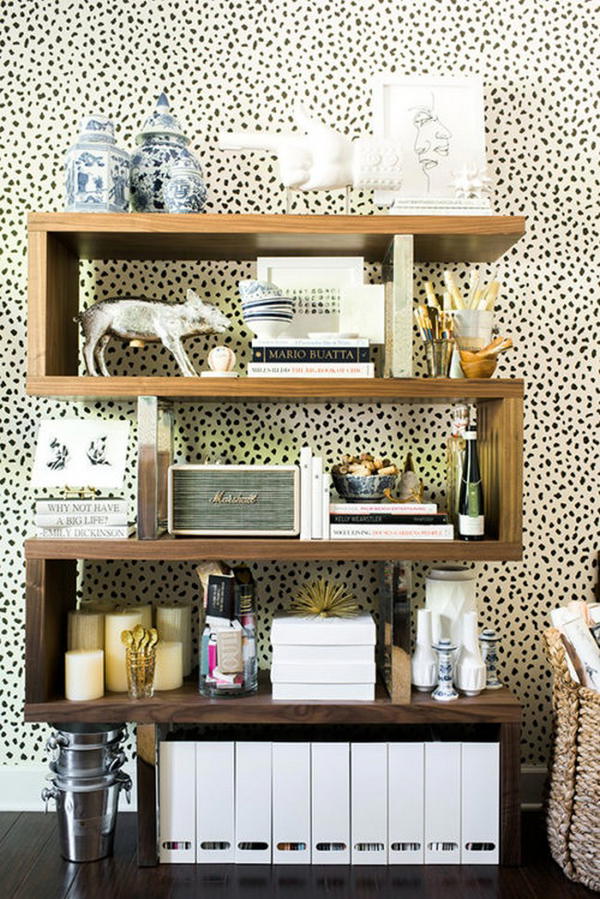 Whether you are looking for an inexpensive shelf that is both simple and stylish, or you want to create a warm, welcoming "reading nook", this DIY Modern Rustic Bookshelf is for you. With just a few basic tools, you can create a modern take on rustic design with your own creative touches. This project is easy enough for beginners with simple supplies, and it takes about a weekend to complete. The DIY Bookshelf is wonderful for displaying pictures and photos on your wall, books, or treasures to mingle with your living spaces. This shelf is simple and industrial-looking, and it's one of the easiest projects you will ever take on.
Sawhorse Bookcase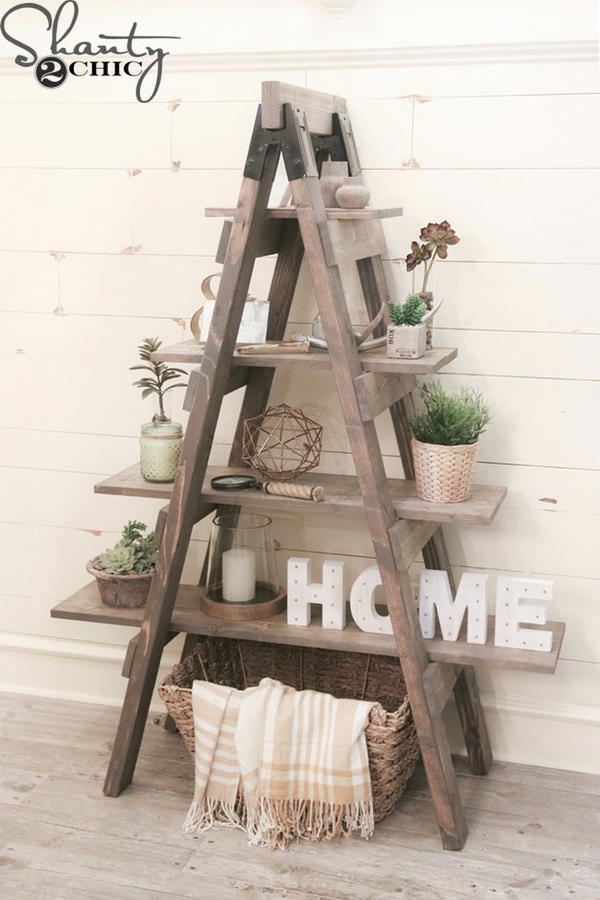 Are you looking for a good project that won't cost an arm and a leg to build? This Sawhorse Bookcase idea is a perfect choice. Not only is it simple to make, but it is also cost-effective and fast to build. This rustic bookshelf is made from sawhorses, plywood, and some brackets. The steps to make this shelf are very simple and easy to follow. It all starts with the base, which is made from sawhorses. The top is a plywood sheet that covers all of the supports. A bracket pulls the two together at the top of the unit. You can build the complete bookcase or just one section depending on your needs or space availability. With the Sawhorse Bookcase, we wanted to make sure that everyone can have an attractive place for books, collectibles, or electronics in their home.
Built-In Bookcase Plan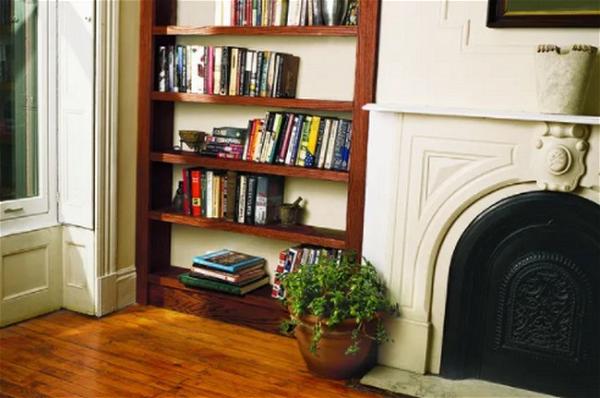 A classic DIY bookcase is a great addition to any home and not only adds bookshelves but also adds built-in storage space. If you want to get really fancy with your woodworking, why not build yourself a gorgeous built-in bookcase? These are great in part because they can be as simple or as complex as you want them to be. This plan offers all of the directions that you need to create your own piece of extra storage space with a built-in look. Follow the details, take accurate measurements and choose the right materials, and you'll have a built-in bookcase that not only looks professionally done but will add value to your home.
 Simple Barrister Bookcase
This stylish and functional bookcase adds essential storage to any living room or library. The simple design allows you to make as many units as you wish, so you can arrange them in a variety of ways. The classic design means that it is a piece of furniture that will last for generations to come. The Barrister Bookcase is a classic and beautiful design that would bring essential storage to any living room or library. The Barrister Bookcase is a few bookcases stacked together. Since they are built as three individual units, you can arrange this bookcase in a variety of ways. You will love this option as you can potentially make as many different units as you would like and place them around a room accordingly.
Small Bookcase With Moldings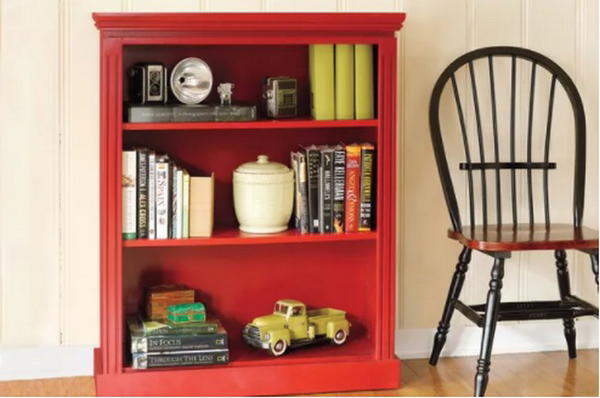 There's something about a good bookcase. From floor to ceiling, whether built-in or freestanding, it is not only a place to store your favorite volumes in an orderly manner but also a great design element for the room. This small bookcase from This Old House provides a charming rustic look with the gray-painted hue and the reclaimed wood moldings. It is fairly simple to build and you can now build it in any room of your house. This bookcase was designed for storing books and other items, but with some paint and imagination, it will look great anywhere!
Craftsman Bookcase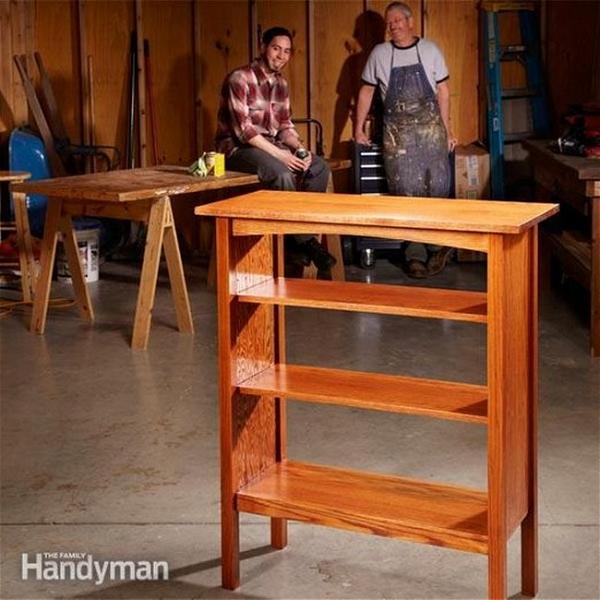 Craftsmen are the kings and queens of DIY, and this open and airy Craftsman bookcase is a fun way to display books. If you are looking to build a bookcase but don't want to have a solid wall of wood in your home, this open and airy Craftsman Bookcase is perfect for your needs. This is a moderately tricky build that will take a good amount of tools to complete. However, you can easily adjust this plan to work for the wall space and the number of books you have. This design can be adapted to fit your space and the number of books you have. The shelves are designed to hold standard-sized books, so no measuring is needed!
Modern Kids Bookrack
How cute is this book nook? This kids' bookshelf will make your little one's books and toys seem like artwork! We love that the bottom shelves are hung on an angle, too. The directions are very clear, and the author provides tips on painting and finishing to give it a more modern look. Build this modern bookshelf for your home library and include an ideal spot for showcasing all those treasured Scholastic books. Designed to hold children's books on the bottom, this attractive shelf adds exciting color and contemporary style. The top of the bookrack serves as a colorful display area for favorite toys, collectibles, or artwork.
DIY Spine Bookshelf
Need some new bookshelf ideas? Try this DIY spine bookshelf for an unexpected look in your home or office. This DIY spine bookshelf is a great project to fulfill the dream of owning your very own homemade bookshelf. It produces an eye-catching look that will have your friends wondering what you did to make it. This DIY spine bookshelf is easy to build and does not need a base. It would be easy for you to make this project at home so that you can store books that are beloved to you. Everything from book picking to hanging should be a piece of cake with this design! This would also be a great first project for someone wanting to learn how to measure, see, and use a miter saw.
Rolling Bookshelf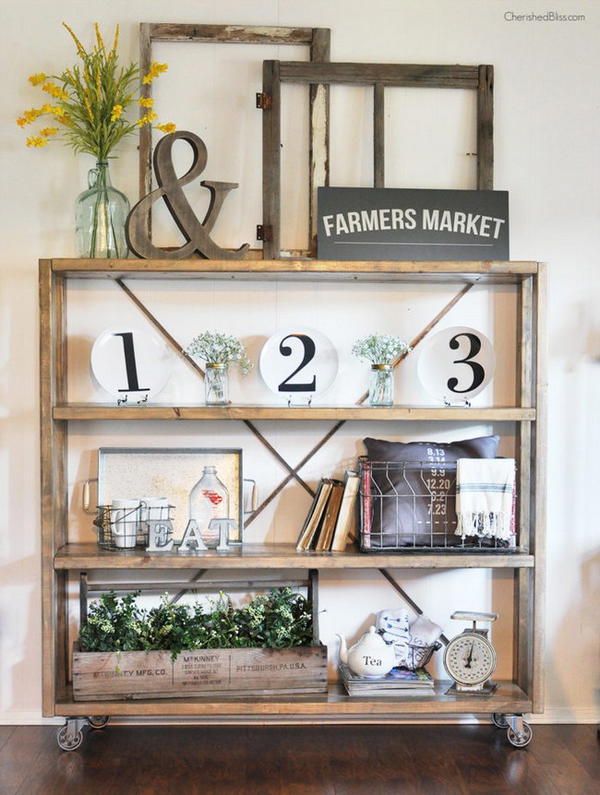 This rolling bookshelf makes it super easy to use your wall space for some extra decor, or a place to show off your favorite books. This bookshelf will give you years of storage and display options in your living room, bedroom, home office, or anywhere else you might want a rolling shelf.
A rolling bookshelf's creative and inventive look is brought to life by simply attaching wheels and the diagonal dowel back design. This bookshelf takes a piece of furniture that you plan to keep stationary in your living room, dining room, or office and makes it into a real work of art when there isn't as much floor space to move around. A little bit of creativity and some simple skills in the building can allow you to put this bookshelf together without any outside help.
DIY Modern Bookshelf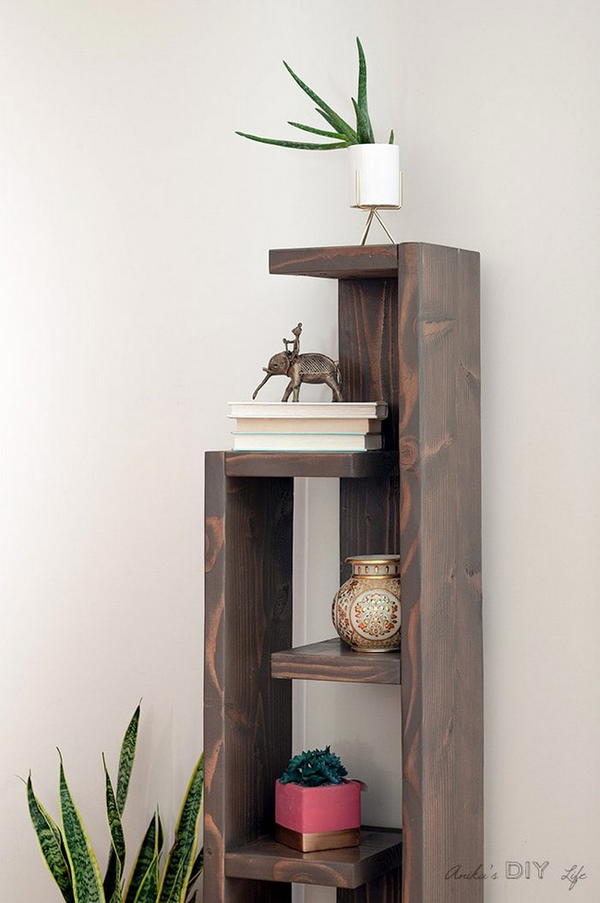 No matter what your design style is, a bookshelf can be a beautiful addition to any room. With the DIY Modern Bookshelf, you can have the look and architecture of a more complicated piece of furniture, with less time and money! This shelf can accommodate both books and some prized possessions to add a beautiful display piece to any modern home. The best thing about this bookshelf is that it takes only a few steps to complete. This shelf looks much more complicated than it is; it seems like a piece that people would pay quite a bit of money for. A great read, and you'll be amazed at how easy this bookcase is to build.
Simple Freestanding Bookshelf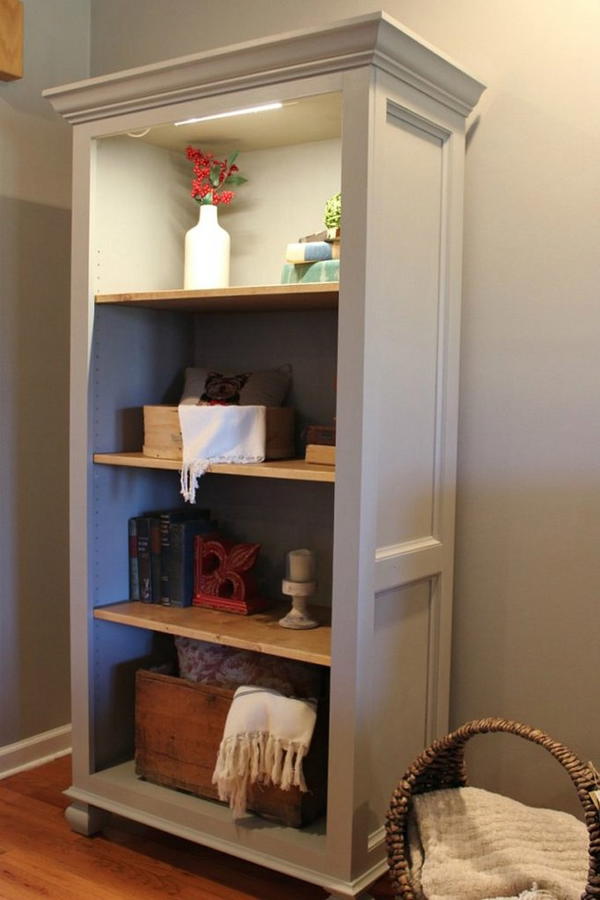 Simple, sturdy, and easy to assemble, this prefabricated bookshelf is sure to lend a functional style to your home décor. Constructed from durable steel and solid wood; it features the natural color of ash hardwood shelves and the grayish-silver look of galvanized steel. It complements the decor in any room, holding pounds of weight on each shelf. Its compact design makes it ideal for cozy spaces. It's got adjustable vertical bars you can move out or in to accommodate just about any book size. And it assembles in two simple steps -- no hardware necessary to get it off the floor and standing on its own.
See Other Projects