When it comes to exercising there are many different opinions on the best type of exercise. Many experts agree, however, that walking is the best thing you can do for your health. Walking has been proven to not only help you lose weight but also reduce stress and improve your heart health. In fact, a study showed that walking just 20 minutes a day can help to prolong life. Treadmill desks are a great way to combine healthy exercise with work. In addition to being a great way to lose weight and stay active, they can also be a huge help for reducing back problems and maintaining good posture. Here are some tips for building your own DIY treadmill desk Plans!
DIY Treadmill Desk Ideas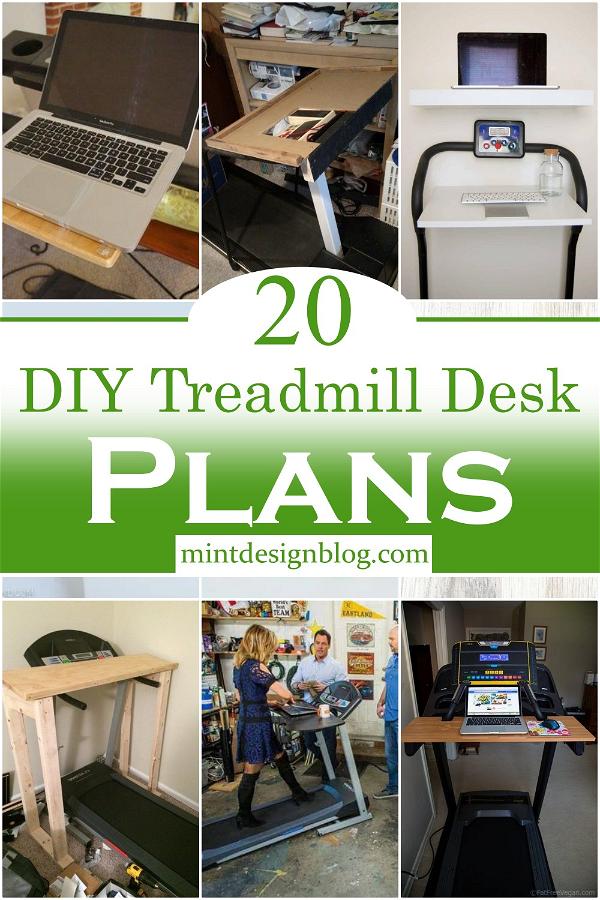 There is no better time than now to start using a treadmill desk. With the rising cost of medical insurance, we all want to stay healthy but not break our bank of savings. This is an inexpensive way that you can work and walk at the same time. Treadmill desks provide a low-impact, high-intensity workout that can burn up to 500 calories per hour and an elevation of up to 5,000 feet per hour. While walking you are able to read, write emails, surf the web, and watch videos on your computer.
By doing this you can work and exercise at the same time with no extra equipment needed. There is no reason why you should not begin today! These 20 DIY Treadmill Desks will help increase your productivity and health at your workplace or home office. These 20 DIY Treadmill Desk plans will show you how to put together a DIY treadmill desk that fits your needs and works for your space.
How To Build A Treadmill Desk For $20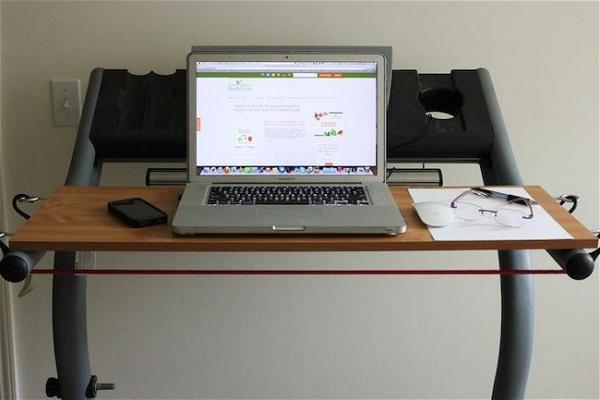 Have you been dreaming of working while walking on a treadmill? With this simple build, your dream can become a reality. It took roughly 20 minutes to put together and cost roughly $20. Best of all, it is completely customizable and ergonomic so that you can achieve your ideal positioning while also getting your recommended daily walk in. We're going to get you started on how you can build a treadmill desk for yourself. The materials needed for this DIY project include a wooden board, screw eyes, bungee cords, and of course a drill! We'll start off by running through how to install the board onto the treadmill handle.
How To Make A Treadmill Desk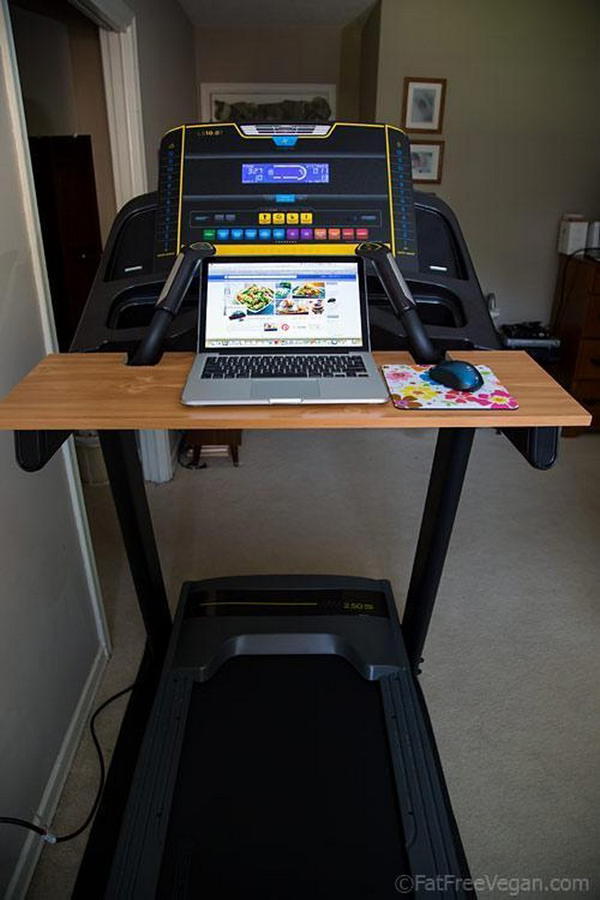 This treadmill desk is a unique creation that has many functions and features. Made from a wooden board attached to the treadmill, this project is perfect for those who are looking for an efficient, time-saving way to work. It may look intimidating but attaching the board to the treadmill is so easy with the right tools and techniques. Just make sure to measure the width of the treadmill then cut the board accordingly. It is best to use screws and a screwdriver in securing its position but if you want something sturdier there is always glue. Once properly attached, attaching a second wooden board to secure it further works wonders.
DIY Treadmill Desk Less Than $10
Are you interested in treadmill desks? A treadmill desk is a good way to walk and get some exercise while still getting work done. This DIY treadmill desk is a very cool idea for anyone looking to get some work done and stay in shape at the same time. Exercise without leaving your seat? You're on! This DIY treadmill desk was made from a single piece of wood and some bungee cords, so you'll only be spending around $10, but the benefits are priceless. You can add a few more bucks if you use the nicer touch up paint. This may look a bit rustic, but it still gets the job done when deployed on a treadmill.
DIY Easy Treadmill Desk
Do you want to lose weight, get fit or stay healthy while at home? The DIY treadmill desk is the perfect solution. All you need is your current treadmill and a couple rubber bands! This is going to be great! The treadmill desk allows you to walk while you work. This is a great way to burn more calories in less time while still getting things done. Why spend money on the pricey treadmill desk when you can get the exact same thing with DIY? Check out this tutorial and have fun!
Treadmill Desk DIY
You've heard about treadmill desks, but wondered if you could make your own? Now you can! This Instructable will show you how to build a simple and effective treadmill desk to use in your home or office. This design features a shelf that is large enough for both a computer monitor and mouse so that you can easily use it every day. And we'll walk you through the steps for making your own corner shelf to fit on top of your own unique treadmill.
DIY Walking Desk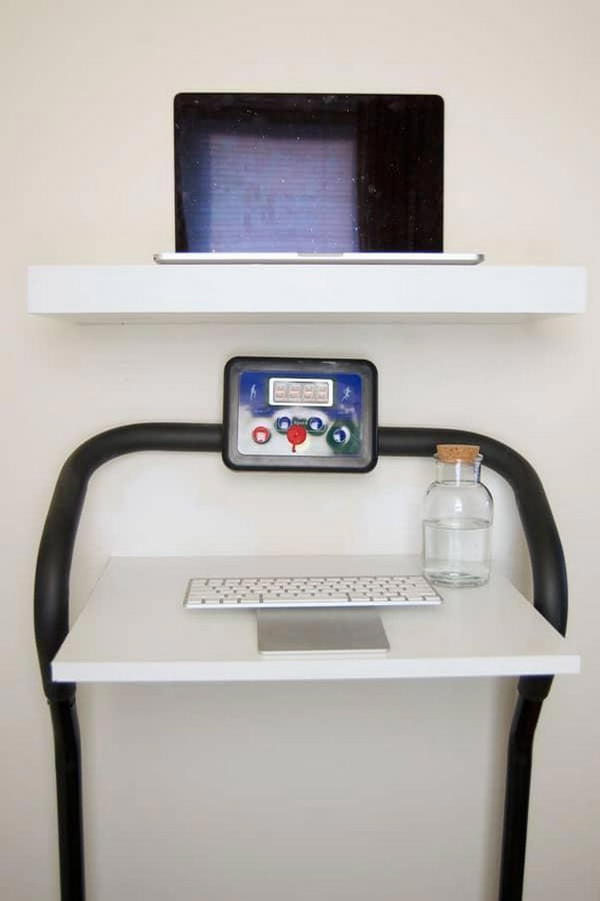 The DIY Walking desk allows you to exercise and walk at the same place. It includes everything you need to get up and start walking right away! No need to go out and buy something expensive, when you can build it yourself! This desk is perfect for those who have a treadmill or exercise bike in the house and would like to turn it into a treadmill and computer desk. The shelves are adjustable to fit any piece of equipment and the board above the arms is always there to keep your monitor, keyboard, or laptop from falling off onto the floor.
DIY Treadmill Desk
Do you want to stand up at work and burn more calories? The DIY Treadmill Desk is a great way to do this! This tutorial will show you how in just a few steps. The best part about this DIY project is that it can be used for other pieces of furniture too. You'll need to measure the width of the treadmill then get a storage shelf that is at least two inches longer than the width of the treadmill measured. Then, set up the storage shelf on the treadmill and you're good to go!
DIY Treadmill Gaming Desk
The concept for this design is a DIY gaming desk that can be put to use on either a treadmill or any old table. The whole thing is built from construction-grade plywood and designed to be easily disassembled for storage and transport. It's also designed to be super simple - once all the materials are gathered, the desk can be built in roughly an hour by 2 people with parts and tools available at most home centers. Here is a step-by-step tutorial regarding building your own DIY treadmill gaming desk. You can create your own amazing work or fun station, a cool new setup for one of your rooms, or something to keeps you moving/entertained while working out.
How To Make A Treadmill Desk
Would you like to burn calories and be more productive whilst at work all in the same day? Take advantage of your knowledge of treadmills to build a simple treadmill desk, allowing you to work at a healthy pace all day. Assemble the reusable walking desk by putting the rubber clamps on each side of the treadmill. The board to which the clamps will attach needs to be cut properly to the width of the treadmill. By converting your exercise machine into a treadmill desk, you can be fit and healthy while staying productive at home without spending money on a gym membership or installing new equipment.
Do It Yourself Treadmill Desk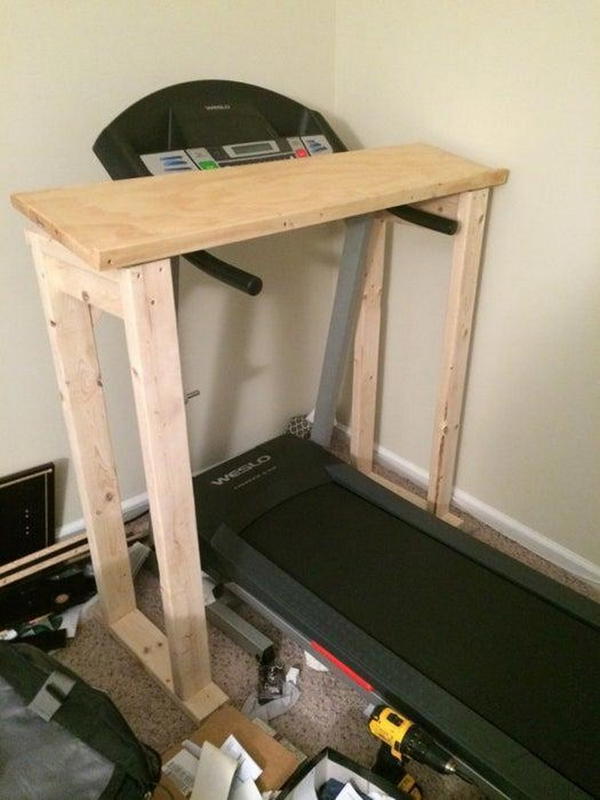 Building a treadmill desk is a project that is simple and affordable. Start by purchasing all the required materials for this all-wood desk project. Include jigsaw, wood boards, tape measure, square, sandpaper, polyurethane, drill, and paintbrush. Cut all the pieces for the desk. Join them together using screws and sand the whole desk down with sandpaper to ensure evenness. Paint it with your favorite colors of spray paint or add polyurethane to seal in the wood and create a smooth finish.
Treadmill Desk In 60 Minutes
If you love the benefits of working whilst standing but hate how expensive ergonomic standing desks can cost, then this might be a great product for you. All you need is a good treadmill and some PVC pipes, then this guide will show you how to set up your own DIY treadmill desk in no time at all. It may not look as pretty, but it will definitely do the job of reducing fatigue and keeping you focused throughout your day! The instructions are clear and detailed, but the overall process is quite simple.
DIY Treadmill Walking Desk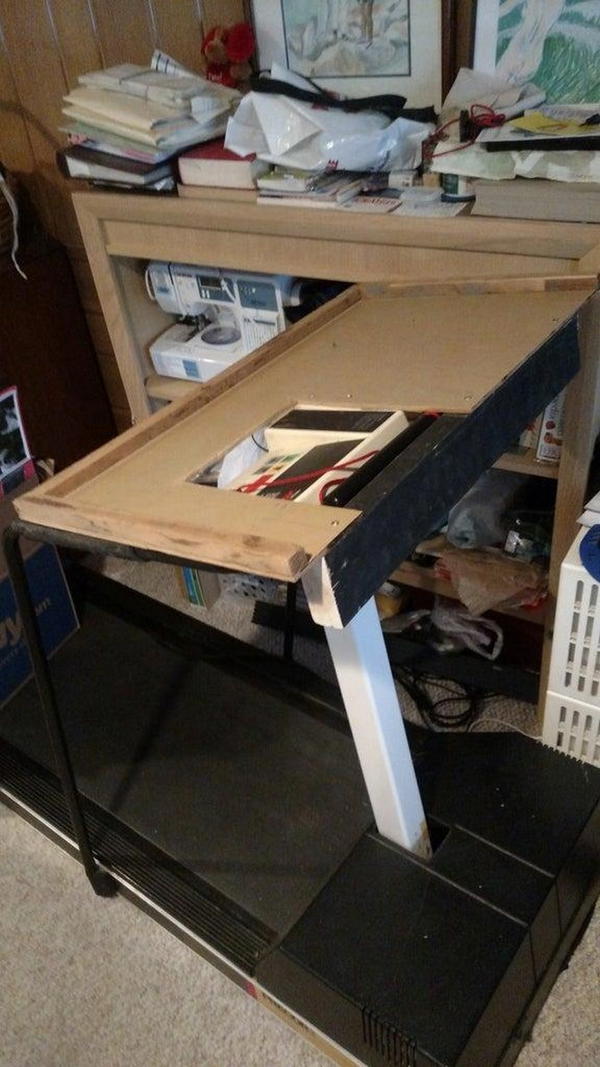 Are you tired of your current office? Are you trying to be healthier? Do you just want a cool way to make others jealous when they see your desk? The DIY treadmill desk is the perfect solution. This DIY treadmill desk is worth all the effort it might take to construct it. The excellent idea of creating a treadmill desk helps you create motion while you work. That way, you can reduce your chances of cardiovascular diseases and keep fit and healthy. If you spend more time sitting behind your computer without moving, this innovative idea will help you take the first step towards a healthier lifestyle.
Easy DIY Treadmill Desk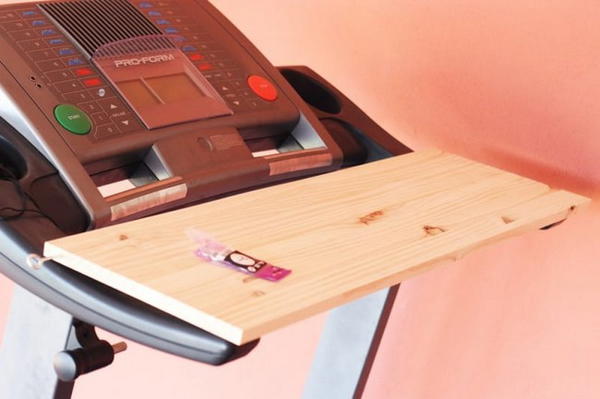 Homemade treadmill desks are efficient at saving space and cost without sacrificing quality or efficiency. You can get a DIY wooden board big enough for the treadmill, as well as a wooden strip that serves as a shelf for the keyboard and saves money while getting a treadmill desk. This DIY treadmill allows you to work for hands free so you can use either the iPad or computer monitor.
Turn your treadmill into a treadmill desk for a fraction of the cost of a traditional standing desk. This DIY project is great for those who want to experience the health benefits of standing instead of sitting at their computer all day. It takes just a few minutes and a few dollars to create your own treadmill workstation!
How To Make A Treadmill Desk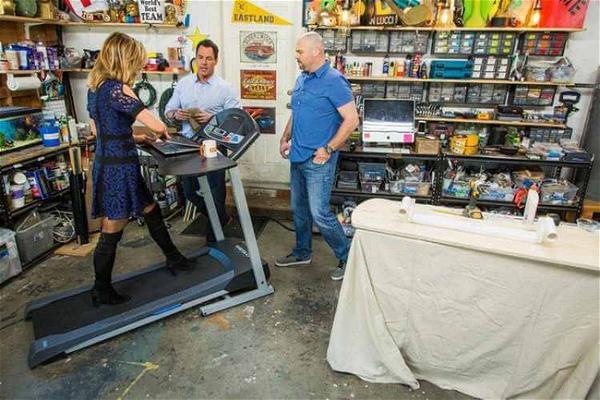 Would you rather get your workout in by walking instead of running? Now you can walk, run, and even jog while working with a treadmill desk. This DIY guide will show you how to create a treadmill desk from PVC pipes, a plywood slab, and an old treadmill. Treadmill desks are not just for advanced users. It's really a simple project that anyone with basic woodworking skills can successfully accomplish. Here is an easy-to-follow guide to building your own treadmill desk at home.
How To Build A Treadmill Desk
A treadmill desk offers the ultimate multitasking solution by combining fitness and work. It's just like a regular version, with an adjustable height and built-in work station—but you can walk while you work! All you need is a work surface and a treadmill, which makes it a very affordable option. The construction of the treadmill desk is simple, and can be built in less than an hour. Tools required include a screwdriver, handsaw, tape measure, and a step stool. (Step by Step instructions included)
DIY Treadmill Desk
The DIY treadmill desk isn't complex to make and can save you money. It is not just for exercising, though it's great for that. It is also perfect as a laptop or tablet holder, as well as a surface for writing letters or for anything else your heart desires. You will be surprised at how much time you can spend working and walking on your own treadmill desk. It is a cheap alternative to buying a treadmill desk and cuts excess spending. There are minimal tools needed for this project, if you have these tools there is nothing that can stop you from building your treadmill desk.
Make A Treadmill Desk
A treadmill desk, sometimes referred to as a walking desk, is something any office worker can benefit from. One of the best ways for people to improve their health is by exercising regularly. Even better is combining an exercise routine with their regular job. Treadmill desks offer workers an opportunity to expend more energy and increase their health while they're also at work. If you are looking for a cheap way to make a treadmill desk, then this video will tell you how to make one from some old planks and a treadmill that is no longer working.
$20 Treadmill Desk Conversion
This $20 treadmill desk conversion will help you get healthier and more productive by allowing you to walk while working or surfing the web. You can hold onto the handles on the treadmill while typing or use a laptop computer, tablet, or smartphone while working. The conversion was simple and took around one hour to complete with simple tools that anyone would have in the home. The ideal solution for those who love to exercise while still being able to work, this tutorial shares detailed step-by-step instructions on how to make your own treadmill desk.
Inexpensive Treadmill Desk Setup DIY
Treadmill desks have become popular in recent years due to the health benefits associated with walking while working. This Instructable will show you how to make a treadmill desk that is easy to build and does not require significant carpentry skills. The problem with most desk treadmills is the price. Those that appear to be a workspace are very expensive, and some of those cheap treadmill desks have put many buyers off. But this video tutorial will show you how to build your own for almost nothing.
How To Build A Low Budget Treadmill Desk
Inexpensive Treadmill Desk Setup DIY shows easy ways to convert a run-of-the-mill treadmill into a treadmill desk. It is pretty easy to organize your work and everyday tasks while running every day. The video shows you how to do it easily in a very short period of time by yourself. The video tutorial will prevent you from costly mistakes. You now have a treadmill desk that will allow you to work on your computer while moving at a slow walking speed. This is great for burning more calories and to be able to better multitask.
See Other Projects