These bathtub trays are amazing for keeping your gadgets out of the water without having to leave the tub! You no longer have to come up with ingenious ways to keep your phone from sinking or avoid balancing your glass of water on one of your gigantic books while trying to read in the tub. These DIY bathtub tray ideas are both functional and beautiful.
Building your bathtub tray is a simple weekend project that makes taking a bath far more enjoyable. Who wouldn't want to read a good book, listen to soothing music, or watch TV while in the tub? Double your soak with these DIY bathtub tray ideas, super-easy DIY projects that make bath time even more fun. These projects are inexpensive and straightforward, as you only need cheap materials to create a classic look. An important thing to remember about using the bathtub as a work surface is that it will become very slippery when wet, so you'll need to put down some protection. Some people use large pieces of cloth or old towels. However, the best option would be to add a tub mat with suction cups on it.
DIY Bathtub Tray

A DIY bathtub tray is an easy project that almost anyone with basic woodworking skills can complete in one afternoon. Bathtub trays are great for storing towels, soap, and other bath accessories. They can easily be made at home using a few inexpensive household items. The DIY bathtub tray is not just a simple thing that needs to be put in your bathroom, but it also can be used as an important thing to utilize in your daily life. It is very simple and easy to make one of these trays. They can be made out of wood or any other material that you would like. Here is a list of 21 DIY bathtub trays ideas, which is a nice way to add more space to your bathroom and help you organize your toiletries.
Bathtub Tray DIY Build
Are you tired of your toothbrush falling into the murky depths? Do you want that extra room for a magazine or book? Maybe you're tired of your bath toys floating away. Are wet and soapy hands making it hard to open the shampoo bottle? Let's take a look at how we can easily solve these problems, as well as many others, with a simple bathtub project so simple.
This bathtub tray makes bathtime much more functional and easier to clean. We'll show you how to make one out of wood, then pull it together with some sanding, spray paint, and felt feet. " This project is the ultimate in bathtub hackery that includes a quick-release mounting clamp, a removable tray that gives you a large and stable working surface, and an easy-clean finish. And when all is said and done, you've got a tub stand for grooming, for eating, for dog grooming."
DIY Bath Caddy
Make your morning routine easier! Enough is enough to buy a new bath caddy every time something happens to yours. This DIY Bath Caddy has everything you need in one place. You are made of plywood, with a stainless steel drying rack and hooks to keep towels organized. DIY Bath Caddy plans will provide you with the confidence and knowledge that you can solve your bathroom issues through the art of do-it-yourself appropriations.
Learn how to build a DIY Bath Caddy. All you need are a few basic tools and materials. Screw the shower curtain rod to the wall, and your DIY bath caddy is done. You can store everything from shampoo, conditioner, soap, lotions, and other beauty items behind the shower curtain. This bath caddy will hold your shampoo, conditioner, soap, razor, toothbrush, toothpaste, and anything else you want to keep handy in the bathroom. It is ideal for storing your bath products and accessories, like loofahs and sponges.
How to Make a Bath Caddy
An excellent DIY project that you can give as a gift or keep for yourself. This Bath Caddy will be an excellent space saver in your bathroom. It folds down to a small size to be easily stored when not in use. The main purpose of this caddy is to hold towels, washcloths, and other bath essentials near your tub or shower. It is portable and easy to assemble on the spot! Bath caddies are a great way to keep your favorite toiletries handy. They're also useful for organizing small items that you need easy access to. You can easily make one for almost nothing (and save some money). Bath caddies are the perfect addition to your bathroom. They allow you to organize all of your toiletries while also leaving space for a hairdryer, curling iron, etc.
In this guide, you will learn how to make a bath caddy from wood and create your own customized and personalized caddy that will be the center of attention in your home. Bath caddies are great for loads of things in the bathroom, no matter what you call them. You can use them for razors and other grooming supplies or a soap dish.
DIY Cedar Bathtub Caddy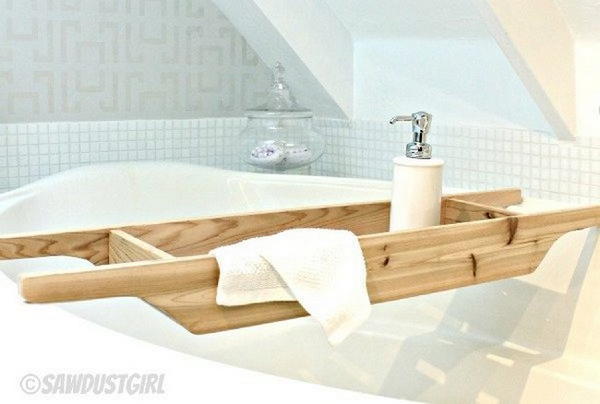 Relax and unwind with the DIY Cedar Bathtub Caddy.  Soak away your aches and stress in this gorgeous cedar bathtub caddy! This easy-to-install DIY project is a great way to relax while working on a room makeover. The perfect tonic for a busy day, this wonderfully fragrant caddy will have your pulse slowing as soon as it hits your skin.
Its ingenious construction means that even beginners can craft their beautiful caddy in just a few hours. Perfect for bathing or simply sitting back and enjoying the incense, you're sure to find your little slice of relaxation with this homemade caddy. Fantastic for organizing and storing everything in the bathtub, this rustic-themed cedar bathtub caddy gives you easy access to your bathing accessories. The rounded slats keep bottles, baskets for suds, and a roomy towel rack positioned on the tub's sides. This DIY cedar bathtub caddy will fit well in any decor with its rustic style.
Bathtub Shelf DIY & Bathtub Pillow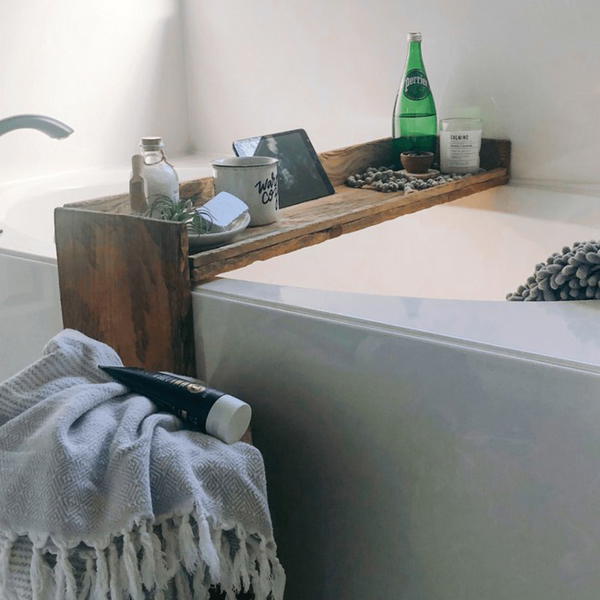 Are you looking for something to make your tub seem less slippery? How about a fun DIY project to help with that? Check out this quick and easy Bathtub Shelf DIY! Transform your bathtub or bathing space into a cozy place to relax! Have you ever tried to put a laptop on a regular bathtub shelf? How about trying to read an ebook while soaking in the tub? Standard shelves simply don't work well. The solution is this simple DIY bathtub shelf: Made from basic materials and using common tools, it's fast, easy to construct, and very inexpensive. Just two simple materials can make your bathtub feel better- a bathtub shelf and a pillow that attaches right to your faucet!
This DIY project will save you money and give you creative control over what your shelf looks like. The bathtub pillow project is a simple way to decorate your bathtub with silly little pillows. It makes the perfect additional space to store items in your bathroom. The shelf is easy to install and won´t leave any marks once removed.
DIY Bathtub Shelf How To Make A Bath Tray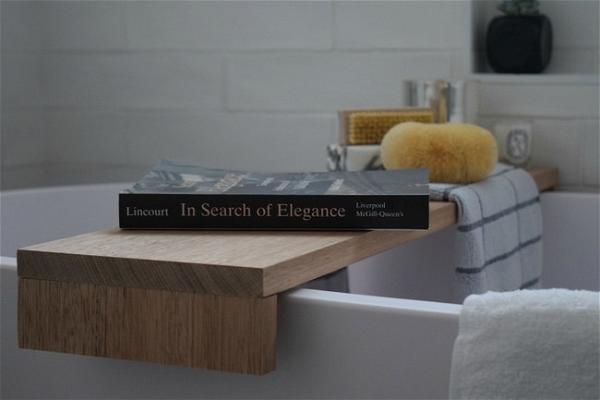 The versatile bath tray is a great accessory for anyone who likes to soak in their bathtub. It can serve as a floating shelf, providing essential products while you sit in pleasurable bathing. It looks amazing too, and is a fantastic conversation piece! This easy do-it-yourself project will leave you feeling accomplished with your handy work. The shelf fits into the tub and supports a pad or tray that can be set down inside on top of it. The materials used are very affordable and simple to find.
Ditch the clutter of bath toys and buy yourself some private time in the tub. We have to take care of important things, even if they feel like a nuisance. Bathing is one of those things. It can be difficult, especially if you set it aside because of other pressing responsibilities or if it becomes a hassle. A bathtub shelf may be the answer. It will hold all your bath essentials, and by waterproofing your cell phone or iPod, you'll be able to create your entertainment center while relaxing in the tub.
Bathtub Caddy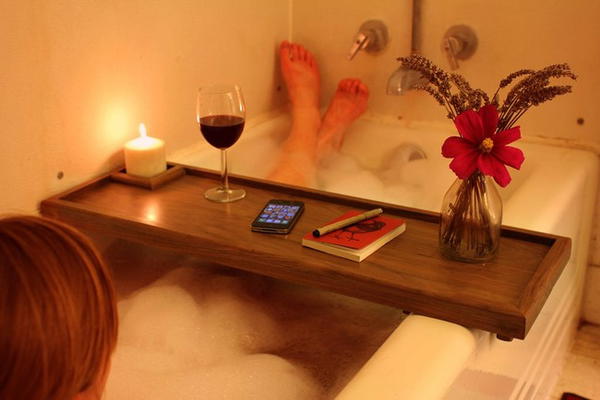 A bathtub caddy is a floating tray for you to place your mobile phone and glass of beer while bathing. Its adjustable, anti-slip clamp will fit on any bathroom safety rail. Designed to keep bath essentials within your reach, it conveniently folds up for easy storage when not in use. This floating tray provides a safe and comfy resting place for your mobile phone and glass of beer as you bathe away. It also allows a convenient place to set your razor or whatever else you need within arm's reach. You will love the way your shower and bathtub sessions feel with our Bathtub Caddy.
Placed over almost any bathtub faucet, it allows you to bathe hands-free. The floating tray holds your mobile phone and a glass of beer while running the shower water if you like. Your phone and drink will remain secure no matter how bad the weather is or how much movement there is in your bathroom. While taking a relaxing shower or bath, you can also use Bathtub Caddy to prop yourself up.
How To Make A Dual Purpose Bathtub Tray And Breakfast Tray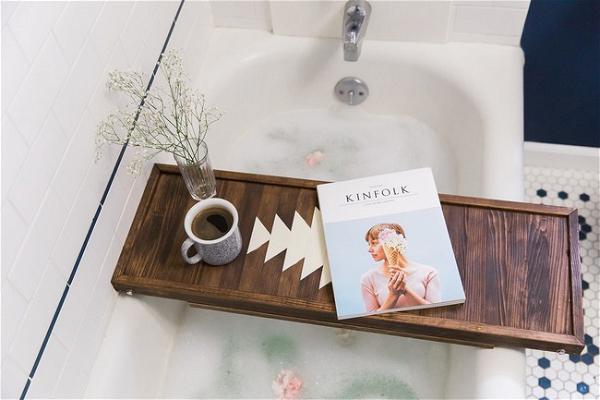 It's difficult to eat in the bathtub and impossible to read a book. If you're serious about your water time, don't bother with trays or cups that slowly sink beneath the water. Make this bathtub tray from scrap wood and a few tools. It's a dual-function breakfast or side table for the edge of your tub. Creating a bathtub or breakfast tray can be difficult because of the space limitations in the bathroom. However, by making one that fits on the edge of the tub or floor, you will be able to enjoy other comforts without giving up your water comfort.
This two-in-one design allows your tray to function as a breakfast or side table when placed flat on the floor. It is simple to build with a few materials. This is the best of both worlds, a multi-functional bath and breakfast tray that's simple to build. The two-in-one design allows this bathtub tray to function as a breakfast or side table when placed flat on the floor. The idea is to create a solid base of plywood that fits securely onto the edge of the bathtub. When placed flat on the floor, the tray can serve as your side table and function as a bathtub tray for high-pressure cleaning.
Wooden Bathtub Tray DIY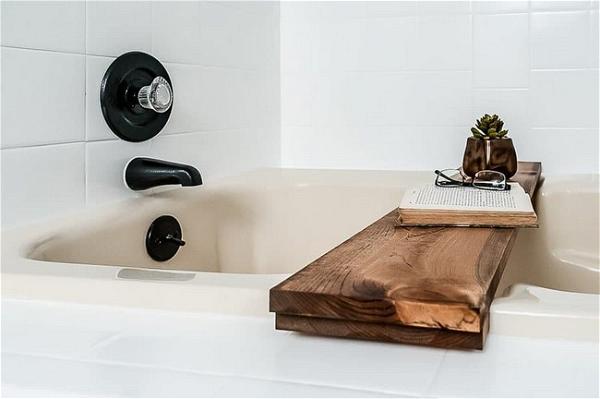 This is a wooden bathtub tray DIY that is to be mounted on the tub wall over the regular bathtub. It has a standard size so that you can just about fit in an adult and read a book without holding it. The rest of its natural wood color look also helps to please the sight. This light wooden bathtub tray is the perfect gift from a DIY enthusiast to an avid hobbyist. Perfect for bathing dogs and cats, this lightweight tray allows the pet to soak in the comfort of your own home without losing the luxurious touch of a bathhouse!
It is a wooden bathtub tray that fits into most normal tubs. You can use it to eat, read, and more without holding a book or taking your shower gel in your hands in the water. Whether you're single or with a partner that loves to share a bath with you, this wooden bathtub tray DIY will be perfect for relaxing weekend baths with your loved one. Now you can enjoy your time in the bath with this wooden bathtub tray DIY. It's an elegant design that looks great next to the tub and makes it possible to have a place for setting down food, drinks, or a book.
DIY Bathtub Caddy, 3 Different Ways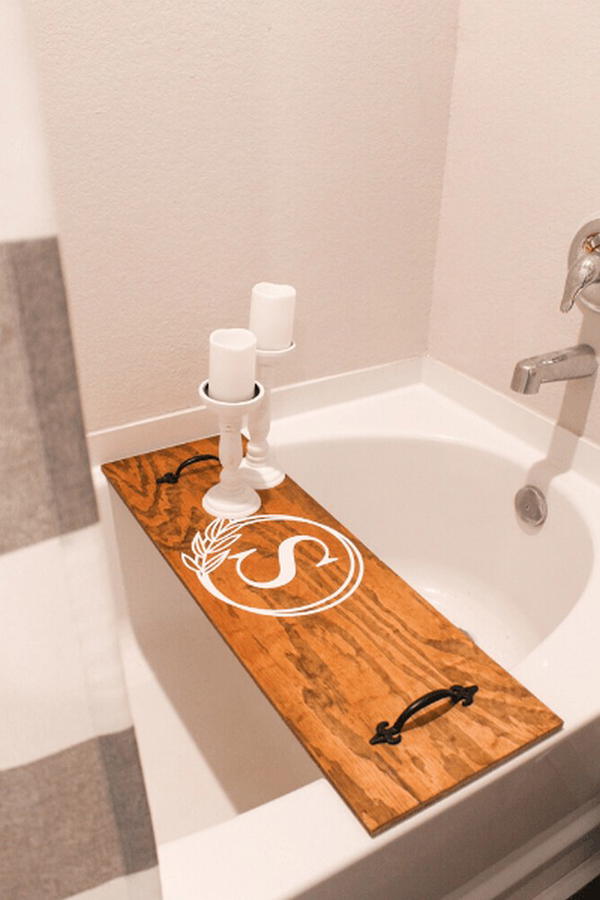 If you struggle with helping yourself in and out of the bathtub, this DIY bathtub caddy will make a huge difference! Each of the 3 DIY caddy designs is super easy to build and adaptable for any bathtub. You will have no excuse not to get in and out of the bathtub with ease. Liven up that plain white bathtub with a DIY Bathtub, Caddy! Includes items to build your caddy to hold lotions, shampoos, etc. Have you ever had a bath that you'd like to sit and enjoy but don't have anything comfortable to sit on? If you have an old or broken shower chair lying around the house, you most likely can transform it into a beautiful and useful bathtub caddy!
The DIY Bathtub Caddy is an inexpensive and creative solution to bathroom storage by using a dishpan and foam insulation to create a caddy that mounts securely over the bathtub spigot and tube. . This simple and easy to install caddy has three hooks that can hold accessories such as loofas, shampoos and conditioners, soap, razors and whatever other bath essentials you demand from your bathroom.
DIY Bath Tub Tray Tutorial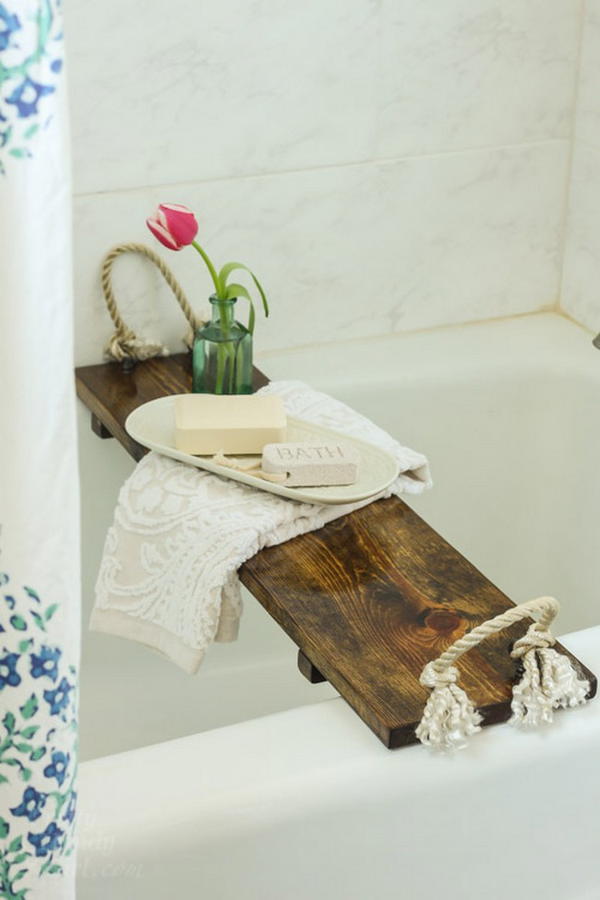 Are you looking to add a cute and stylish detail to your tub experience that will serve a practical purpose? Then the DIY bathtub tray is for you. It's the perfect gift for anyone who likes to kick back in a cozy, warm bath. The best news is that it folds up nicely when it's not in use, so it's out of sight until you need it! This foam tray contains everything needed to make your bathtub tray.
The products in this DIY Bath Tub Tray are simple and easy to use. You will be provided with all of your materials to make your bathtub tray. No prior DIY experience is necessary. Your bathroom will look great with a unique spin on a traditional bathtub tray. Dish it out in style with this unique bathtub tray. Designed to fit snugly into any bathtub, this DIY project is easy to make with some simple materials. Throw on some bubbles, and you have yourself a relaxing tub time. A DIY Bath Tub Tray is inexpensive, easy to clean, and can fold down for storage. They can be used as an alternative to finding a comfortable place to set a bottle or glass of water during a bath/shower.
DIY Bathtub Tray Step-by-step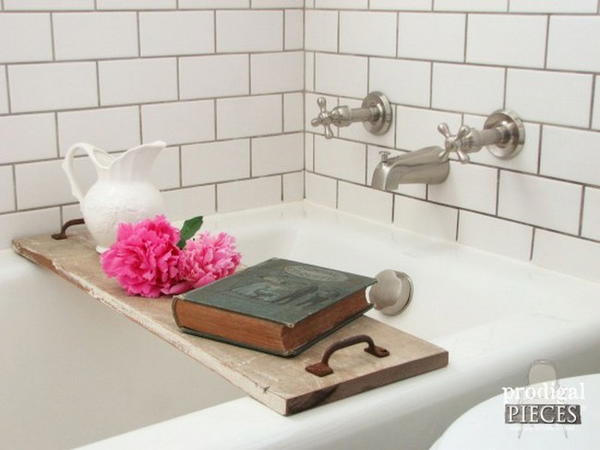 Are you looking for a tray to put in your bathroom or next to your bedside? If so, you would love this DIY bathtub tray. You can easily put your accessories and book on it. This would save you from the hassle of using somebody else. Are you tired of your legs going numb while you bathe? If you spend much time in the tub, this DIY Bathtub Tray is perfect for you. It has a cutout platform where after you fill it with hot water and a few drops of your favorite bath oil, your legs will be up and out of the water, with no more numb knees.
This DIY bathtub tray is a simple way to get things done around the house requires two hands. Perfect for putting up blinds and curtains or painting a wall or ceiling, this inflatable easy-to-clean bathtub tray provides comfort and support while you're working. This sturdy, custom-made tray fits securely on the edge of most standard tubs. Great for parties or just soaking and relaxing. Put your feet up with a drink in hand and enjoy this multi-purpose bath accessory. The bathtub Tray fits your existing tub faucet for easy access to water.
How To Make A Wood Bath Tray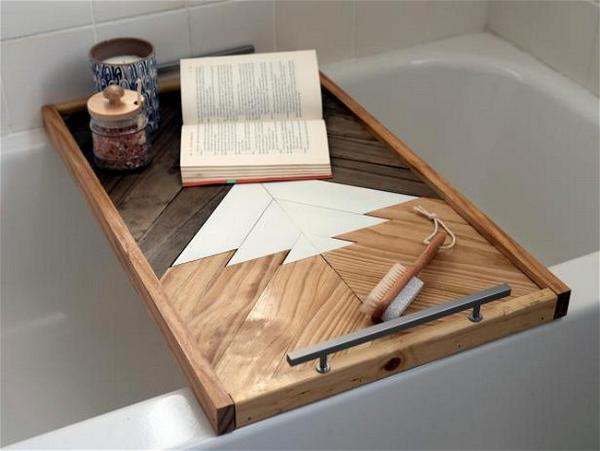 Ideal for relaxing in your bathtub, our wooden bath tray lets you lean back while rinsing clean and soaping up comfortably. Its spacious size provides a wide, flat space for your toiletries and magazines, and there is even a towel bar to hang up your towel for convenience. Experience the beautiful benefit of a wooden bath tray. This wooden bath tray is perfect for those who want to avoid slipping when getting in and out of the tub or shower.
The high-quality construction makes this product sturdy, durable, and comfortable. This tray has a wooden insert, providing a durable surface to place items such as soap and lotion. When not in use, these trays can be stacked for easy storage. This bath tray will last your family "forever." No assembly is required. Perfect for soaking your toes, reading a book, or just plain keeping your feet up and comfty.
Learn How To Make A Luxury Wooden Bath Tray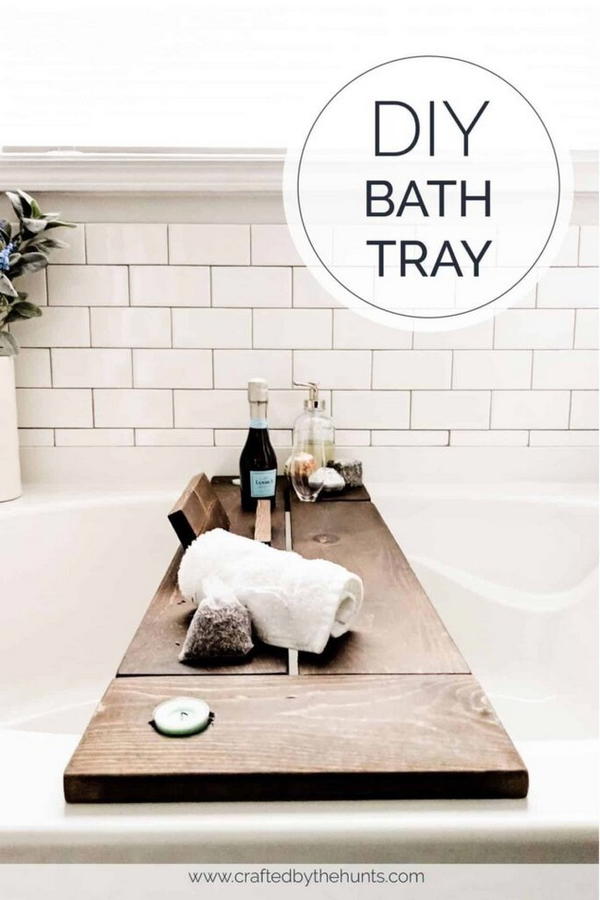 This luxury wooden bath tray is specially designed for home use and provides comfort and support for a relaxing bubble bath. The tray features non-slip rubber feet to protect against slipping or scratching of bathroom surfaces and prevent water spillage through the tub. Take bathing to the next level of enjoyment with the Luxury Wooden Bath Tray. Crafted from lightweight and sturdy teak, this bath tray supports the back, neck, and knees during bathing or showering.
This luxurious bath tray is the last bath accessory you will ever need. Be caught in the tub with your favorite book and glass of wine, enjoy a hot cup of coffee while soaking, or have a beautiful breakfast in bed. This item is made entirely from exotic hardwoods, such as teak and walnut, with brass hardware. Designed to fit all bathtubs, it is equipped with rubber protectors to prevent unwanted slipping and sliding (and possible falling).
Easy DIY Bathtub Tray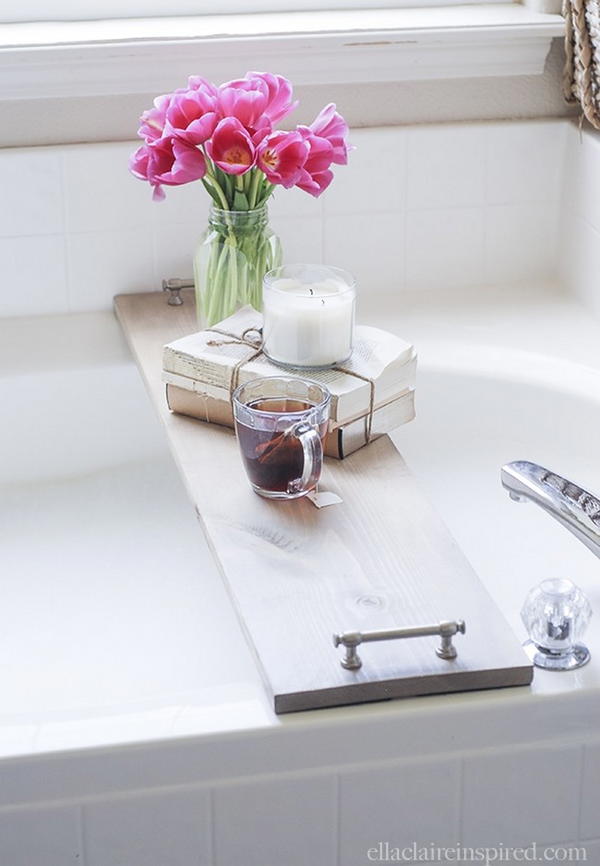 Resting in the bathtub is soothing and revitalizing, except for that long stretch when you need to get up to retrieve a drink or snack. The Easy DIY Bathtub Tray gives you everything you need without getting out of the tub. The insulated beverage holder is designed to fit into a standard-sized bathtub faucet, and a glass shelf folds down for placing snack trays on.
Your phone, a book, an e-reader, or anything else that you don't mind getting wet can find a home on the tray, so you have everything at arm's reach during your soak time. You need some spray paint and a common bathtub tray with a removable top. Bathtubs are great, but adding a tray to organize your stuff and protect your body from the tub's hard edge makes it so much better. This bathtub tray is the perfect addition to your bathtub. The large surface area makes it great for taking a relaxing bath while at home or camping.
Build Your Bathtub Shelf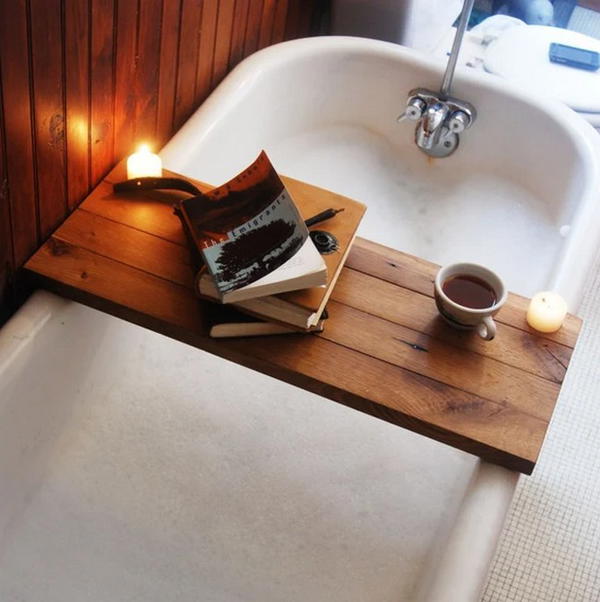 The Build-Your-Own Bathtub Shelf makes a handy addition to any bathroom. The sloped shelf provides added storage in a small space, and the modular design is easy to install. The Build Your Bathtub Shelf is a unique bathroom storage solution, enabling you to create a bathtub storage shelf that fits perfectly into your bathtub. Sometimes, what seems like an inconvenience can be turned into an opportunity, and that's the case with bathtub storage.
By adding this kit to your bathtub, you can convert the space where water collects after a shower into clever storage for towels, toiletries, and other items – all within arm's reach. Build Your Bathtub Shelf Are you tired of asking your kids to add more shelves? Do you have a small bathroom and want to make it more functional? This project is quick and easy. Most tools are probably right in your garage. Enjoy a large storage solution for a small bathroom. Give your bathtub a unique look with this DIY kit. The tub shelf includes everything you need to put it together— you just supply the tools. Build it as a freestanding rack, or mount it to the tub's edge. This is a convenient way to display your favorite bath products and more.
DIY Bathtub Tray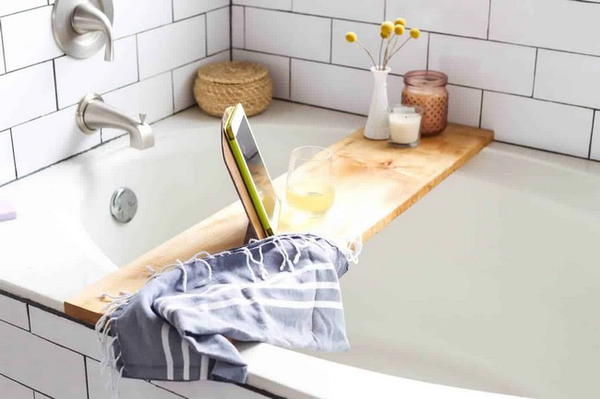 Do it yourself a favor, and get your DIY bathtub tray! With just a few materials from around the house, you can design your bathtub with style. This wire bathtub tray is great for rinsing your loofah and bathing accessories and comes in colors that coordinate with any bathroom decor. Handily store bath products or give a chic look to your bathroom by making this DIY bathtub tray.
It's perfect for rinsing a loofah or can use to hold soap, sponges, and brushes. We love it because it's functional and makes for an exciting addition to your gorgeous bathroom. This tray is a simple, creative way to add some flair to your routine. The DIY Bathtub Tray is made from metal wire, so it's easy to work with and durable. It can be used on your counter, in the tub, or in the shower and is perfect for making bathtime easier––and pretty!
Super Simple DIY Bathtub Tray Perfect For Holding Your Bath Time Essentials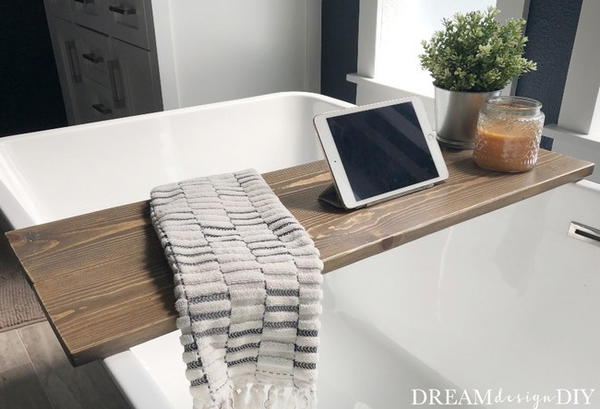 Have you ever wanted to enjoy your bath on a more luxurious level? Every time you take a bath, you have to grab the shampoo, the soap, and everything else from the cabinet and put it on a side table or bench. This isn't fun at all, is it? With this DIY bathtub tray, you can finally enjoy your bath without getting out of the tub. The entire purpose of this tray is to keep your bath supplies off the cabinet but still close enough for you to access them instantly. Look no further for the perfect DIY bath tray that's fun to assemble and super simple to use!
This crazy easy tray is ideal for organizing all of your bath time essentials in a clean, clear, and clutter-free way. This bathtub tray is fantastic for bathrooms that don't have the space for a lot of storage. It's such an easy project, and it will make getting ready in the bathtub so much easier. It's customizable, too; you can decorate it with paint or tile pieces or keep it simple if you want to just focus on function.
DIY Bath Caddy Tray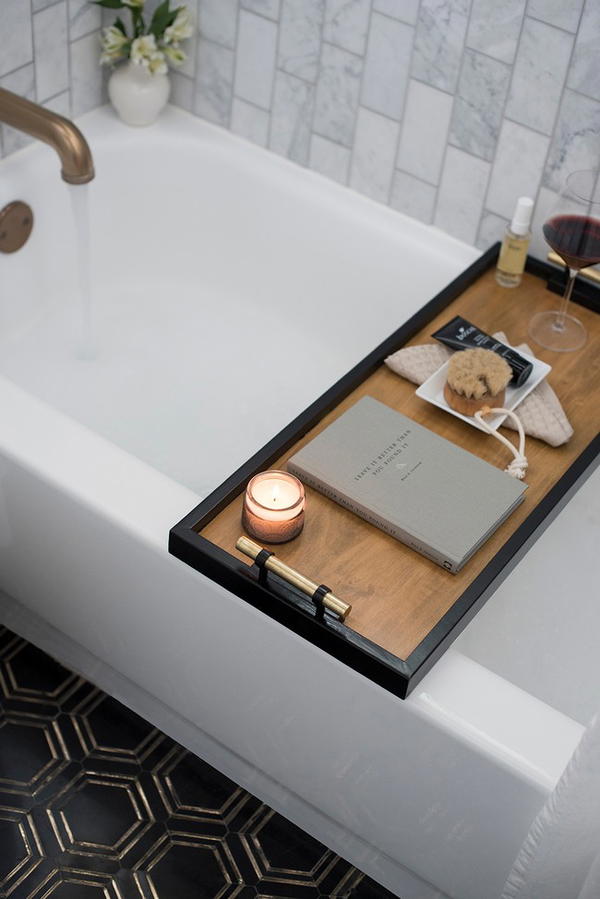 Get the ultimate DIY project for spring cleaning--craft a bamboo bath caddy tray to display your beauty products! The DIY Bath Caddy Tray is a simple project to make and great for organizing your bathroom with style. It has a few functions, and it can be a caddy tray, a magazine rack, or simply just a decorative piece. This project is easy and straightforward, and it will take less than 2 hours to complete! Perfect for corralling all your toiletries or storing small items like makeup brushes or toys.
This is a super cute and useful idea for making a bath caddy that you can use over and over again. This wooden tray fits perfectly into the space between the faucet and the tub wall so that all your beauty essentials are close at hand while you're in the bathroom. You need basic woodworking skills, an all-purpose saw, screws and bolts, paint, a fun fabric for the lining, and a pine board cut to size!
How to Make a Bath Tray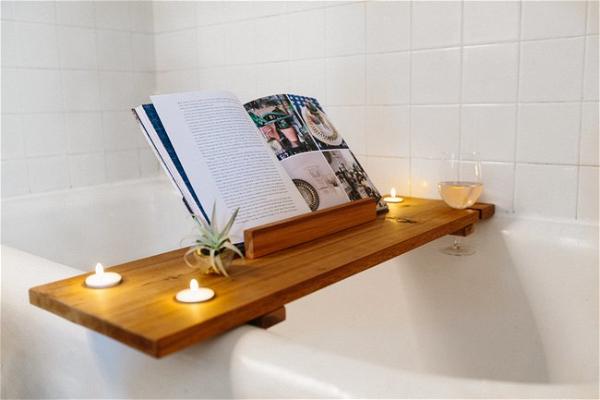 Bath trays are common to help elderly people in the bathroom. They can provide a sense of independence, security; the ability to maintain normal routines during some of their most vulnerable moments. Making a bath tray is an easy project that can help you start your caregiving journey! Bath trays are very simple to make and can be used indoors while sitting or when converted into reclining chairs.
The basic idea starts with a couple of pieces of wood and some garden hose. A bath tray is a portable table next to a person in a tub or shower. It typically works with a durable material such as aluminum, plastic, or hardwood. Bath trays are useful because they keep personal items handy and out of the water while also providing users with a sturdy surface to move around on and place their feet on.
DIY Lucite Bathtub Caddy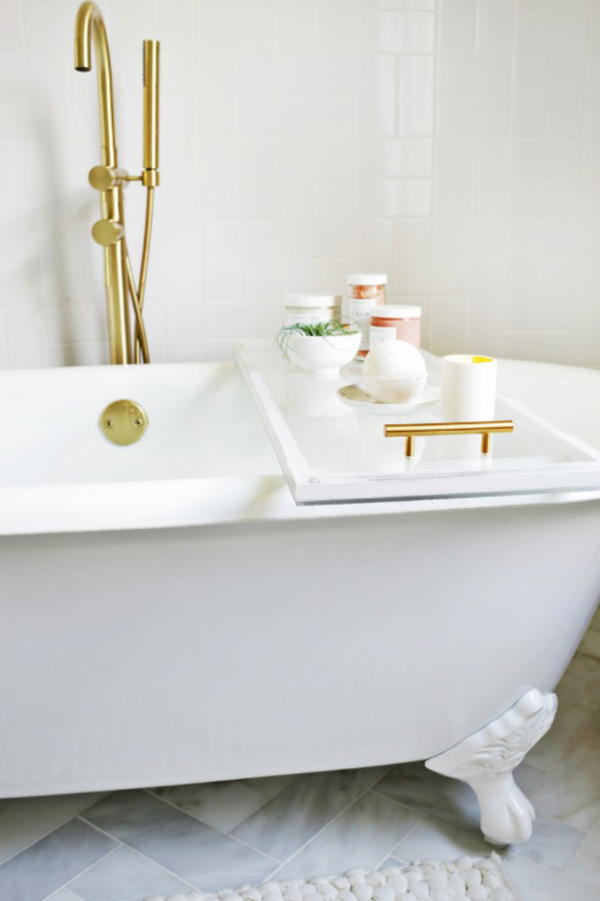 This bathroom accessory makes a great gift for installers or handy folks who use it to bring things into their bathtubs. The Lucite Bathtub Caddy is perfect for taking with you on your bath and shower sessions to keep all of your necessities close by. The new style is just in time for summer. Constructed of sturdy Lucite and chrome finished metal, the caddy hangs over your bathtub faucet, allowing it to hold everything from soaps, shampoos, razors, and washcloths. Just add some suds and get going!
With our simple-to-use magnetic bar and four extendable suction cups, the DIY Lucite Bathtub Caddy is what you've been looking for. Add a touch of color with the included lucite plate and watch your space become more functional, organized, and a heck of a lot cuter. Carry your wine, books, candles, and more into and out of the bathtub with the DIY Lucite Bathtub Caddy.
See Other Projects